This recipe for Summer BBQ Hot Dog and Burger Charcuterie Board is sponsored by The New York Beef Council. As always, all thoughts, opinions, and recipes are my own. Thanks for supporting the brands that support Shared Appetite!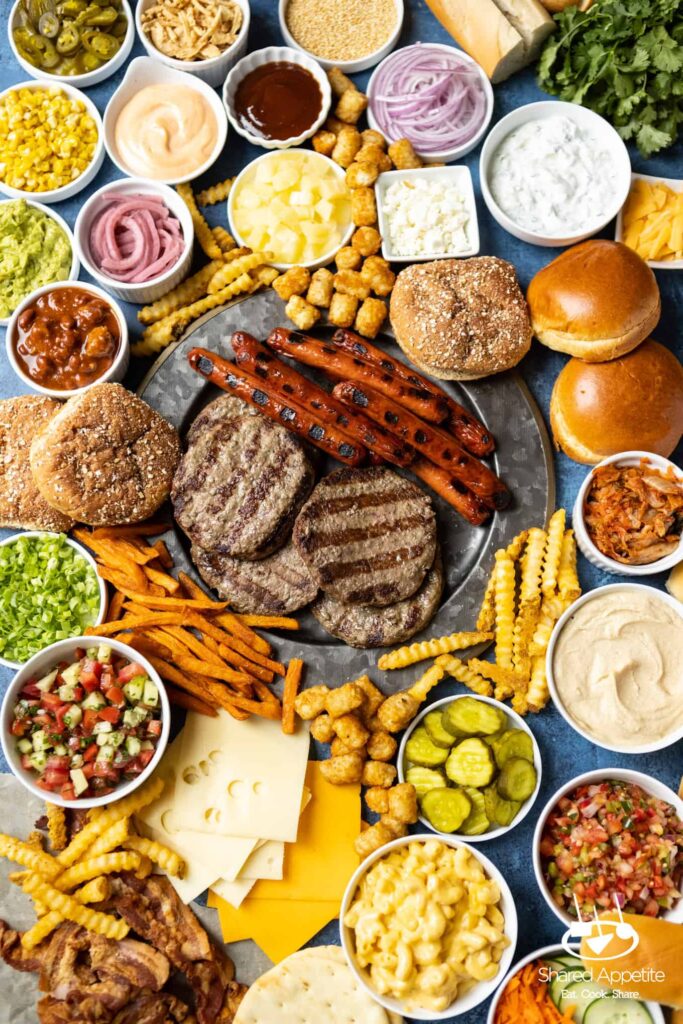 It's rare to have a quiet day here at home during the summer. Our house (and more specifically, our pool) becomes a social hub for family and friends trying to stay cool throughout these hot summer days. Personally, I could take or leave the pool… but I absolutely LOVE to entertain.
Nothing makes me happier than feeding the people I love. But, let's be real. That takes a lot of work and energy to make happen on an almost daily basis, so summer entertaining for me is all about quick + easy. That's what makes this Summer BBQ Hot Dog and Burger Charcuterie Board so perfect!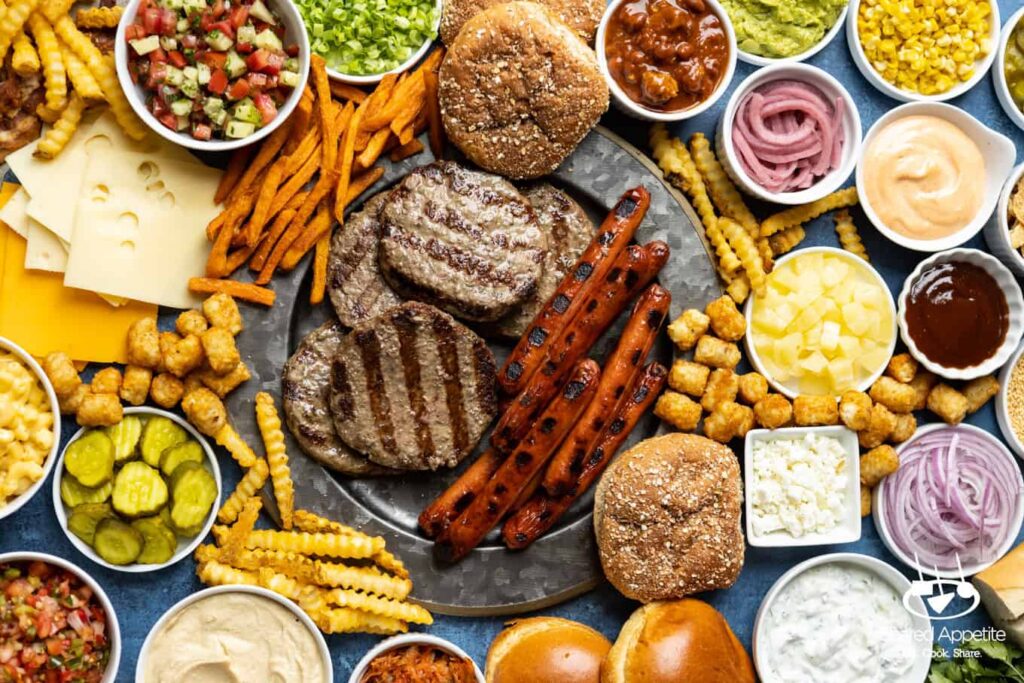 Here's why this epic Summer BBQ Hot Dog and Burger Charcuterie Board is perfect for easy entertaining:
no indoor cooking
prep is almost all done way ahead of time
it's a full meal in itself… no need for extra sides
guests can eat at their leisure
Summer eating is all about casual. My kids don't want to stop splashing to come to a table, sit down, and eat.
Food seems to taste better poolside anyway! Am I right?!
When it comes to having a successful ultimate Hot Dog and Burger Charcuterie Board, it's all about the options!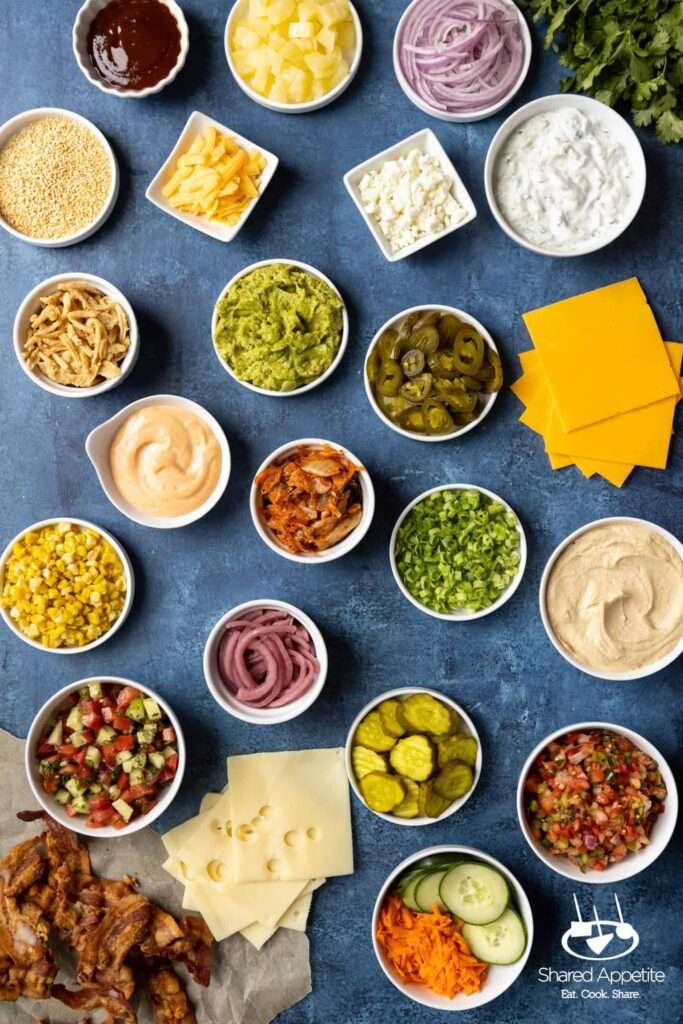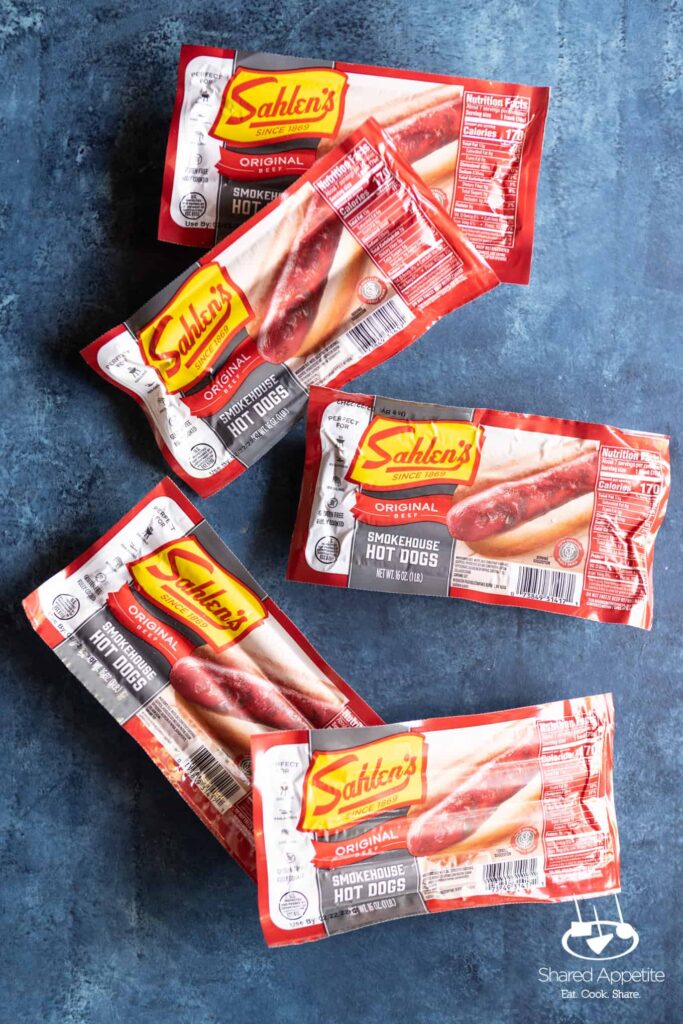 Sure, a straight up grilled beef hot dog or juicy burger with the usual accompaniments are 100% acceptable and downright delicious. And sometimes, those classic flavor combinations are all I want on a hot summer day.
But have you ever walked into a donut shop or ice cream parlor and gotten that giddy feeling seeing ALL. THE. FLAVORS.  That's what this creative charcuterie board provides:  an epic assortment of visual, textural, and flavorful possibilities!  
The goal is that WOW factor. And although I of course want all my guests to have creative freedom with how they put together their epic hot dog and burger creations, I also know some people get a wee-bit overwhelmed with options. That's why you'll see some specific flavor combination recommendations below. At the end of the day, though, there are no rules. Even the listed ingredients are just suggestions. Use this opportunity to show off your creative side.
No matter what toppings you choose, make sure that the vast majority of them can be prepared ahead of time. You can just put them in separate bowls and keep in the fridge until ready to serve!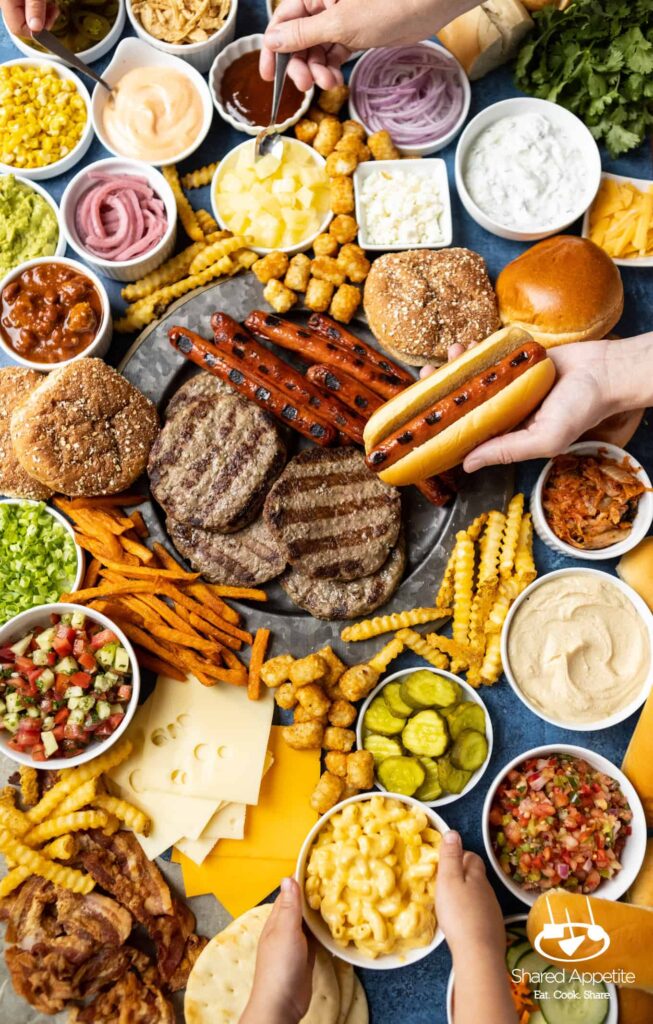 Here's a quick guide to make sure your Summer BBQ Hot Dog and Burger Charcuterie Board is a raging success:
use your favorite beef hot dogs and burgers!  
bacon is always a good idea!
don't underestimate the power of buns! Potato buns are my gold standard, but sliced baguette, hoagie rolls, pretzel buns, naan, and even tortillas are fun options!
topping options should include fresh, pickled, crunchy, sweet, creamy, savory, and spicy. You want to hit as many taste buds as possible!
cook up a big tray of fries and tots for easy sides (and use them to fill in the visual "gaps" between toppings so that the board looks full!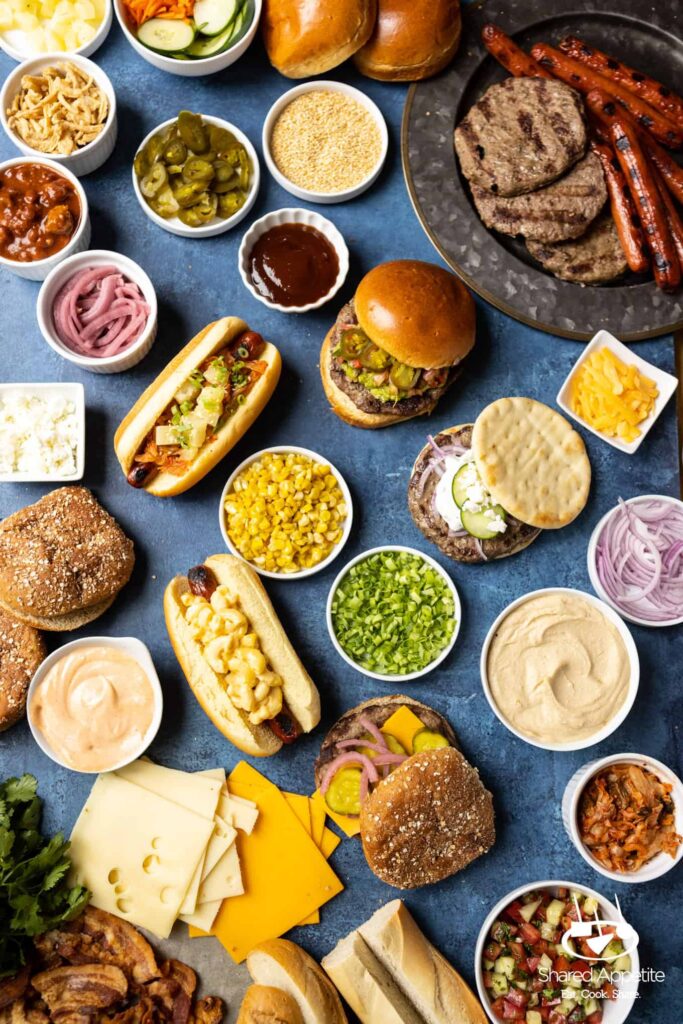 Print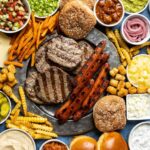 Summer BBQ Hot Dog and Burger Charcuterie Board
---
Author:

Chris Cockren

Total Time:

60 minutes

Yield:

Serves

8

-

1

2

1

x
8

Hamburgers

8

Beef Hot Dogs

Variety of Buns (Potato Rolls, Multigrain Buns, Baguette, Brioche Buns, Mini Naan, etc.)

½

package french fries, cooked according to package directions

½

package sweet potato fries, cooked according to package directions

½

package tater tots, cooked according to package directions
Toppings:
1

(16 ounce) package bacon, cooked

sliced cheese (American, cheddar, Swiss, etc.)

shredded cheddar cheese

prepared macaroni and cheese

thinly sliced cucumber

pickled carrots

fresh cilantro

shredded cheddar cheese

crispy fried onions

finely diced pineapple

sliced scallions

sesame seeds

prepared chili

chopped kimchi

hummus

salsa

teriyaki sauce

bbq sauce

feta

thinly sliced red onion

sliced avocado
---
Instructions
Season burgers with Kosher salt.  Grill burgers and hot dogs over medium-high heat until cooked as desired. 

Place all toppings, sauces, and buns in separate bowls and/or plates to create an Ultimate DIY Summer BBQ Hot Dog and Burger Bar!
Notes
Some pairing suggestions:
Mac n' Cheese - topped with BBQ Sauce or Spicy Mayo

Banh Mi – fresh cucumber, pickled carrots, cilantro, and spicy mayo

BBQ Bacon – bacon, cheddar, BBQ sauce, and fried onions

Hawaiian – pineapple, teriyaki sauce, scallions, and sesame seeds

Chili – chili, cheddar, scallions

Southwest – cheddar cheese, topped with salsa and guacamole

Mediterranean – tomato cucumber salad, hummus, and feta

Greek - tzatziki, cucumber, red onion, and feta on mini naan

Korean – bacon, kimchi, scallion, and spicy mayo
Prep Time:

40 minutes

Cook Time:

20 minutes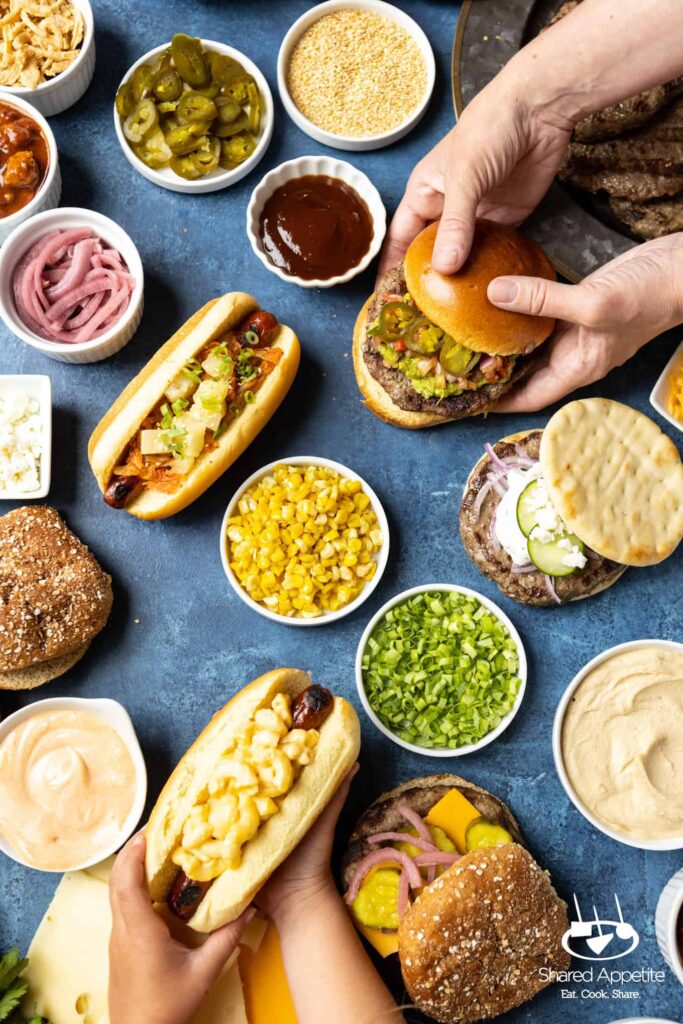 Summer BBQ Hot Dog and Burger Charcuterie Board