This post for Mini Chocolate Churros with Peanut Butter Dipping Sauce is sponsored by Dixie Crystals.  As always, all opinions and recipe are my own. Thanks for supporting the brands who support Shared Appetite!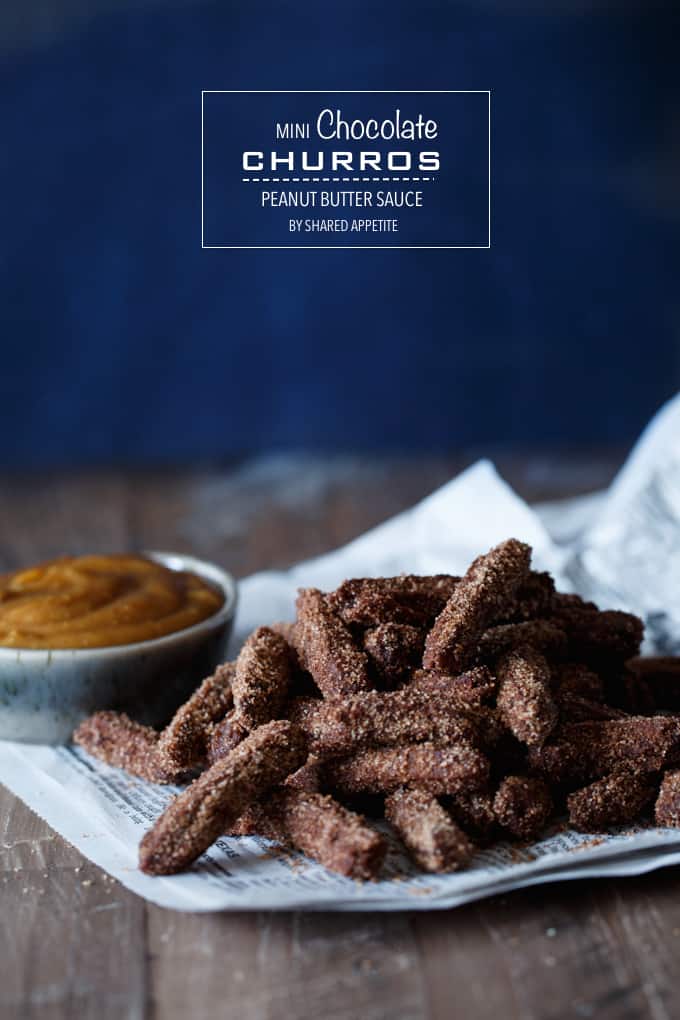 Churros are getting an upgrade with this classic chocolate peanut butter flavor combo.  Perfect for Cinco de Mayo parties, Taco Tuesday dessert, or anytime you have a churro craving!
I'm fully aware that most people are nowhere near as excited as I am that Cinco de Mayo is around the corner.  I'm also fully aware that Cinco de Mayo is the best non-major holiday of the year and all those people are totally missing out 😉
Besides the open license to go full out Takeru Kobayashi on all sorts of Mexican food and that my cup pitcher overfloweth  with margarita goodness, Cinco de Mayo brings on what has become an annual event at my house… Cinco de Man-o.
The first weekend in May is always our church's womens retreat.  That leaves a bunch of us dudes twiddling our thumbs, wondering what are we ever supposed to do to pass the time and fill the void of our amazing wives being apart from us?  Answer.  My annual Cinco de Man-o party.  And I think I found the Mexican dessert to end the eventing… these Mini Chocolate Churros with Peanut Butter Dipping Sauce.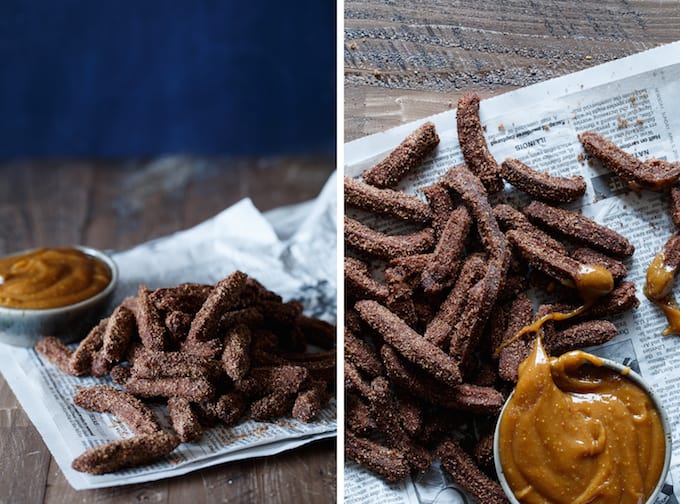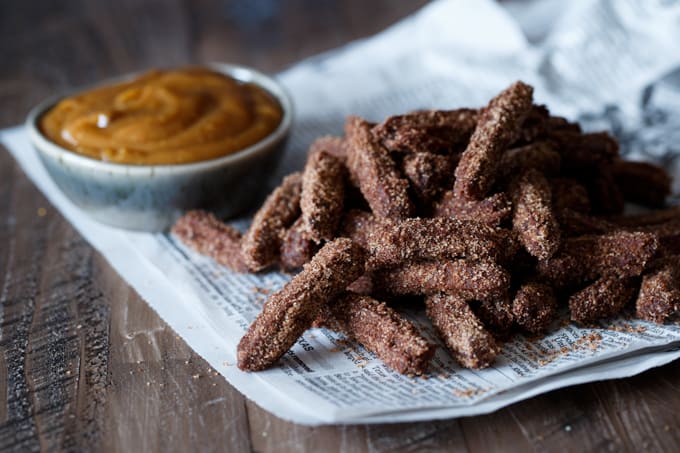 I have to admit.  Cinco de Man-o almost didn't happen this year.  Blasphemy, I know.
With Asheley expecting (and barely having the ability to get comfortable at night using nothing short of 38 pillows, a humidifier, sleep sounds, and 1 gigantic body pillow), it's just too much for her to go on the retreat this year.  Plus, the weekend of retreat, Tyler and I are photographing both a wedding and an engagement session (shameless plug: Ashe Photography Studio).  Thus, no party.
My good buddy Steve texted me about a week ago and was like Dude, when's Cinco de Man-o?!  I told him the bad news, and he responded with the bro equivalent of puppy dog eyes… "Oh man, this is my favorite party of the year… it's like the un-official start of all things summer for me!"  
Steve, you right.  Cinco de Man-o needs to happen.  Not just for you.  Not just for me.  It's bigger than us.  It needs to happen for brahs everywhere.  We need a reason to unleash and fraternize with our fellow flannel-shirt-wearing-facial-hair-growing men.  Kan Jam tournaments and fire pits included (as well as some Mexican dessert… hello mini chocolate churros)!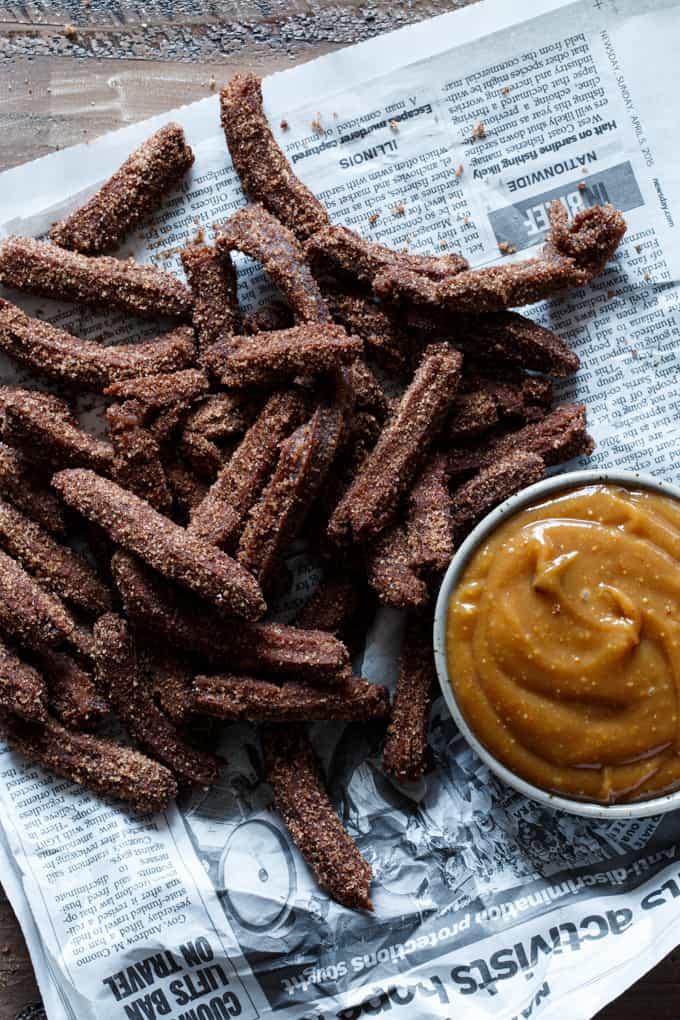 This was my first time making churros.  And besides feeling like a complete bad-donkey behind the stove, frying up these bites of Cinco de Mayo heaven, they were actually incredibly easy to make.
And really, let's be honest… who doesn't love a churro?  And if you don't, I wouldn't mention it.  You'll most likely be publicly shamed, even by your closest and most trusted friends.  Don't mess with peoples' fried dough covered in cinnamon sugar goodness.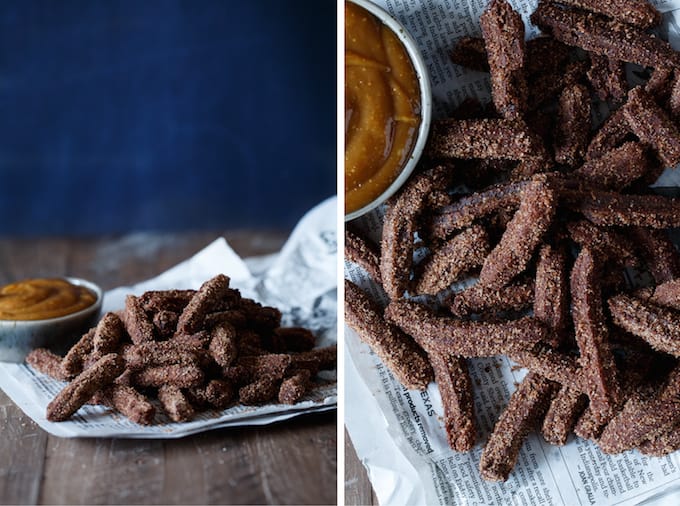 You can snag the recipe for these Mini Chocolate Churros with Peanut Butter Dipping Sauce over at Dixie Crystals!
Seriously… head over the Dixie Crystals and check out the recipe.  Now.
Please and thank you 🙂
 Need More Cinco de Mayo Inspiration?
Baked Brown Butter Churro Donuts