Find out what makes the Spicy Honey Soppressata Pizza (aka the Bee Sting Pizza at Roberta's Pizza in Brooklyn) the most addictive pizza on the planet!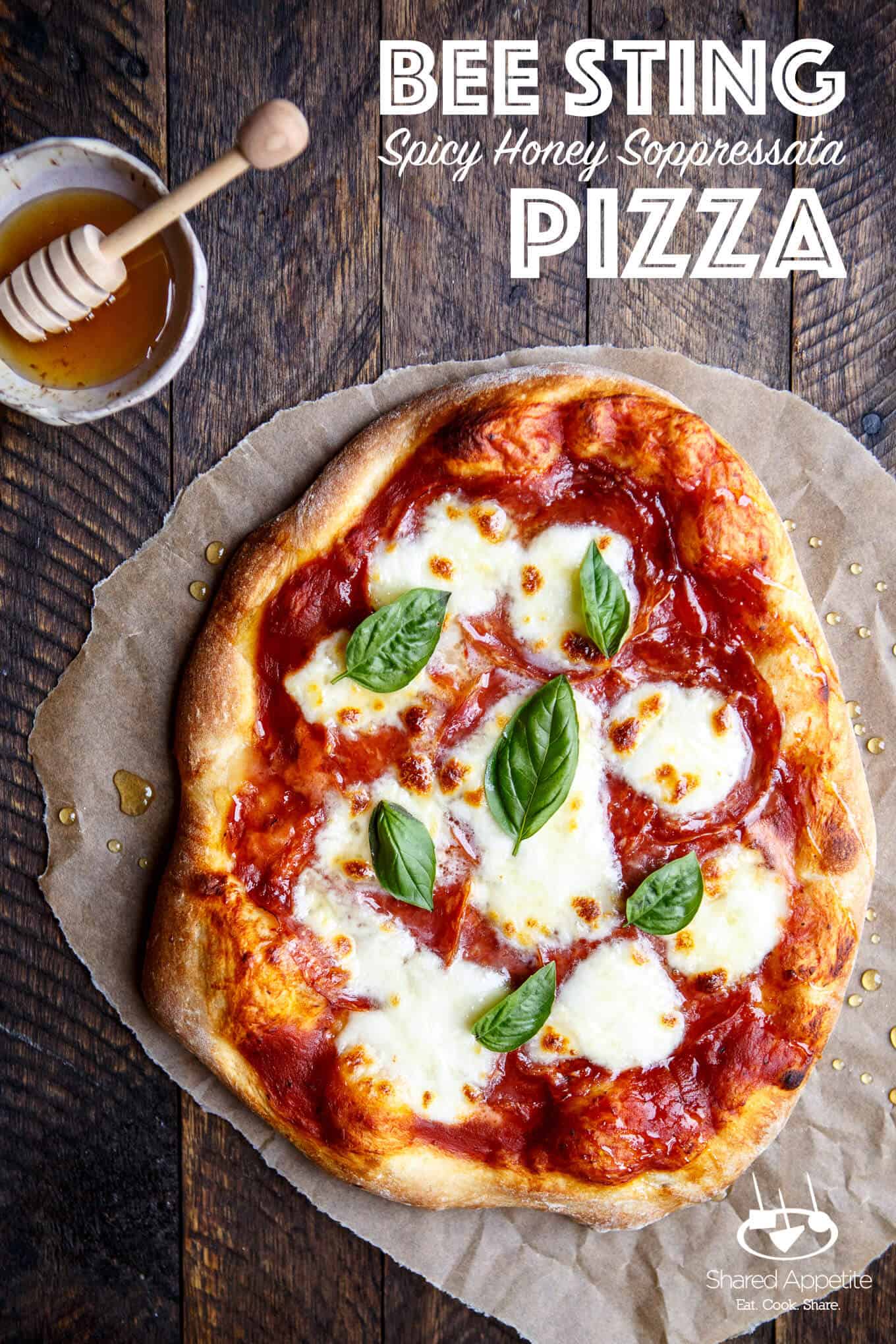 There are few things in this life more enjoyable than pizza.  Growing up in the suburbs just outside of New York City, there's no shortage of amazing slices and pies.  In fact, it's pretty difficult to locate a bad pizza in these parts.  #blessed
When I was a kid, I just assumed everyone had access to the same quality pizza (and bagels for that matter) that we had.  Then we went on vacation and ordered "pizza".  It was at that moment my parents had to give me the talk.  You see, son… you don't order pizza or bagels just anywhere.
New York.  It's where it's at for pizza.  There's something so ridiculously satisfying about a greasy NY slice.  But lately, I've really been getting into Neapolitan-style pizzas… the ones cooked in wood fired ovens that come out with beautifully blistered crusts and minimal toppings.  Simplicity, done extremely well.  There's nothing better.  A few places in NYC do it really well, like one of my favorites… Motorino.
My good friend Tyler has actually been pumping out some seriously legit Neapolitan-syle pizza lately at his house.  The dude build a wood fired oven in his backyard, and he's obsessed with perfecting a cold-fermented dough that is filled with great flavor and lends to a beautiful airy and chewy crust structure.  A few times a summer, Tyler hosts these epic pizza parties where everyone brings a bunch of different toppings and we all can make our own pizzas.
My absolute favorite?  Recreating the Bee Sting Pizza from Roberta's Pizza in Bushwick.  The uber-trendy restaurant boasts a really cool atmosphere, an unapologetic hipster crowd, and some really good wood-fired pizza.  The Bee Sting Pizza consistently is my favorite there.  The spicy soppressata is bonkers good on it's own, and it pairs amazingly well with a surprising secret ingredient… honey!  The spicy and sweet combo is highly addictive.
Every single time Tyler hosts a pizza party, I make this Spicy Honey Soppressata Pizza.  And every time… people go crazy for it.  It's not complicated.  It's certainly nothing fancy.  But it is freaking fantastic.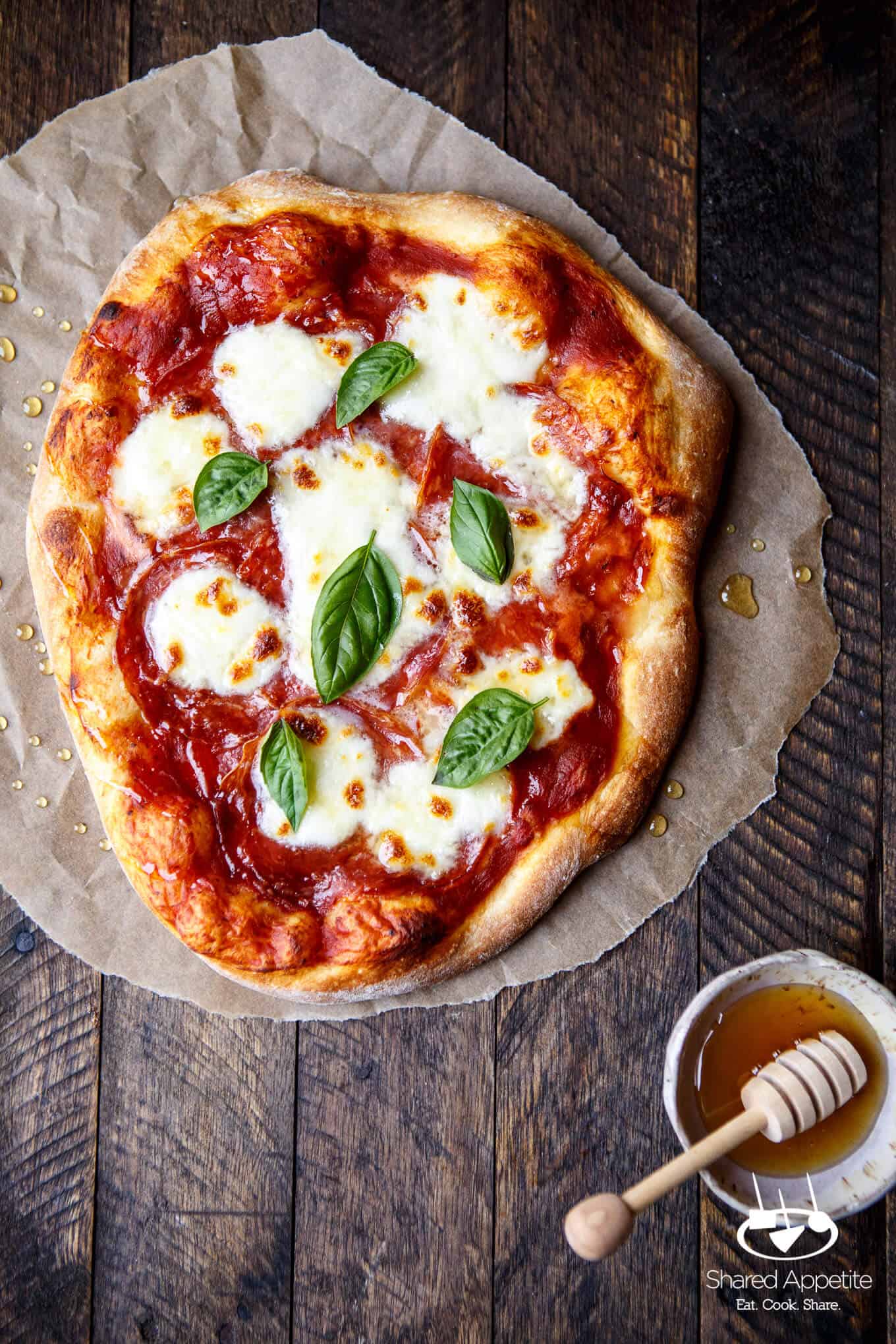 Not going to lie.  I didn't make my own pizza dough for this pizza.  I just didn't have the time and wanted a quick dinner.  In a perfect world, I'm going to make some pizza dough using Tyler's recipe (which takes 24 hours, by the way).  But when the Bee Sting Pizza craving hits last minute, I just go to my local pizzeria to grab a pizza dough (or get one from your local grocery store!) and call it a day.
I also don't have a wood fired oven in my backyard (although I did recently get this propane fueled pizza oven that mimics the crazy high temperature of a wood-fired oven… it gets to like 800 degrees and does an AMAZING job… HIGHLY recommend).  Since  I figured most of you don't have a dedicated pizza oven, I recreated this Spicy Honey Soppressata Pizza the way most of us would make it: using store bough pizza dough in the regular good old fashioned oven.  And you know what?  It's still amazing.
Now, in order to have the BEST pizza experience possible, a few tips:
make sure your dough is at room temperature before trying to stretch it out.  Cold dough never stretches out the way you want it to.
flour the pizza peel and the dough before stretching it out.  Then work quickly with the toppings so that the dough doesn't get stuck to the peel.
the tomato sauce shouldn't be complicated.  Just canned crushed tomato, a little olive oil, salt, and pepper.  Maybe a pinch of garlic powder if you want, but that's it.  I know it sounds crazy, but it's the way to go for pizza.
use high quality mozzarella… the kind that you kinda wince when you see the price of it.  WORTH IT.
get the best soppressata you can find.  Makes all the difference!
buy a PIZZA STONE for your oven.  It's essential to making pizzas in your oven at home!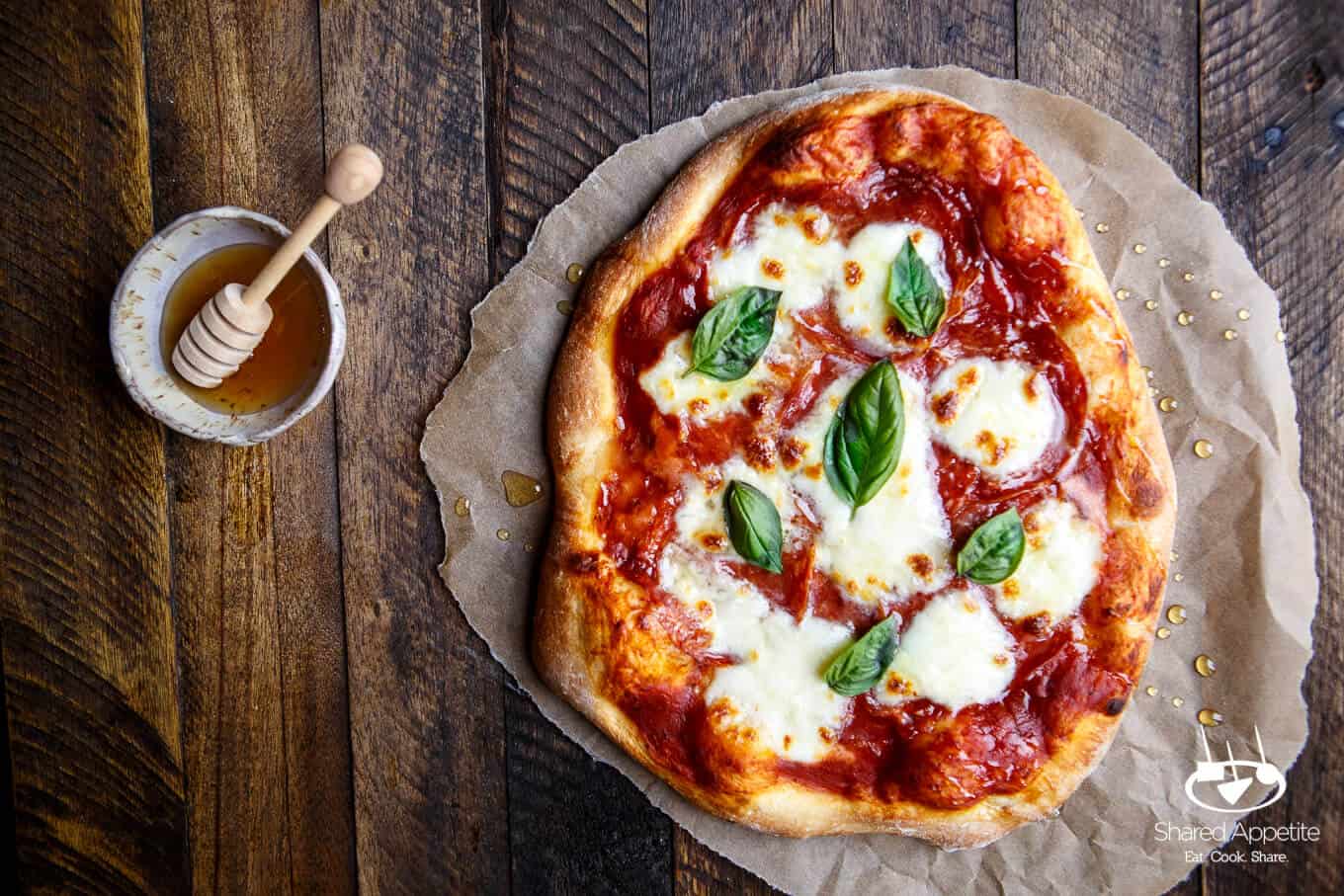 Spicy Honey Soppressata Pizza – The Bee Sting Pizza
Print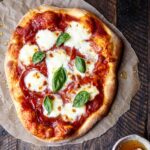 Spicy Honey Soppressata Pizza – The Bee Sting Pizza
---
Author:

Chris Cockren

Total Time:

20 minutes

Yield:

1

(2 serving) Pizza

1

x
1

(16 ounce) pizza dough, room temperature

1/3

–

1/2

cup pizza sauce*

6 ounces

good quality fresh mozzarella, torn

8

slices good quality hot soppressata

6

–

8

basil leaves
honey, for drizzling
---
Instructions
Place a pizza stone on lowest rack in oven and preheat oven to 500°F.
Lightly dust flour on a pizza peel.  Working quickly, dust pizza dough in flour and stretch gently into a thin circle(ish) shape.  Depending on the size of your pizza, spread 1/3 – 1/2 cup pizza sauce in a thin, even layer across dough.  Add soppressata and scatter torn mozzarella cheese on pizza.
With a quick jerk motion the pizza should easily release from the peel onto the pizza stone in oven (this is why it's important to flour both the peel and dough, and work quickly).  Bake pizza in oven for approximately 10 minutes.  Depending upon the thickness of your dough, it could take a little less or a little more, so check frequently.
Remove from oven, top with a generous drizzle of honey and some fresh basil leaves.  Slice and devour.
Notes
*I make a simple pizza sauce by combining good quality canned crushed tomatoes with a bit of olive oil, Kosher salt, and freshly ground black pepper.  You can also add a little garlic if you'd like.  For a good starting point recipe, check out this.  Taste and adjust as you'd like, but remember you want it to taste simple and pure, not like marinara sauces you'd put on pasta.
Prep Time:

10

Cook Time:

10
Need More Pizza Ideas?
Huevos Rancheros Pizza with Turkey Chorizo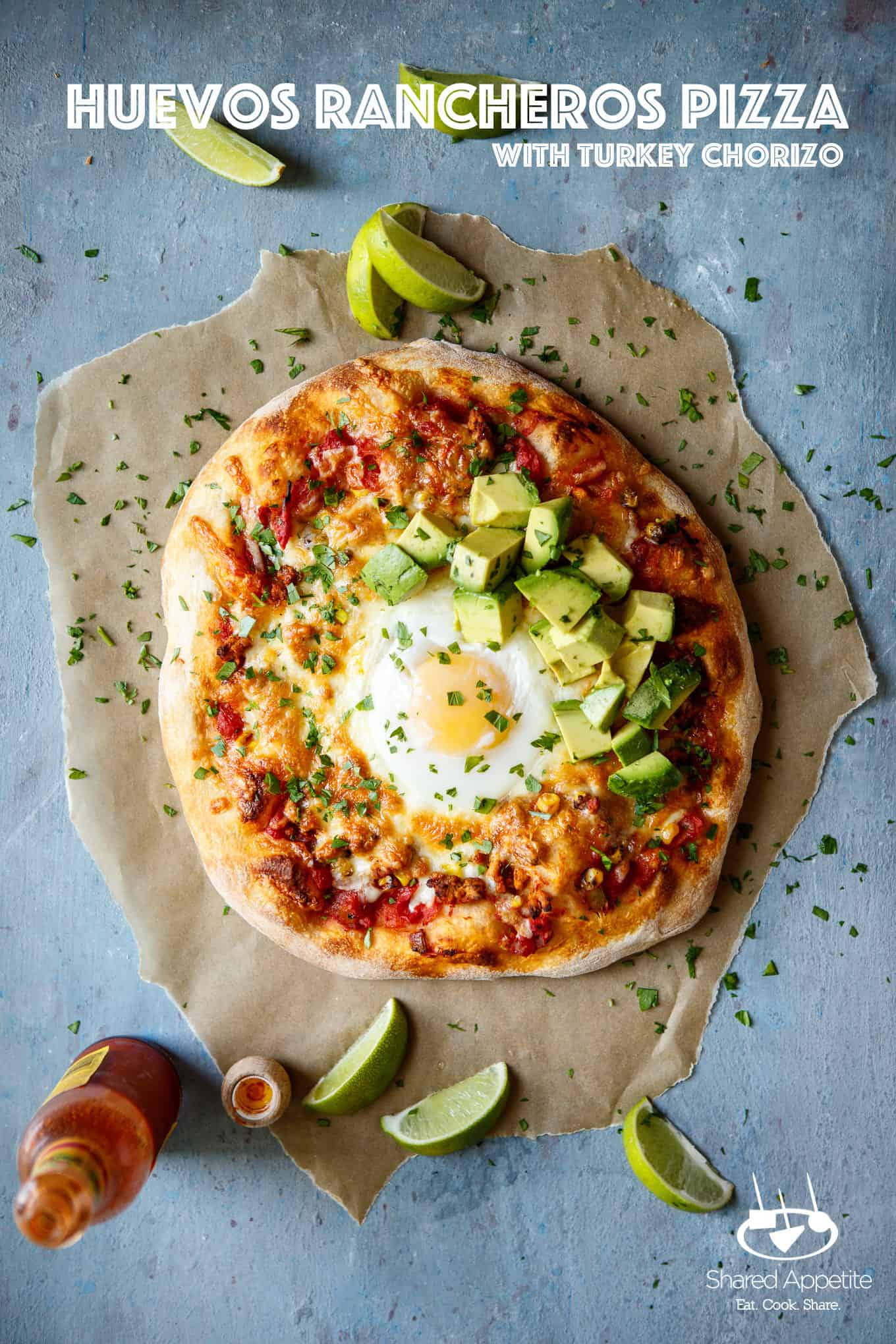 Corn and Blueberry Grilled Pizza with Whipped Goat Cheese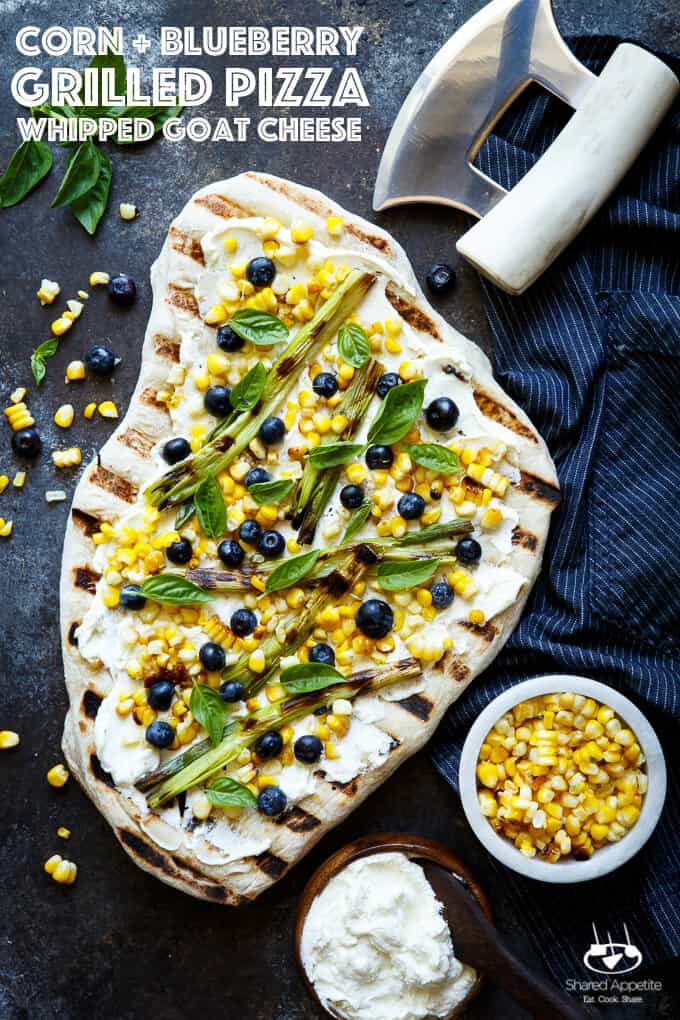 Mediterranean Lamb Flatbread