These Healthy Turkey Tacos with Pineapple Salsa were created in partnership with Butterball. As always, all opinions and recipe are my own. Thanks for supporting the brands that support Shared Appetite!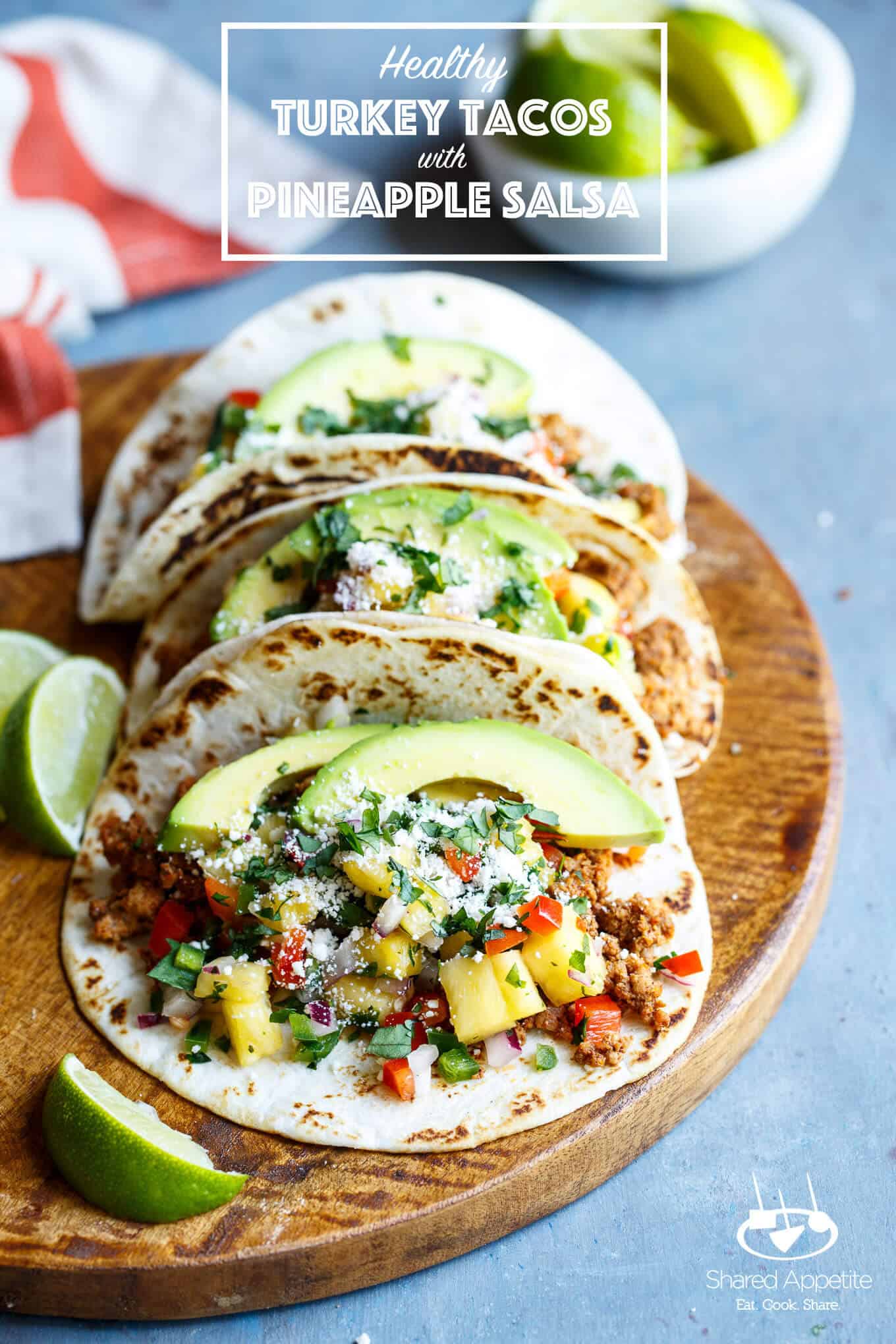 Ah, summertime... when the livin' is easy. There's nothing better than these couple of months I get to recharge my batteries before another school year begins. And yes, thank you. I know. Another school year is right around the corner. But we aren't going to talk about that right now. There's no need to get me all depressed, especially when I'm on vacation.
Actually as I write this, I'm sitting in a hotel room huddled in the bathroom while my wife and daughter are fast asleep in the pitch black abyss just beyond this lavatory door. I know, I lead a glamorous life.
It's our little family vacation to Sesame Place! We just arrived to the hotel. We planned it perfectly, leaving the house right after rush hour traffic was done. It's coincidentally also Olivia's bed time, and she loves sleeping in the car. No traffice + a sleeping toddler?! Life is good. #parentwin
However, for the first time ever, our little 2 year old decided to stay up for almost the entire 2 ½ hour car ride belting out "Let It Go" (not the whole song, just those words over and over again) and naming every Sesame Street character over and over again. I guess she's a wee bit excited.
But I digress. Before Olivia starts dragging us around Sesame Place these next few days, I need to tell you about this epic win I had in the meal planning department back at home last week. If you remember, I made this legit Huevos Rancheros Pizza with Turkey Chorizo for breakfast. Ermagherd. That breakfast pizza was unreal. I knew I was going to have a bunch of leftover "turkey chorizo", so I transformed it into perhaps one of my favorite dinner options of all time. TACOS!
These Healthy Turkey Tacos with Pineapple Salsa... ❤️❤️❤️❤️❤️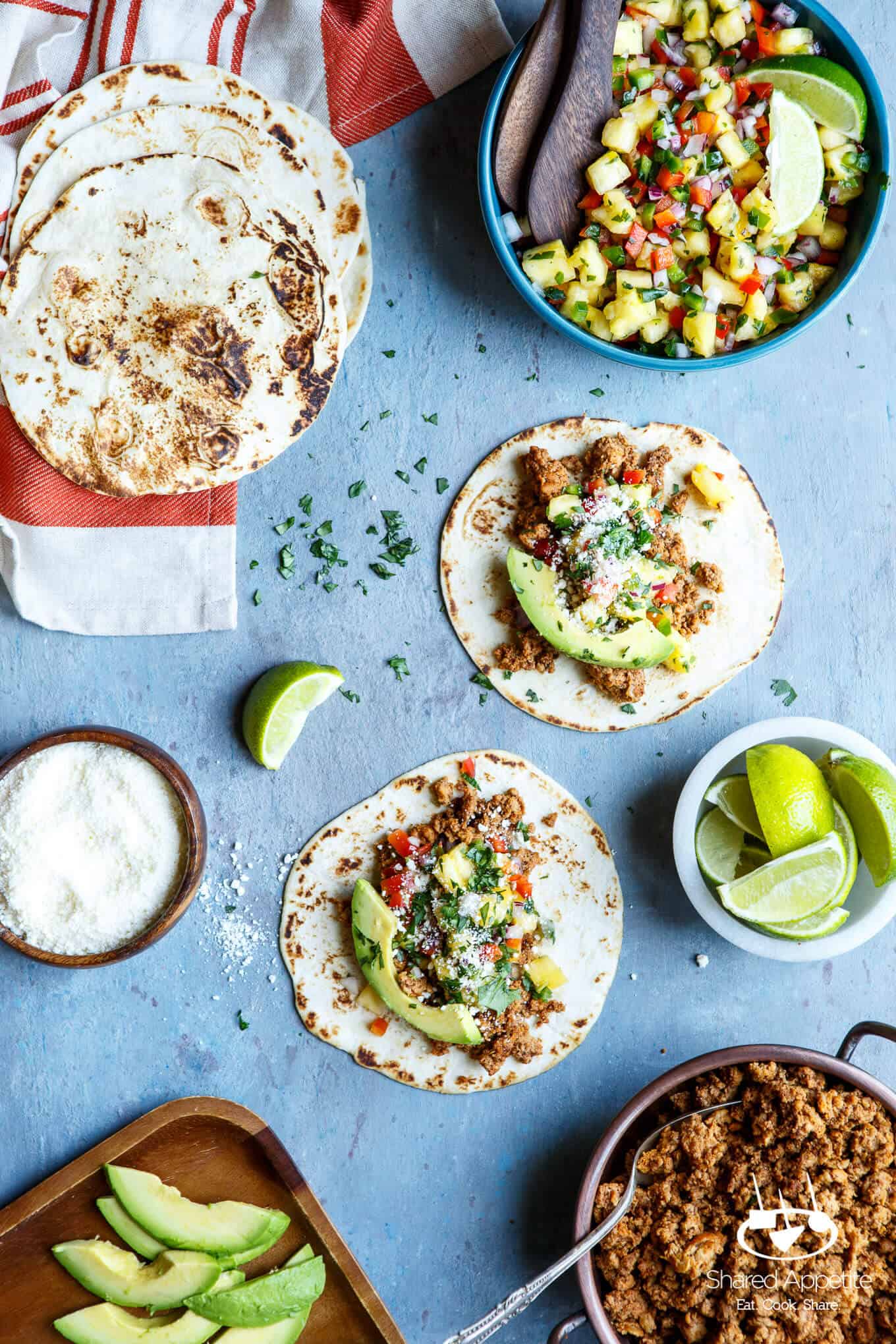 Okay, we have so much to talk about in this recipe. First, there's no need to actually make that breakfast pizza first if you don't want to (but I mean, why wouldn't you want to?). Just whip up a batch of the taco turkey for these Healthy Turkey Tacos with Pineapple Salsa (recipe is below). This seasoned ground turkey is also great for wraps, quesadillas, salads, omelettes, etc.
You may recognize the pineapple salsa. It's a staple around here (Pineapple Habanero Salsa, Pineapple Teriyaki Salmon). It's the most requested item for pretty much any of my parties throughout the year. The sweet and spicy combination is perfect on salty tortillas chips, various meats and poultry, and also it makes for an absurdly amazing taco with my Cowboy Beans (shout-out to my friend Steve for creating that winning combo).
Now I know the pineapple salsa does call for habaneros, but if you are serving this up to your family, I would definitely omit those. They are quite spicy. The poblanos in the recipe are mildly spicy, so if you have sensitive eaters, you can replace them with green bell peppers so the color is still there at least.
You know avocado is always a hit in my house, so they always make an appearance on taco night. Sometimes straight up, sometimes in my famous guacamole. The word famous in this case is complete unregulated, in case you were wondering. There's no declaration anywhere exclaiming my guac as famous. My mommy just thinks it is, so there.
You could totally use your favorite shredded taco cheese here (I'm looking at you cheddar and Monterey Jack), but I absolutely love the salty little kick of queso fresco. You only need a little bit because it packs a powerful punch of salty flavor!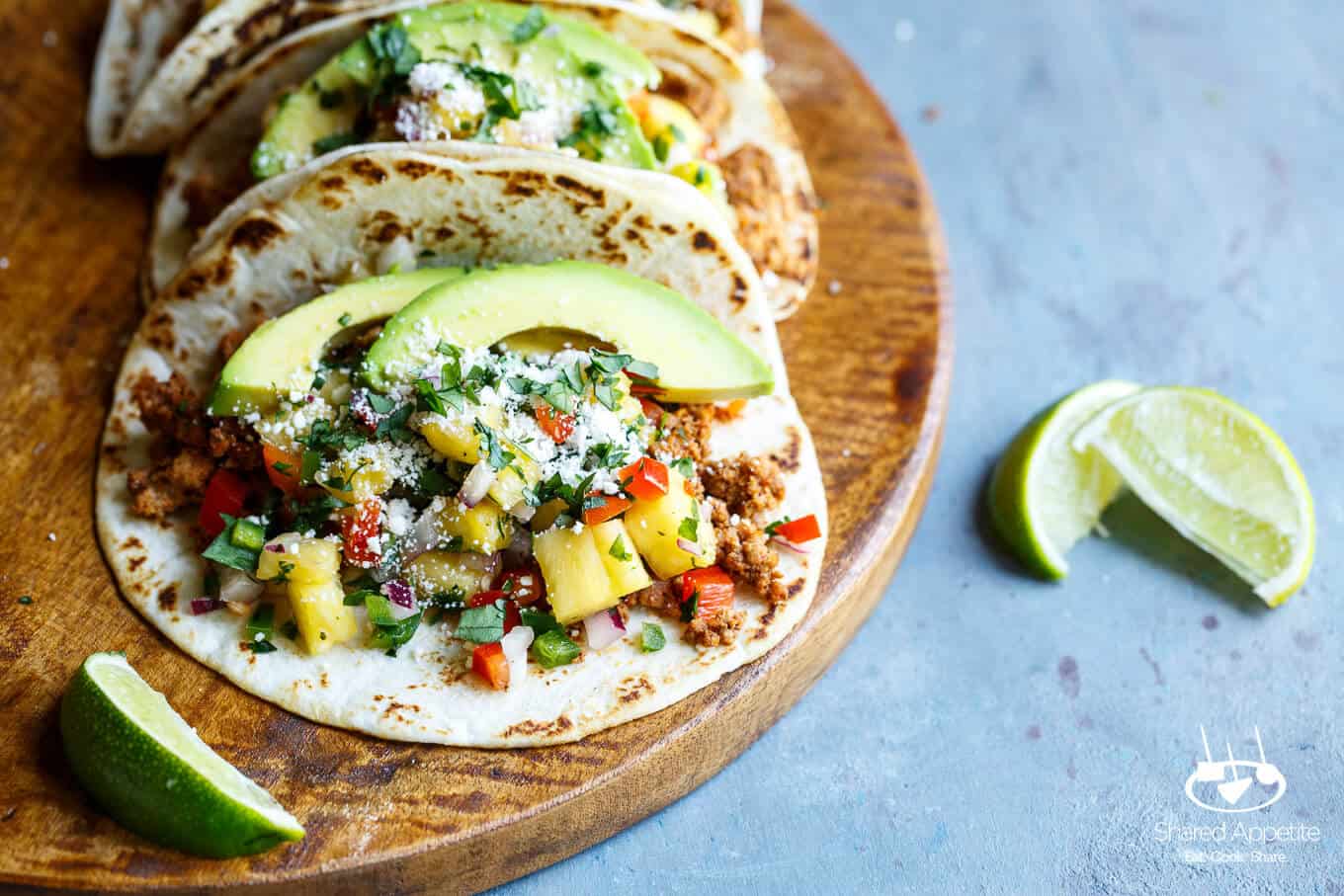 Onto my big pet peeve with tacos. Listen up, friends. Don't go through all the trouble of making this epic meal, and then just serve tortillas out of the bag. They need some TLC before they are destined for taco greatness. Tortillas are best served up warm and toasty. Take the extra few minutes and do it up right. Your family deserves it... right?
My favorite way to warm tortillas is in a dry pan over medium-high heat (I spray a light coating of nonstick cooking spray between each tortilla). A few seconds on each side (you'll see the tortillas begin to puff as they warm and toast) is all they need! If you look at the bottom left photo below, the reason they look all toasty golden brown is because I heated them in a pan. BOOM.
When serving tacos for a crowd, it's easier to just wrap a stack of them in aluminum foil and let them heat up in a 350°F-ish oven for about 5-10 minutes. If in a real hurry, you could wrap them in a moist paper towel and microwave for a few seconds.
No matter what your approach, make sure those tortillas are ready for these Healthy Turkey Tacos with Pineapple Salsa.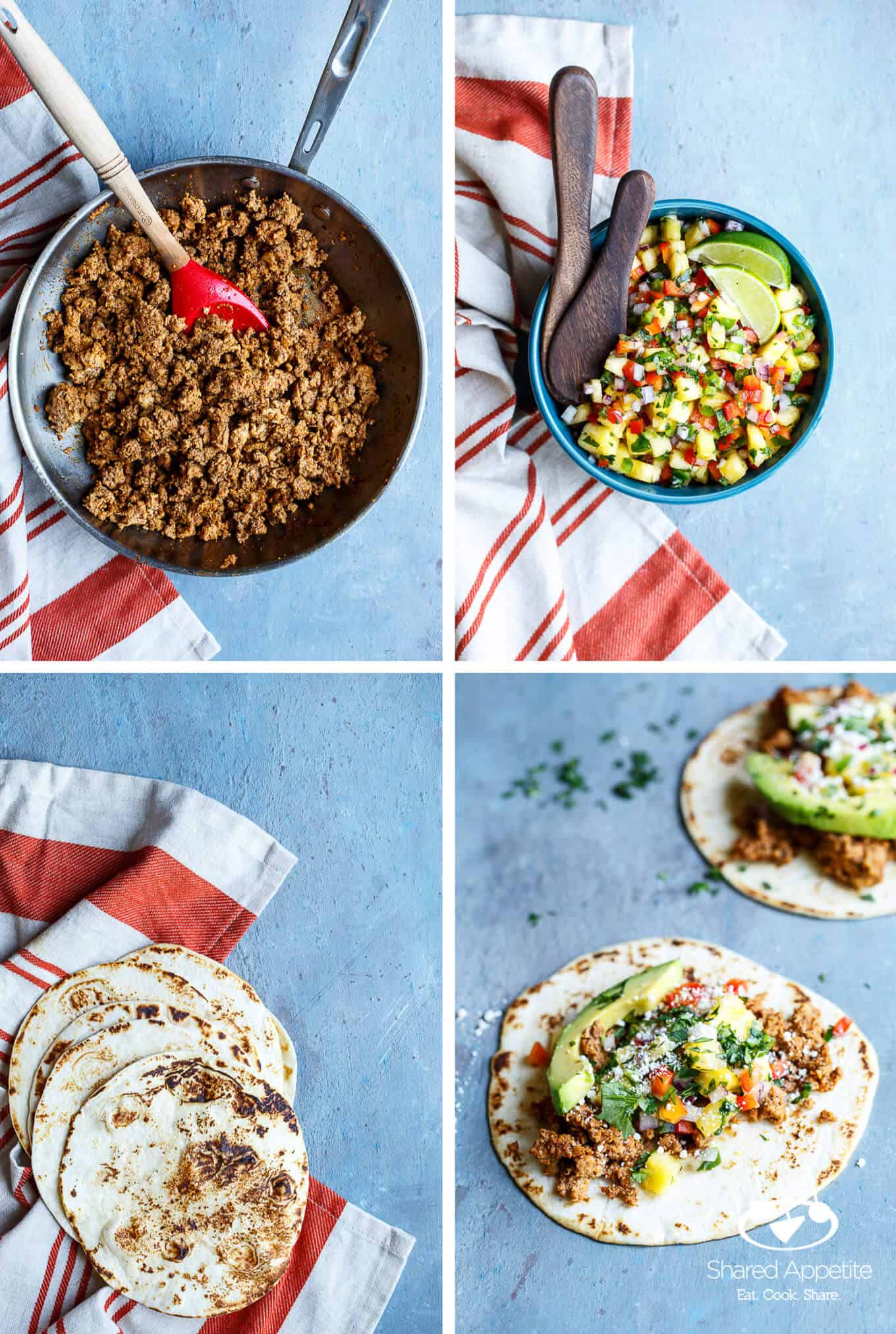 Did I mention how I absolutely love how easy it was to simply reheat this turkey from the Huevos Rancheros Pizza and turn them into tacos? Like, all I had to do was slice up some avocado and quickly prep this pineapple salsa, which takes a whole whopping 15 minutes AT MOST. A delicious and healthy dinner on the table that quick? That's a huge win in my book.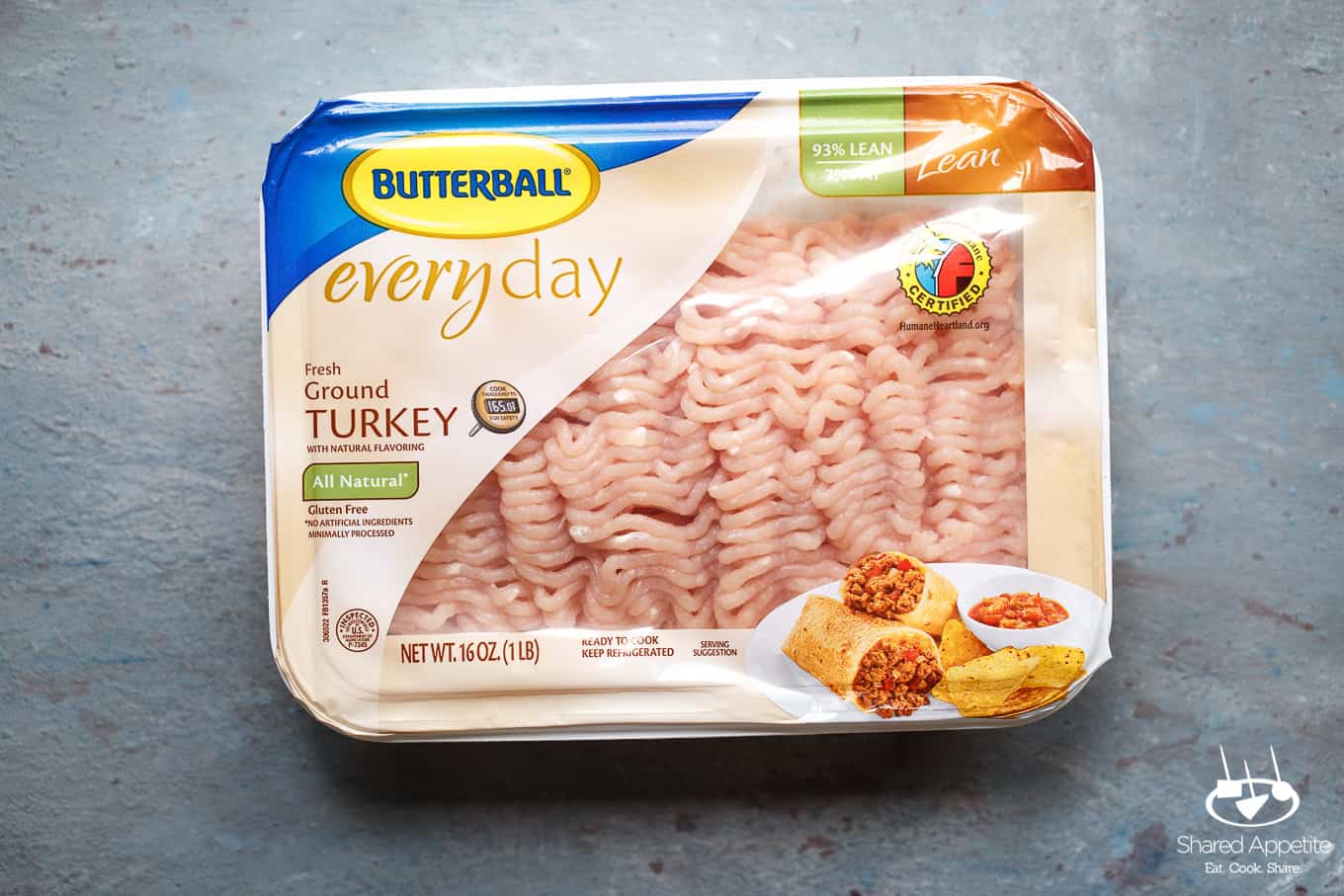 Let's give it up to this Butterball Ground Turkey for a second, can we? I love using ground turkey because it's a good source of lean protein and something we all can feel good about serving up to our loved ones to help maintain a healthy lifestyle.
Speaking of healthy lifestyle, did I tell you I started running this week. Ugh, I hate exercising. Truly and completely, I do. In theory, I really really really want to be one of those runners that can just be like hey, I think I'm going to run a half marathon next week. In reality, a 5K seems like an impossible feat even after months of training. Anyway, more on my running (and by running I mean jog... walk... jog... walk... walk... jo-no-walk....) another time.
Back to this Butterball Ground Turkey. It's the perfect lean protein-packed solution for breakfast, lunch, and dinner. If you need some turketarian inspiration, here ya go:
Anyone else only give turkey a chance at Thanksgiving and on their boring lunchtime white bread sandwiches? Ugh, come on guys. We're better than that. Let's give
Butterball Turkey
a permanent spot in our weeknight dinner rotation. And with tacos like these Healthy Turkey Tacos with Pineapple Salsa, that'll be an easy thing to do!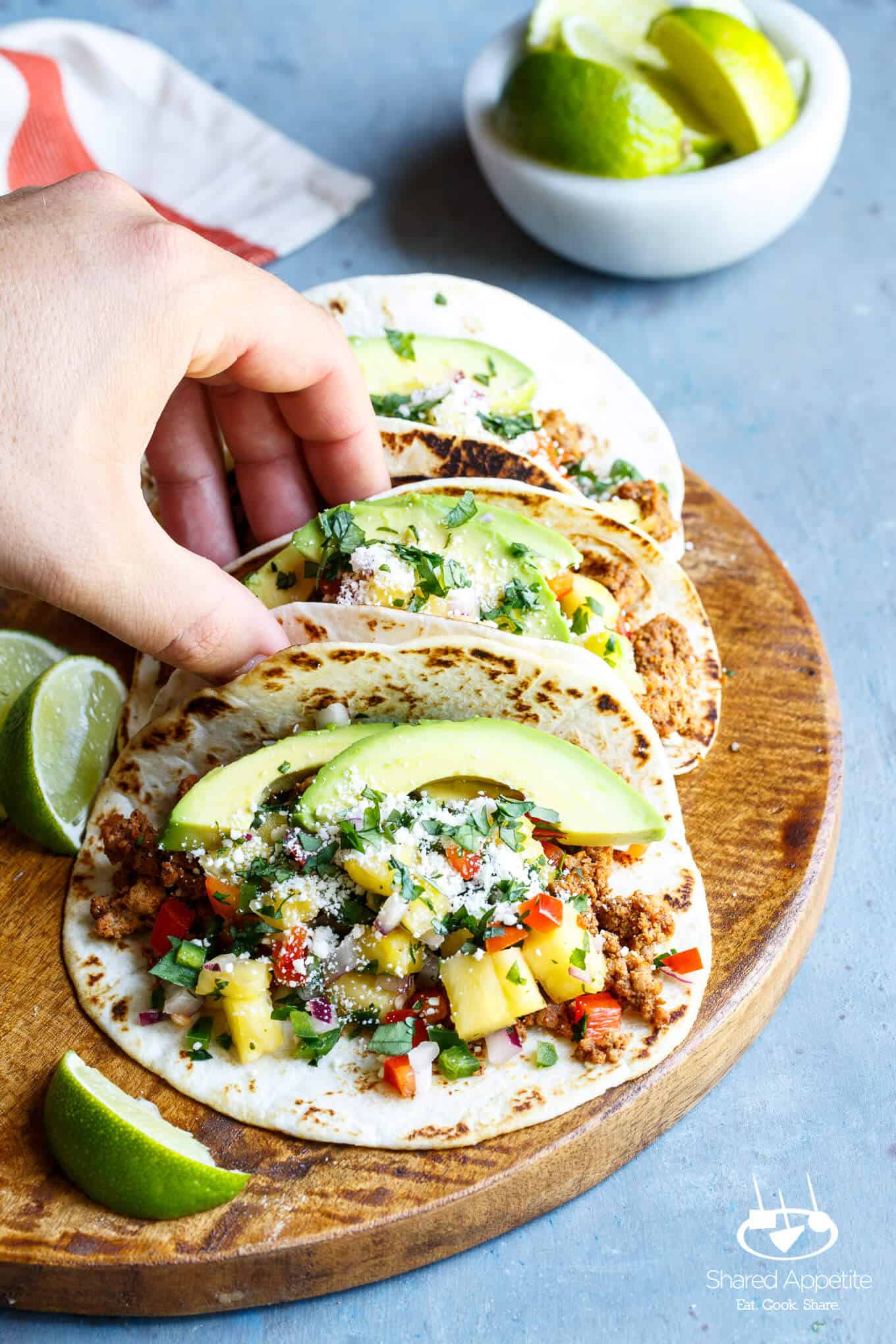 Print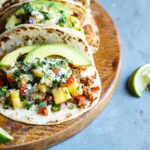 Healthy Turkey Tacos with Pineapple Salsa
---
Author:

Chris Cockren

Total Time:

25 minutes

Yield:

4

Servings (about

12

tacos)

1

x
12

small flour or corn tortillas
Taco Turkey (recipe below)
Pineapple Salsa (recipe below)

2

avocados, sliced
Queso Fresco, crumbled
Chopped cilantro
Lime wedges
for the Taco Turkey
1

pound Butterball ground turkey

1 tablespoon

canola or vegetable oil

2 teaspoons

chili powder

1 teaspoon

Kosher salt

1 teaspoon

paprika

1 teaspoon

cumin

½ teaspoon

garlic powder

½ teaspoon

oregano

1 tablespoon

apple cider vinegar
for the Pineapple Salsa
½

ripe pineapple, finely chopped

½

small red onion, minced

½

poblano chile, minced

½

red bell pepper, minced

1

habanero chile (scotch bonnet), seeded and very finely minced, optional

1

lime, juiced

½ tablespoon

packed light brown sugar
Handful cilantro leaves, chopped
Pinch Kosher salt
---
Instructions
Warm tortillas.  Top with taco turkey, pineapple salsa, avocado, queso fresco, cilantro, and a squeeze of lime juice.  Devour immediately.
for the Taco Turkey
Heat oil in a large skillet over medium-high heat.  Add ground turkey, spices, and vinegar and cook, stirring occasionally until turkey is browned and cooked through.
for the Pineapple Salsa
Combine all ingredients in a medium-sized mixing bowl. Allow the flavors of the salsa to meld for at least 30 minutes, although an hour or two is optimal. You can also make the salsa several hours ahead of time (up to a day ahead), covering and storing in the refrigerator. Before serving, stir your salsa to redistribute the juices that have pooled at the bottom of the bowl.
Prep Time:

15

Cook Time:

10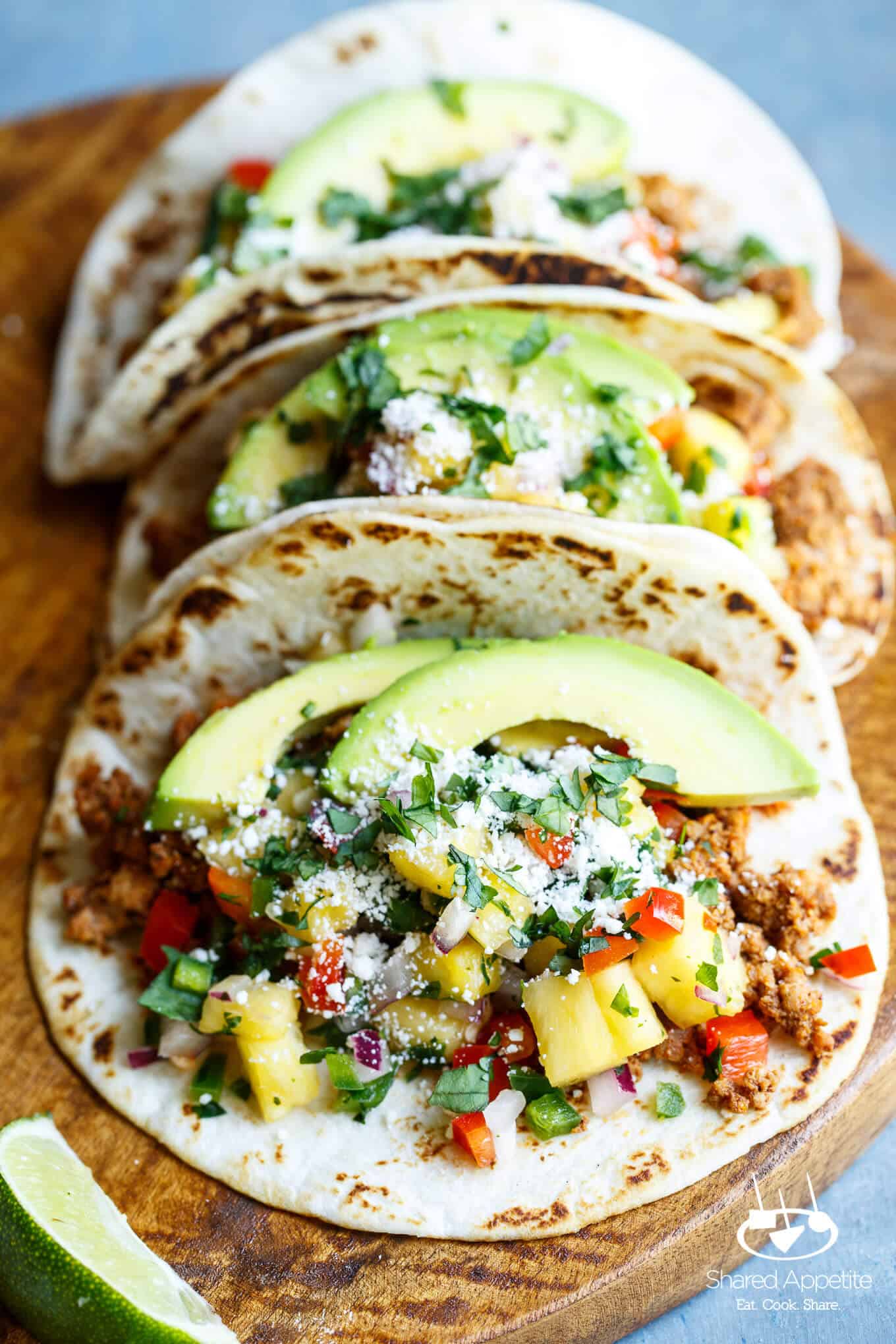 Healthy Turkey Tacos with Pineapple Salsa