This Huevos Rancheros Pizza with Turkey Chorizo was created in partnership with Butterball. As always, all opinions and recipe are my own. Thanks for supporting the brands that support Shared Appetite!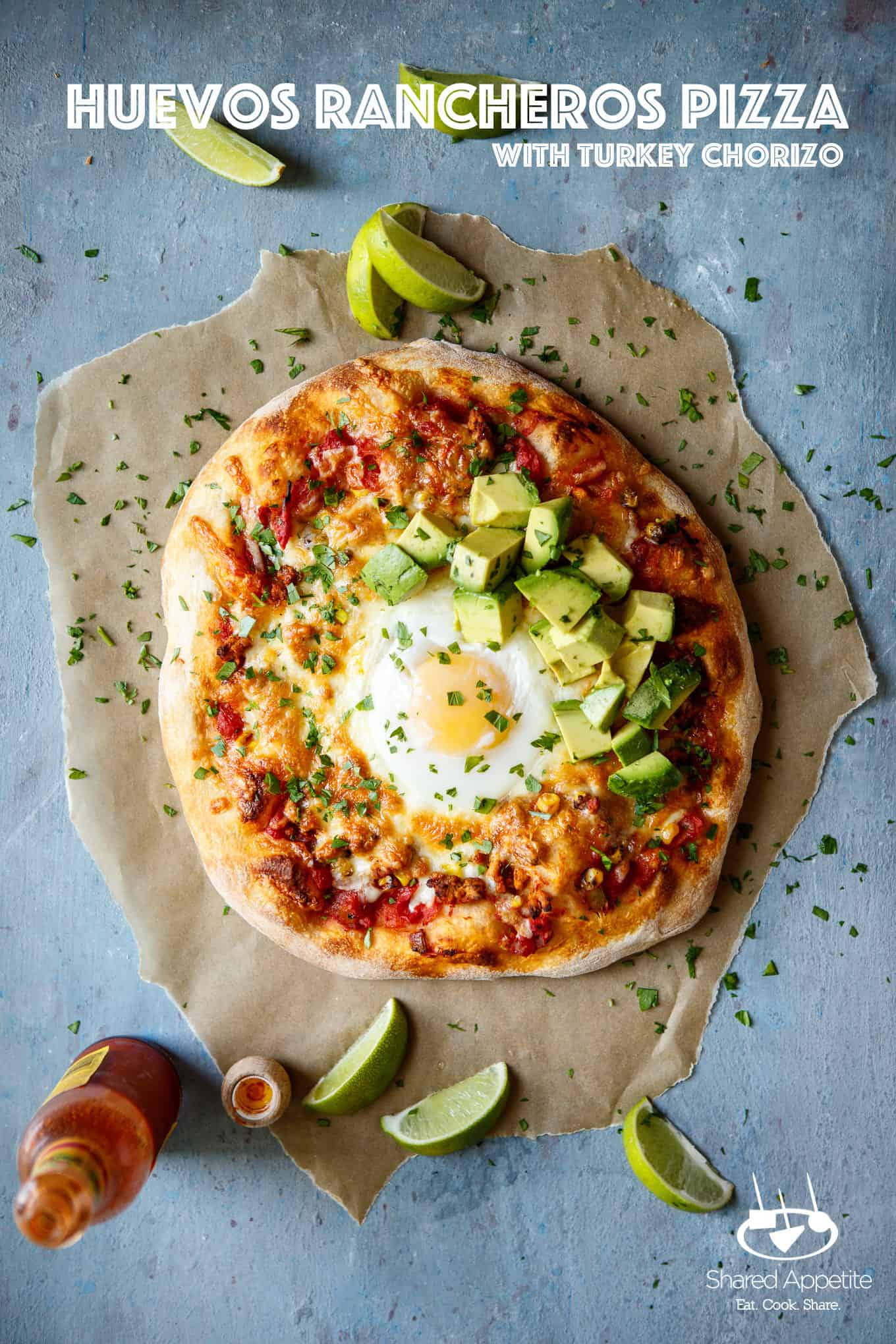 Raise your hand if you are a breakfast person! Did you really just raise your hand to a computer screen?
Don't judge me (you will anyway), but I'm 100% not a breakfast person. That's right, you heard me. I rarely, if ever, crave breakfast. Growing up, I wasn't even a fan of those sugary cereals or pop tarts. Muffins and doughnuts I was all over, but the usual breakfast stuff... ehhh.
I honestly still don't understand the breakfast for dinner thing (but side note: I would totally be on board with dinner for breakfast). As an adult, I happily eat eggs, bacon, pancakes, waffles, and even some cereals. But I don't crave them. I don't wake up super excited for a meal. It's just not really worth the effort to me.
That doesn't mean I'm not a morning person. I love love love the mornings. I'm super productive in the morning. I'm always on the go, ready to accomplish the next project. Eating though, is a complete afterthought. Most times it's just a yogurt or something. Breakfast, unfortunately, just isn't my thing.
HOWEVER. Once in a while, I get the itch. And when the breakfast itch comes on, I scratch... hard. Case in point: all of these epic breakfast recipes. When I can combine my love for southwest flavors with that rare breakfast itch... HOLY COW where has breakfast been all my life?!?! This Huevos Rancheros Pizza with Turkey Chorizo might just be my favorite new breakfast recipe to date.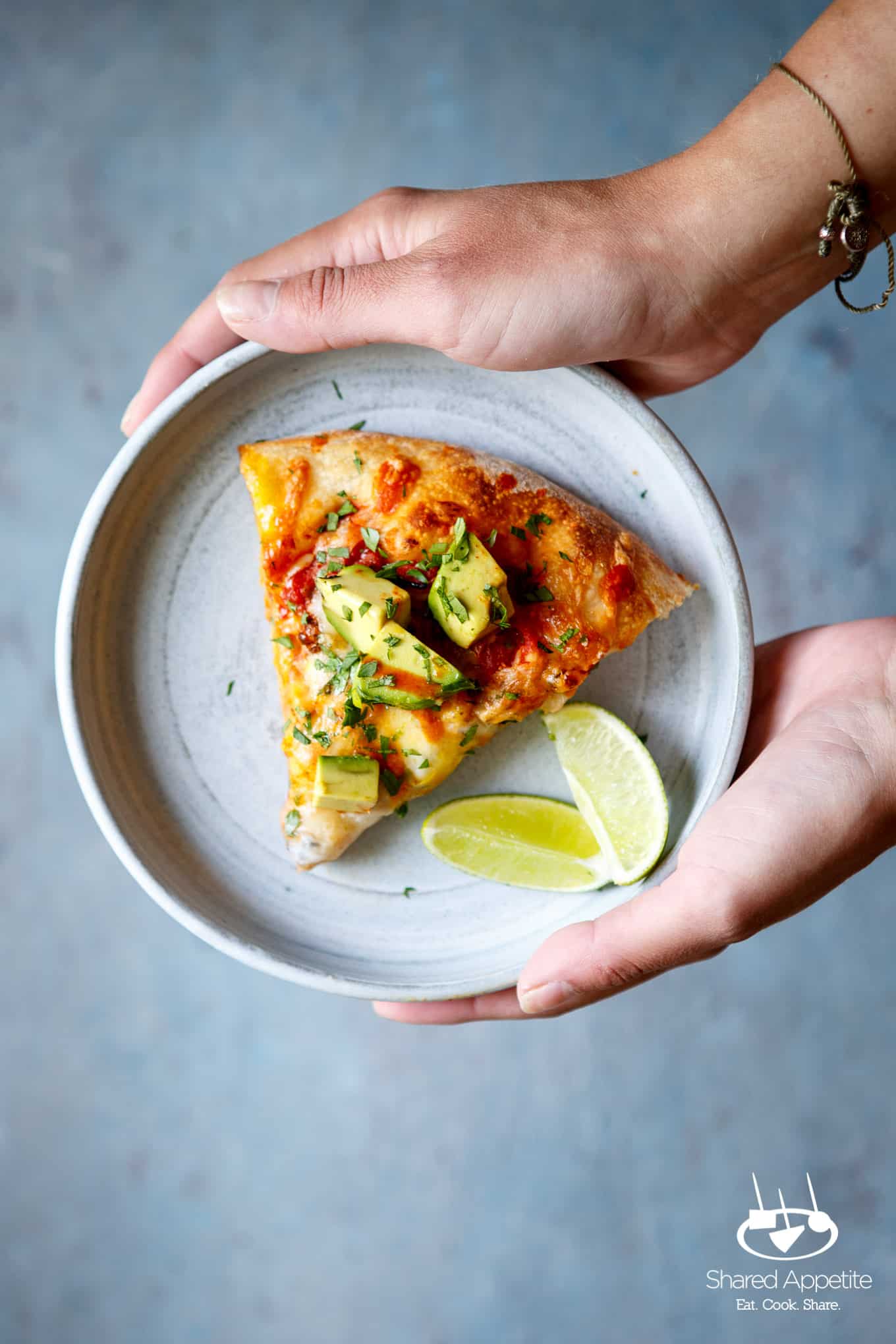 HUEVOS RANCHEROS PIZZA. Ermagherdddddddddd it's so darn good.
Not going to lie, this definitely isn't a quick weekday morning breakfast recipe. It takes a bit of time to whip together, but it's still ready and done in under 30 minutes! Actually, what am I saying. I'm a teacher. I totally CAN make this throughout the week. Ha, suckers with your Monday through Friday jobs. Just kidding, don't hate me.
This pizza. It all starts with some store bought dough because really, who has time in the morning to make their own. You can probably score some at your local supermarket, or just buy one from your neighborhood pizzeria. Just make sure to let the dough come to room temperature before trying to stretch it out... it's way easier to work with that way.
The "sauce" for this pizza is simply some chunky salsa. You could go crazy with making your own, but don't. It's easier to just buy a decent jar for a couple of bucks. Top with some thawed frozen corn and turkey chorizo (more on that later), this Huevos Rancheros Pizza is just a hefty sprinkling of cheese away from the oven.
The oven. This is important. Do you have a pizza stone? I keep one in my oven at all times (I read once it helps regulate the temperature of the oven a bit), and it's a necessity for oven baked pizzas! If you don't own one and can't get one, you can still make this pizza on a baking tray, but just adjust cooking times according (it'll take longer probably). You'll also want to make sure to grab a pizza peel. It makes pizza prep to oven transfer a breeze.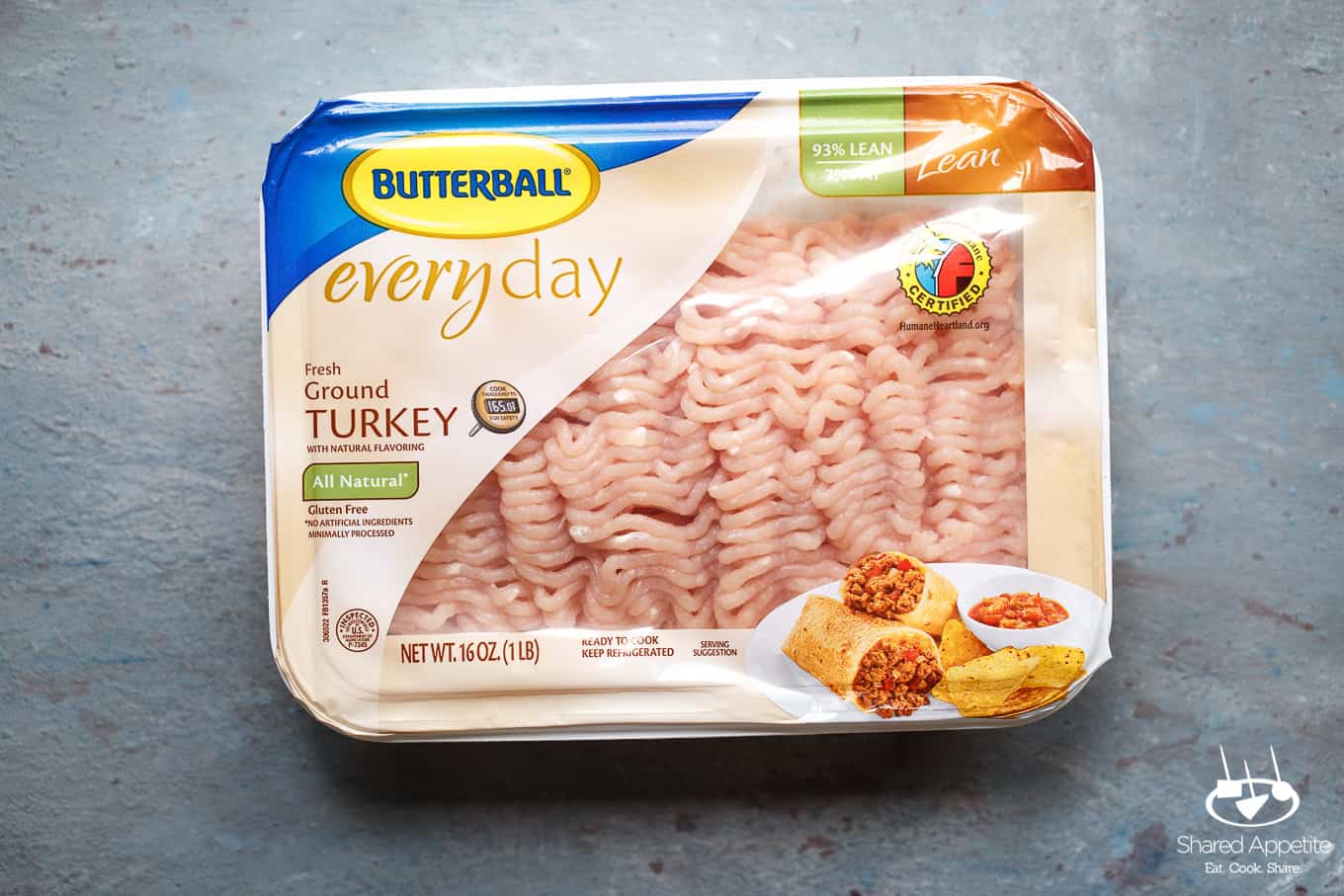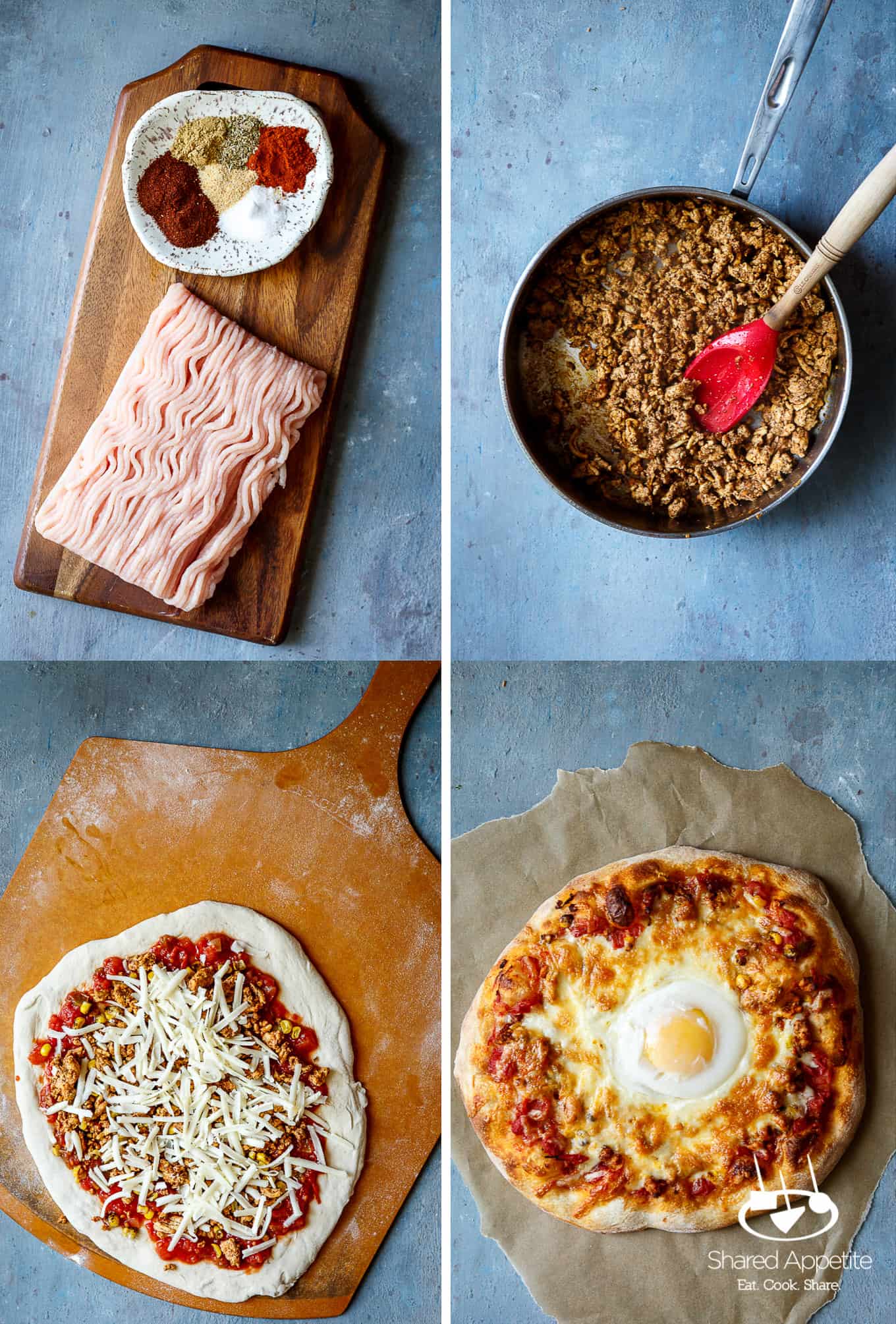 Let's go back to that turkey "chorizo" for a second. Is it real chorizo? No, not even close. But is it freaking delicious? Heck to the Y-E-S. The seasoned ground turkey is the perfect addition to this Huevos Rancheros Pizza, and will taste equally great on tacos, nachos, salads, and more!
So why did I use turkey chorizo here? Two reasons. First, I already had some ground turkey on hand and wanted to make good use of it. Second, ground turkey is a good source of lean protein and something we all can feel good about serving up to our families to help maintain a healthy lifestyle.
Butterball Ground Turkey is the perfect lean protein-packed solution for breakfast, lunch, and dinner. I've been busy whipping up Greek Turkey Burgers, Korean Turkey Burgers, and Korean Lettuce Wraps with the stuff lately... and it's all SO delicious.
Anyone else only give turkey a chance at Thanksgiving and on their lunchtime sandwiches? Well snap out of it peeps. Let's give
Butterball Turkey
a permanent spot in our weeknight dinner rotation. There's a little turketarian in all of us… so embrace it! Grab some Butterball Ground Turkey the next time you are at your grocery store and whip up this Huevos Rancheros Pizza for breakfast!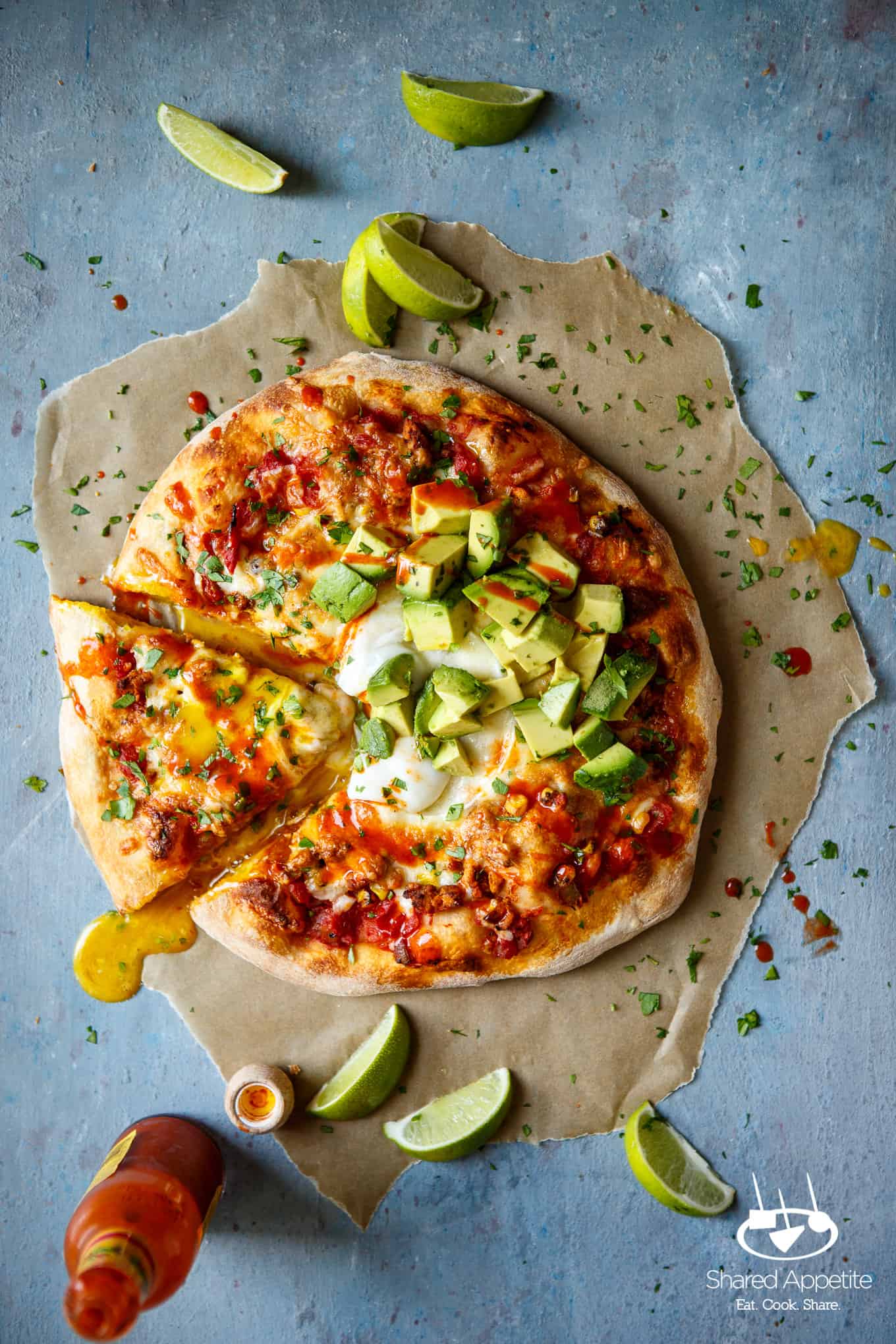 Did your heart just skip a beat? That happens to me too when I see a glorious golden runny yolk. I'm totally craving this pizza again right now.... but wait, it's dinner time. Does that mean ::gasp:: I'm not a breakfast for dinner person?!?!
Depending on the size of your pizza, you'll be able to fit either one or two eggs on your pizza. Don't add it right away... you'll want the pizza to be partially cooked first. That way once the whites of the eggs are just set, the pizza will be golden brown and crispy. Top it with some avocado, cilantro, and hot sauce, break into that yolk... and DEVOUR.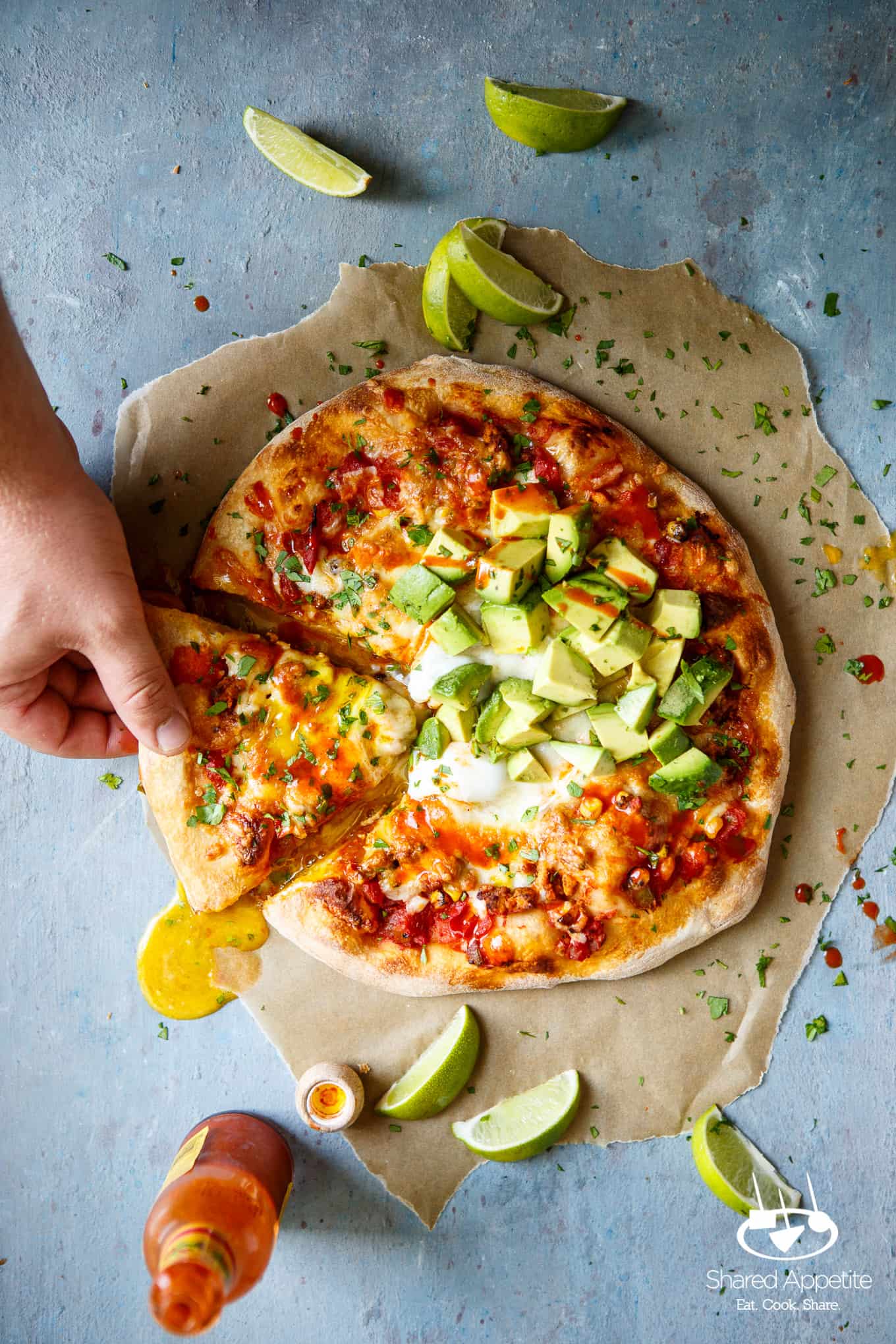 Print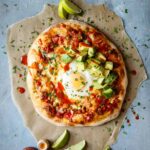 Huevos Rancheros Pizza with Turkey Chorizo
---
Author:

Chris Cockren

Total Time:

30 minutes

Yield:

One

12

"-14" Pizza

1

x
1

(15 ounce) pizza dough

¾ cup

chunky salsa

¼ cup

frozen corn kernels, thawed

¾ cup

Turkey "Chorizo" (recipe below)

1 cup

shredded monterey jack cheese

2

eggs

1

avocado, chopped
Chopped cilantro
Hot sauce
for the Turkey "Chorizo"
1

pound Butterball ground turkey

1 tablespoon

canola or vegetable oil

2 teaspoons

chili powder

1 teaspoon

Kosher salt

1 teaspoon

paprika

1 teaspoon

cumin

½ teaspoon

garlic powder

½ teaspoon

oregano

1 tablespoon

apple cider vinegar
---
Instructions
Preheat a pizza stone in your oven to 500°F*.  Bring pizza dough to room temperature if previously in refrigerator.  Generously flour dough and a pizza peel and roll/stretch out dough into a round-ish pizza shape.  Top with salsa, corn, turkey chorizo, and cheese.  Carefully slide pizza onto pizza stone and cook for 5 minutes.
Remove from oven and top with eggs.  Place back in oven on pizza stone and bake for 5-7 minutes more, or until whites on eggs are just set.
Remove from oven and top with chopped avocado, cilantro, and your favorite hot sauce.  Break those beautiful runny yolks and serve!
for the Turkey "Chorizo"
Heat oil in a large skillet over medium-high heat.  Add ground turkey, spices, and vinegar and cook, stirring occasionally until turkey is browned and cooked through.  This will make more than you need for the pizza.  Refrigerate the leftovers and use the extra for tacos, nachos, or another dish!
Notes
*if you don't have a pizza stone, you should get one!  That doesn't help for now though.  So just line a baking sheet with aluminum foil and spray with nonstick cooking spray.  Cook pizza on the baking sheet... you may need to adjust cooking time longer.
Prep Time:

15

Cook Time:

15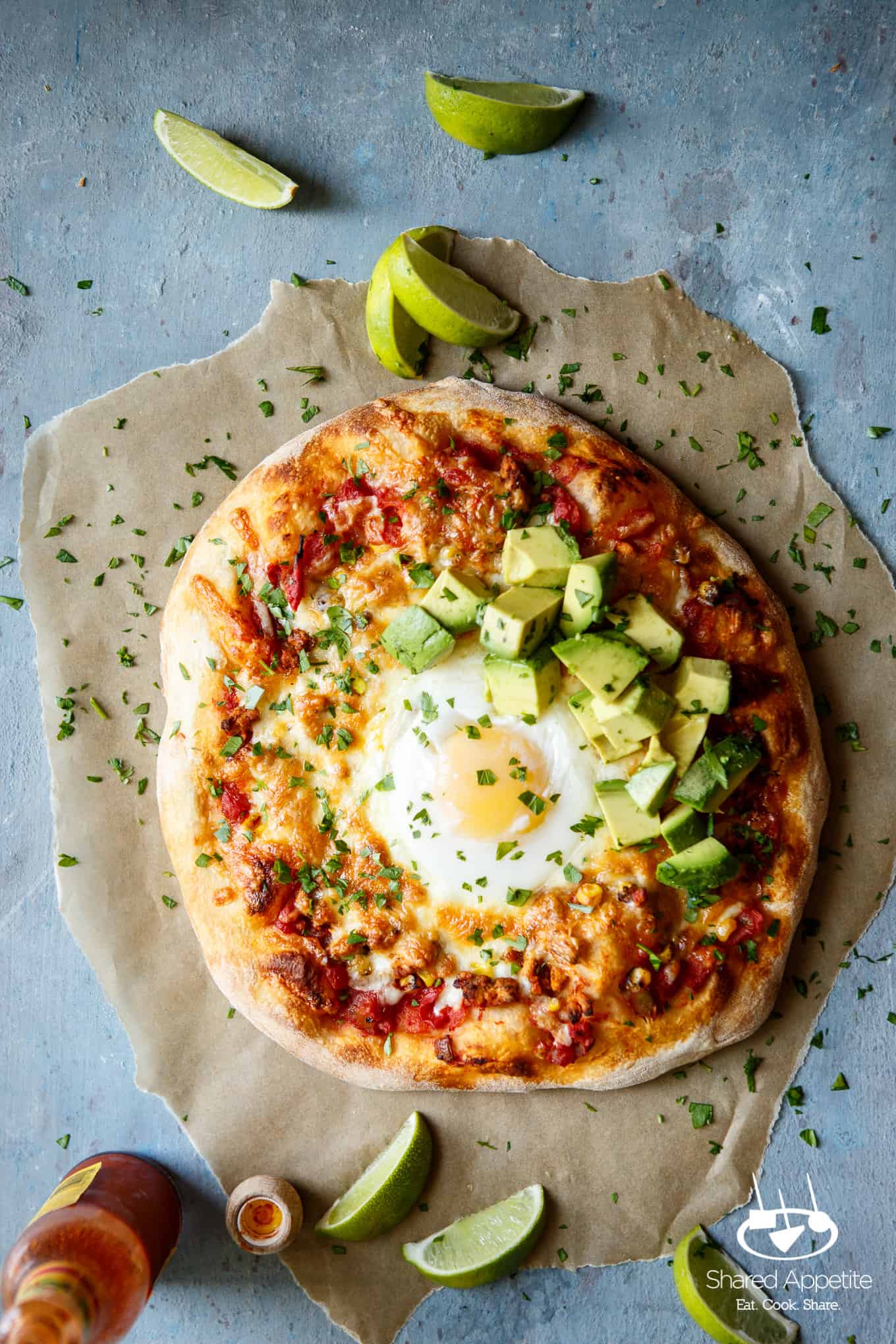 Huevos Rancheros Pizza with Turkey Chorizo