This Chicken Enchilada Crescent Ring was created in partnership with Rojo's Salsa. As always, all opinions and recipe are my own. Thanks for supporting the brands that support Shared Appetite!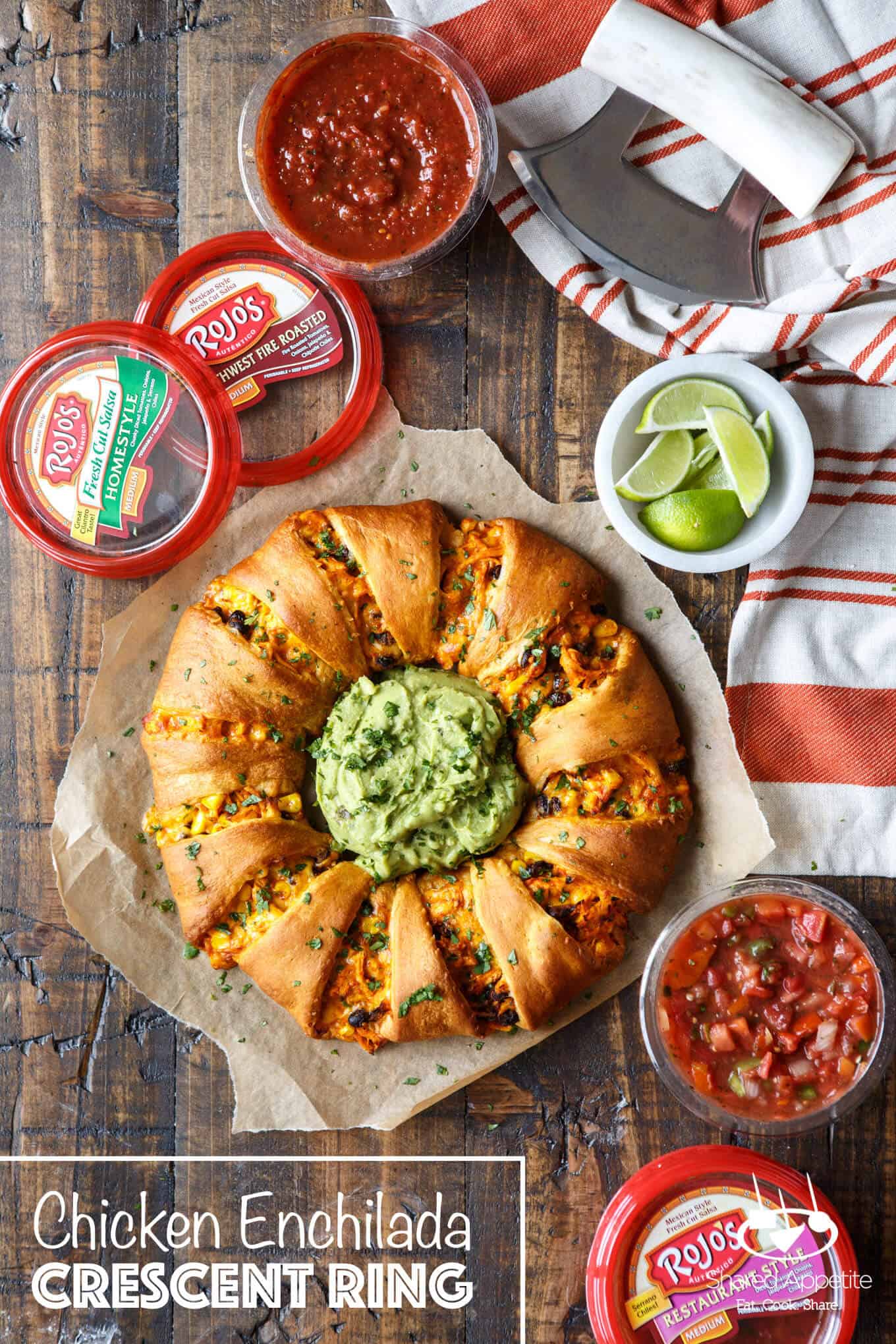 Has anyone else been seeing these crescent rings popping up in their Facebook feed like crazy lately? Or is it just because I'm obsessed about food and the internet somehow knows how much Asheley loves those perfectly buttery crescent rolls? Side note... I was talking with Asheley the other day how I need a new wallet, and the next time I was scrolling through my feed a wallet ad came up. Coincidence?
I digress. Either way, I'm so happy to be joining the crescent ring craze with this Chicken Enchilada Crescent Ring.
SO. GOOD.
And the timing couldn't be more perfect. The BIG GAME... the one football fans look forward to all year long... is THIS weekend! If you know me, you know that I am 100% indifferent when it comes to football. I'll watch it if it's on and the remote control is out of reach, but I don't consider myself a fan and honestly don't even know who's playing this weekend. All that doesn't really matter though, because watching the big game in my house has way less to do with football and way more to do with voting on which commercial was your favorite and chowing down on legit game day eats LIKE IT'S YOUR JOB.
I'm currently working on finalizing my game day watch party menu (there's just so many game day recipes to choose from), but this Chicken Enchilada Crescent Ring with Rojo's Salsa will definitely be making an appearance.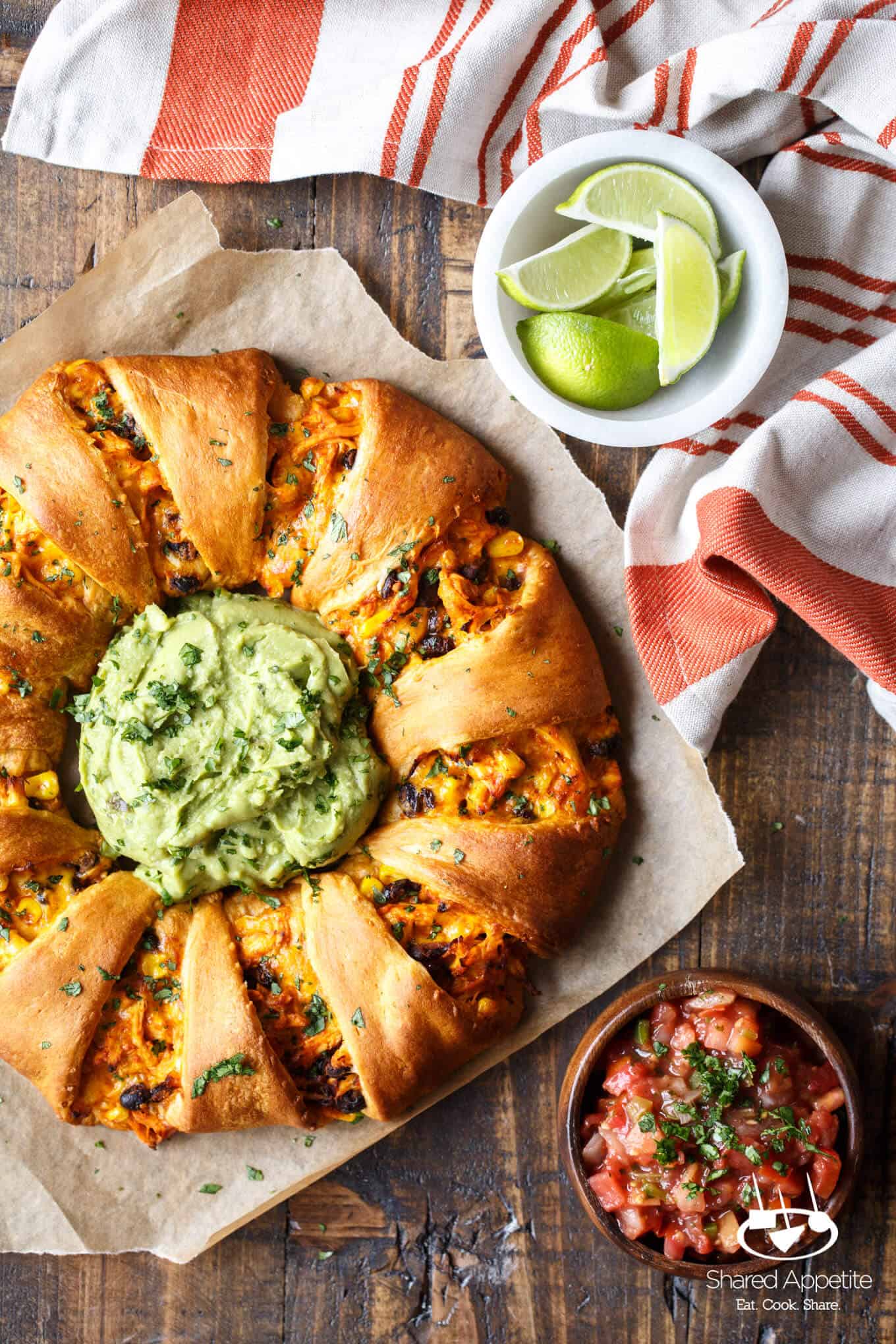 When it comes to game day entertaining, I have a few rules...
now's not the time to serve some delicately-flavored haute cuisine. Game day food is all about big, bold flavors!
if it requires utensils, it has no place on your menu (exception... chili like this Beer Braised Short Rib Chili)
if it requires napkins (or better yet paper towels), it should definitely be on your menu
game day recipes should be minimal on prep time and bonus points if you can make it ahead of time (you don't want to be in the kitchen and miss any touchdowns commercials!)
any type of food that you can dip or have flavor combination options for your guests are a huge win in my book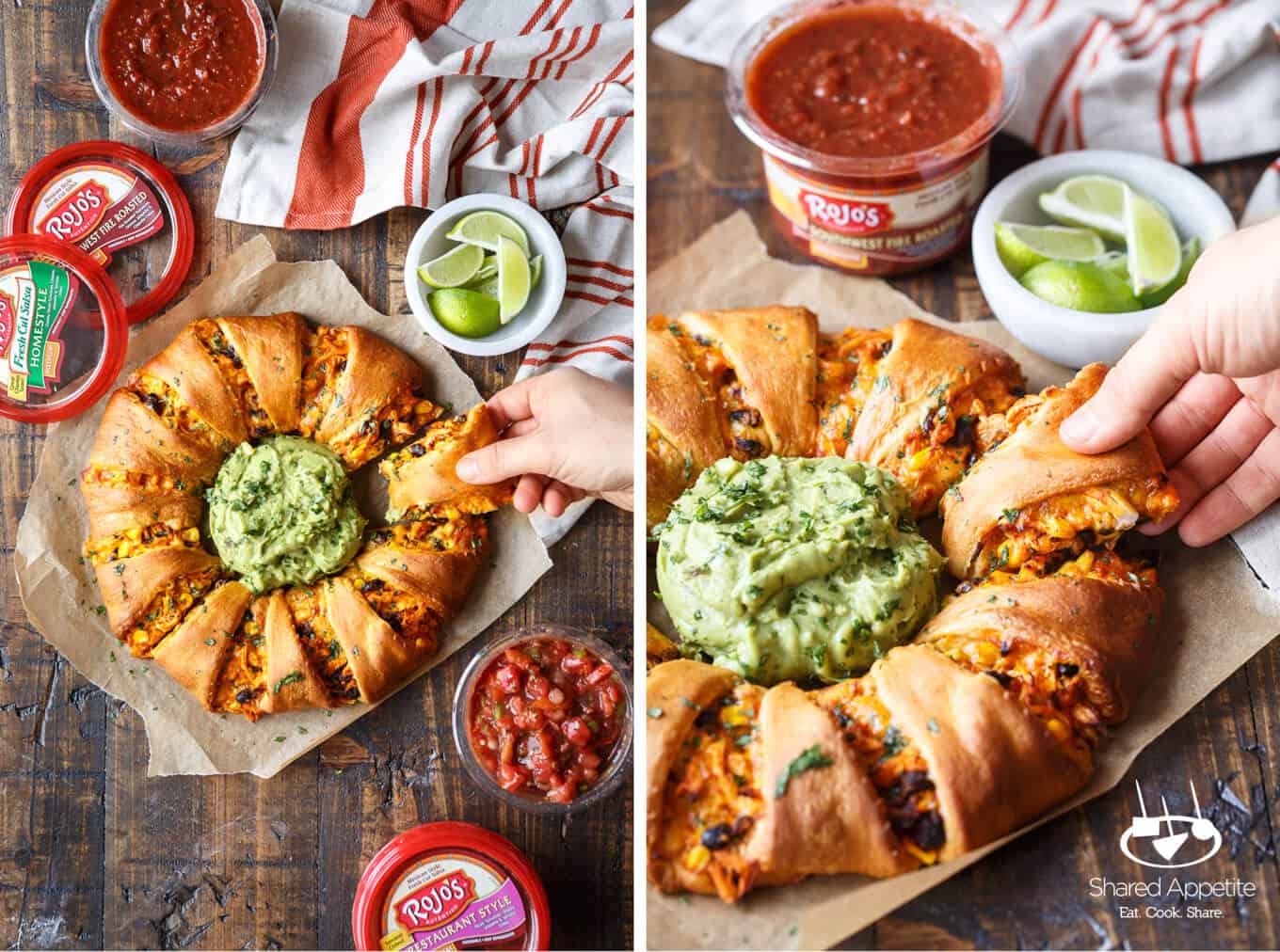 Does this Chicken Enchilada Crescent Ring check all of those boxes? Heck to the YES.
These flavors aren't shy... we're talking a buttery dough stuffed with chicken, cheddar cheese, corn, black beans, and enchilada sauce! Even better, it's dunked in Rojo's Salsas and guacamole!
No utensils are required, but you better get your hands on a few napkins.
You can make the filling a couple hours ahead of time and just assemble it when ready to bake. Assembling this Chicken Enchilada Crescent Ring takes all of 5 minutes and then you just let the oven do it's thing. The recipe is easy enough that I let my 2 year old daughter help me with the majority of the recipe... seriously!
My favorite part of game day food, though, has to be the ability to allow for flavor customizations. If I'm serving fries, I'll have 10 Different Ketchups you can try. Slow Cooker Buffalo Chicken Sliders? I'll put out a spread of crumbled blue cheese, avocado ranch dressing, pickled onions, pickled celery, and a few other toppings to choose from.
For this Chicken Enchilada Crescent Ring? My famous guacamole, obviously. Lime wedges and sour cream as well. But the real star of flavor variety? Rojo's Salsas.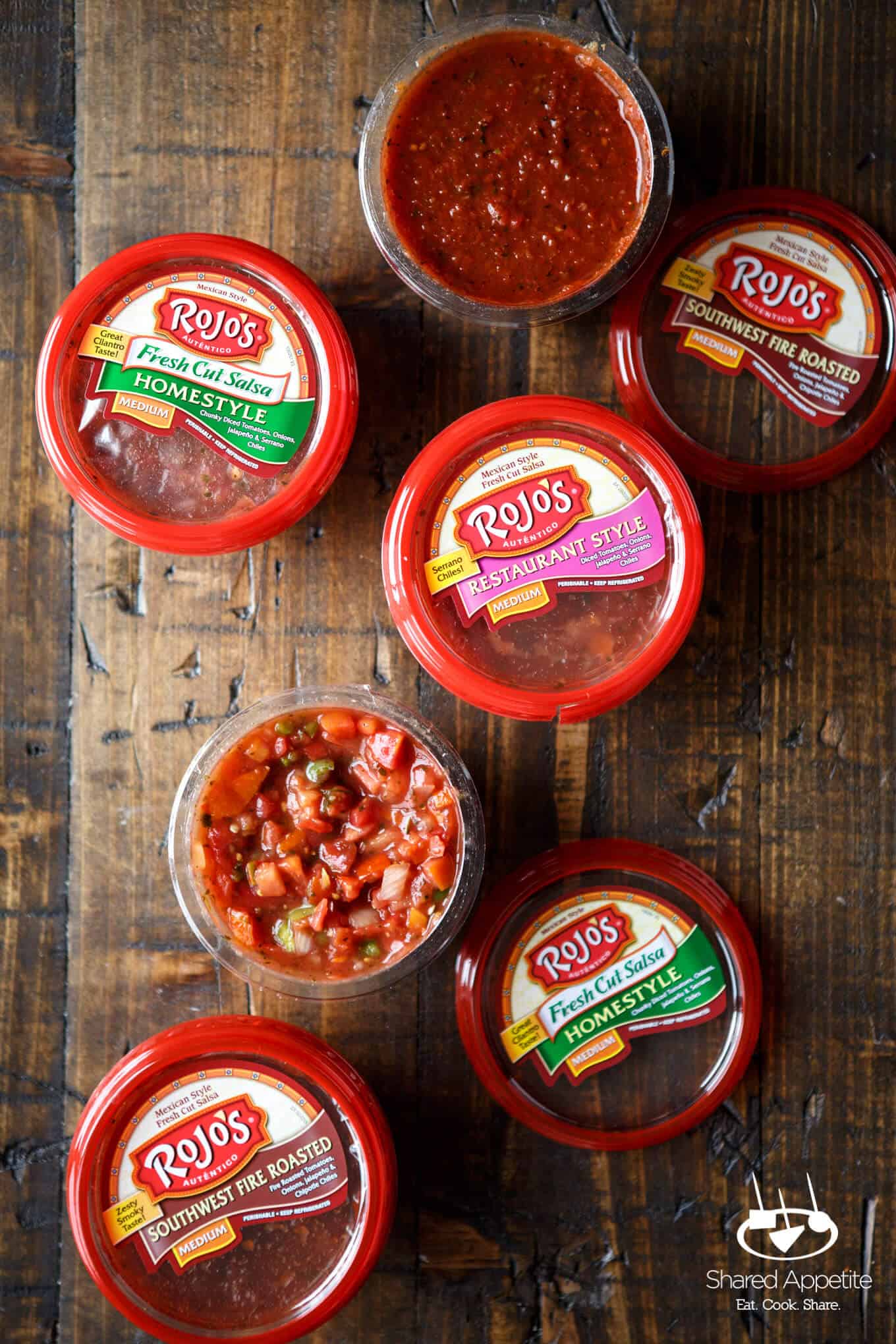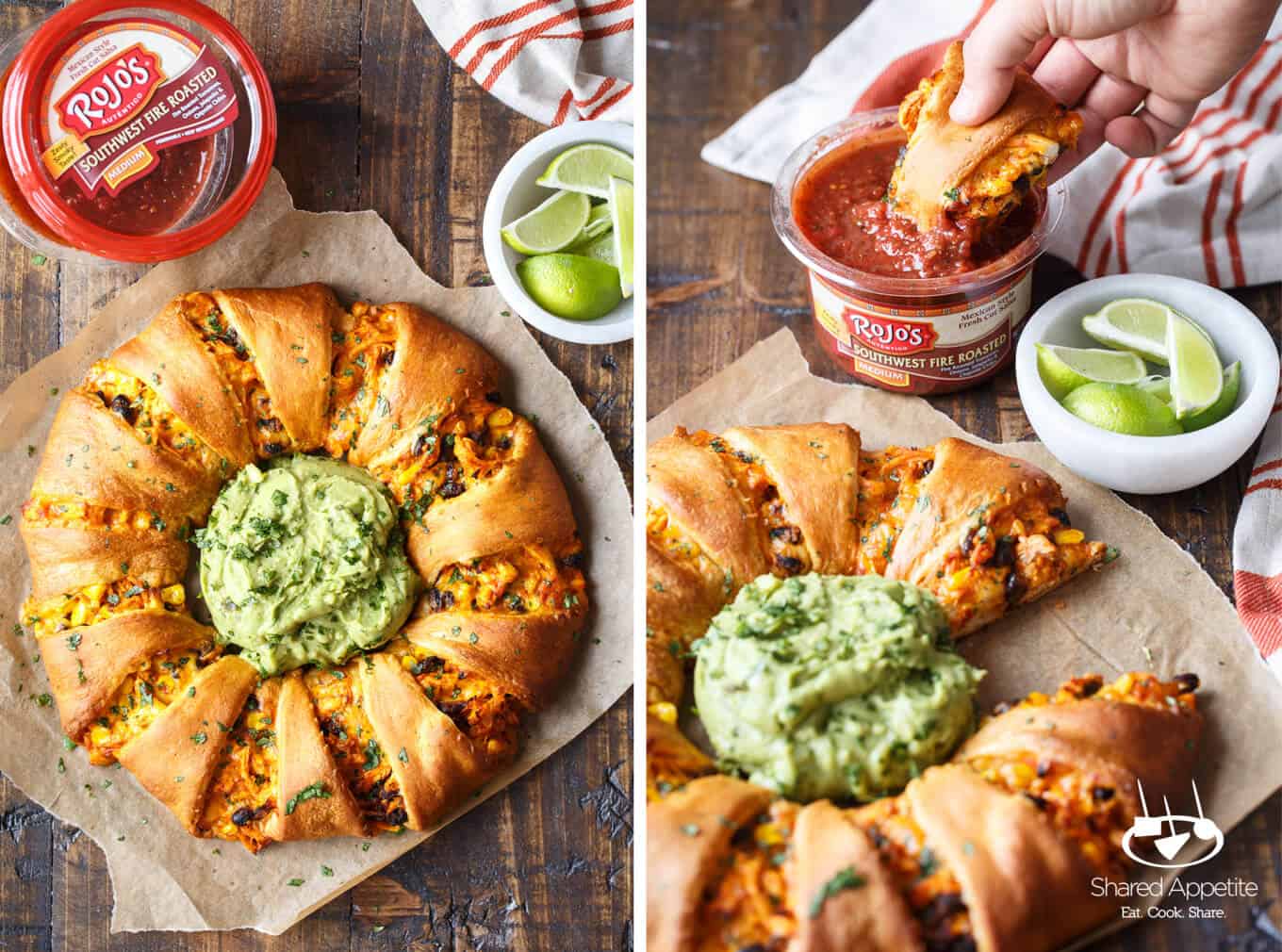 You know you've seen Rojo's big lineup of different salsas and dips at your local grocery stores. My first Rojo's Salsa encounter was at a friend's party. They put out a batch of their Classic 5 Layer Dip and I devoured so much of it. And now I always see Rojo's salsas and dips seducing me from the refrigerated sections of Costco and Walmart (you can find their full list of retailers here) with their fresh, premium flavors.
Rojo's has a bunch of different restaurant-quality salsas and dips to choose from, including the ones I used for my Chicken Enchilada Crescent Ring... Homestyle, Restaurant Style, and Southwest Fire Roasted! I love that these salsas are made in small batches with fresh cut ingredients. It translates into big, bold, delicious flavor that you can taste in your game day spread. Each salsa has a different flavor profile, and I loved keeping my tastebuds dancing as I dunked my Chicken Enchilada Crescent Ring into each one.
Make sure to search out Rojo's Salsas in the refrigerated section and keep an eye out for their newest varieties, including Hatch Chile Salsa and Salsa Verde (that Hatch Chile sounds epic) and a new line of (ermagherd!!!) queso dips!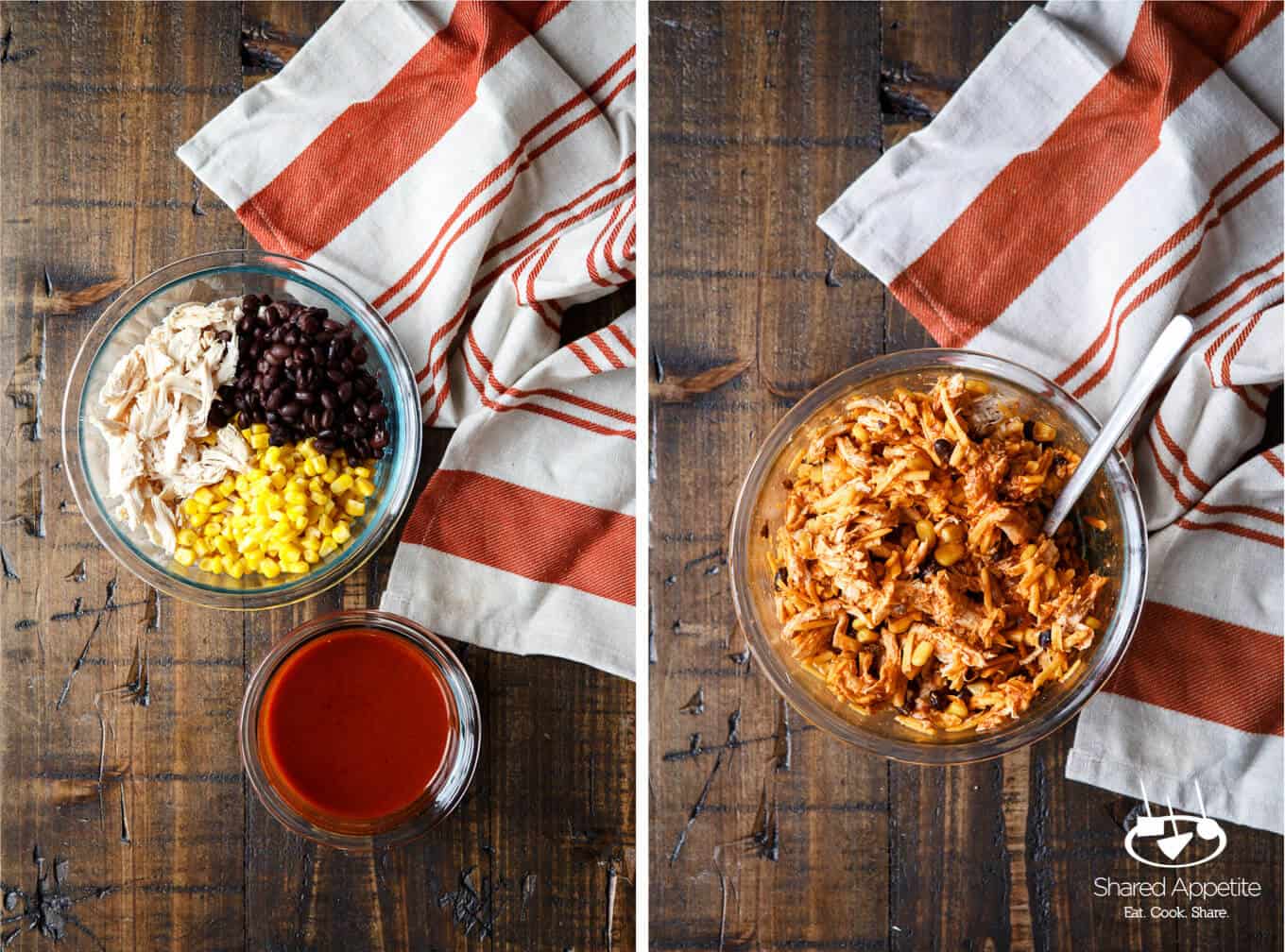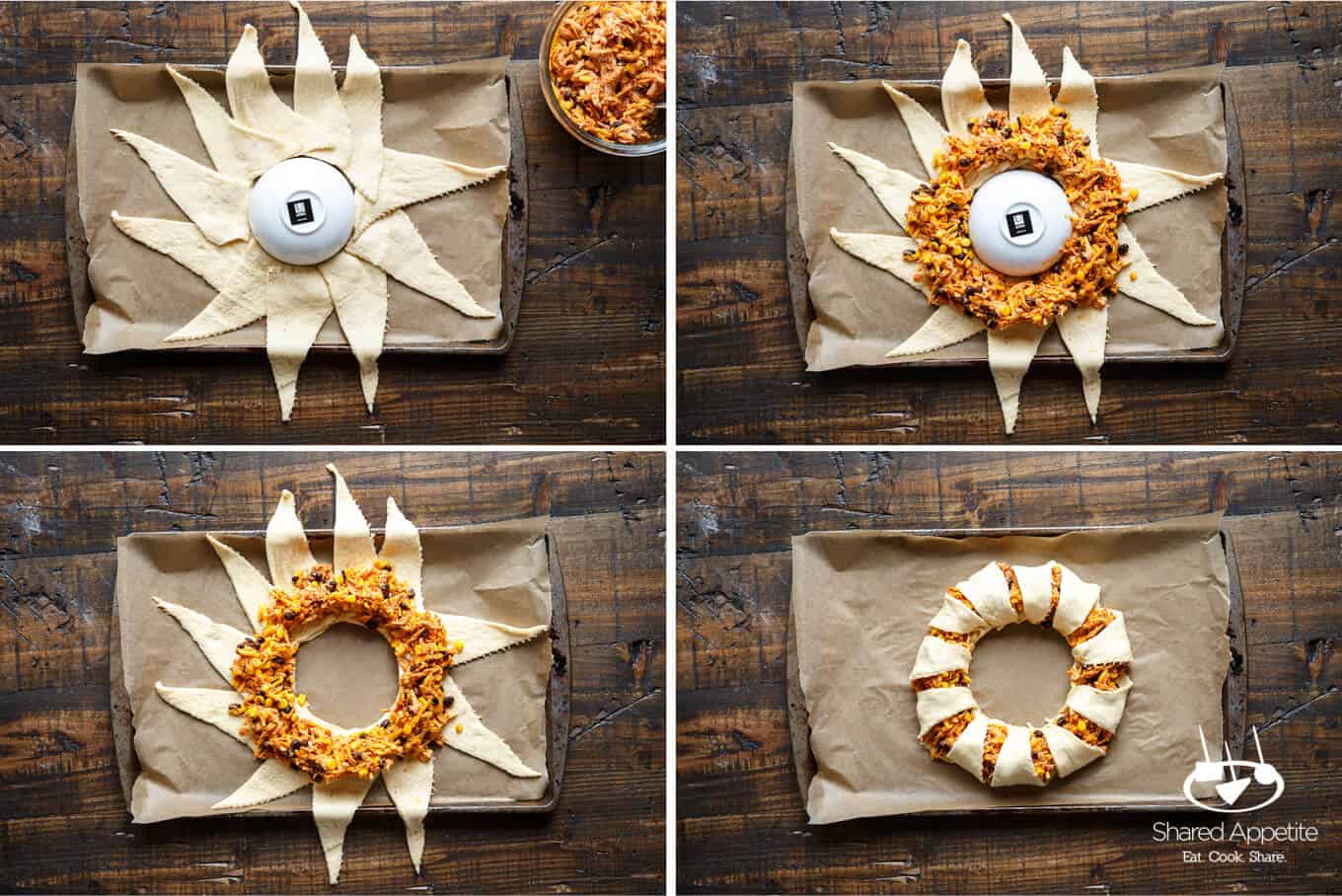 A few tips for success with this recipe:
make sure the inside diameter for the Chicken Enchilada Crescent Ring is about 5-6 inches. Smaller than that and you'll have too much overlap with the dough and it won't cook through. I like using an upside down bowl in the middle to help keep the circle exact.
when folding over the triangles of crescent dough, make sure to either tuck in the flaps or press the dough into the inside base of dough. That way it stays tight when baking.
use a store bought rotisserie chicken to make life easy! That's what I did!
feel free to change up the flavors of your filling with different enchilada sauces or other veggies/proteins. Ground beef would work equally well!
if you have any extra filling (I had a little bit left over), save it! I made a quick weeknight dinner by wrapping the extra filling in a tortilla, pouring some extra enchilada sauce over the top, and sprinkling with cheese. Bake until hot and boom... instant enchiladas!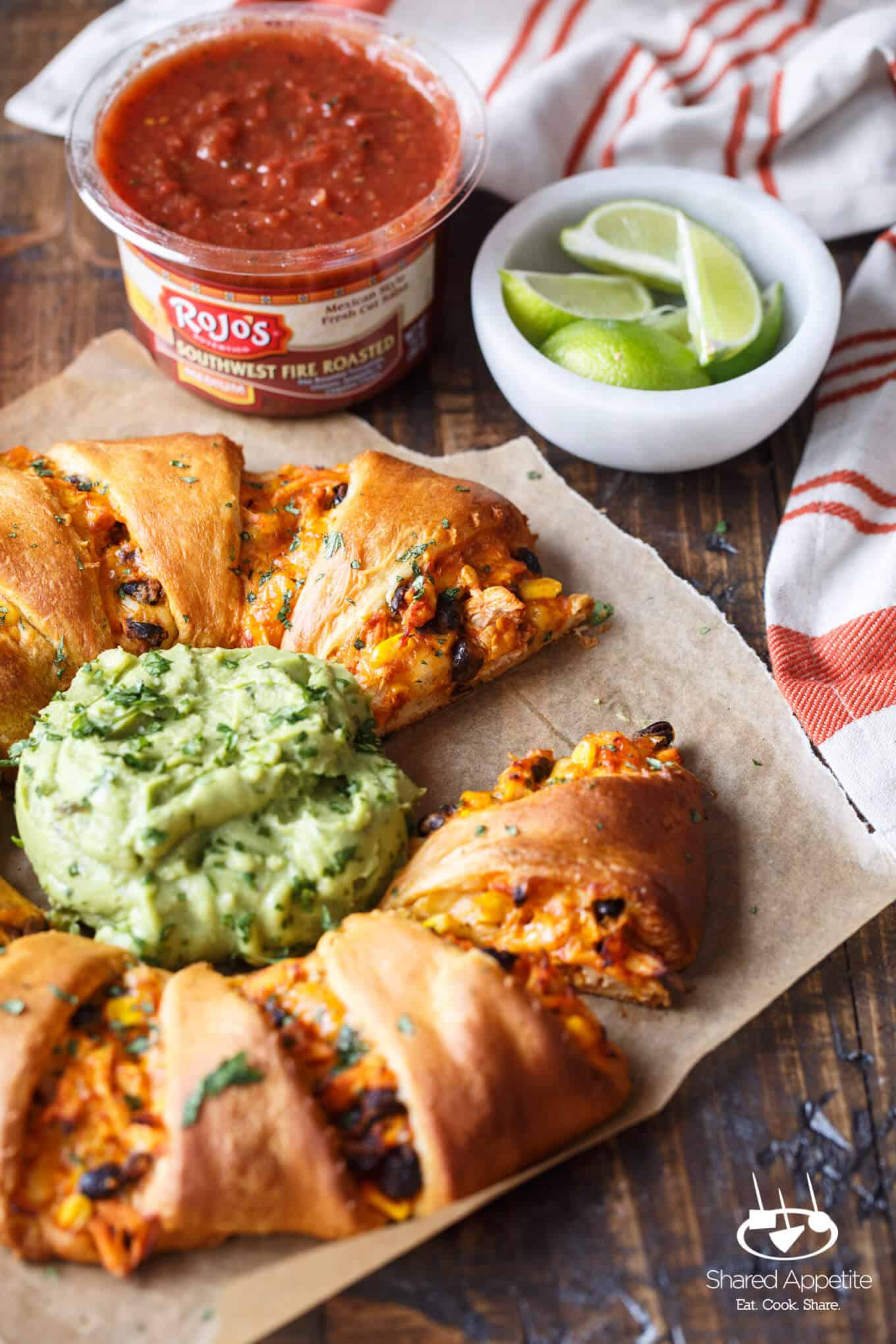 Print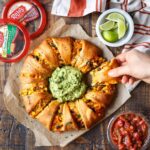 Chicken Enchilada Crescent Ring
---
2

(8 ounce) cans of crescent rolls

2 cups

shredded cooked chicken*

½ cup

frozen corn kernels, thawed

½ cup

canned black beans, drained and rinsed

1 ½ cup

shredded cheddar cheese

½ cup

enchilada sauce
Rojo's Salsa
Lime wedges, for serving
Guacamole, for serving
Sour Cream, for serving
---
Instructions
Preheat oven to 375°F.  Combine shredded chicken, corn, black beans, shredded cheese, and enchilada sauce in a medium mixing bowl until well combined.
Unroll crescent rolls and following the perforations, separate into triangles.  Line a large baking sheet with parchment paper and place a 5-6" bowl upside down in the center.  Arrange the wide side of crescent roll triangles around the bowl, creating a ring that looks like the sun, allowing the dough to overlap (see photo in blog post).
Spoon chicken enchilada mixture in a small mount on the wider part of each crescent roll.  Bring each crescent roll triangle over the filling and tuck and/or press it into the bottom layer of dough to secure it.  Chicken enchilada filling will show through in between each crescent roll triangle.
Bake for approximately 25 minutes or until dough is golden brown and baked throughout.  Allow to cool slightly and then cut into slices.  Serve with guacamole, sour cream, and Rojo's salsa.
Notes
*the easiest way to make this happen is to go to the grocery store and grab a rotisserie chicken!
*be careful not to overlap the crescent roll dough too much at the base or dough may not cook through.
Prep Time:

10 minutes

Cook Time:

25 minutes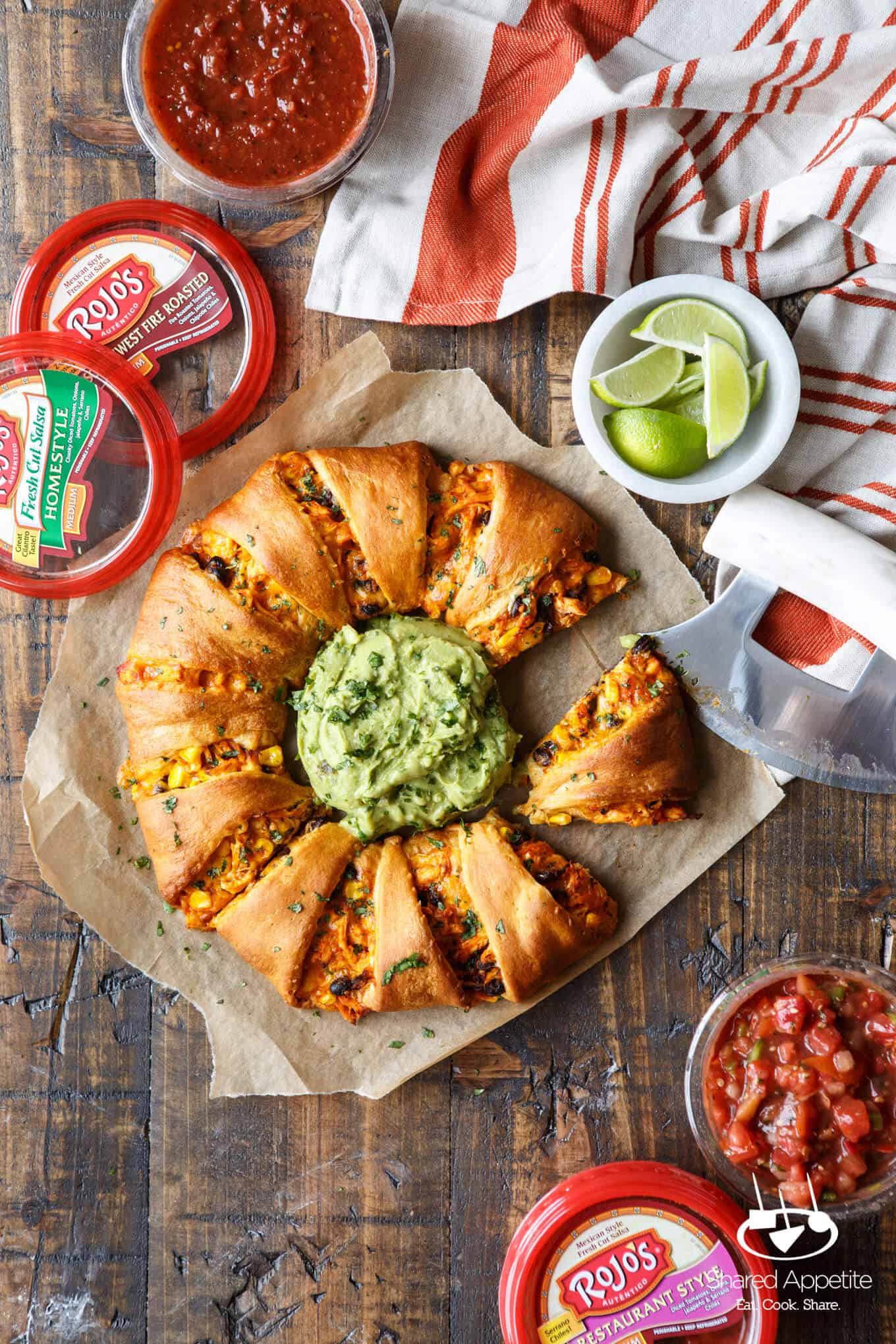 Chicken Enchilada Crescent Ring