This Mediterranean Chicken Quinoa Bowl is brought to you by Peapod. As always, all opinions and recipe are my own. Thanks for supporting the brands that support Shared Appetite!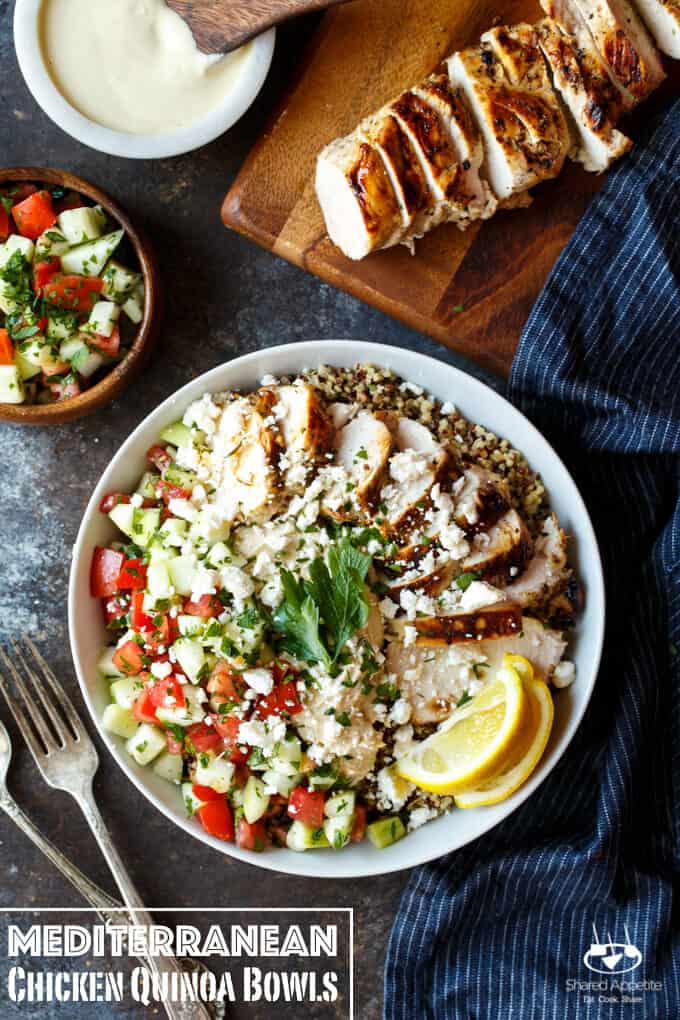 And just like that, it's a new year. Also known as stop being a fatty Chris and start eating healthier. I've been "round" for pretty much my entire life, so I feel like it's become the norm for each New Year to coincide with a self-help promise to eat healthier and make better food decisions.
The problem is… I love food. A lot. Eating is pretty much my favorite thing ever. But I love Olivia more. And she needs her Daddy around for a long time. That's why I lost about 50 pounds last year, which I'm super proud of. But those darn holidays. They totally got the better of me, and now it's time to get back on track.
Here's the thing. Eating healthy can be really, truly terrible. I know. I've been on diets pretty much my whole life. Can I tell you the secret? Eat amazing food. Seriously. Eat food with huge, delicious, irresistible flavors. Just stop eating crap, and cook real food.
I've been on a huge Greek food kick lately. Not only does it have super bright and fresh flavors, it's also remarkably healthy. That's the type of food craving I can get behind right now. And this epic Mediterranean Chicken Quinoa Bowl… well, I could eat this every night because I'm officially obsessed.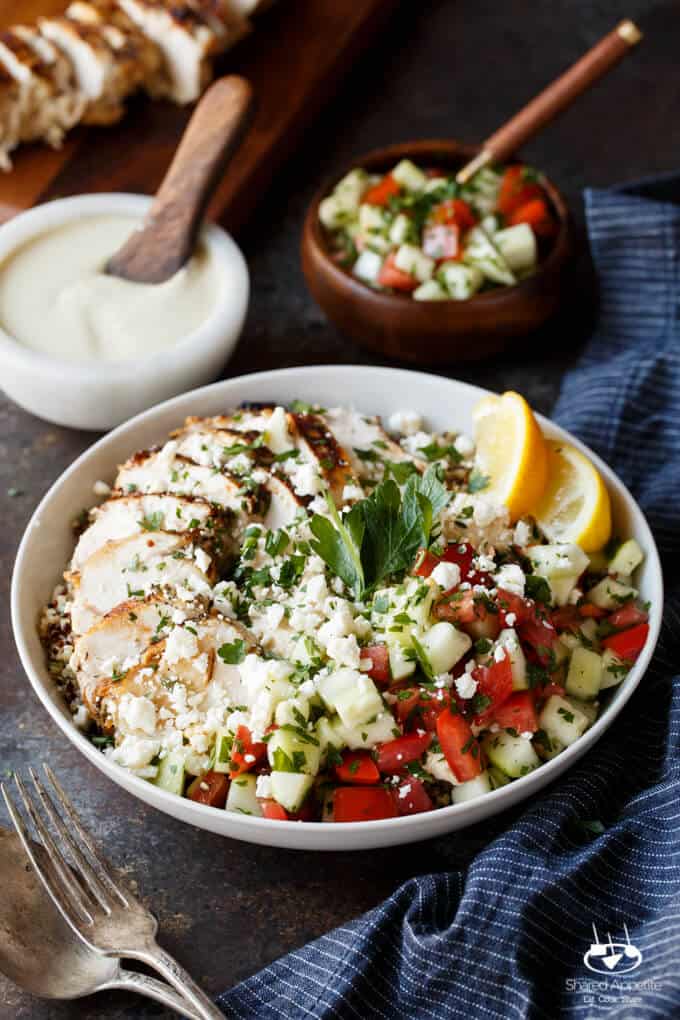 We start out with some quinoa. I've been told that's a healthy grain, so let's load up. Top it with some grilled chicken that's been marinated heavily with those seriously legit Greek flavors… lemon, olive oil, oregano, garlic. Pretty much the marinade dreams are made of. And yes, I grilled this chicken on our outdoor gas grill in frigid 20 degree winter weather. #worthit
Then it gets fun.
Creamy hummus. Salty feta. A bright and acidic tahini sauce. And of course, a super simple and fresh Israeli salad. Gotta admit, I'm not a big cucumber guy. But when it comes to Israeli salad, I always make an exception. It's delicious and irreplaceable in this Mediterranean Chicken Quinoa Bowl.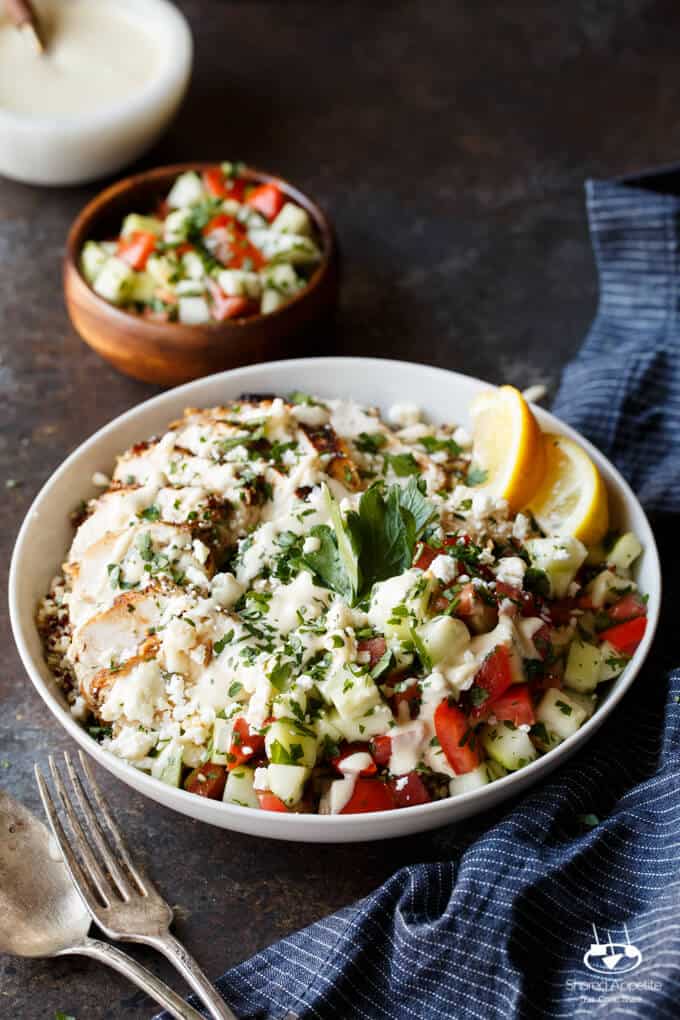 You already heard in my last post for Cranberry Brie Puffs with Candied Walnuts that I absolutely love Peapod. I literally do all my food shopping on my computer and it gets delivered to my door. Do you know when I like to food shop? At 11pm. Seriously. The wife and baby are in bed, and I get to just relax on my couch with my laptop and plan out our weekly meals. And thanks to Peapod, it's a reality. All the ingredients for this Mediterranean Chicken Quinoa Bowl? Ordered from my couch. Boom.
And I LOVE that you can simply re-order past purchases and can auto fill your cart with frequently purchased items. It's totally a time saver!
Need help making healthy choices? Peapod has you covered with their search filters. They also list nutritional information for all their products so you know exactly what you're purchasing. You know what gets me every time at the grocery store… impulse buys. Since I'm shopping on Peapod's website, I can totally avoid that on-sale ice cream. I have my list, I get what I need, and it gets delivered right to my door. Winning.
Peapod is actually the longest operating and country's leading Internet grocer, and they service a ton of areas all over the east coast… in the suburbs like me and in those big cities. They even can hook up your business with groceries. And they have pretty much everything that the actual grocery store has.
With the Peapod PodPass, you can get unlimited deliveries at one low price. Yup. I know. It's awesome. And Peapod wants to hook up one of our readers with a 1 year Peapod PodPass, valued at $119! That means you'll have 1 year of free deliveries right to you doorstep. Woot! Enter below:
Oh, and psst. Need some healthy recipe ideas? Make sure to check out Peapod's lifestyle website featuring tons of recipes and tips: Fromthepod.com. It's basically the meal solution center, and will bring you a ton of recipe inspiration. Even better, you can use the "SHOP NOW" button on each recipe to place ingredients straight into you shopping cart!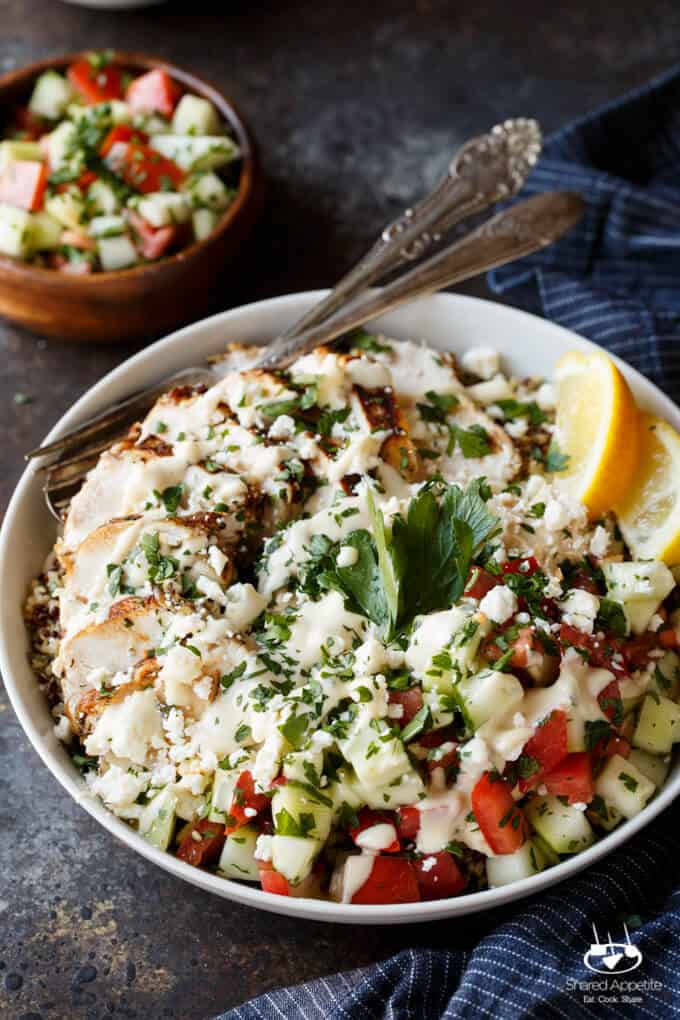 Print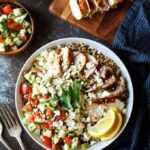 Mediterranean Chicken Quinoa Bowl
---
2

pounds skinless boneless chicken breast

1/2 cup

olive oil

6 tablespoons

lemon juice

4

cloves garlic, minced

1 1/2 teaspoons

dried oregano
Kosher salt
Freshly ground black pepper

3 cups

cooked quinoa

10 ounces

good-quality store bought hummus
Israeli Salad (recipe below)
Tahini Sauce (recipe below)

1 cup

feta cheese, crumbled
Parsley, chopped, for garnish
for the Israeli Salad
1

cucumber, peeled and seeds removed, finely diced

2

plum tomatoes, peeled and seeds removed, finely diced

1 tablespoon

extra virgin olive oil

1 tablespoon

fresh lemon juice

2 tablespoon

chopped parsley
Kosher salt
Freshly ground black pepper
for the Tahini Sauce
¼ cup

tahini

1

clove garlic

3 tablespoons

lemon juice

2 tablespoons

water

2 tablespoon

extra virgin olive oil
Kosher salt
---
Instructions
Combine olive oil, lemon juice, garlic, oregano, and a big pinch of Kosher salt and freshly ground black pepper in a ziploc bag. Add chicken, toss to coat, and allow to marinate in the refrigerator for at least 6 hours, preferably overnight*.
When ready to eat, preheat grill over medium-high heat and grill chicken breasts until just cooked through. Let cooked chicken rest 5 minutes before slicing.
Divide cooked quinoa between 4 bowls. Topped with sliced grilled chicken, a spoonful of hummus, Israeli salad, a generous drizzle of tahini sauce, and a sprinkle of feta cheese and parsley. Devour immediately.
for the Israeli Salad
Combine all ingredients in a small mixing bowl and season with Kosher salt and freshly ground black pepper. Can be made ahead of time and refrigerated (although the cucumbers and tomatoes texture will change a bit), make sure to stir well before serving.
for the Tahini Sauce
Combine all ingredients in a food processor. Season with Kosher salt. If a thinner consistency is desired, add a little more water. Refrigerate until ready to use, up to a week.
Notes
*I marinate the chicken before going to bed the night before, and then by the time you are ready to grill your chicken the next day, it's FULL of flavor.
**the total prep time doesn't include marinating time
Prep Time:

30 mins

Cook Time:

15 mins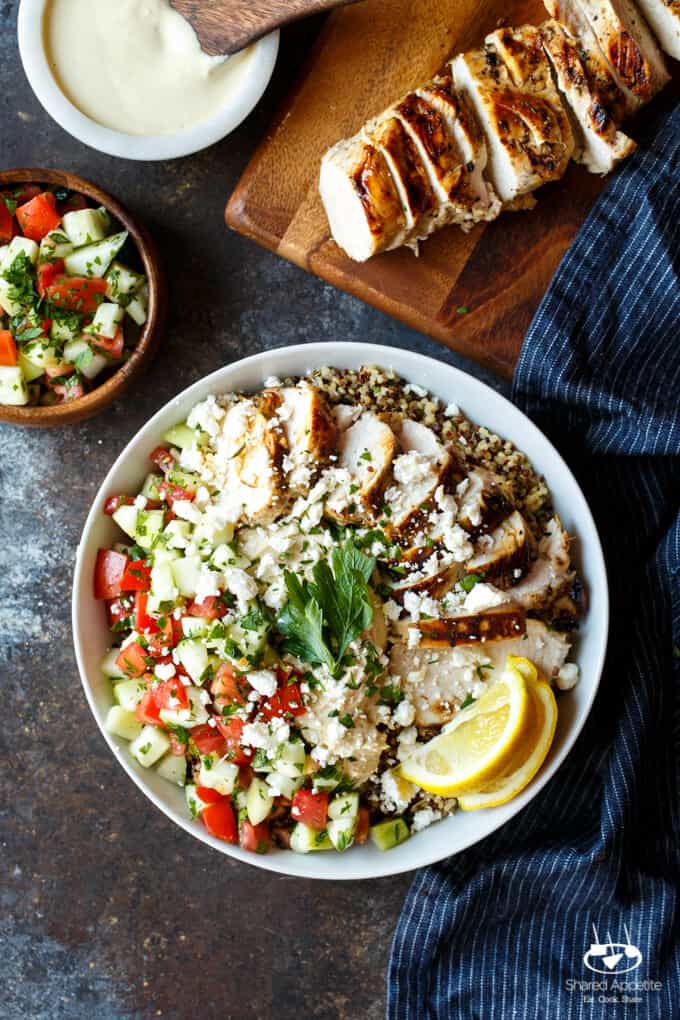 Follow Peapod: Facebook | Instagram | Pinterest | Twitter
Mediterranean Chicken Quinoa Bowl
Need More Bowls In Your Life?
Slow Cooker Thai Peanut Chicken Quinoa Bowls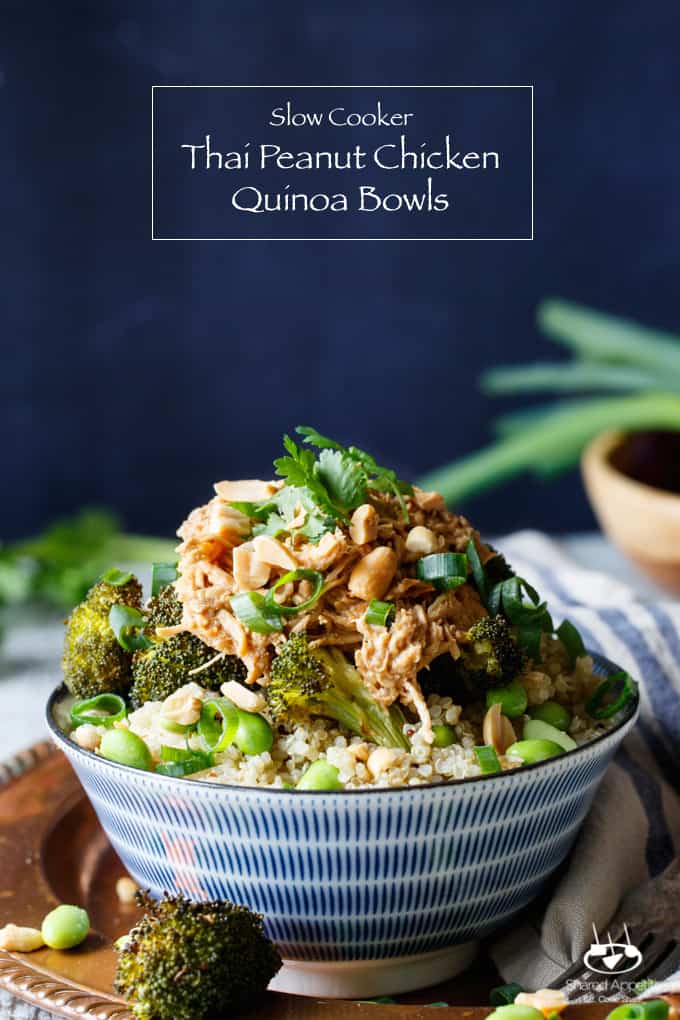 Southwest Sweet Potato Noodle Bowl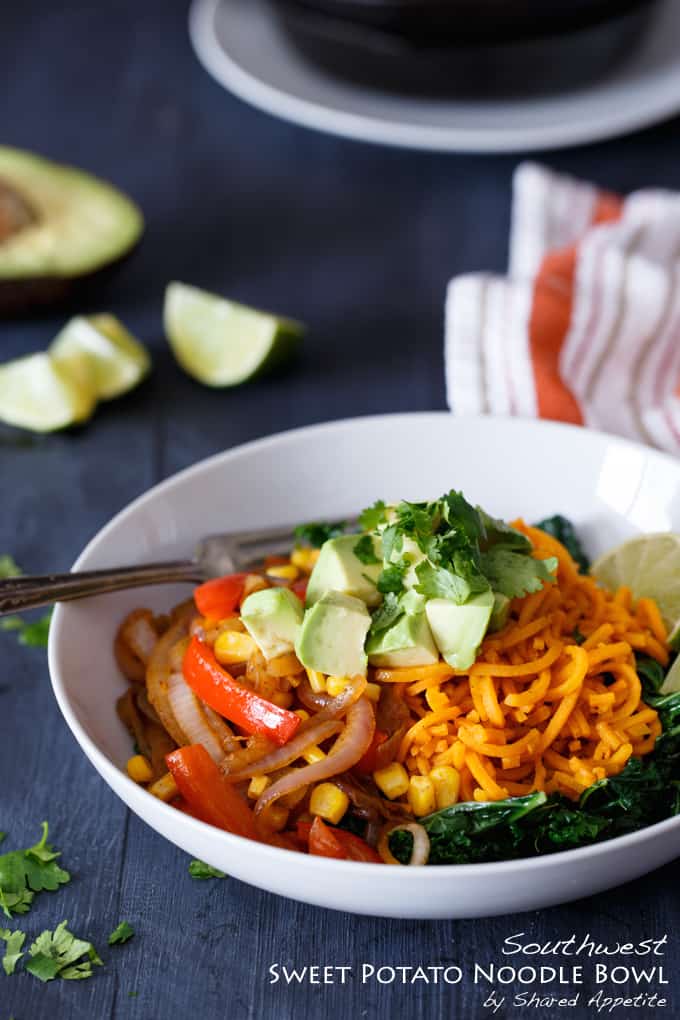 Korean Pork Spaghetti Squash Bowl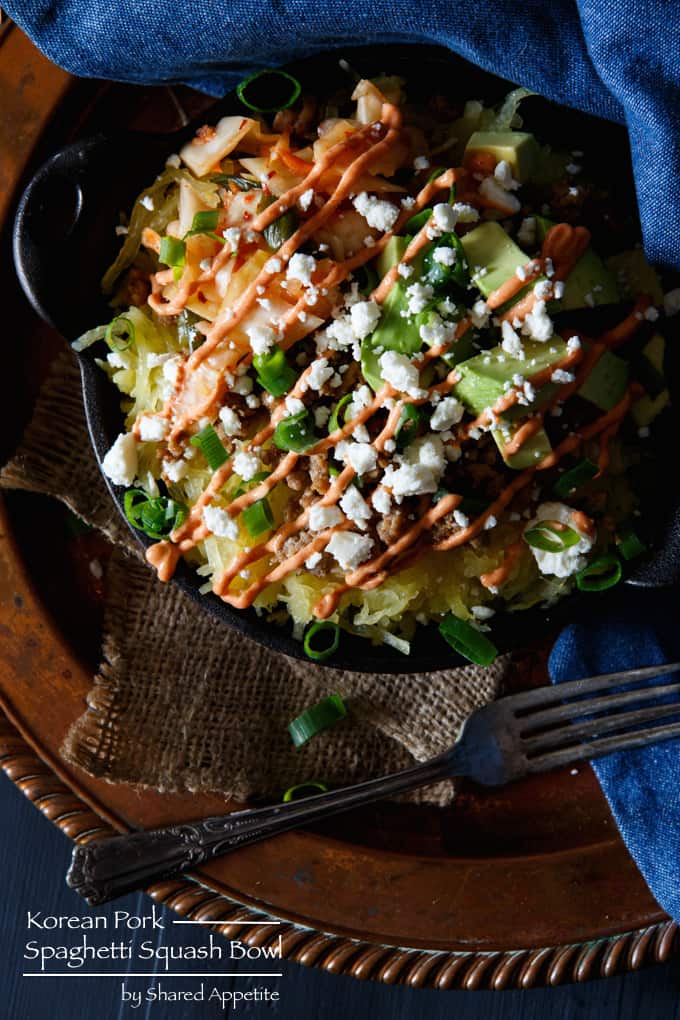 Better Than Chipotle Carnitas Burrito Bowl