These Doritos® Mac and Cheese Balls were created in partnership with Frito-Lay. As always, all opinions and recipe are my own. Thanks for supporting the brands that support Shared Appetite!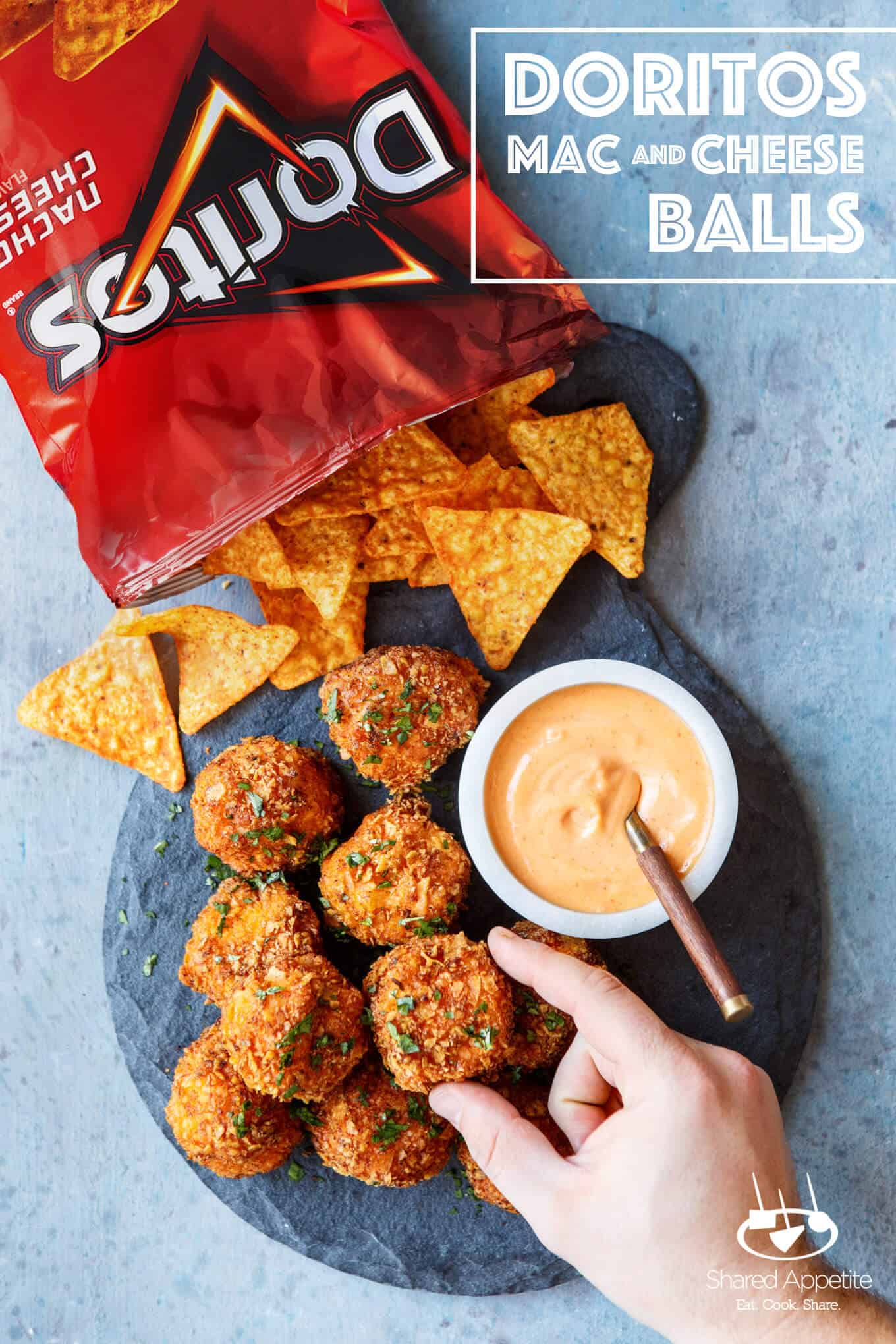 January is all about one thing and one thing only. Well, two things. Trying to get back on track with some healthy eating after a little too much indulgence over the holiday season, and looking forward to drool-worthy EPIC game day eats when it comes time for the biggest game of the year. I'm also looking forward to the halftime show. And the commercials. Oh how I look forward to seeing some creative commercials.
And the game. Yeah, sure. I guess I'm excited about that too. Who's playing again?
In our house, watching the Super Bowl LII is more of a social opportunity than a sporting event. Any chance we have to bring our friends together... I'm all about it. If it just so happens to revolve around the year's most important football game, that's just a bonus in our book. The reason I'm always extra excited about entertaining this one day a year? Game day recipes are some of my absolute FAVORITES to cook... and eat.
My toddler Olivia is (like most children her age) pretty happy when we offer her mac and cheese for dinner. If we're being real, though, adults are pretty excited for mac and cheese as well. I was just photographing a wedding a few weeks ago and noticed while covering cocktail hour that they were serving mac and cheese to guests. Let me tell you... every guest was so excited about that comforting tray of cheesy carb-loaded goodness. And it was at that moment I realized I wanted to make mac and cheese balls for our football watch party this year. But not just any ordinary mac and cheese balls... these are coated in DORITOS® Nacho Cheese Flavored Tortilla Chips!
That's right. This game day I'm adding these Doritos® Mac and Cheese Balls with Sriracha Mayo to the menu!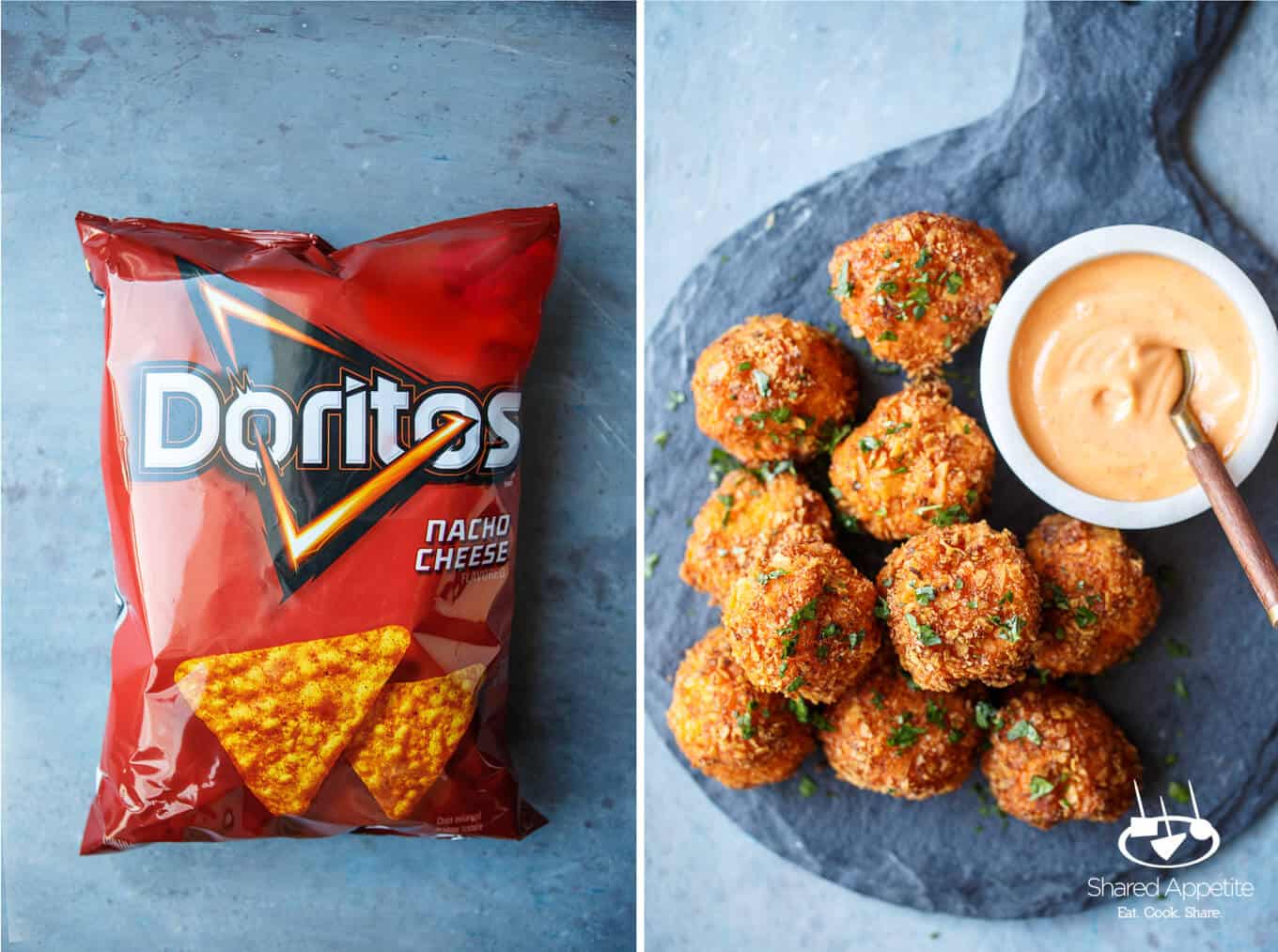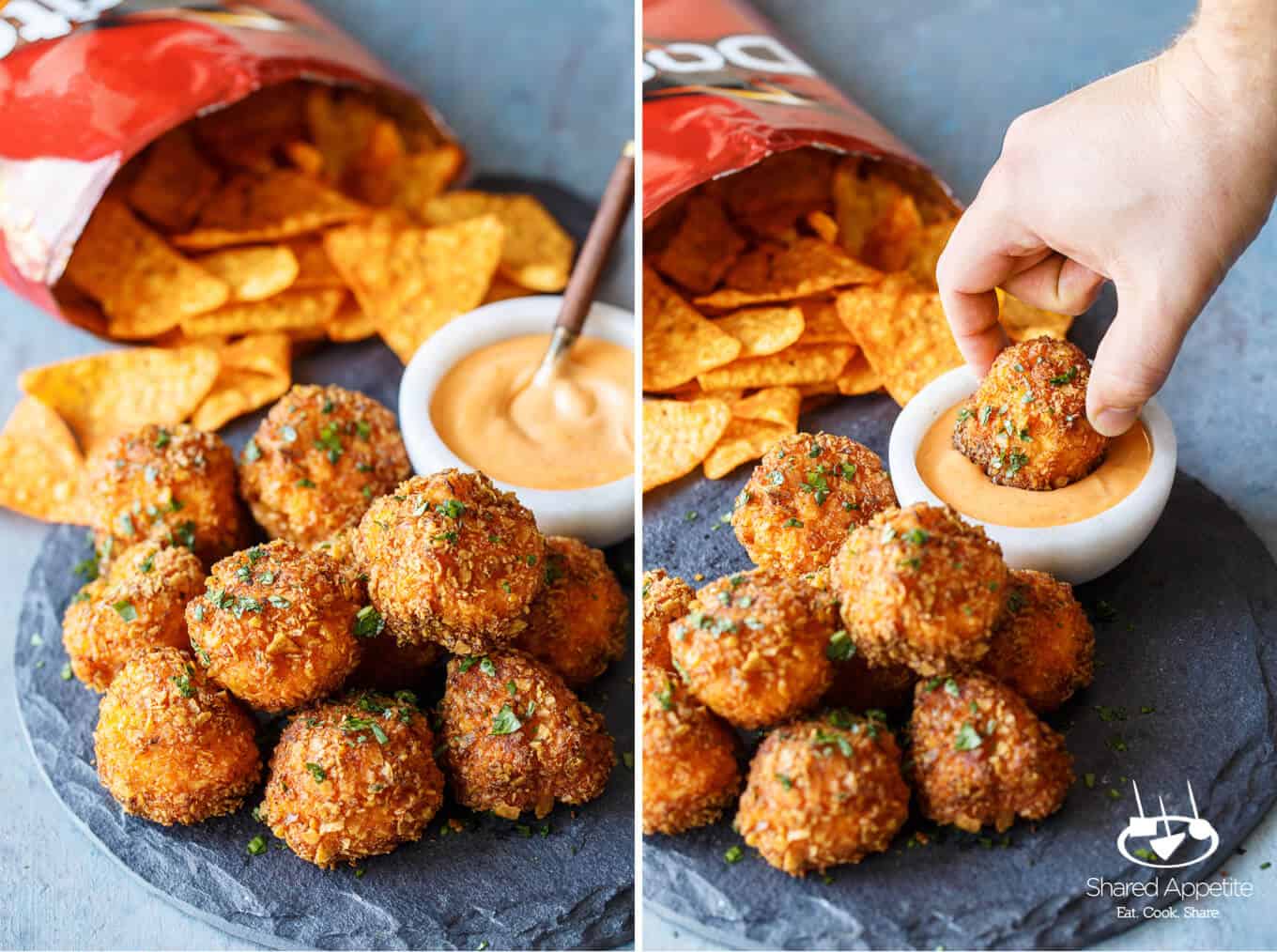 Life is short, and I only have time for bold flavors. That's why I made sure to jam pack these Doritos® Crusted Mac and Cheese balls with as much jaw-dropping, stomach-happy-dance flavors I could.
Game day recipes should be all about being fast, easy, and approachable. This isn't the time to prepare gourmet 18-step recipes that are dainty or thought-provoking. It's all about big flavors and big impact, with the smallest amount of hands on time in the kitchen. That way I don't miss any of those awesome commercials!
These Doritos® Mac and Cheese Balls with Sriracha Mayo can be made with as little as 5 ingredients if using store bought mac and cheese. That's pretty darn simple. Best of all, they include some of the greatest foods on earth... mac and cheese, Doritos®, and sriracha mayo. HECK to the YES.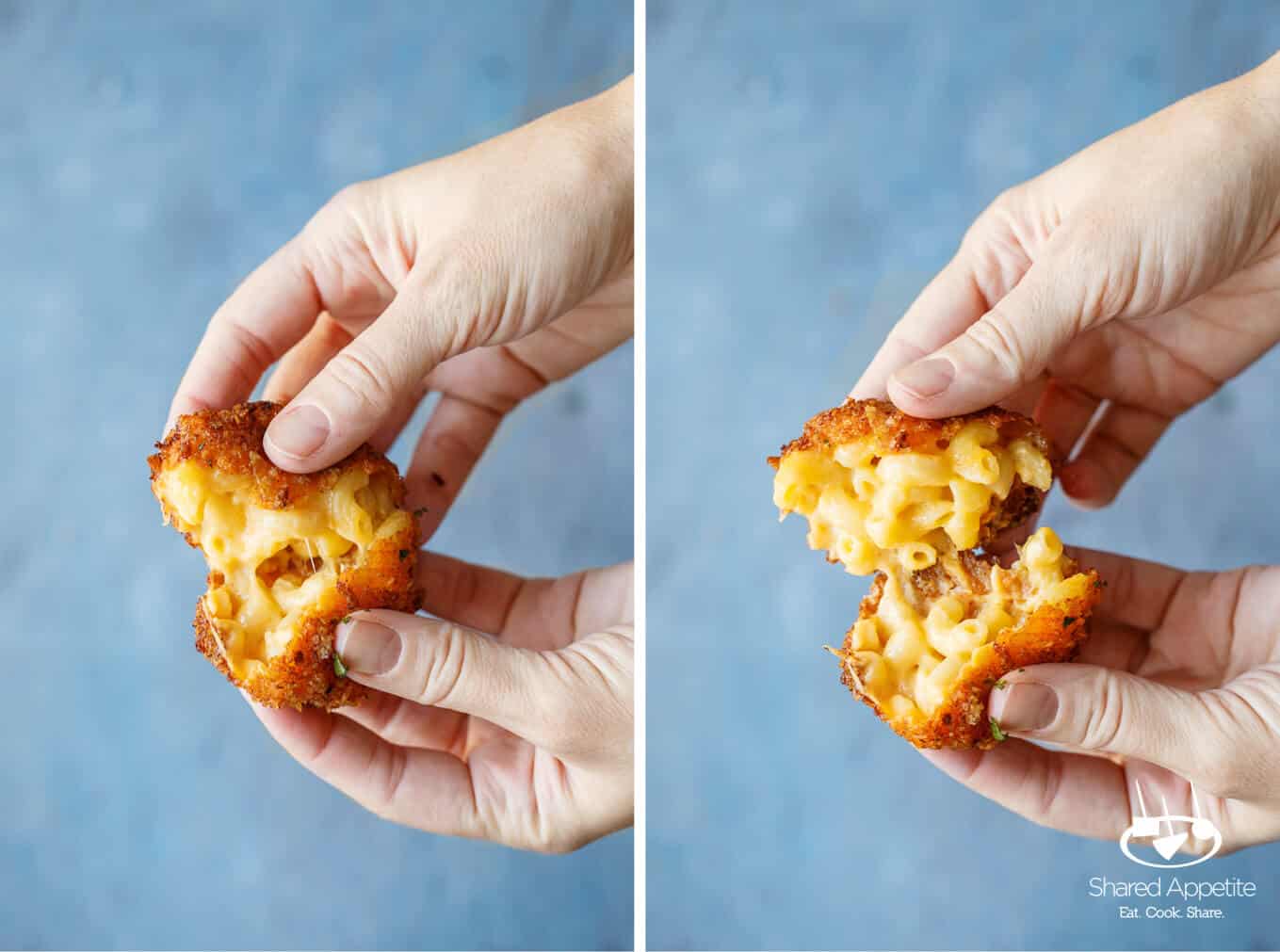 So let's break down these Doritos® Mac and Cheese Balls with Sriracha Mayo. First, the mac and cheese. You have some options. Making the recipe below for the mac and cheese will definitely be a huge win in the flavor department. Besides making an incredibly cheesy sauce for the macaroni, I also add an additional cup of shredded cheese into the mac and cheese to make these balls even cheesier.
If homemade mac and cheese isn't possible (no judgement, I promise), feel free to grab some store bought or just make the boxed stuff.
What IS essential is spreading it into a baking dish and refrigerating the mac and cheese until it's nice and firm. This will make shaping the balls extremely easy.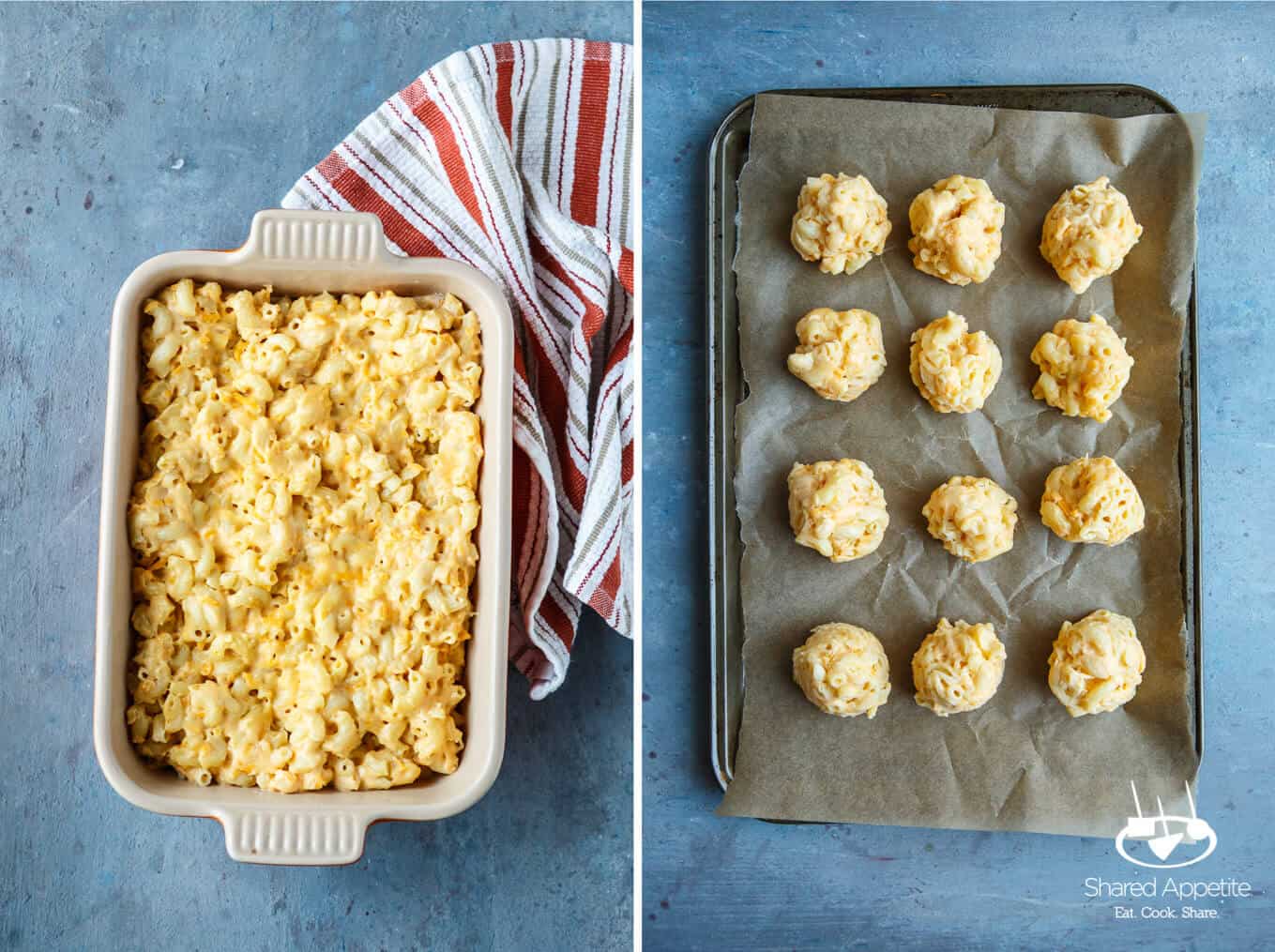 Once your mac and cheese is firm from it's spa day in the fridge, it's time to make some balls. I used an ice cream/cookie scoop about 1 ½" in diameter for these Doritos® Mac and Cheese Balls. Scooping them will get the shape pretty close, but then use your hands to mold them into a nicer more precise sphere.

You can feel free to crush your DORITOS® Nacho Cheese Flavored Tortilla Chips however you'd like. A food processor would certainly do the trick, but I think taking a rolling pin to a bag of Doritos is way more fun. No rolling pin? An empty bottle of wine will work just fine!
These Doritos Mac and Cheese Balls are as easy as dipping in egg wash, rolling in the crushed Doritos®, and frying until crisp. When dredging the balls in the crushed Doritos®, make sure to really get them well coated. You want to maximize every morsel of Doritos® goodness on every mac and cheese ball.
And speaking of maximizing... Frito-Lay has you covered for all your Super Bowl LII recipes. I just created some LEGIT Skillet Loaded Taco Potato Chip Nachos last week, and Frito-Lay has a ton of game day inspiration on their Pinterest page!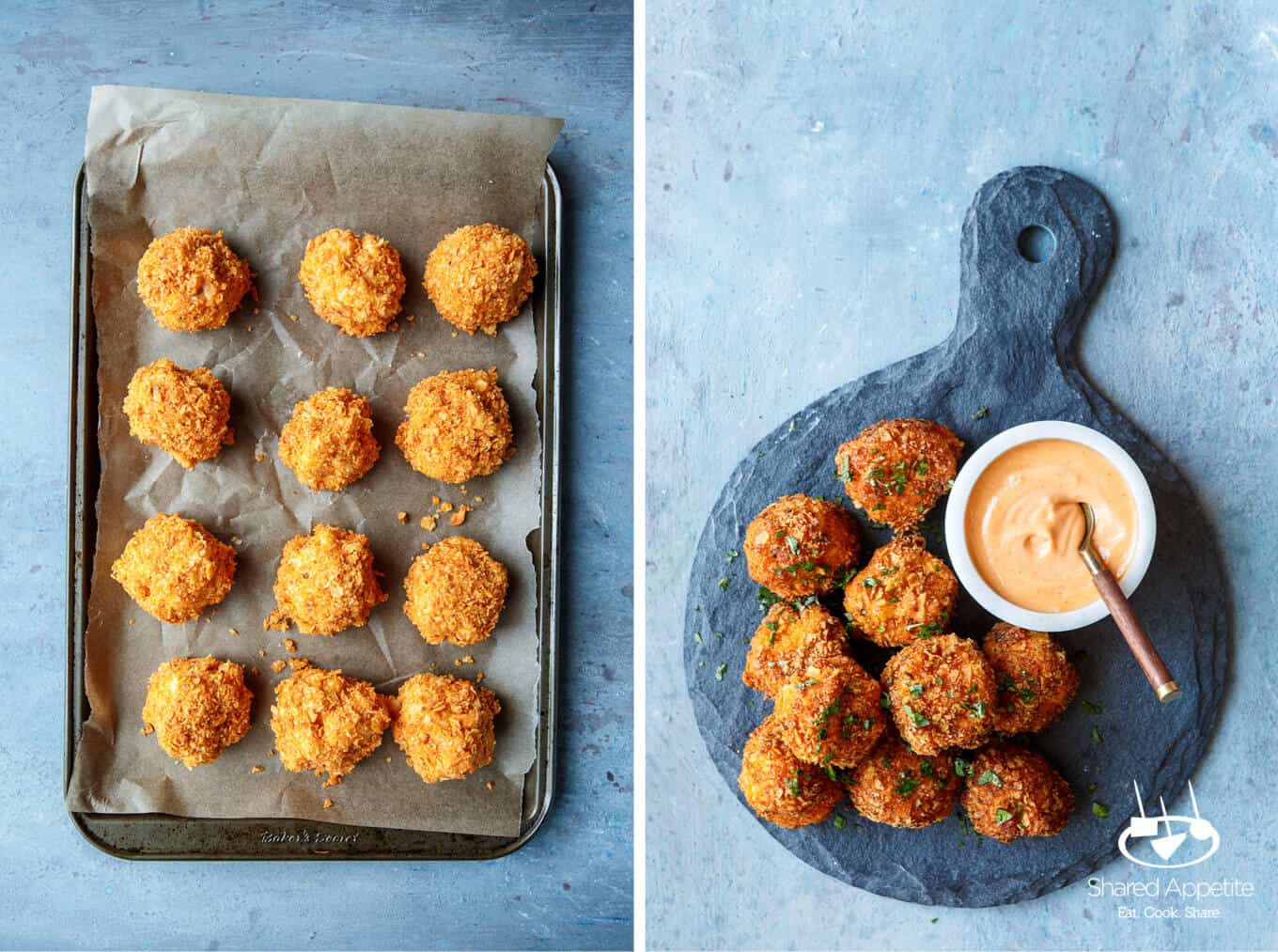 Let's review.
The biggest football game of the year is coming up

very soon

Even if you don't watch football (join the club), it's an opportunity to hang out with friends and eat epic game day food

Game day recipes should be easy, approachable, and HUGE on flavor

Mac and cheese balls are good, but Doritos® Mac and Cheese Balls with Sriracha Mayo are

way better

Make these Doritos® Mac and Cheese Balls

Happy Game Day!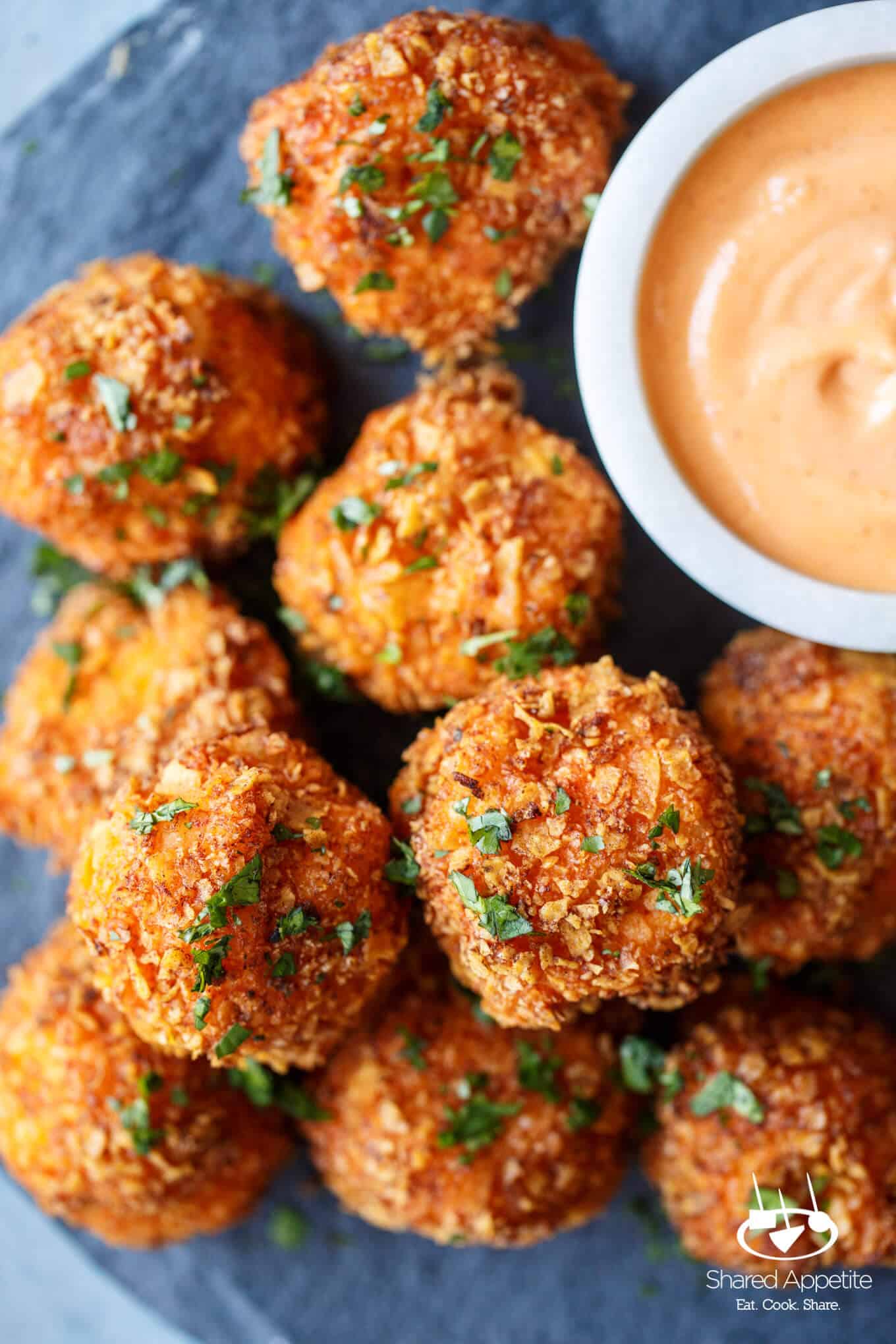 Print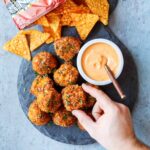 Doritos Mac And Cheese Balls
---
Author:

Chris Cockren

Total Time:

40 minutes (plus refrigeration/freezing time)

Yield:

~20 Mac and Cheese Balls
Macaroni and Cheese, store bought or homemade (see below recipe)

2

eggs

2 tablespoons

milk

1

bag DORITOS® Nacho Cheese Flavored Tortilla Chips
Sriracha Mayo (recipe below)
for the Macaroni and Cheese
2 tablespoons

butter

2 tablespoons

flour

2 cups

whole milk

4 cups

shredded cheddar or American cheese, divided
Kosher salt

6 cups

cooked macaroni
for the Sriracha Mayo
½ cup

mayonnaise

1

and ½ tablespoons sriracha

½ teaspoon

sugar
Kosher salt
---
Instructions
If using store bought or leftover mac and cheese, skip to step 3. 

For homemade mac and cheese: melt butter in a medium saucepan over medium heat. Stir in flour and stir constantly for 30-60 seconds.  As soon as flour starts to turn a little brown, add milk to roux slowly, whisking constantly to fully incorporate.  Cook, stirring occasionally to avoid milk scorching on the bottom of the pan, until thickened.  Stir in 3 cups of shredded cheese and season generously with Kosher salt. 

Combine cooked macaroni with cheese sauce in a large bowl.  Stir in remaining 1 cup of shredded cheese.
Spread in an even layer in a baking dish sprayed with nonstick cooking spray.  Let cool and refrigerate until firm, at least 2-4 hours but preferably overnight.
Using a small cookie scoop, scoop mac and cheese into balls and place on a parchment lined baking sheet.  Freeze for 2 hours.
Meanwhile, finely crush Doritos and place in a medium bowl.  Whisk together milk and eggs in a small bowl.
Heat enough canola or vegetable oil in a medium skillet or saucepan to cover half of the mac and cheese balls over medium/medium-high heat.  Remove mac and cheese balls from freezer.  Dip in egg wash and thoroughly cover with crushed Doritos.  Fry mac and cheese balls in batches, flipping once, until golden brown and crispy, about 2-4 minutes.
Serve Doritos Mac and Cheese Balls with Sriracha Mayo.  Devour.
for the Sriracha Mayo
Combine the mayo, Sriracha, and sugar in a small bowl and season with Kosher salt.  Set aside and let flavors meld for at least 20 minutes.  Can be made ahead and stored in the refrigerator for up to one week.
Prep Time:

30 minutes (plus refrigeration/freezing time)

Cook Time:

10 minutes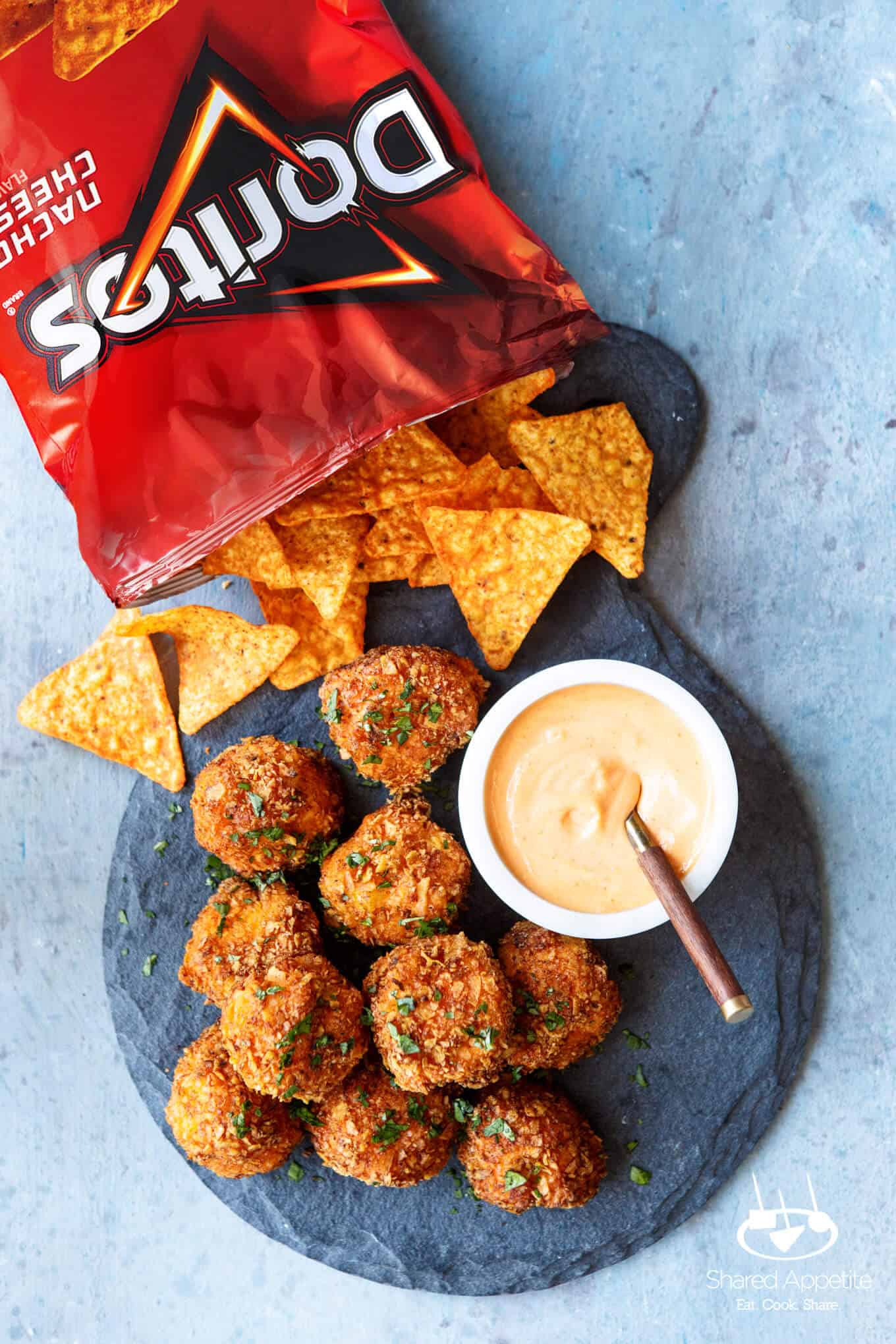 Doritos Mac and Cheese Balls with Sriracha Mayo