This recipe for Gluten Free Spring Pea and Asparagus Brown Rice Salad was made in partnership with Minute® Ready to Serve Rice. As always, all opinions and recipe are my own. Thanks for supporting the brands who support Shared Appetite!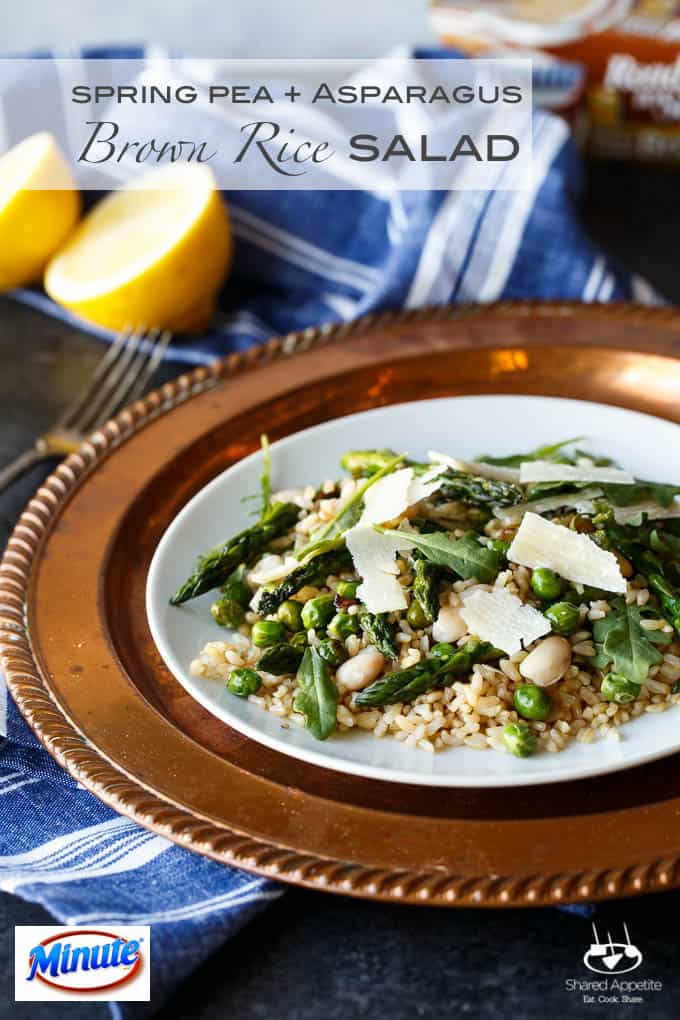 Finally. It's quiet. At 10pm. After a long, long week, it's quiet. I can sit down, relax... and holy crap it's actually only Monday.
But man, I love my life. Being a dad is pretty much the greatest gift ever. Watching Olivia grow and learn has been the ultimate blessing of my entire life. Making her laugh until she cries. Getting her to sleep when no one else can. Watching her eyes light up when I walk in the house after being at work all day. There is no greater feeling.
My kid is freaking awesome. She's now at the stage that copying everyone is getting pretty darn fun. She blows raspberries when I do. We trade silly fake laughs and coughs back and forth. And her latest trick thanks to my mom? Clucking. Yup, clucking.
So obviously between being a husband, father, doing this Shared Appetite thang, and running a wedding photography studio, life can be a bit hectic at times (thus writing this recipe at 10pm 10:30pm). And when you're tired and overworked, it's easy to eat like crap.
But here's the thing. I'm really trying to eat better. Like, a whole lot better. It's been working. I'm over 40 pounds lighter since the beginning of January. Woot! My secret is all in the meal prep.
This Gluten Free Spring Pea and Asparagus Brown Rice Salad is big on fresh, bold flavors, but is all made ahead of time and a perfect portable lunch option for me throughout the week!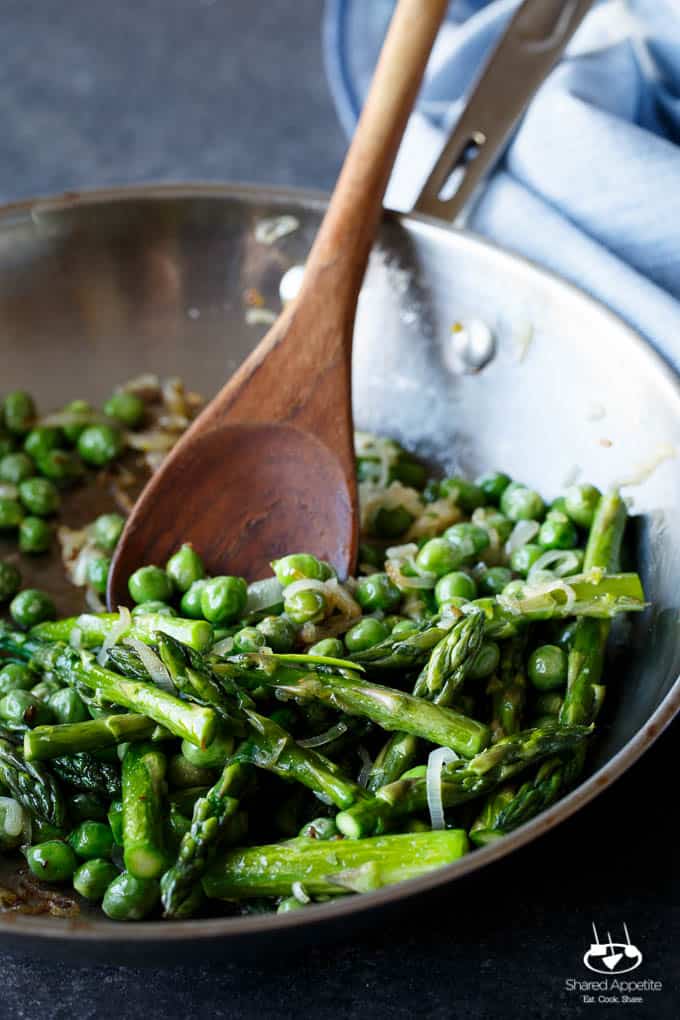 Anyone else beyond excited that nature has finally awoken from the winter freeze? Except you California... where the weather is pretty much perfect every single freaking day. Must be nice.
Here in NY, the trees are just starting to bud. The tan dead grass is a little... less than dead grass. It's a work in progress, people. But the point is, spring is here. Warmer days are ahead.
And you know it's spring when asparagus finally goes on sale at the grocery store and fresh peas start popping up in the produce aisle. Asheley and I are loading up big time.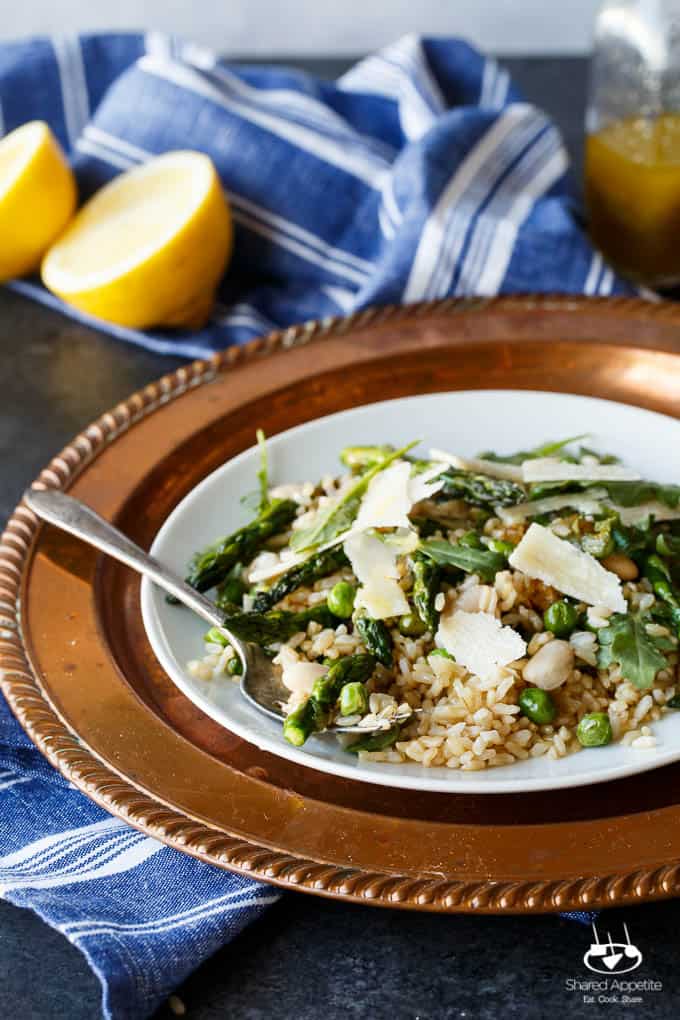 What I totally love about this super quick and easy spring lunch recipe?
It can be served hot or cold. It's great both ways.
You can make the entire recipe ahead of time.
Or, even better... make a whole big batch of the vegetables ahead of time, and just bring 'em to work along with a single-serving container of the Minute® Ready to Serve Brown Rice.
Yup, single serving container. It's pretty epic, especially for someone that's been struggling with portion control his entire life. This takes the guess work out. Ohhhh, that's what a portion looks like!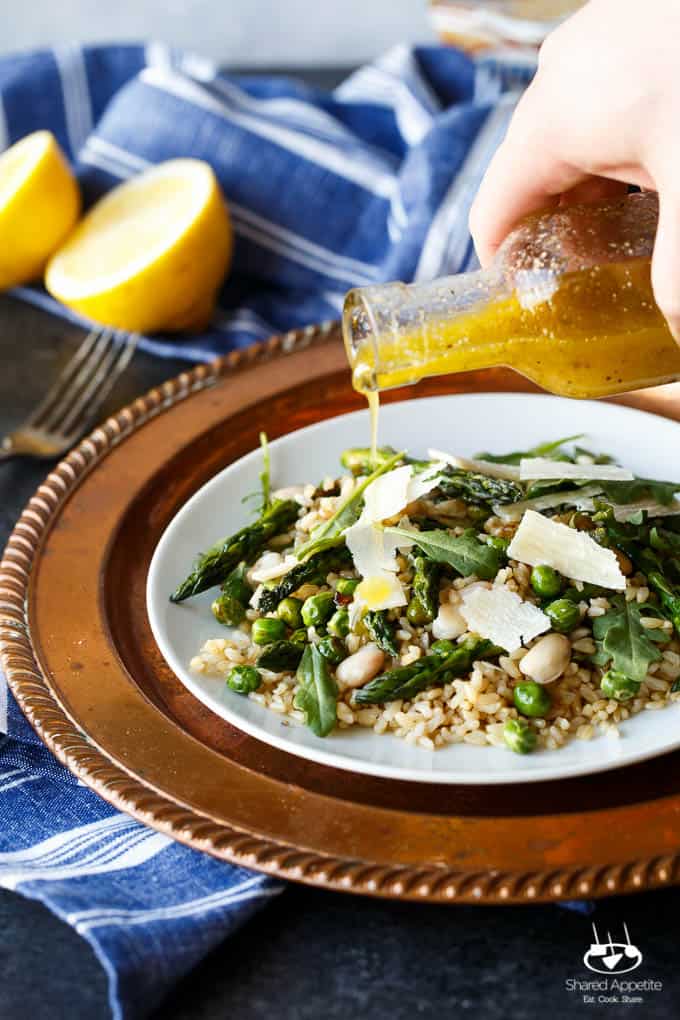 And while we are on the subject of these crazy awesome little Minute Rice microwave cups. They are done in 60 seconds. What?! Yea, I know. 60 seconds.
Can I be honest? I thought the rice was going to be an overcooked mushy mess. Totally proven wrong. The rice comes out fluffy and perfectly cooked, every time! What kind of wizardry do they have going on in these single-serve cups?!
Not that I really care. The important thing is that these super portable on the go cups are a lifesaver. And feel-good bonus? They are Non-GMO qualified. Boom.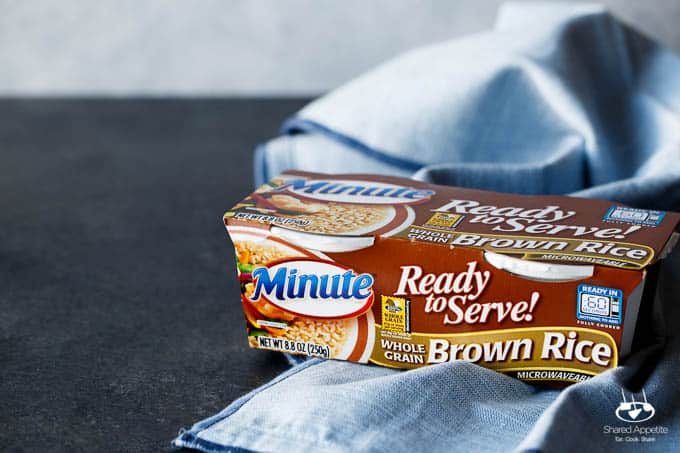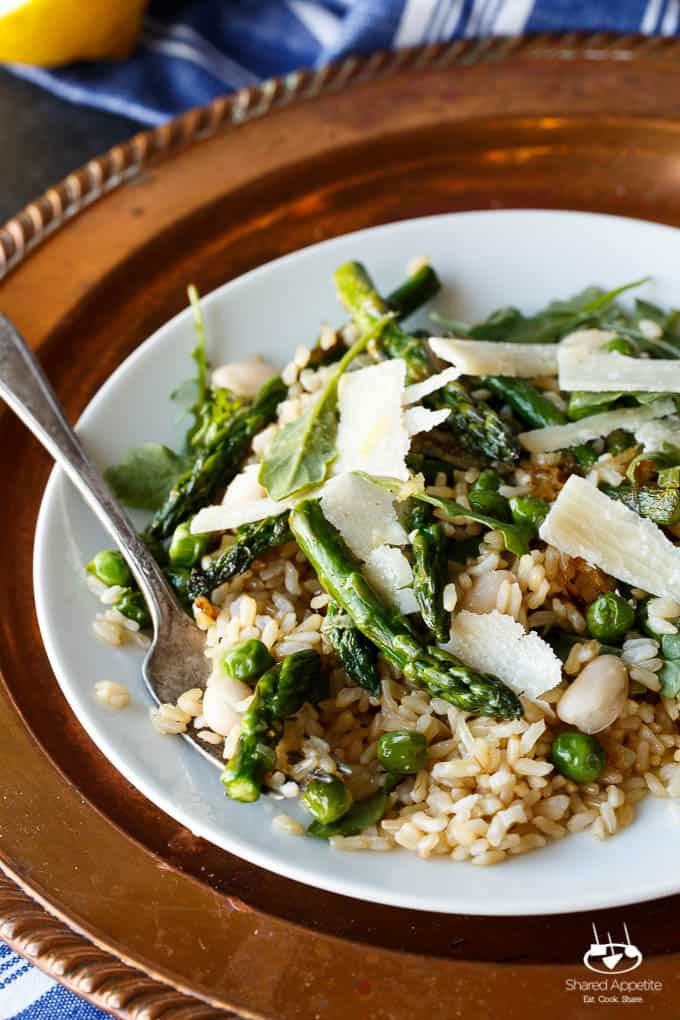 Print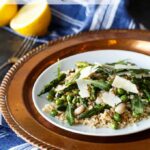 Gluten Free Spring Pea and Asparagus Brown Rice Salad
---
4

single-serve Minute Ready To Serve Brown Rice cups

5 tablespoons

extra virgin olive oil, divided

2

shallots, finely sliced

1

bunch asparagus, chopped

2 cups

fresh English peas

4

handfuls arugula

1

can cannellini beans, rinsed and drained
Parmesan Cheese, shredded*

½

lemon, zested

3 tablespoons

fresh lemon juice
Pinch garlic powder
Pinch onion powder
Kosher salt
Freshly ground black pepper
---
Instructions
Cook rice according to package directions.
Meanwhile, heat 2 tablespoons oil in a medium skillet. Cook shallots for 2 minutes, until softened, stirring occasionally. Add asparagus and peas, season generously with Kosher salt, and cook until tender but still crisp, stirring occasionally, about 6-10 minutes.
Meanwhile, whisk together remaining 3 tablespoons oil, lemon zest, lemon juice, garlic powder, and onion powder. Season with Kosher salt and freshly ground black pepper.
Toss together rice, cooked vegetables, arugula, beans, and shredded parmesan. Drizzle with lemon vinaigrette. Serve immediately. Alternatively, let all ingredients cool and serve cold, dressing with the lemon vinaigrette just before eating.
Notes
*Splurge for the Parmigiano-Reggiano cheese. Use a cheese slicer to get nice long parm shards.
Prep Time:

10 mins

Cook Time:

15 mins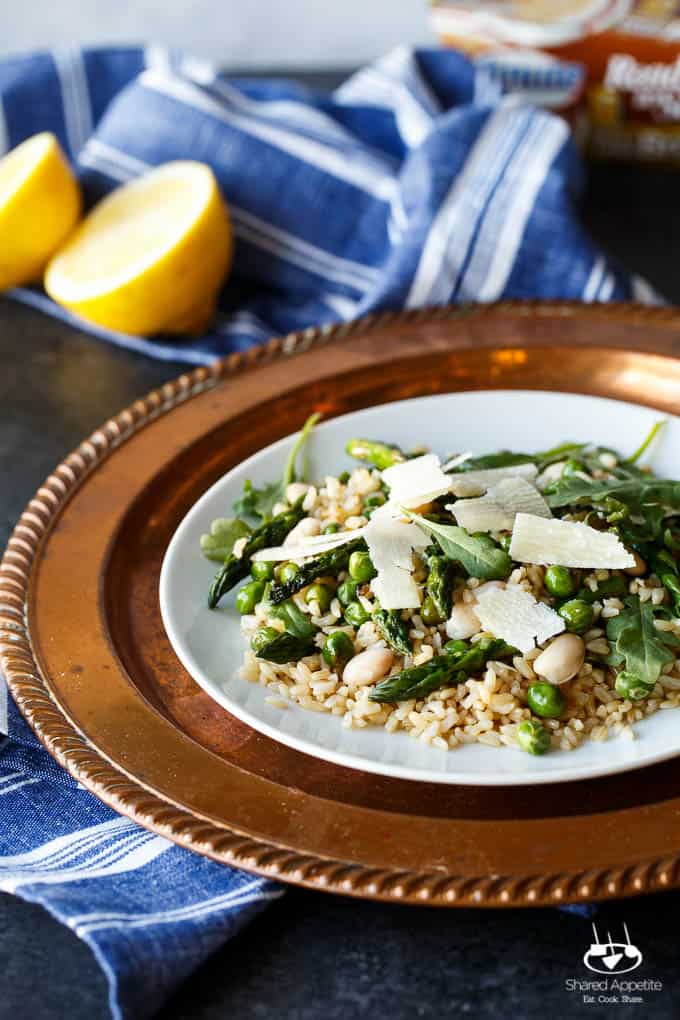 This sponsored recipe for Gluten Free Spring Pea and Asparagus Brown Rice Salad has been written by me on behalf of Minute® Ready to Serve Rice.
Gluten Free Spring Pea and Asparagus Brown Rice Salad
Looking For More Creative Salads?
Honey Sriracha Cauliflower Salad with Avocado Greek Yogurt Dressing and Pickled Onions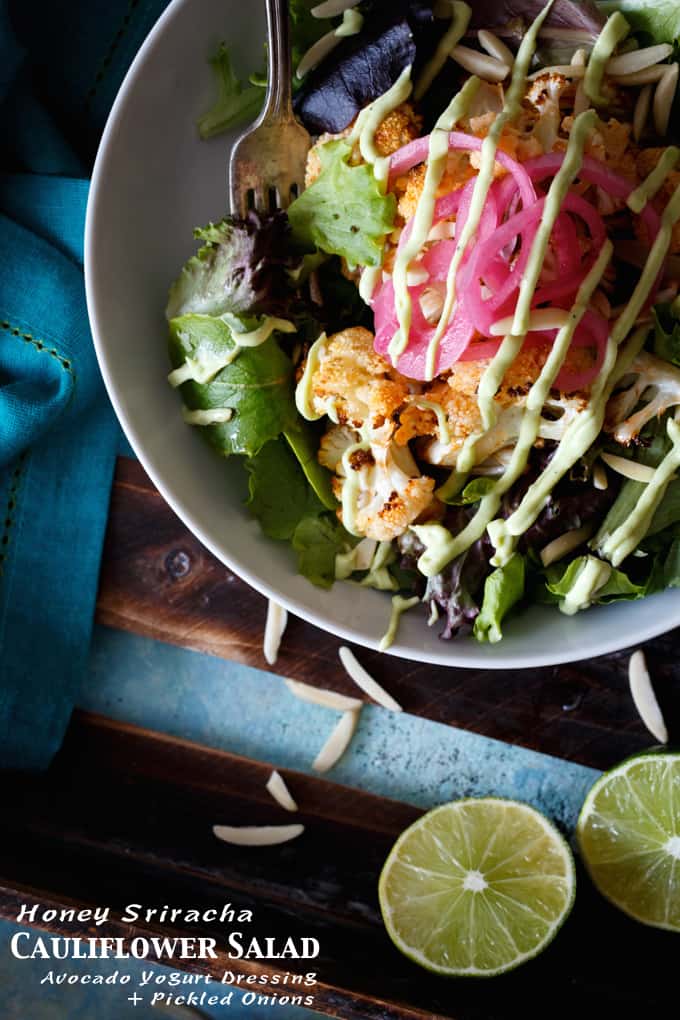 Roasted Root Vegetable Grain Salad with Avocado, Feta, and Walnuts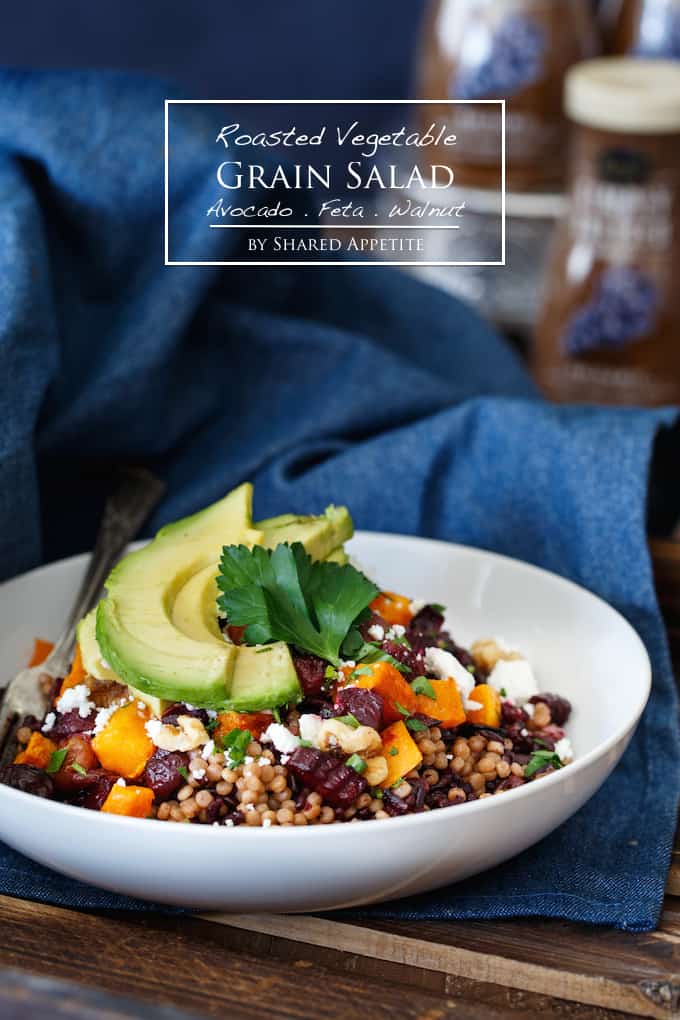 Bacon and Egg Brussels Sprout Salad with Sweet Potato + Avocado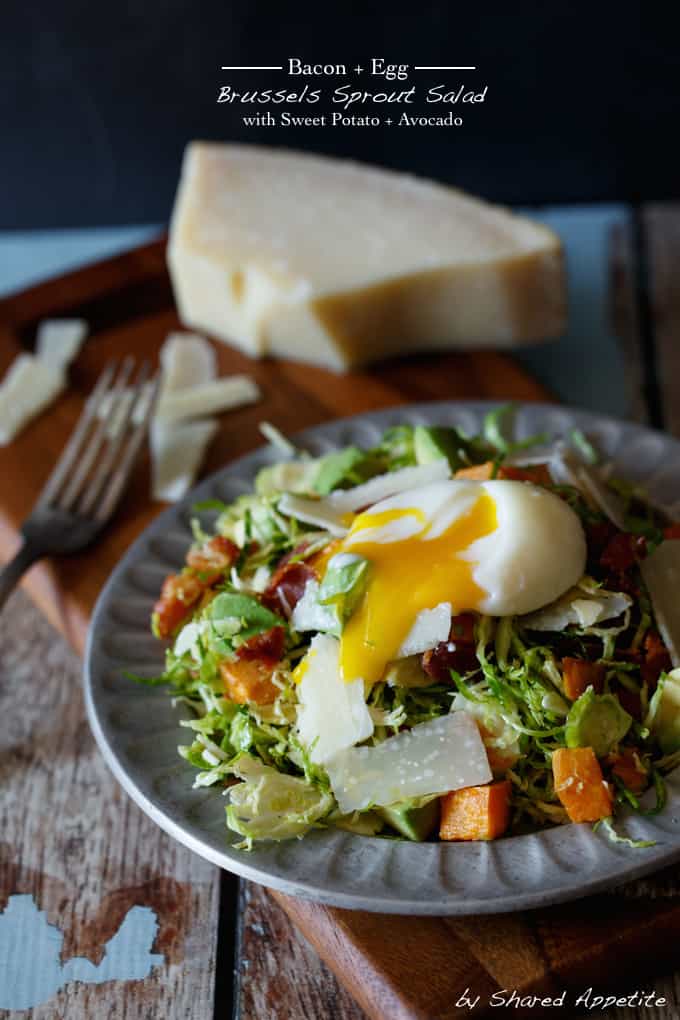 Corn, Blueberry, and Halloumi Salad