This Grilled Watermelon Salad with Arugula, Feta, and Pickled Onions is sponsored by Bota Box. As always, all opinions and recipe are my own. Thanks for supporting the brands that support Shared Appetite!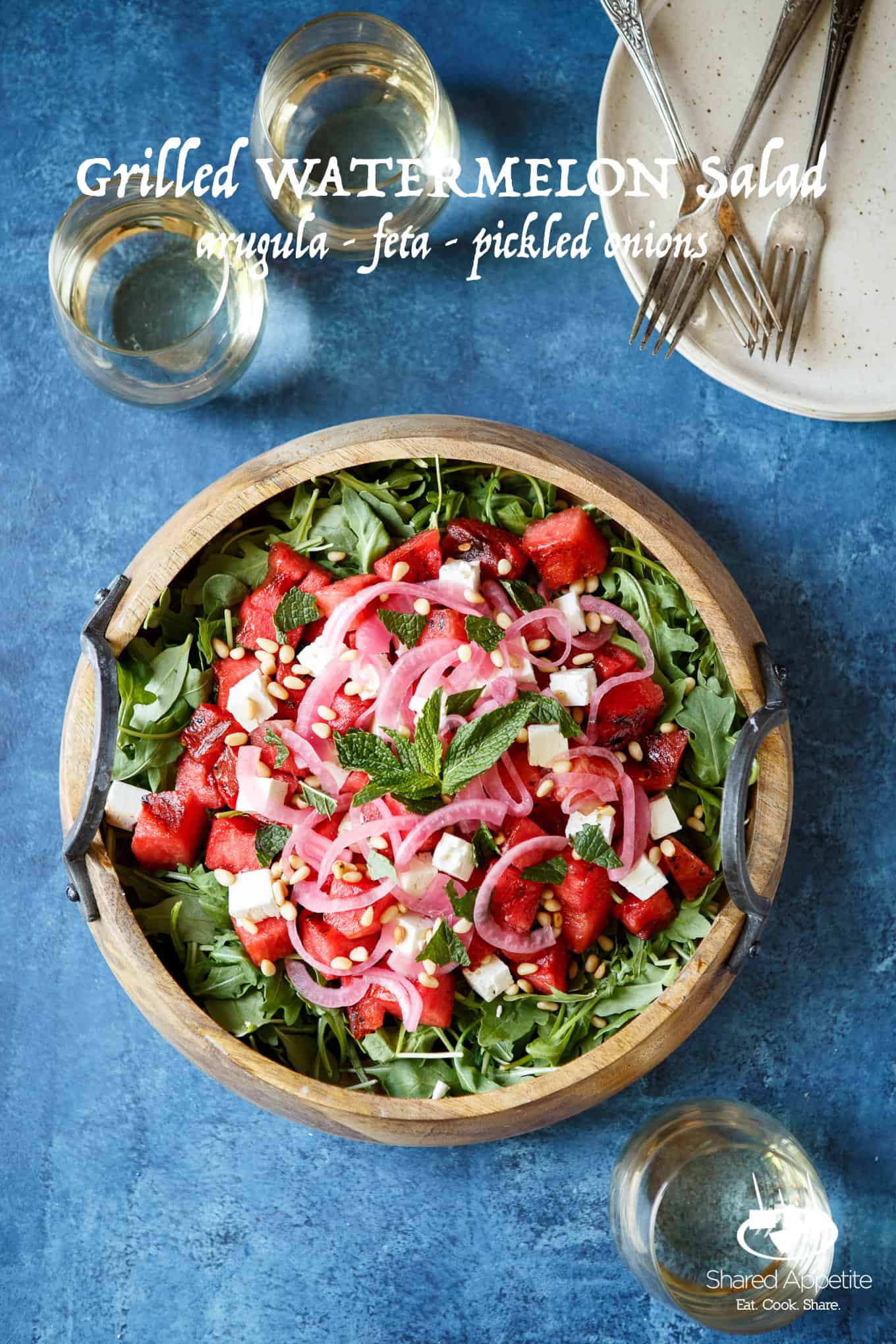 Asheley and I decided to take the plunge and get a pool heater this year. Our backyard doesn't get a ton of full sun, so the pool typically stays on the more frigid side. That's all good and fine when it was just the two of us and the pool was only rarely used when entertaining family and friends. But now with Olivia, that all has changed. We are in the pool at least once a day. Olivia might just have some polar bear blood, because she'd go in the pool regardless of temperature. Asheley and I, on the other hand… yeah, so we got a pool heater.
It's actually pretty glorious, because now it's a balmy 85°F all day, every day. Sure, I'll probably hate myself when my summer electric bill comes in the mail, but for the first time ever I'm actually enjoying our pool. And not going to lie, we kind of want to show it off invite all of our friends over to enjoy this delightfully warm pool with us.
Almost all of Olivia's friends have parents that are also teachers (hmm, weird how that worked out), so we're taking full advantage of lots of weekday pool play dates this summer. It's not so much planned events as a text blast mid morning… hey, do you guys want to come over later today and lounge by the pool? Uhm yes, of course everyone does. First, because they know their kids will have fun. Second, because they know that while the kiddies play, the adults feast.
What's a spontaneous pool party without a good spread of summertime eats? And listen, I have to share this new recipe with all of you (and also my new summer entertaining secret weapon: Bota Box) because it got rave reviews the last few times I made it. It's the perfect light lunch fare that a pool party deserves (you know, so we can eat ice cream after). This Grilled Watermelon Salad with Arugula, Feta, and Pickled Onions isn't all good looks… it tastes AMAZING.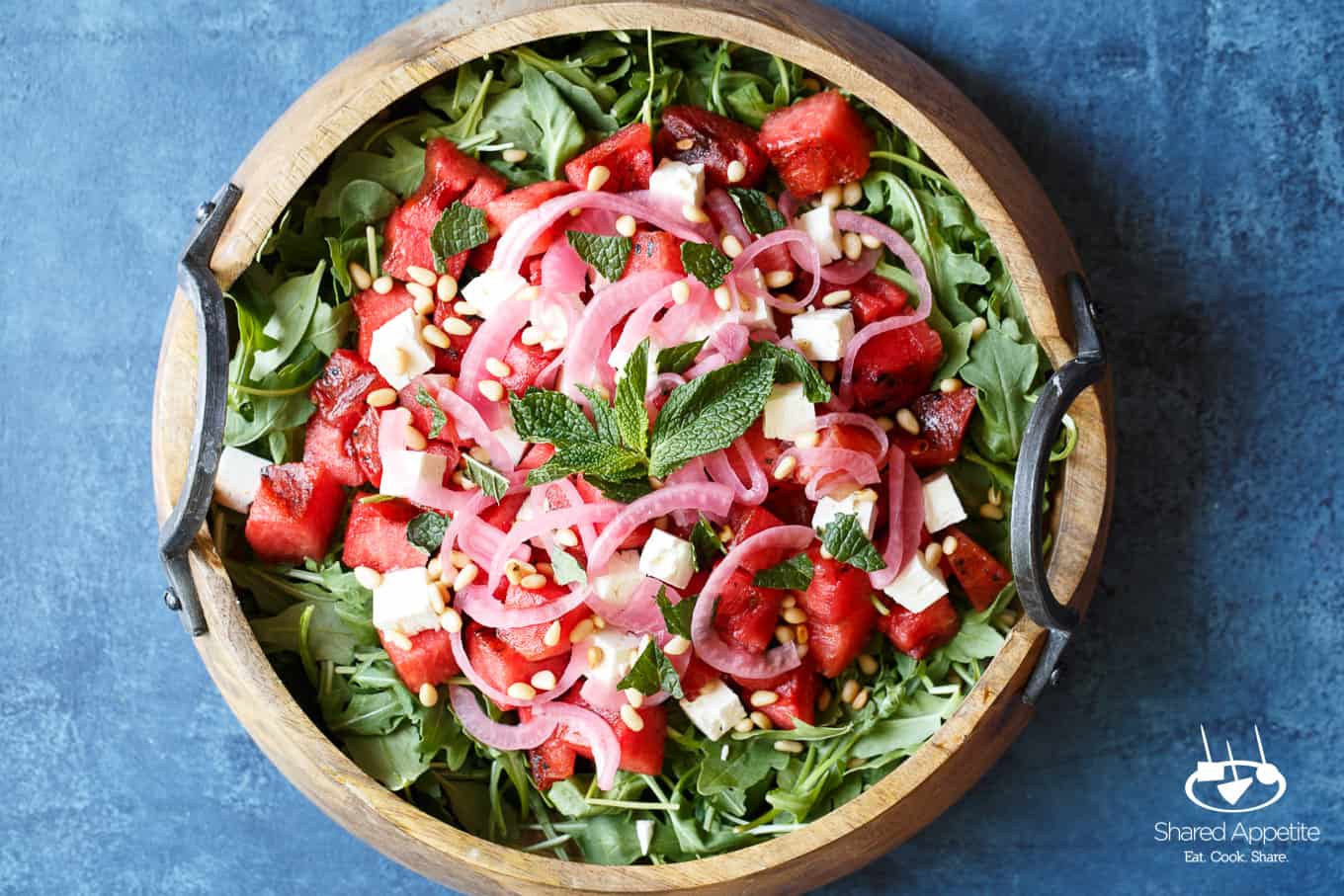 Growing up, I always viewed salad as something to adhere copious amounts of thousand island dressing to. It's definitely delicious in its own right (who doesn't love a trashy salad now and again), but in my age of enlightenment (I can't believe I turn 33 THIS Friday!) I like a little more refinement in my salads. I want to build a salad like I do any other recipe. It's gotta have bold flavors, lots of different textures, and has to make my taste buds dance.
This Grilled Watermelon Salad is just that. Arugula is such a vibrant lettuce, with a subtle peppery bite. I dress it up in a bit of olive oil and season in gently with Kosher salt for a base that stands up to this tremendous flavor bomb I put on top:
grilled watermelon: Yes, you heard that right. I grilled watermelon. It may sound weird, but it actually imparts a subtle smoky flavor and caramelizes some of those sugars. If you're freaked out by grilling watermelon, suck it up feel free to just use plain ole' cubed watermelon instead.
barrel aged feta: This is way better stuff than the regular feta cheese you see at your local mega mart. It's like going from shopping at the dollar store to Saks Fifth Avenue. Barrel Aged Feta is such a flavor explosion. Of course, if you can't find it, feel free to use the normal stuff. We won't judge you.
pickled onions: These are the bomb dot com. I seriously use them on everything I can because they are so freaking good. They pack a powerful acidic punch that brightens up any dish.
pine nuts: honestly, I had them on hand and they taste great. They are buttery little nut nuggets, but are kinda expensive. Scratch that, they are stupid expensive. If your last paycheck is leaving your bank account a little thin, feel free to swap in some chopped walnuts or almonds. That'll work just fine.
mint: because a salad needs a little herbaceous lift, and mint pairs so well with watermelon and feta.
balsamic glaze: i know, you don't see any balsamic glaze in these photos. That's because I serve it table-side so people can add however much they want. If you've never indulged in balsamic glaze before, just know that you have not fully experience life. It's what happens when you reduce balsamic vinegar into a sweet syrupy sticky submission. SO. GOOD.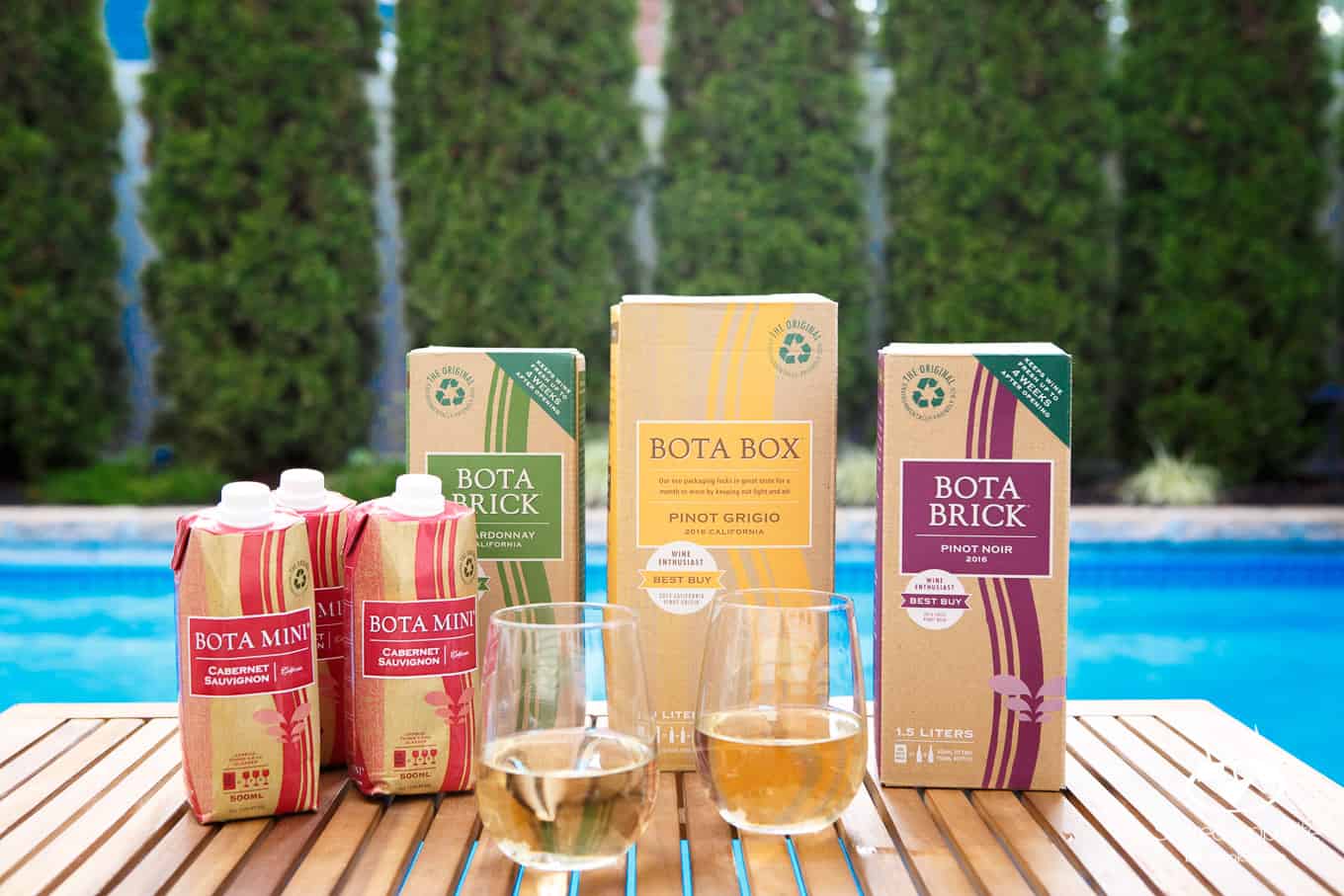 Meet my secret weapon for easy poolside entertaining this summer (besides the Grilled Watermelon Salad, of course). There's nothing that says disaster like having a bunch of glass wine bottles and glasses by the pool. Trust me, I learned that lesson the hard way. It was terrible. That's why I stocked up this summer with Bota Box wine! Guys, this is revolutionizing my summer entertaining game!
When I was growing up, I remember my parents always bought this really low quality boxed wine for every backyard shindig. They didn't drink wine, and the only two people in my family were perfectly happy with the crappy stuff. Well guess what? Times have changed and now boxed wines are kicking butt and taking names.
Bota Box serves up the premium stuff, and they have an impressive lineup of wine varietals! It's high quality wine that actually has earned 30 Gold Medals in competitions since 2011, as well as 35 "Best Buy" ratings from Wine Enthusiast magazine. That's impressive.
I absolutely love that it's super safe around the pool, incredibly easy to bring around on adventures (pack a few Bota Minis into your backpack for a hike/outdoor concert or bring along a Bota Brick to the beach for an evening picnic)! It's environmentally friendly too, which is super cool. The 100% recyclable packaging features BPA-BPS free wine bags and it creates 85% less landfill waste than traditional glass packaging. BOOM. We are helping the environment while drinking wine.
Okay, you ready? Best part. When I open up a bottle of win, there's always this pressure to finish the bottle because once you open a bottle of wine… it can't sit for more than a day. With Bota Box's state of the art bag-in-box technology, it keeps wine fresh for up to FOUR WEEKS after opening opening. That's insanely amazing! Every glass is fresh!
With Bota Box, there's something for everyone… everywhere!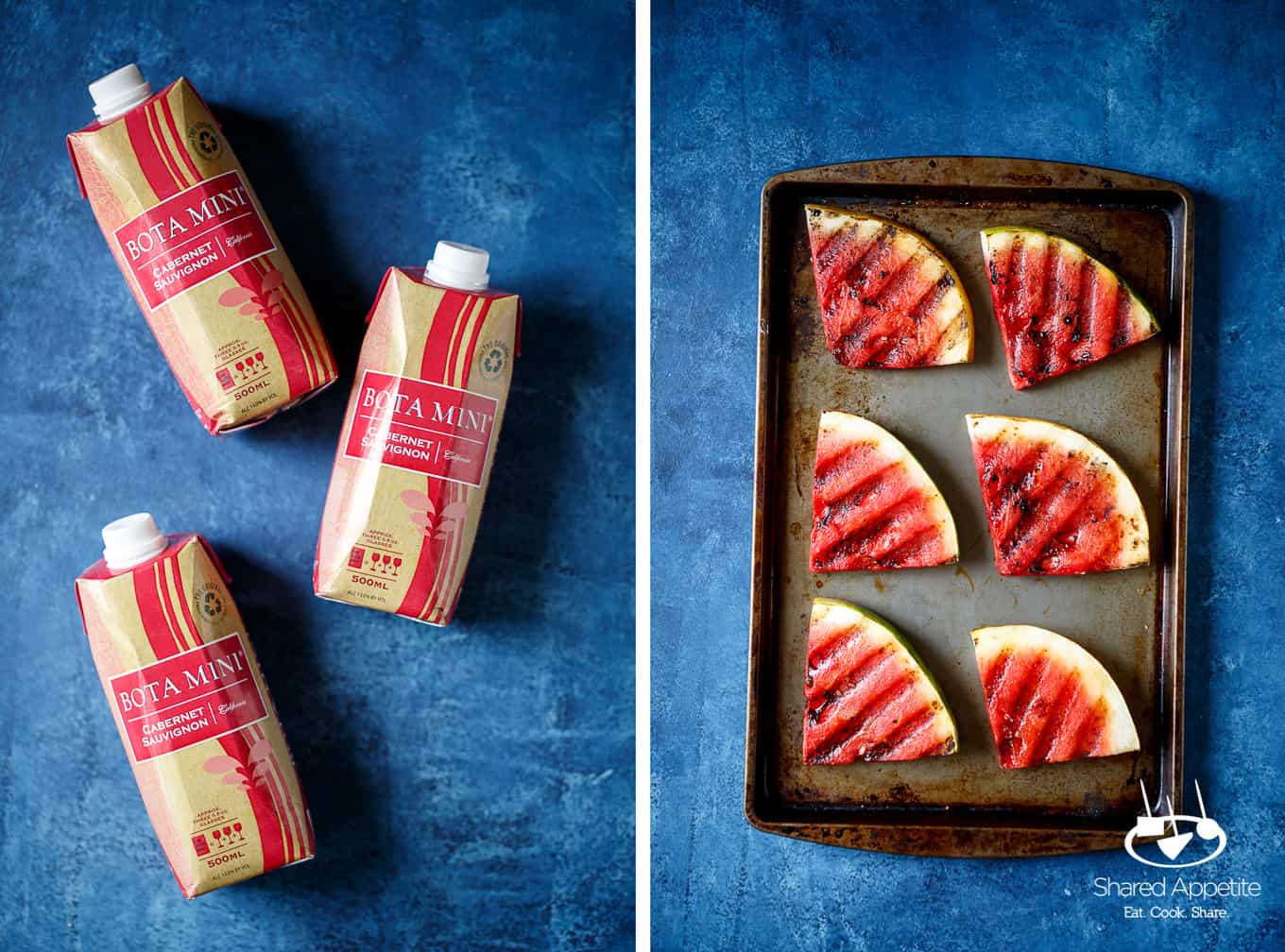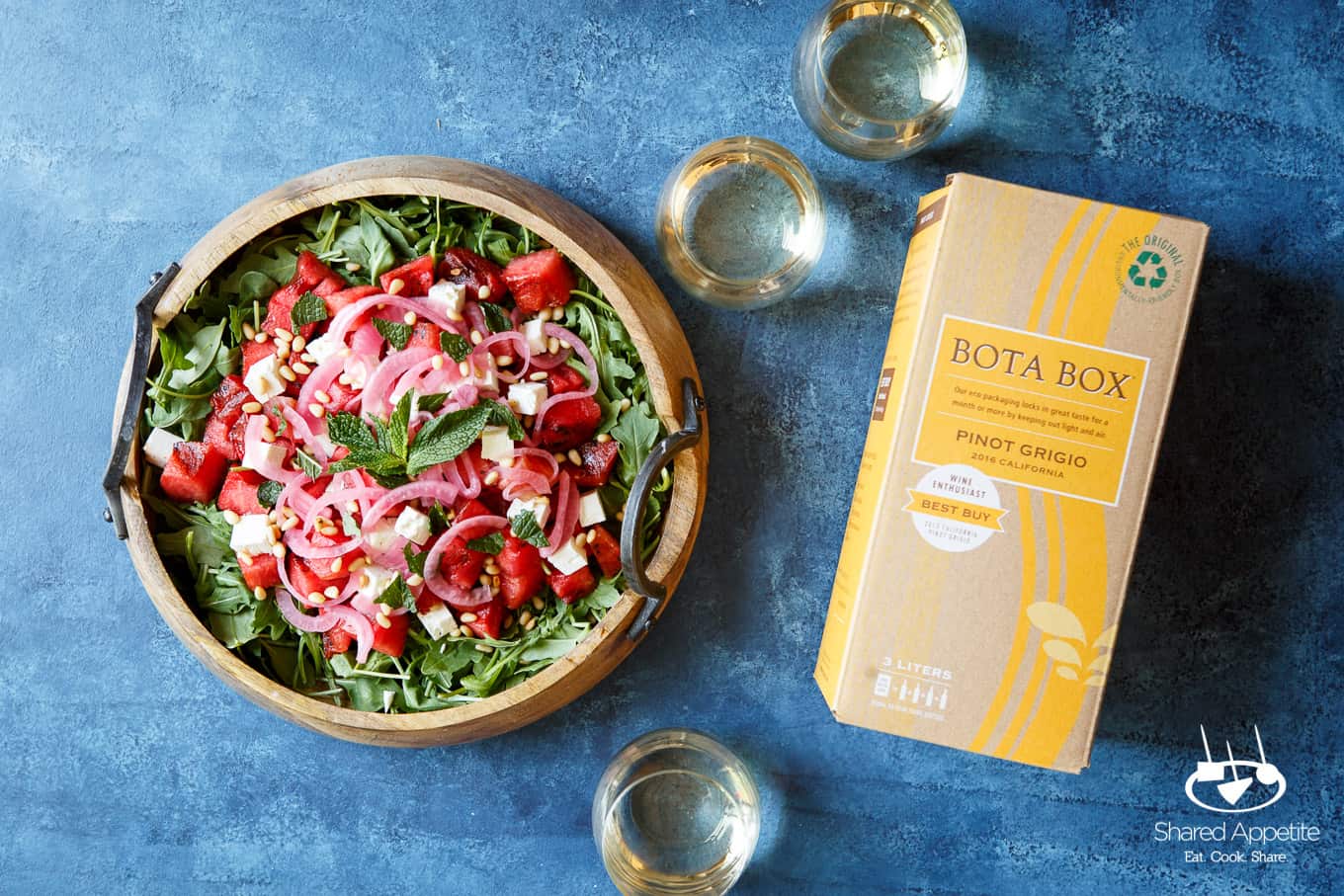 I paired this Grilled Watermelon Salad with Bota Box Pinot Grigio. It's a medium-bodied wine that had fruity flavors that's refreshing, bright, and clean. I can't think of anything more perfect for an impromptu poolside get together!
What's super cool is that Bota Box's are 3 liters! That equals 4 bottles! I can put out one bota box (along with reusable plastic wine glasses… remember, glass and pools don't mix in my experience) and my guests are taken care of for the entire party! LOVE that.
And hey, if I have one of those pesky picky guests that doesn't drink Pinto Grigio and insists on a red, with Bota Box I have so many options to choose from! And who cares if there's leftovers, because it stays fresh for up to 4 weeks anyway! Bota Box (and Grilled Watermelon Salad) for the win!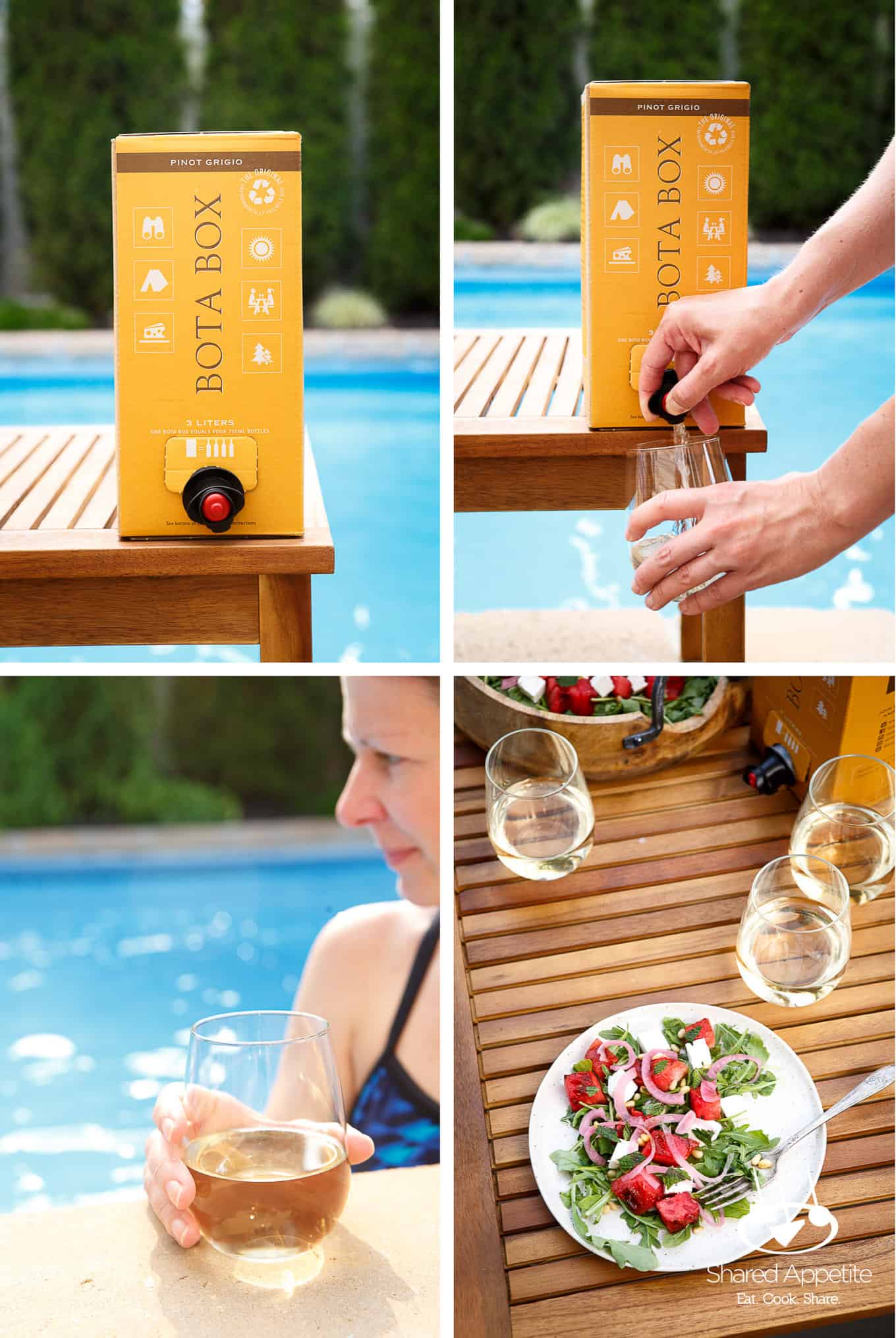 Print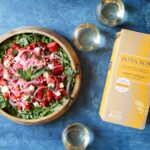 Grilled Watermelon Salad with Arugula and Feta
---
Author:

Chris Cockren

Total Time:

13 minutes

Yield:

Serves

4

-6

1

x
1

(5 ounce) package baby arugula

8

to

10

slices seedless watermelon

8 ounces

barrel aged feta cheese, diced

1/3 cup

pine nuts
Few sprigs mint, torn
Extra virgin olive oil
Kosher salt
Balsamic glaze*
---
Instructions
Preheat grill to medium-high heat.  Spray watermelon slices with nonstick cook spray and lightly season with salt.  Grill for approximately 1 minute per side, until grill marks appear.  Let cool completely.  Cube watermelon into bite-sized pieces.
In a large serving bowl, drizzle arugula with a little extra virgin olive oil and lightly season with Kosher salt.  Toss to coat.  Top with grilled watermelon, feta, pickled onions, pine nuts, and mint.  Right before serving, drizzle with balsamic glaze.  Devour.
Notes
Trader Joe's sells a great balsamic glaze!  You can also easily make your own (just use trusty Google for recipes!)
Prep Time:

10 minutes

Cook Time:

3 minutes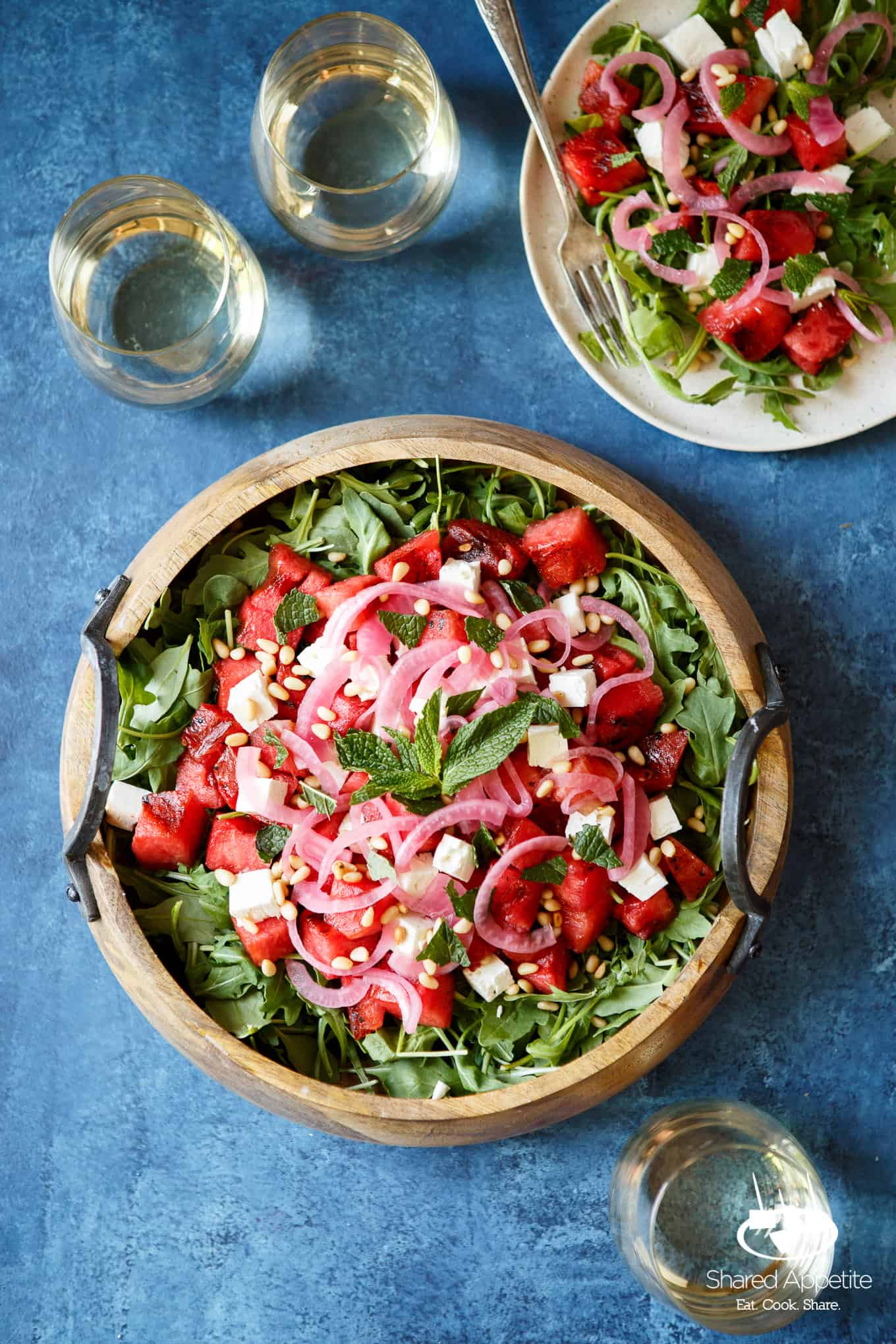 Grilled Watermelon Salad
Thanks to my friends at Bota Box for this recipe collaboration!
Need More Summer Salad Inspiration?
Corn, Blueberry, and Goat Cheese Salad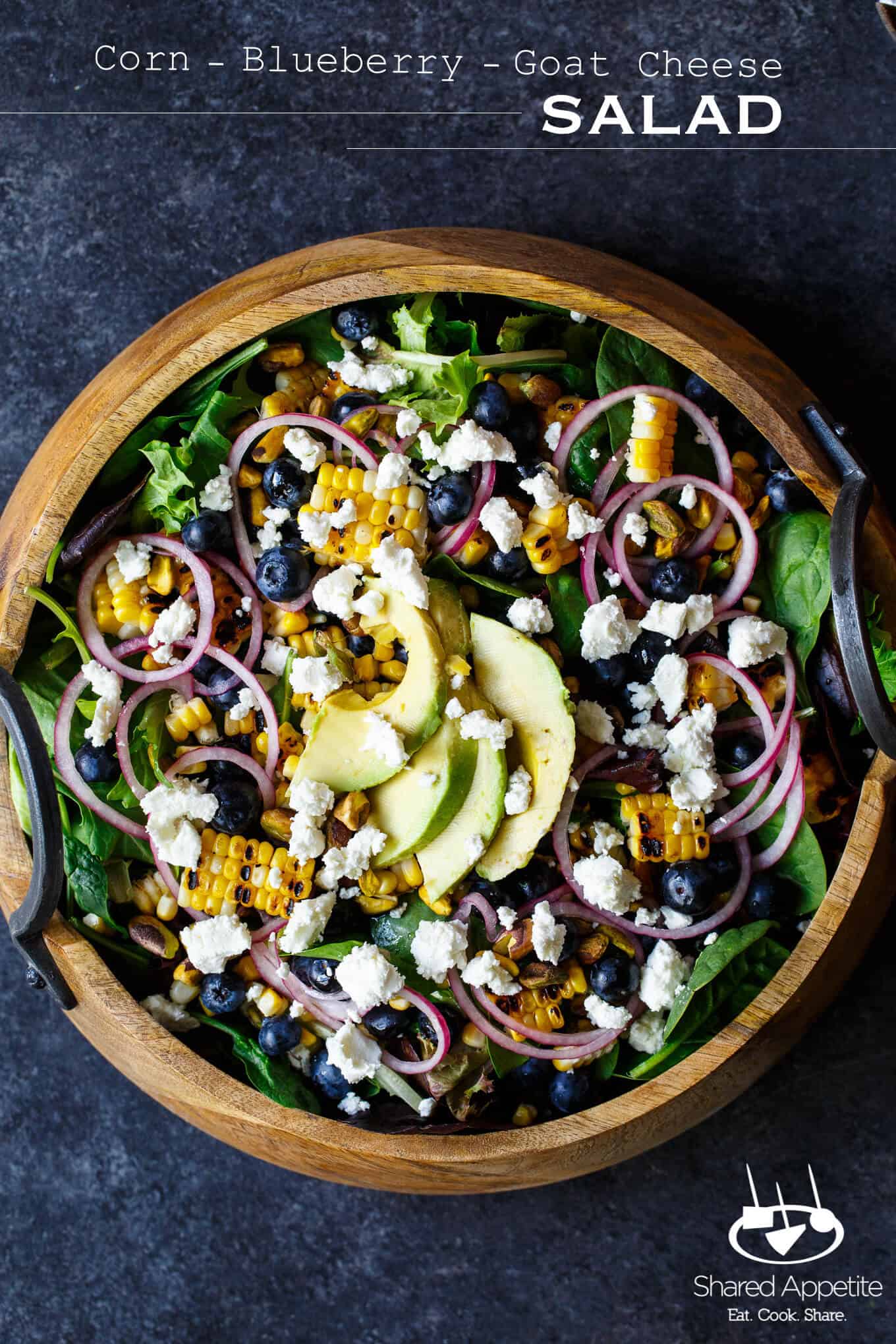 4 Healthy Chicken Salads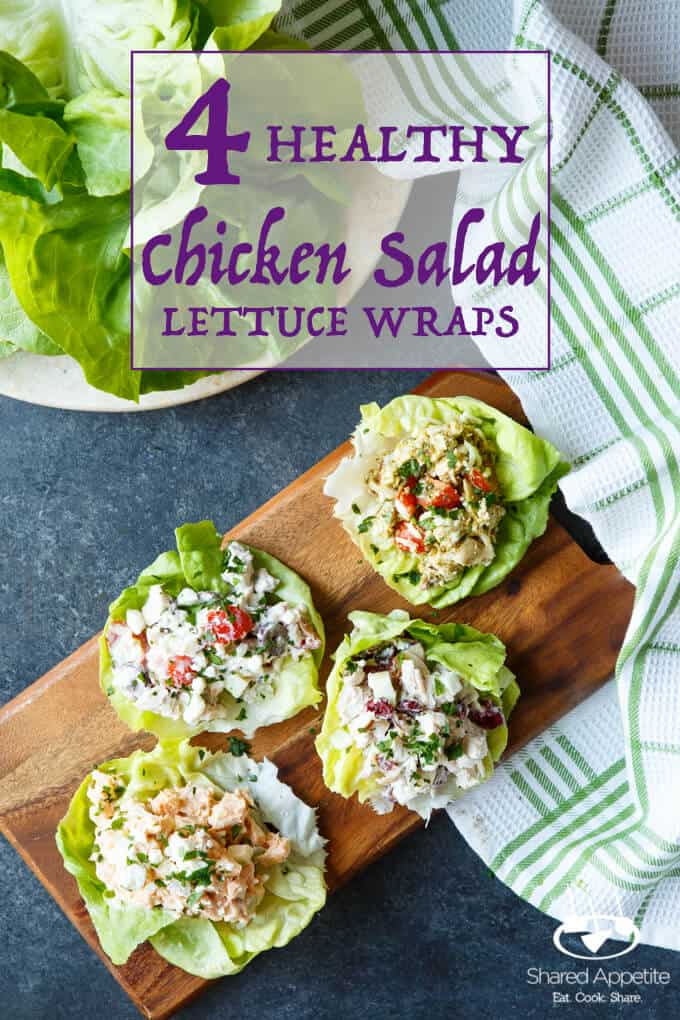 Stone Fruit Caprese Salad with Grilled Corn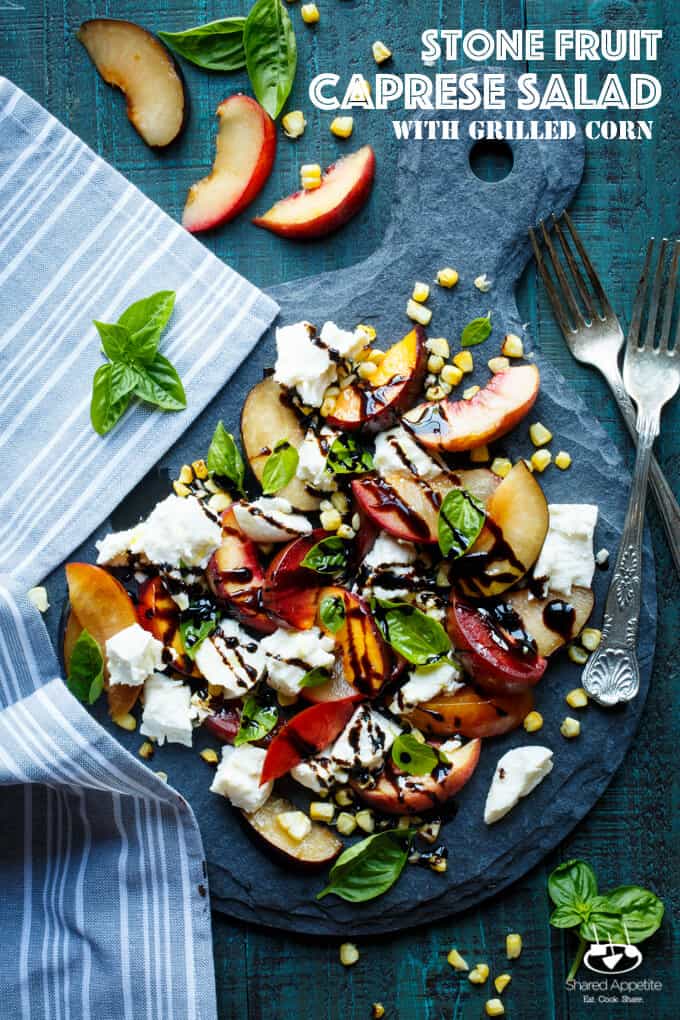 Vegan Grilled Corn, Plum, and Avocado Grain Salad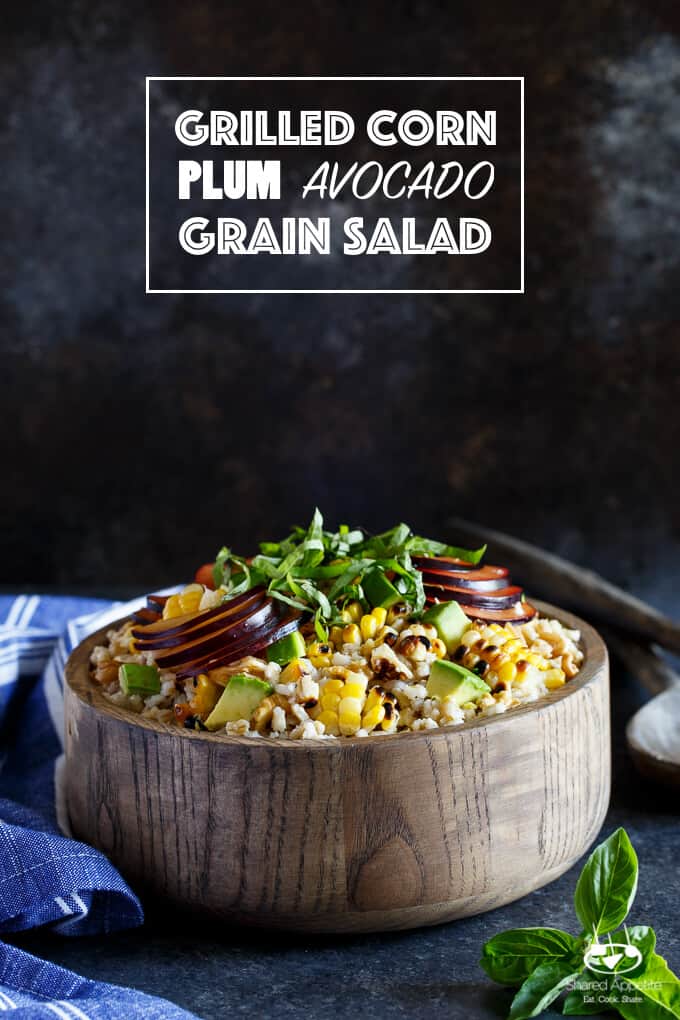 Corn, Blueberry, and Halloumi Grain Salad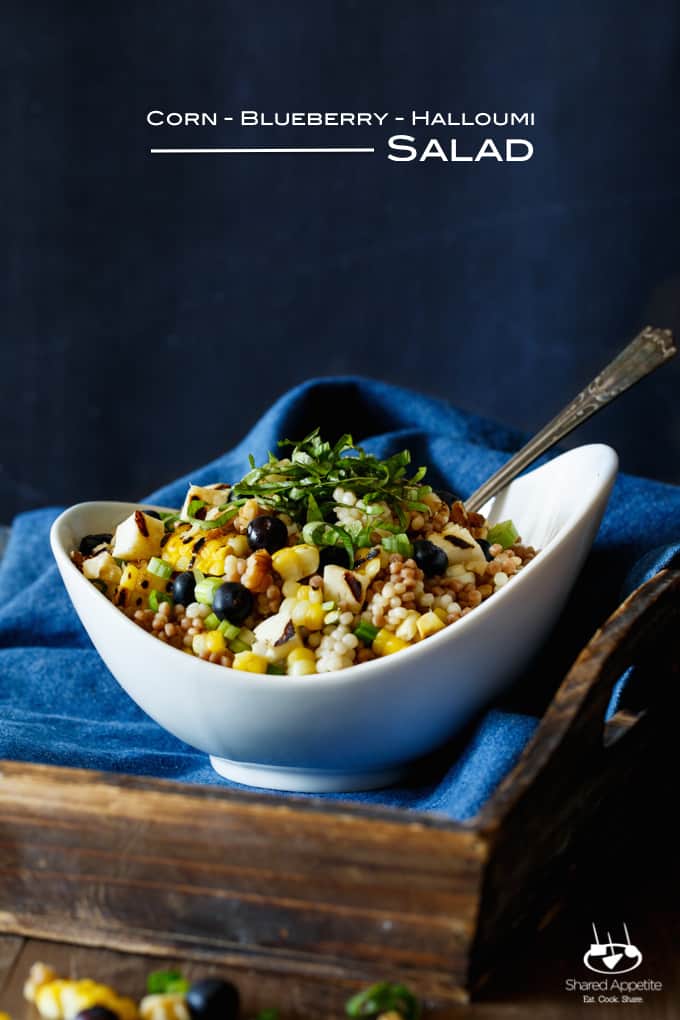 Sweet Potato Bacon Salad