This Corn, Blueberry, and Goat Cheese Salad is brought to you by Taylor Farms.  As always, all opinions and recipe are my own. Thanks for supporting the brands that support Shared Appetite!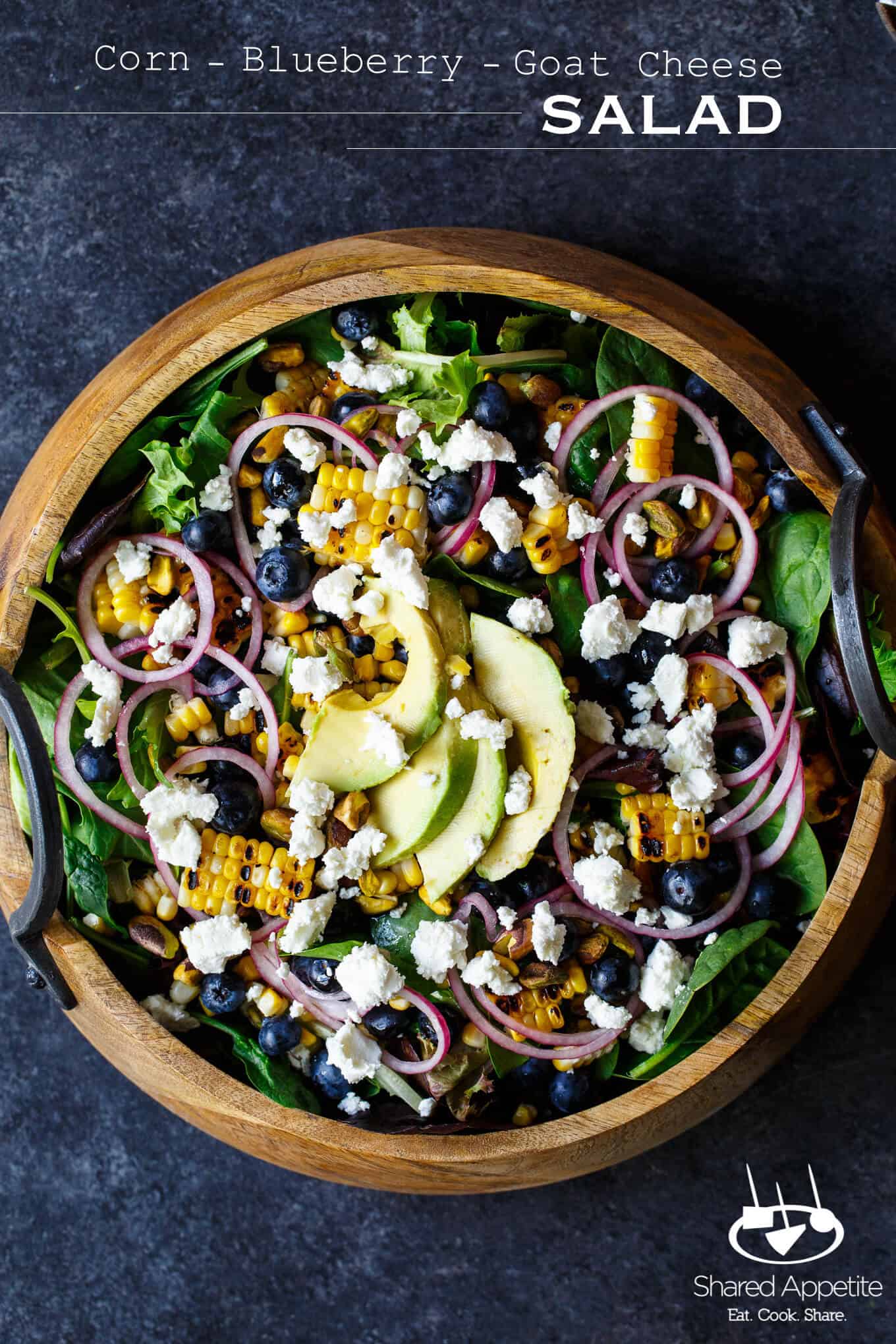 This time of year always flies by way too fast.  I feel like we have all been waiting forever for the ground to thaw out and the trees to start popping out those leaves again... and in a blink of an eye, we are already half way through May.  And I have to admit, spring time is always ridiculously stressful for me.  There's a countless amount of weeding I have to reluctantly accomplish and my vegetable + herb garden needs to get going, engagement/wedding season for Ashe Photography Studio is in FULL swing, AND it's the busiest time of year for us music teachers.  Then there's this whole food blog and food photography thing and having an almost 2-year old that wants to spend every waking moment of her life at the playground.
I know, I take on too much.  People tell me that all the time.  But I love it all.  The craziness will all calm down soon enough (i.e. just a month and a half left before summer vacation... AHHHHH).
There's one day in May, though, that nothing else matters except for one thing... well, person.  Mother's Day is THIS Sunday.  It's a day that I don't do any work.  My laptop stays closed.  I unplug (as much as I can) from the world.  On Mother's Day, I want to be fully present with my family.
Mother's Day used to be a really hard day for my wife.  Several years of failed attempts to start a family left Asheley feeling incredibly hopeless that she would ever get to fulfill this intense longing in the deepest parts of her heart to be a mom.  At the time she worked in an ER where she would constantly see patients that were angry they were pregnant... again.  She'd overhear patients saying they'll just abort this child like they did those other few times.  She'd see all her friends having their first... second... third child.  All the while, she was left with nothing.  No answer and no reason for infertility.  Mother's Day was yet another incredibly painful reminder of another year of failure.
When our sweet miracle Olivia arrived, you better believe I made Mother's Day a huge celebration for Asheley.  Not with extravagant plans or expensive presents... but with extravagant presence.  It's a day that we get to celebrate being a family... and Asheley getting to be a mom.
If you've ever met Asheley or I, you know that any celebration revolves around one thing and one thing only.  FOOD.  What are we going to eat?!  This year, you better believe we'll be chowing down on this Corn, Blueberry, and Goat Cheese Salad.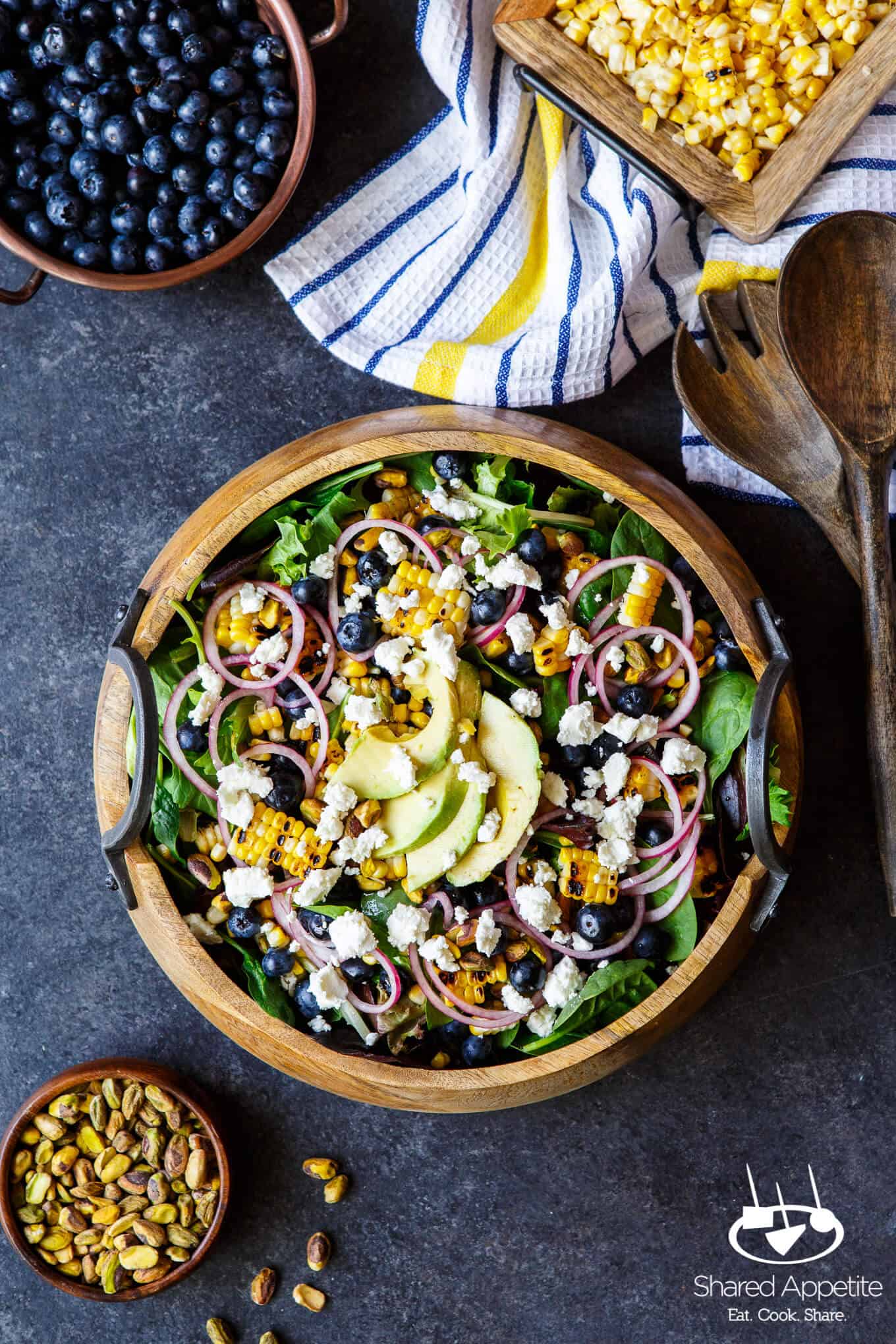 I don't know what it is about spring, but it always makes me crave salad.  There's something so rewarding about a well made salad... key word being well-made.  There's nothing more sad than a lame and pathetic attempt at a "salad"... you know, some lettuce thrown in a bowl and a bottle of store-bought value dressing slapped on the table.
For me, a legit salad needs some serious flavor.  It shouldn't be treated as an after thought or meal filler.  This Corn, Blueberry, and Goat Cheese Salad has everything I want in a salad.  Big robust flavors.  Different textures in every bit.  It's literally a party for my mouth.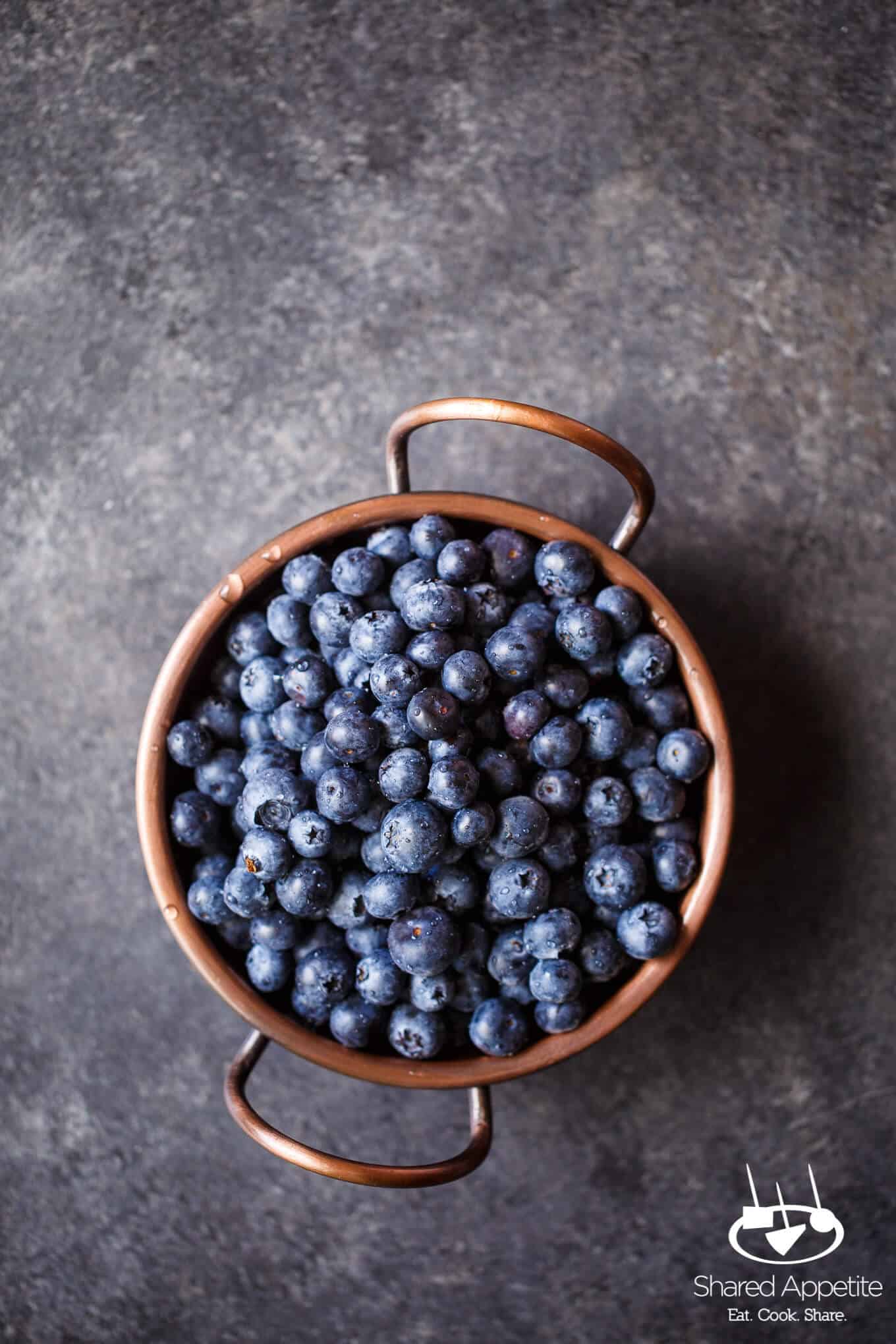 When creating this Corn, Blueberry, and Goat Cheese Salad, I had both Asheley and Olivia on my mind.  Asheley is obsessed with blueberries.  It's to the point that if I need blueberries for a recipe I'm photographing, I need to hide them in the spare refrigerator in the garage behind a bunch of other stuff just so Asheley wont get to it.  Next step is barbed wire.
Olivia eats corn like it is her job.  I think she believes it is her true calling in life to devour every kernel of corn in the state of New York.  Every time I heat up frozen corn for her, I think I'm making more than enough.  And every time I hear... more corn.  No matter how much I heat up for her... more corn.
So this salad is an ode to my two favorite ladies in my life.  Blueberries + Corn.  Asheley + Olivia.  All tied together with the creamy tang of goat cheese, the acidic bite of easy pickled onions, the magic of avocado (it makes everything better, doesn't it?!), and the crunch of pistachios.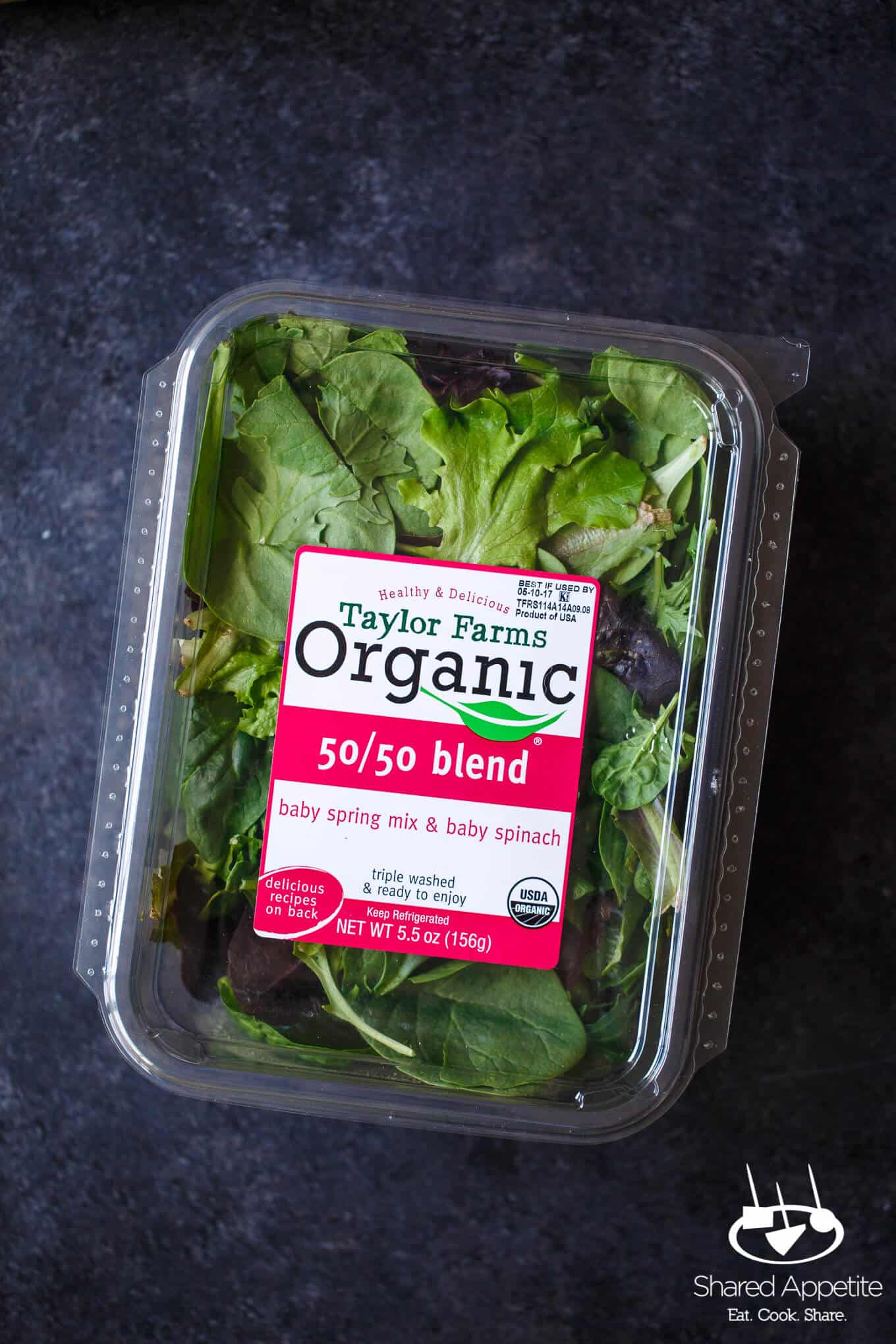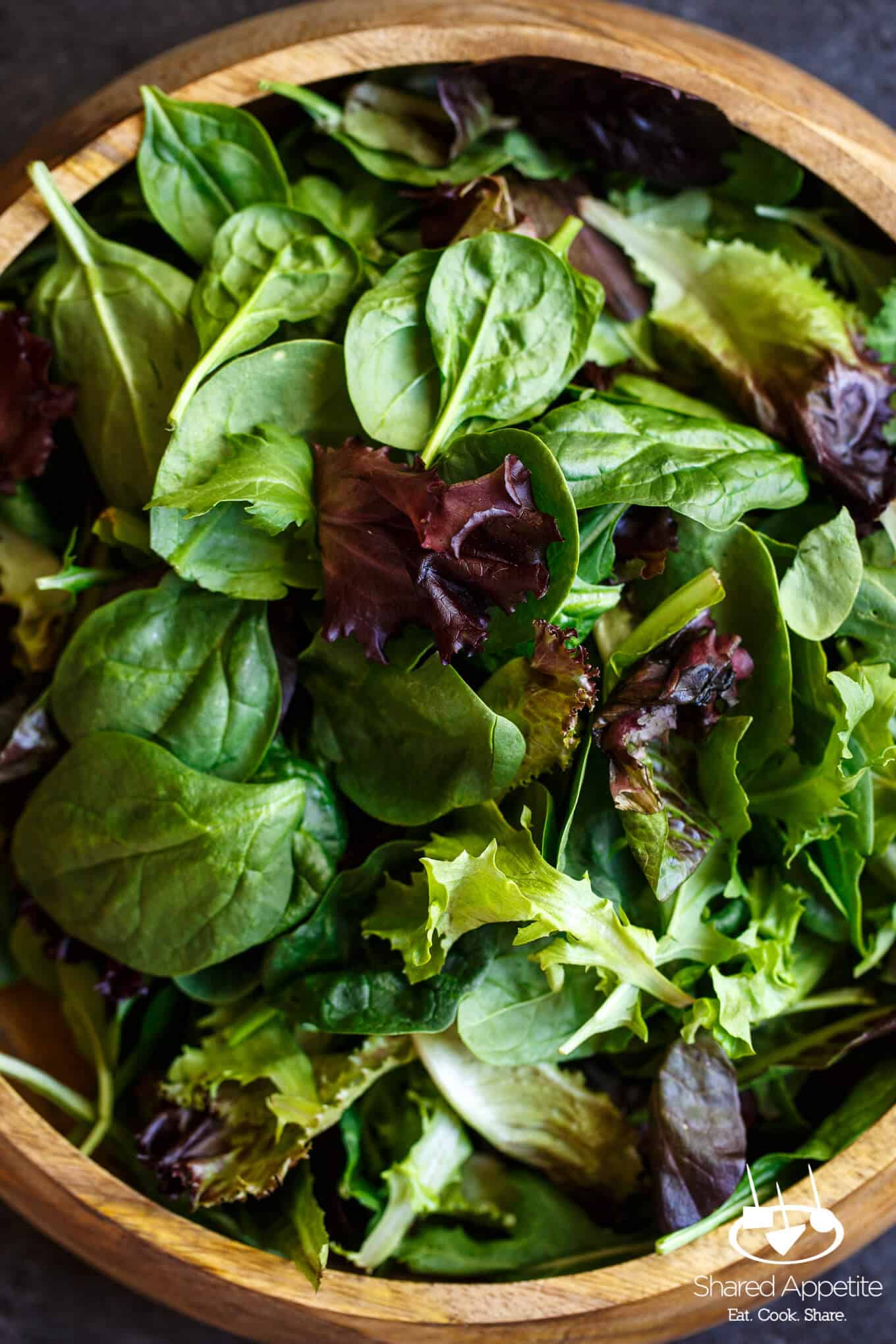 But really, the success of any salad always starts with the lettuce.  If we're being really honest here, it's kinda easy to forget about the lettuce.  Ludicrous, I proclaim.  It's the foundation for all this Corn, Blueberry, and Goat Cheese Salad flavor.  Starting with great lettuce makes your salad that much better.
I'm really digging the lettuce by Taylor Farms.  This Organic 5o/50 Blend features baby spring mix and baby spinach, is triple washed, and ready to eat.  I love the tender flavorful leaves and feel really good about the whole organic thing.  I try really really hard to cook with as many organic products as possible, and lettuce is one of those things I demand is organic.  Taylor Farms is also really big into sustainability, which makes me feel really happy to support.  I want to leave this planet a better place for Olivia, and companies using sustainable practices are definitely a step in the right direction.
Although I've only had Taylor Farms organic salad blends so far (LOVE), I'm super excited to also try their single serve salad bowls and chopped salad kits.  Hello convenience!  That's going to make eating healthy throughout the week that much easier!
Have you seen Taylor Farms products at your local grocery store?  Make sure to check out their store locator to see where you can score some.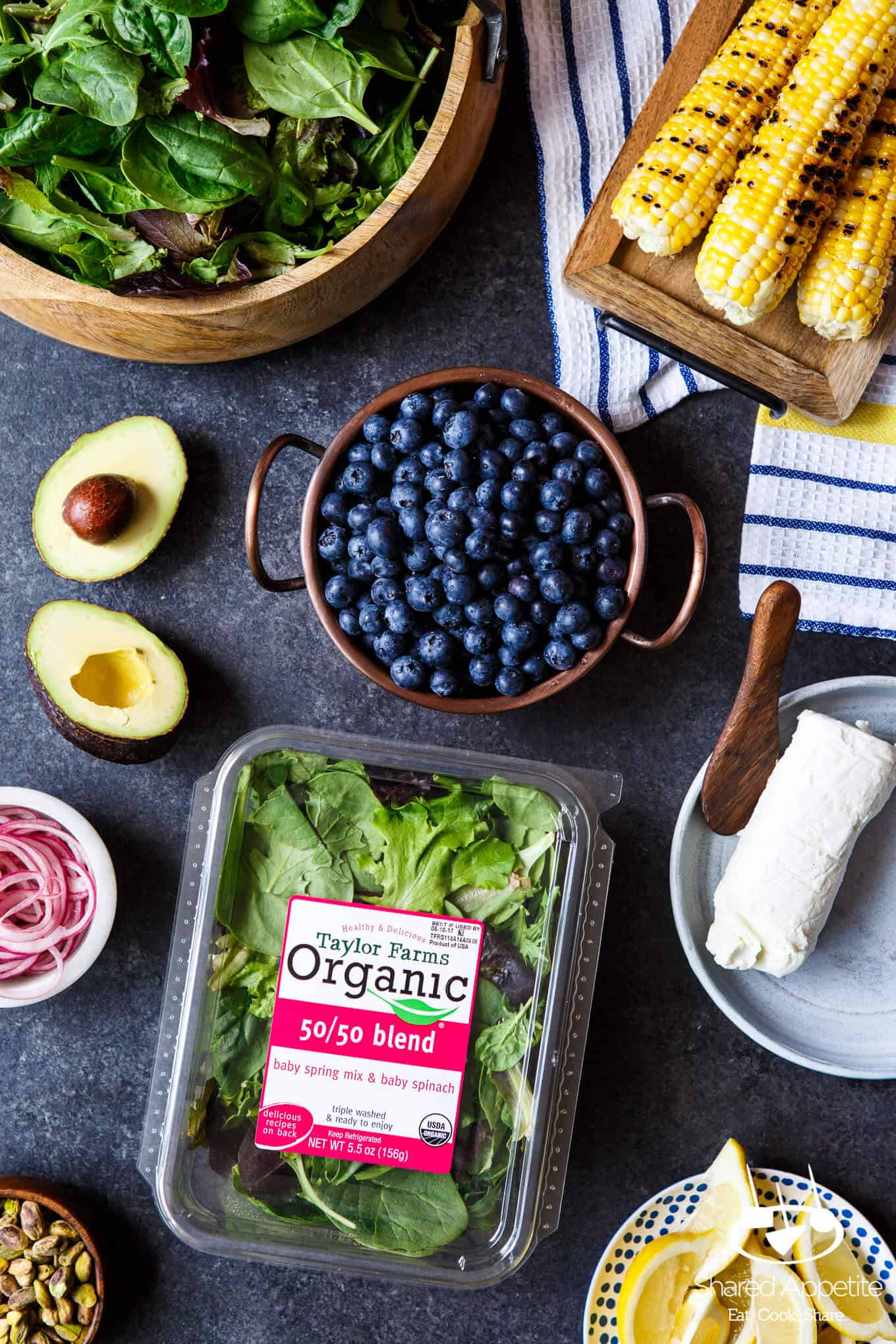 So let's break down this salad for a second.  You can totally use frozen corn that's been thawed if you can't find fresh.  Grilling is definitely my favorite way to prepare corn, but feel free to make it however you're most comfortable.  I just love the flavor of the grill and those char marks are pretty awesome looking.
If you don't have pistachios, you can most definitely use a different nut.  Almonds or walnuts would definitely work, and I'm thinking even pecans could make for a nice swap.
If you're not a goat cheese fan, I don't blame you all too much.  I like goat cheese sometimes (this Corn, Blueberry, and Goat Cheese Salad is one of those times because it's pretty darn rad in this), but I get that it's not for everyone.  Feta cheese would definitely work in this salad, or you could do some grilled halloumi cheese or just cube up some mozzarella.  When it comes to cheese, this family is not picky!
You may be tempted to skip the pickled onions.  Don't you dare.  It adds just a great crunchy zing to the salad.  They are SUPER easy to make... you just have to think ahead because you ideally want them to sit in the fridge for a couple of days before eating them (in a pinch, just pickle them for a couple hours at room temperature).  I love pickled onions on salads... and tacos, nachos, sandwiches.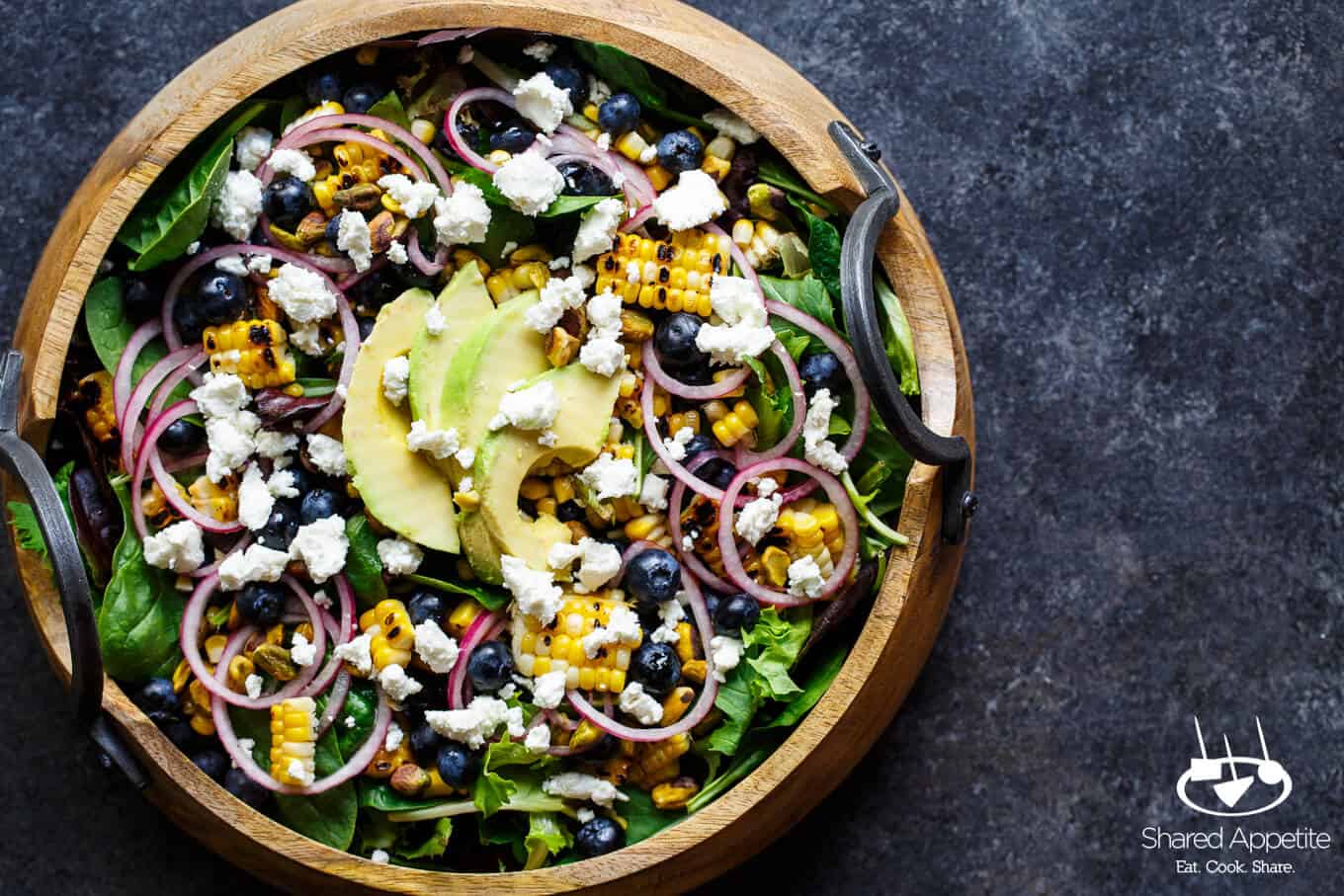 This Corn, Blueberry, and Goat Cheese Salad is so perfect for spring easy entertaining.  It makes for a great side at brunch and dinner.  I'll be packing it for lunch for Asheley and I during the week, and it could even be a dinner salad with the addition of some grilled chicken or steak.
Oh gosh, the lemon vinaigrette.  We didn't even talk about the dressing.  Listen, if you aren't making your own vinaigrettes at home yet... I still love you.  But come on.  It's so easy and tastes 10 thousand times better than the stuff you get in the store.  This lemon vinaigrette is bright, fresh, and pairs perfectly with the Corn, Blueberry, and Goat Cheese Salad.  Did I mention it's only 3 ingredients?  Yea... I told you it was easy.
Asheley.  Happy Mother's Day.  I'm so thankful that we get to do this parenting thing together.  I love our little family, and I so appreciate what an amazing mother you are to Olivia.  Now let's eat this Corn, Blueberry, and Goat Cheese Salad.
Print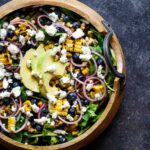 Corn, Blueberry, and Goat Cheese Salad
---
1

(5.5 ounce) package Taylor Farms Organic 50/50 Blend Lettuce

1 cup

fresh blueberries

2

ears grilled corn*, kernels removed

4 ounces

goat cheese, crumbled

½ cup

chopped pistachios

1

avocado, sliced or chopped
for the Lemon Vinaigrette
½ teaspoon

lemon zest

1

lemon, juiced

1

clove garlic, finely minced

⅓ cup

extra virgin olive oil
Kosher salt
Freshly ground black pepper
---
Instructions
Assemble salad by topping lettuce with blueberries, corn kernels, goat cheese, pistachios, avocado, and pickled onions.  Drizzle with lemon vinaigrette and toss before serving.
for the Lemon Vinaigrette
Combine the lemon zest, lemon juice*, and garlic in a small bowl. Whisking continuously, drizzle in olive oil. Season with salt and pepper. I like my vinaigrette very bright. If it's too lemony for you, drizzle in a little bit more olive oil.
Notes
Feel free to cook your corn by whatever method you'd prefer!
To get the most juice out of your lemon, roll it back and forth on the counter under the heel of your hand using medium pressure.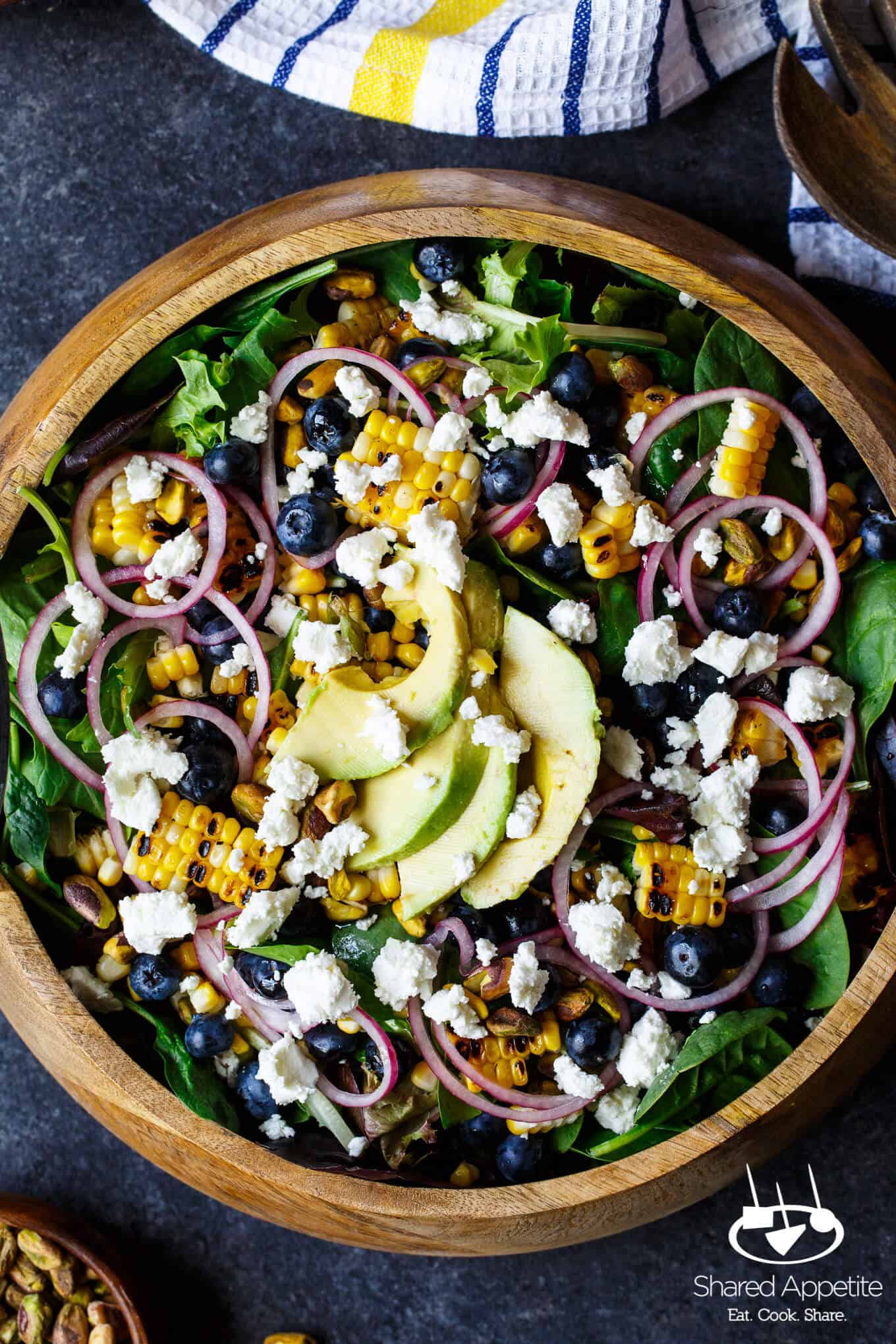 Corn, Blueberry, and Goat Cheese Salad
Need More Salad Inspiration?
Sweet Potato and Grape Wild Rice Salad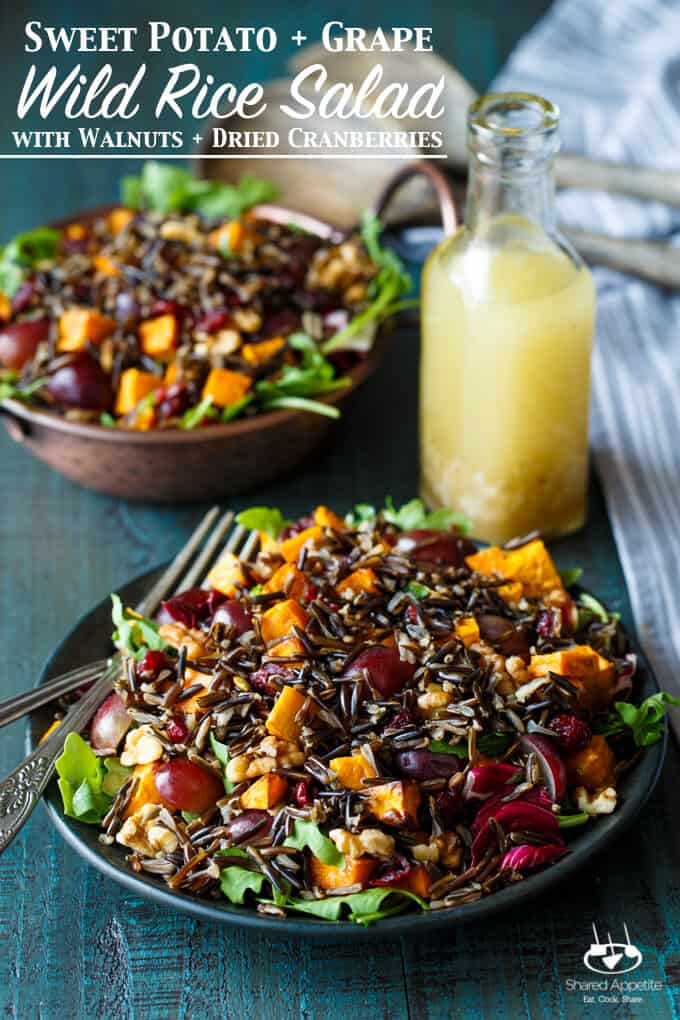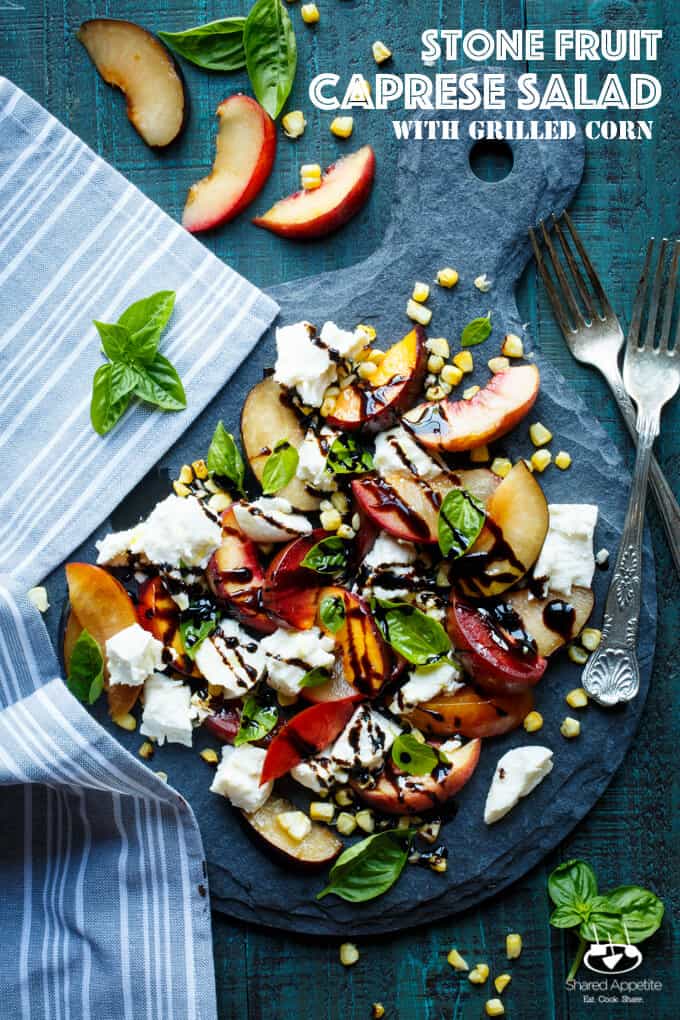 Honey Sriracha Cauliflower Salad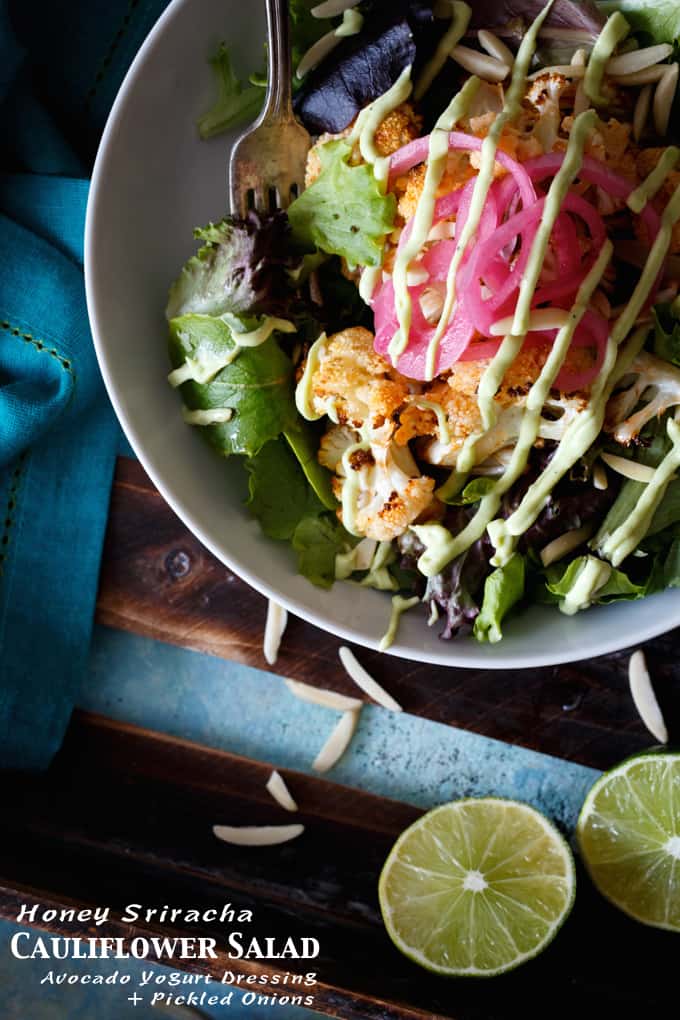 Watermelon, Feta, and Arugula Salad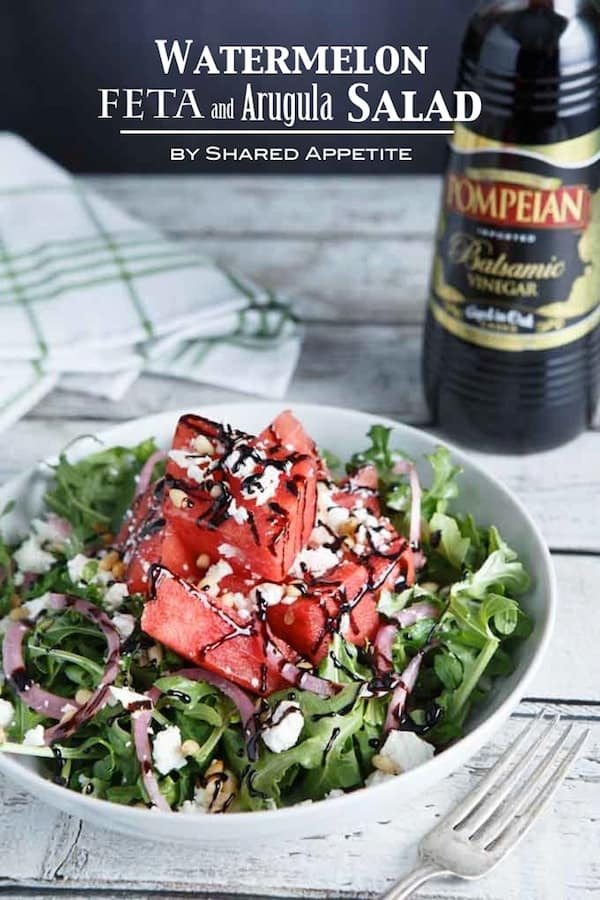 BBQ Chicken Salad with Avocado Dressing