These Mumbai Margaritas are brought to you by Patrón. The perfect way to enjoy Patrón is responsibly. Thanks for supporting the brands that support Shared Appetite!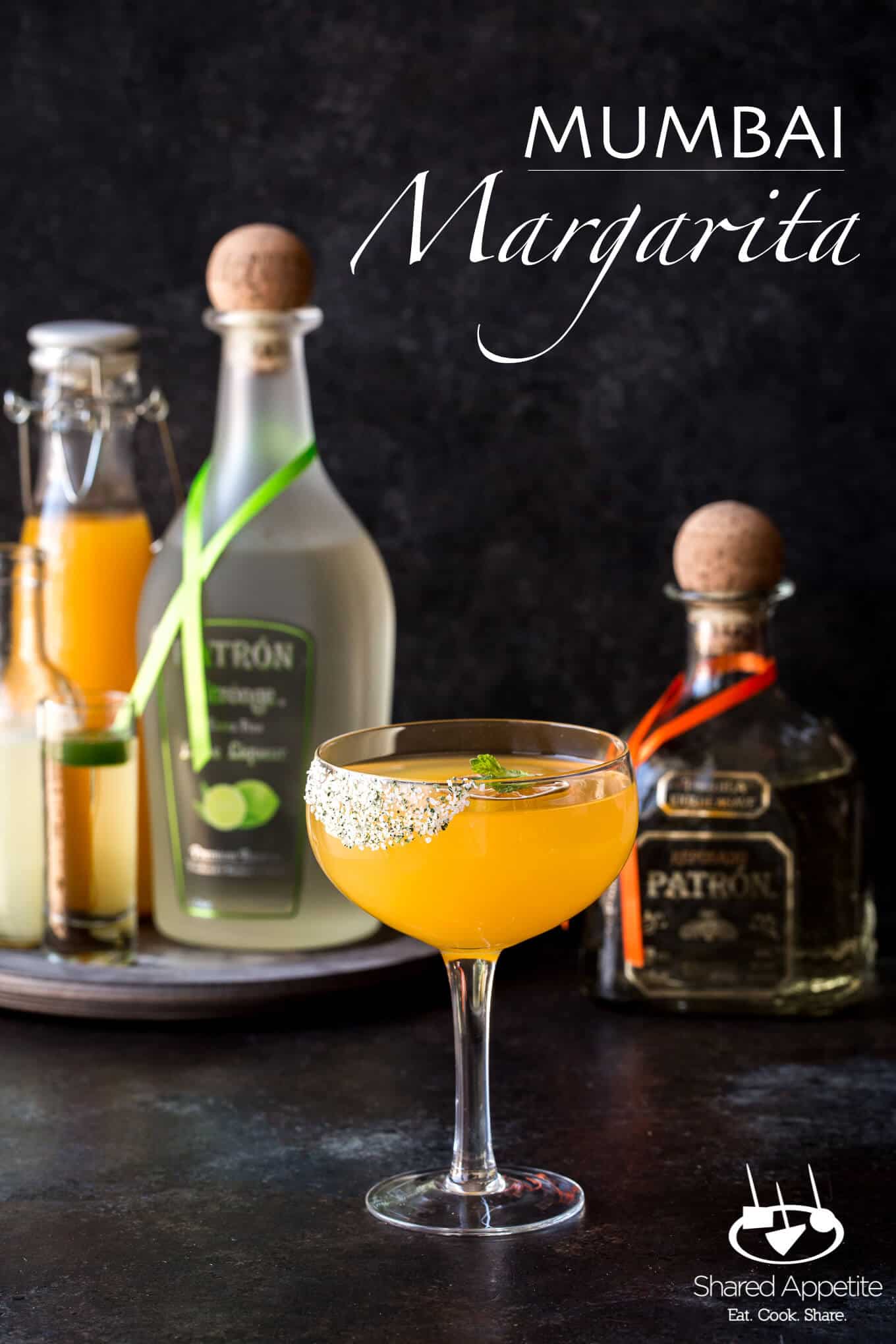 St. Patrick's Day is finally over. Sorry if that sounds mean, but I'm just so not into it. Irish food is bleh. I don't drink beer. And green is so not my color.
Now it's time to focus all attention on MY FAVORITE HOLIDAY OF THE YEAR. Cinco de Mayo! Yes, I'm serious.
Well, it's my favorite non-major holiday of the year. Why, you ask? Uhm, have you met me? I am obsessed with Mexican and Southwest flavors. My dream last meal 0n earth is a margarita and guacamole... and when I get to heaven, I imagine it begin a place where guac doesn't cost extra. Amen.
So sure, it's only March, but I'll be busy planning some serious Cinco de Mayo eats over the next month. I've got a party to plan for.... my annual Cinco de MAN-o party. That's right, a night where all my dude friends come over and we throw down a ridiculous amount of food. Last year everyone was thrilled with my homemade 4 Ingredient Nutella Choco Tacos, so I have to bring my A game again this year.
When Patrón Tequila said they were hosting a Margarita of the Year contest between some of the world's most impressive mixologists, I was pretty darn excited. When they invited me to recreate one of the seven margaritas vying for the prestigious title of Margarita of the Year and share it with all of you, my happiness level was equivalent to when Ring Around the Rosie comes on Olivia's "toddler tune radio station". She immediately screams dance party and proceeds to sing and dance her heart out.
My friends, meet the Mumbai Margarita.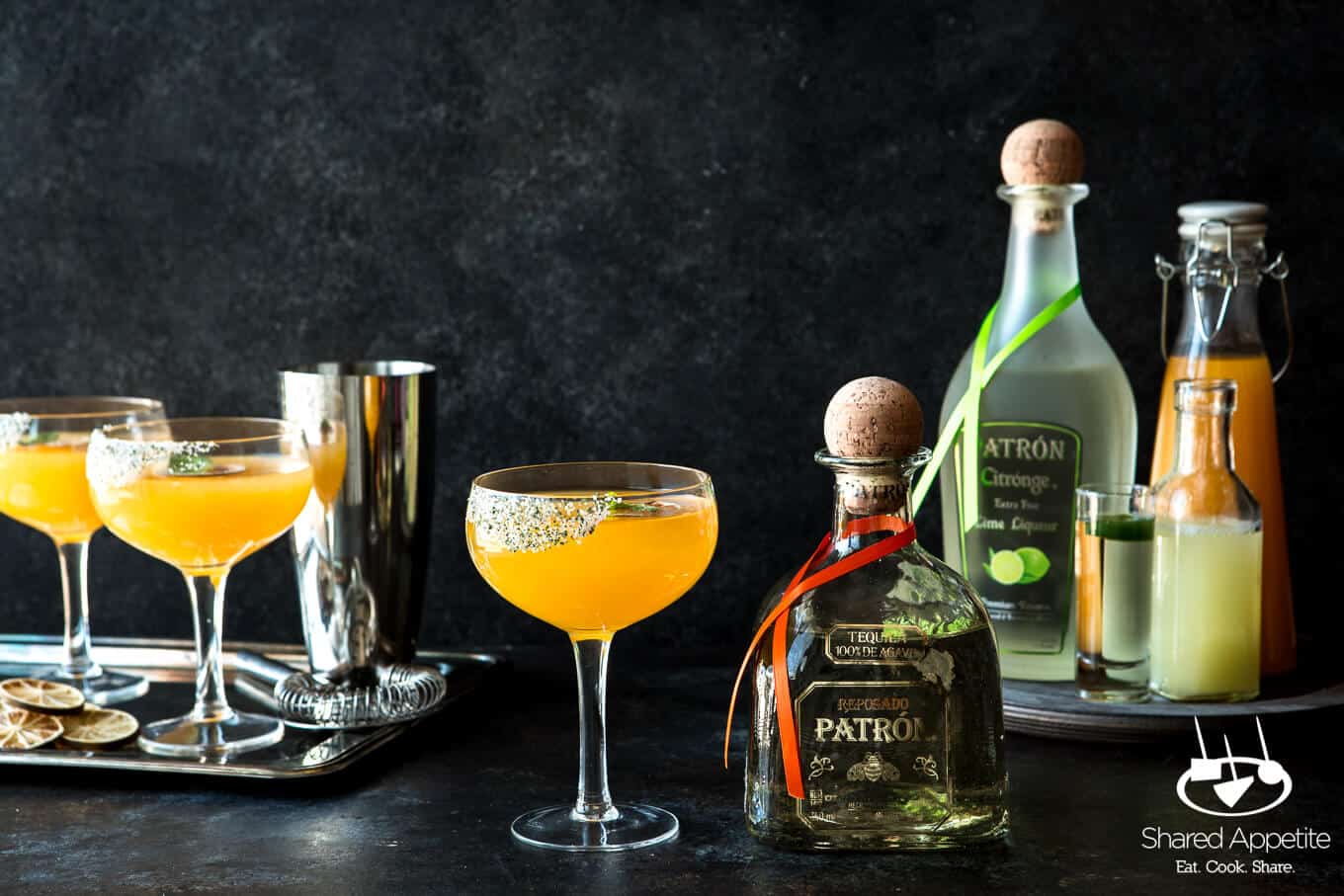 The margarita. Is there a cocktail any more perfect than a well-made margarita? Now I'm totally not above the frozen slush kind found at my local chain Mexican joint (those things are delicious), but we all know Patrón Tequila is some sophisticated stuff. It really takes the margarita to the next level.
To celebrate, they searched the world and found seven legit margarita recipes to contend for title Margarita of the Year. Even cooler, WE get to decide the winner. Just head to Patrón Tequila to check out all seven artisanal margaritas, created by some of the top mixologists in the industry.
Oh, and did I mention the BEST part. We can recreate all of the margaritas at home! Make sure to check out all the Margarita of the Year recipes at patrontequila.com. There's something for everyone, from classic citrus to spice-infused and unique flavor concoctions. Just be prepared to be known as a margarita connoisseur among all your family and friends. When they see that bottle of Patrón on your counter and taste whichever margarita recipe you whipped up, they are going to be pretty darn impressed. You're welcome.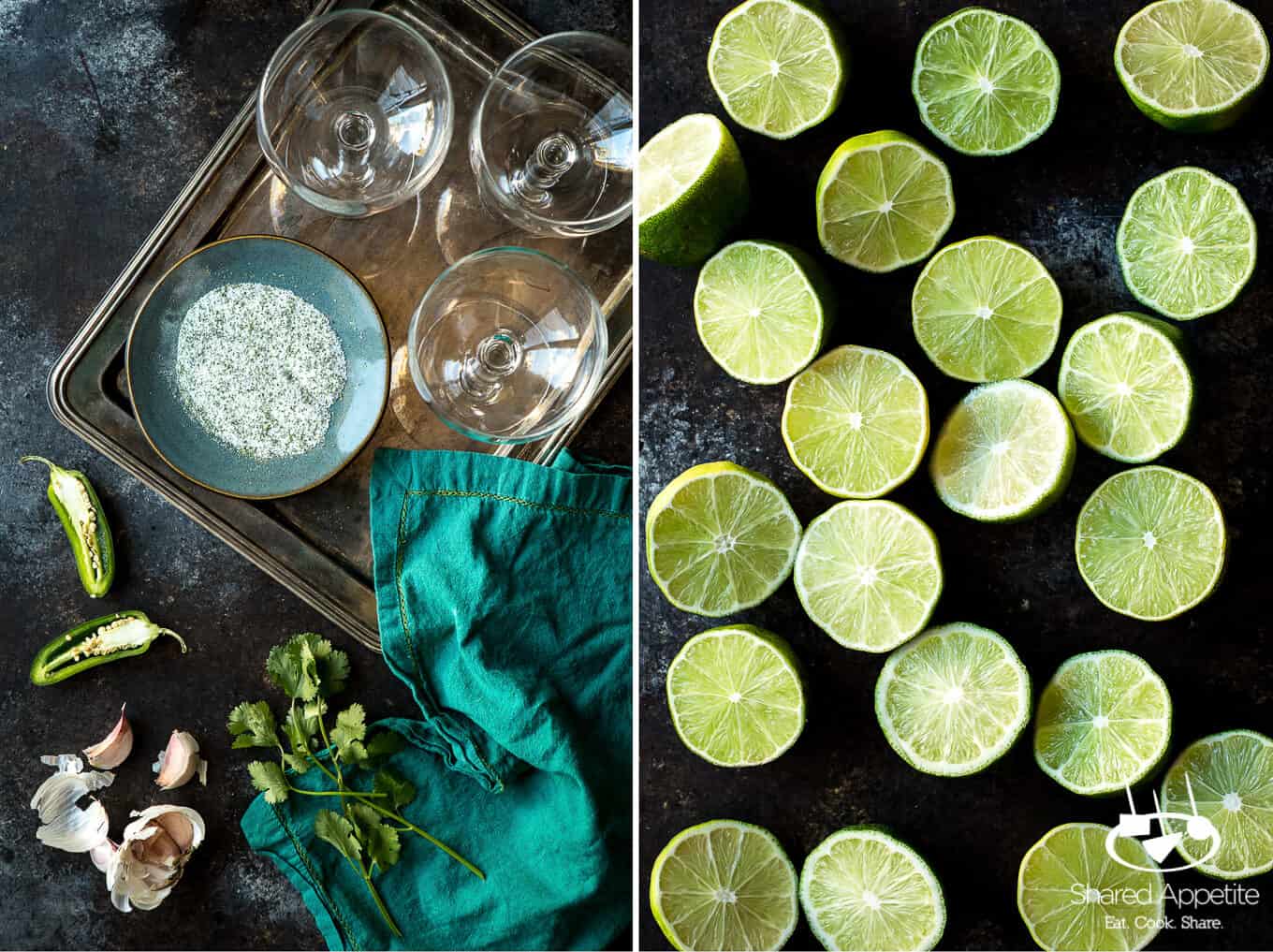 Let's get down to business with this Mumbai Margarita, created by Mixologist Hemant Pathak right here in NYC.
The classic salt rim is replaced by a spicy and herbaceous green chili, cilantro, and garlic salt. To simplify things a bit at home, I just mixed some salt with dehydrated cilantro. Dehydrated cilantro? It's way easier than you think... just microwave some cilantro leave in a single layer on a paper towel in 20 second increments. Once the cilantro is completely dry and brittle, just give it a whirl on a food processor with some salt. Boom. Done.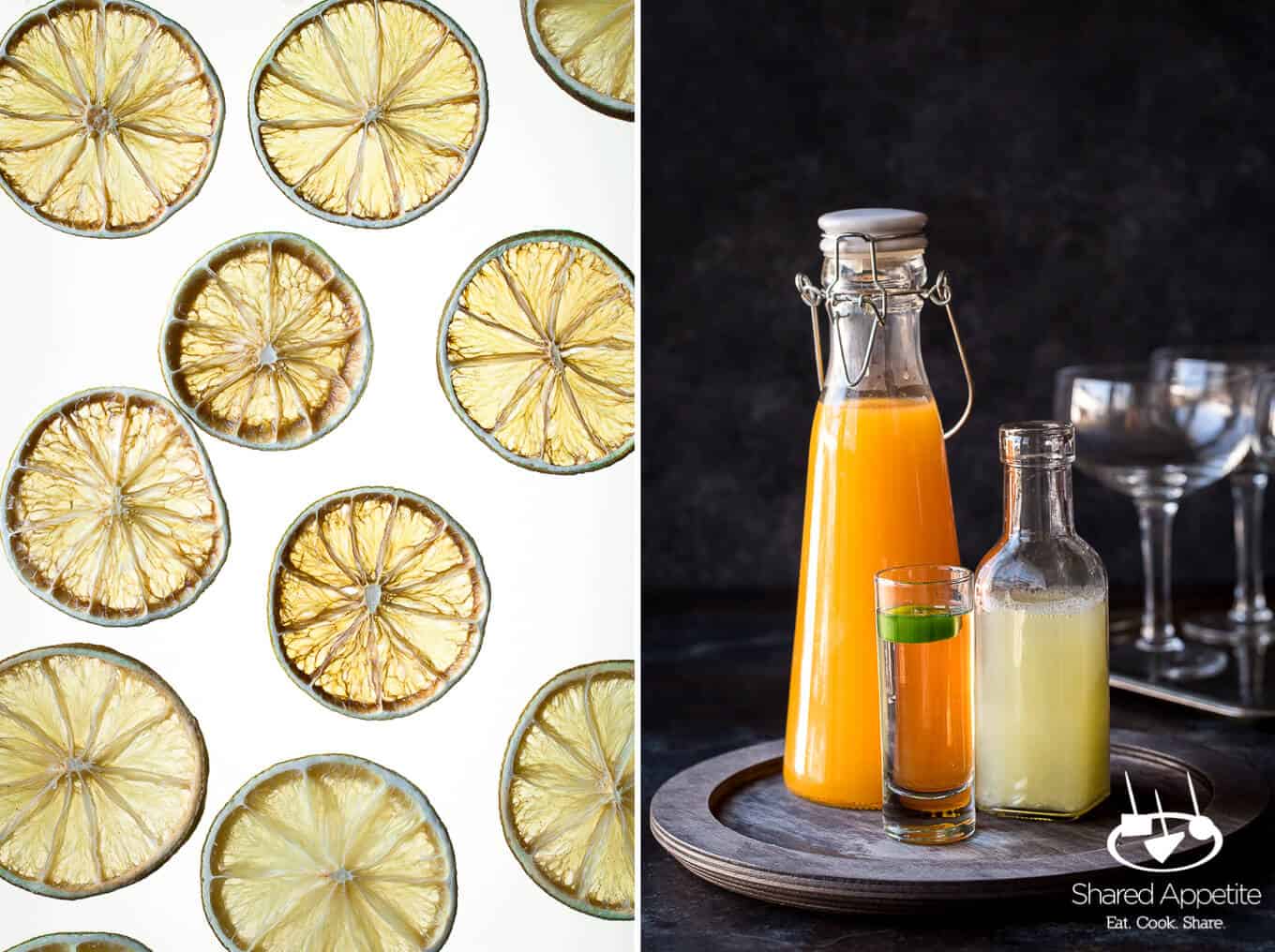 The dehydrated lime wheels take a bit more time, but are equally easy. And sure, could you skip this garnish? Yes, of course. But let's remember one very important thing.... the level of bartending cred you'll earn when your friends see a homemade dehydrated lime wheel in their margarita. Darn straight.
Just pop your oven on to 170°F and slice a lime into thin wheels (about ¼" thick). Lay them on a cooling rack placed on top of a baking tray, and let them cook in the oven for a few hours. Once they are completely dry to the touch but still pliable, they are done. Let 'em cool and then they will stay for a week at room temperature in a sealed container.
Oh, cool side note. I got that cool shot above of the dehydrated limes by placing them on my iPad and then using a flashlight app to light the screen up white. Totally irrelevant to this discussion if you're not into photography, but I found it pretty cool. Be excited for me. Thanks.
The flavor powerhouse in this drink comes from the trifecta of fresh mango puree, fresh lime juice, and an absolutely delicious spicy rose syrup. You'll need to get some rose water to make this happen (I got mine from Amazon here). Don't skip out on this, it's an integral flavor in this global inspired Mumbai Margarita.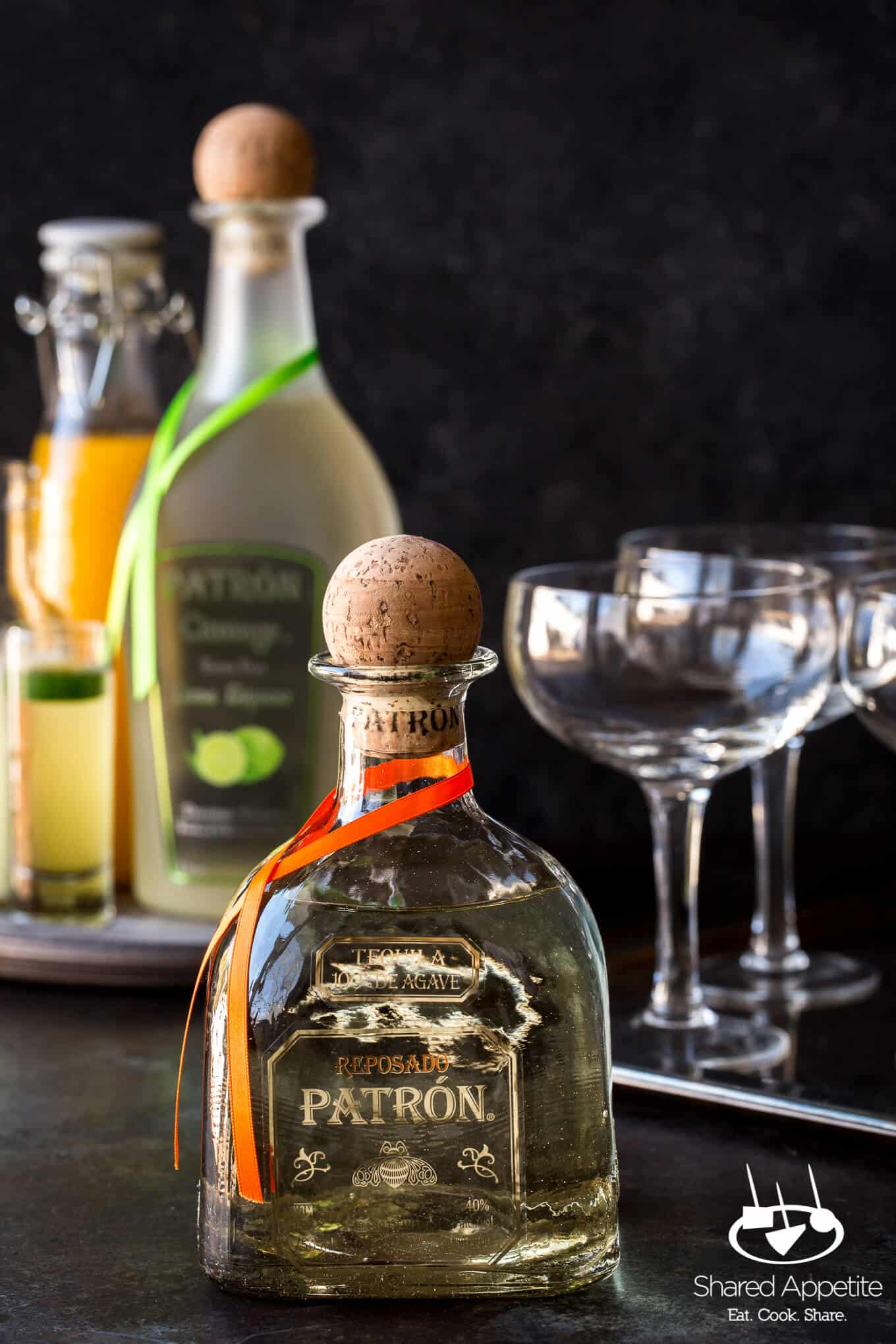 Of course the real star of any margarita is the tequila. We are using Patrón Reposado for this recipe, along with a lime liqueur called Patrón Citrónge Lime. Uhm, YES.
Just look at that bottle. Doesn't it just scream elegance. Well, I guess part of being elegant is not screaming. So maybe it doesn't scream... but man that Patrón bottle just looks so darn cool. Obviously it's proudly displayed right in front on my bar.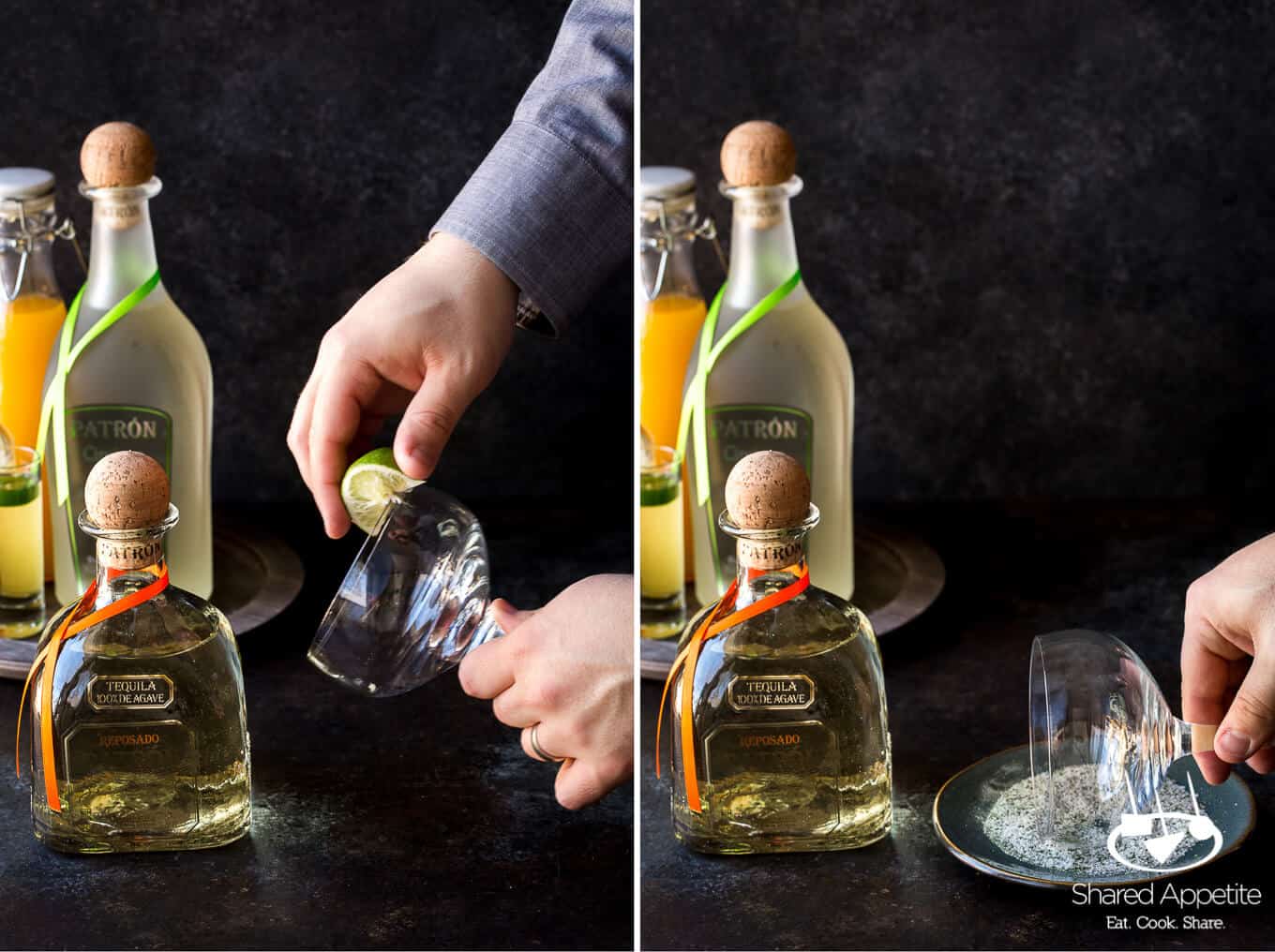 I can't wait to serve these Mumbai Margaritas up at my Cinco de Man-o dude fest at the beginning of May. They are going to go bonkers over this cocktail. Not only does it taste absolutely incredible, it's visually stunning.
To help serve these for a crowd, I'm going to make the special salt and dehydrated lime wheels a few days in advance. I'll also prepare the mango puree, lime juice, and spicy rose syrup a day ahead. That way all I need to do is assemble, shake, and pour at the party. Even better, I'll show one of my friends how to do it quick... and then put them in charge.
Now THAT'S how you do easy entertaining. Get stuff done ahead of time... then delegate like crazy.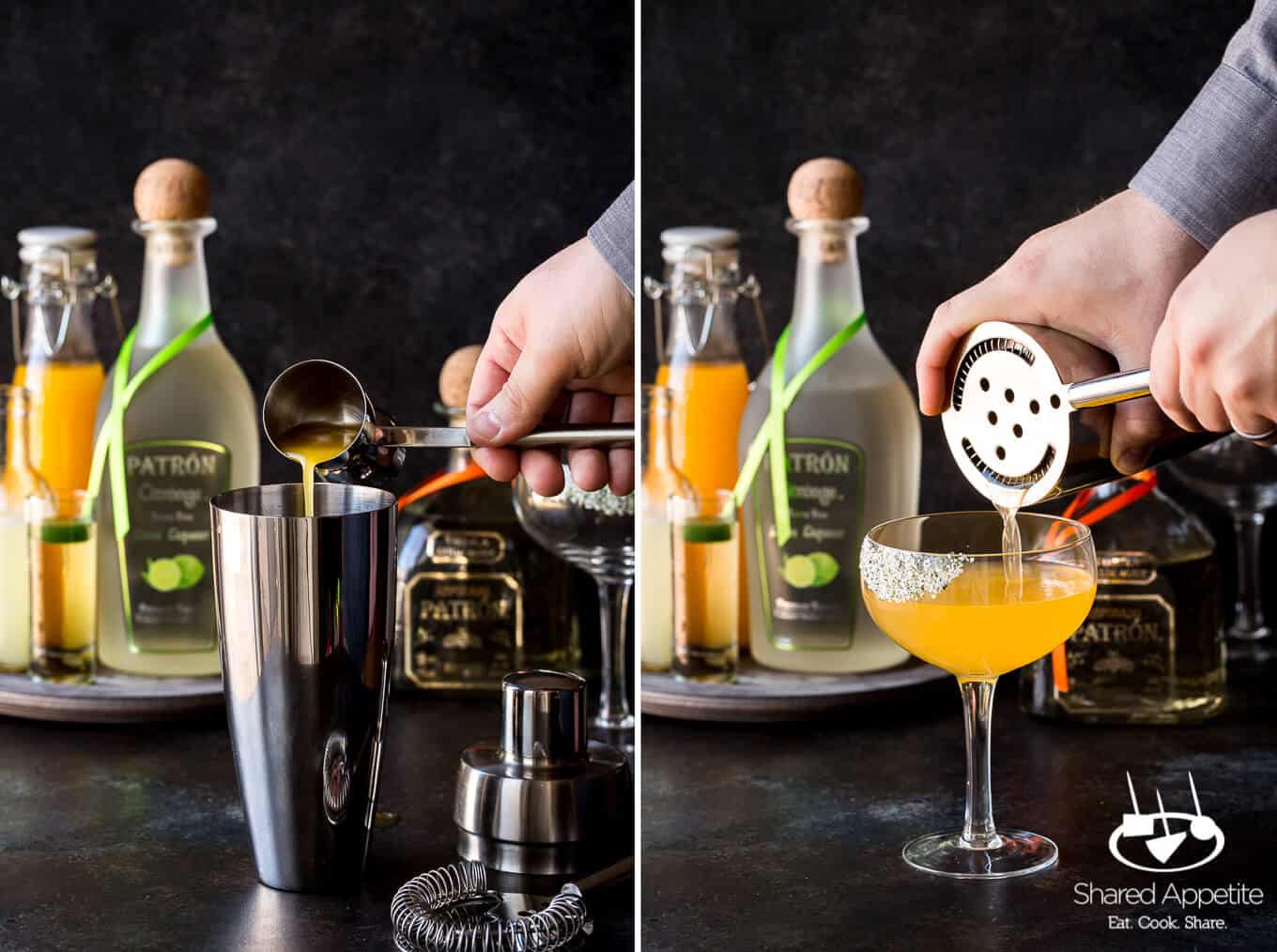 Are you seeing this margarita? Ridiculously beautiful.
How cool is that little half moon salt rim? I wish I could take credit for it.
Salting the whole rim is so last year...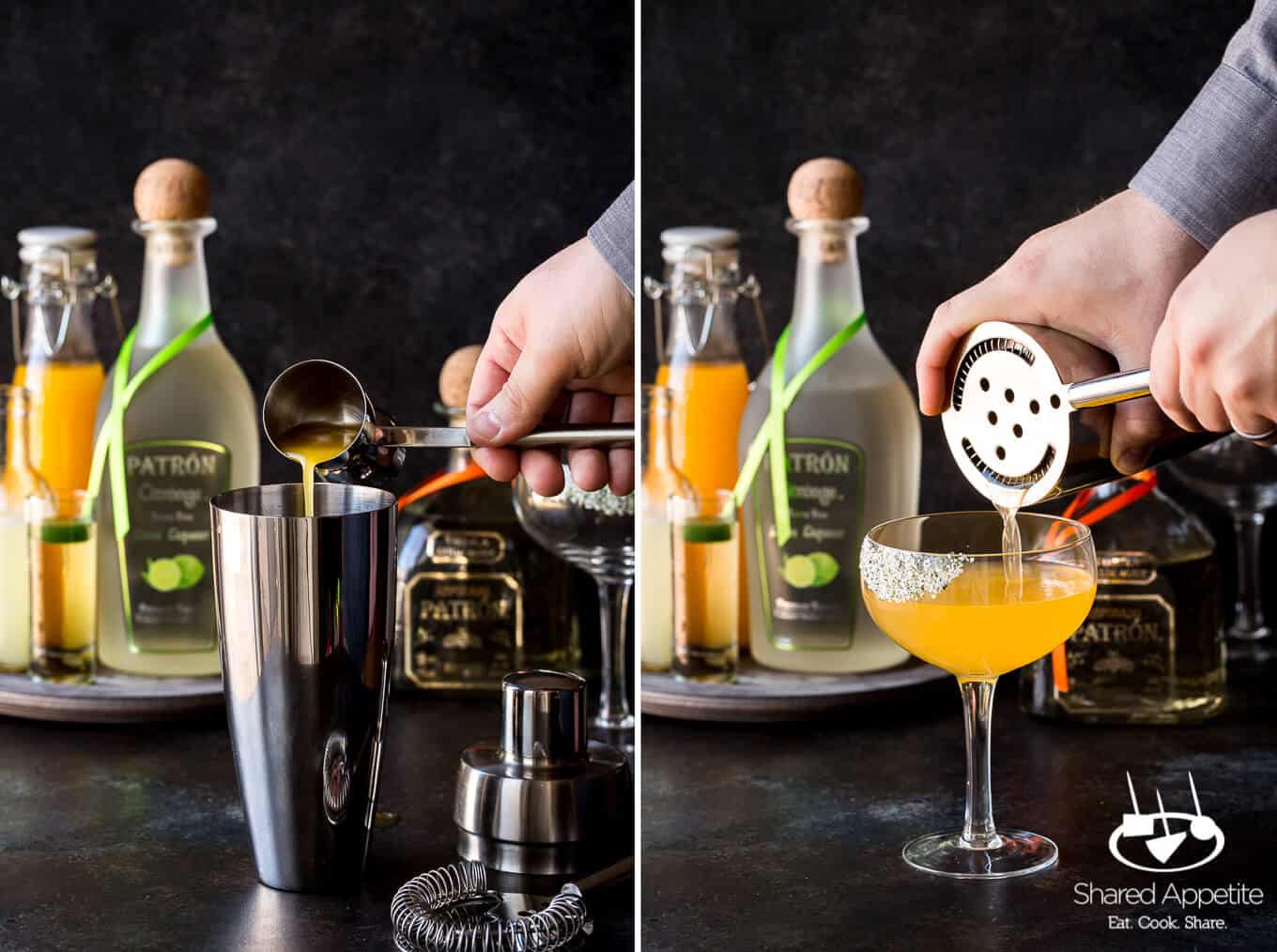 These Mumbai Margaritas. They are so well balanced. The fresh fruity mango and lime. The floral and sweet rose syrup with just a hint of heat. The smooth flavors of Patrón Reposado and Patrón Citrónge Lime. YAAASSSSSSSSSSS.
And you wonder why Cinco de Mayo is my favorite holiday ever. Uhm, because things like this happen. Now someone pass me the guacamole.
Let's do a little recap here: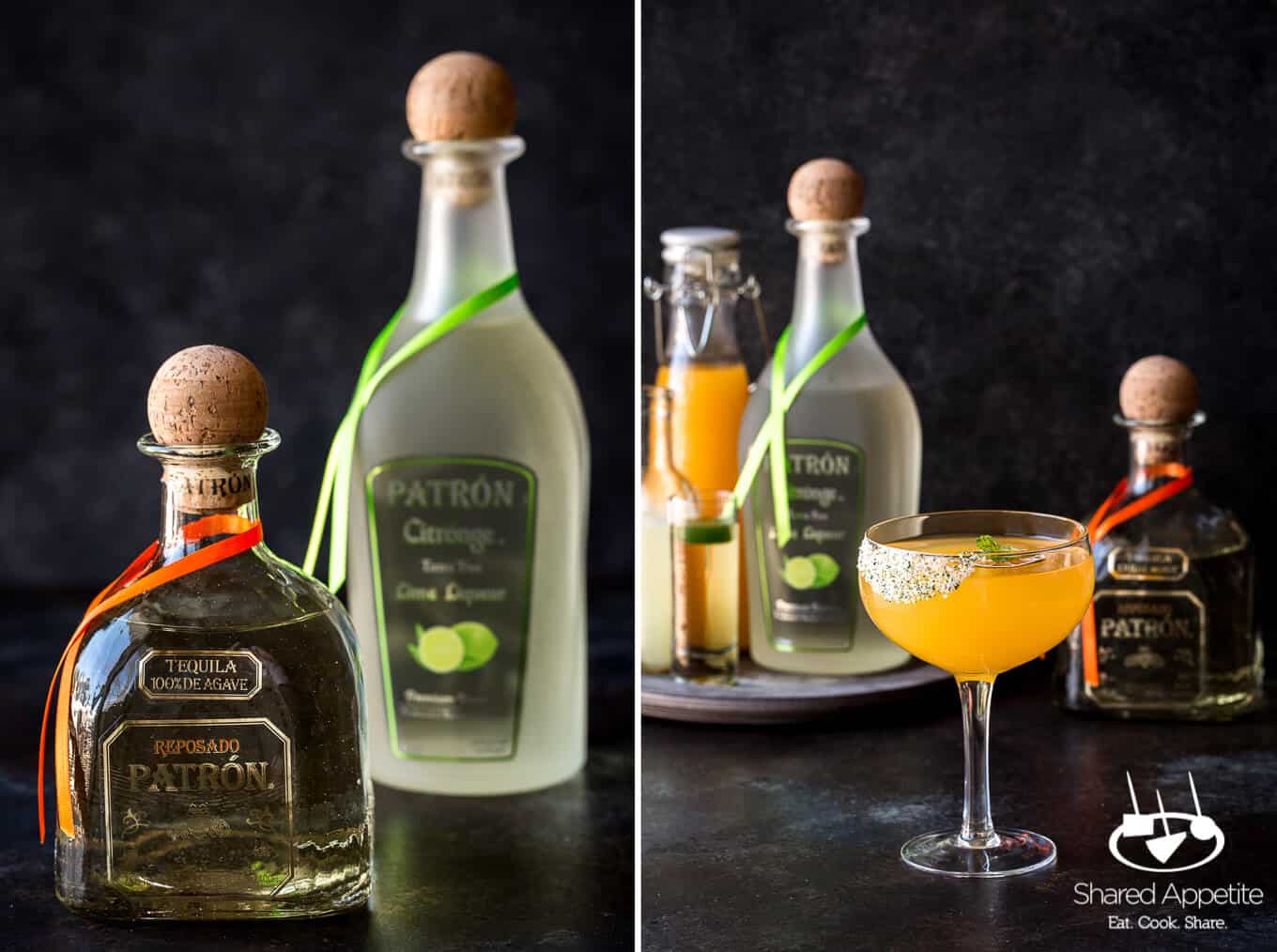 Print
6 ounces

Patrón Reposado

2 ounces

Patrón Citrónge Lime

4 ounces

fresh lime juice

2 ounces

fresh mango puree

2 ounces

Spicy Rose Syrup (see below)
Green Chili-Salt Rim*
Dehydrated lime wheel, for garnish**
Mint sprig, for garnish
for the Spicy Rose Syrup
¼ cup

granulated sugar

¼ cup

water

2

slices jalapeño

2

dashes rose water
water.
---
Instructions
Combine the Patrón Reposado, Patrón Citrónge Lime, lime juice, mango puree, and spicy rose syrup in a cocktail shaker and shake with ice to chill. Strain into chilled cocktail coupes with chili-salt rim. Garnish with a dehydrated lime wheel and mint sprig.
for the Spicy Rose Syrup:
Bring sugar and water to a boil in a small saucepan and heat until sugar fully dissolved. Let cool, then mix two ounces simple syrup with jalapeño and rose water. Let flavors meld until desired level of heat is achieved, then remove jalapeño.
Notes
*to make the Green Chili-Salt Rim: mixologist and creator of the Mumbai Margarita Hemant Pathak says to combine salt with fresh green chiles, cilantro, and a bit of garlic. However, I modified this to make it a little bit easier at home but keep the essence of the green infused salt. To achieve this, I dehydrated some cilantro in the microwave and pulsed it with Kosher salt in a food processor until the salt was fully combined and uniform in consistency. To dehydrate cilantro, just place leaves in a single layer on a paper towel and microwave in 20 second intervals until completely dry.
**to make the dehydrated limes, I followed SpoonForkBacon's directions here. It's SUPER easy. Just slice one lime in ¼" thick wheels and preheat oven to 170°F. Place the lime slices in a single layer on a cooling rack on top of a baking sheet, and let cook about 3 to 4 hours (until the lime slices are totally dry but slightly pliable). Remove from oven and let cool completely. They'll keep just fine in a ziploc bag or storage container for a week, so feel free to make ahead!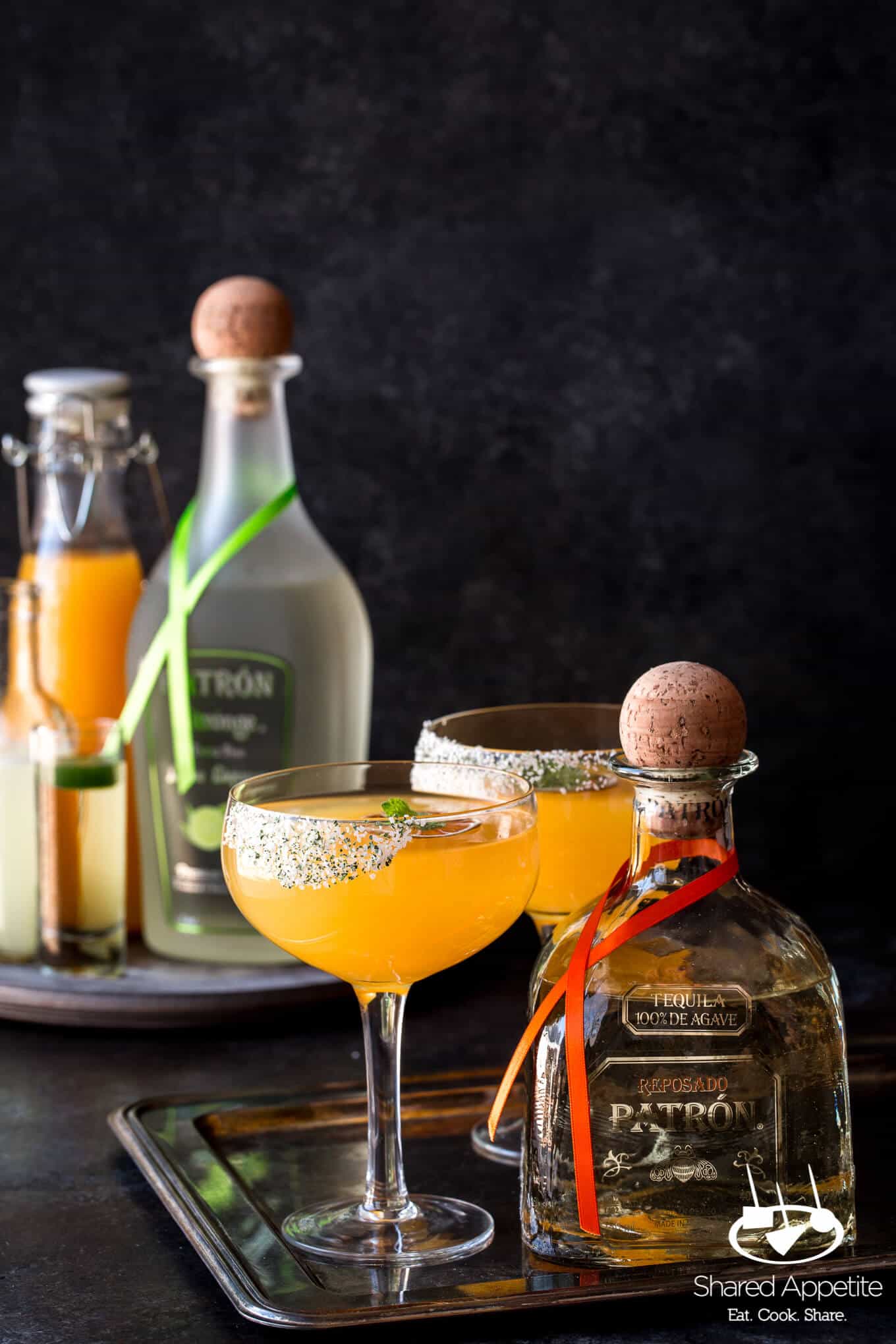 Mumbai Margarita
Need More Drink Ideas?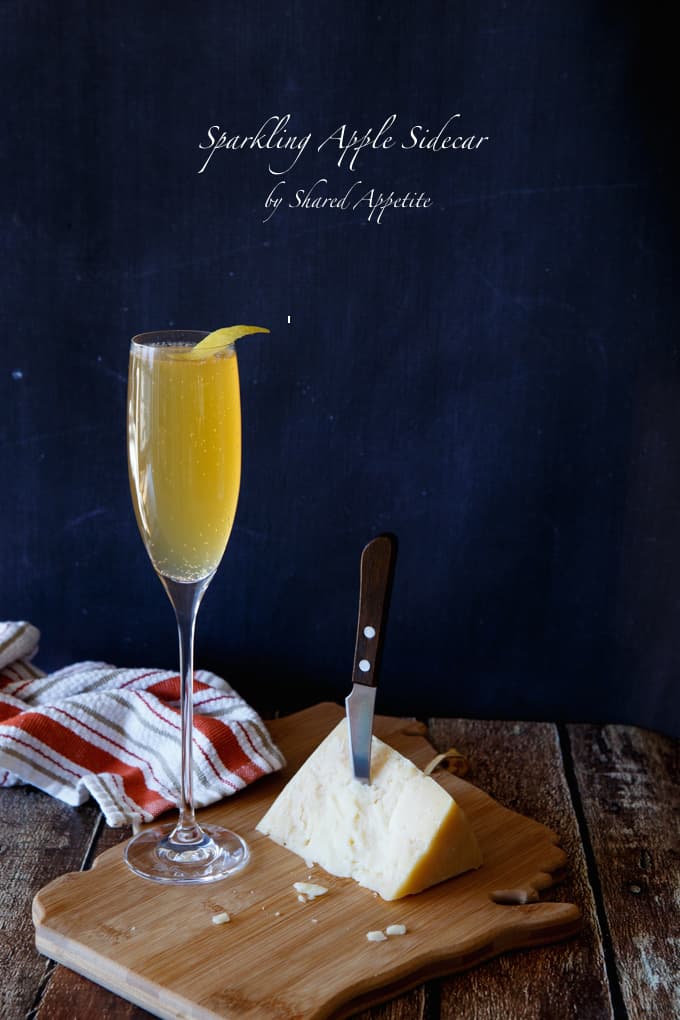 Peach Basil Arnold Palmer Cocktail