A perfect Cinco de Mayo dessert and Taco Tuesday dessert, this copycat Choco Taco recipe is even better than the original because it's lined with Nutella! Boom... Nutella Choco Tacos!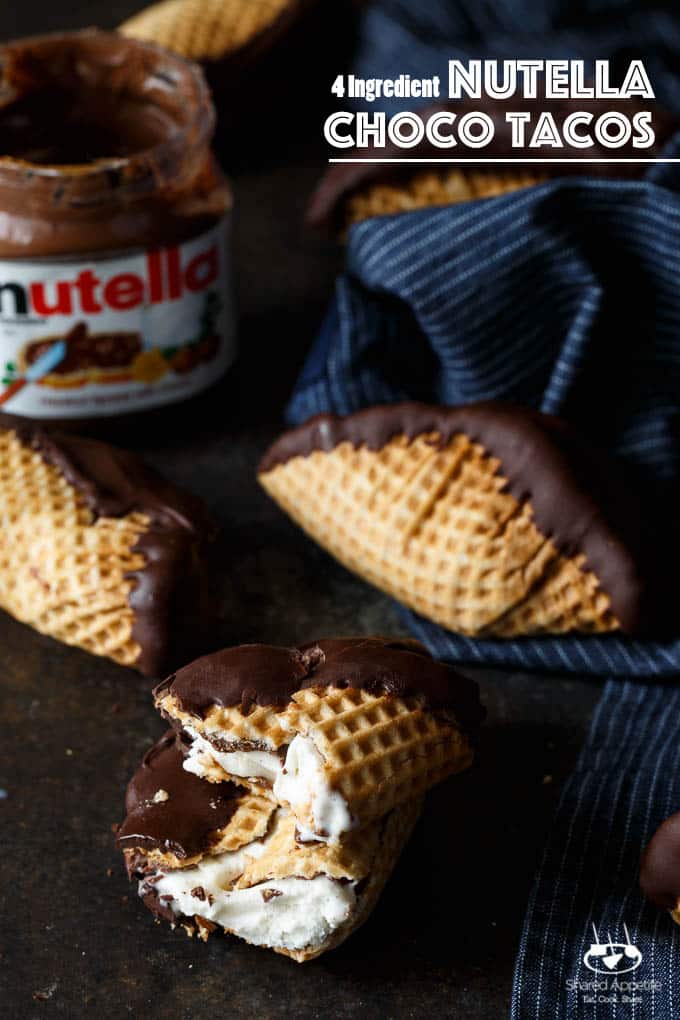 Guys. HUGE news. I'm officially done with my weight loss challenge. In case you missed it, my mom pulled my brother and I aside a few days after Thanksgiving. To put it nicely, she said we needed to stop being fatties. She served up a serious "Biggest Loser" challenge for the both of us, and we both said heck yes. We've been wanting to lose weight for a while, and this friendly brother rivalry competition was just the kick in the butt we needed.
:: Drumroll please ::
In just 4 months time (we started in the beginning of January), we lost a combined 85 pounds. That's like losing 1 whole Olsen twin. And even better, I WON! It's not important who won. What's important is that I won we are both much healthier. I personally lost 49 pounds. What?! I know. It feels awesome.
So, now it's time to celebrate. With NUTELLA CHOCO TACOS. Sorry for yelling. I'm a little excited in case you couldn't tell.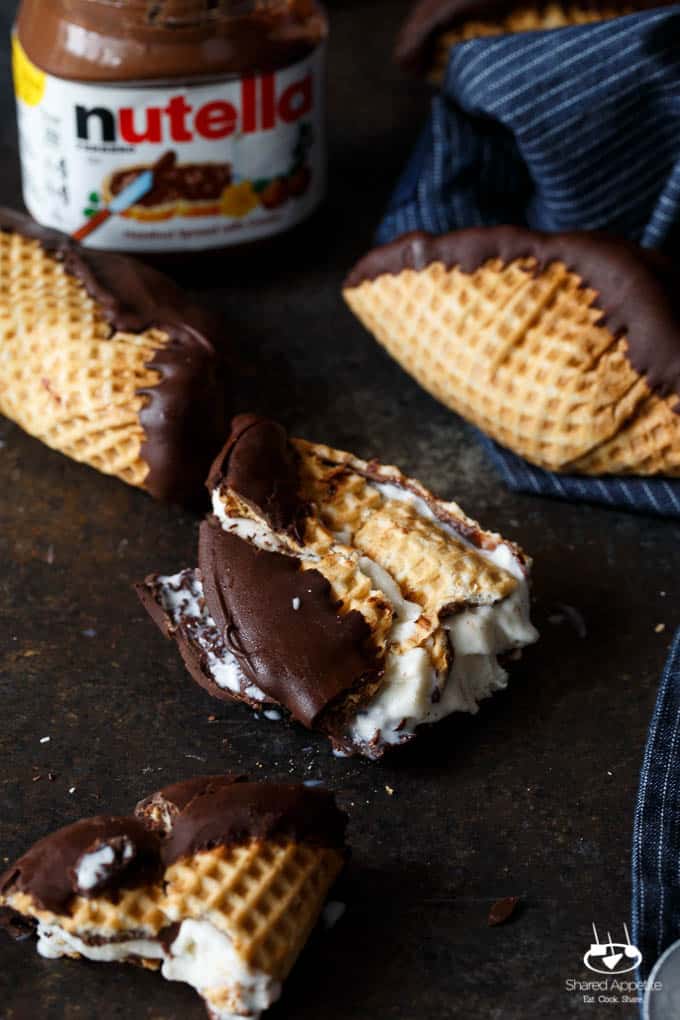 I've been overweight all my life . So it shouldn't come to anyone's surprise that I also single-handedly kept our neighborhood ice cream man in business as a kid. I'm pretty sure I put his first born through college.
And they were all from choco tacos. I was am obsessed with them.
Sorry Mr. Ice Cream man. We're breaking up. Because not only can I make my own DIY choco tacos at home now, this copycat Choco Taco recipe is even better than the original.
Yup, I said it.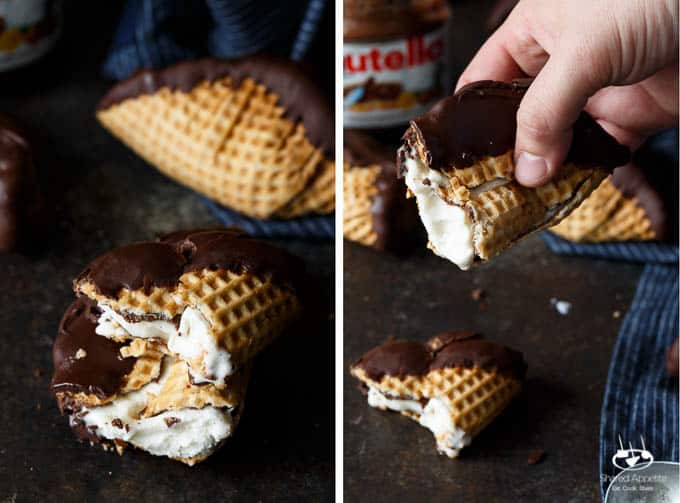 What makes it better? Uhm, can you say nutella-lined taco shell?! Yea... NUTELLA. #legit
It also helps that instead of using crap ingredients like in a normal Choco Taco, you can really use the best stuff you can find. Get your hands on really high quality vanilla ice cream and chocolate (I'm partial to those huge Trader Joe's dark chocolate bars).
The quality of ingredients here makes all the difference.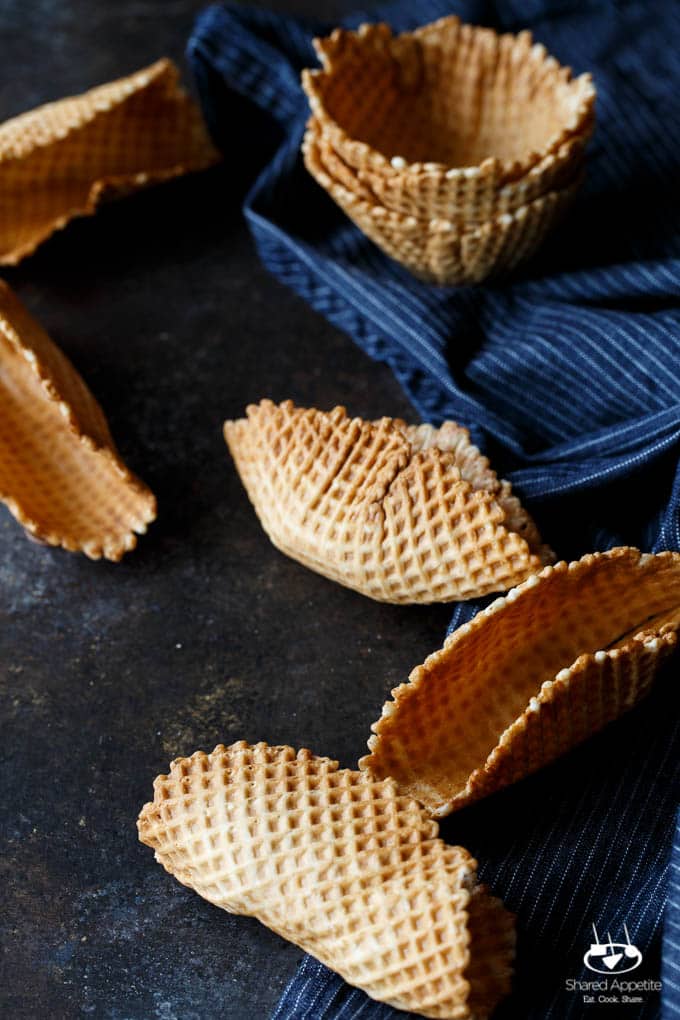 How do I get away with only using 4 ingredients for these Nutella Choco Tacos, you ask? Well, instead of going and buying a waffle cone iron and making them from scratch (ain't nobody with a 10-month old got time for that), I found an amazing shortcut.
Buy some of those waffle cone bowls you see all the time at the grocery store. Wrap 'em in moistened paper towels and zap in the microwave for a bit, and BAM! They become pliable for a few seconds... just enough time to mold them into a taco shape!
I thought they were going to stay soggy and lose their crispness at that point. NOPE. They returned to their waffle cone crunchy crisp state within a minute!
In full disclosure, I totally can't take credit for this brilliant idea... I've seen a few other bloggers using this technique as well.
PRO TIP: you will want to make sure your paper towel is moist. The waffle bowl needs the moisture to help make it pliable. For my personal microwave, I've found it takes about 40-50 seconds for the waffle bowl to reach it's pliability peak.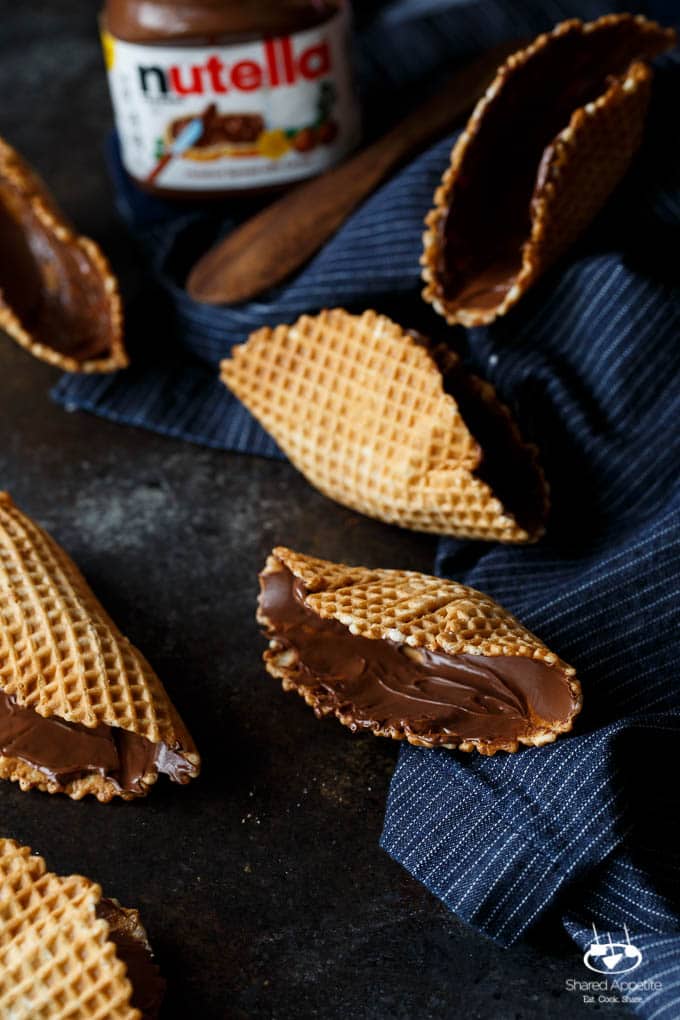 Do me a favor. When you line your waffle taco shells with Nutella, don't be stingy. Show your family how boss you are simply with the amount of Nutella you stuff into your copycat Nutella Choco Tacos. I use an offset spatula to help get the nutella into all the different nooks and crannies.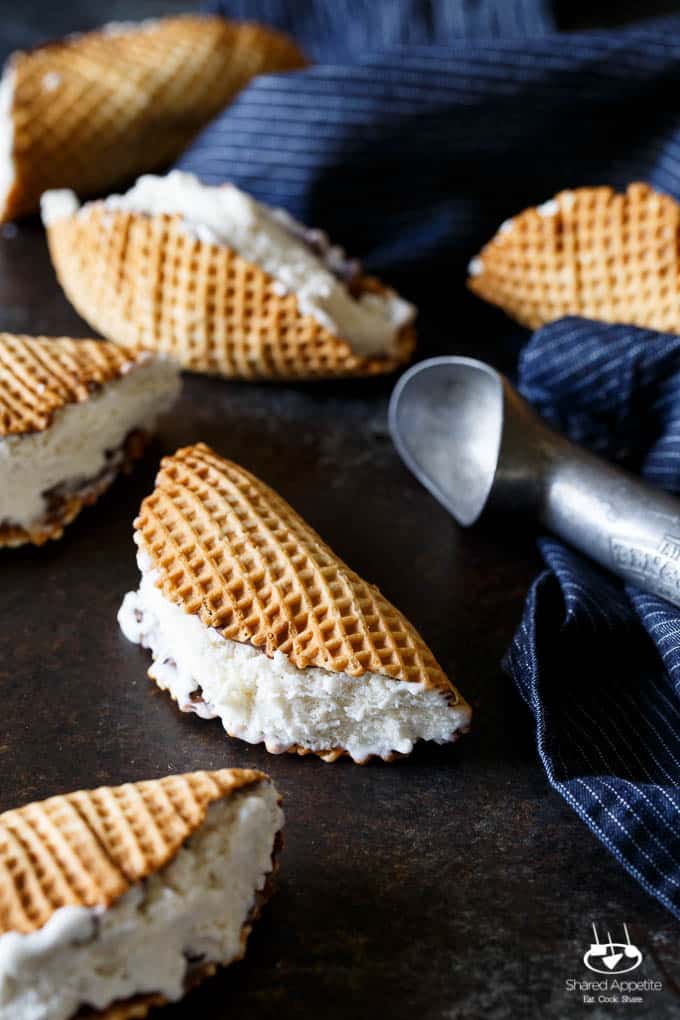 Through trial and error, I found out that you really need to stuff enough ice cream into the taco shells so that it protrudes slightly over the edge of each shell. This way your chocolate shell isn't too thick. Don't get me wrong, I'm all about more chocolate. But to keep the bite-to-bite ratio on point, try and keep the shell on the thin side.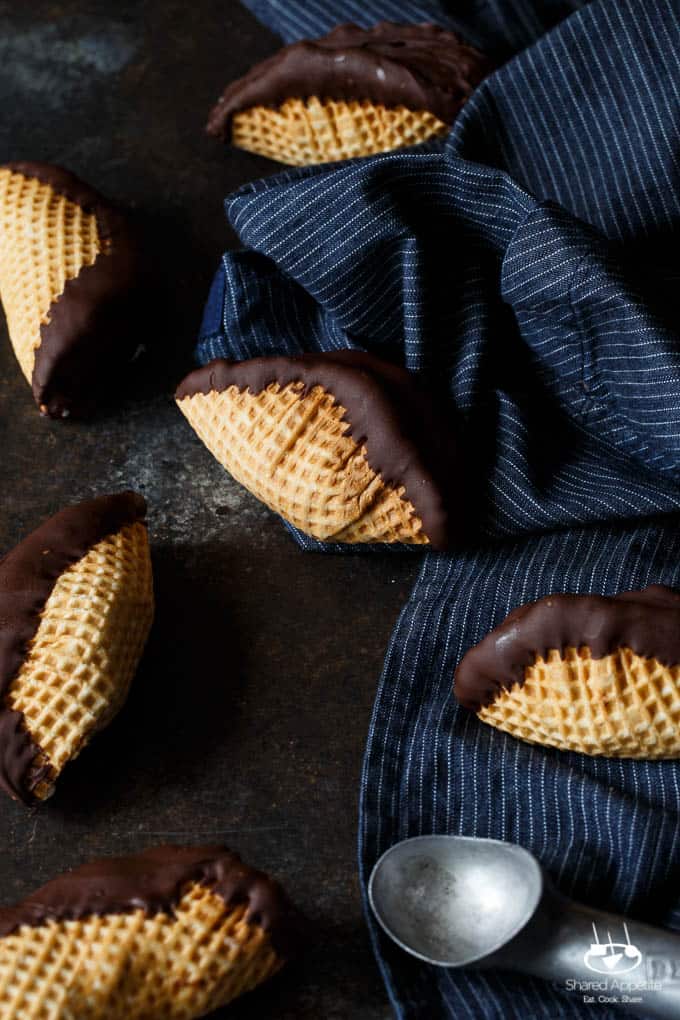 And there you have it. Doesn't it make you want to shed a tear of pure and unadulterated joy? No, just me?
By the way, can I just tell you the torture I endured this past weekend making these for you, and not being able to eat them?! It was the last 2 days of my weight loss challenge. I wasn't going to give in and allow my brother a window to come in a beat me! So yes... I showed a tremendous amount of self-restraint and photographed these suckers without eating one.
Okay, I had a bite of one. But that was it. Promise.
Until last night. When I devoured a whole one and seriously considered having a second. But then I remembered how hard it was to lose those 49 pounds, and how "healthy people" would probably stop at just one. So, yea.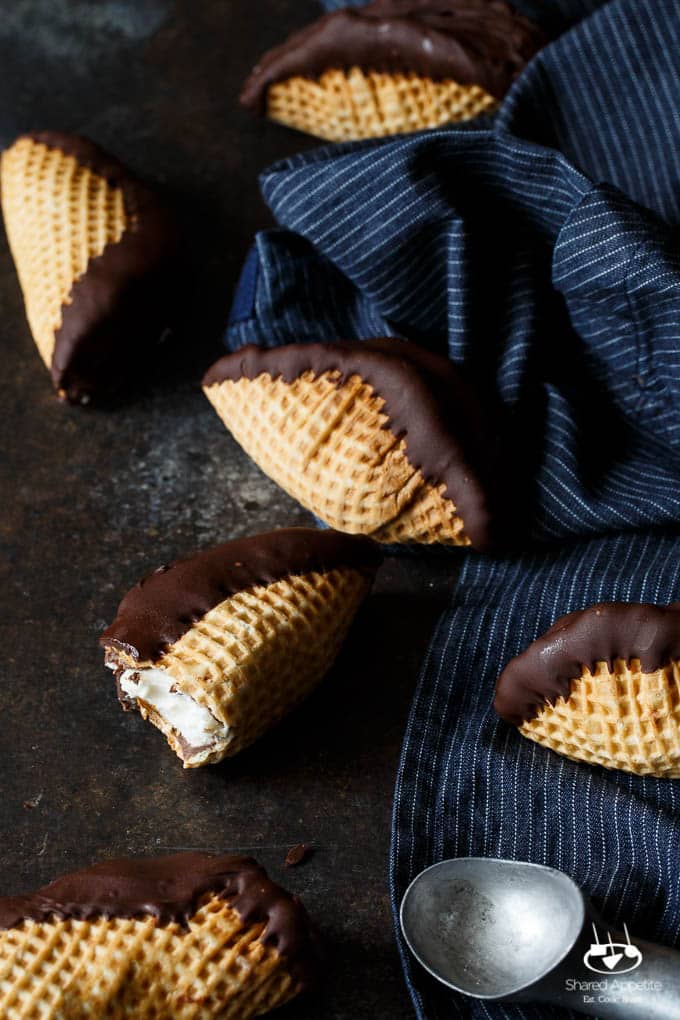 Print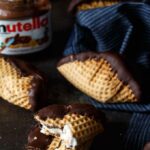 Nutella Choco Tacos
---
Author:

Chris Cockren

Total Time:

3 hours

Yield:

9

Choco Tacos

1

x
1

(9 count) package waffle bowls

1 cup

Nutella

1 quart

good-quality vanilla ice cream

8 ounces

good-quality chocolate, chopped into small pieces
---
Instructions
Working one at a time, completely wrap waffle bowl in dampened paper towels.  Make sure your paper towels are moist.  Microwave for 45-50 seconds* and working quickly and carefully, mold bowl into a taco shape with your hands. It will harden quickly and might tear very slightly. That's okay, since we're covering it with chocolate anyway! Allow to dry and crisp back up completely.
Using a small offset spatula, spread a thick, even layer of Nutella on the inside of each taco shell. Transfer to a parchment-lined baking tray and freeze until Nutella is solid, about 30 minutes.
Soften ice cream slightly in microwave. Working quickly, scoop ice cream into taco shells. You want to overfill a little bit, so ice cream slightly comes above the top of each taco shell. Return to freezer and allow ice cream to harden completely, about 60 minutes.
Place chocolate into a microwave-safe bowl and melt over half power in 30 second intervals, stirring between each, until chocolate is just melted. You want to the chocolate to be as cool as possible in the melted stage, since the hotter it is, the more risk the ice cream will melt.
Quickly dip each taco into the chocolate. Refreeze until chocolate is hard, about 15 minutes. Serve and devour!
Notes
These Nutella Choco Tacos can be made days ahead of time and kept in freezer wrapped in plastic wrap. Shell will get slightly less crispy over time.
*each microwave is different.  Mine takes 45-50 seconds, but yours might take a little less or a little more!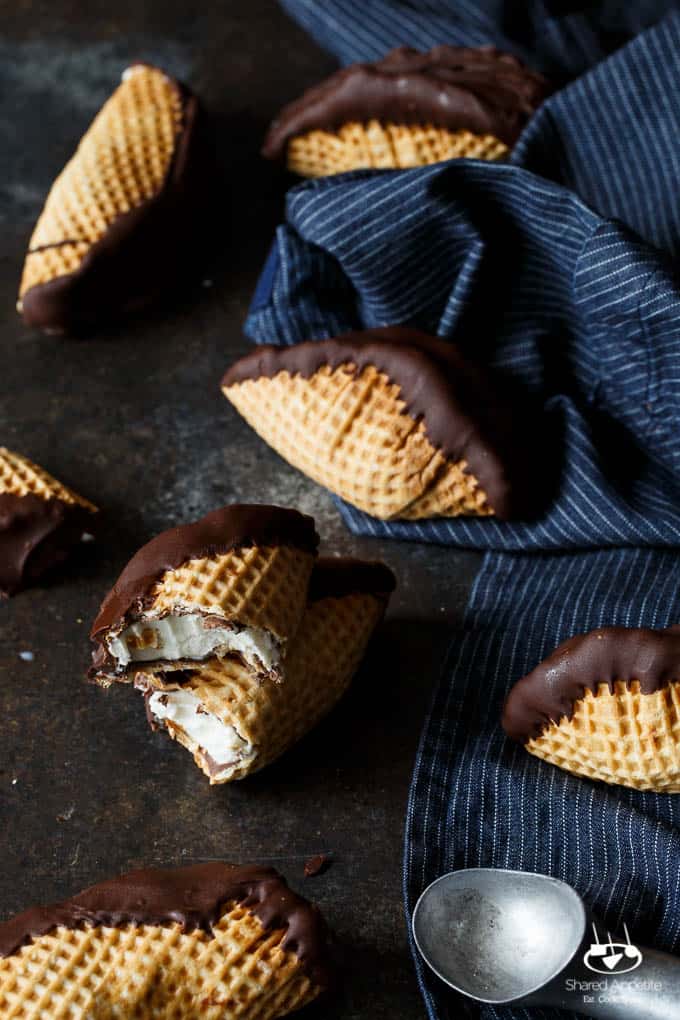 4 Ingredient Nutella Choco Tacos
Need More Cinco de Mayo Desserts?
Baked S'mores Churro Bites (COMING TOMORROW... STAY TUNED!!!)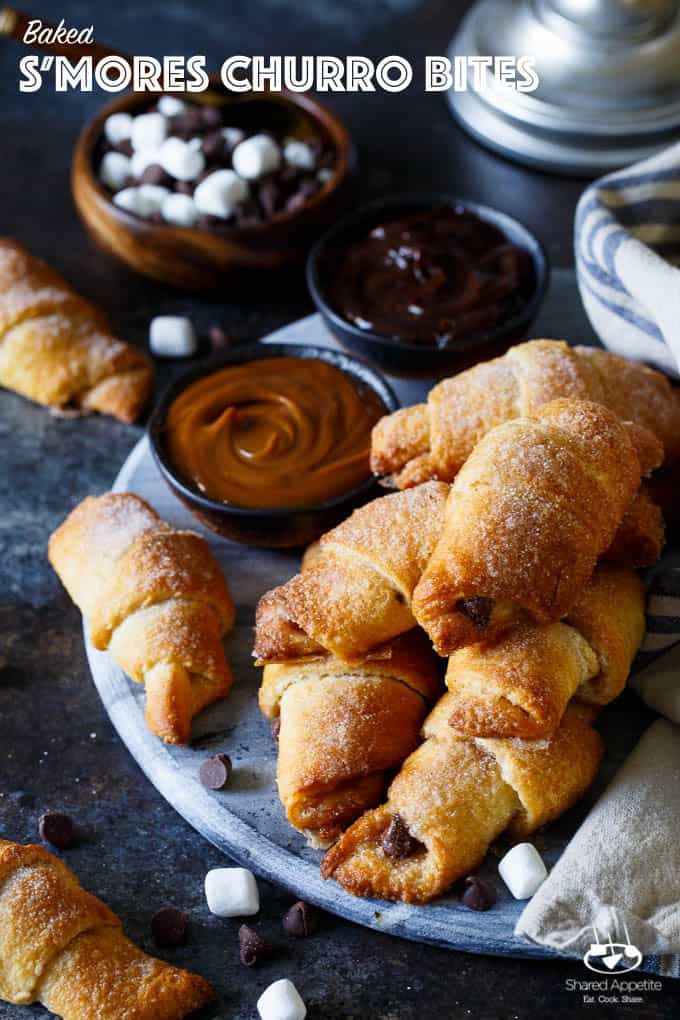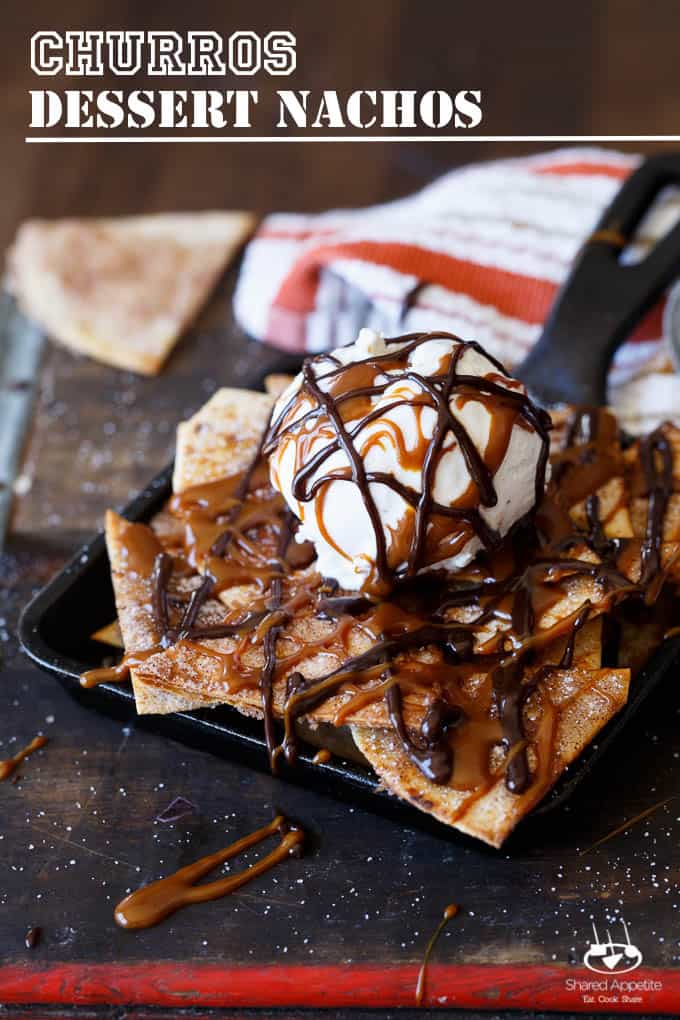 No Bake Churro Cheesecake with Cinnamon Toast Crunch Crust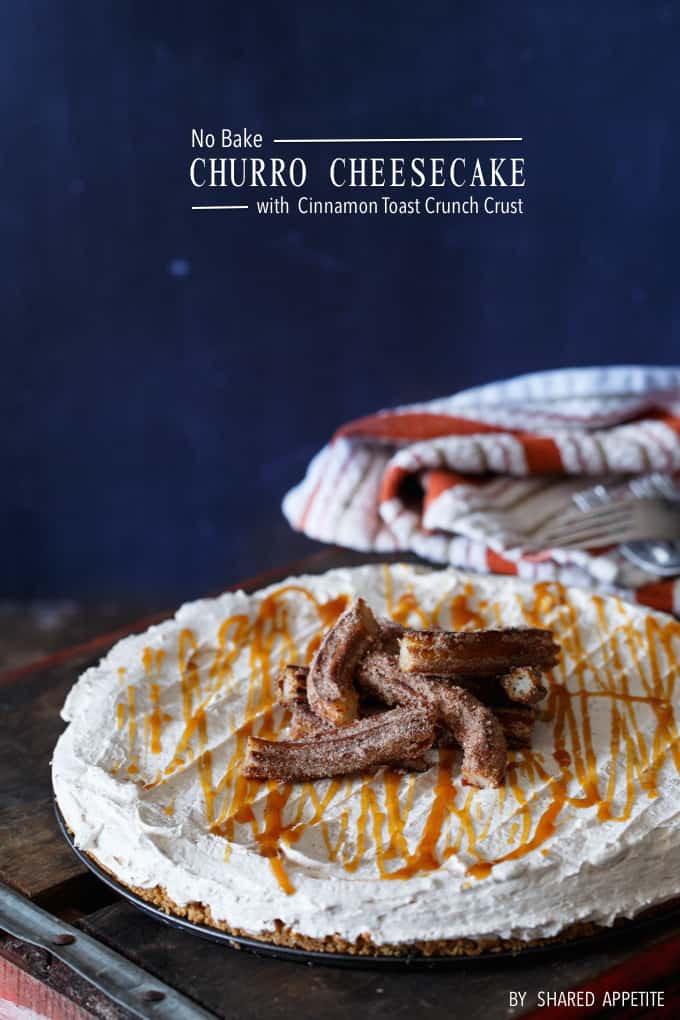 Nutella + Marshmallow Churro Donut Panini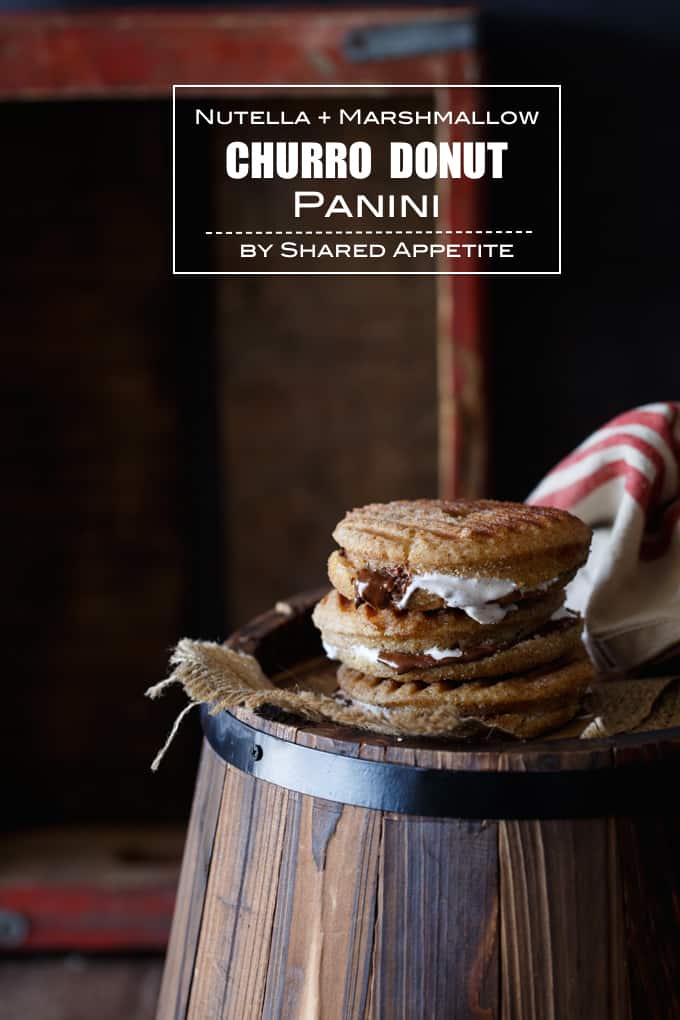 Mini Chocolate Churros with Peanut Butter Sauce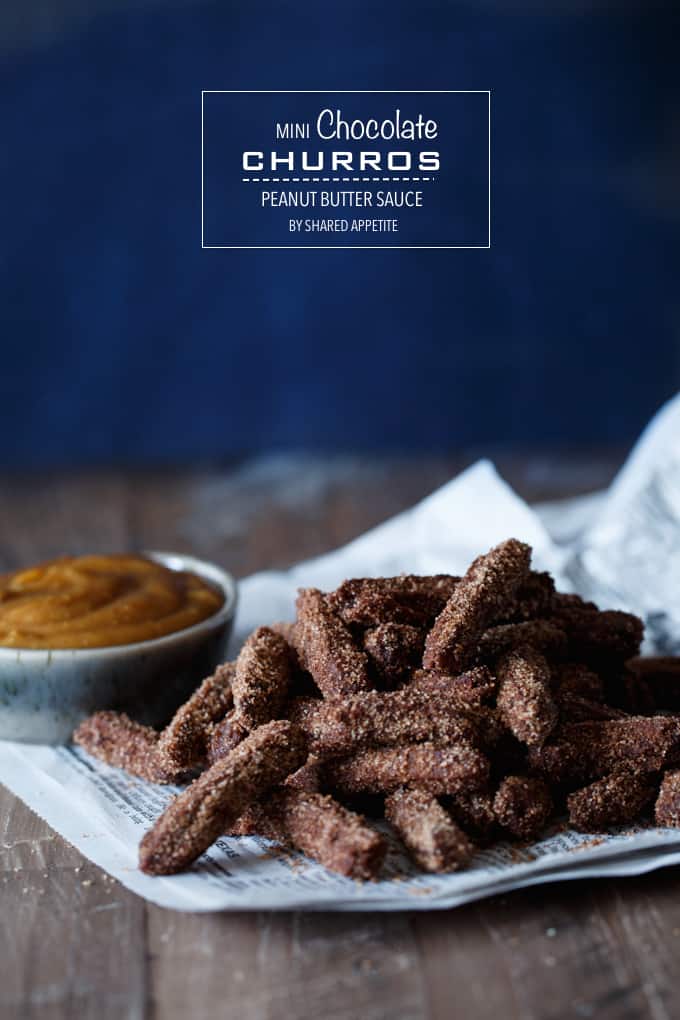 Baked Brown Butter Churro Donuts