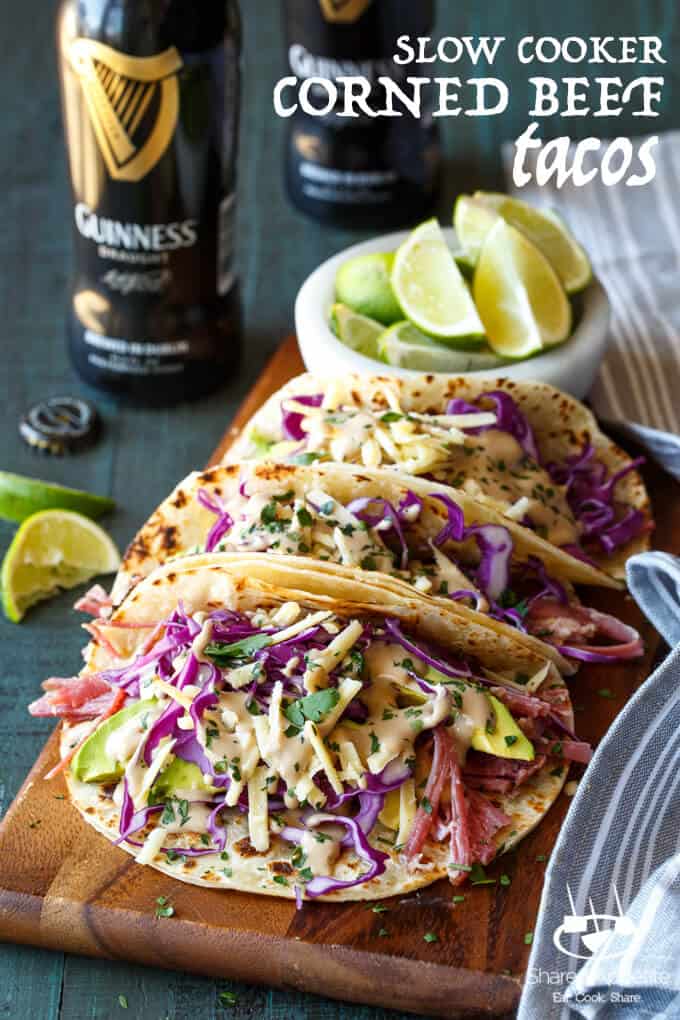 Full disclosure. I don't celebrate St. Patrick's Day.
Full disclosure. I definitely DO celebrate tacos.
There's just not a lot about St. Patrick's Day that I get excited about. Irish Soda Bread… no thanks. Beer? I'm not a fan. Green? Eh, I'm more of a blue guy. Corned beef… I can honestly take it or leave it.
You'd be proud of me, though. We attempted to take Olivia to her first parade this past weekend… a St. Patrick's Day parade. It was like 20°F and seriously windy. So yeah, that didn't happen. Olivia would have probably been fine, actually, but Asheley is allergic to the cold. She would have sucked every ounce of parade spirit out of me, and I wouldn't want that to be Olivia's first parade experience.
But helllloooooo tacos. I've never met a taco I didn't like. Even a bad taco is still a good taco, because taco. You with me?
And guys… I found a phenomenal way to enjoy St. Patrick's Day this year. Slow Cooker Corned Beef Tacos. It's got corned beef. It's got beer. It even has some green.
Oh, and even the cheese is Irish. Boom.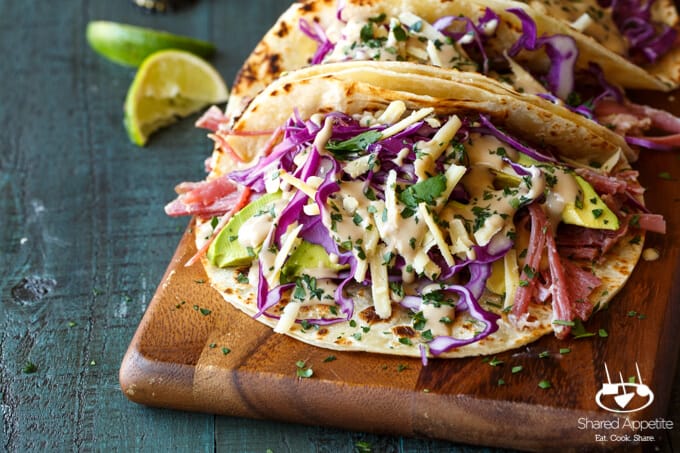 These Slow Cooker Corned Beef Tacos are perfect for a weeknight dinner, since they are super easy to throw together without a whole lot of planning (besides the dropping a corned beef in the slow cooker in the morning).
And what are you going to braise that corned beef in the slow cooker with? Guinness, of course! This is St. Patrick's Day, after all. I don't even like beer, but I really enjoyed the corned beef that came out of the slow cooker. The Guinness braised corned beef was super moist and succulent, and it literally fell apart while slicing it. That's my type of meat.
To top these tacos off, I made a Guinness cream sauce. It's basically a Guinness spiked sour cream, with some honey added to sweeten the bitterness of the beer. Don't worry/I'm sorry (depending on how you look at it), you won't get drunk off this sauce. The alcohol in the Guinness beer is basically cooked off just like when you make vodka sauce.
Purple cabbage makes an appearance for that needed crunch and also because, well, corned beef and _______. Yup, you know it. Feel free to use green cabbage if you prefer to keep everything green for St. Patricks' Day. I just love the pop of color the red cabbage provides.
Irish cheddar. Check. Of course feel free to use regular cheddar.
And avocado and chopped cilantro or parsley for a creamy and fresh pop… along with the whole green reinforcement.
I declare that for now on, all St. Patrick's Day celebrations should include these Slow Cooker Corned Beef Tacos. Your kids love tacos. You love tacos. It'll be a huge family win.
Or at the very least, use up your leftover corned beef to make these tacos. Your taste buds will thank you.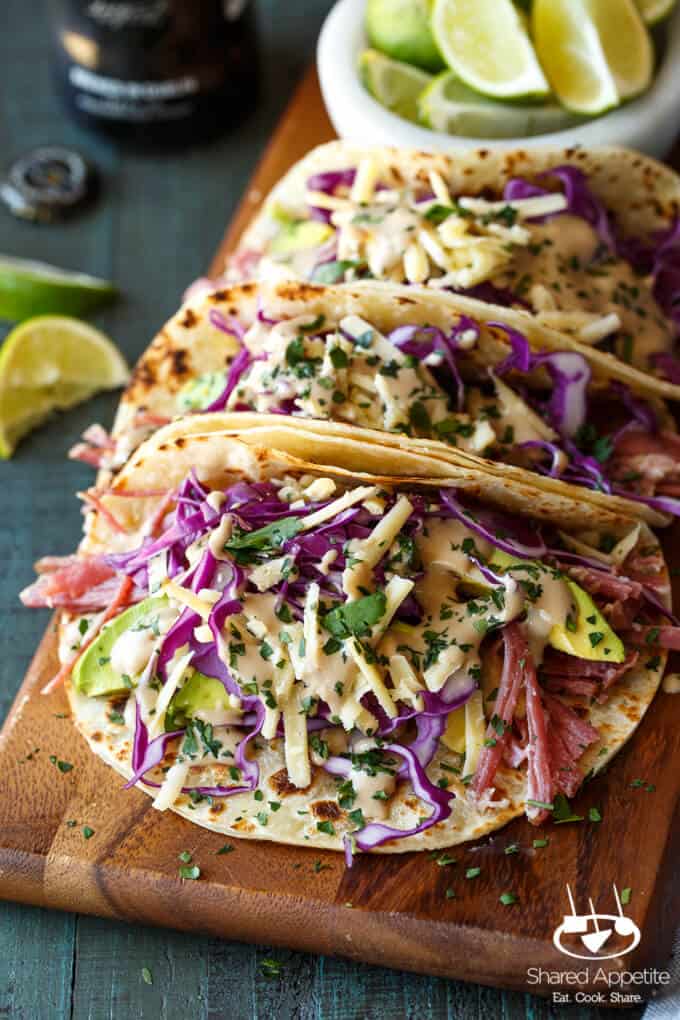 Print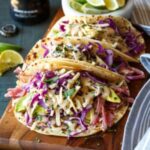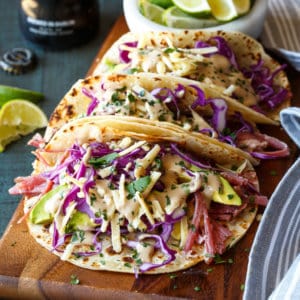 Slow Cooker Corned Beef Tacos
---
18

flour or corn tortillas, warmed

3

pounds corned beef

2

(11.2 ounce) bottles Guinness Beer

3

avocados, thinly sliced

1

small head red cabbage, shredded

3 cups

shredded Irish cheddar cheese
Guinness Cream Sauce (recipe below)
Lime wedges, for garnish, if desired
Chopped cilantro or parsley, for garnish, if desired
for the Guinness Cream Sauce
1 cup

Guinness beer

1/2 cup

sour cream

1

to

2

teaspoons honey
Kosher salt
Freshly ground pepper
---
Instructions
Spray your slow cooker with nonstick cooking spray. Add corned beef and Guinness beer. Cook on low for 8 to 10 hours, until meat is very tender. Remove corned beef from slow cooker and remove visible fat. Slice or shred meat.
Top tortillas with corned beef, avocado, red cabbage, shredded cheddar, and Guinness cream sauce. Garnish with chopped cilantro/parsley and a squeeze of lime.
for the Guinness Cream Sauce
Heat Guinness over medium heat in a small saucepan and let simmer until reduced to 1/4 – 1/3 cup. Cool completely.
Combine reduced Guinness, sour cream, 1 teaspoon honey, and season with Kosher salt and pepper. Taste and add another teaspoon of honey if desired.
Prep Time:

10 mins

Cook Time:

8 hours
Slow Cooker Corned Beef Tacos
Need More Tacos?
Mexican Lamb Tacos with Tequila Soaked Raisins, Pickled Onions, and Pepitas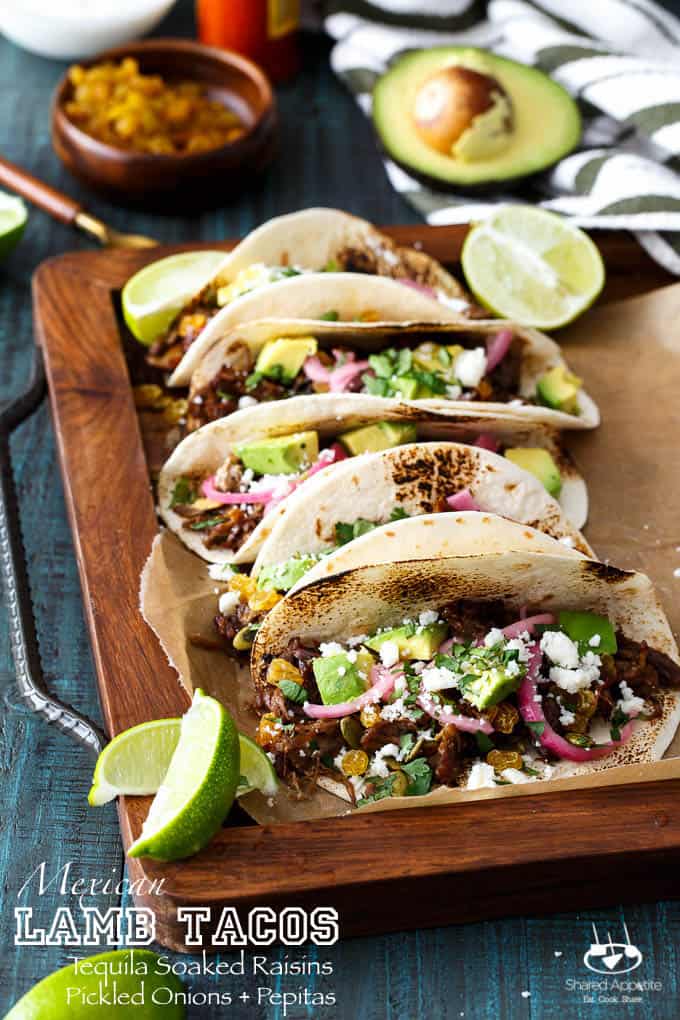 4 Ingredient Nutella Choco Tacos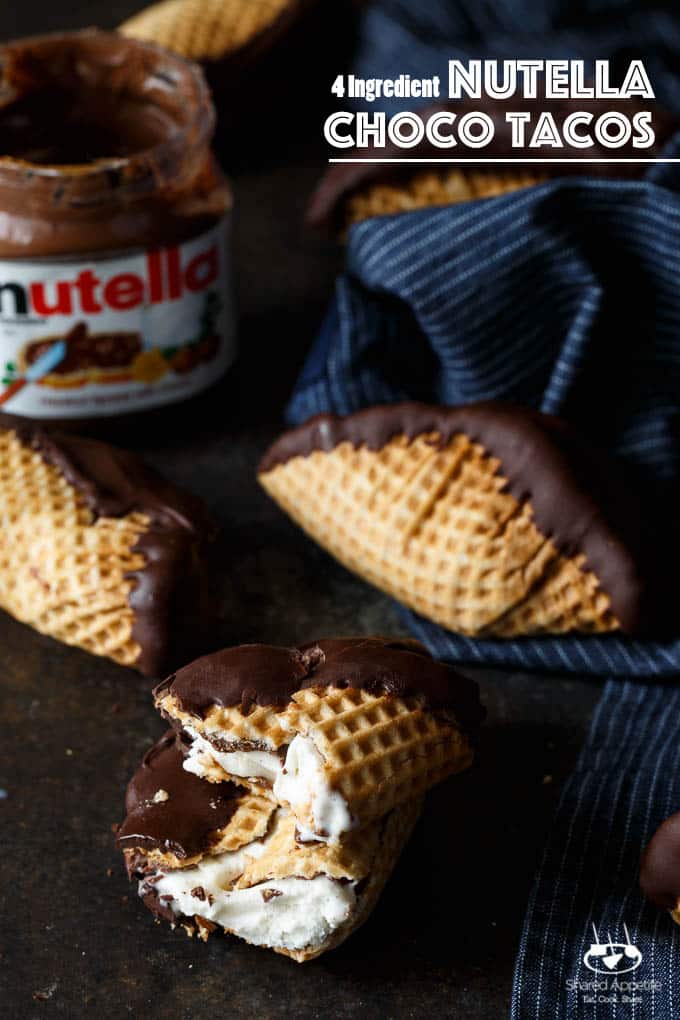 Huevos Rancheros Sausage Breakfast Tacos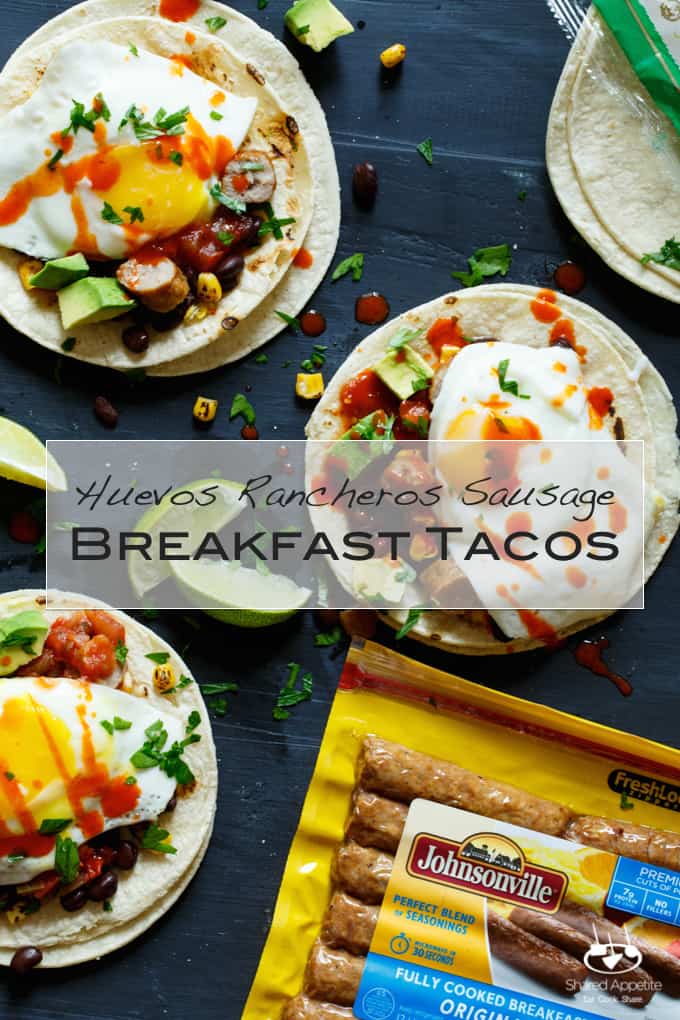 Pork Belly Tacos with Ancho Chili Roasted Pineapple and Avocado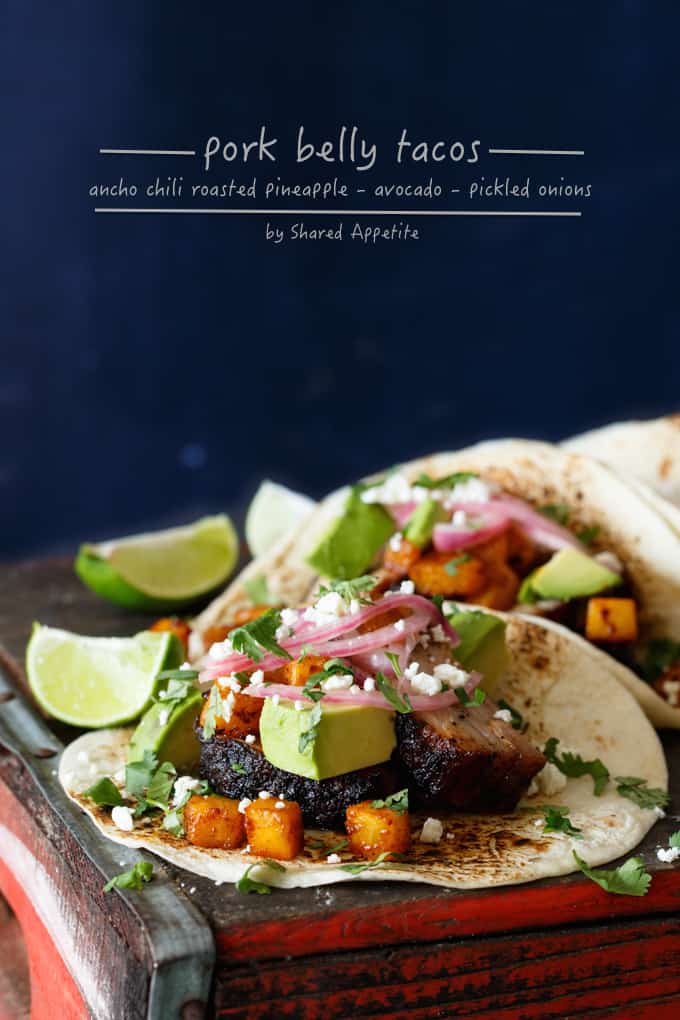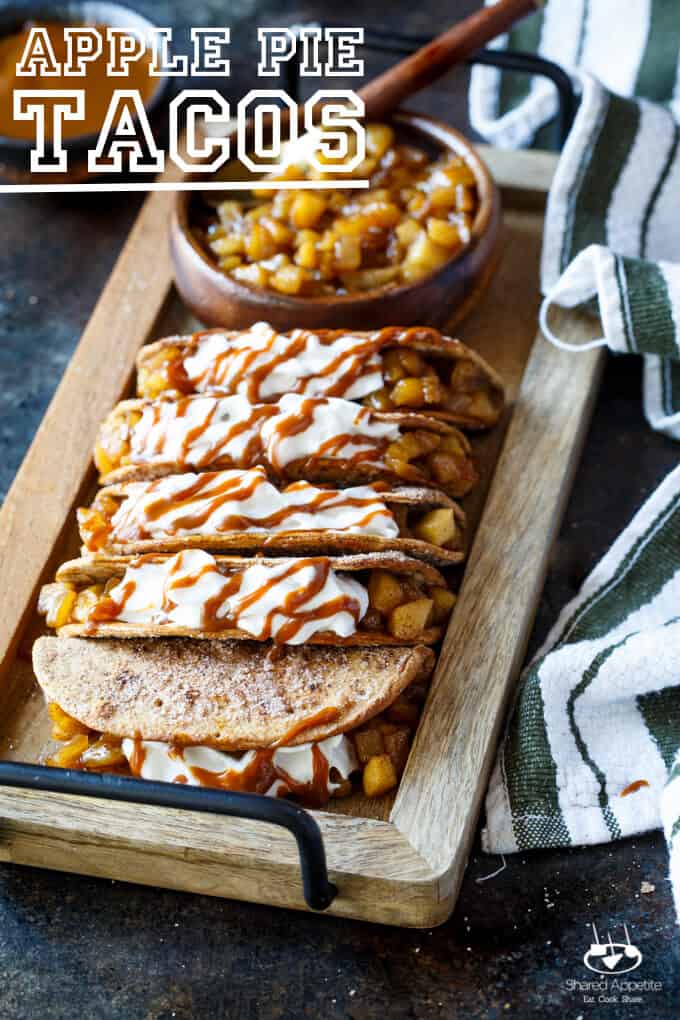 Animal Style In N' Out Bacon Cheeseburger Tacos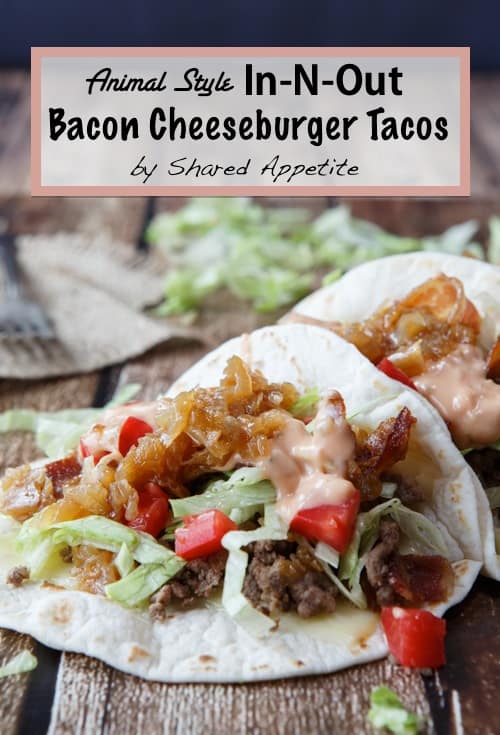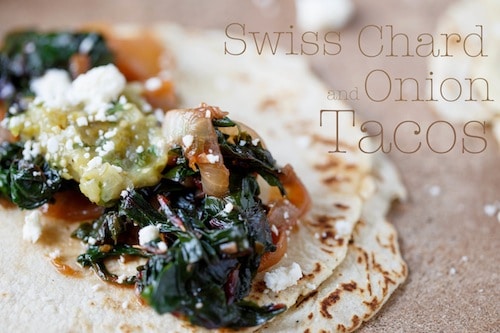 Carnitas Tacos with Pickled Onions and Salsa Verde