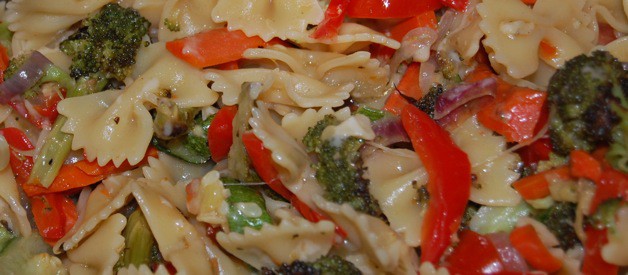 Vegetables often get a bad rep.  I don't know why.  They can be absolutely flavor-packed bursts of healthy deliciousness.  What should get the bad reputation is the mundane way in which many people prepare their vegetables.  My favorite preparation of vegetables is not only super easy, it is in my opinion the best way to highlight their flavors.  Oven-Roasting your veggies concentrates its sugars and flavors, and at the same time preserves many nutrients (unlike boiling, where almost all the nutrients go bye-bye unless you intend on drinking the water as well).  The following recipe is simple, healthy, and a great way to get the people in your life to enjoy eating their vegetables:
Pasta with Roasted Vegetables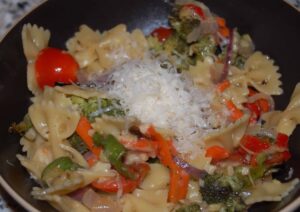 [list style="red"]
1 Box Farfalle (bow-ties), or pasta of your choice
½ lb. carrots, peeled
1 head broccoli
2 red bell peppers
2 onions
2 zucchini
1 pint grape or cherry tomatoes, halved
3 cloves garlic, finely minced
1 cup Parmesan cheese, finely shredded* (I use a micro-grater for this)
1 cup reserved pasta water
2 tbl. Dried Italian Seasoning
¼ c. plus 1 tbl. Olive Oil
Kosher Salt and Freshly Ground Pepper
[/list]
*Parmigianno Reggiano is the ideal cheese for this dish.  However, it is on the expensive side.  You can use any parmesan cheese, but choose the highest quality you can buy.
1) Roast the vegetables.  Preheat the oven to 400.  Cut the broccoli into bite-size florets.  Cut the onion in half and then slice to approximately ¼'' thickness.  Cut the zucchini, red pepper, and carrots into thin strips approximately 1'' in length.  Place on a single layer on 2 baking sheets lined with aluminum foil.  Drizzle all vegetables with ¼ c. olive oil (or as much as you need to lightly coat the vegetables) and season with kosher salt and the dried Italian herbs.  Give all vegetables a quick toss with your hands to make sure they are evenly coated with the salt and olive oil.  Roast the vegetables in the oven until they start to turn brown (caramelize) and are cooked through, approximately 20-30 minutes.  Stir the vegetables once or twice during the cooking process.  Once the vegetables are done, they will look like this: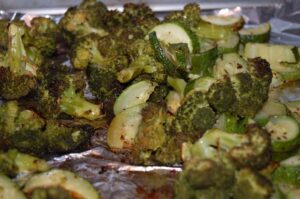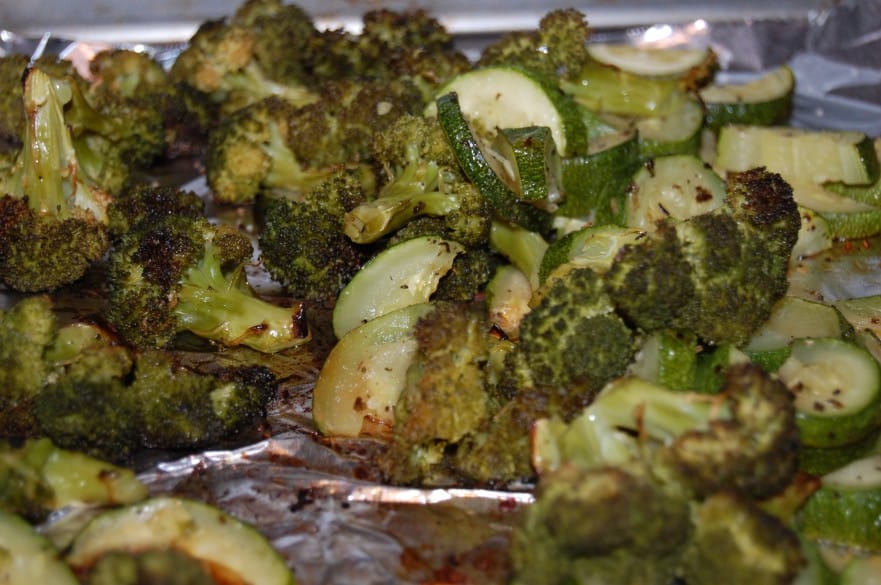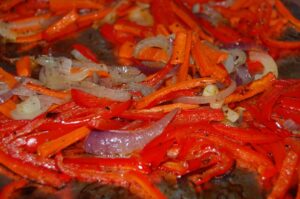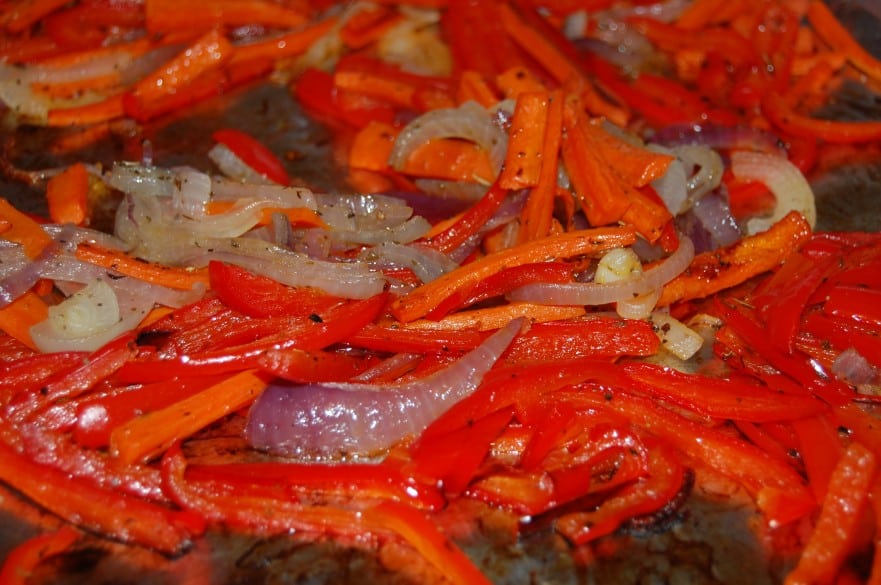 2) While the vegetables are roasting, bring a pot of salted water to a boil.  Cook the Farfalle (or any suitable pasta) to al dente and drain, reserving 1 cup of the pasta water.
3) In the emptied pot in which you cooked the pasta, add the remaining 1 tbl. of olive oil over medium-low heat.  Cook garlic for approximately 1-2 minutes, then add roasted vegetables and the tomatoes. Cook for about 2-3 minutes, stirring occasionally.  Return the pasta back into the pot, add in the pasta water and Parmesan cheese, and stir.  Season with kosher salt and freshly ground pepper.  Cook briefly until flavors are combined, about 1 minute.  Serve with extra Parmesan cheese, as desired.
How about those vegetables?!  Enjoy!