These Slow Cooker Dr Pepper BBQ Pulled Chicken Sliders were created in partnership with Dr Pepper. As always, all opinions and recipe are my own. Thanks for supporting the brands that support Shared Appetite!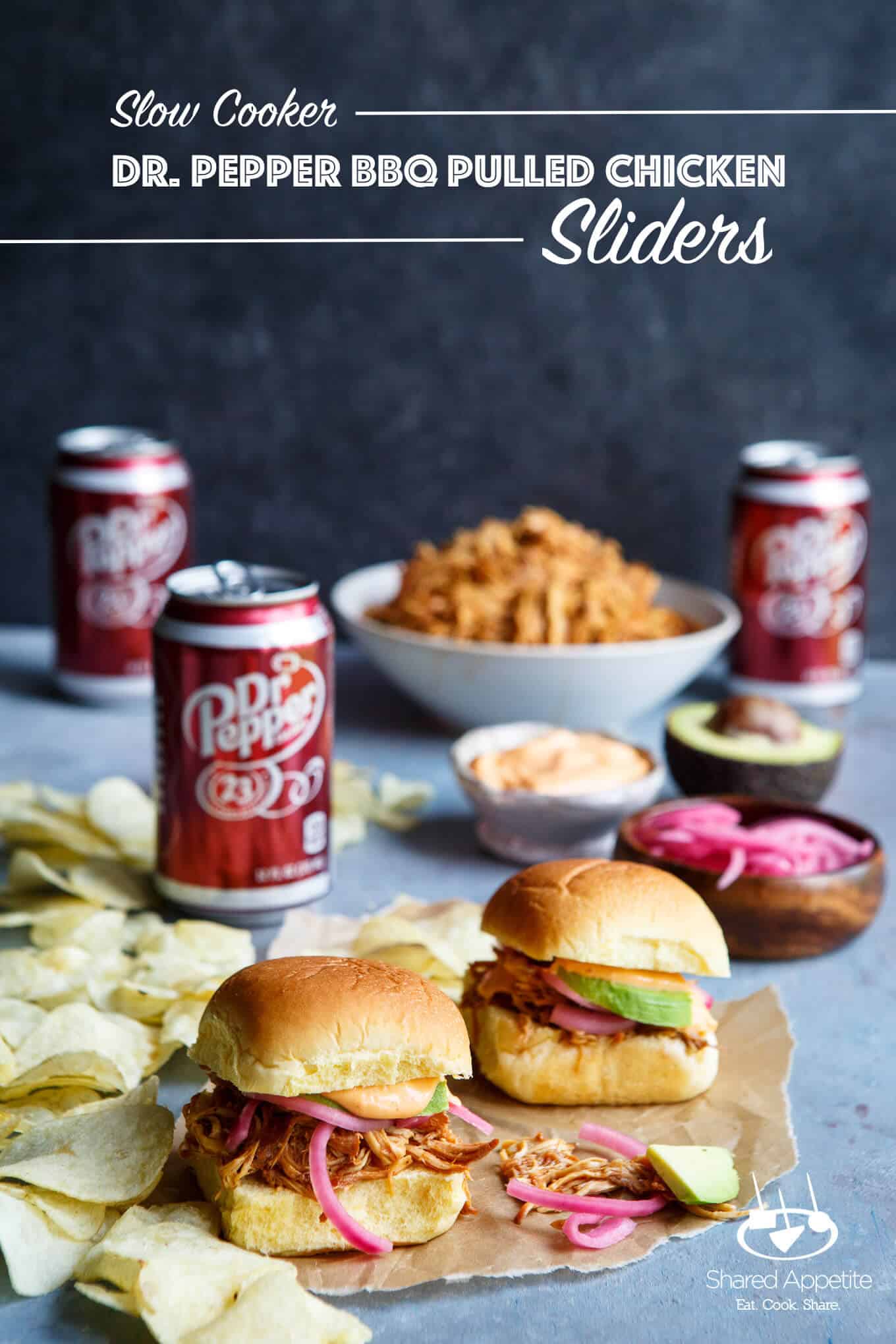 For many people around the country this time of year, weeks revolve around one thing and one thing only. What day and time is the game, and what channel is it on? Football is in full swing, and whether you are routing for your college alma mater or hometown professional team, fan loyalty runs deep. You can't miss a game... and DVR isn't an acceptable substitute.
But can I just be totally real? I honestly couldn't care less about football. I just never got into it. I know I'm in the gross minority here, and I'm cool with that. But do you know what I am totally on board with? Legit game day eats. I'll watch the sport of grass growing if there's tailgating involved. There's nothing more satisfying or comforting than all that delicious game day grub.
So when the opportunity arises to entertain some friends on game day, I'm all about it. To them the main event is right on that screen, but to me it's happening in the kitchen. Mmm hmm. My new secret weapon for game day entertaining this fall? These Slow Cooker Dr Pepper BBQ Pulled Chicken Sliders! They are ridiculously easy to make and bursting with bold flavors!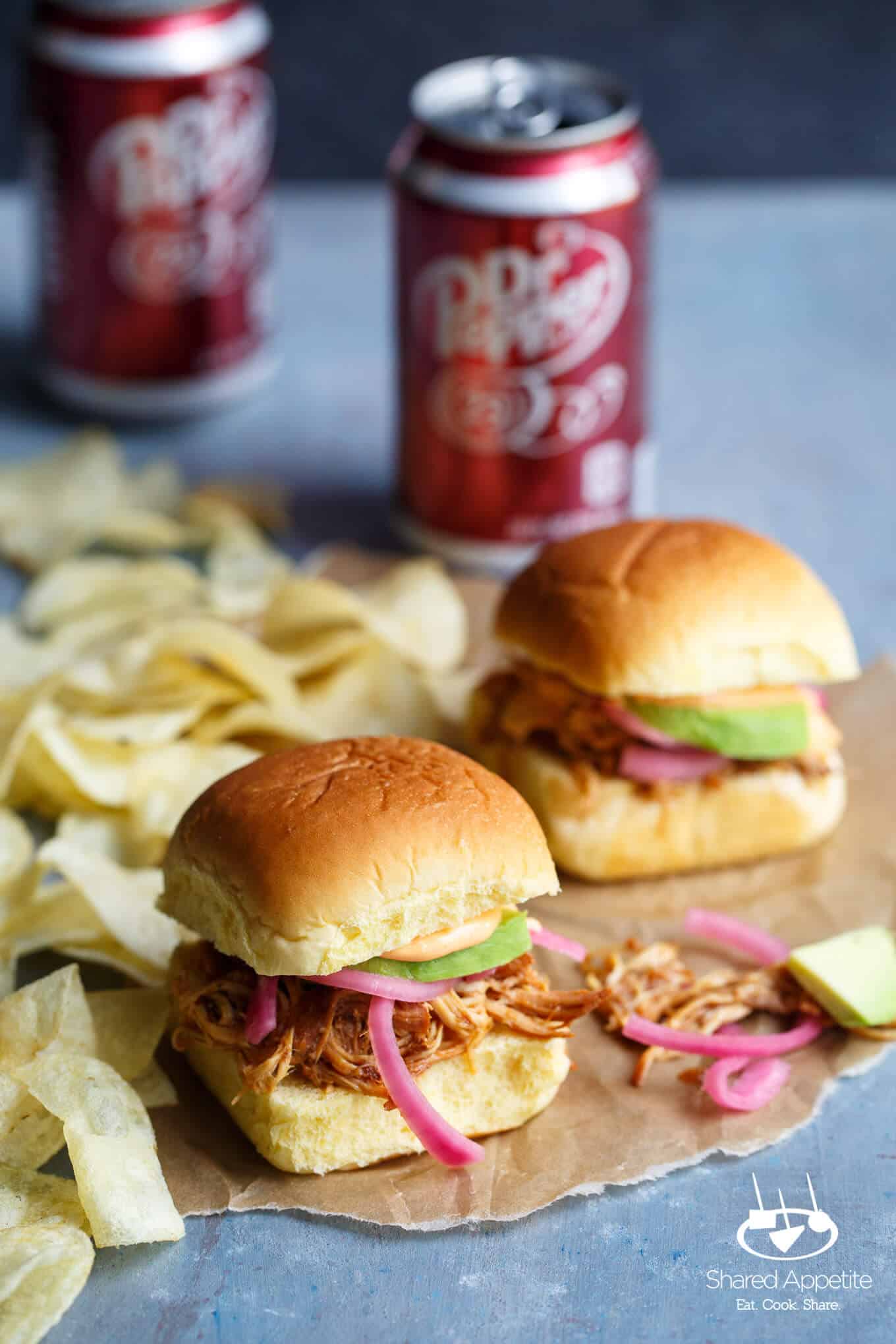 There's a few criteria in my book for perfect game day food. First, it's gotta be easy. There's definitely a time to prep a gourmet meal in the kitchen for hours and hours... but this isn't it. There's nothing fancy about eating during a game. Utensils definitely should not be required.
Second, most likely you'll be entertaining quite a few people. This isn't the time to make something that's going to cost you an arm and a leg because the food is small, delicate, and light. Football eats are all about big, bold flavors that will fill up all those fanatics intensely rooting for their team.
Last, game are usually pretty darn long. I want food that I can leave out for the entire game and people can graze whenever they want. There should't need to be a specific "time to eat" where you pause watching the game. Get up when you want and grab a bite... and when you do, the food will be hot and ready for you.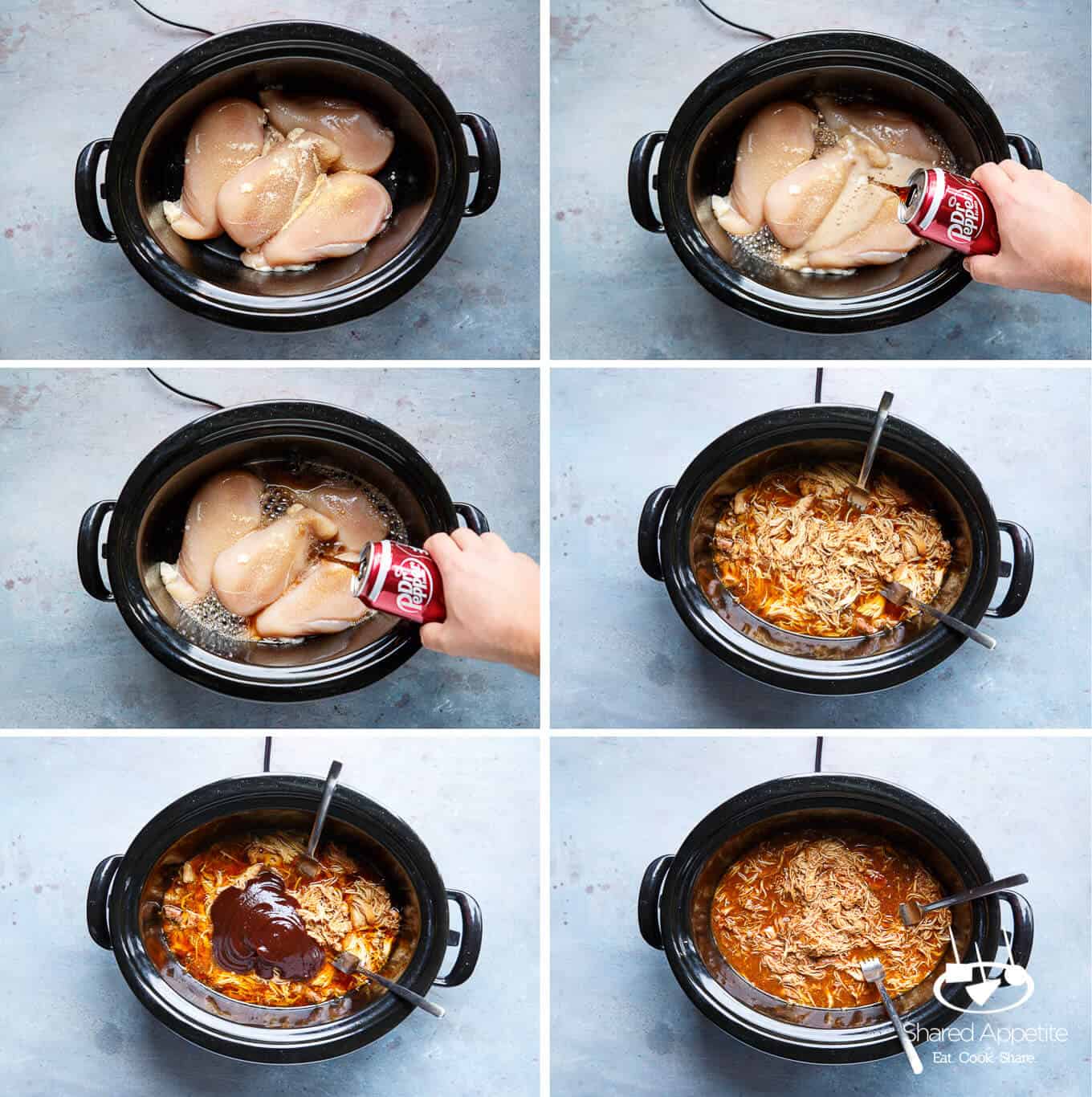 So do these Slow Cooker Dr Pepper BBQ Pulled Chicken Sliders fit the bill? Darn straight.
When you wake up in the morning, just dump four ingredients into a slow cooker. That takes all of 5 minutes. Let it cook on its own for a while, then shred that bird and add BBQ sauce. That takes another 5 minutes. Let the pulled chicken soak up all that BBQ flavored goodness for a bit and boom... your Slow Cooker Dr. Pepper BBQ Pulled Chicken Sliders are just about done.
Chop up a few avocados. Stir together some sriracha mayo. Put out some slider buns and the pickled onions you had marinating in the fridge. DONE.
You're looking at a total hands-on prep time of about 15-20 minutes. The slow cooker will keep the chicken hot throughout the entire game for you, and your friends will love DIY'ing the heck out of their sliders.
Best of all, these will fill up all your friends (even the ones with those crazy big appetites) at a budget-friendly cost. And bonus... you'll have a bunch of cans of Dr. Pepper left over to drink during the game. Heck yes.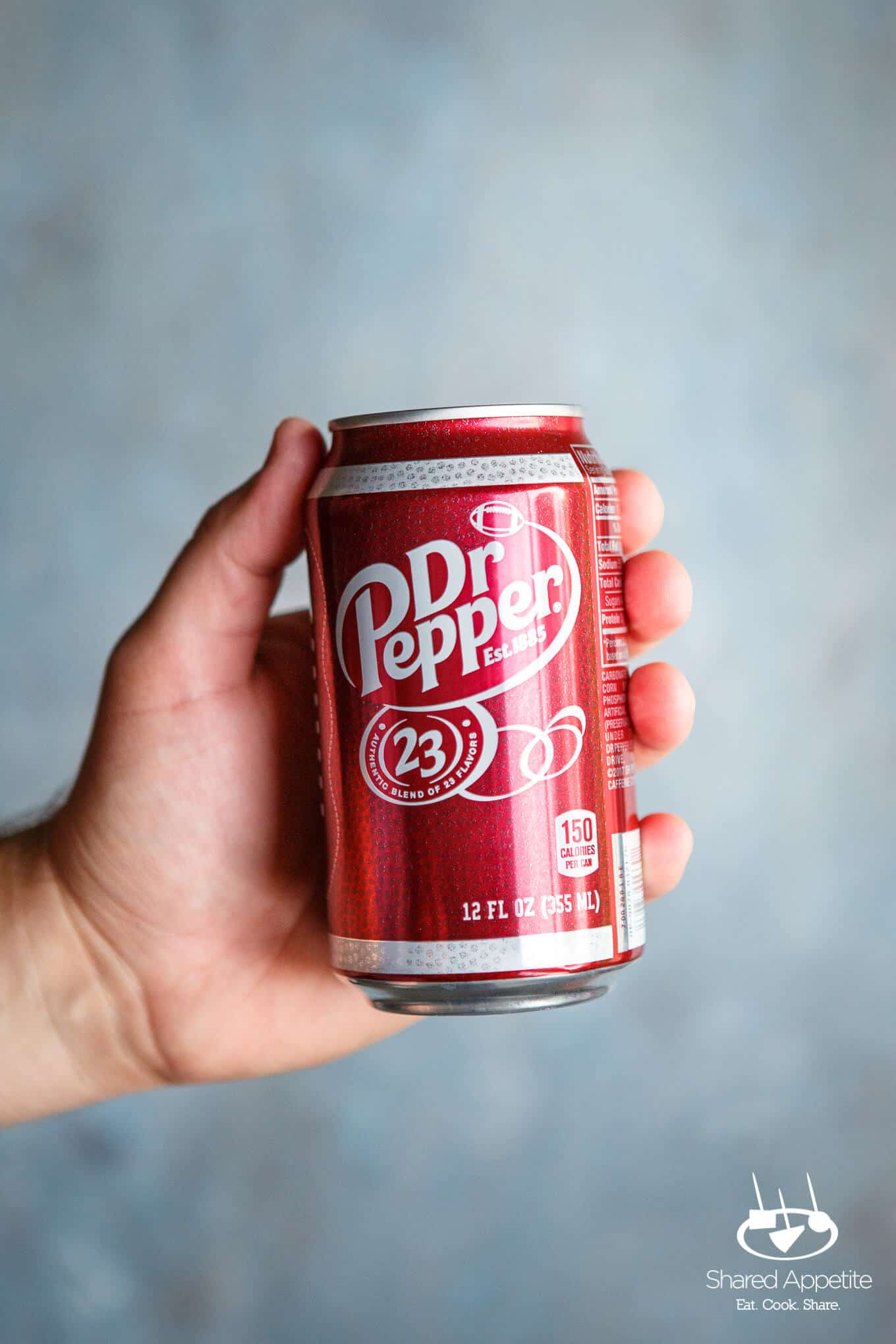 Let's back up to those pickled onions for a second. You may be tempted to skip them, but then you remember how AMAZING pickled onions are and how they totally MAKE this sandwich. It adds the perfect acidic bite to cut through the rich Dr Pepper BBQ chicken, creamy avocado, and spicy sriracha mayo. These Easy Pickled Onions literally take 5 minutes to make and can be done about a week ahead of time! I always have a jar of pickled onions in my fridge anyway, because they are perfect on sandwiches, salads, nachos, tacos, and more!
If you want to totally WIN when you make these Slow Cooker Dr Pepper BBQ Pulled Chicken Sliders, put out some potato chips too. I love adding a couple to each slider... the salty crunch is the perfect addition!
If you've never put potato chips on your sandwiches before, be prepared for your life to change. It's pretty freaking amazing.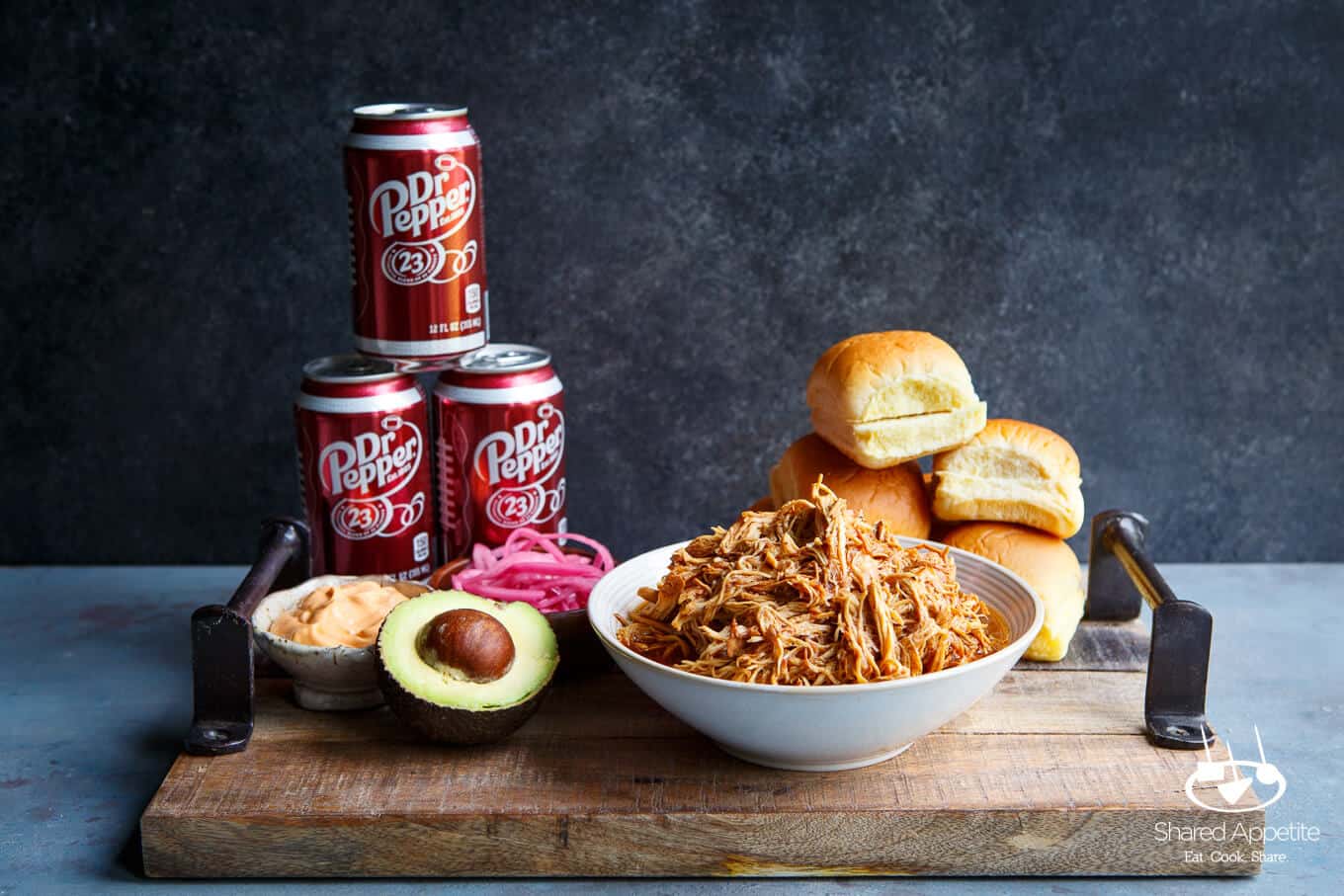 Print
Slow Cooker Dr Pepper BBQ Pulled Chicken Sliders
---
Author:

Chris Cockren

Total Time:

7 minute

Yield:

Around

24

-

36

Sliders*

1

x
3

pounds boneless skinless chicken breast

1

(12 ounce) can Dr Pepper

1 teaspoon

onion powder

¼ teaspoon

garlic powder

1 ½

-

2

cups of your favorite BBQ sauce

2

avocados, chopped
Sriracha Mayo (recipe below)
Slider Buns
Potato Chips, if desired
for the Sriracha Mayo
1 cup

mayonnaise

2

-

3

tablespoons sriracha, depending how spicy you want it

1 teaspoon

sugar
Large pinch Kosher salt
---
Instructions
Spray slow cooker with nonstick cooking spray.  Add chicken, Dr Pepper, onion powder, and garlic powder.  Cook on low for approximately 8 hours, until chicken is very tender and shreds easily with a fork.
Shred chicken into bite-sized pieces and pour in 1 ½ cups BBQ sauce.  Stir to combine, and cook on low for 30-60 minutes more to allow flavors to meld.  Taste and add remaining ½ cup BBQ sauce if desired.
Top slider buns with chicken, avocado, pickled onions, and sriracha mayo.  Top with a couple potato chips if desired.  Devour.
for the Sriracha Mayo
Combine all ingredients in a bowl.  Let sit at least 30 minutes before serving to allow flavors to meld.  Can be refrigerated for up to a week.
Notes
*amount of sliders depends upon how big your slider buns are and how much meat people pile on the buns.
Prep Time:

15

Cook Time:

About 8 Hours (in Slow Cooker)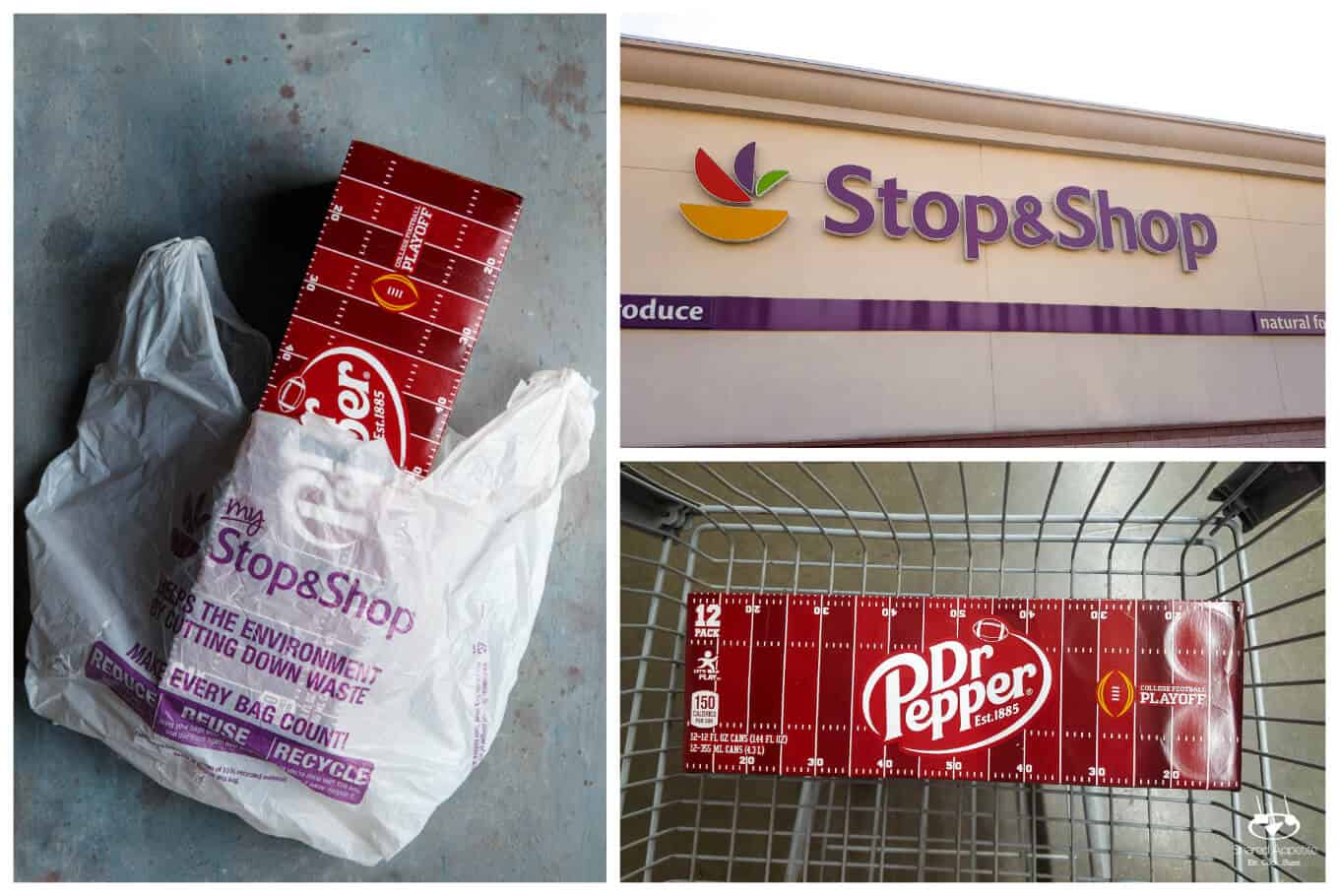 The Stop and Shop right down the road from my house always has a huge stock of Dr Pepper ready to go. It's always available in the soft drink aisle, but you can also find it a lot of times in a display right when you walk into the store. It's like I walk in and it's calling my name... Slow Cooker Dr Pepper BBQ Chicken Sliders here I come!
And while you're at Stop and Shop, grab all of the necessary game day food. It's a one stop shop for me there, because Stop and Shop always has EVERYTHING I need for tailgate entertaining!
Be sure to visit Visit http://tailgatingwithdrpepper.com/ for more tailgating inspiration!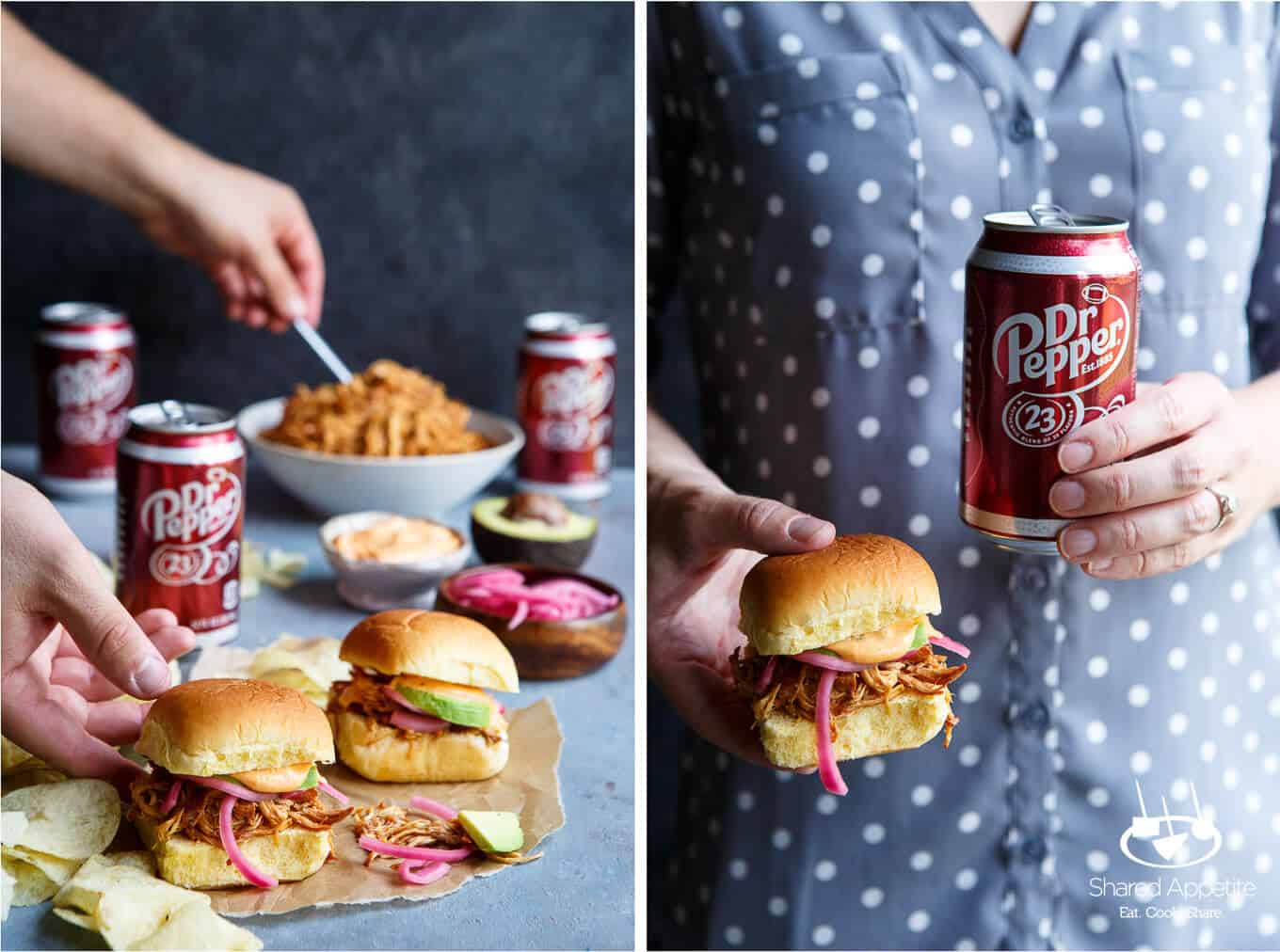 Slow Cooker Dr Pepper BBQ Pulled Chicken Sliders