These Southwest Avocado Chicken Salad Lettuce Wraps are brought to you by the Hass Avocado Board with the American Heart Association through Kitchen PLAY. As always, all opinions and recipe are my own. Thanks for supporting the brands that support Shared Appetite!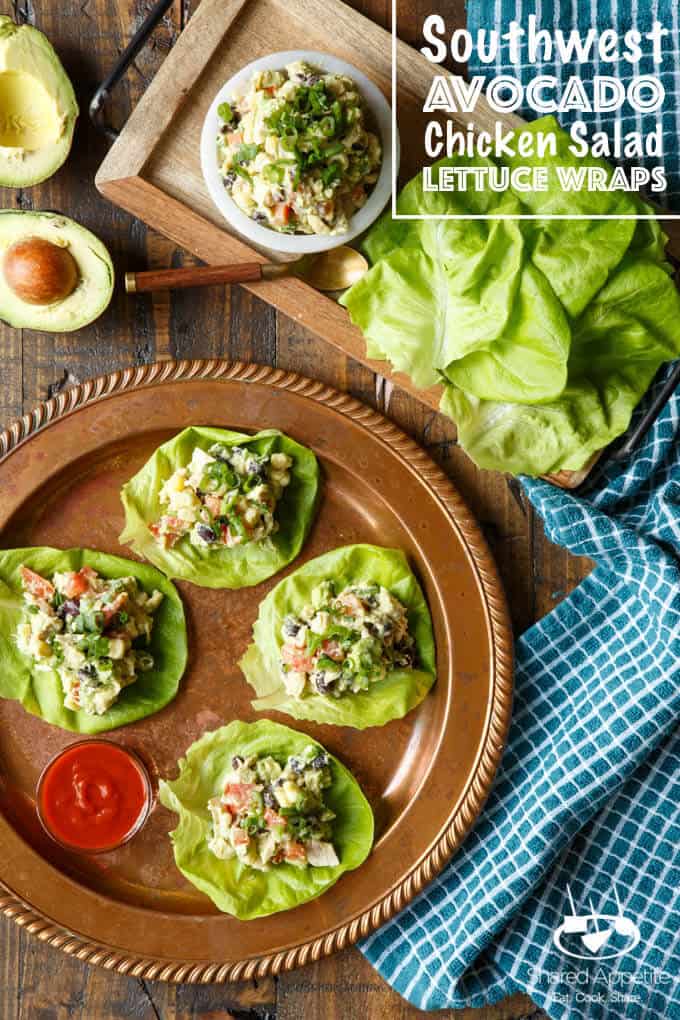 If there is one fruit we go through more of in this house than any other... it's avocado. First off, yeah I know. Avocados are actually a fruit. Maybe you already knew that because you're smart and stuff. If not, don't worry... I remember being pretty shocked when I first found out.
I eat my fair share of avocado around here, but it's actually the ladies of the house that seriously must own a large amount of stock in them. Asheley has always had quite the appetite for nature's silky creamy goodness, and she most definitely passed down that trait to our 19-month-old. From Olivia's very first taste of a Hass avocado, she has been in love. Olivia eats half of one every day. Every day.
It shouldn't really come as a surprise that these Southwest Avocado Chicken Salad Lettuce Wraps were a huge hit at our house. I'm a sucker for southwest anything, and it's a huge bonus that this can be made in just 10 minutes. You heard me right. 10 minutes.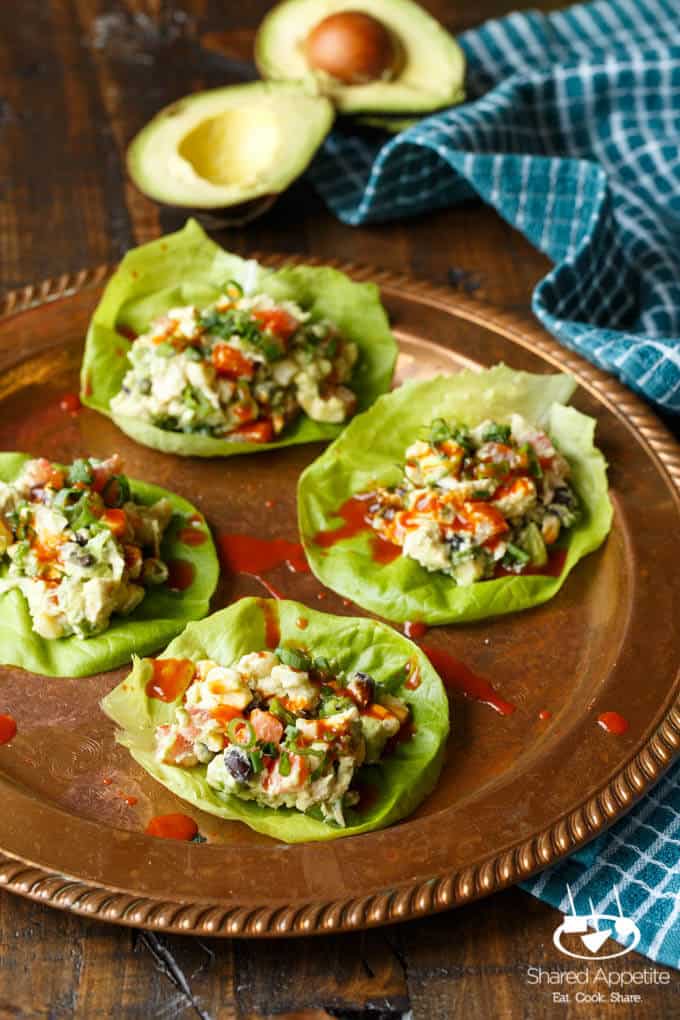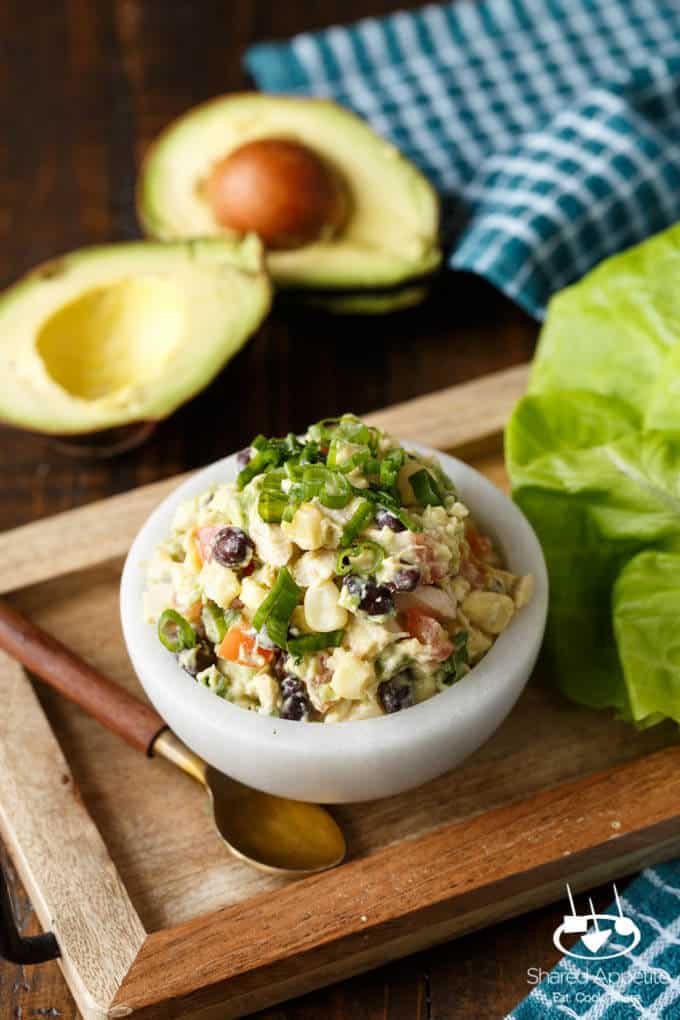 I am kind of jealous of Olivia. I wasn't exposed to the joy of avocados until very late in life... like the end of high school or beginning of college. They were just never in the house because my dad was the pickiest of picky eaters. It's okay, though. Don't feel sad for me. I'm making up for lost time. But not gonna lie... I feel like a successful parent, if for no other reason than exposing my daughter to this amazing wonder fruit early on in life. Olivia, meet the avocado. You're welcome.
And if you haven't introduced lettuce wraps to your family yet, let's do this. They make a perfect weekend lunch or a healthy alternative to Taco Tuesday dinner. It's also easy enough to bring along these Southwest Avocado Chicken Salad Lettuce Wraps for lunch during the workweek. Just pack the lettuce separate and then assemble in front of the envious eyes of all your coworkers.
Oh, and feel free to leave out the jalapeno for the kiddies. We sure do for Olivia.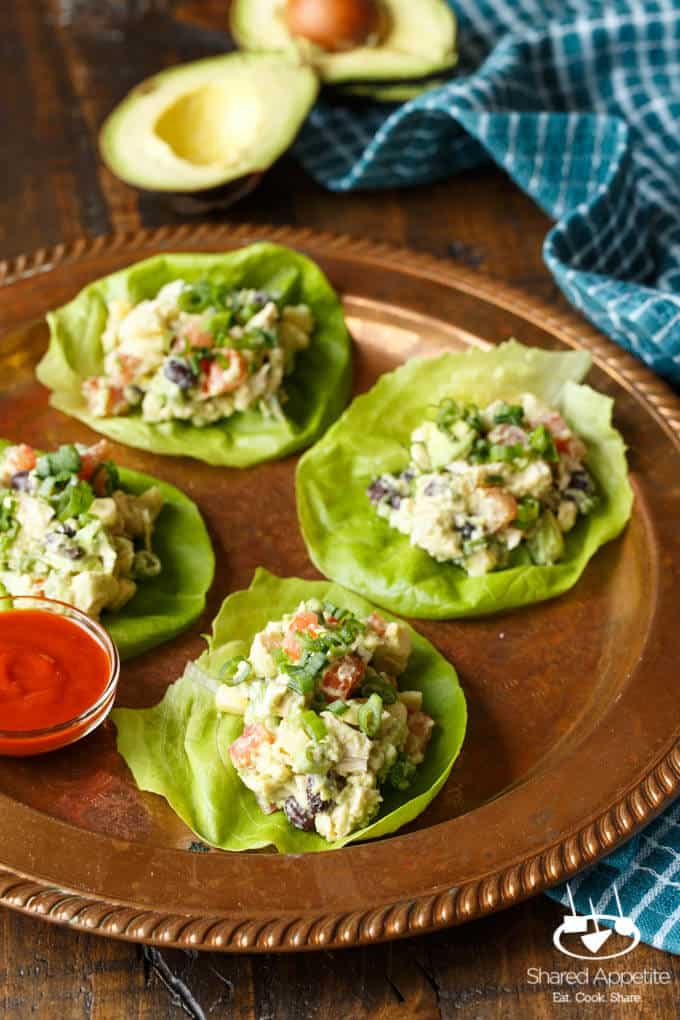 Let's talk healthy eating. Specifically, keeping the heart pumping strong... since February is American Heart Month and all. And at this point, we all are aware that heart disease is the leading cause of death for both men and women in the U.S. Right? That's scary stuff.
Well, good news avocado fans. Fresh avocados are a heart-healthy fruit. They provide naturally good fats, are low in saturated fat, and are cholesterol- and sodium-free. Avocado contributes nearly 20 vitamins, minerals and beneficial plant compounds that can enhance the nutrient quality of the diet. Boom. Thanks Hass avocados!
Back in October of 2016, the Hass Avocado Board teamed up with the American Heart Association to encourage Americans to eat more fruits and vegetables (because you know most of us aren't getting our daily recommended amounts). This Healthy for Good Movement has the potential to limit cardiovascular diseases, stroke, and diabetes.
And this month, they are teaming up to host a recipe contest called Take Avocado to Heart. Here's some key information about the contest: heart.org/avocadorecipecontest.
you can enter recipes in the categories of appetizer, entrée and dessert
recipe entries must adhere to the AHA nutrition criteria
Grand Prize: $1,000; 2nd Place: $500; 3rd Place: $250
contest runs February 9 to 27, 2017
the official hashtag is #addavocado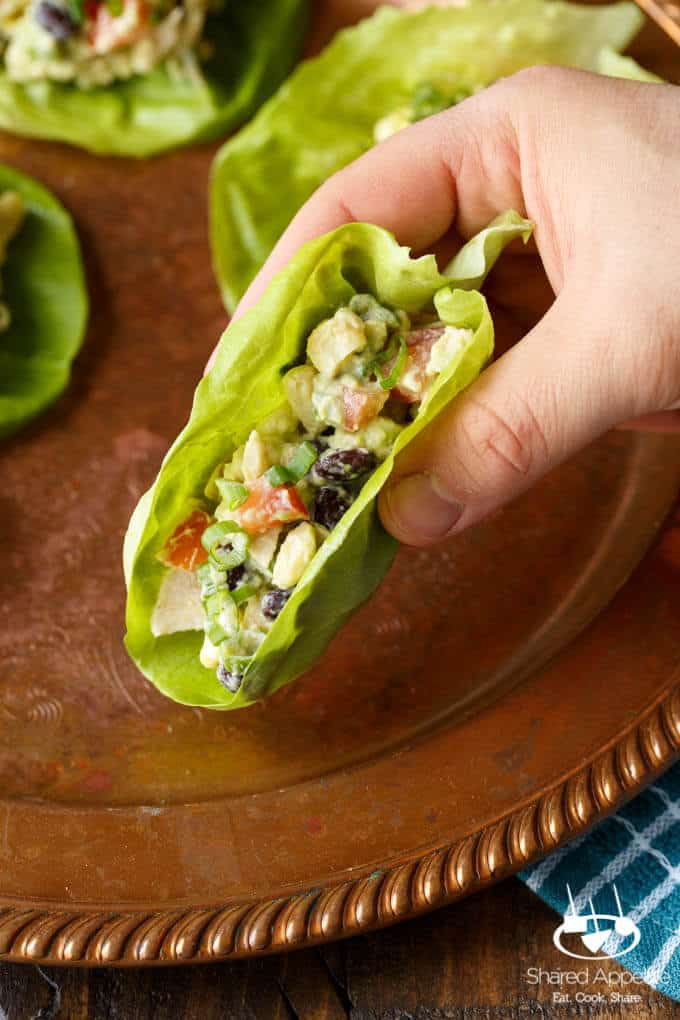 These Southwest Avocado Chicken Salad Lettuce Wraps are officially heart-check certified, so you can eat them with confidence that you are doing right by your family.
And if you need more easy and creative recipes that incorporate Hass avocados and are heart-check certified, visit Love One Today to learn more.
But let's start with these Southwest Avocado Chicken Salad Lettuce Wraps. 10 minutes, people... just 10 minutes!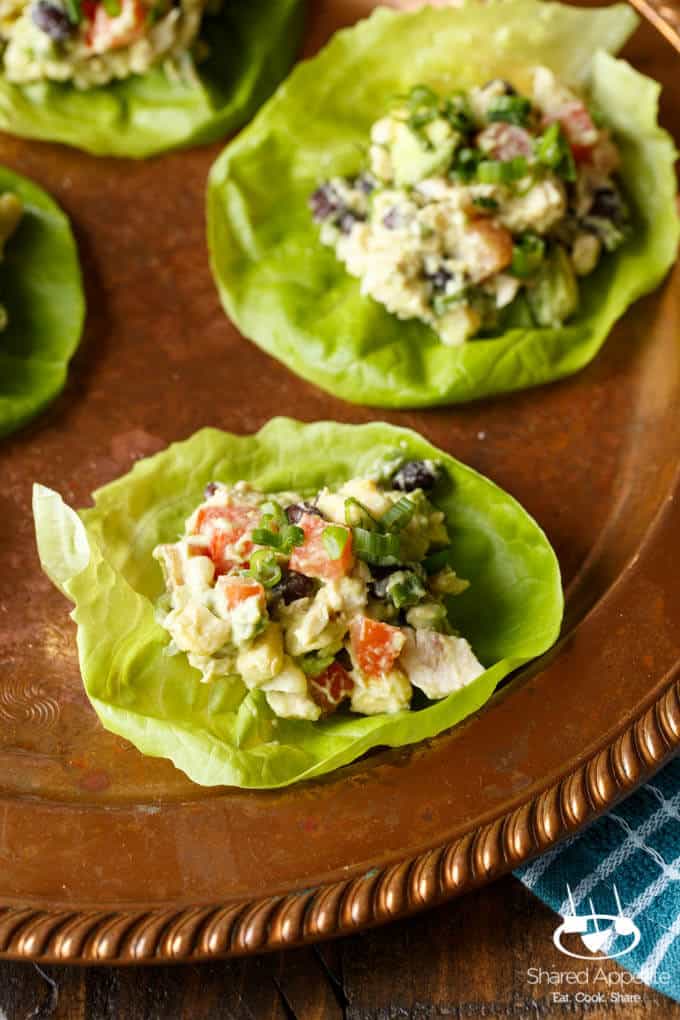 Print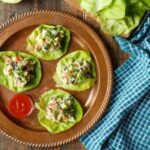 Southwest Avocado Chicken Salad Lettuce Wraps
---
Author:

Chris Cockren

Total Time:

10 minutes

Yield:

6

(3 lettuce wraps per person)

1

x
18

Bibb or Boston lettuce leaves

2 cups

cooked roasted chicken, chopped (about

2

chicken breasts)*

2

fresh Hass avocados*, halved, pitted, peeled and cubed; divided

¾ cup

tomato, chopped

½ cup

frozen corn, thawed

½ cup

canned black beans, drained and rinsed

2

scallions, chopped

1

jalapeno, minced

¼ cup

nonfat plain Greek yogurt

2 Tbsp

. fresh lime juice

⅛ teaspoon

cumin

⅛ teaspoon

paprika

⅛ teaspoon

garlic powder

¼ teaspoon

freshly ground black pepper
Hot sauce, if desired
---
Instructions
Combine chicken, one chopped avocado, tomato, corn, black beans, scallions and jalapeno in medium bowl.
In a small mixing bowl, mash the remaining avocado and mix with Greek yogurt, lime juice, cumin, paprika and garlic powder. Season with freshly ground black pepper.
Pour dressing into chicken salad and gently stir to combine.
Spoon southwest avocado chicken salad into lettuce leaves. Gently fold lettuce as if eating a taco and devour.
Drizzle with hot sauce, if desired
Notes
Heart-Check Recipe Certification does not apply to serving suggestions unless expressly stated
Nutrition Information Per Serving: Calories 230; Total Fat 12 g (Sat 2 g, Trans 0 g, Poly 2 g, Mono 7 g); Cholesterol 40 mg; Sodium 150 mg; Potassium 670 mg; Total Carbohydrate 14 g; Dietary Fiber 7 g; Sugars 2 g; Protein 19 g; Vitamin A 1890 IU; Vitamin C 17 mg; Calcium 55 mg; Iron 2 mg; Vitamin D 2 IU; Folate 102 mcg.
% Daily Value: Vitamin A 40%; Vitamin C 30%; Calcium 2%; Iron 10%
Percent Daily Values are based on a 2,000 Calorie diet. Your Daily Values may be higher or lower depending on your calorie needs.
*a store-bought rotisserie chicken is a great time-saving option for this!
*Large avocados are recommended for this recipe. A large avocado averages about 8 ounces. If using smaller or larger size avocados, adjust the quantity accordingly.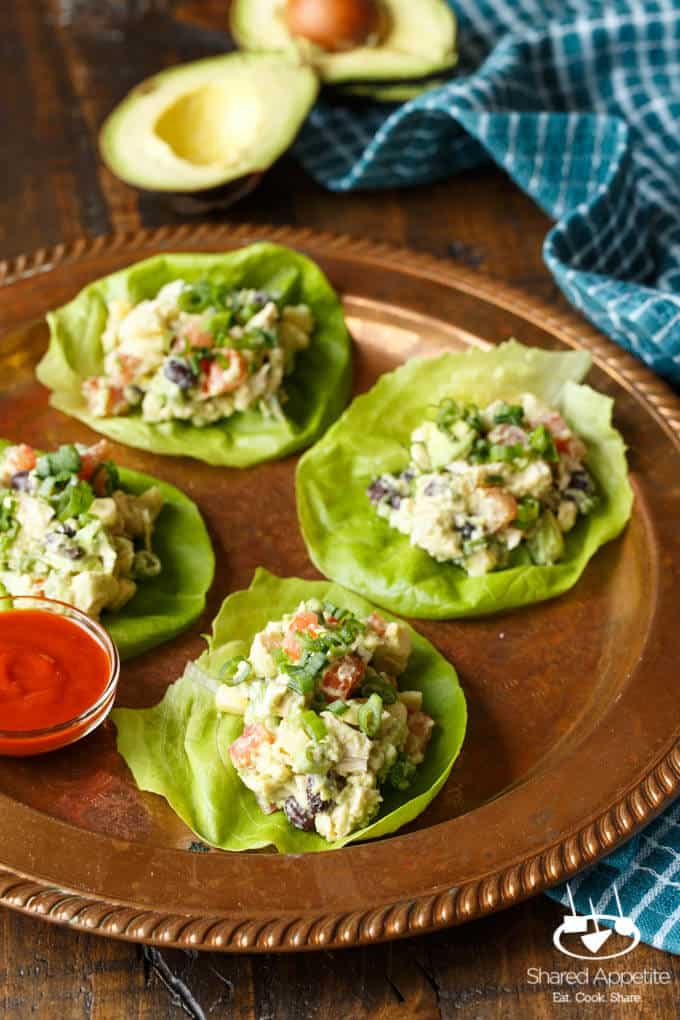 Follow the Hass Avocado Board: Facebook | Twitter | Instagram | Pinterest
Southwest Avocado Chicken Salad Lettuce Wraps