These Sparkling Blueberry Lemonade Mojitos were created in partnership with 7UP®. As always, all opinions and recipes are my own. Thanks for supporting the brands that support Shared Appetite! You must be 21 years of age or older to consume an alcoholic beverage.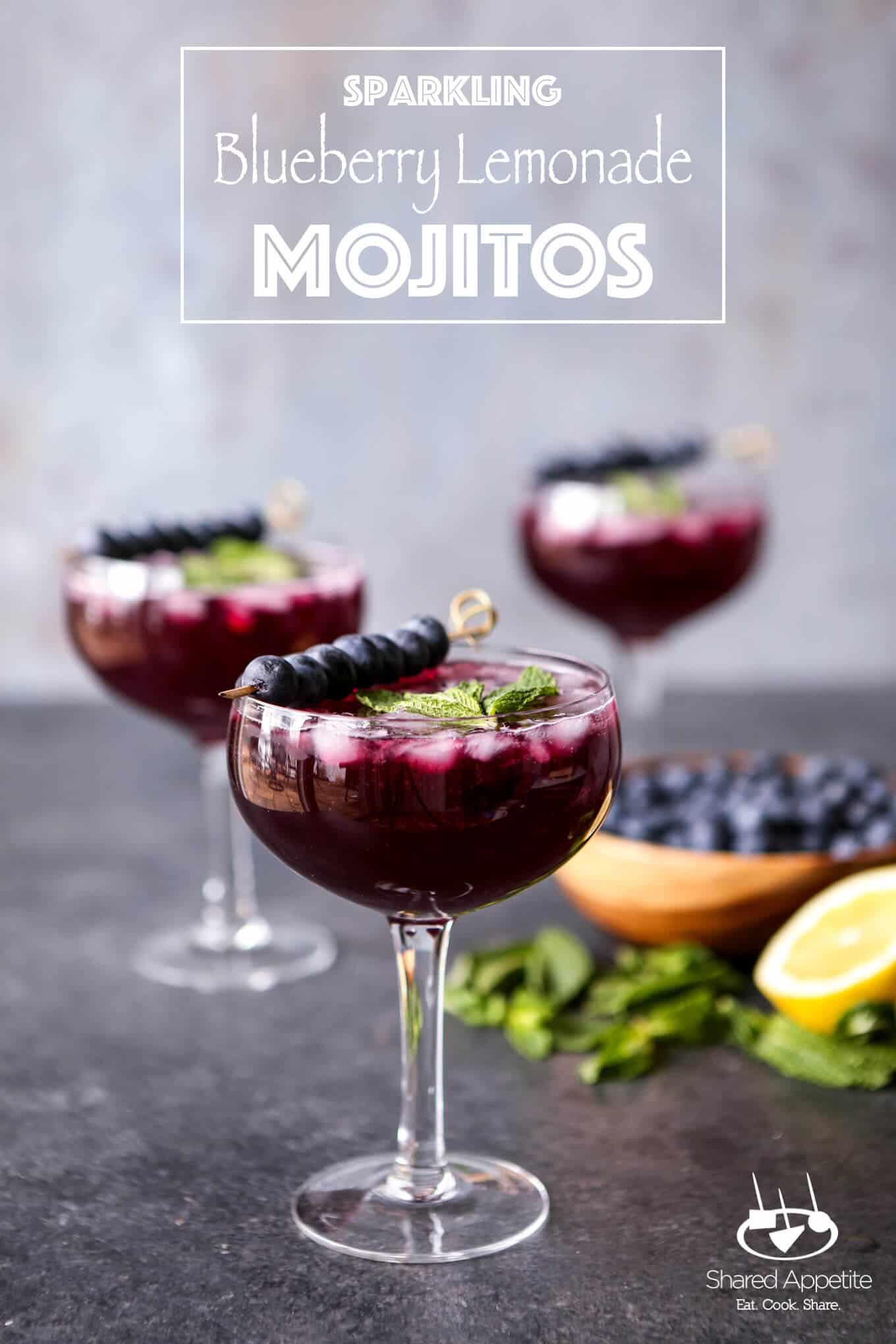 It's finally here. SPRING. Can I get a hallelujah? I'm so looking forward to all the promises spring brings. The bare tree branches and desolate flower gardens start to show signs of life. The lazy sun starts to stretch its legs and stays awake a bit longer each day. The frigid temperature finally starts to creep up in the right direction. And all these things leads to one very important thing in our house since having Olivia... being outside.
Our daughter loves being outside. In the winter, it's just too cold most days and by the time we get home from work it's already dark outside anyway. Soon enough we'll be enjoying weeknight trips to the park, endless hours playing on her swing set, and my personal favorite: firing up the grill with a cool beverage in hand.
I love entertaining throughout these warmer months. Between big family BBQs and getting friends together to pool playdates for Olivia, we are constantly having guests come by. There's always a signature drink that I like to serve for each get together with whatever I'm cooking up, and now I have a new one to add to the rotation! These Sparkling Blueberry Lemonade Mojitos with 7UP® are beyond perfect for spring and summer and can be made in large batches for easy entertaining!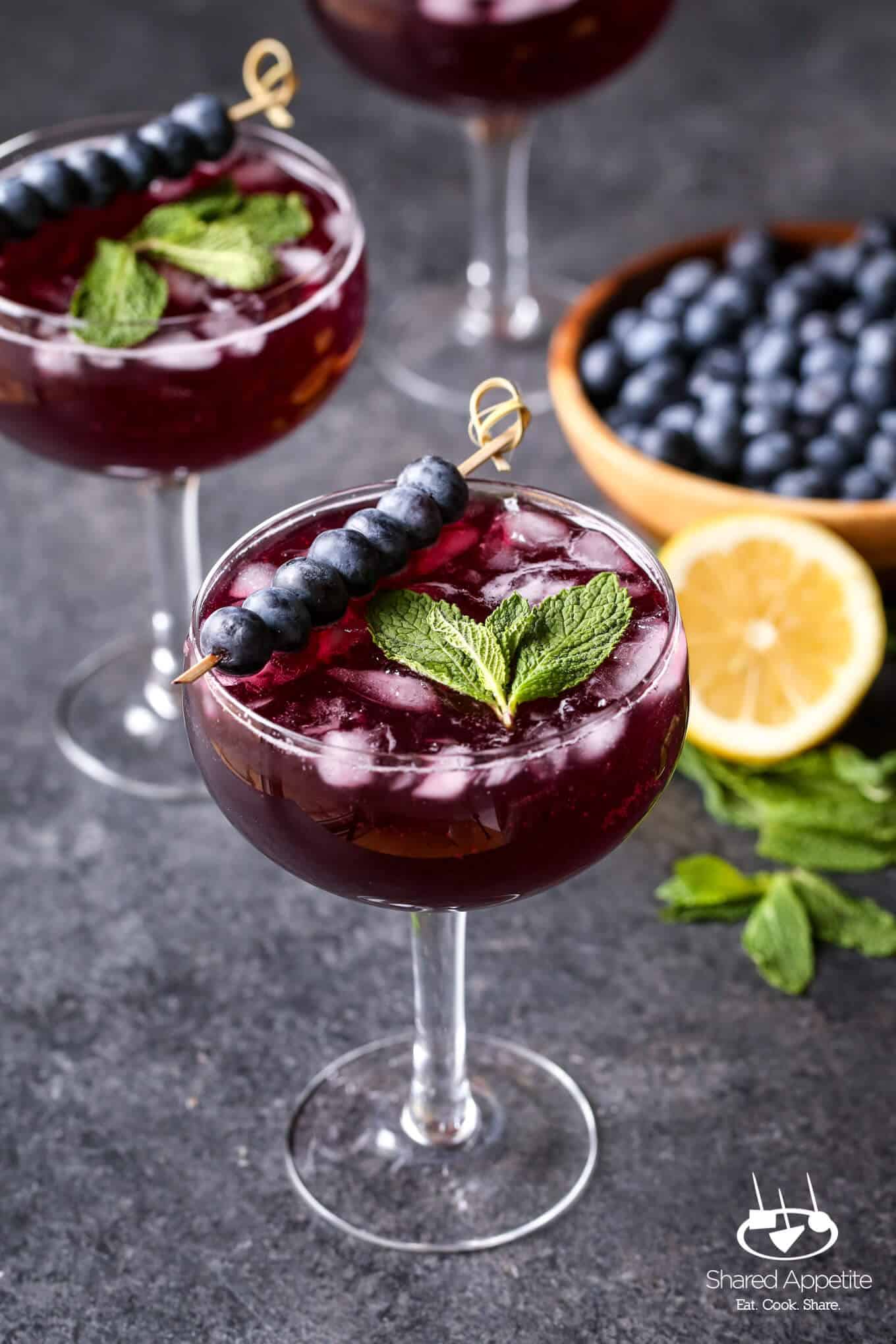 When I first started to really entertain and have guests come over back in college, I always tried to take on too much. I'd be trying to juggle greeting all my friends, cooking crazy involved multistep recipes in the kitchen, and trying to play bartender by mixing drinks for everyone each and every time someone needed a beverage in hand.
It was nonstop chaos for the entire duration of every party. As I get older and a wee bit wiser, my entertaining game has evolved a bit. I decided that it may actually be nice to spend some time with the people I invited over in the first place. Radical idea, I know. One of the best changes I ever made was to start making cocktails that I could either make it large batches ahead of time or that guests could easily assemble themselves.
Good news with these Sparkling Blueberry Lemonade Mojitos? They check off both of those boxes! You can either make them in a large batch a little bit before your party or put out the four components and let guests mix them up themselves (which, side note... the nice thing about that is that they can customize their drinks to their liking).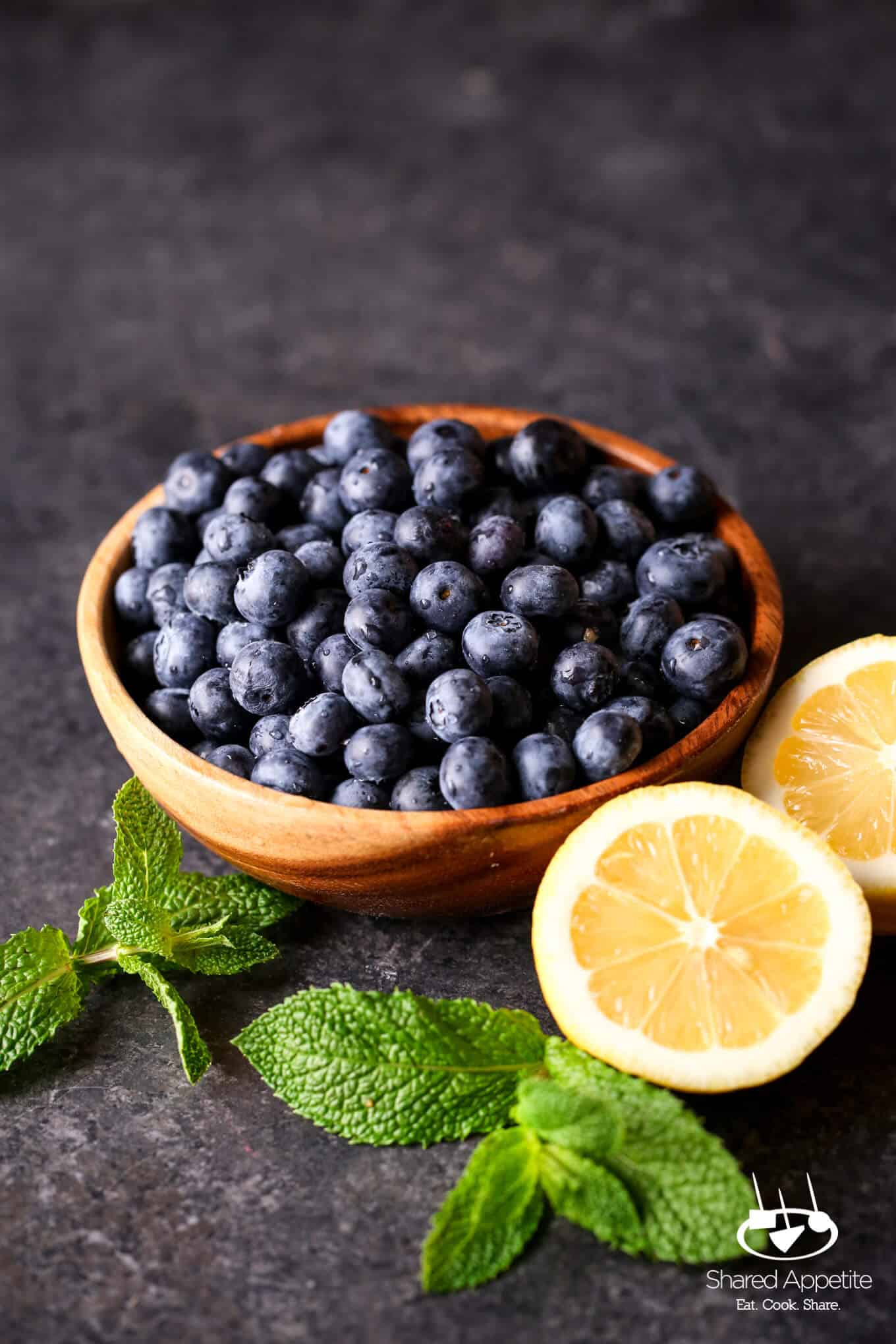 I'm all about sparkling cocktails. They are so refreshing and perfect on a warm day, especially when sipping on them poolside. The key to getting the SPARKLING in these Sparkling Blueberry Lemonade Mojitos is 7UP!
7UP is a major player in our house. Asheley and I both are partial to lemon lime flavored soda, and I know I can always stock up on 7UP at my local ShopRite in the soda aisle. And good news, you can score a $1.00 off coupon for 7UP now at ShopRite! One thing I didn't mention yet: you can most definitely use either 7UP or Diet 7UP for these Sparkling Blueberry Lemonade Mojitos!
Find your nearest ShopRite with their store locator and pick yourself up some 7UP or Diet 7UP!
Psst... for more drink ideas creative cooking recipes, and inspiration featuring 7UP, check out
MixitUpwith7UP.com
!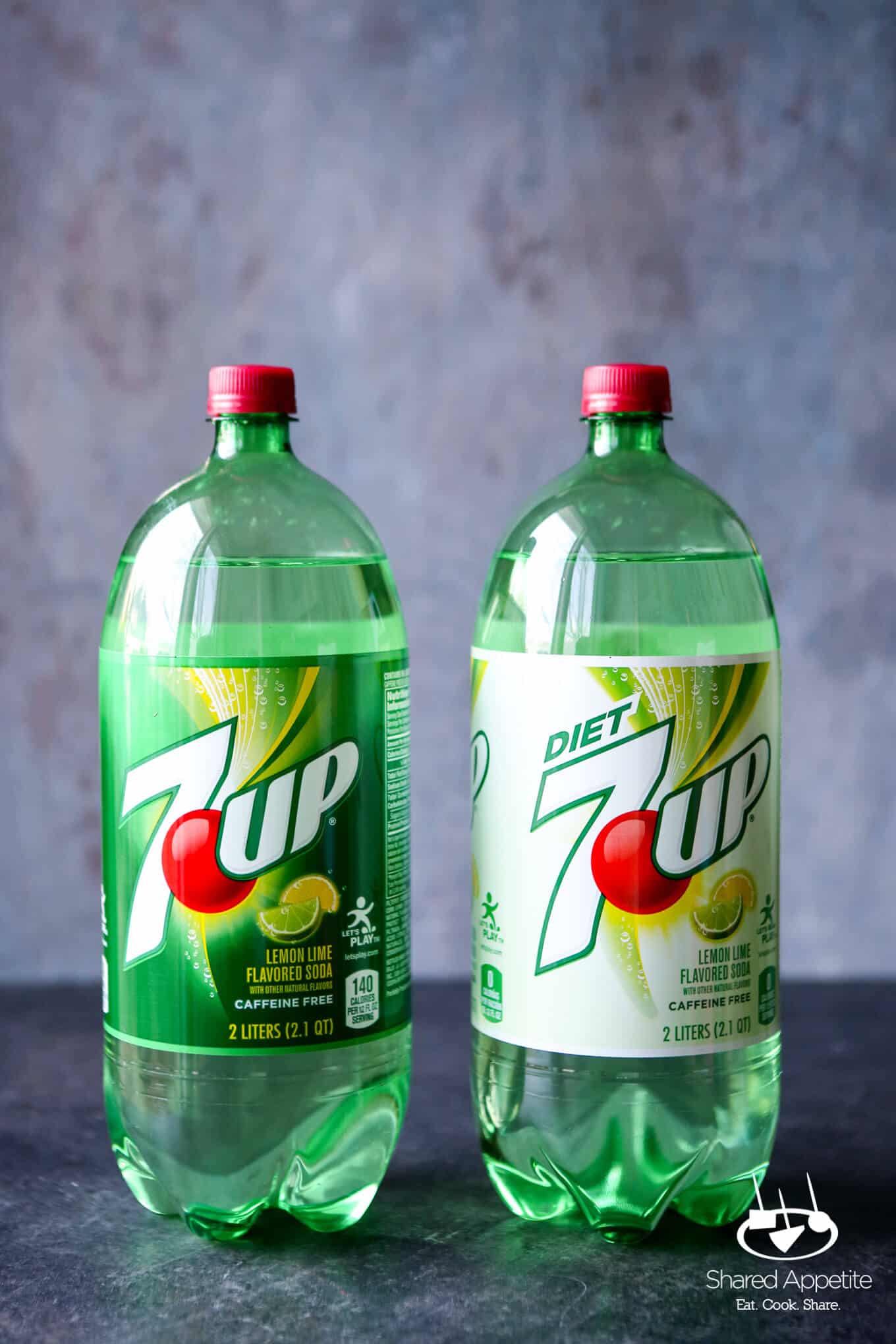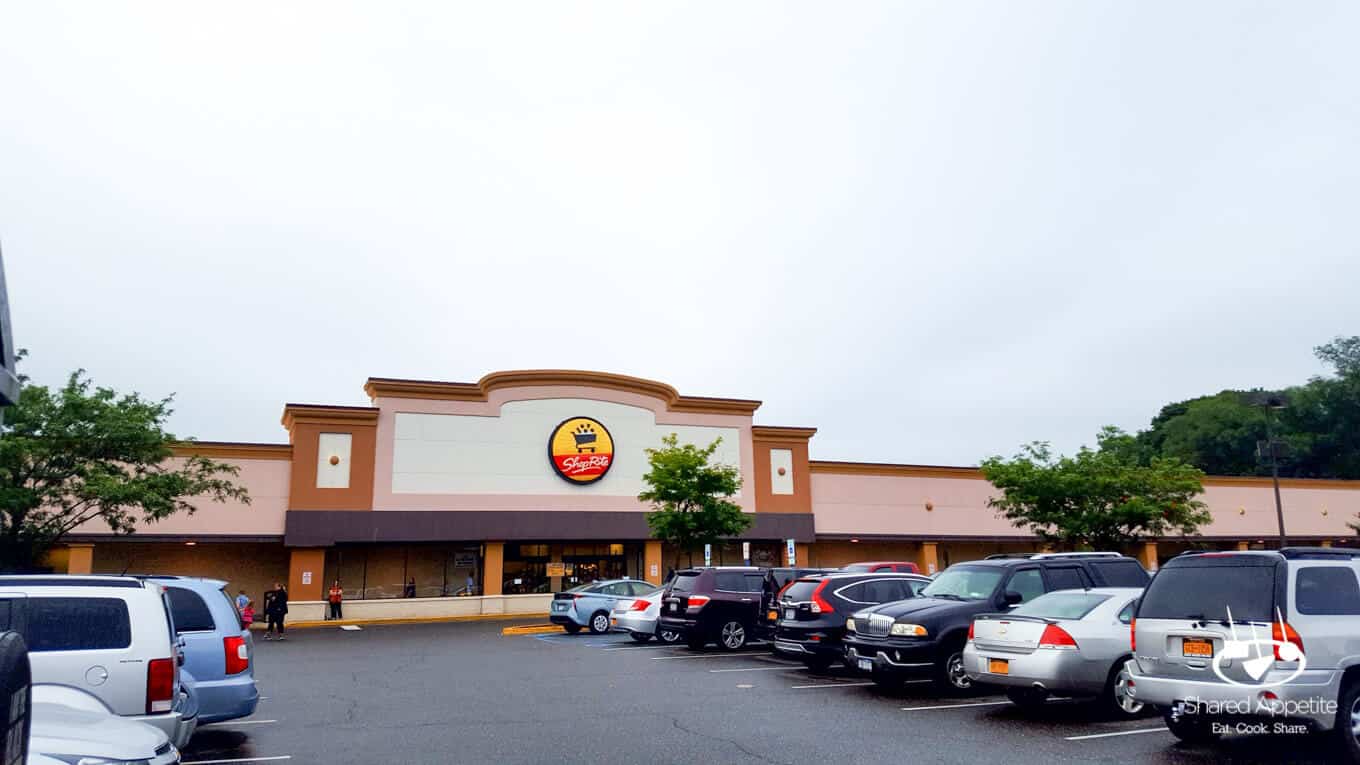 Check out how simple whipping up a batch of these easy entertaining Sparkling Blueberry Lemonade Mojitos are:
muddle up some fresh mint
pour in white rum and your favorite store-bought lemonade
add in some homemade blueberry simple syrup (don't worry, this is SUPER simple to make and you can do it days ahead of time!)
top it off with some 7UP, which reinforces the lemon lime flavors in this mojitos and gives it that nice sparkle!
Boom, that's it. You're done. Sit back, relax, and sip.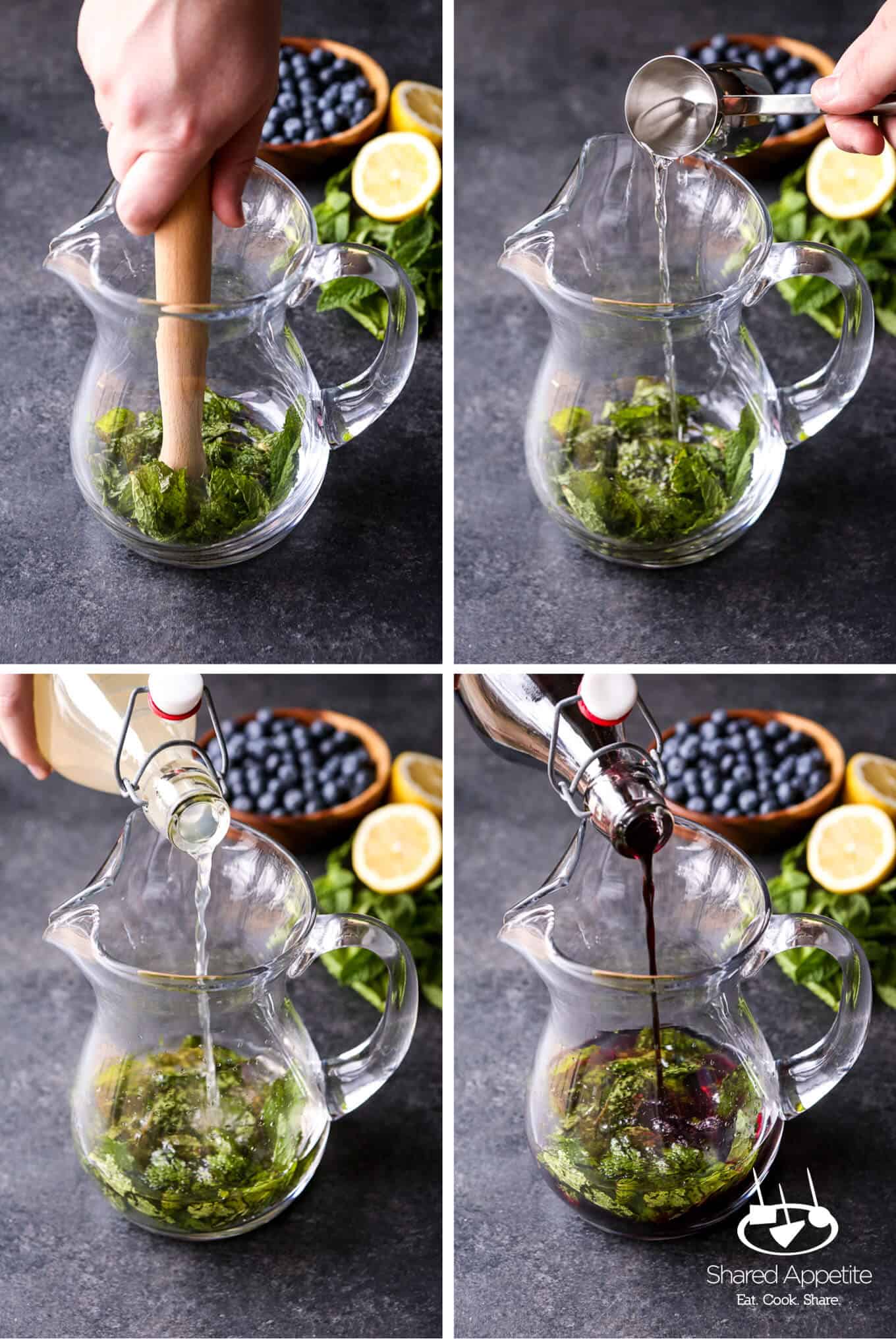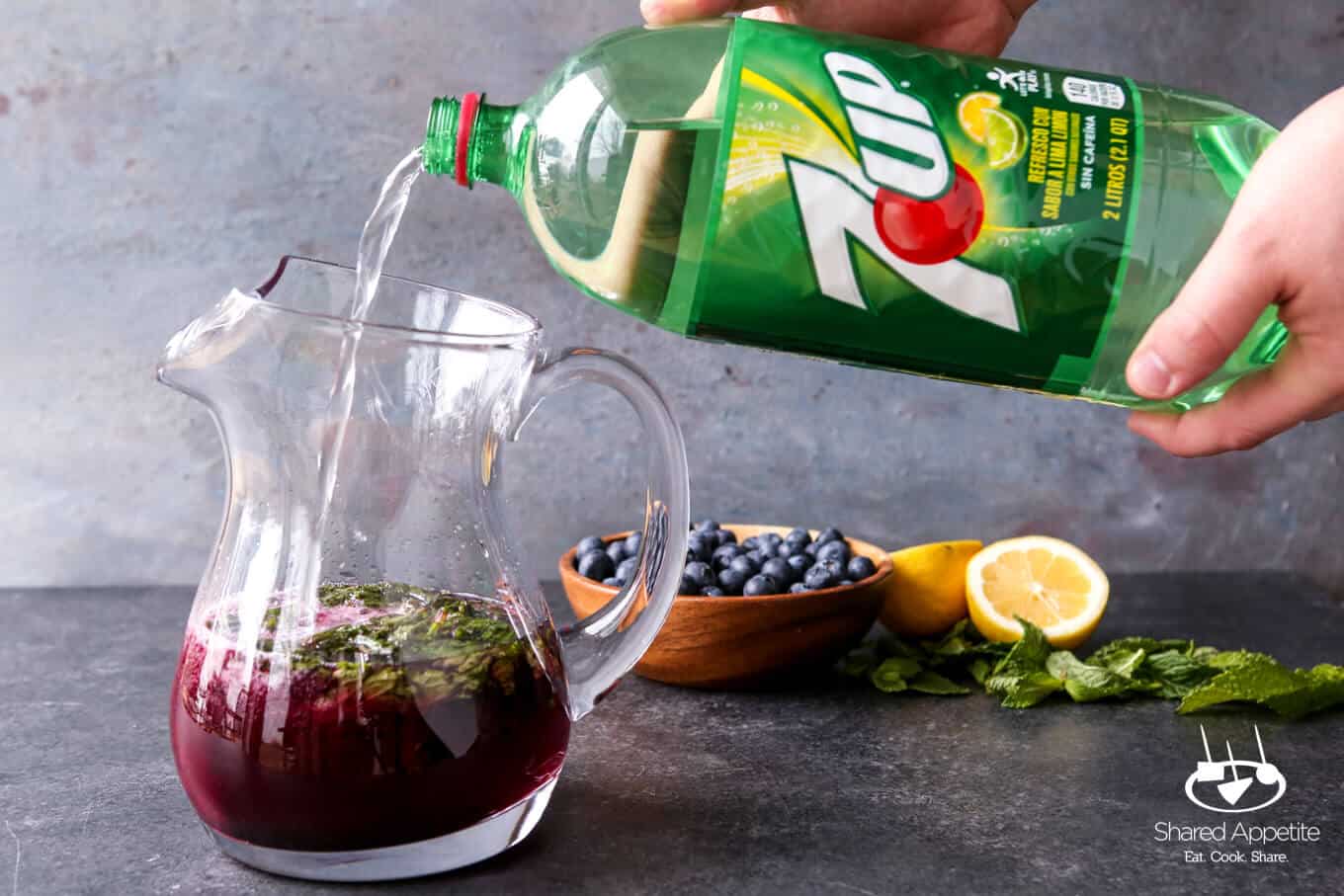 A few tips to think about:
This cocktail can easily be made into a mocktail. Just leave out the rum! Asheley is currently pregnant with our #2, but she loves blueberries and lemonade (and yes, she was most definitely the inspiration for this cocktail) and happily enjoyed her Sparkling Blueberry Lemonade Mojito sans the liquor.
This recipe calls for frozen blueberries because I feel like they are more cost stable (those fresh berries change prices weekly I feel like!), but fresh will work equally well!
Make sure to save some small-ish mint leaves for a pretty garnish. You can also make those cute little blueberry skewers as a garnish that doubles a drink stirrer!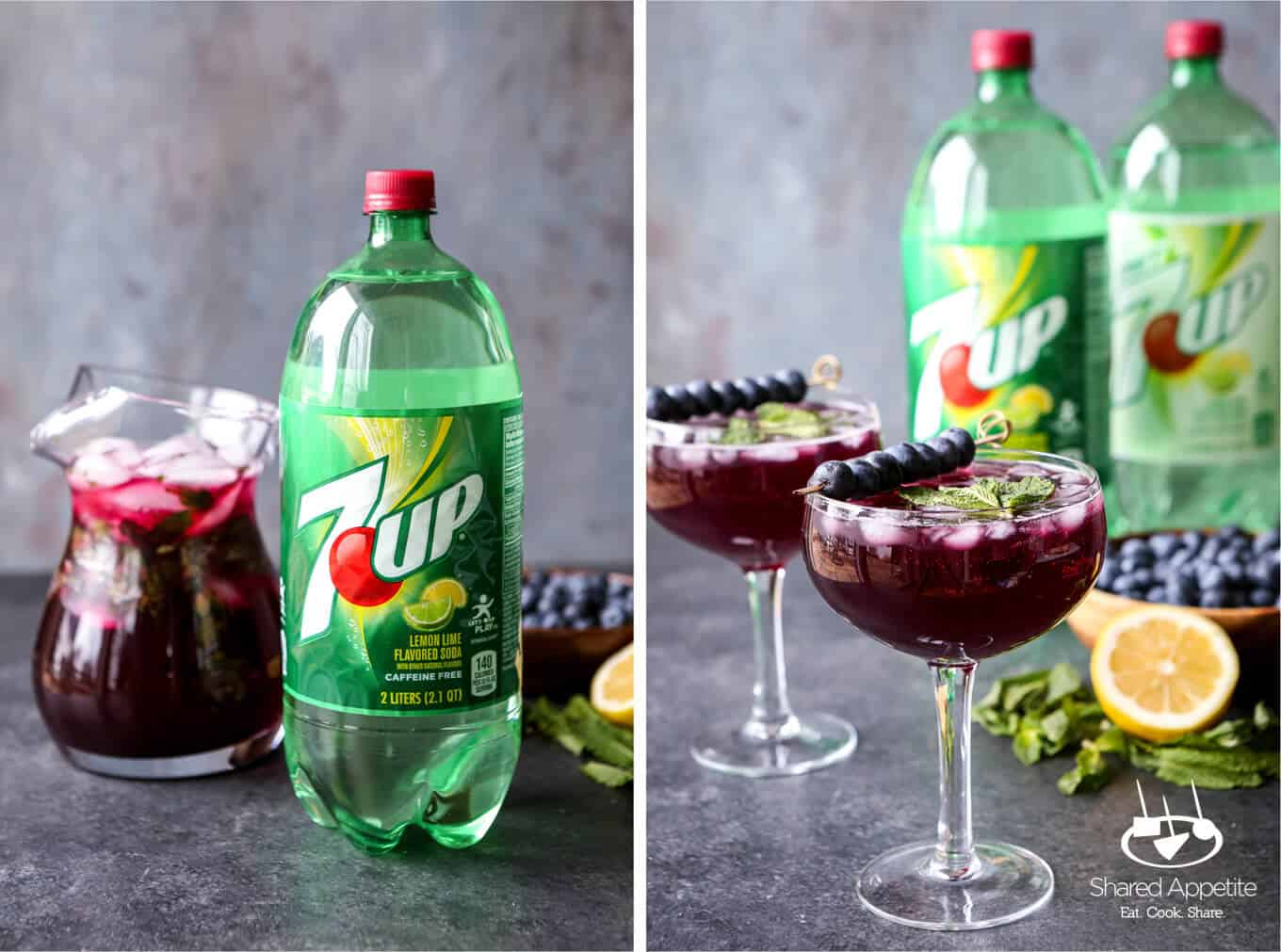 It's your choice if you want to make your mojitos in a big batch all ahead of time or if you want to leave the ingredients out for guests to assemble themselves. I personally like letting my friends make them to taste because everyone has their own preference. Some like it sweeter, some a bit stronger, some more bubbly... this way everyone's happy!
Either way, these Sparkling Blueberry Lemonade Mojitos are the perfect spring and summer easy entertaining cocktail recipe!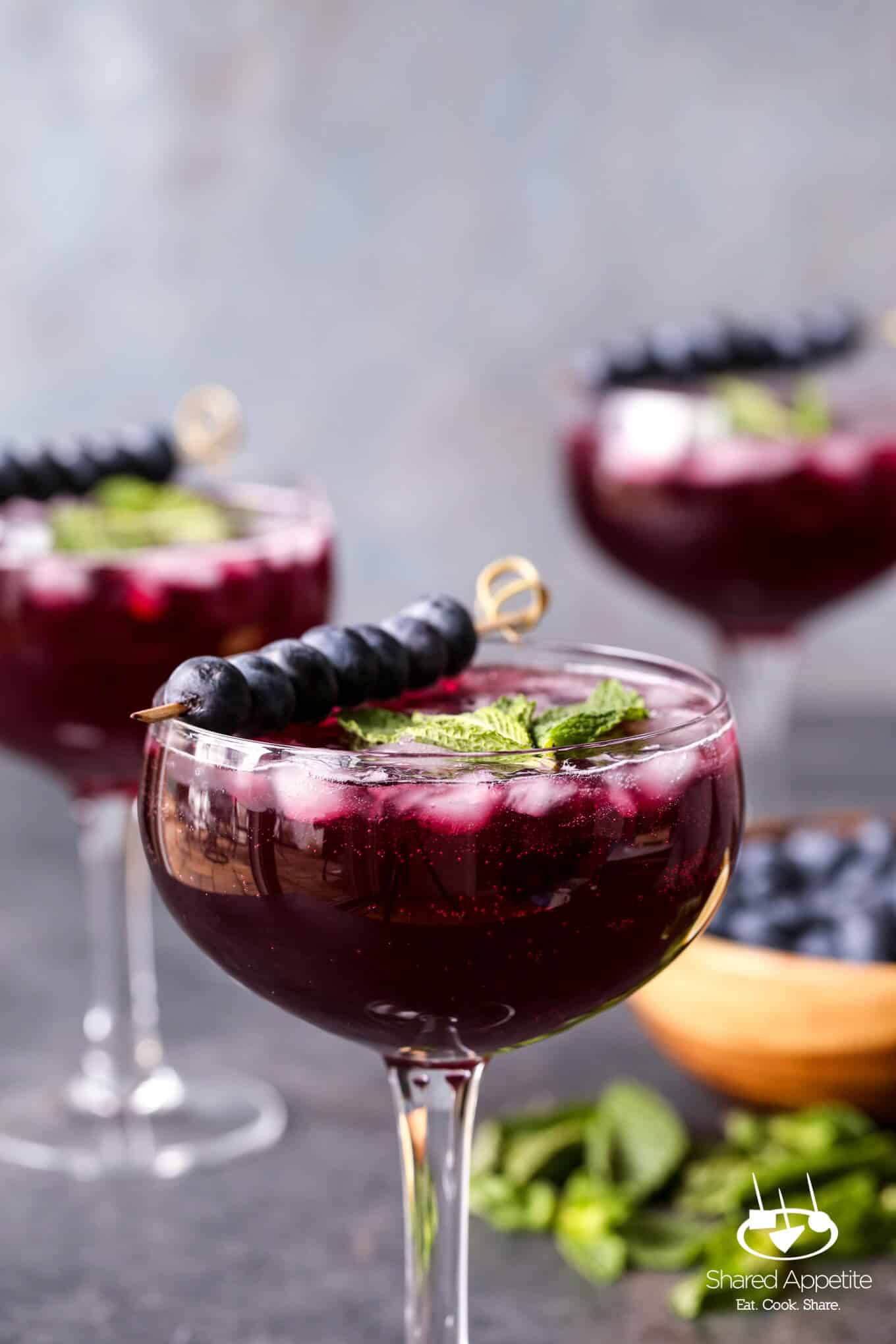 Print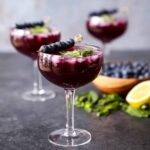 Sparkling Blueberry Lemonade Mojitos
---
Author:

Chris Cockren

Total Time:

25 minutes

Yield:

4

cocktails

1

x
24

Mint Leaves

3 ounces

blueberry simple syrup (recipe below)

3 ounces

good quality lemonade

6 ounces

white rum

6 ounces

7 UP
mint leaves and blueberries, for garnish
for the Blueberry Simple Syrup
1 cup

water

1 cup

white granulated sugar

2 cups

frozen blueberries
---
Instructions
Muddle mint in a pitcher or shaker.  Add blueberry simple syrup, lemonade, and rum.  Stir well, then add 7UP and gently stir.  Pour into glasses filled with ice and garnish with mint and blueberries.
for the Blueberry Simple Syrup
Combine water, sugar, and blueberries in a small saucepan and bring to a boil over medium-high heat.  Lower heat to a simmer and cook 5-10 minutes, until blueberries burst.  Mash blueberries slightly with a spoon/masher to release more blueberry flavor.
Remove from heat and pour simple syrup through a fine mesh sieve, discarding solids.  Let blueberry simple syrup cool completely and then refrigerate until ready to serve (up to a few days).
Notes
*you'll have way more blueberry simple syrup than you need for 4 cocktails.  Reserve extra syrup for more cocktails in your future!
Prep Time:

10 minutes

Cook Time:

15 minutes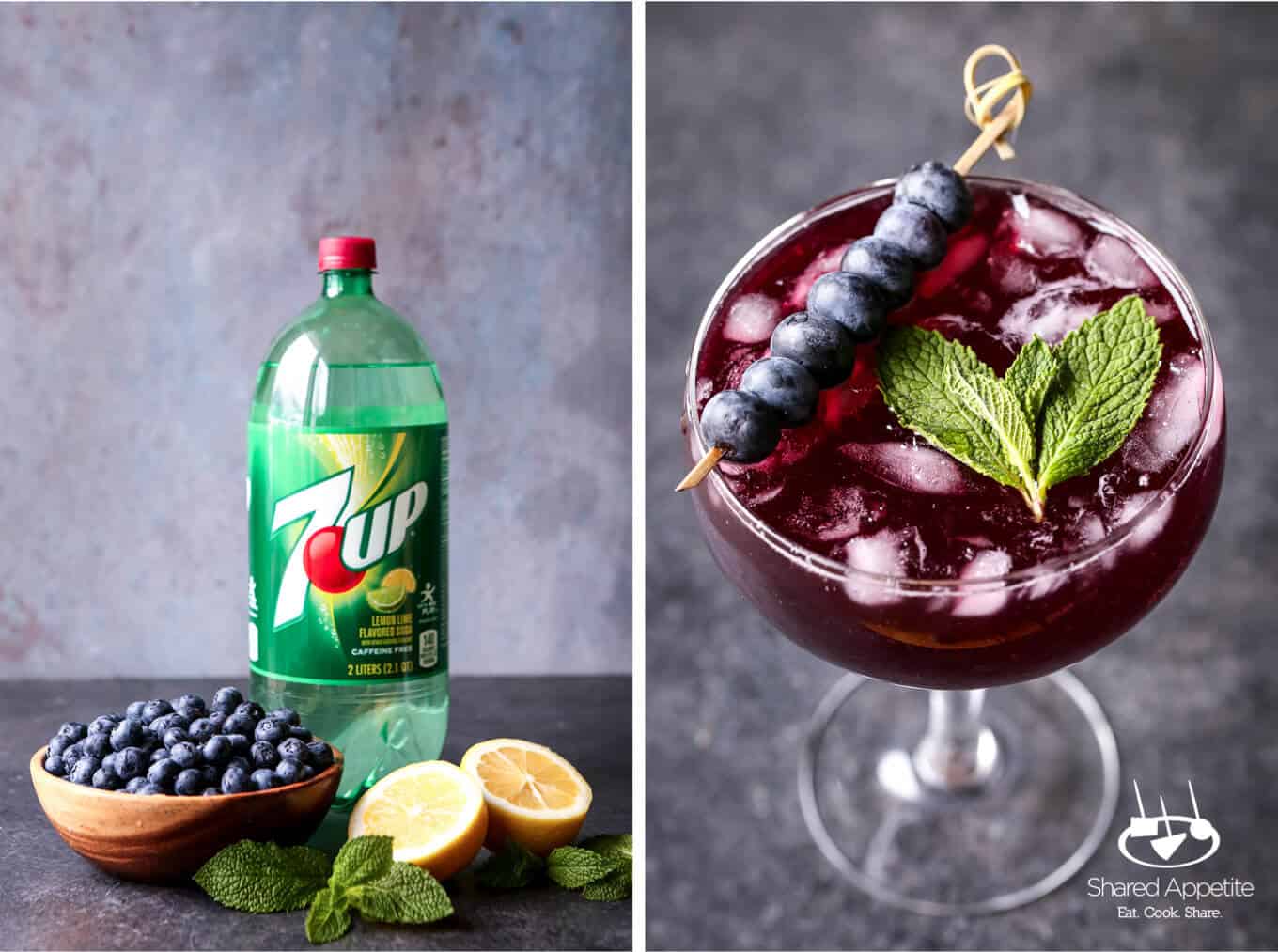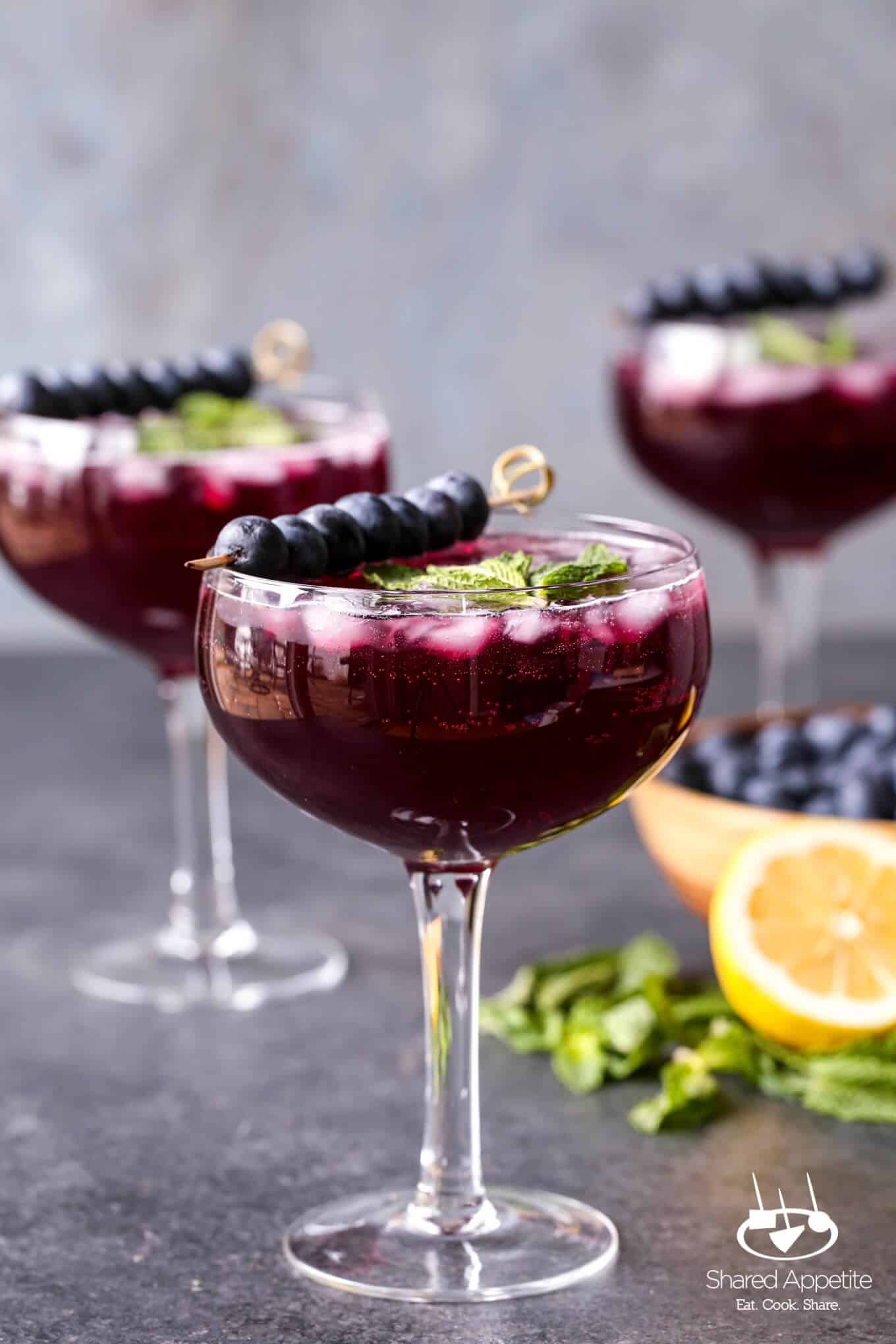 #MixitUpaLittle with 7UP
Sparkling Blueberry Lemonade Mojitos