These Sparkling Cranberry Rosemary Cocktails were created in partnership with Prairie Organic Vodka. As always, all opinions and recipe are my own. Thanks for supporting the brands that support Shared Appetite!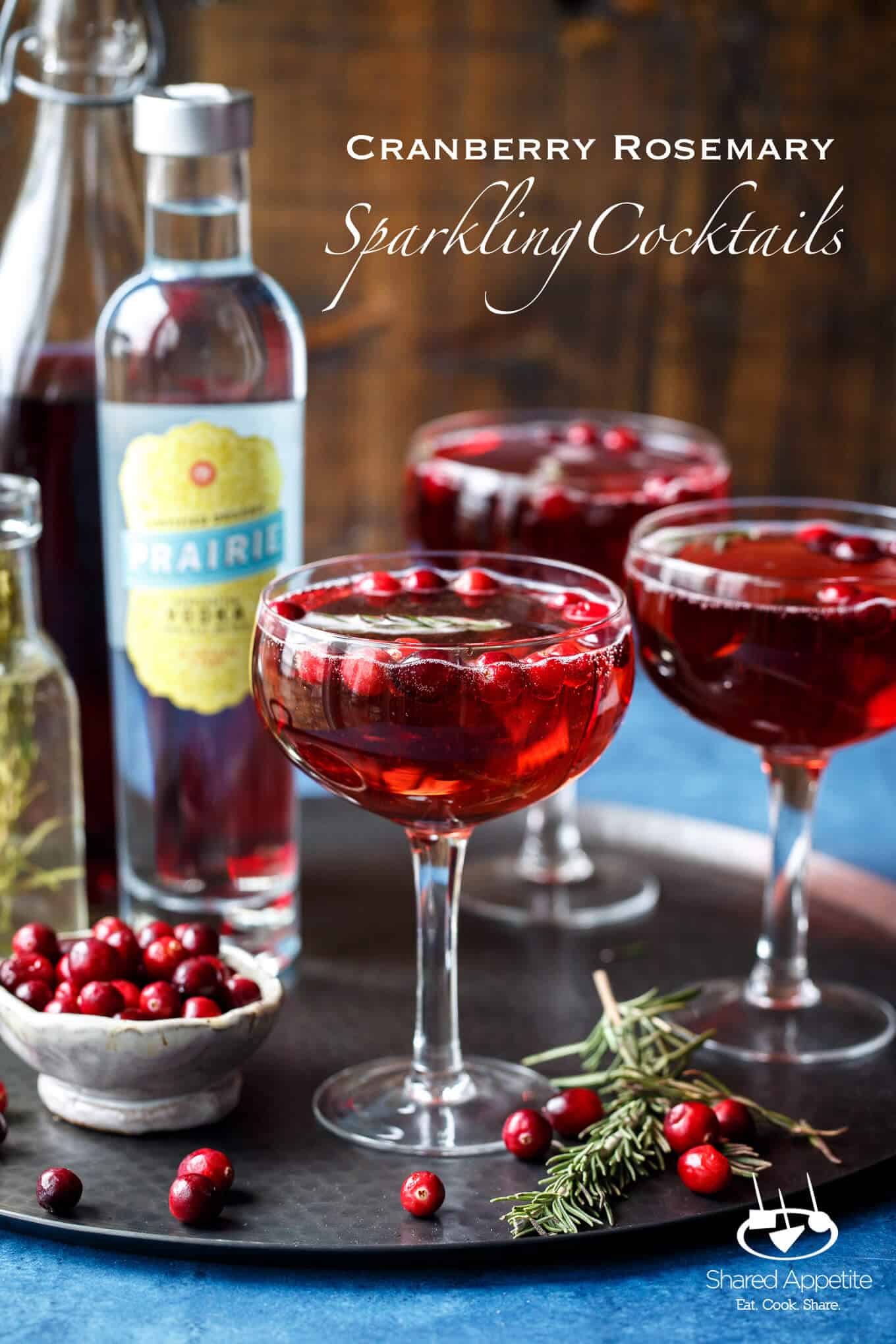 How is it November already?! I feel like it was just summer… and now it's suddenly dark at 4:30pm and the AC breaker in the electrical box has been officially turned off for the foreseeable future. And although there's still those lingering pieces of Halloween candy still lurking here and there, the focus of our minds has all shifted to the biggest entertaining season of the year. Thanksgiving and Christmas. They're coming… and quick.
I'm actually pretty excited for this time of year. I mean, I wish it was still warm out and the sun would stay up until at least after dinner, but this time of year is pretty magical overall. I love decorating the house. I love all the traditions that are continued and the memories that are created. But most of all, I love entertaining family and friends throughout the holiday season.
Asheley looked at our calendar yesterday and mentioned well this is the time of year that every weekend we have some party scheduled. And it's so true. This is prime time in the entertaining world. And I love every minute of it. I happily host friends and family every chance I get over the next two months. My kitchen gets a tremendous workout. But before I ever think about what to put on that food menu, my first thought is always… what should we drink?
I love starting any evening happy hour shindig with some sort of flavorful sparkling cocktail. Something that is easy, delicious, and gets the appetite going. These Sparkling Apple Sidecars are a pretty legit drink option that I usually whip up as a signature starter cocktail, but I wanted something a bit more festive for this year. These Sparkling Cranberry Rosemary Cocktails are bright in both flavor and color, and I'm super pumped to add these into our holiday drink recipe rotation.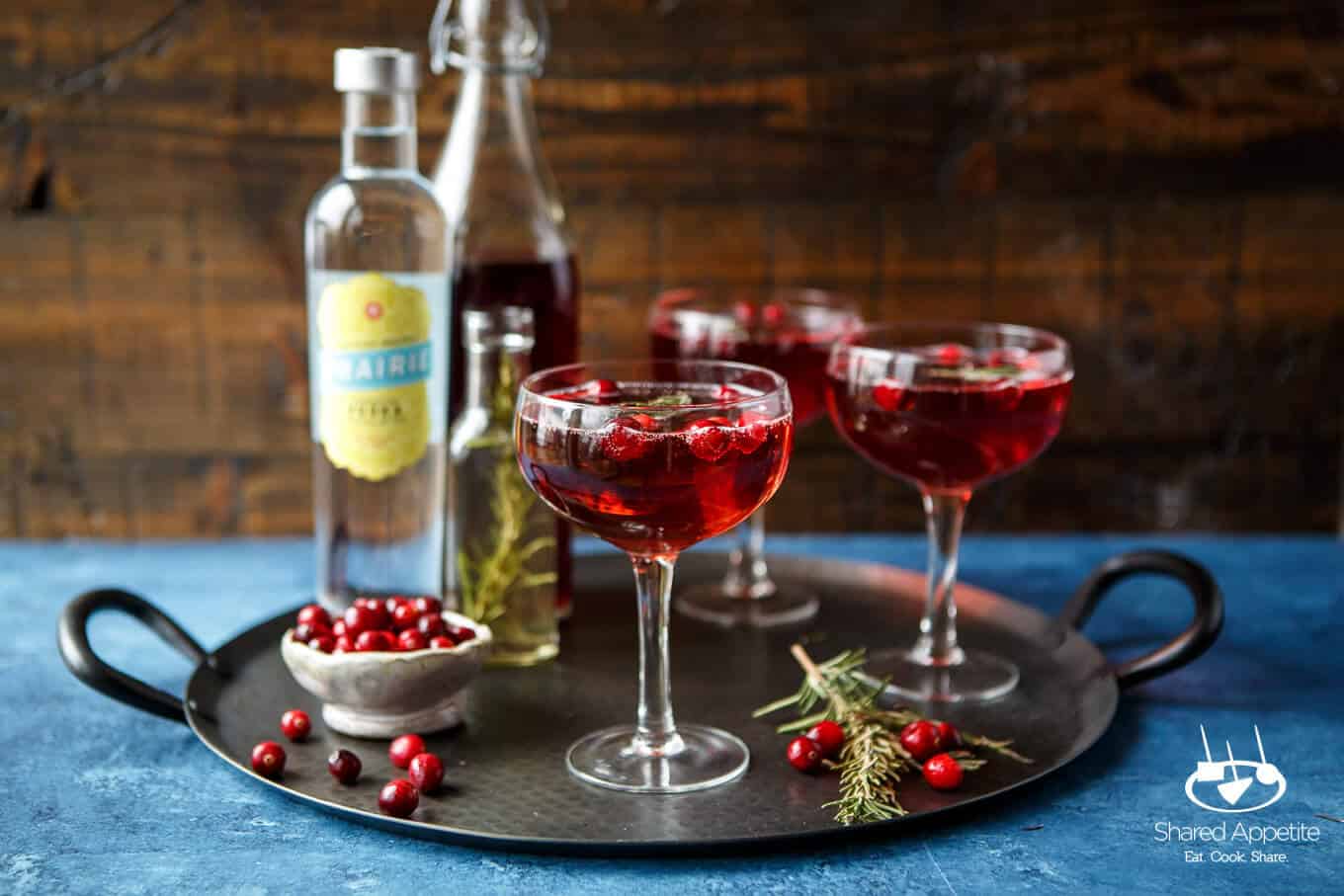 When it comes to successful holiday entertaining, a few rules pop into my head. The biggest, though, is that you have to plan. The better game plan I have, the more relaxed and laid back I can be at the actual party. There's nothing more stressful (especially with my Type A personality) than trying to wing it last minute.
The older I get, the more I realize what good planning and bad planning looks like. I'm really great at bad planning. It includes creating a super complex menu with a thousand little components that keeps me constantly moving at a thousand miles an hour for days leading up to the event and throughout the entire time our friends and family are over. I'm busy perfectly plating every little dish that comes out of the kitchen and am trying to play bartender… making every drink to order as glasses become empty. Friends and family always have a great time… but I'm left at the end wondering why yet again I didn't get to really interact with any of the people we invited to come over in the first place.
There's a better way of course, and it involves planning smarter. I'm talking about a food menu that is equally delicious, but that doesn't involve me spending the entire party behind the stove. Make ahead and hands off recipes, those are key. And equally if not more importantly, create a signature cocktail that guests can quickly and easily pour themselves, without any guidance or assistance necessary.
Heck maybe my guests will even pour me a drink 🙂
That's the beauty of these Sparkling Cranberry Rosemary Cocktails.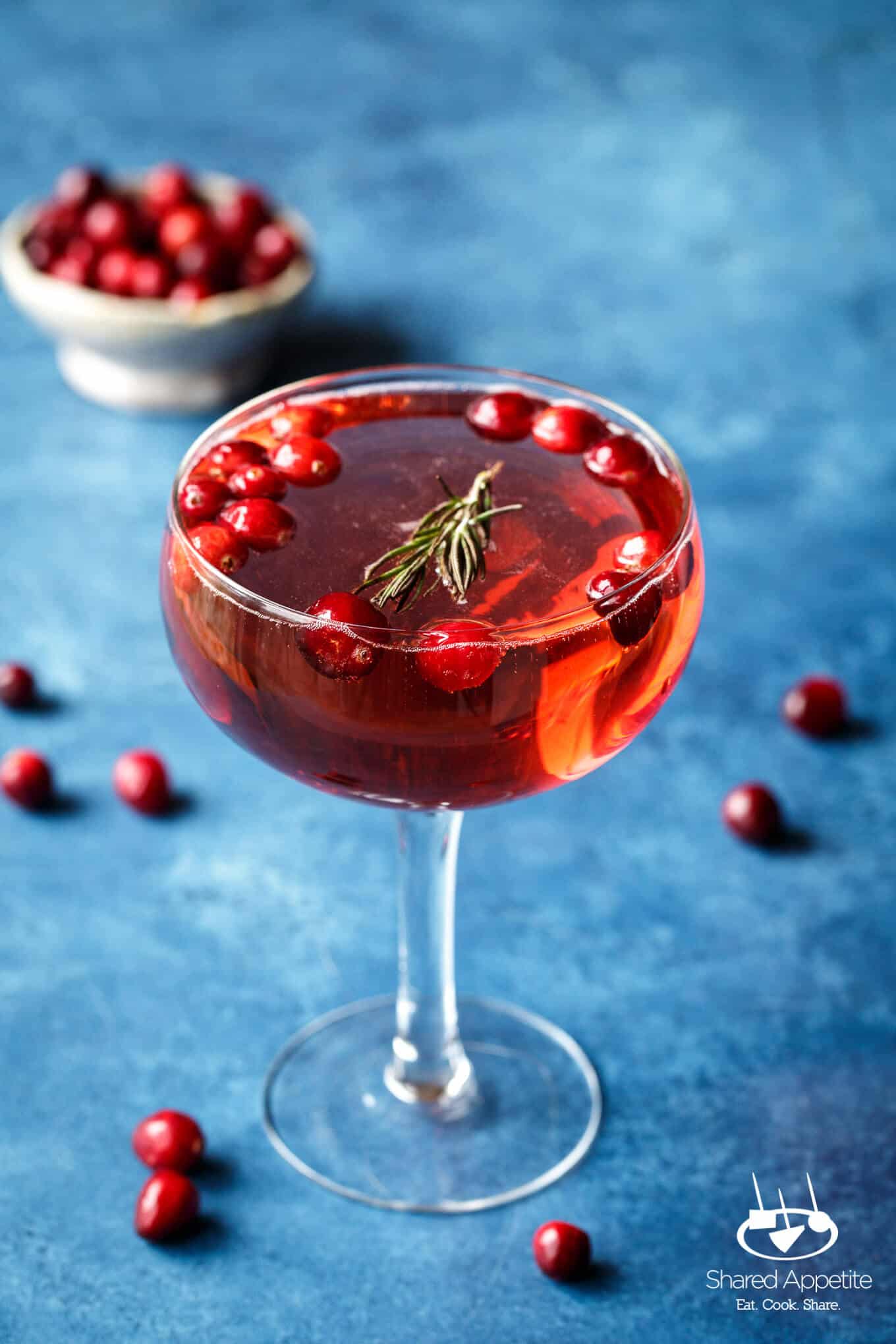 These Sparkling Cranberry Rosemary Cocktails are the perfect happy hour drink. They are absolutely gorgeous and have the perfect aesthetic for all my holiday get togethers over the next two months. They are also exactly what people need when they first walk in the door.
Nothing says welcome to the start of a great evening like trading your jacket for a bubbly beverage. It quickly makes people relaxed and is an instant conversation starter (oh wow what is this… look how pretty it is… I wonder what's in it!). A Sparkling Cranberry Rosemary Cocktail also helps to start up the appetite and get people wanting to grab some bites to go along with their cocktail.
If there's one thing I've learned long ago with my friends, is that everyone loves a little bubbly. Personally, I'm not a fan of straight up champagne, prosecco, or the like. I crave more flavor. And that's where turning that prosecco into a quick and easy sparkling cocktail is a HUGE win in my book.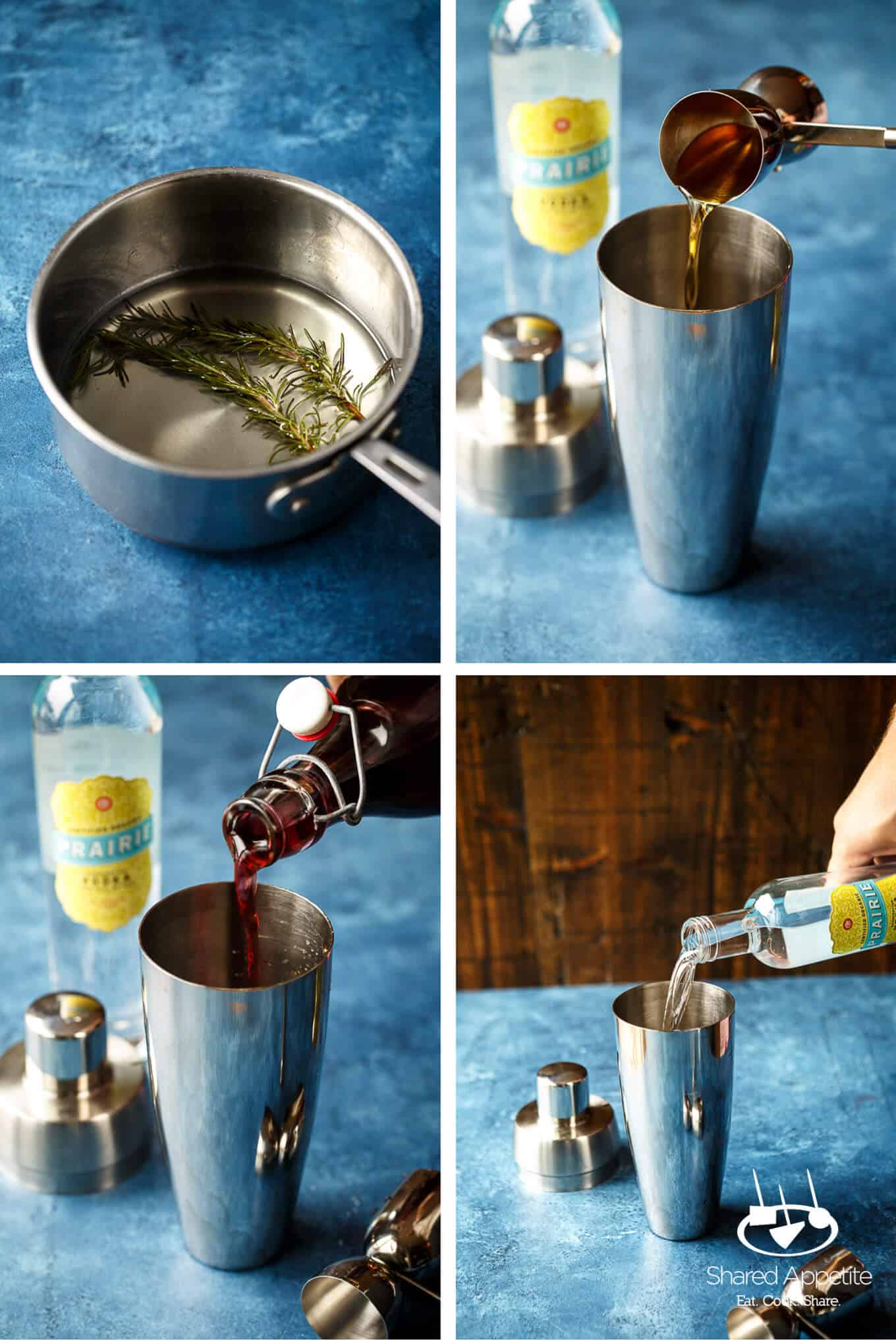 Whipping up a big batch of these Sparkling Cranberry Rosemary Cocktails couldn't be easier. The recipe below will make 4 cocktails, but it's just as easy to multiply the recipe by as many as you want to serve for a large crowd. Best of all, everything can be prepped way before the first guest arrives!
The three ingredient rosemary simple syrup (i.e. sugar + water + rosemary) is super fragrant and adds a sweet herbaceous kick to these cocktails. It takes all of 10 minutes to make and will last in the fridge for several days!
The cocktail base is just a mixture of cranberry juice, Prairie Organic Vodka (more on this below), and Triple Sec. I mix this together in a large batch in a pitcher a few hours before the party starts so it's nice and cold by the time guests arrive.
When it's time to start serving, it's as easy as pouring some of the cocktail base into a glass, stirring in a little rosemary simple syrup (let guests decide how much to add so they can control the sweetness of their drink), and then topping it off with some prosecco. Boom… done. It takes less than 30 seconds to pour a drink, and all your guests can easily help themselves.
Usually I'll show one person at the beginning of the party how to make them, and will put them in charge of sharing the knowledge. That way I'm free to get the food going and mingle with guests!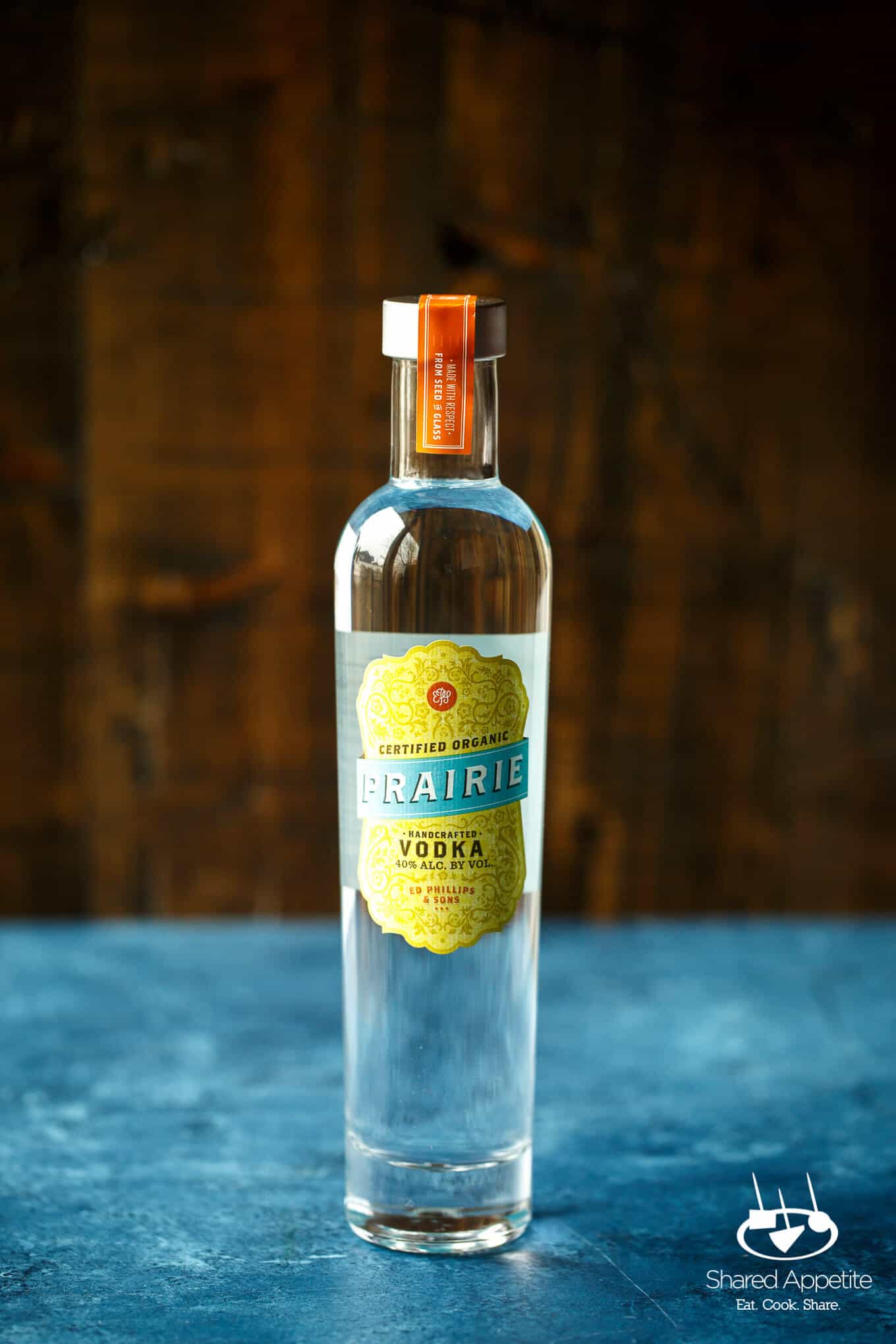 Back to this award winning Prairie Organic Vodka. That's right, you heard me. Award winning. That's two words I love to hear when it comes to my food and beverage choices. Because you know if they are winning awards, they are doing something right.
And that something… it's a dedication to their craft and a passion for creating the very best product they can. The holidays are such an extremely busy time for all of us. It's nice to know that even among all the craziness this time of year contains, Prairie Organic is all about making every little detail of their vodka perfect. Creamy on the palate and smooth and bright at the finish. It's high quality that you can taste (but without any chemicals, gluten, and GMOs).
Oh, and did I mention every batch of Prairie Organic Vodka is made right here in the USA? Minnesota, to be exact. Every batch begins as single vintage organic yellow corn grown right on American family farms!
Make sure to follow along with Prairie Organic: Facebook | Instagram
Enjoy Responsibly, 21 and up #PrairieOrganic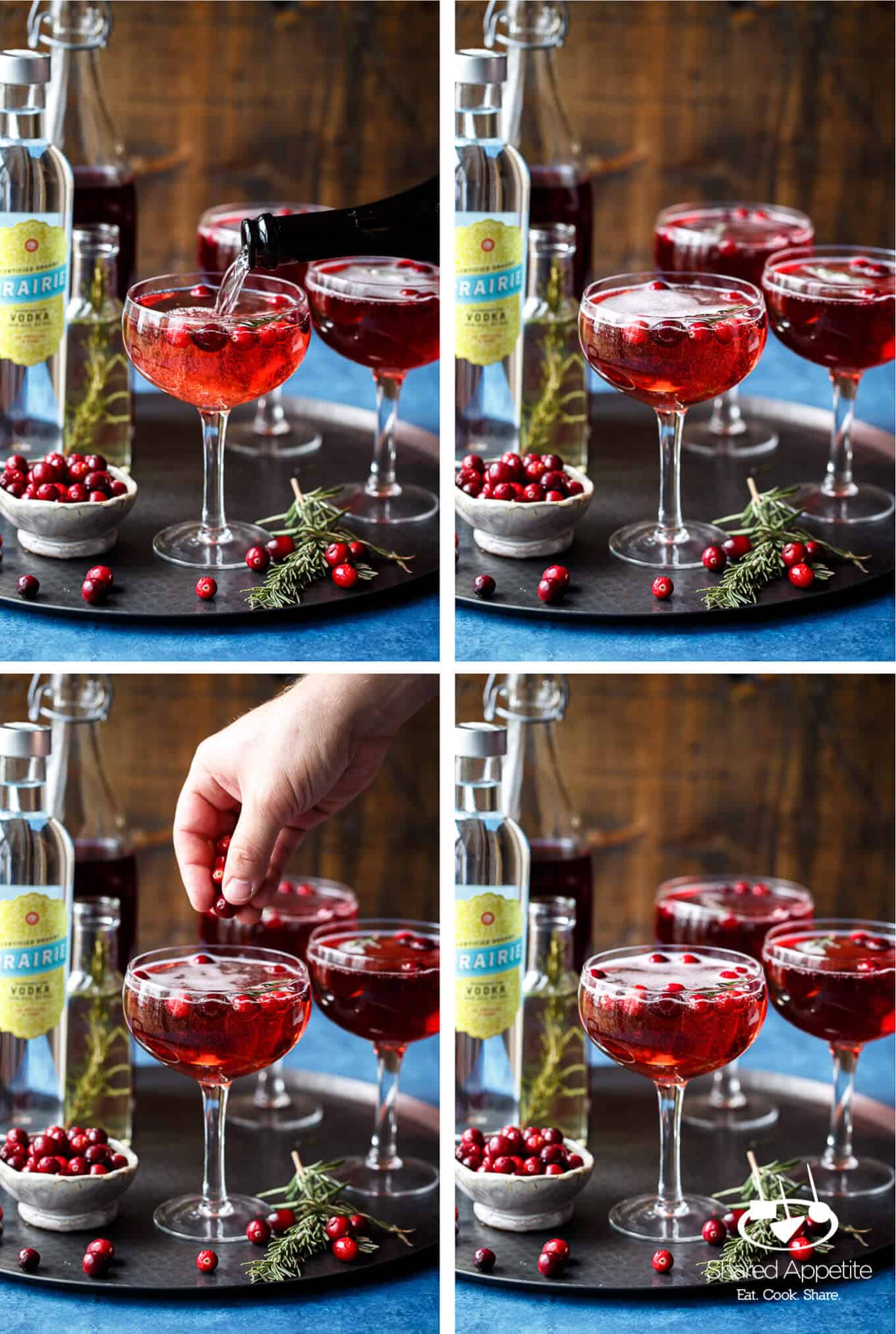 Print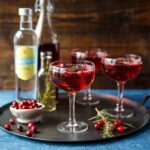 Sparkling Cranberry Rosemary Cocktails
---
Author:

Chris Cockren

Total Time:

10 minutes

Yield:

4

Cocktails

1

x
1/2 cup

Prairie Organic Vodka

3/4 cup

cranberry juice

1/4 cup

triple sec
Rosemary Simple Syrup (recipe below)
Prosecco, chilled
Fresh cranberries and rosemary sprigs, for garnish
for Rosemary Simple Syrup
1/2 cup

granulated sugar

1/2 cup

water

2

rosemary sprigs
---
Instructions
Combine vodka, cranberry juice, and tripe sec in a small pitcher.  Chill until ready to serve.  Add enough vodka mixture to each champagne flute or other similar sized drink glass to fill halfway.  Add 1-2 teaspoons simple syrup (sweeten to taste) and stir.  Add enough prosecco to fill glass and garnish with cranberries and rosemary sprig.  Cheers!
for Rosemary Simple Syrup
Combine sugar and water in a small saucepan over medium heat.  Bring to a boil then remove from heat and add rosemary sprigs.  Allow to steep for 15 minutes, then remove rosemary sprigs and discard.  Cool simple syrup completely and refrigerate.  May be made several days ahead of time.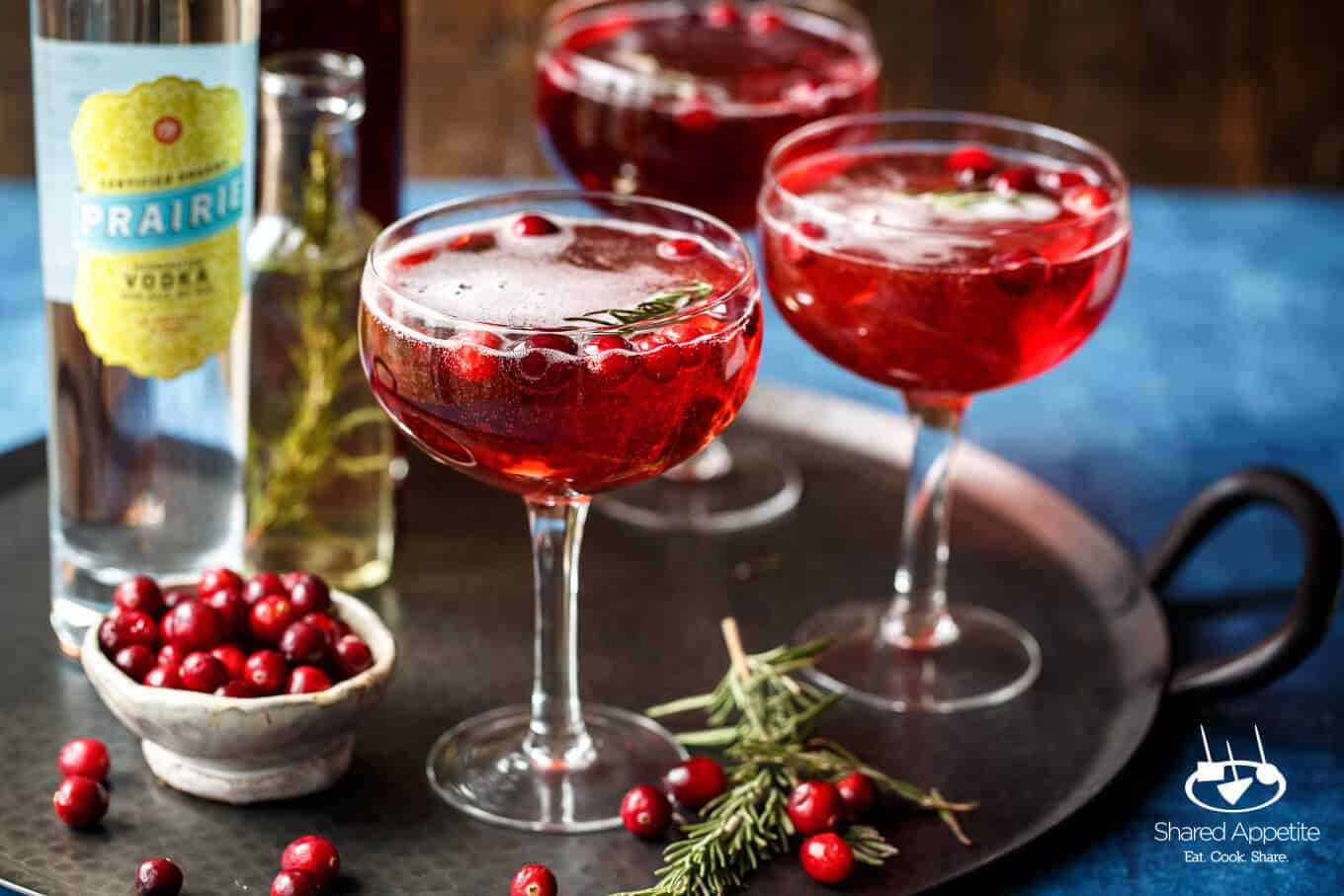 Sparkling Cranberry Rosemary Cocktails