This recipe for Strawberry, Fava Bean, and Pecorino Crostini was created in partnership with Luis The Marinero Sangria. As always, all opinions and recipe are my own. Thanks for supporting the brands that support Shared Appetite!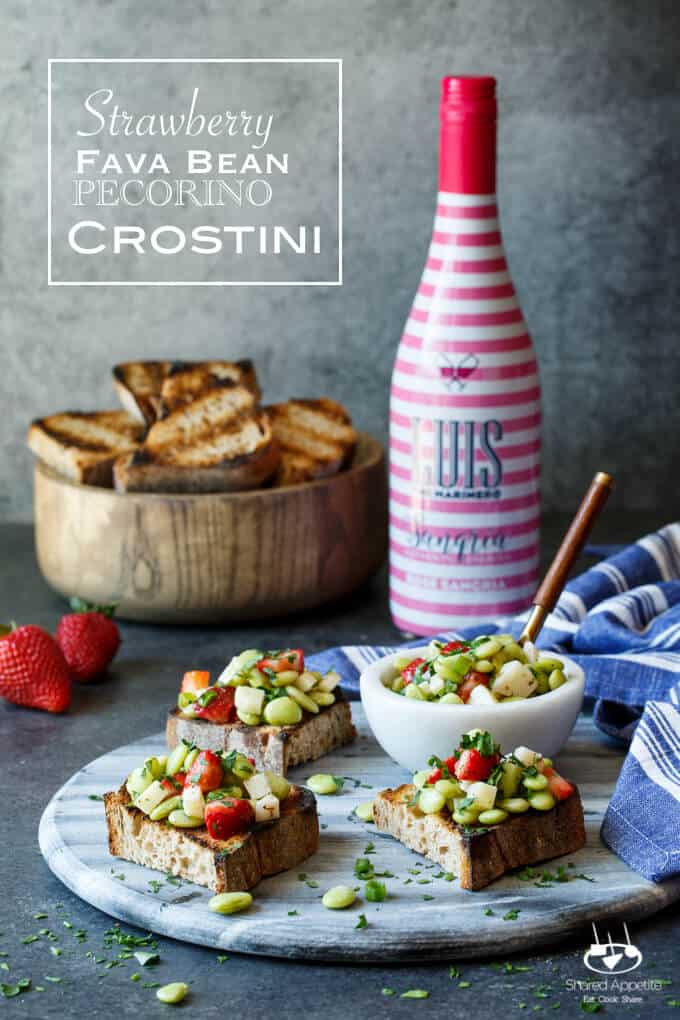 Sweet, sweet, sweet victory. Another end of the school year. And the very first week of summer vacation. It's moments like these, when the wife is at work, the baby is taking her afternoon nap, and I'm still in my pajamas because I don't care I'm on vacation for the next two months… this is the life.
Sorry if I'm rubbing it in. But this first week off for teachers is like Christmas morning. Whereas usually at this time my head would be full of 60 beginning band students blasting their instruments in my face, instead all I hear are my pool jets circulating the crystal clear blue water. And me? I'm sitting here with a nice glass of sangria and these Strawberry, Fava Bean, and Pecorino Crostini in hand. Hello summer.
Don't worry. Soon enough those back to school commercials will start giving me nightmares. But until then, you'll see me summering really hard. Food and drink in hand.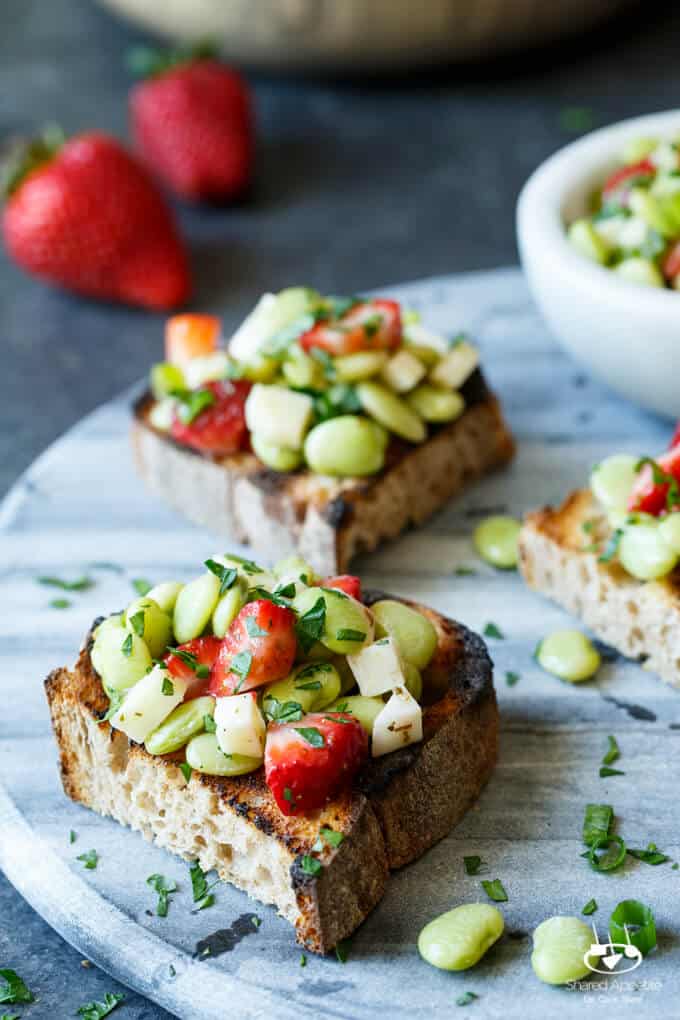 There's something so amazingly perfect about crostini. It's 100% easy summer entertaining. No-fuss. Make ahead. Tons of variations to keep things interesting. And you can serve it DIY style.
Oh, did I mention it's freaking delicious?
This crostini has been slightly adapted from Chef Marco Canora's cookbook Salt To Taste. If you've never heard of this chef before, you need to. I love his NYC restaurant, Hearth, and his recipes are always on point. I adapted the recipe to make it a bit easier and more accessible in regards to prep and the ingredient list, and also to use the abundance of perfectly ripe strawberries that's going on right now in NY.
If you think strawberries co-mingling with fava beans and cheese sounds weird… slap yourself in the face right now. It's delicious. Trust me. Just try it and you'll be a huge believer.
Can't find frozen fava beans? Lima beans and edamame will also work great.
A word about the Pecorino. It's Pecorino Toscano, not pecorino romano. Search out the Toscano version if at all possible (they have it at higher end food stores like Fairway and Whole Foods by me), but if you can't find it, ask your cheese guy what a good substitute would be.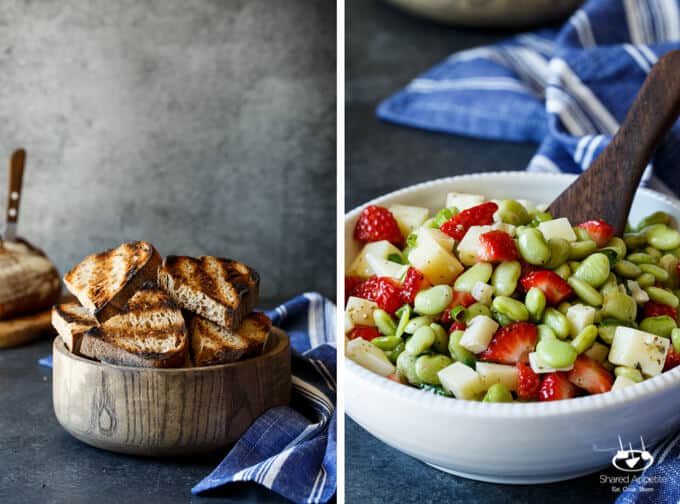 Let's talk bread. Of course you can serve it up on whatever good quality bread you can find… straight up. But for a real legit crostini experience, you need to grill yo' bread. Find a nice crusty loaf, brush on some olive oil and sprinkle with Kosher salt, and grill to charred perfection. Mmm hmmmm.
Just make sure to make more than you think you'll need. Especially if I'm invited to your party. Crostini is kinda addicting like that.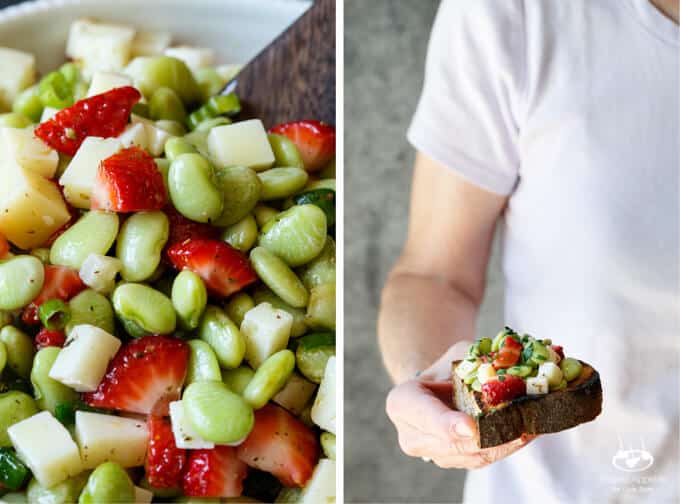 Guys. Come summer time, I'm all about refreshing drinks. Sangria totally hits the spot.
Bring on the sun… as long as there's sangria to go with it. Luis the Marinero Sangria.
It's light, it's refreshing, and it comes in red, white, and rosé. Luis the Marinero is also traditionally authentic, and is bottled by the Spanish winery Bodegas Valdapablo.
I'm loving how the Luis the Marinero Rosé Sangria pairs perfectly with this Strawberry, Fava Bean, and Pecorino Crostini. It's sparkling, fruity, refreshing, and has hints of strawberry, raspberry, and citrus flavors.
And get this… you can win a Sangria pitcher from Spain! Just head to their Facebook page to enter! One winner will be selected every week through August!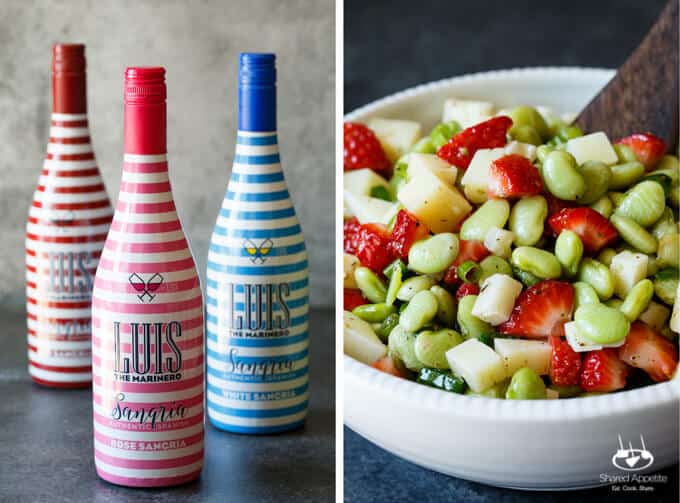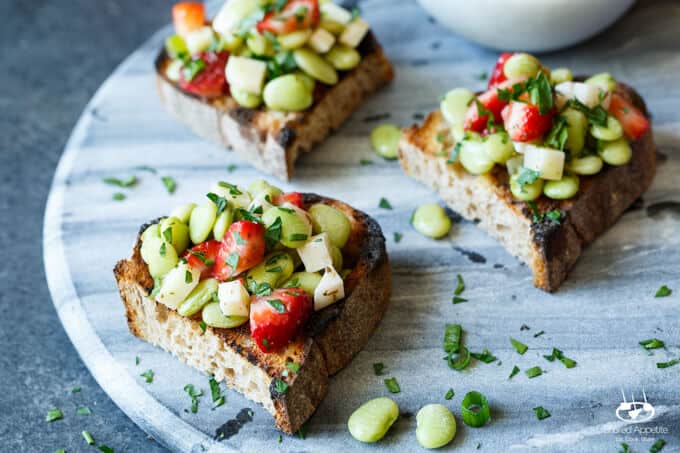 Print
Strawberry, Fava Bean, and Pecorino Crostini
---
1

loaf good-quality crusty bread, cut into

1/2

" slices

2 cups

frozen fava beans, lima beans, or edamame, thawed

1 1/2 cups

diced fresh strawberries

6 ounces

Pecorino Toscano cheese, finely diced

1/4 cup

thinly sliced scallions

3/4 cup

extra virgin olive oil, divided

1 1/2 tablespoon

white wine vinegar

1 teaspoon

dried oregano
Kosher salt
Freshly ground black pepper
Chopped parsley, for garnish
---
Instructions
Preheat grill over medium-high heat. Using 1/4 cup olive oil, brush bread slices with oil and season with Kosher salt. Grill bread on both sides until toasted. Remove from heat and set aside.
Meanwhile, combine thawed beans, strawberries, cheese, scallions, remaining 1/2 cup olive oil, white wine vinegar, and oregano in a medium mixing bowl. Season generously with Kosher salt and freshly ground black pepper. Let flavors meld for at least 15 minutes before serving. If wanting to make ahead, you can refrigerate for a few hours. Just wait to grill bread until ready to serve so that way it's warm and remove mixture from fridge at least 15 minutes before serving.
Top grilled bread slices with generous amounts of the strawberry and bean mixture. Devour immediately.
Prep Time:

25 mins

Cook Time:

5 mins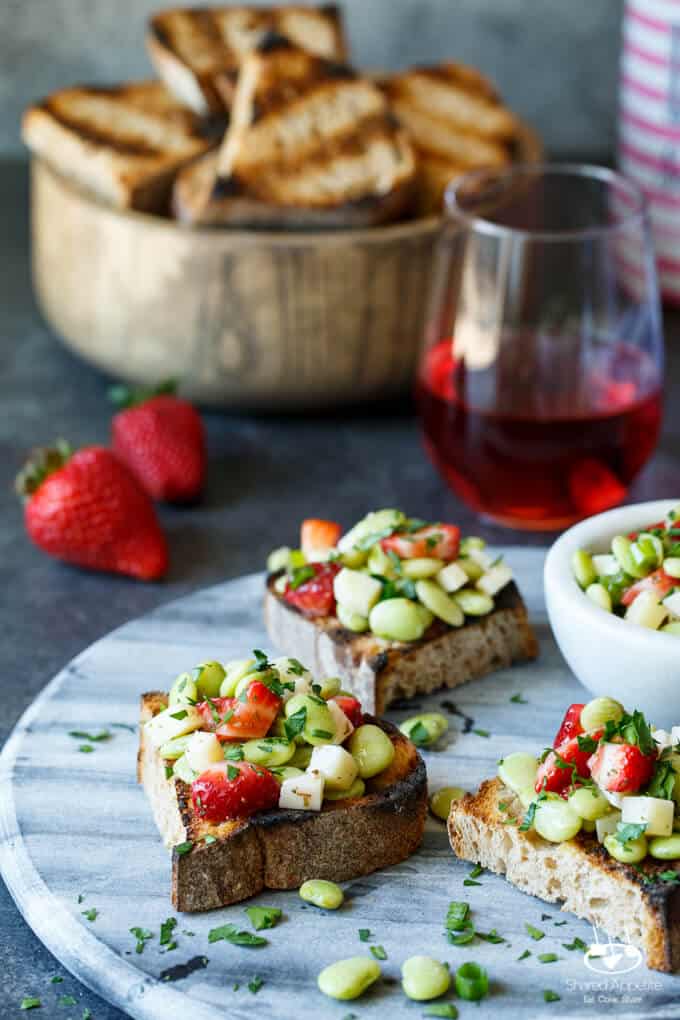 Follow Luis The Marinero along on: Instagram | Facebook
Strawberry, Fava Bean, and Pecorino Crostini
Need More Crostini?
Mexican Street Corn + Avocado Crostini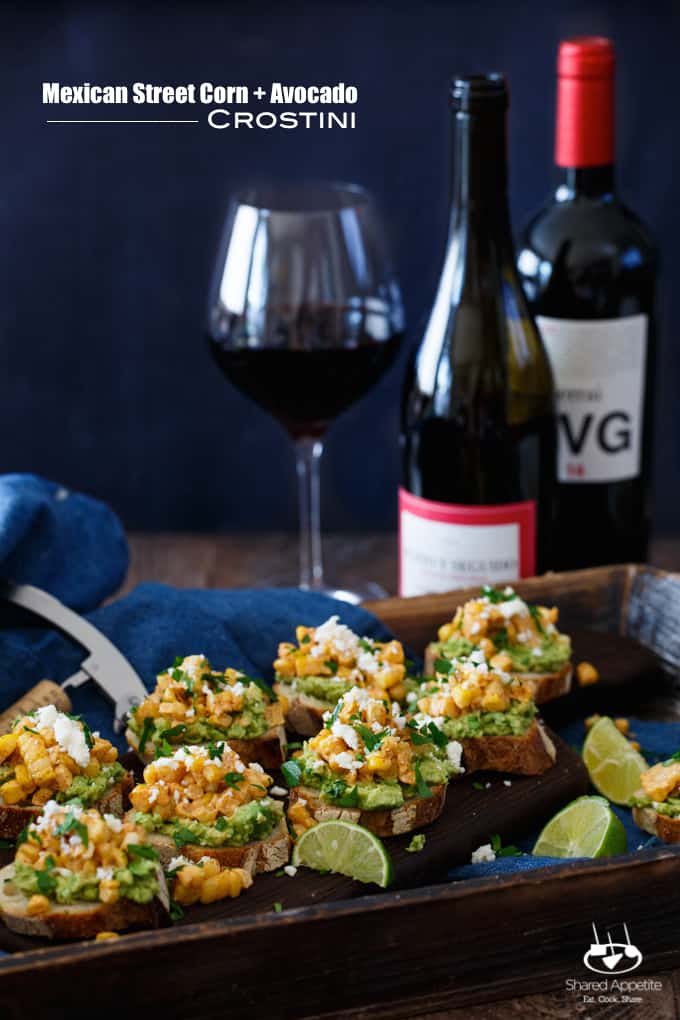 Filet Mignon Crostini with Romesco, Goat Cheese, and Crispy Shallots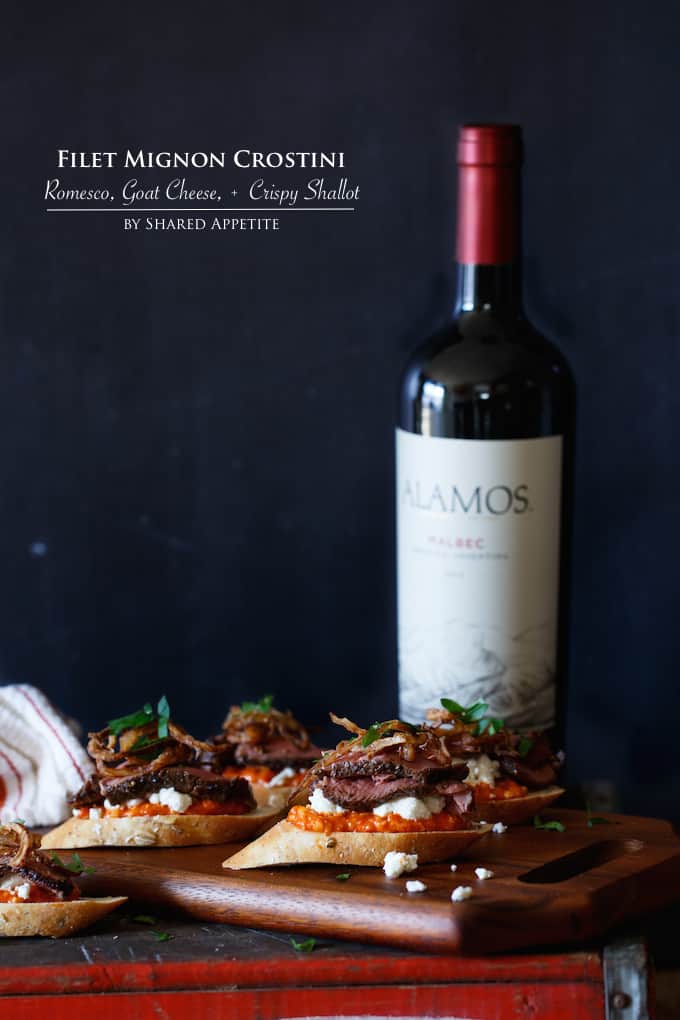 Acorn Squash Crostini with Ricotta, Bacon, and Fried Sage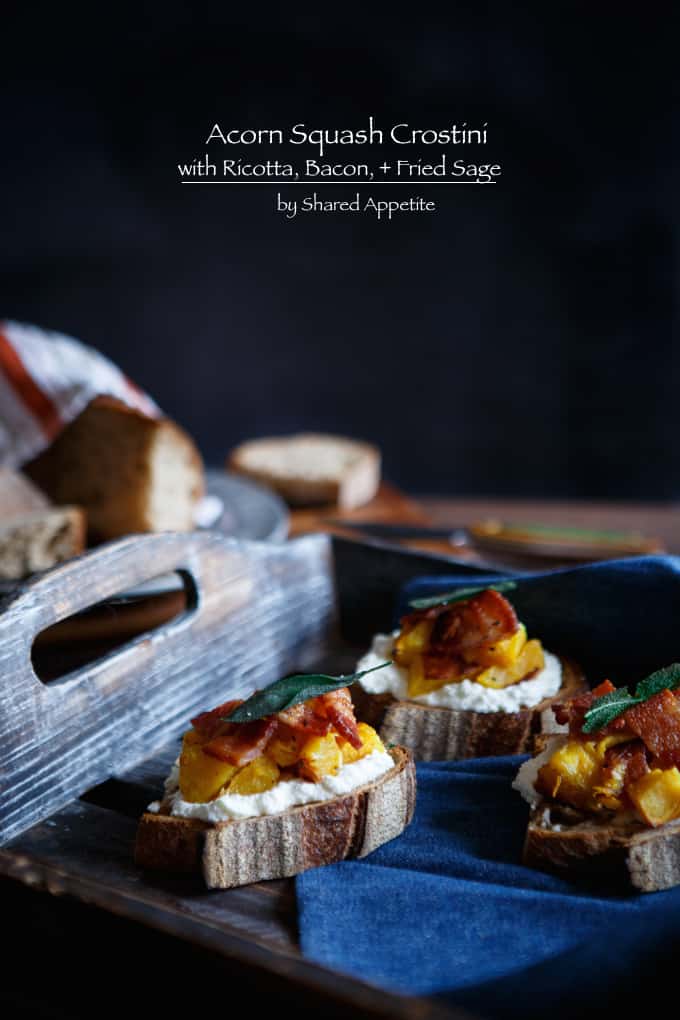 Eggplant Caponatina Crostini