This recipe for Whiskey Glazed Burgers with Spicy Brown Sugar Bacon was created in partnership with Davidson's Safest Choice® Pasteurized Eggs.  As always, all opinions and recipe are my own. Thanks for supporting the brands that support Shared Appetite!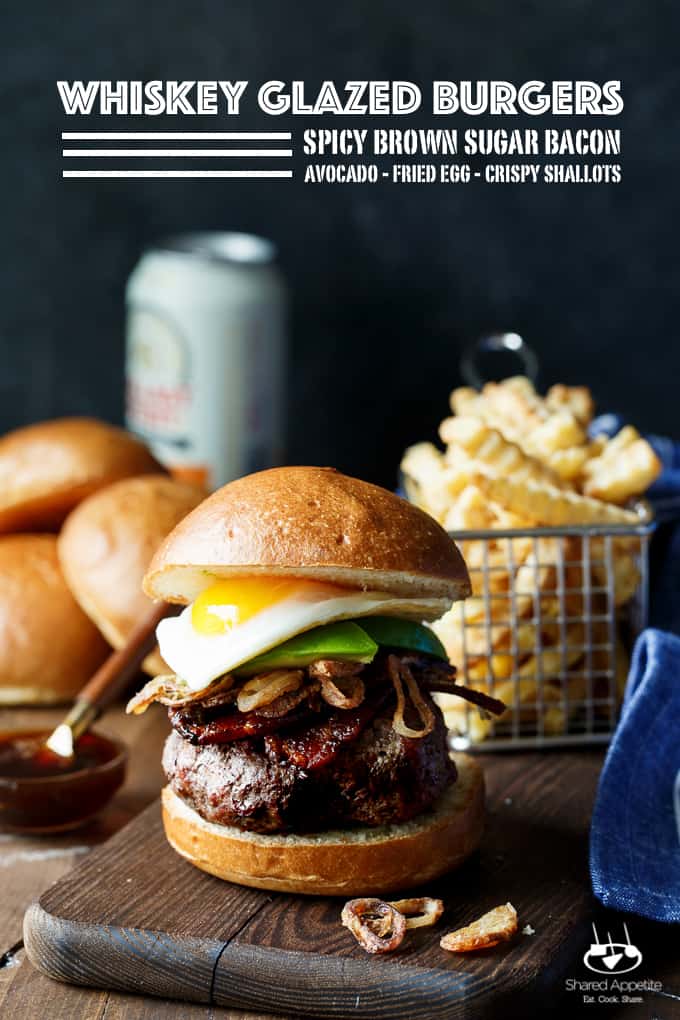 Guys.  I'm pretty excited.  For the very first time, people are going to be saying Happy Father's Day… to me.
It hasn't been an easy road.  It wasn't something that just happened for us because we wanted so badly to be blessed with a baby.  3 years of unexplained infertility, countless doctor appointments, tests, and procedures, and a whole lot of tears and praying… and God proved himself yet again to be so incredibly faithful.
That's why Father's Day is that much more special.  Because I don't take it for granted.  Not one little bit.  Every moment I get to spend with my sweet Olivia Madison is incredibly precious.  Even when she briefly wakes up for no reason at 4am screaming her face off.
A celebration as joyous as this requires a burger of monumental proportions.  Sure, this Korean Kimchi Burger, Fat Tyler Burger, or Spicy Roasted Pineapple, Avocado, + Bacon Burger would all do the trick nicely.  But you'd have a hard time finding a burger that is more manly, more epic, and more Father's Day worthy than these Whiskey Glazed Burgers with Spicy Brown Sugar Bacon, Avocado, Crispy, Shallots… and a FRIED EGG.
Boom.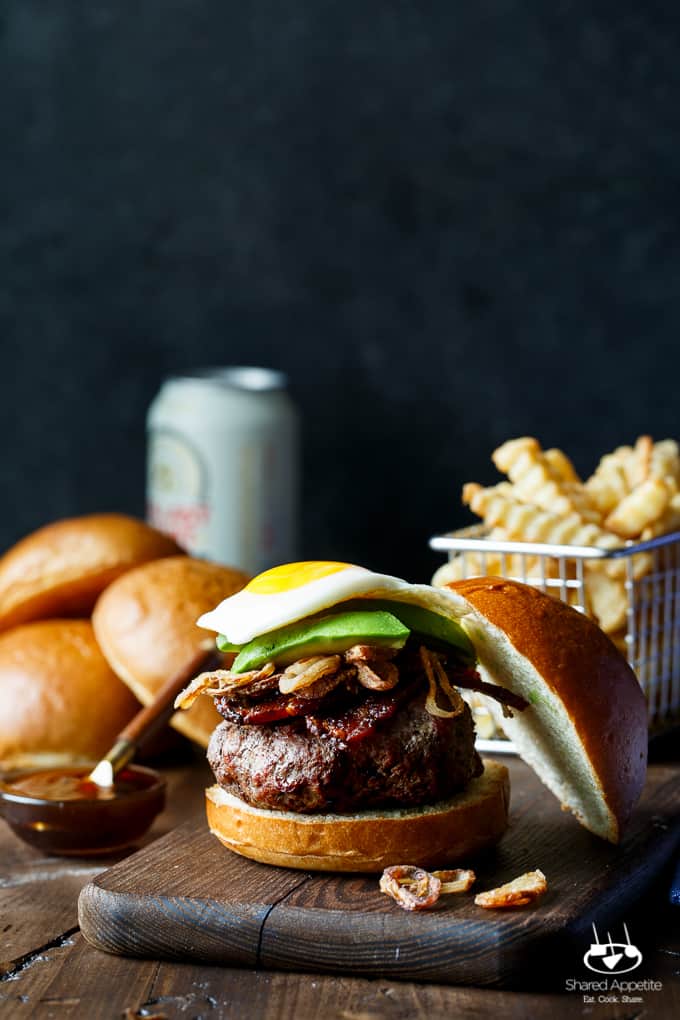 I'm not really what you would call a "manly man".
I only recently slightly upgraded from the IKEA toolset I purchased when I got my first apartment.  My workbench in the garage is… who are you kidding.  I don't have a workbench in the garage.
I'm not into beer.  Or whiskey.  Or any other very manly type drink.  If it's fruity, I'm a fan.  Sure, my friends rank on me for my choice in beverage (heck yes I'll have a strawberry margarita).  But I don't care.  I drink what's delicious.  The end.
But.  BUT.  Transforming whiskey from this wretched beverage into an amazing glaze that is equally perfect for burgers, chicken, ham, and more?  Uhm… YES.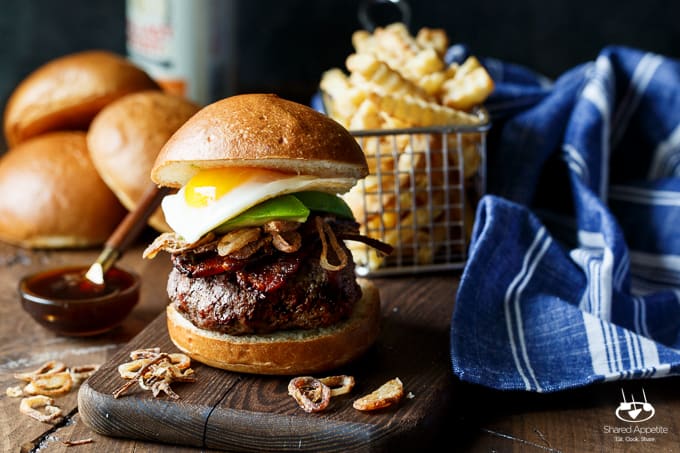 Have you ever made candied bacon before?  This spicy brown sugar bacon… it's pretty freaking addictive.  Like, if bacon wasn't perfect enough, you go ahead and sprinkle it with brown sugar before cooking it.  The bacon caramelizes in the oven, making sweet and salty magic.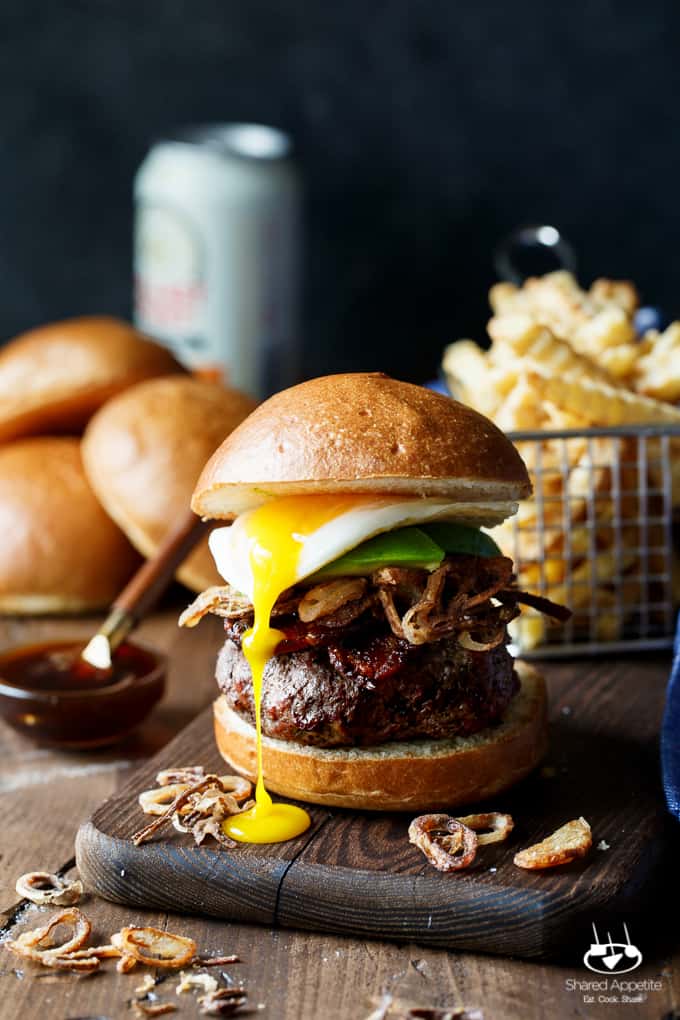 Do you see that #eggporn?  Do you?!?!
It's one nature's most beautiful gifts to us.
But let's be honest.  Who's ever been a little worried about eating raw egg yolks?  Or when you fry an egg but there's a little bit of the white that looks like it wasn't completely cooked through and your egg radar alarm goes off?
Yea, me too.  That's why I'm a fan of Davidson's Safest Choice® Pasteurized Eggs.  They are pasteurized using an all-natural patented process (goodbye Salmonella risk), meaning we all can eat eggs 100% worry free.  And anytime I can get a little peace of mind is a good thing.
Make sure to find these little gems at a grocery store near you.  Just visit the SafeEggs.com store locator and enter your zip code to find Davidson's Safest Choice® Pasteurized Eggs near you!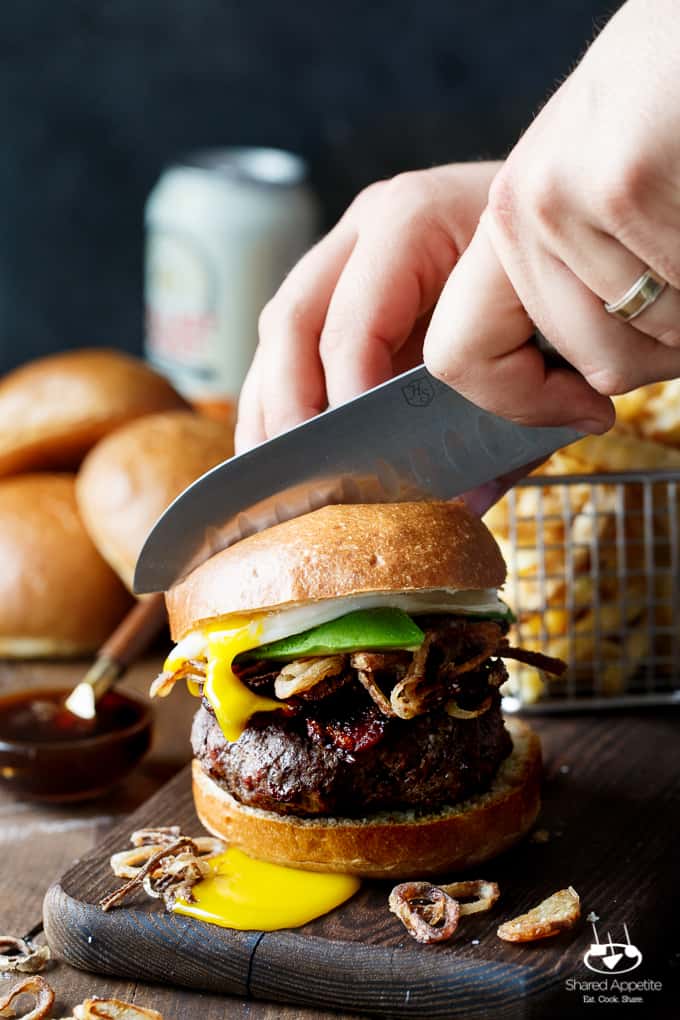 Print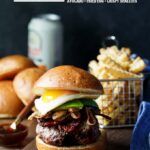 Whiskey Glazed Burgers with Spicy Brown Sugar Bacon
---
Total Time:

40 minutes

Yield:

4

1

x
4

burgers, grilled to desired doneness

4

burger buns

8

slices thick-cut bacon

1/4

c dark brown sugar

2 tsp

ancho chile powder

1

avocado, sliced

4

Safest Choice™ pasteurized egg(s)
Whiskey Glaze (recipe below)
Crispy Shallots (recipe below)
for the Whiskey Glaze
3/4 cup

dark brown sugar

3/4

cuppineapple juice

1/3 cup

whiskey

2 teaspoons

apple cider vinegar
for the Crispy Shallots
3 tablespoons

canola or vegetable oil

4

shallots, thinly sliced

1/4

up all-purpose flour
Kosher salt
---
Instructions
Preheat oven to 400°F. Place bacon in single layer on aluminum foil lined baking sheet.
Combine brown sugar and ancho chile powder in small bowl. Sprinkle bacon generously with mixture and gently rub it in.
Cook until until crisp, about 20-25 minutes. Remove from oven, transfer bacon to paper towel lined plate, and let cool.
Place grilled burgers on buns. Top generously with whiskey glaze, and pile high with spicy brown sugar bacon, crispy shallots, and avocado. Top each burger with a sunny-side up egg.
for the Whiskey Glaze
Combine brown sugar, pineapple juice, whiskey, and apple cider vinegar in small saucepan and bring to boil over medium-high heat. Reduce heat to maintain simmer and cook until reduced to glaze-like consistency, about 10-15 minutes. Remove from heat and set aside.
for the Crispy Shallots
Heat oil in a small fry pan over medium-high heat.
Coat shallots in all-purpose flour, shake to remove excess flour, and fry in batches until golden brown and crisp.
Remove and place on a paper towel lined plate and immediately sprinkle with kosher salt.
Prep Time:

15 mins

Cook Time:

25 mins
You can find the recipe for these Whiskey Glazed Burgers with Spicy Brown Sugar Bacon over at Safe Eggs!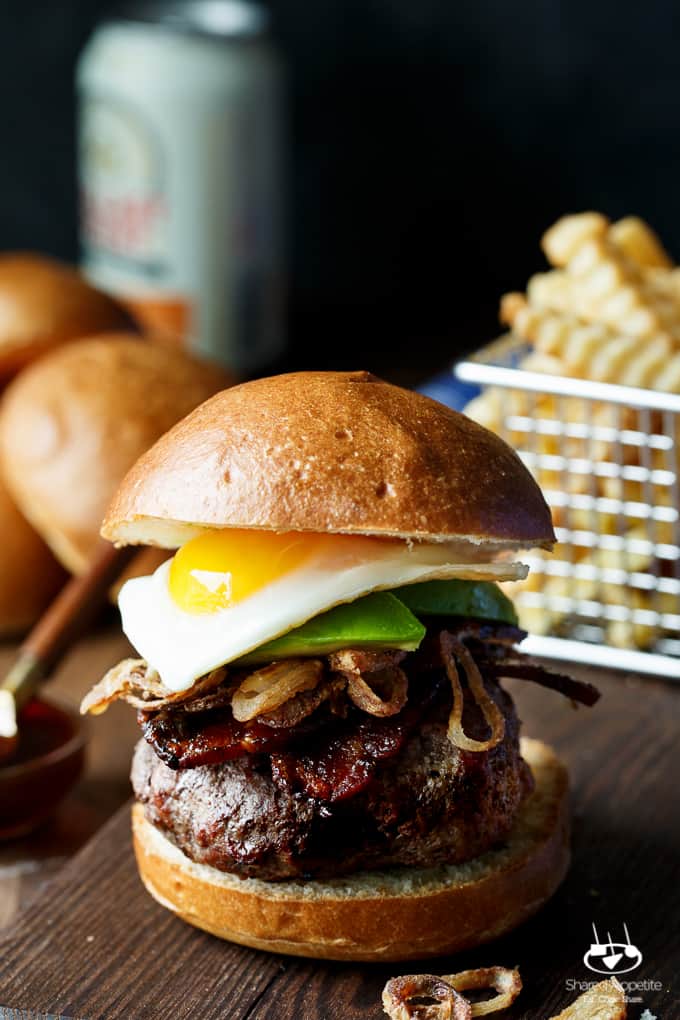 Whiskey Glazed Burgers with Spicy Brown Sugar Bacon
NEED MORE BURGERS?
Spicy Roasted Pineapple + Avocado Bacon Burgers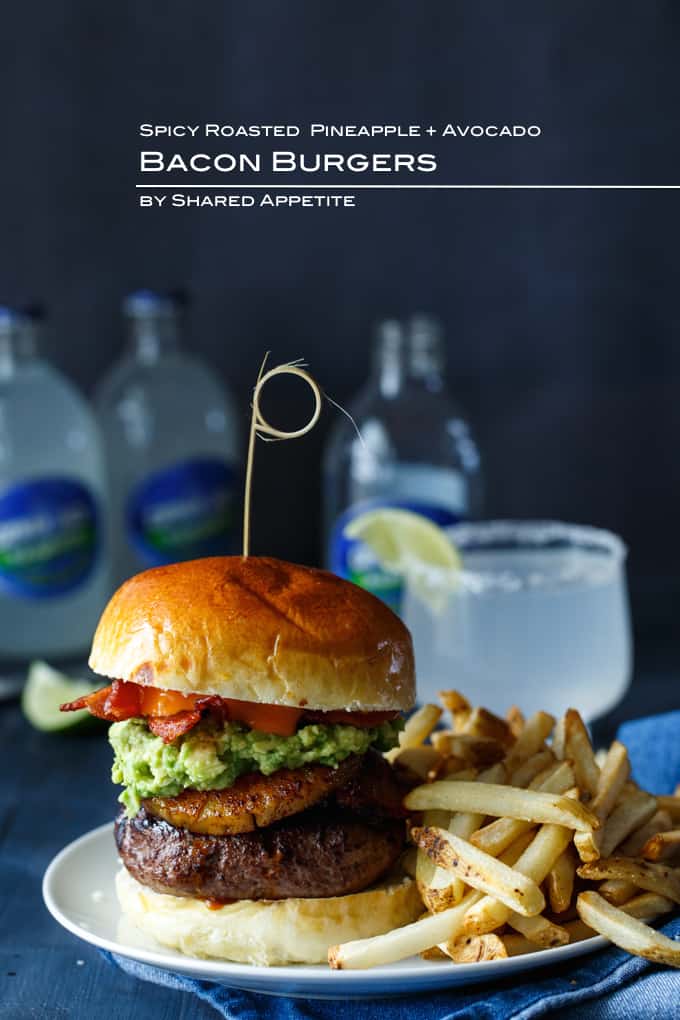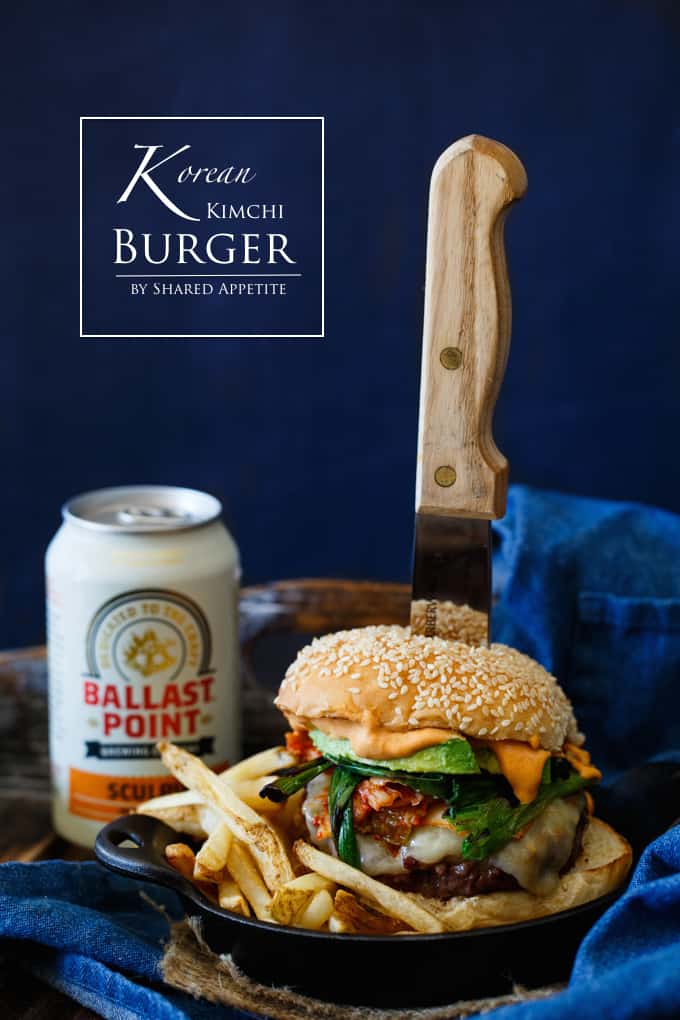 Chicken, Mozzarella, and Zucchini Burgers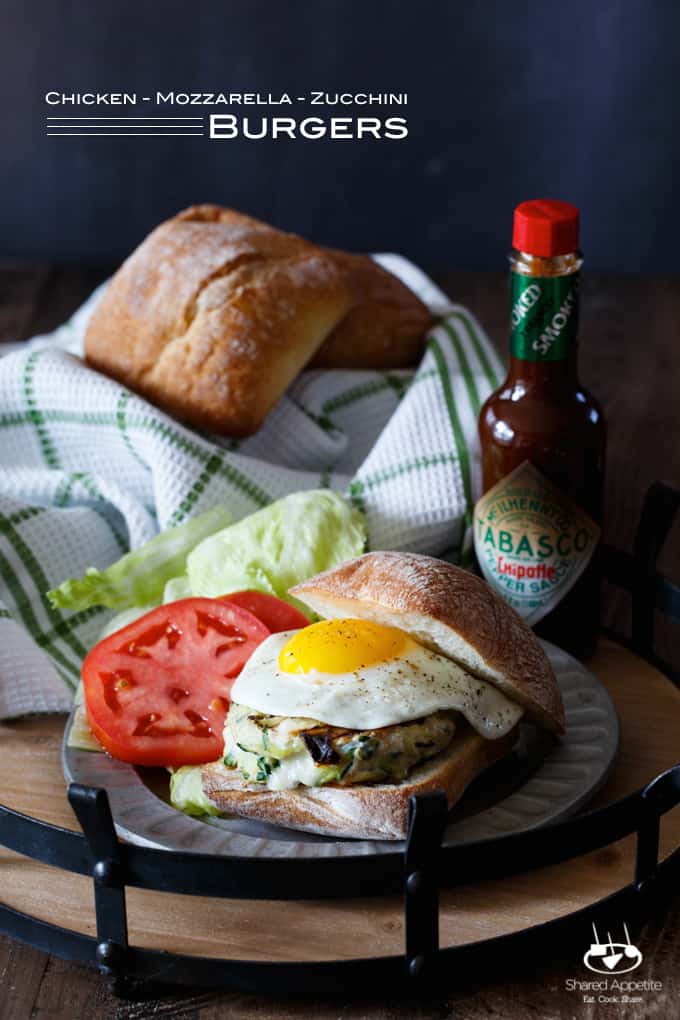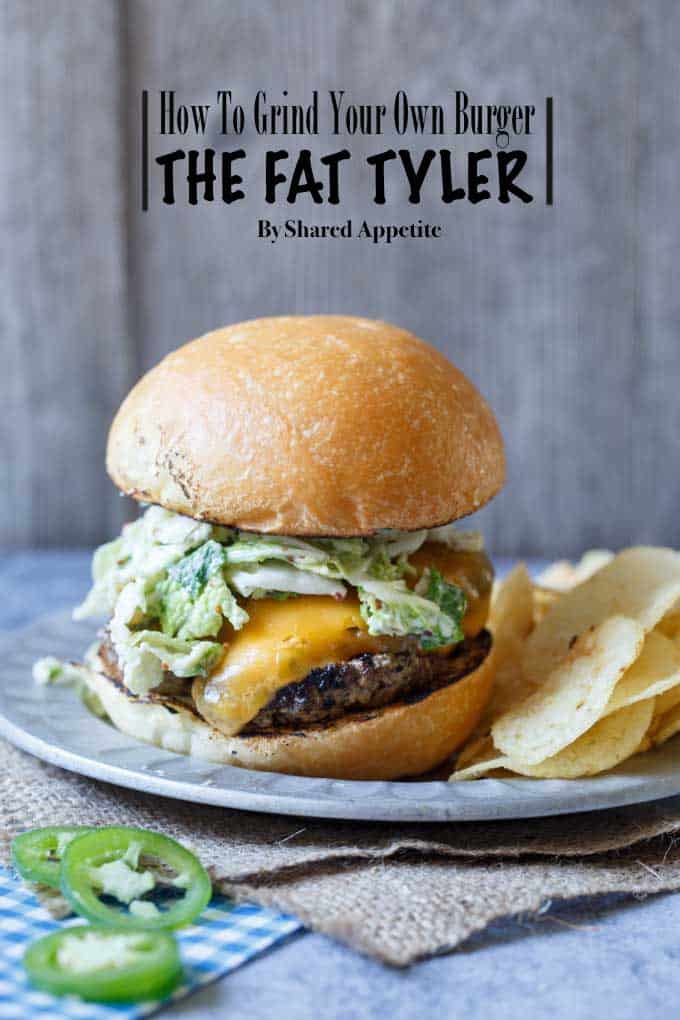 Stuffed Jalapeno Popper Bacon Cheeseburger