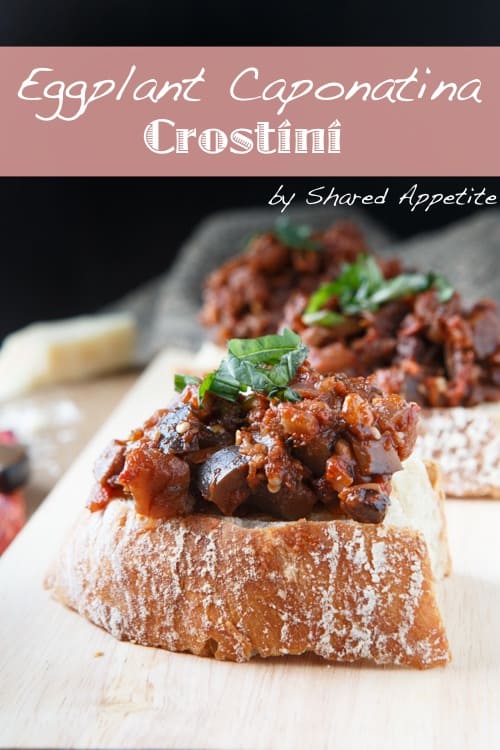 A traditional Sicilian appetizer with a twist, this Eggplant Caponatina Crostini makes for easy make-head entertaining and will wow your eaters with a savory and sweet flavor combo. Inspired by Mario Batali's eggplant caponata at NYC's Otto Enoteca & Pizzeria.
Guess who had off for a week and a half for Christmas vacation, went back to work for just one day, and then had a nice 3 day weekend thanks to a blizzard?
Yea, it was pretty fantastic (except for the fact that now since we used a snow day, our district calendar will now have to adjust by taking away a day from our Memorial Day extended weekend). But I'm not going to think about that right now.
Let me tell you how my lovely, unplanned snow day was enjoyed…
1) Asheley and I cleaned up Christmas. All of it. Trees (yup, we have 2 of those plastic buggers), ornaments, an excessive amount of seasonal candles, and all the other random tchotchkes… packed away for another year. We happen to have a few Christmas decorations with glitter on them. Asheley hates glitter, and of course she and the house was covered in it. She was freaking out, and I was thoroughly amused by it all.
2) I decided to clean out the freezer to see what lies beneath. I found a smoked brisket from the summer, some ground beef, and a whole lot of peppers from our CSA. Pair that with our ridiculously packed pantry, and I had all the makings for some chili. So I made my Fire Roasted Chili with Beer Braised Short Ribs, only I swapped out the short ribs with throwing in all that delicious smoked brisket. #win
3) Just as Asheley and I had to make our way outside to shovel her out (she did not have a snow day), 2 neighborhood kids knocked on the door to ask if they could shovel out our driveway for $10. $10?! Uhm, yes. These kids obviously need to improve their business model and start charging more. Don't worry, I helped them out and threw them an Andrew Jackson.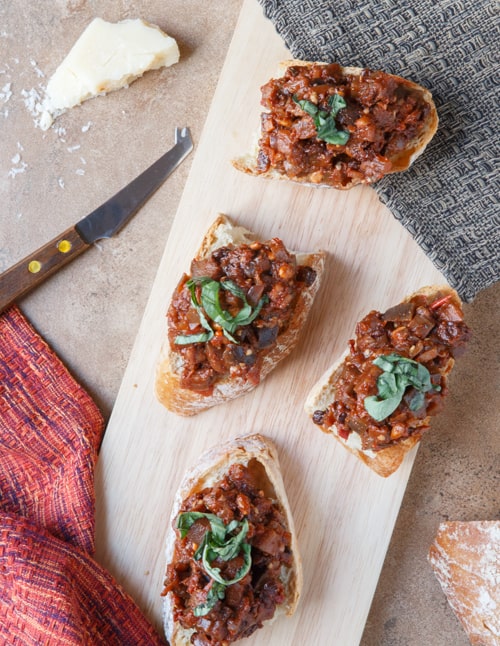 Oh right, the eggplant caponatina. This is something I should have shared with you a long time ago. It's something I make every single winter for a terrific little easy, make-ahead appetizer for dinner parties. It's a recipe inspired by Mario Batali and his Eggplant Caponatina that he servest at Otto Enoteca and Pizzeria here in NYC.
I made it onto the appetizer menu for our family Christmas celebrations (yes, plural), and then again for my friends' massive New Year's Eve party.
People love this crostini. Even eggplant-fearing people. That's eggplant?! they exclaim as pure shock takes over, realizing that they just actually enjoyed the very vegetable they have sworn off.
The flavors in this Sicilian caponatina, although traditional, are a bit unexpected for most of us. It's an unlikely mix of characters. Eggplant. Cocoa powder. Tomato. Cinnamon. Balsamic Vinegar. Currants. Pine Nuts. I know, it doesn't really sound like it should work. But it does. Trust me. It's pretty darn amazing, actually.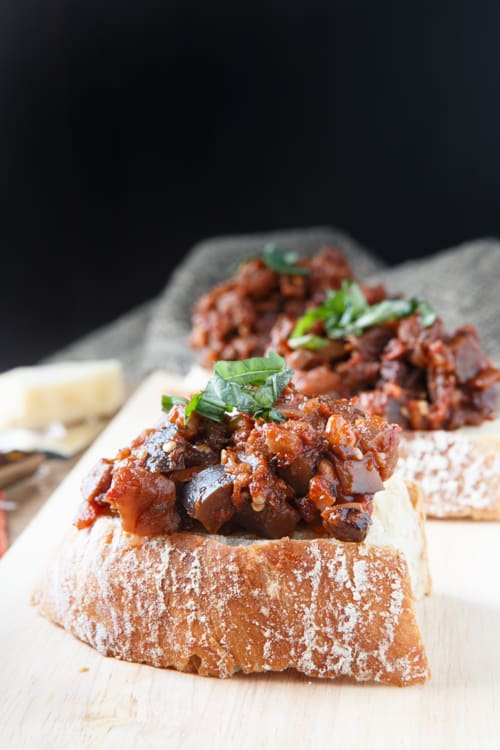 This recipe is going to make a whole lot of caponatina, which is perfect if you need an appetizer to feed a whole bunch of people. And it makes for easy, make-ahead entertaining, too 🙂
Print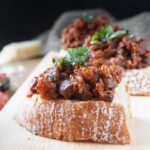 Eggplant Caponatina Crostini
---
1/3 cup

olive oil

1

red onion, finely chopped

4

cloves garlic, minced

1/3 cup

currants

1/3 cup

pignoli/pine nuts

1 teaspoon

crushed red pepper flakes (more or less, to taste), optional

2

medium sized eggplants, finely diced

1/2 tablespoon

cocoa powder

1 teaspoon

ground cinnamon

1 tablespoon

granulated sugar
Quick Tomato Sauce, see below

1/3 cup

balsamic vinegar

2 teaspoons

dried thyme
Kosher salt
Freshly ground black pepper
Good-qualty crusty bread, sliced
Fresh basil, for garnish
for the Quick Tomato Sauce
2 tablespoons

olive oil

1

small red onion, finely chopped

3

cloves garlic, minced

1 tablespoon

granulated sugar

1

(28 ounce) can crushed tomatoes

1 teaspoon

dried thyme

1 teaspoon

dried basil
Kosher salt
---
Instructions
for the Quick Tomato Sauce
Heat olive oil over medium heat in a small saute pan. Add onion, season generously with Kosher salt, and cook until softened, about 6 minutes, stirring occasionally. Add garlic. Stir in garlic and cook for 1 minute, taking care to not let garlic burn. Stir in sugar, then add crushed tomatoes, thyme, and basil. Season with Kosher salt. Bring to a boil and then reduce heat to low and let simmer for approximatley 20-30 minutes.
for the Eggplant Caponatina
Heat olive oil in a large saute pan over medium heat. Add onion, currants, pine nuts, and crushed red pepper flakes (if using), and season generously with Kosher salt. Cook for about 5 minutes, stirring occasionally, until the onions soften. Add garlic and cook, stirring frequently, for 1 minute.
Add eggplant, cocoa, cinnamon, and sugar. Stirring occasionally, cook for approximately 8 minutes, until eggplant has softened. Add thyme, balsamic vinegar, and approximately 1 1/2 to 2 cups of the quick tomato sauce. Stir to combine.
Feel free to add a bit more tomato sauce if desired. Refrigerate or freeze leftover tomato sauce for future use.
Lower heat to medium-low and cook caponatina, stirring occasionally, for 10 minutes. Let cool completely, and refrigerate until ready to serve. Can be made ahead a couple of days.
Remove caponatina from refrigerator about 15-20 minutes before serving just to bring up the temperature a bit. Top sliced bread with a generous spoonful of the caponatina and top with thinly sliced fresh basil.
Prep Time:

15 minutes

Cook Time:

30 minutes
Nutrition
Serving Size:

A whole lot of caponatina!