This recipe for Winter Holiday Charcuterie Board was created in partnership with J.M. Smucker Company and Kellogg Company.. As always, all opinions and recipe are my own. Thanks for supporting the brands that support Shared Appetite!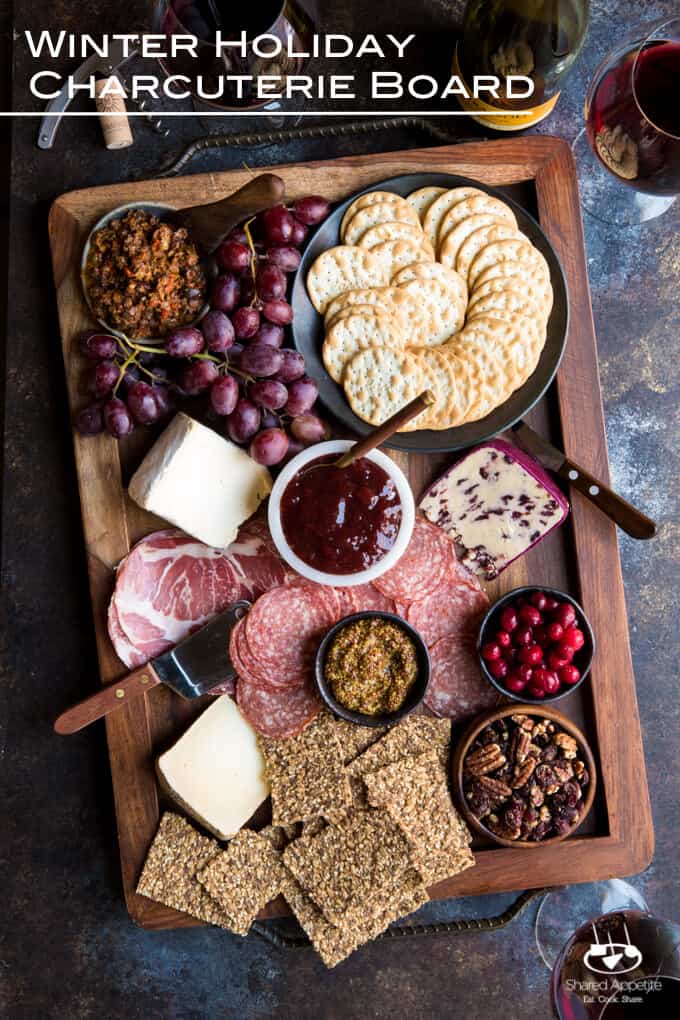 It truly is the most wonderful time of year. I've always loved the holiday season. With the exception of the cold weather and minimal daylight hours, these days are pretty darn perfect.
The music. It just makes me smile. I'm a firm believer in no holiday music until the day after Thanksgiving (one holiday at a time, thank you very much), but once Black Friday hits... it's the holiday hits all day every day.
The decorating. Asheley loathes the day after Thanksgiving, because she knows I'm getting down all the decorations from the attic right when I wake up. We decorate the house together and it's so amazing... for me. Asheley used to complain here and there a lot (I would just blast the holiday music to drown her out anyway), but this year she's mildly content to get the house in the holiday spirit because Olivia gets SO excited when she sees decorations.
The shopping. I'm one of those weird guys that actually loves shopping for gifts. Seriously. It brings me so much happiness to find thoughtful and creative gifts for my family and friends. I spend a lot of time to make sure all the people I love get something legit to open. To me, giving is always more rewarding than getting.
And that's probably why my hands down, favorite part of this time of year is holiday entertaining. There's nothing more gratifying than having friends and family spend time in our home and create memories together.
I used to spend days (yes, that's right: days) prepping the menu for our holiday parties. But now we have a 17th month old, and having that amount of time to do anything is not really a reality right now. Minimal prep, maximum enjoyment. That's my new motto when it comes to hosting. And with this Winter Holiday Charcuterie Board, holiday easy entertaining has been achieved.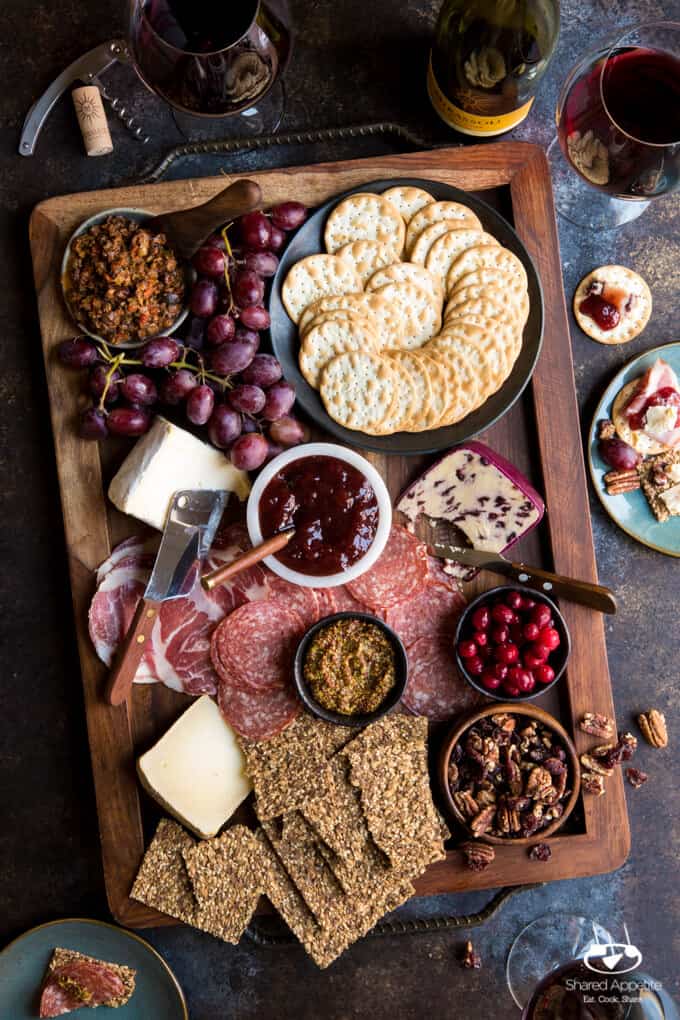 We've all been there. You go to someone's house for a get together, and you're starving. The main course is nowhere near ready to be served, but thank goodness... they have appetizers set up. Ugh, it's just a lame pre-cut store bought cheese platter. Now you're not just starving, you're hangry. That's right, angry hungry.
If that certain someone just knew how easy it was to transform that underwhelming cheese platter into a legit Winter Holiday Charcuterie Board, they'd have a house full of much happier guests.
If there's one thing I learned about being the central hub for parties among my circle of friends the last decade of my life, it's this. The key to chill, laid back entertaining is finding food that is simple, fun, and interactive.
Sure, I could spend the entire party in the kitchen plating cute little crostini, canapés, and other hors d'œuvres. Or I could actually spend some time with the friends I invited over in the first place and let them create their own eating adventures.
Have I convinced you yet? Make this Winter Holiday Charcuterie Board. Spend time with your friends. Make memories. Done.
But how do you go about moving beyond the sad little cheese platter and entering the epic zone? I'm glad you asked.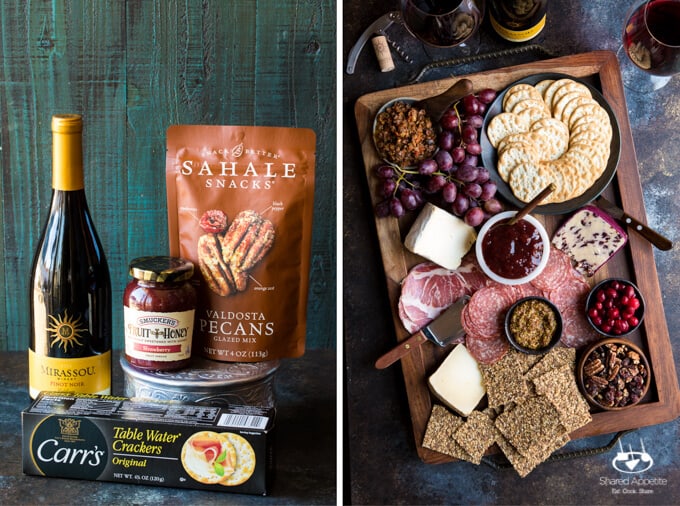 Here's my breakdown of how I arrange a legit Winter Holiday Charcuterie Board:
CHEESE - three is my magic number. More and it's overwhelming. Less and you're cheaping out on satisfying your friends' taste buds. One cheese should be firm and aged. Another soft and creamy. And the last is my wild card... seasonal, different, or just plain wacky. Bonus points if you can mix cow's milk cheese with some goat and/or sheep's milk. No matter what cheeses you pick, I prefer not to slice it up prior to serving. Put out some cheese knives and let your friends have at it.
MEAT - two is the way to go. One is always spicy or peppery. The other is either something more traditional and mild flavored or a good pâté if I can find it. You'll want to slice up the meat nice and thin prior to serving, or have someone behind the counter slice it up for you if you bought your meats somewhere cool that'll do it for you.
CRACKERS AND BAGUETTE - I like both, so I offer both. I love and embrace the variety. Sometimes I'll forego the bread for another creative type of cracker, like the seed crackers I found for this board. This is especially helpful when you can't get out to the store on the day of your get together (because day-old stale baguette is not good eats).
NUTS - you really can't go wrong here. Plain will do just fine, but any sort of store-bought or make ahead homemade spiced or candied nuts will be pretty amazing.
SOMETHING FRESH - I'm looking at you, fruit. I love strawberries in the summertime, but in the winter I'm all about a big cluster of red seedless grapes.
GARNISHES AND CONDIMENTS - Whole grain mustard is a must. It packs a serious punch of texture and flavor that is undeniably addictive. Something sweet is always a nice addition, like good quality honey, jam, or preserves. The last in my trifecta is something pickled and/or briny. Usually I'll put out some cornichons for the pickles, but homemade pickled cranberries are just so darn pretty, easy, and seasonal. And I'm not an olive guy (I hate them with a passion), but a flavored olive tapenade is always something I can get behind.
WINE - wine, is by far, the most important aspect of any good charcuterie board. I'm a red guy (unless we are in the middle of summer, in which case I'll be sipping on some rosé), and a Pinot Noir is a wine that pretty much everyone in my circle of friends can rally behind.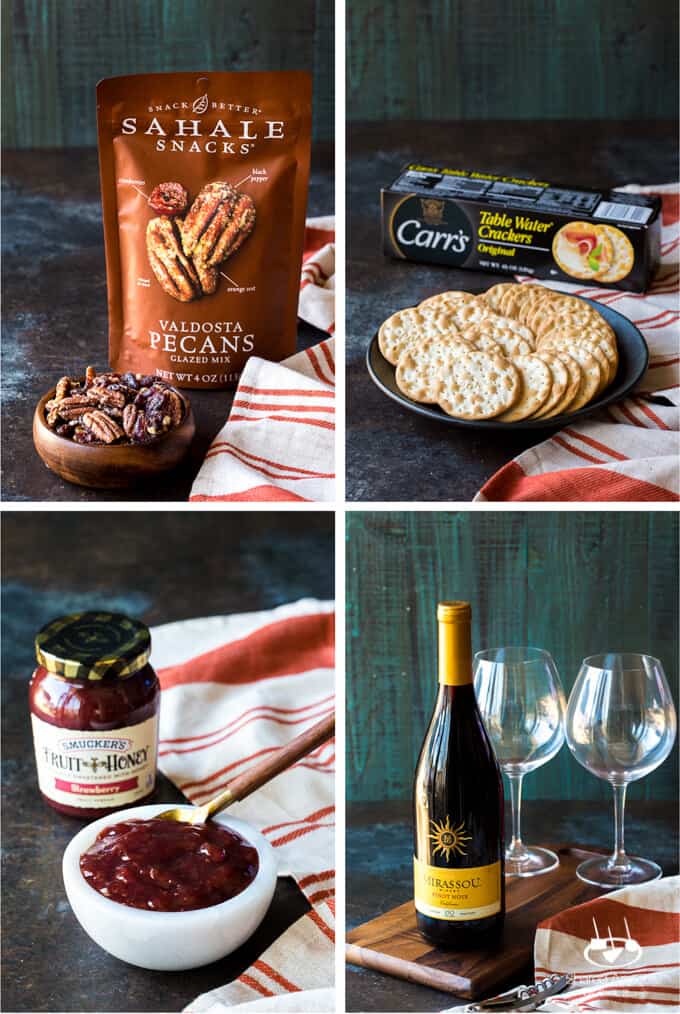 Anyone else obsessed with Target? It should be illegal the amount of joy I get out of a trip to Target. Like pretty much everyone on planet Earth, I go there for one thing, and come out with a cart full of awesome.
I'm totally digging their grocery department. I'm always finding new items there to try. It just so happens that they have four awesome products that will make a monumental addition to your Winter Holiday Charcuterie Board:
Smucker's Fruit & Honey Strawberry Fruit Spread - this is a great choice for your sweet condiment. I love it's pure flavor and that it's sweetened with honey! That's pretty cool in my book, and something my tastebuds are totally digging.
Sahale Snacks Valdosta Pecans Glazed Mix - uhm, candied nuts with orange zest and dried cranberries?! Yes please. I'll take this on my charcuterie board (or just for good old fashioned snacking) any day of the week!
Carr's Table Water Crackers - these bad boys always go like hot cakes when I serve 'em up on charcuterie boards. They are always perfectly fresh and crisp, and are just the right thickness to not overwhelm the toppings.
Mirassou Pinot Noir - wine... need I say more? Exactly. But really, this is a wine that everyone will really love. It's fruit forward, balanced, and very approachable in style. Even better, it's affordable in everyone's budget!
Make sure to head over to Target and pick up these charcuterie essentials! And check it out, Target is hooking you up with some discounts: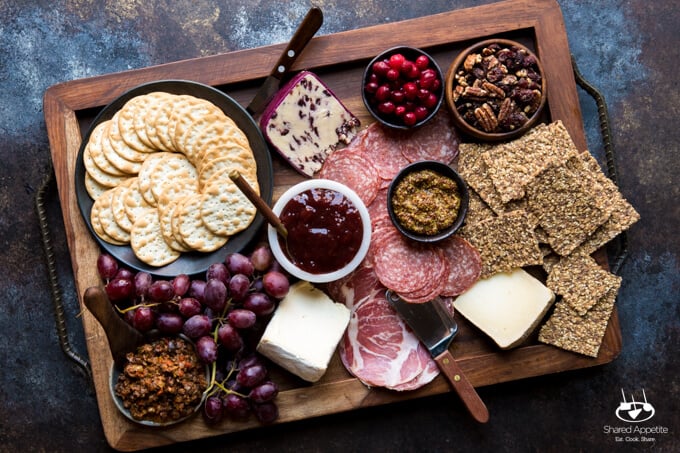 There ya have it. One Winter Holiday Charcuterie Board of staggering proportions. Seriously, this thing is a work of art. And no, I can't take any credit. That's the beauty of a charcuterie board done right. It's ridiculously simple, but so earth-shatteringly (is that even a word?) perfect.
This charcuterie board literally took me minutes to put together... before the party even started. Less time in the kitchen. More time with my friends (and let's be honest, more time with me stuffing my face with all this goodness).
Holiday entertaining. Without the stress. Boom.
Print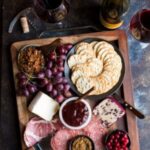 Winter Holiday Charcuterie Board
---
Author:

Chris Cockren

Total Time:

10 minutes

Yield:

6 to 8 people
Carr's Table Water Crackers
Whole Grain Crispbread or sliced Baguette
Aged Sheep's Milk Pecorino Toscano
Triple Cream Soft Ripened Cheese
Wensleydale with Cranberries Cheese
Sopressata, Chorizo, or Peppery Salami
Prosciutto or other mild flavored cured meat
Red seedless grapes
Smucker's Fruit & Honey Strawberry Fruit Spread
Sahale Snacks Valdosta Pecans Glazed Mix
Whole Grain Mustard
Olive Tapenade
---
Instructions
Place all ingredients on a large platter and let guests help themselves to an epic charcuterie board!
Notes
These are just suggestions. The beauty of a charcuterie board is to find flavors and textures that work for you and your friends. Mix and match cheeses, meats, and condiments however you would like!
Winter Holiday Charcuterie Board
Need More Holiday Appetizers?
Havarti, Pear, + Walnut Puffed Pastry Bites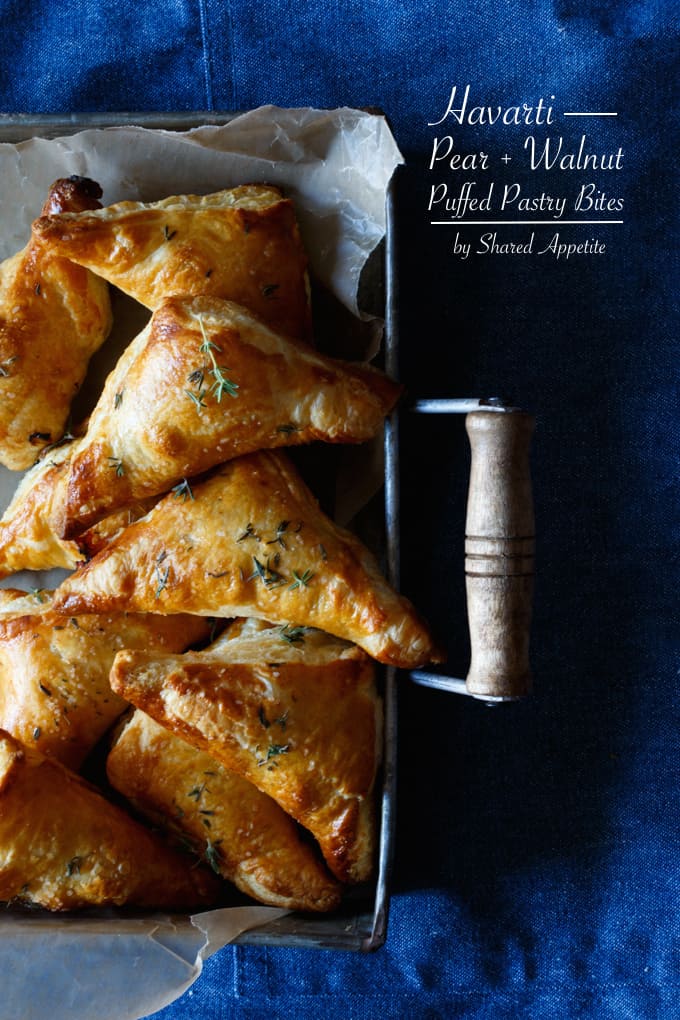 Acorn Squash Crostini with Ricotta, Bacon, and Fried Sage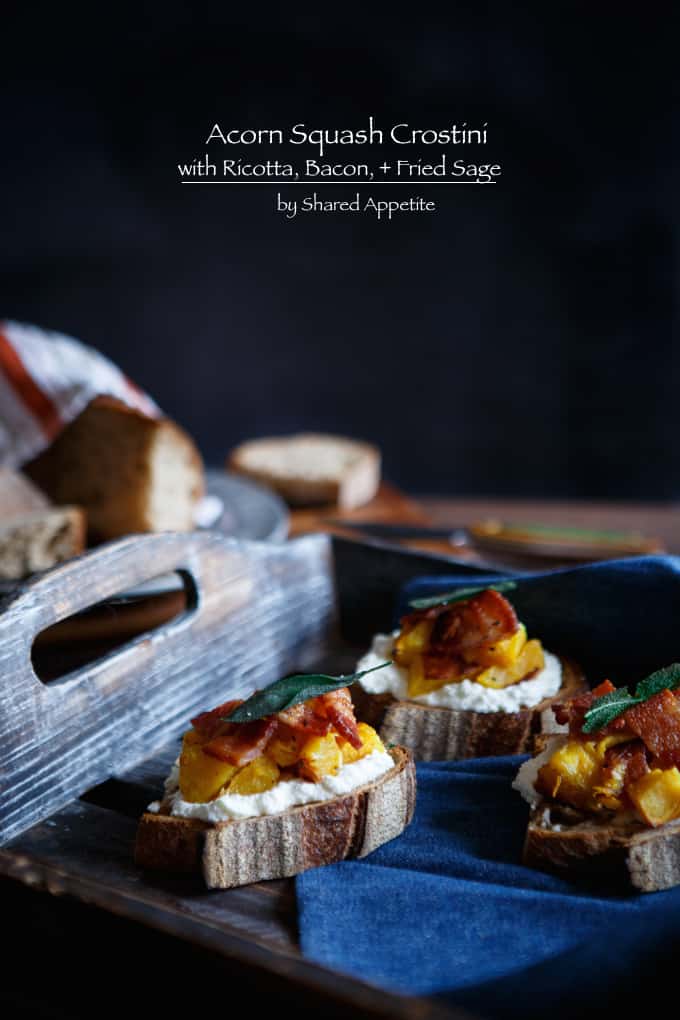 Filet Mignon Crostini with Romesco, Goat Cheese, and Crispy Shallots