This post is sponsored by Honest Cooking and Castello Cheese. As always, all opinions and recipe are my own. Thanks for supporting the brands who support Shared Appetite!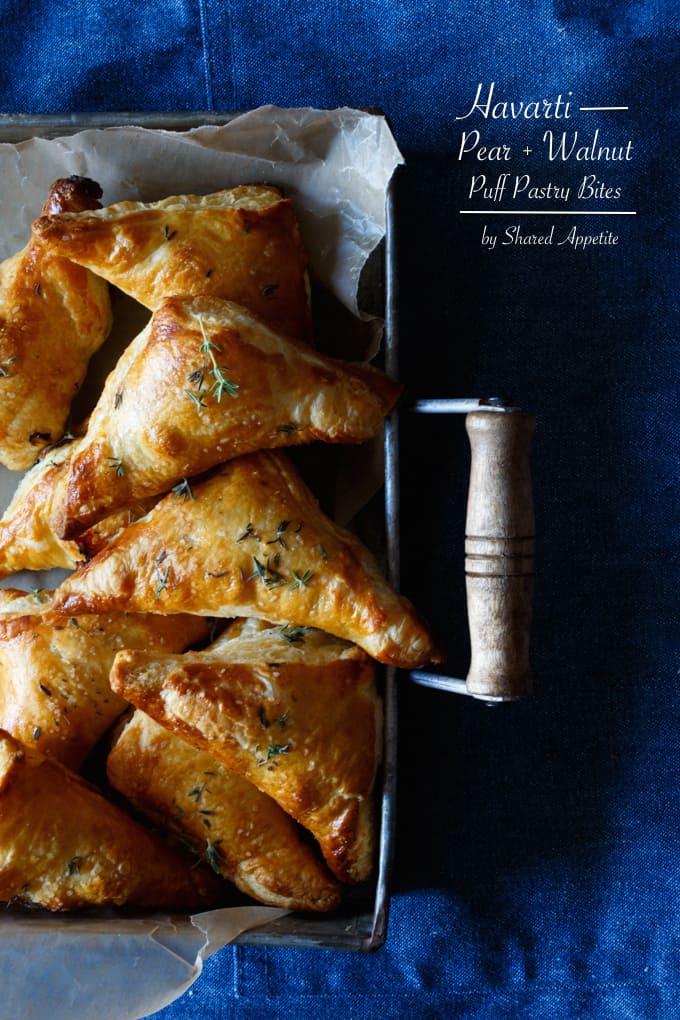 An easy entertaining holiday appetizer recipe for Havarti, Pear, and Walnut Puff Pastry Bites with a make-ahead and freeze option!
Guys. Big accomplishment time. Asheley and I completed our very first DIY project together this past weekend.
When we moved into our home this past summer, the first thing Asheley did was rip out all the weird-looking vine looking plants growing out of a brick half wall/planter-thingy right by our front door. Our plan was simple. Remove plants. Close off top of brick planter with a slab of wood. Distress wood. Stain wood. Sit back and relish in the fact that we are DIY heroes.
What actually happened... after Asheley ripped out the plants, it was left in that state for months. We just blankly stared at the barely started project daily, holding our heads low in shameful disappointment. Getting a customized wood slab big enough was WAY easier in our heads than in real life. After numerous calls to lumber joints around the area (and mini heart attacks upon hearing the price for wood... I mean, it's wood), we thankfully were told by a friend that his brother could make us what we needed. Sweet! A week later, the wood slab arrived and fit perfectly. Now all we gotta do is distress it and stain it...
We were paralyzed by fear. It took so long to get this darn wood, what if we mess it up with distressing it! We've never tried anything like this before. So it sat there, unfinished, for another 2 months. #lame. Finally this past weekend I told Asheley, enough is enough. Let's put on our big boy (and girl) pants and do this thing. We wacked the crap out of the wood with chains, hammers, nails... and I even pulled out a secret weapon. My kitchen torch. Asheley rolled her eyes but whatevs... I felt like a bad donkey. A quick coat of stain and boom... kiss our butts Pottery Barn.
Sure, it took us 5 months to complete. But hey, we did it.
::smooth segue into recipe::
So everytime we entertained and had people over the house these past 5 months, that darn brick planter was the bane of our existence. None of our guests cared (I mean, hey, we just moved in), but we did.
But now? Now Asheely and I can have people over to our house, have them gawk at this better-than-West-Elm distressed wooden beauty and serve them these ridiculously tasty Havarti, Pear, and Walnut Puff Pastry Bites.
See, I told you it was a smooth segue.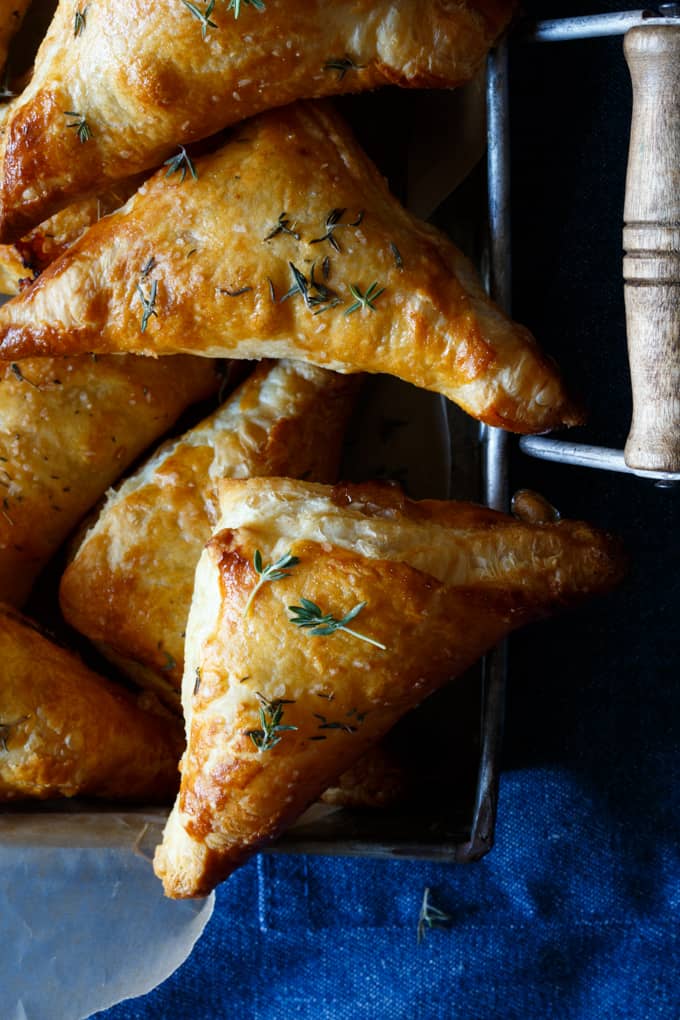 Guys, I literally cannot believe this is my first time making anything with puff pastry!! Like, where has this been all my life? And more importantly, why have I been living under the biggest rock of all time?!
Puff pastry totally rocks my socks. I'm finding myself day dreaming about what else I can stuff inbetween those dreamy layers of buttery flaky goodness.
It's no fuss.
It's amazingly easy.
And it tastes. so. good.
The periods inbetween each word was supposed to create drama and suspense. Did it work?
And let's talk about the filling, shall we? Castello Aged Havarti. Delicious... buttery with a slight crunch. The pear chutney is out of this world good... like serve-it-straight-up-with-some-crackers-and-call-it-a-day kind of good. And then some thyme, toasted walnuts, and honey? That's a huge flavor party right there.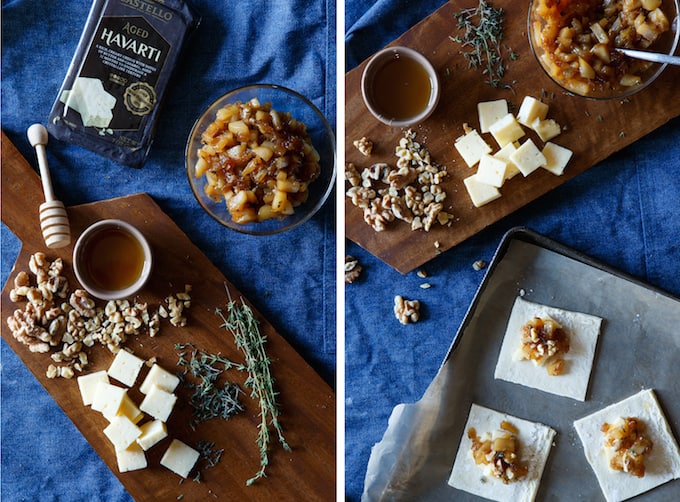 And guys, best part? These Havarti, Pear, and Walnut Puff Pastry Bites can be assembled ahead of time and frozen! I know. #easyentertaininghack
Just whip up a batch (or two) when you have a bit of time free, pop them in the freezer, and BOOM. Instant appetizer at your next party.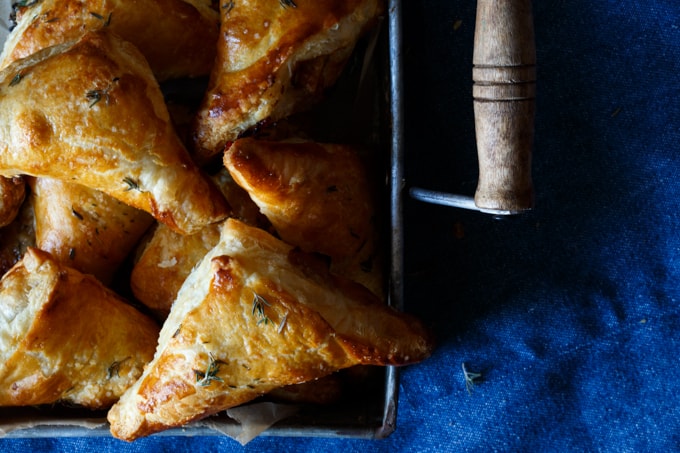 Print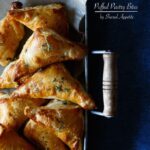 Havarti, Pear, and Walnut Puffed Pastry Bites
---
Total Time:

40 minutes

Yield:

18

Bites

1

x
2

sheets ready-to-bake puff pastry sheets
Pear Chutney (recipe below)

1

(7-ounce) package Castello Aged Havarti Cheese, sliced into bite-sized pieces*

½ cup

walnuts, toasted and chopped**

2 tablespoons

fresh thyme, chopped
Honey

1

egg

1 tablespoon

water
for the Pear Chutney
1 teaspoon

olive oil

1

shallot, finely chopped

2

pears, ripe but still firm, ¼" dice

1 teaspoon

fresh thyme, finely chopped

3 tablespoons

apple cider vinegar

2 tablespoons

brown sugar
Kosher salt
---
Instructions
Defrost puff pastry according to package directions. Preheat oven to 425°F.
Roll out puff pastry sheets and cut each sheet into 9 squares (18 squares total between the two sheets). Place squares on a piece of wax paper or parchement paper (this will prevent sticking).
Place a piece of havarti cheese, a spoonful of pear chutney, a few chopped walnuts, a very light sprinkle of fresh thyme, and a drizzle of honey in the center of each puff pastry square. Although it's tempting, don't overfill or else it will be very difficult to seal edges.
In a small bowl, whisk together egg and water to create an egg wash. Brush egg wash around the perimeter of each pastry square and carefully fold dough over filling to create triangles, pinching edges closed to create a good seal.***
Generously brush the top of each puff pastry bite with egg wash and sprinkle with Kosher salt and chopped fresh thyme. Place on a parchment paper lined baking sheet.
Bake for 15-20 minutes, until the puff pastry is golden brown. Devour immediately.
for the Pear Chutney
Heat olive oil in a small skillet over medium heat. Add shallot, season with Kosher salt, and cook, stirring occasionally, until softened, about 2-3 minutes. Stir in pear, thyme, apple cider vinegar, and brown sugar. Season with Kosher salt and cook until pears are tender, stirring occasionally, about 5-10 minutes. If pears are not tender and mixture is too dry (starting to stick to pan), add a little water and continue to cook until pears are tender.
Notes
*You most likely won't need the entire package.
**To toast whole walnuts, place in a single layer on a baking sheet and cook in a 375°F oven until fragrant and lightly browned, about 7-9 minutes. Keep a constant eye on them as they can burn easily.
***You can freeze the assembled uncooked pastry bites in a single layer on a baking sheet at this point. Once frozen, place in a ziploc bag and they will keep for a couple of months. When ready to bake, apply egg wash and season with Kosher salt and fresh thyme. Puff pastry bites may be baked frozen or you can thaw first in refrigerator. If baking from frozen, it will just require a little longer in oven. .
Prep Time:

20 mins

Cook Time:

20 mins