This recipe for Butternut Squash and Lamb Flatbread with Cider Onions and Pickled Cranberries was created in partnership with Flatout Bread. As always, all opinions and recipe are my own. Thanks for supporting the brands that support Shared Appetite!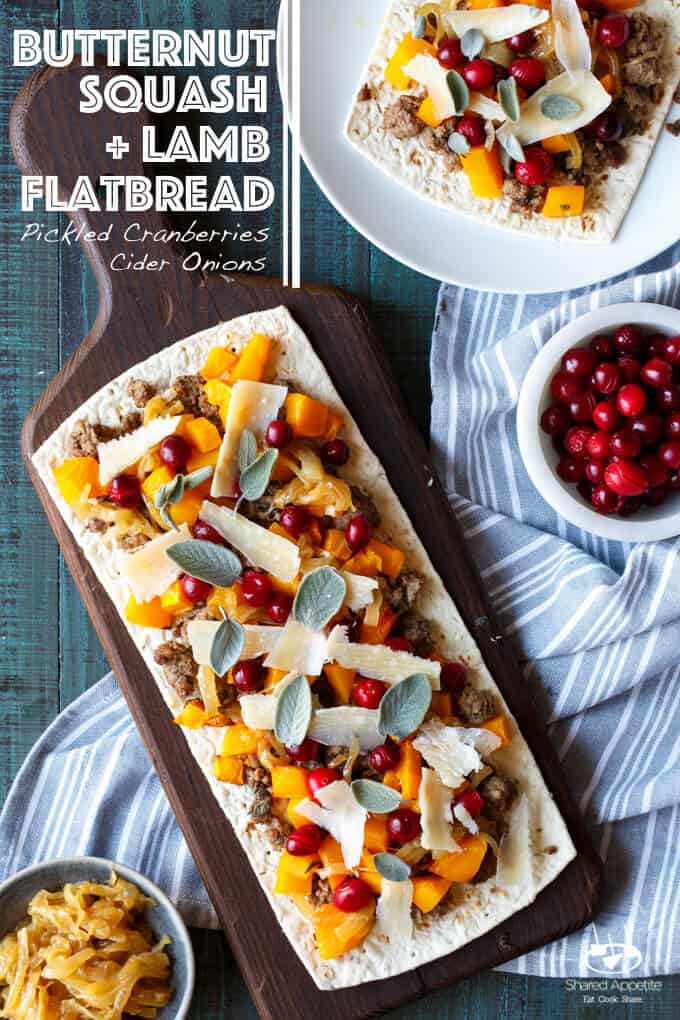 Thanksgiving Eve. I'm SO excited for you. Yes, yes… of course I'm thrilled for Thanksgiving and the beginning of Christmas season as well. But Thanksgiving Eve. It seriously holds an extra special place in my heart… and stomach.
Seven years ago, my great friend Steve and his then new-ish girlfriend (now wife) invited me over last minute for a little Thanksgiving Eve get together they were having. I show up… and no one is there. Weird. The doorbell rings, and this cute girl Asheley walks in. But that's it. No other people show up. It's just the four of us. Asheley and I hit it off, and Steve and Valerie happily sit back and realize they are matchmaker experts. Yup, we were set up.
Every year since then, it's been our tradition to get together at their place on Thanksgiving Eve. It's seriously one of the top highlights of my entire year. We absolutely love our time together, but it's just so easy for life to get super busy throughout the year. This one night is ours. No distractions. Just the four of us (plus our sleeping girl in the next room and now their newest additions… two of the cutest puppies you've ever seen).
Oh, and food. LOTS of food. Like. way more food than we know 4 people could ever consume in one week night. We each cook up a bunch of stuff (some refined, so not so refined… I'm looking at you pizza bites and pigs in a blanket), and then play board games and enjoy the most epic Thanksgiving Eve Friendsgiving celebration ever.
This year, I'm bringing some new and adventurous flavors to the party… this Butternut Squash and Lamb Flatbread with Cider Onions and Pickled Cranberries!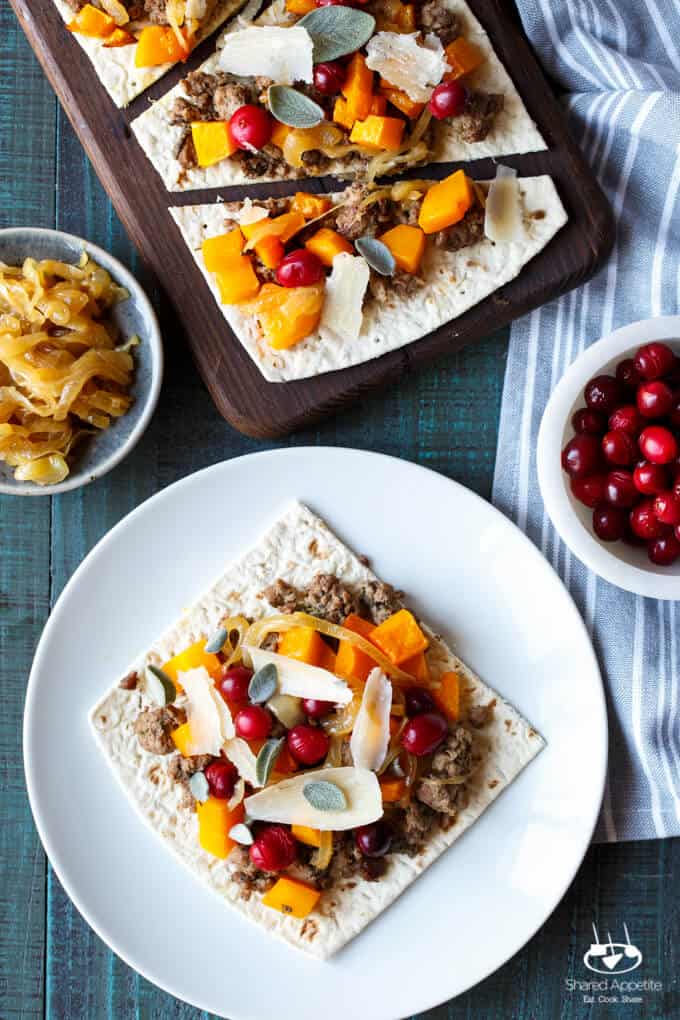 Not gonna lie… there's a lot going on in this flatbread. MAJOR flavor party. And you know I love a good flavor party.
It all starts with some ground lamb, which is browned up with rosemary and sage. And of course it's no surprise this flatbread also has roasted butternut squash. We are obsessed with squash in our house throughout the cold fall and winter months. It's just so darn good.
Last year I discovered caramelizing onions in apple cider. And any reason to cook with apple cider… YESSSSS. You can really taste the apple cider in the onions, and it's my new favorite addition to pretty much everything throughout October and November.
I knew I wanted something to cut through the herbaceous richness of the lamb and sweetness of the butternut squash and cider onions… and whenever I want a zing in a dish, I turn to pickles. No, not cucumber pickles. I actually despise those (except the bread and butter variety… those are da bomb). But pretty much pickled anything else is epic. And what screams Thanksgiving to you? Yup, cranberries. Pickling fresh cranberries is actually extremely easy and gives this Butternut Squash and Lamb Flatbread the burst of acid it so desperately wants.

Don't have the time to make pizza dough? Yea, me either. I need something quick, easy, and fast. Ta da! Flatout Bread Artisan Thin Pizza Crust to the rescue!
You know I am in love with all the products Flatout Bread puts out. The wraps are used almost daily in our house. Their foldits make for great sandwiches, burger buns, and pitas. And their pizza crusts are only 120 calories each and are perfect for quick and easy cooking.
You can find Flatout Bread's pizza crusts (along with their wraps and foldits) in the deli section of your local grocery store. Make sure to check them out… especially the Rosemary and Olive Oil Pizza Crust for this Butternut Squash and Lamb Flatbread!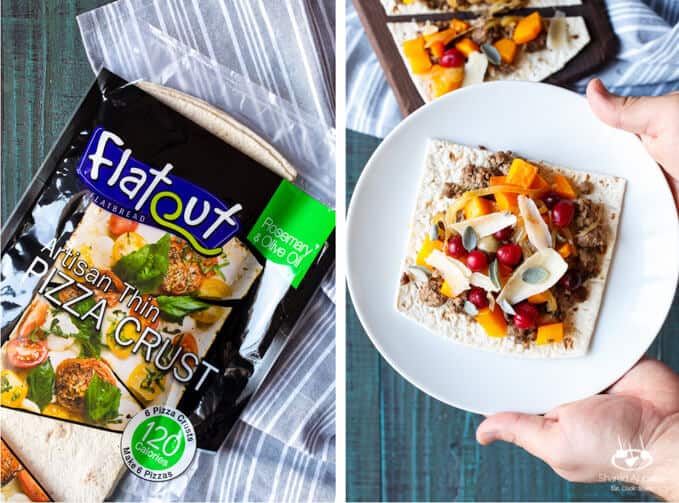 Even more reason to love Flatout? They are giving back this holiday season by teaming up with the American Lamb Board to raise money to support Friendsgiving for No Kid Hungry. The only missing puzzle piece in the equation is YOU.
It's SO simple for you to get involved… for every Friendsgiving recipe, tip or photo that you share, the American Lamb Board and Flatout Flatbread will donate $1 to provide food for hungry kids this holiday season. Bonus… you can win cool prizes just for participating!
They will donate $1 for any of the following, and you can do ALL THREE:
LIKE Flatout Bread and American Lamb on Facebook
SHARE a recipe on Facebook, Instagram, or Twitter using #FlatoutLamb and #Friendsgiving
SHOW how you and your friends are celebrating friendsgiving with Flatout and Lamb! Make sure to use #FlatoutLamb and #Friendsgiving
Guys. You can all take a minute and do at least one of these, right? You all know we are going to be stuffing our faces BIG time next week. Let's make sure those less fortunate than us can also have the food they need to stuff their faces. Make a difference in someone's life today… and it'll literally take you a minute. Then make your friends and family join in and help out No Kid Hungry as well!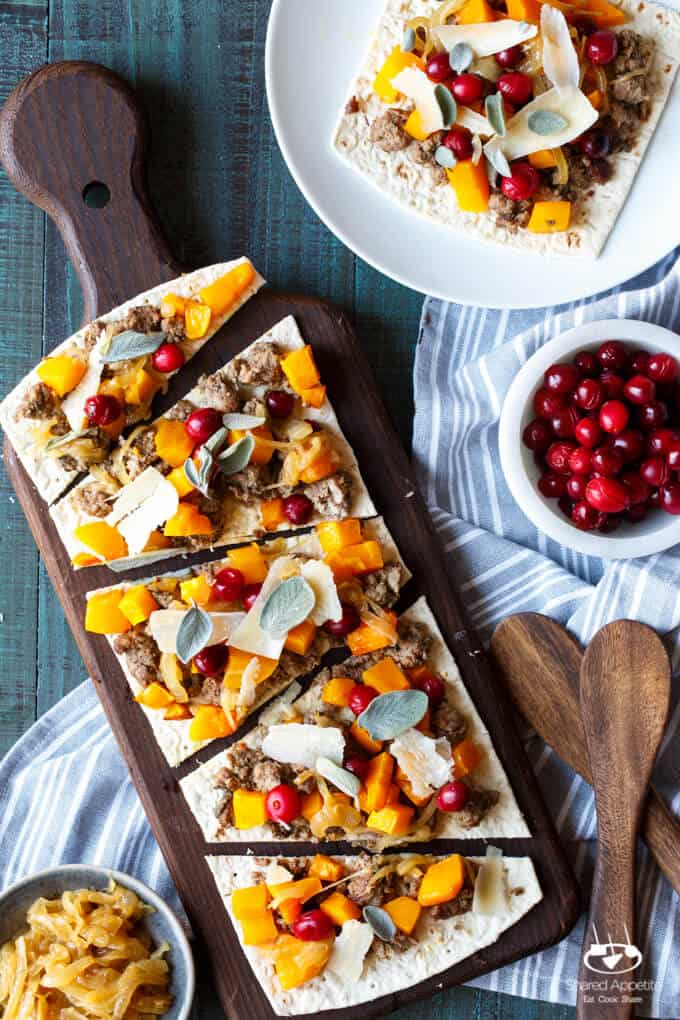 Print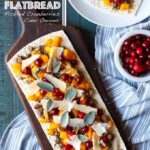 Butternut Squash and Lamb Flatbread with Cider Onions and Pickled Cranberries
---
4

Flatout Flatbread Artisan Thin Pizza Crusts

1

butternut squash, finely diced

1

pound ground lamb

3 tablespoons

olive oil, divided

1 tablespoon

finely chopped rosemary

1 tablespoon

finely chopped sage, plus more for garnish

1/4 teaspoon

onion powder

1/4 teaspoon

garlic powder
Kosher salt
Apple Cider Caramelized Onions (recipe below)
Pickled Cranberries (recipe below)
Parmigiano Reggiano Cheese, grated
for the Apple Cider Caramelized Onions
2

yellow onions, thinly sliced

1 tablespoon

unsalted butter

1 tablespoon

olive oil

2/3 cup

apple cider
Kosher salt
for the Pickled Cranberries
½ cup

apple cider vinegar

1 cup

warm water

1 tablespoon

sugar

1½ teaspoons

Kosher salt

1½ cups

fresh cranberries
Pinch black peppercorns
---
Instructions
Preheat oven to 425°F. Combine finely diced butternut squash with 2 tablespoons olive oil and season with Kosher salt on an aluminum foil lined baking tray. Roast in oven for 20 to 25 minutes, until squash is fork tender.
Meanwhile, heat remaining 1 tablespoon of olive oil in a medium skillet over medium-high heat. Add lamb, rosemary, sage, onion powder, garlic powder, and season generously with Kosher salt. Brown lamb, breaking up into bite-sized pieces and stirring, until fully cooked.
Bake Flatout pizza crusts in oven for 2 to 3 minutes, until warmed through.Top with roasted butternut squash, ground lamb, cider onions, pickled cranberries, and grated parigiano reggiano cheese. Garnish with fresh sage. Devour.
for the Apple Cider Caramelized Onions
Heat a medium skillet with over medium heat. Add the onions and cook for about 8 to 10 minutes, stirring frequently, until softened. Slowly add cider, letting it cook into the onions before adding more. Do this until all the cider is slowly absorbed and the onions are very soft.
for the Pickled Cranberries
Bring vinegar, water, sugar, and salt in a small saucepan to a boil. Add cranberries and pinch black peppercorns and cook just until cranberries split open and soften. Let cool and transfer to a bowl or mason jar. Refrigerate (up to 1 week) until ready to serve.
Prep Time:

15 mins

Cook Time:

25 mins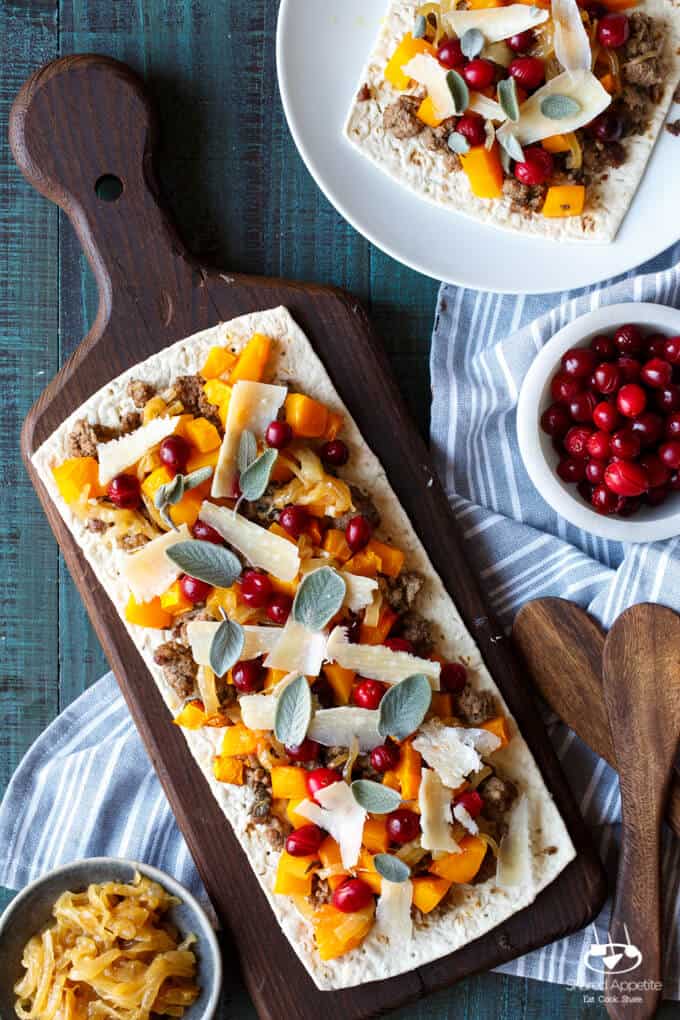 Butternut Squash and Lamb Flatbread with Cider Onions and Pickled Cranberries
Need More Fall Recipes In Your Life?
Sweet Potato Cheesecake with Bourbon Whipped Cream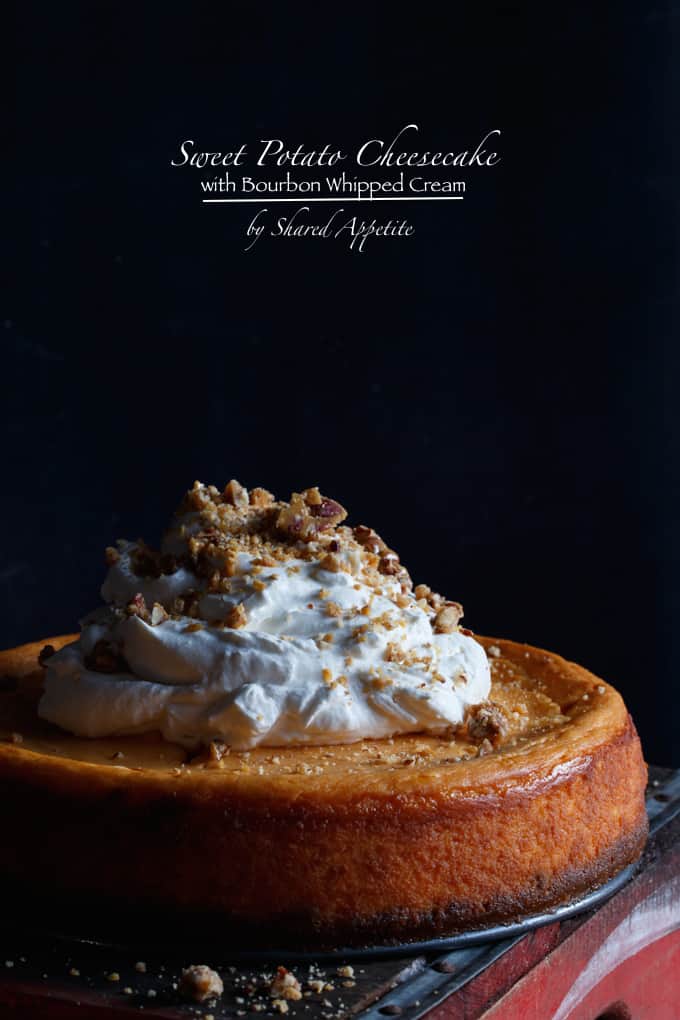 Roasted Butternut Squash and Apple Soup with Creme Fraiche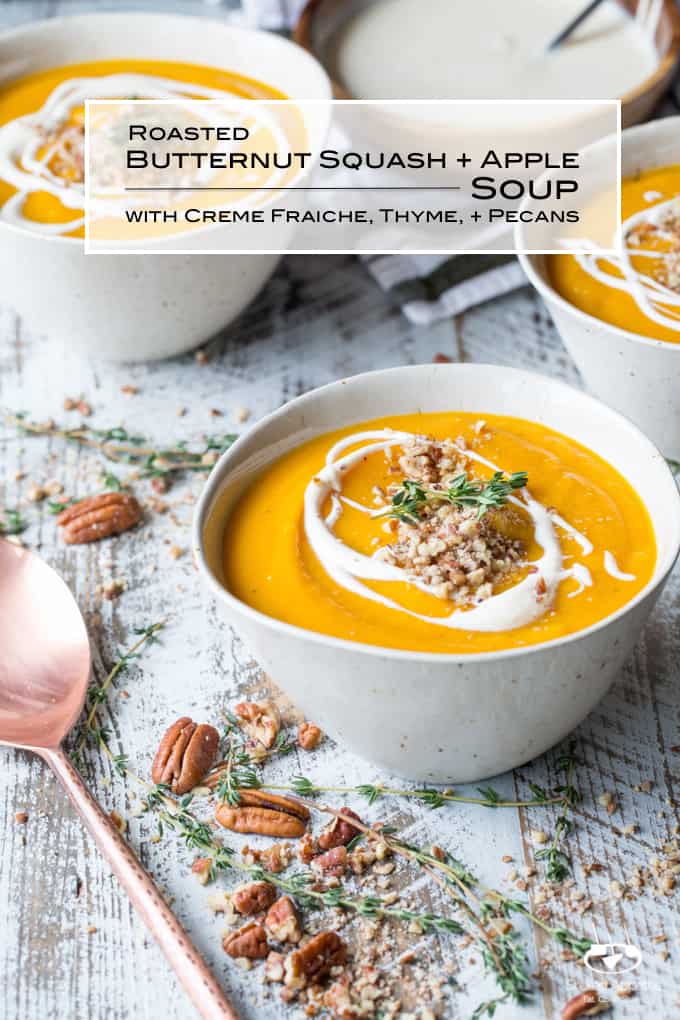 Vegan Butternut Squash, Apple, and Cranberry Rice Pilaf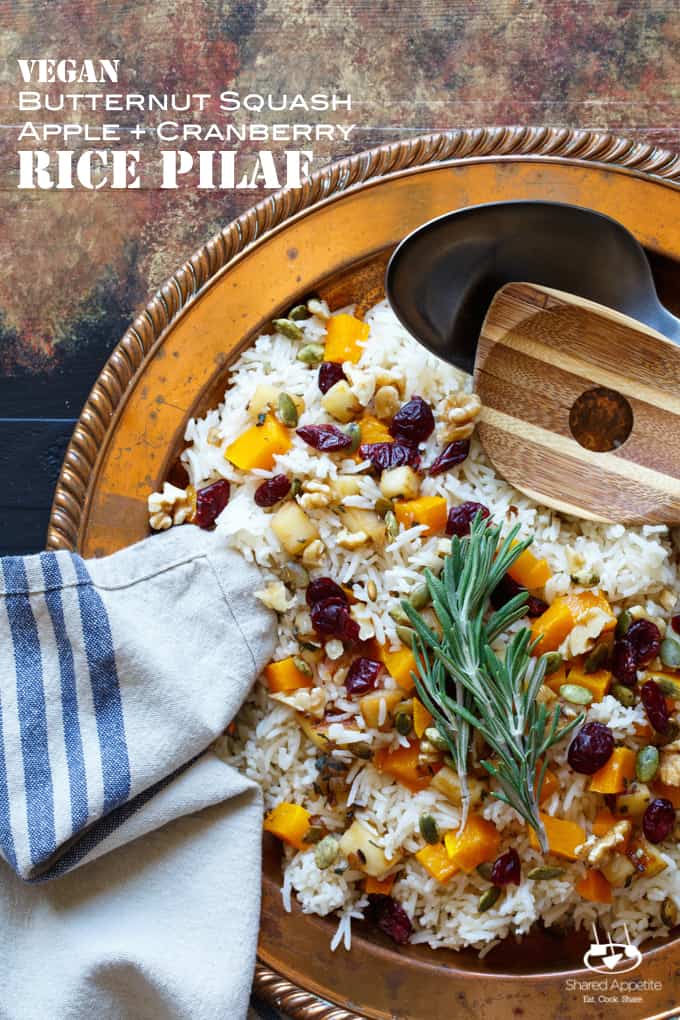 Apple, Bacon, and Leek Pizza Bites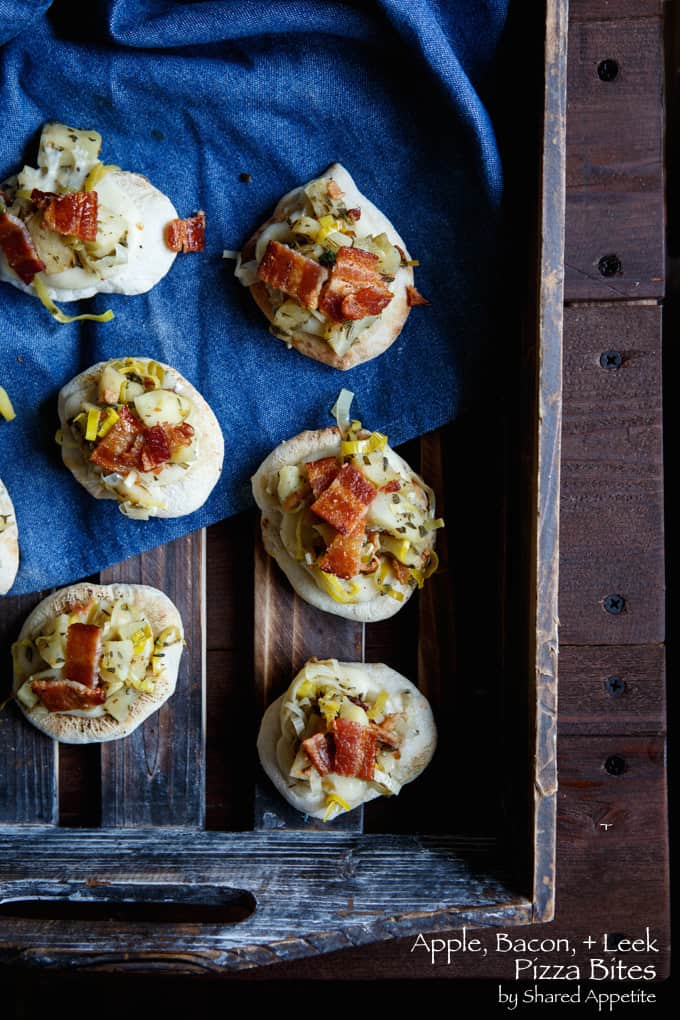 Butternut Squash Spaghetti with Chorizo and Spinach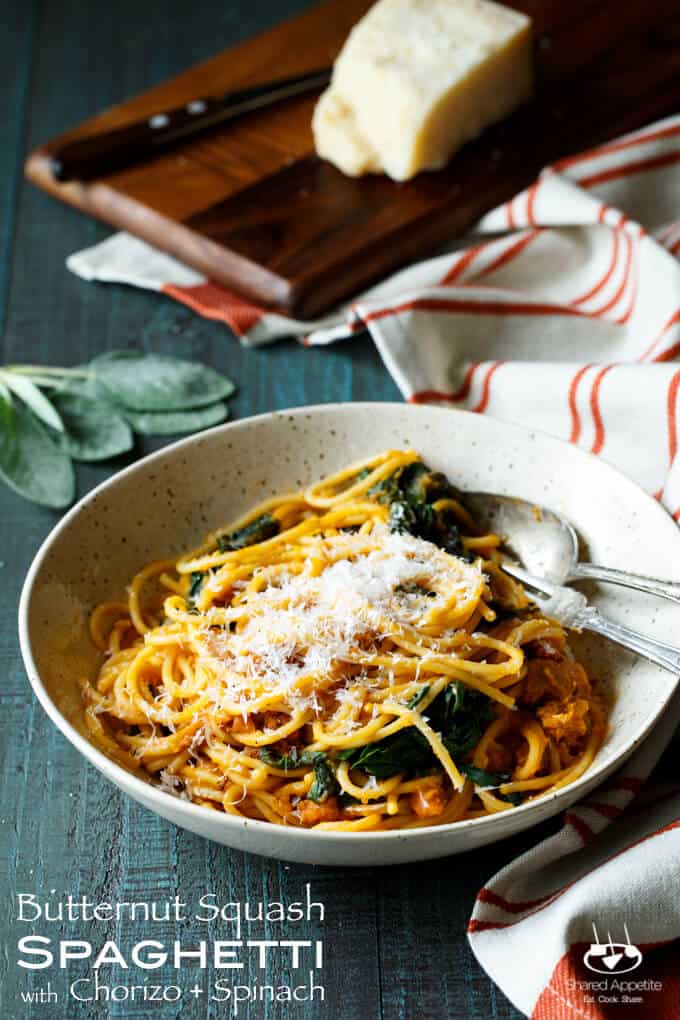 Acorn Squash Crostini with Ricotta, Bacon, and Fried Sage