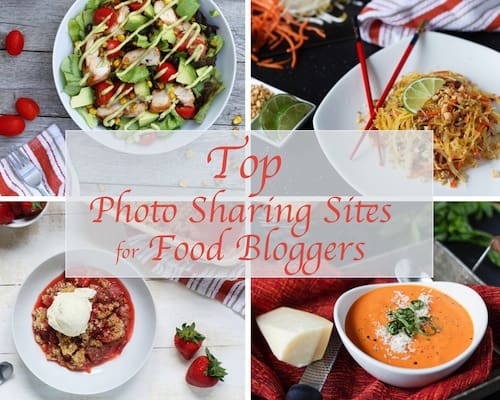 Your blog is up and running. You have killer recipes with mouth-watering photos. Now all you need to do is spread the word and get people to come to your site. The answer? Or more accurately, one of the answers: photo sharing websites.
Photo sharing sites have been a great source of referral traffic for food bloggers throughout the years, and all of the ones listed below repeatedly account for my top referral traffic every single month. So let's get to it, shall we?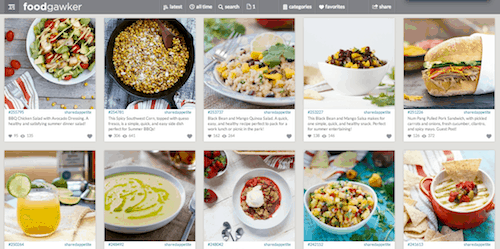 I should mention that beyond just creating a good amount of traffic from hungry recipe-seekers, you'll find photo sharing sites valuable for a couple other reasons:
1) They are viewed by fellow food bloggers. Fantastic blogging relationships are often started with a simple click of a photo. They check out your post, will probably leave a comment, and then you'll return the favor by commenting on one of their posts. Then they'll feel inclined to revisit your site, and then you theirs. You get the picture. A friendship is born. And the more allies you have in the world of blogging, the more fun and rewarding it can be.
2) Photo sharing sites are viewed by large corporate food blogs, magazines, and companies. They'll bookmark recipes they think they can use for a project and then refer people to your website. For instance, BuzzFeed used my recipe for Spaghetti Squash Pad Thai as part of a roundup post, which drove a great amount of traffic my way.
So what sites do I submit photos to? Good question.
This may be, in fact, the most democratic photo sharing website we have at our disposal. There is no editor sitting behind a screen with the power to decide which of our submitted photos should be accepted or rejected. The general public is in control here, and they'll decide what photos and recipes to share with the world.
Pinterest has quickly become the top photo-sharing website for food bloggers. While quickly viewing several blogs that share their monthly stats, along with a look at my own analytics, it is clear that Pinterest can be the quickest way to distribute your content to the masses.
How do you optimize traffic from Pinterest for your blog? I just so happen to be working on that post right now, so stay tuned 🙂
Foodgawker is often times regarded as the premier food-only photo sharing site. It's also probably best-known as being one of the pickiest and annoying sites to get your photos published (although I think they've been a bit more lenient recently). I've gotten really good at taking rejection thanks to Foodgawker 🙂
Foodgawker is a curated gallery, meaning a team of editors comb through all the submissions and they decide which ones are deemed worthy enough for their site.
A whole lot of my overall referral traffic comes from foodgawker. It ranks #2 in my analytics for referral traffic. Yes, it might be a pain sometimes to get photos accepted (I'll share some tips I have for getting your photos approved soon), but once you do, it serves as great exposure.
Other Photo Sharing Sites
in order of overall generated referral traffic for Shared Appetite:
Recipe Newz – The good news is that all submitted recipes are posted onto their website gallery. However, the most popular of the day are featured in the prominent top positions within the gallery.
Tastespotting – similiar to Foodgawker in their approval process, although a much smaller operation overall.
Healthy Aperture – a decent amount of traffic is generated from Healthy Aperture, especially considering I can only submit a percentage of my recipes (only the healthy ones!). With sites that have a narrowed audience with a strong community like this one, traffic can often times be really good.
Food Epix – run by blogger Jo Cooks, Food Epix is a bit more relaxed in terms of accepting photos.
Yum Sugar – this site works a bit more like Pinterest, except on a much smaller scale. Once you create an account, you can upload a photo of your recipe along with a description. When uploading your photo, you can post it to different boards (I post to Savory Sights and Kitchen Goddesses). Besides people being able to view your photos on these boards, editors typically pick select photos to be featured on the main site and their social media outlets daily. I've gotten some decent traffic through my recipes being featured several times.
An important note: when adding your description for an uploaded photo, you need to insert a hyperlink code so it refers to your website. For instance, at the end of your photo description, add: <a href=" http://www.thenameofyourblog.com/postname "> The Text You Want to be Displayed, like Click Here for the Recipe! </a>
Chowstalker – a paleo only submission site. The quality of the photograph doesn't really matter, as long as you adhere to their dietary restrictions. Traffic from my approved Chowstalker photos have been very good, but is low overall on my list because I don't post many paleo-friendly recipes.
Tasteologie – yet another photo sharing site that has a similiar approval process to Foodgawker.
Finding Vegan – vegan only, in case you couldn't tell. But like Chowstalker and Healthy Aperture, it can produce a lot of traffic from the community the site serves.
Recipe Chart – you don't actually have to submit content to Recipe Chart. Once you add your blog to their database, photos will be included automatically.
Foodie Portal – very similiar (identical in design, actually), to Food Epix. Possibly run by same people?
Photograzing – the photo sharing site for the popular food blog, Serious Eats. It has a similar approval process as Foodgawker, although I don't really see a lot of traffic from it overall.
YumGoggle – yet another photo sharing site.
Dessert Stalking – a sweets only site, whether it be dessert or a sweet cocktail.
Punk Domestics – for canning, cheese-making, foraging, and other DIY type food projects. I just stumbled upon Punk Domestics, so I'm not too sure how referral traffic will be.
Dishfolio – My first ever accepted photo was at Dishfolio. They are very lenient with the photos they accept and aren't a huge draw of traffic, but it's a great introductory way to get your photos published. Dishfolio also has a blog component to the site, and they are always looking for people to do a guest post.
Kitchen Artistry – note that Kitchen Artistry actually doesn't use the square thumbnails (rebels!), but rather a landscape-oriented photo.
Whole Yum – I just discovered Whole Yum, so it's too early to tell what kind of traffic it will bring.
As you can imagine, posting to all these sites can become quite time consuming. Frankly, it can be a huge pain in the butt. But here is the most efficient method I have found to post to all the sites, which should aid in keeping your sanity at bay.
1) I first only submit my photo to foodgawker. If it's accepted, I know 99% of the time, it will be accepted by all the other sites.
2) When ready to submit to all the other food photo sharing sites, open them all up in different tabs within the same window.
3) Copy and paste each line of information in each tab. For instance, copy and paste the link to your post in each tab, then go back and copy and paste the tags, then the description, etc.
Doing this will make the process go pretty darn quick. I can get a recipe post submitted to all these sites within 10 minutes easily using this method.
Food blogger friends: am I missing any valuable photo sharing sites? Let us know in the comments below 🙂