So excited to be sharing my mom's classic Quick and Easy Chocolate Chip Muffins. Just 10 minutes of prep and my little kids love to help to bake them up!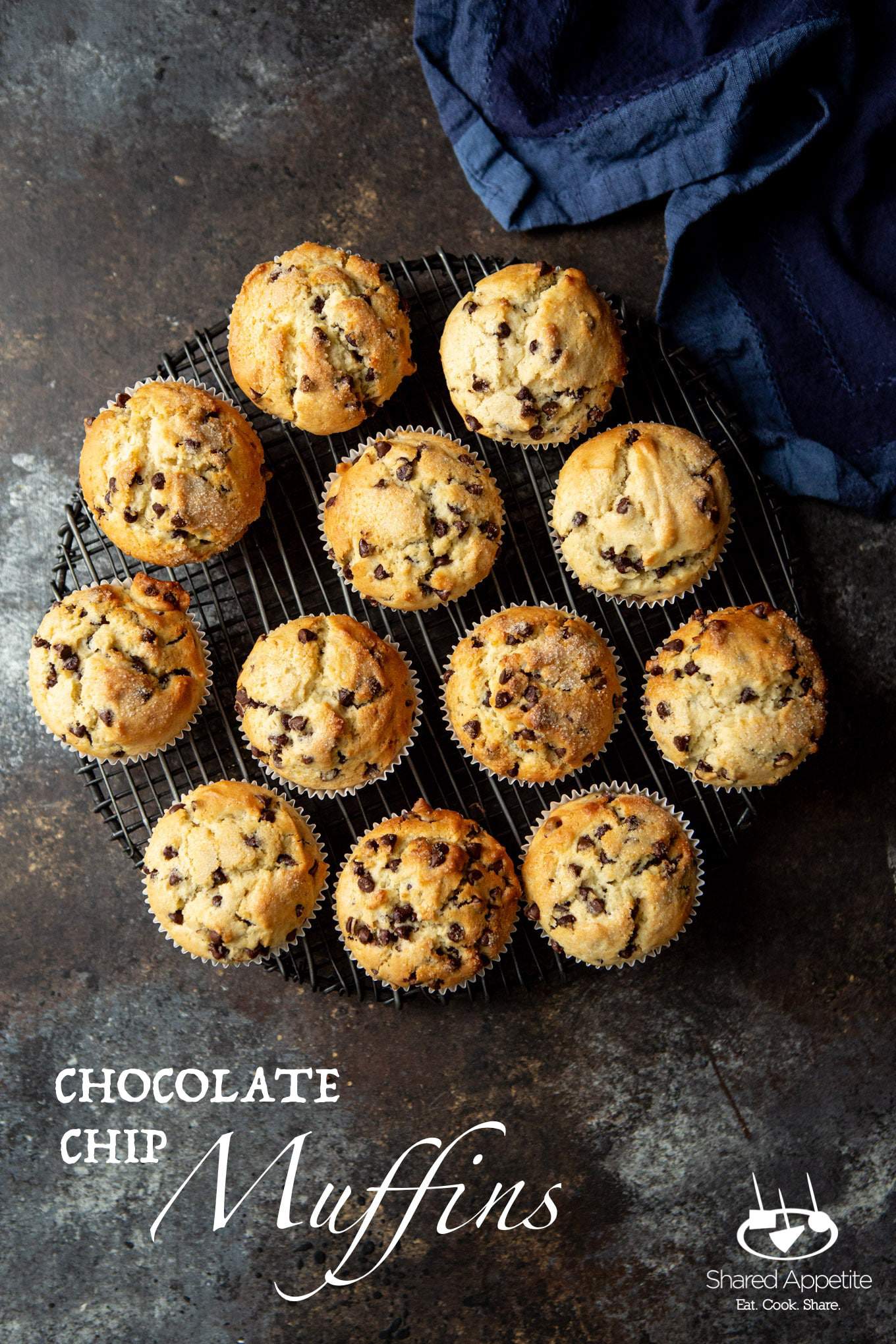 My mom made these exact quick and easy chocolate chip muffins for our family once a week during my childhood. They bring back such amazing memories. I vividly remember coming down the stairs and instantly being enamored with the scent of freshly baked muffins cooling on the counter. Fast forward to when I had kids of my own, it was one of the first recipes I asked her to share with me.
Olivia and Bennett cannot wait for muffin day. As soon as I excitedly yell who wants to help me make muffins, they drop EVERYTHING and run at their respective top speeds to the kitchen counter. It's at the point that they start going into the pantry and taking out everything we need all on their own. They fight over who gets to stir, who gets to pour in the ingredients, and of course... who gets to crack the egg.
Their favorite part? When I "accidentally" (ever single time) pour a few mini chocolate chips on the counter and their little hands scoop them up with such incredible speed that it leaves you wondering why it takes them so long to clean up a single toy later in the day.
My favorite part? Getting to instill the joy of cooking with my little ones. Planting the seed so that hopefully, maybe, one day, they'll get to have the same bonding experience with their own children. Oh, and the chocolate chip muffins are pretty darn delicious.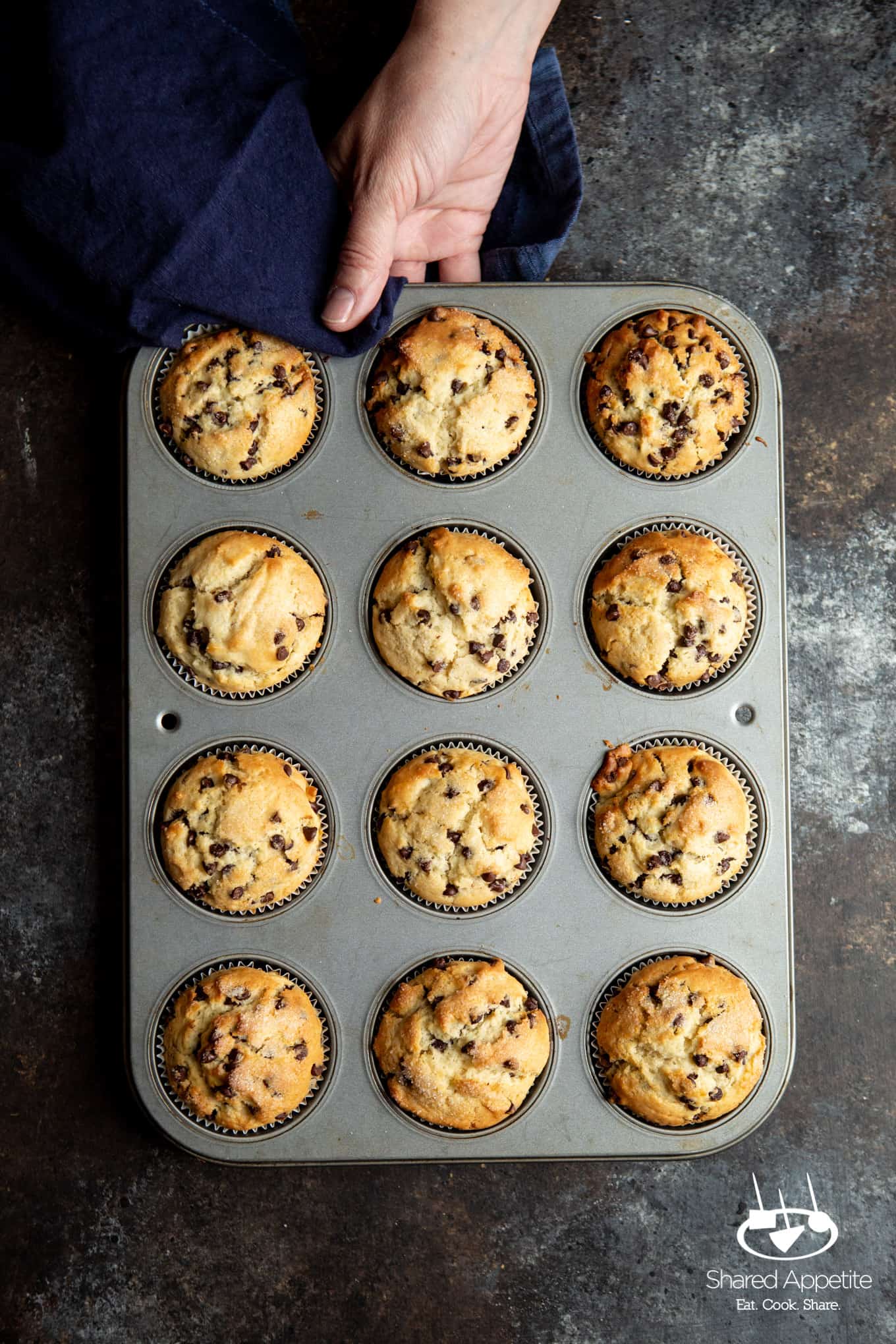 These super quick and easy chocolate chip muffins take all of 10 minutes to prep. While my 1 year old independently puts the paper liners in each hole in the muffin tin, Olivia and I whisk together the egg, milk, and oil. We then let Bennett pour in the dry ingredients, and then Olivia and Bennett take turns stirring. I pour in the chocolate chips, which you better believe I measure 100% with my heart. Sure the recipe says ¾ cup, but I just pour until I see the batter studded with enough chocolate.
If you're familiar with baking, you know that 2 cups of flour can have a decently large margin of error depending how packed the flour is. I give the flour a little stir in the bag before adding it to the measuring cup to make sure it's not to densely packed. If after you incorporate all the dry ingredients into the wet and you feel like the dough is too stiff, no biggie. It's happened to me on occasion. Just add in a smidge (official measurement term) more milk to loosen the batter a little.
My mom's chocolate chip muffins are pure comfort food. Especially with a glass of milk. Or I guess coffee if that's you're thing. Spoiler alert: I've never had coffee. I know, weird.
Thankfully these muffins freeze VERY well, so they last us a few days in our house. You just need to microwave them for about 45 seconds on half power (every microwave wattage is different so experiment until you find your sweet spot). I typically find when reheating them from frozen that the bottom gets hot before the top does, so sometimes I'll flip the muffins upside down halfway through. Can't say that I do that every time... just if I think of it.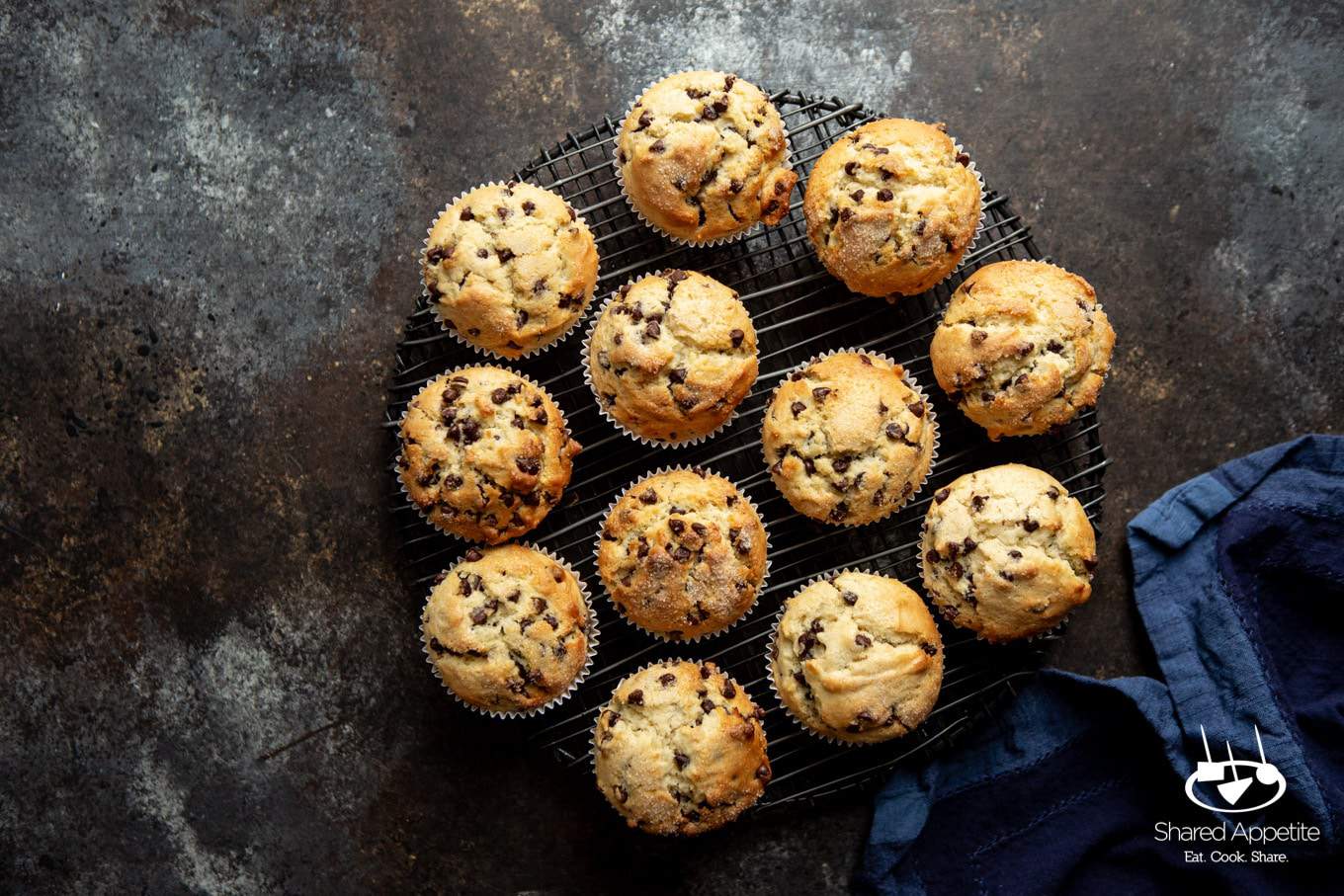 Print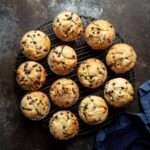 Quick and Easy Chocolate Chip Muffins
---
Author:

Chris Cockren

Total Time:

29 minutes

Yield:

12

muffins

1

x
1

egg

¾ cup

plus 2 tablespoons milk

½ cup

canola or vegetable oil

⅓ cup

sugar plus more for sprinkling

2 cups

all purpose flour

3 teaspoons

baking powder

1 teaspoon

Kosher salt

¾ cup

mini chocolate chips
---
Instructions
Preheat oven to 400°F.  Place a cupcake liner into each cup of the muffin tin.
Whisk together egg, milk, and oil.  Stir in flour, sugar, baking powder, and salt until just incorporated.  Stir in mini chocolate chips until just even dispersed throughout batter.  Fill each muffin cup ¾ way full.  Sprinkle each muffin with a pinch of sugar.
Bake for 18-20 minutes, until the tops just start turning golden brown.  Remove from oven and let cool in muffin tin for about 5 minutes, then transfer to a cooling rack and cool until ready to eat!  Muffins best served warm.
Notes
*the recipe calls for ¾ mini chocolate chips, but I 100% measure that with my heart.  Just make sure you have enough chocolate studded throughout the batter!
*make sure to use MINI chocolate chips.  I've tried to use regular sized chocolate chips in a pinch and they are not nearly as good
*these muffins freeze VERY well.  Just put in a ziploc bag once completely cool and freeze.  To reheat from frozen, place muffin in microwave and heat on half power for about 45 seconds.  Every microwave is different though so it may need a little more/less time.
Prep Time:

10 minutes

Cook Time:

19 minutes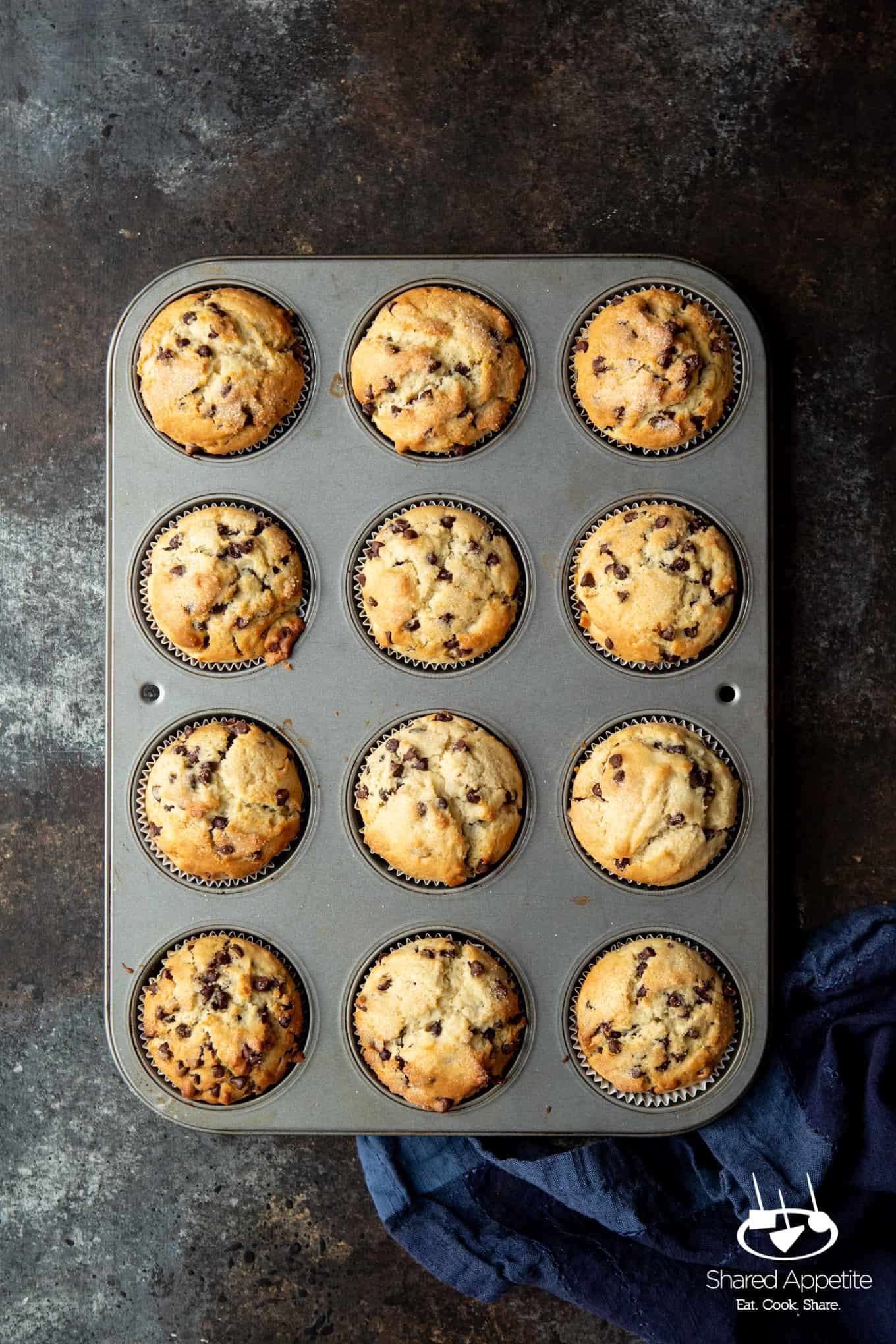 Quick and Easy Chocolate Chip Muffins