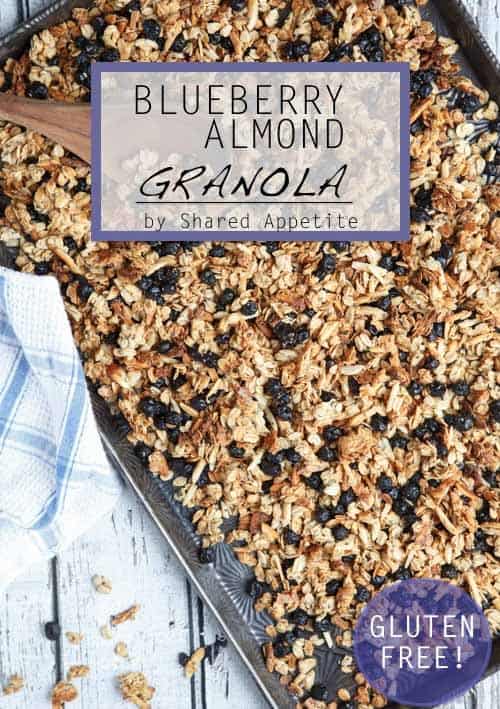 A quick and easy recipe for homemade gluten-free blueberry almond granola with chia seeds! It's healthy and uses brown rice syrup instead of sugar!
I'm a dinner and dessert kind of guy. Breakfast has always been just a required gateway to get to actual enjoyable eating.
Well, that's not entirely true. Growing up, every Monday, Wednesday, and Friday, we would scarf down one of my mom's chocolate chip muffins. A muffin that, even with her recipe, I can't seem to fully replicate. It's the only breakfast I would ever get excited for.
Cereal, no way. Pancakes, only if they were studded with a generous amount of chocolate chips. And don't even get me started on the whole "breakfast for dinner" thing. My mom tried that once. And only once.
And now, even as a grown up (and I use that term loosely), I'm not a breakfast person. Asheley's not either. So we've been in this greek yogurt phase for a while now. And after seeing this awesome looking granola recipe on my blogging friend's site Kitchen Apparel, I figured it was time to dress up our lame breakfast and be a little more sophisticated.
Just greek yogurt, eh. But greek yogurt with a handful of some healthy, gluten-free blueberry almond granola with chia seeds. Now that's a breakfast that we can both feel... grown-up about.
Unless there are my mom's chocolate chip muffins on the table. Then screw granola.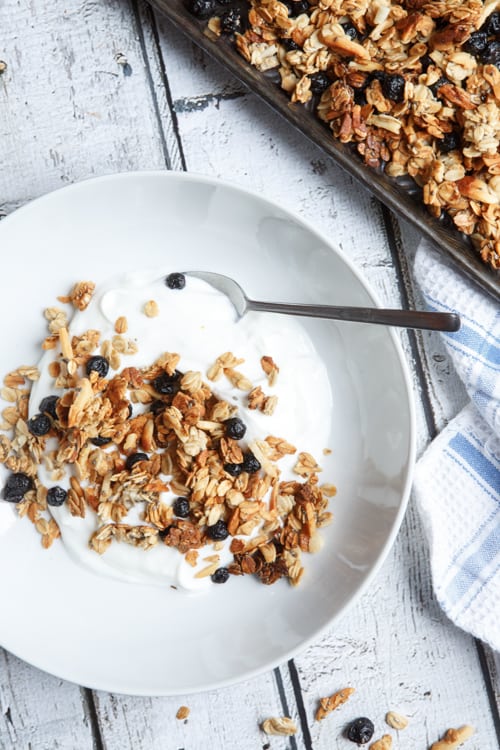 Granola is one of those things that has been on my list to make for a while now.
Do you guys have anything that always seems to be on your "I need to make that at some point" list, but then you never do? I have a whole google doc full of 'em.
It feels good to finally cross this off the list.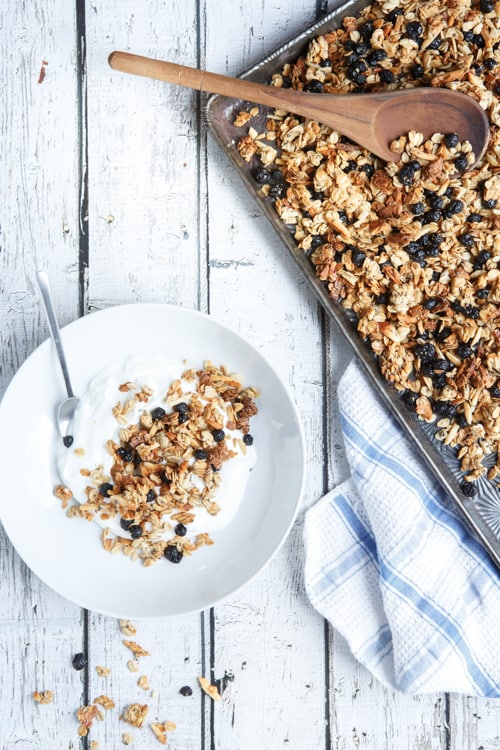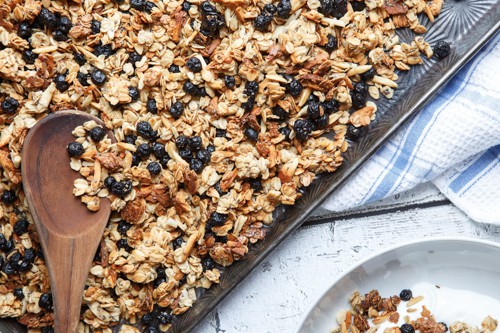 And it looks like this is going to be a staple in our house. Asheley is obsessed. Almost as obsessed as that box of Tagalongs she just downed in like, 4 days, although she swears that she's not even a fan of tagalongs. Weird.
But really, this makes a lot of granola. Like, more than I thought the two of us would ever go through. Wrong.
I was shocked, appalled, and yet extremely proud of how fast she made her way through the entire batch.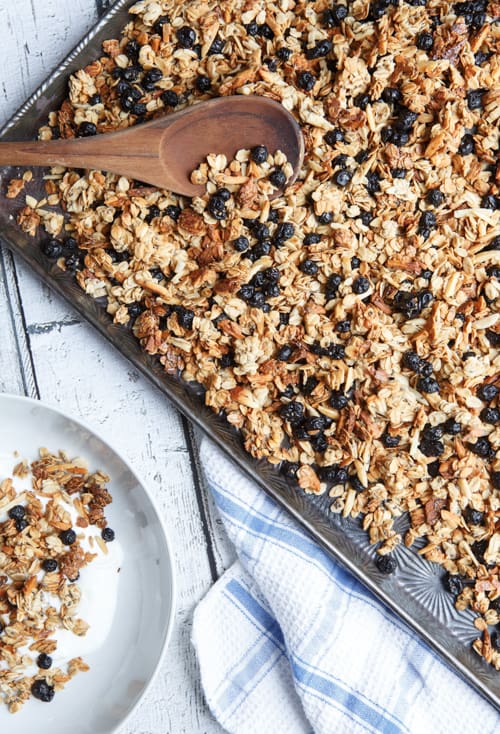 This granola isn't as sweet as some of the store bought varieties out there, which actually makes me scared to think how much sugar they actually lace their products with. And now that I know how easy it is to whip out a batch of homemade gluten free granola (and how much of it Asheley will happily inhale), I'll be experimenting a bit with some other flavor combos.
So, granola friends, what are your favorite flavor combos? Give me some ideas 🙂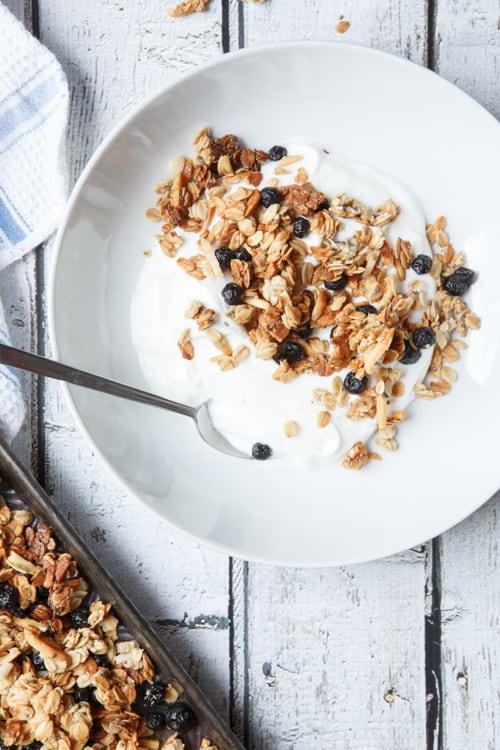 adapted from Kitchen Apparel's Granola with Dried Lingonberry
Print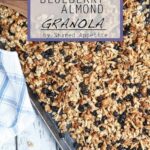 Gluten-Free Blueberry Almond Granola
---
Total Time:

35 minutes

Yield:

About

6 cups

of Granola

1

x
4 cups

old fashioned gluten-free rolled oats

1 ¼ cups

slivered or chopped almonds

⅓ cup

chia seeds

3

large egg whites

¾ teaspoon

Kosher salt

¾ cup

organic brown rice syrup

⅓ cup

liquid coconut oil

4 teaspoons

vanilla extract

1 ½ cups

dried blueberries
---
Instructions
Preheat oven to 350°F. In a large mixing bowl, combine oats, almonds, and chia seeds. In another bowl, whisk the egg whites and salt until frothy. Continue to whisk in the brown rice syrup, coconut oil, and vanilla extract. Add wet ingredients to the large bowl of dry ingredients and stir until all the oats are evenly coated. Spread mixture onto two baking sheets lined with parchement paper. Bake for 20 minutes, then using a spatula, toss the granola, moving the outer edges to the center. Place granola back in oven and bakc for an additional 10 minutes or until golden brown. Let granola cool completely in the pan, then transfer to a large bowl and toss in dried blueberries.
Serve with plain Greek yogurt for one heck of a breakfast.
Prep Time:

5 minutes

Cook Time:

30 minutes