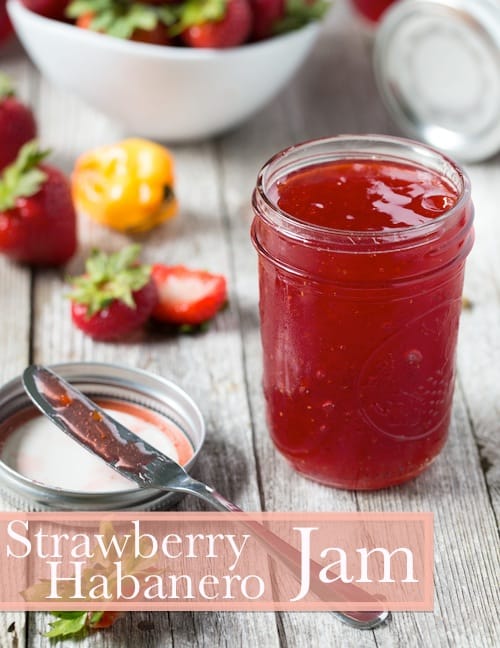 You know how I know you can't take jam with you in your carry-on luggage? Guess. I was coming back from Seattle a few years back with an incredibly divine strawberry habanero jam from Pike Place Market safely packed away when it was quickly confiscated from me at the security check point. I swear I heard the sound of the jar popping opening as soon as I was out of sight from the security agents. They totally ate my jam.
So when Asheley and I picked a small arsenal of strawberries a few weeks back from the local organic farm, I knew immediately what I was going to make. It was time to reverse the nightmares brought on from that horrific jam-conspiracy from long ago.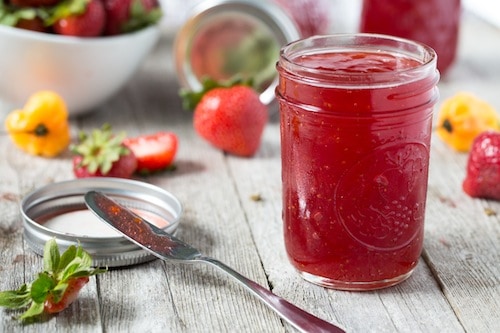 Full disclosure. I've never made jam before, and was super nervous that something was going to go wrong. The interruption of a roof salesman knocking at the door during the process didn't help. But you know what, making jam is all bark and no bite.
Well actually, this jam does have a bite. But a pleasant one. You get all strawberry first, then you actually taste the flavor of the habanero pepper, but then at the very tail end, at the very last moment, just a little bit of heat warms up the back of your mouth.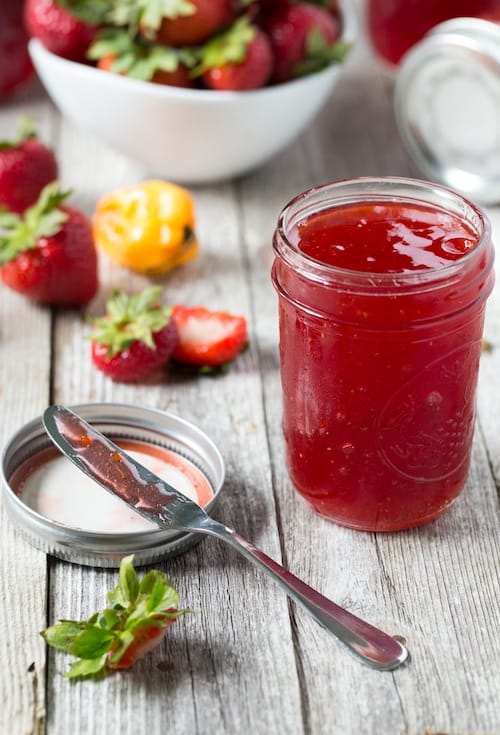 Processing the jam to make it shelf-stable (called canning) is optional. The jam will last a few weeks in the fridge all on its own. I decided to can them, and I could go ahead and explain every step in the canning process, but there is a really good picture tutorial from Pioneer Woman that's totally worthwhile:
Just a note: I don't have a canning pot and rack like described in the above links, so in the canning class I took last summer, the instructor said you could use any large stockpot and line the base of the pot with a couple dish towels. The towels will float in the water, but when you place the jars on them, they will sink down and it will help keep the jars from shaking around in the pot.
Another note: this recipe calls for liquid fruit pectin. There is also powdered fruit pectin. They are not interchangeable, as the process to activate the powdered variety is different than the liquid one.

Print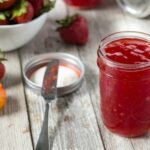 Strawberry Habanero Jam
---
Yield:

6

(12-ounce) Jars

1

x
4 cups

crushed strawberries, washed and hulled*

3

habaneros, seeds removed and finely minced**

7 cups

sugar

1

lemon, juiced

1 tablespoon

apple cider vinegar

1

pouch of Liquid Fruit Pectin (I use Certo)
*make sure to measure out the strawberries crushed. It will probably take between 3 to 4 pints of whole strawberries.
**make sure to wear plastic gloves when mincing the habaneros. I usually just make a makeshift plastic "mitten" with a plastic bag.
---
Instructions
Using a potato masher or your hands, crush the strawberries in a large bowl, leaving some bits of the fruit for a good textured jam. Measure out 4 cups of crushed strawberries into a pot.
Stir sugar into fruit, along with the habanero, lemon juice, and apple cider vinegar.
**I know 7 cups of sugar is a lot, but it is necessary for the jam to set properly.
Over high heat, bring mixture to a full rolling boil, which is a boil that doesn't stop boiling when stirred. Stir in pectin quickly and return to a full rolling boil for exactly 1 minute, stirring constantly.
Remove from heat and spoon off any foam with a metal spoon.
From this point, either:
Ladle jam into jars (a funnel helps this process) and let cool. Once cooled, keep refrigerated. Jam will keep for a few weeks refrigerated.
or
Ladle jam into jars and process jars according to the following canning tutorial: