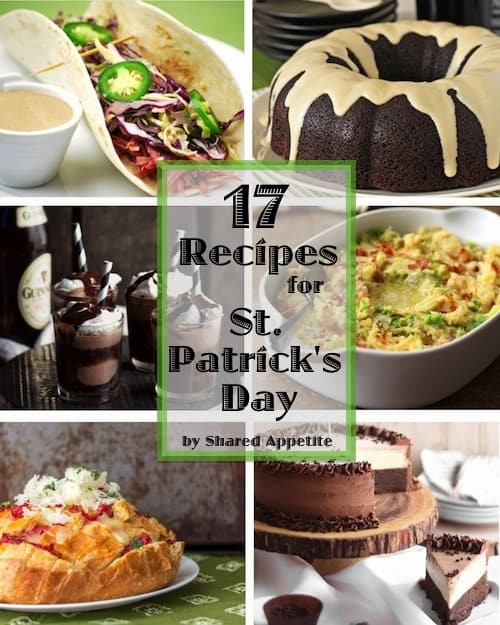 17 creative, unique, and absolutely delicious-looking recipes to make St. Patrick's Day a major culinary success with family and friends at your house.
It's time for some cold, hard truth. You may judge me. You may even dislike what I'm about to say. Ready? You may want to sit down for this...
I am not a fan of St. Patrick's Day.
I'm not against it. It's not that I have something against the Irish or the color green. I just have no connection to it. We never celebrated it growing up. And I have never experienced a soda bread or corned beef and cabbage dish that got my taste buds truly excited.
Sorry if I'm crushing dreams here.
But then I started looking at Pinterest and a bunch of my blogging friends' recent posts. And you know what? There are some really great looking St. Patrick's Day recipes out there! Like, these recipes get me excited to put on some green, slap on one of those "Kiss Me I'm Irish" buttons, and start talking like a leprechaun.
So since my life is so void of any St. Patrick's Day cheer, here are some recipes I'm thinking of trying out for the big day...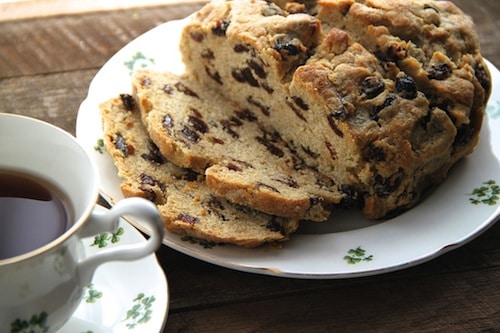 The Best Gluten Free Irish Soda Bread by my blogging friend Sandra over at Kitchen Apparel
I trust Sandra when she say's this is the best gluten-free irish soda bread recipe... most likely she tried a ton of them before coming to this soda bread eureka.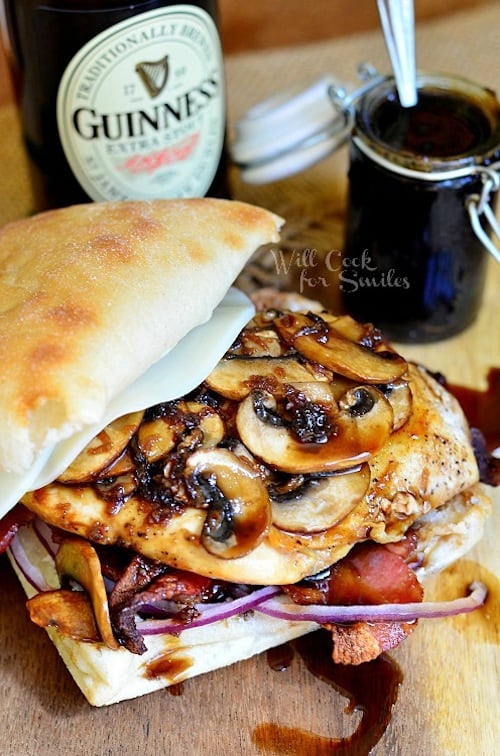 Guinness Glaze Chicken Sandwich by my blogging friend Lyuba over at Will Cook for Smiles
How good does that guinness glaze look?! I want to add that to everything!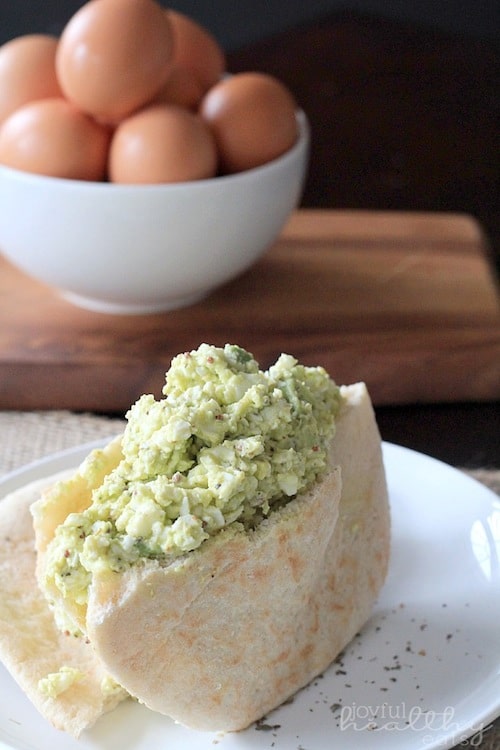 Avocado Egg Salad by my blogging friend Krista over at Joyful Healthy Eats
I've never thought of adding avocado to egg salad before, but it makes so much sense! Can't wait to start doing this whenever I feel like I have the patience to peel all those shells (one of my least favorite kitchen tasks, haha) ...but that's why I have my sous chef (Asheley) do that for me 🙂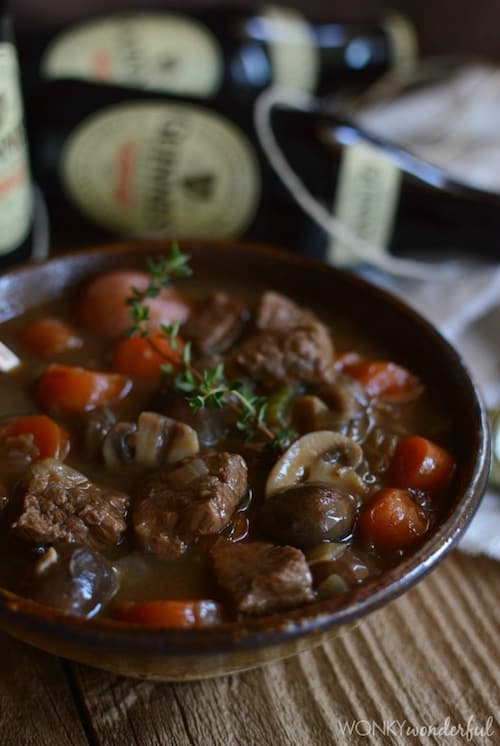 Guinness Beef Stew by my blogging friend Nicole over at Wonky Wonderful

Stews are pretty fantastic, and this one looks meaty, hearty, and absolutely delicious.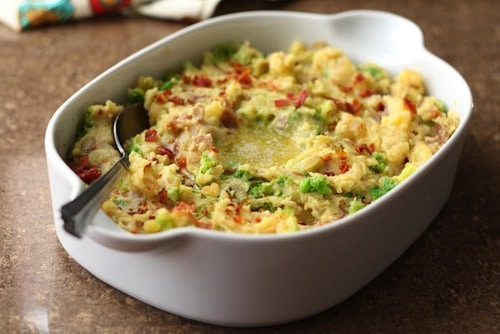 Irish Colcannon: Potatoes with Bacon and Cabbage by Mary over at Barefeet in the Kitchen

Did someone say bacon?!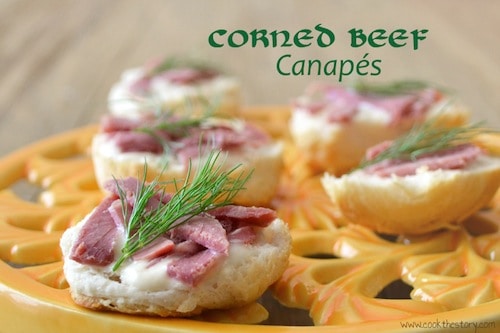 Healthy Corned Beef Canapes by Wendy over at Around My Family Table
I love tapas-style eating, and although I kinda don't like calling things "cute" (other than my adorable niece and nephew), these are pretty darn cute.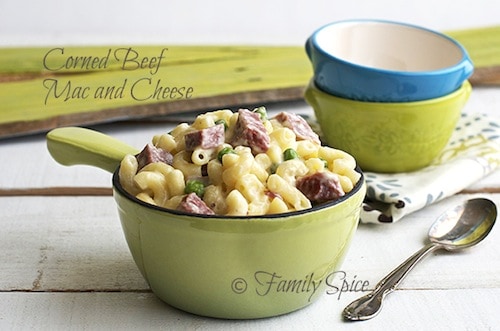 Corned Beef Mac and Cheese by Laura over at Family Spice
What really has to be said?! It's mac and cheese with corned beef... sold!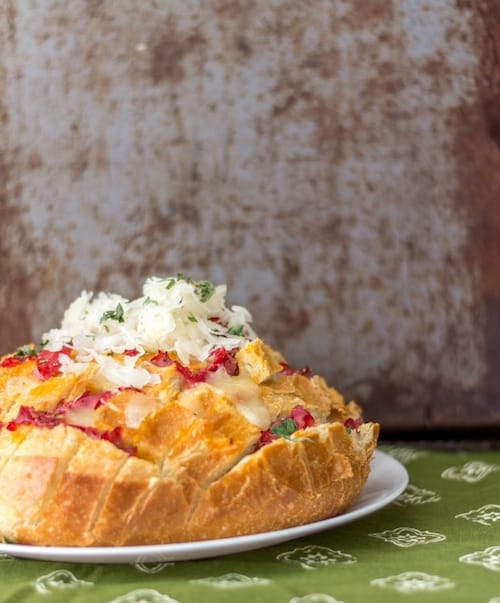 Stuffed Reuben Pull Apart Bread by Wendy over at Around My Family Table

I've never made pull apart bread before, but this recipe is totally making me want to!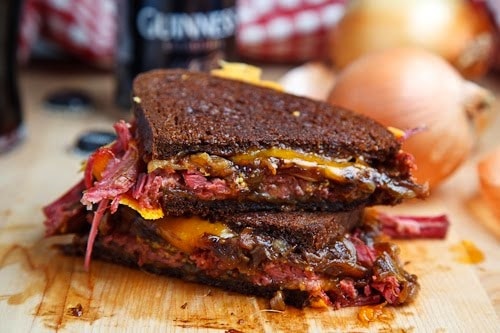 Corned Beef Grilled Cheese with Guinness Caramelized Onions by Kevin over at Closet Cooking

Corned beef surrounded by molten cheese and a generous helping of onions caramelized with some Guinness... does this not sound amazing?!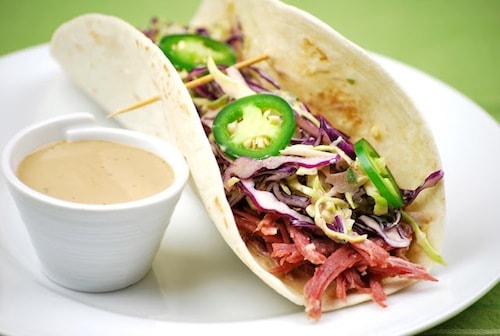 Corned Beef Tacos with Guinness Dipping Sauce by Karen over at Tasty Trials
My extreme love for tacos is no secret. I love them. I love everything about them. And I want these tacos in my life this St. Patrick's Day. Period.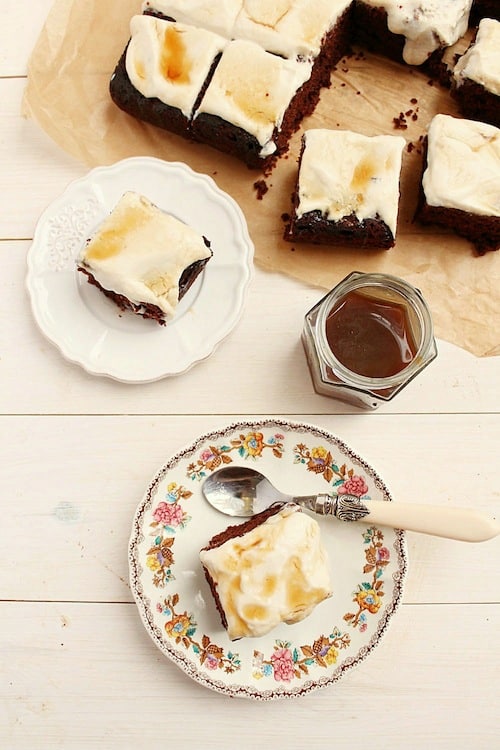 Triple Irish Cream Chocolate Caramel Cake by my blogging from Consuelo over at Honey & Figs
Consuelo always has great sounding recipes on her site that are decadent yet still a bit on the healthy side.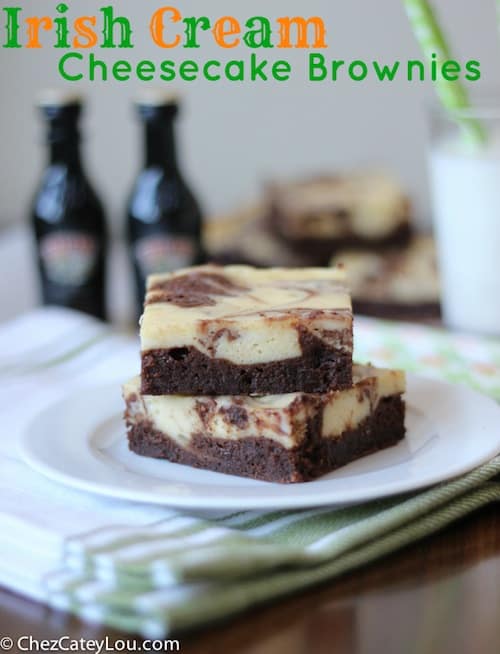 Irish Cream Cheesecake Brownies by my blogging friend Cate over at Chez CateyLou
I am a huge fan of brownies. I am a huge fan of cheesecake. Put them together and I'm one happy guy.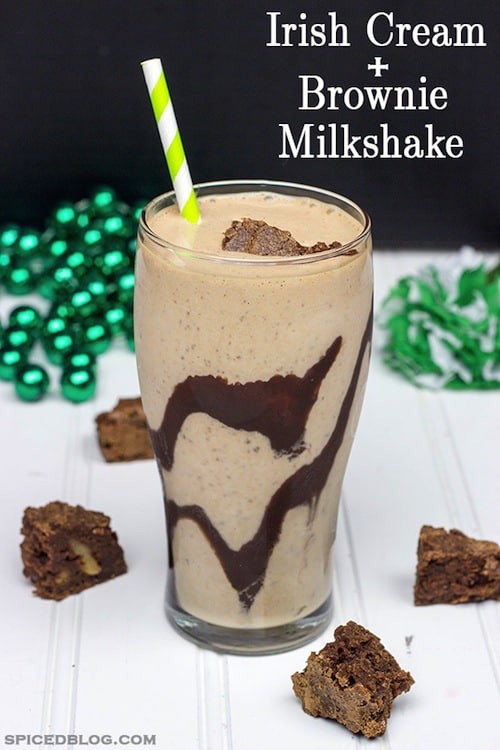 Irish Cream + Brownie Milkshake by my blogging friend David over at Spiced
I cannot believe my eyes... a BROWNIE milkshake! Oh heck yes.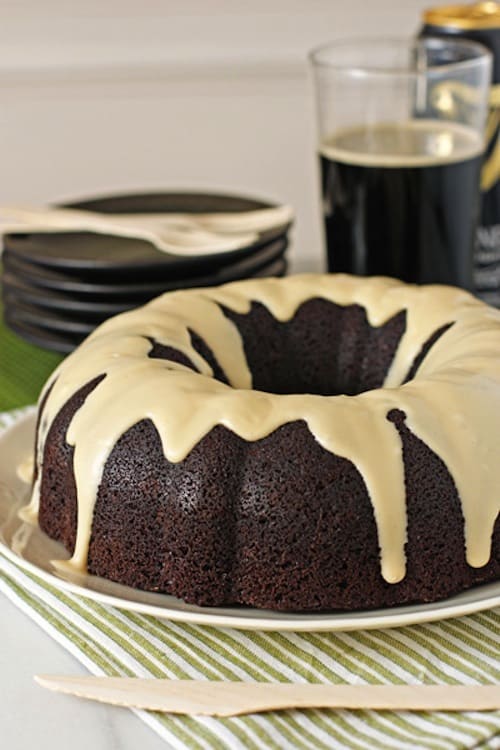 Chocolate Stout Cake with Cream Cheese Glaze by my blogging friend Ashley over at Cookie Monster Cooking
I've been increasingly excited by cream cheese frosting and glazes lately. And you can never go wrong with chocolate cake. My waistline agrees.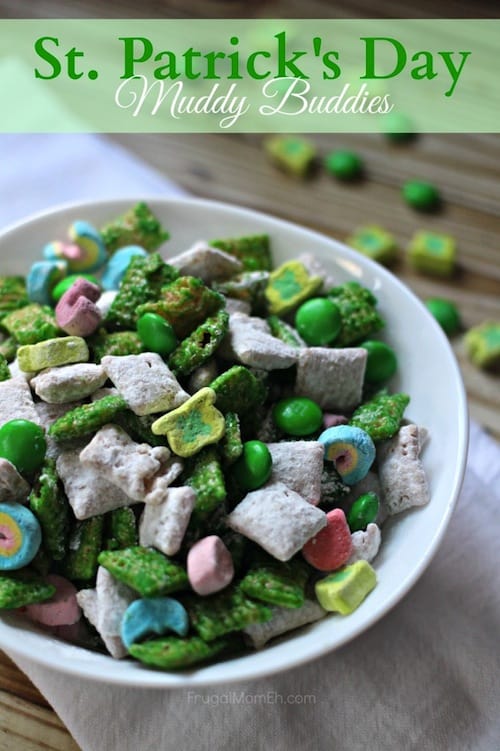 St. Patrick's Day Muddy Buddies by Elizabeth over at FrugalMomEh
Muddy Buddies are pretty darn addicting (case in point... these), and I'm loving this St. Patrick's Day version.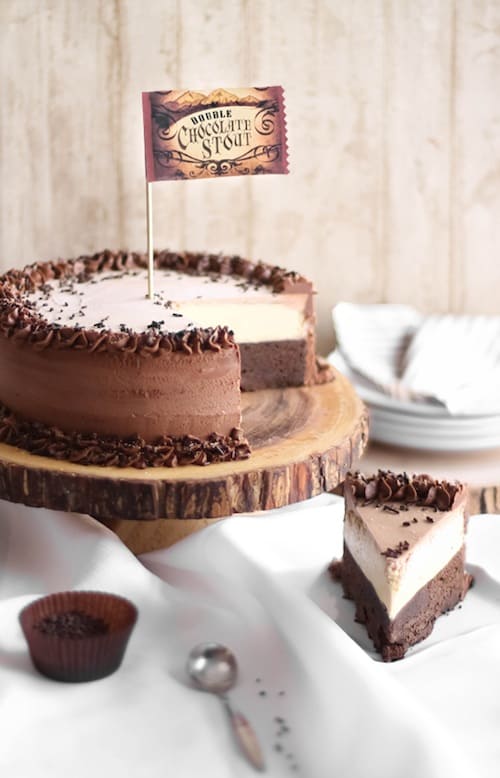 Double Chocolate Stout Mousse Cake by Heather over at Sprinkle Bakes
How gorgeous is this cake?!?! Anyone beside me want to dive head first into this photo and face plant into that cake?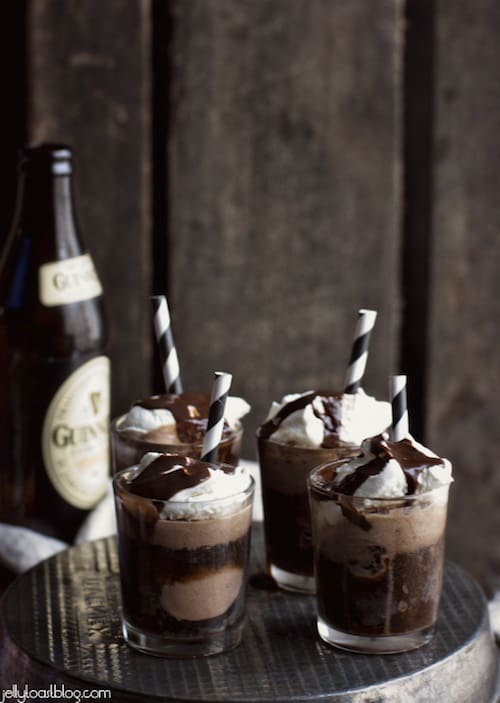 Mini Guinness Chocolate Floats by Emily over at Jelly Toast
Everything about this sounds amazing. Chocolate brownie ice cream. Whiskey whipped cream. Guinness chocolate sauce. Devour.