Get your creative apple pie on and up your dessert game with these Apple Pie Wontons with Salted Caramel Whipped Cream! They are beyond legit!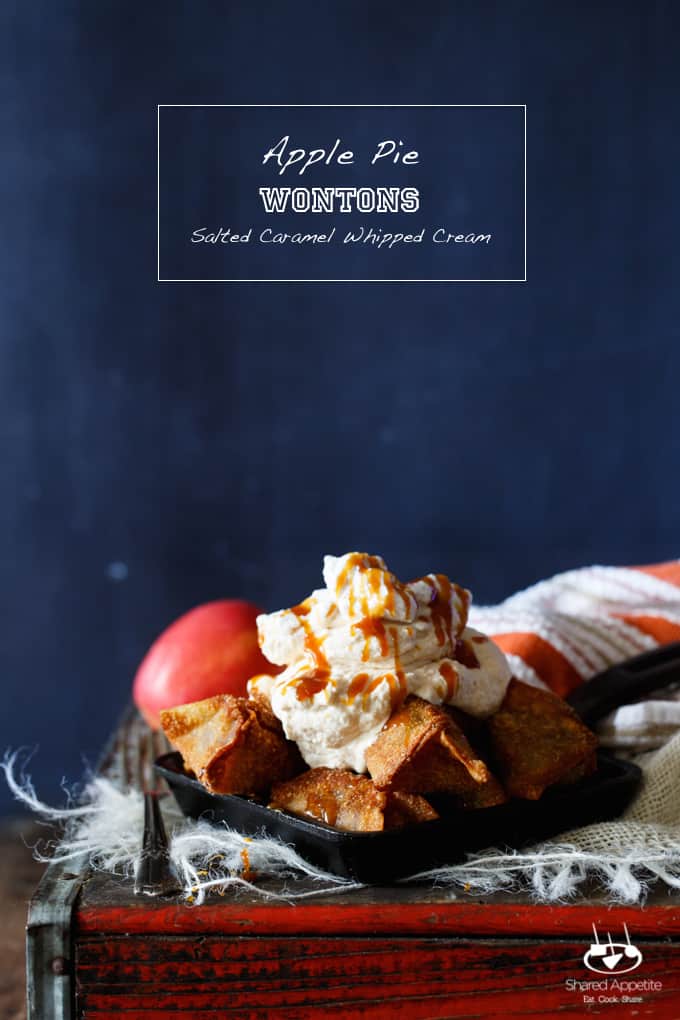 Pumpkin. It's everywhere. I was at the grocery store yesterday and every aisle endcap was trying to push everything pumpkin on me. Pumpkin bread mix. Pumpkin tortilla chips. Pumpkin butter. Pumpkin toothpaste (just kidding… although I'm sure it exists, somewhere).
Here's my question. What about apple?! Give me a choice between pumpkin and apple, and I'll choose the latter. Anyone else with me on this? Anyone. Oh, I get it. You've all been brainwashed by Starbuck's pumpkin spice marketing campaign, which started in like August or some ridiculousness like that.
Break the cycle, people. Remove the pumpkin flavor shackles. It's time to experience apple the way it was meant to be enjoyed… surrounded by copious amounts of sugar, butter, and cinnamon, and wrapped up in a handheld fried wonton. And then topped with a crazy addictive salted caramel whipped cream.
Still want that lame pumpkin muffin? Exactly. Live life the way it was meant to be enjoyed… stuff yo' face with these Apple Pie Wontons with Salted Caramel Whipped Cream.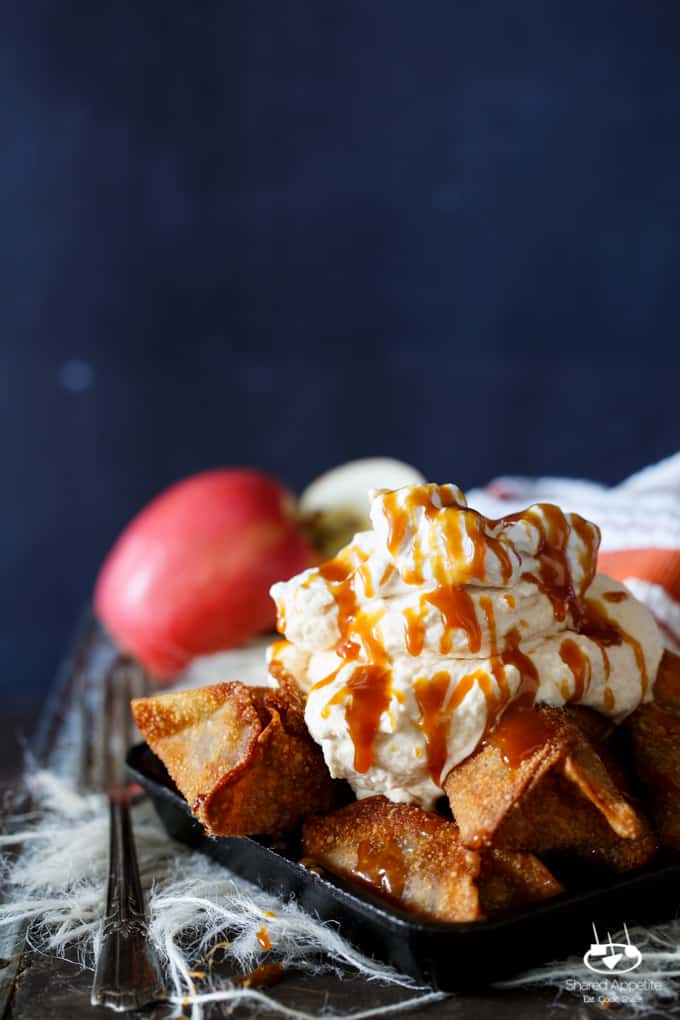 I know, I've kind of been obsessed with wontons lately. I made these Peach Cobbler Wontons with Bourbon Whipped Cream a few weeks back (ahhh, summer… I miss you). I'm all about Southwest Wontons when it comes to serving up an insanely good party app. Breakfast isn't even safe from my wonton wrath… Bacon, Egg, and Cheese Wontons!
Don't get me wrong. I'm a huge fan of apple pie straight up. But that requires SO many extra steps… a plate. A fork. Who has time for all that. I want apple pie in my face as quickly as possibly, the way our caveman ancestors ate pie… with their hands.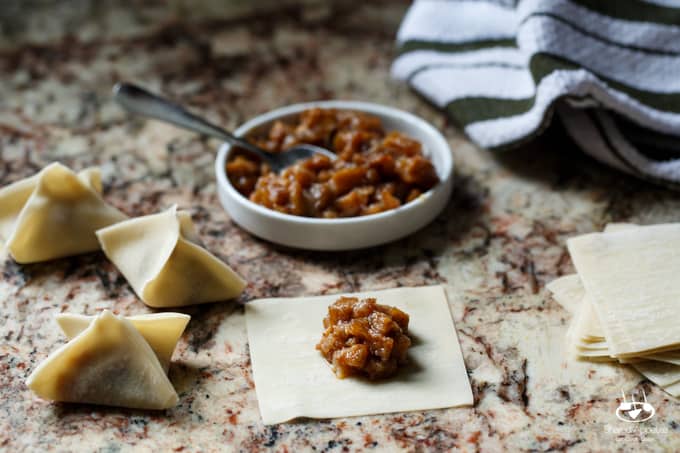 And can we just talk about SALTED CARAMEL WHIPPED CREAM for a second. Sorry for shouting. No I'm not. It's so freaking good. You should be super impressed I showed enough restraint to not eat the entire bowl of it before taking these photos. That's impressive.
Soon you'll be adding salted caramel whipped cream to everything and anything you can. Trust me.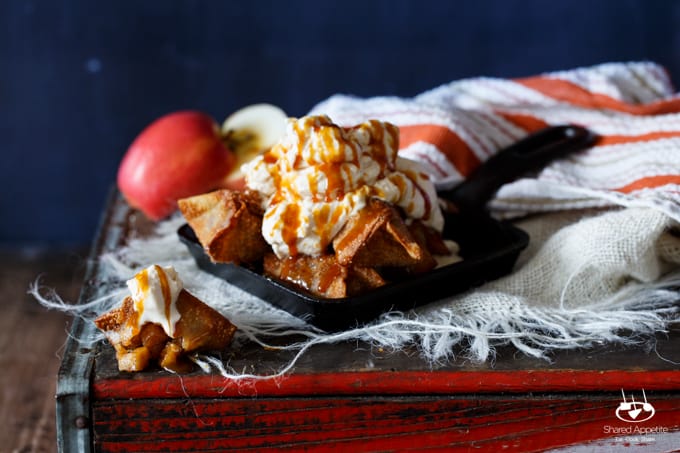 Print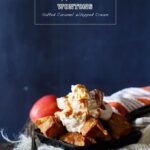 Apple Pie Wontons with Salted Caramel Whipped Cream
---
Total Time:

1 hour 20 minutes

Yield:

20

wontons

1

x
Description
Get your creative apple pie on and up your dessert game with these Apple Pie Wontons with Salted Caramel Whipped Cream! They are beyond legit!
---
2 cups

peeled and finely diced Granny Smith apple

1/4 cup

lightly-packed brown sugar

1/4 cup

unsalted butter, diced

1/2 teaspoon

cinnamon
Pinch Kosher salt

20

wonton wrappers

1/4 cup

granulated sugar
Salted Caramel Whipped Cream (recipe below)
for the Salted Caramel Whipped Cream
1/2 cup

granulated sugar

3 tablespoons

unsalted butter, cubed

1 1/4 cup

heavy cream, divided

1 teaspoon

vanilla

2 tablespoons

powdered sugar
Kosher salt
---
Instructions
Preheat oven to 350°F. Combine apple, brown sugar, butter, cinnamon, and a pinch of Kosher salt in an oven-safe baking dish. Roast apples in oven uncovered until tender, about 45 minutes, stirring once or twice throughout. Remove from oven and let cool completely.
Place a little bowl of water next to your workstation as a "wash" to help seal wontons. Working one at a time, add 1 small spoonful of apple pie mixture into the center of each wonton wrapper. Be careful not to overfill or else it will be very difficult to seal the wonton. Dip a finger into the water, and trace the perimeter of the wonton wrapper. Bring all four corners of the wonton wrapper to a point on top and tightly seal all edges. Make sure there are no air pockets or holes in the wonton. Place sealed wontons under a moistened paper towel to avoid drying out.
Dip fingers in water and very quickly and lightly moisten wonton wrappers. Sprinkle generously with granulated sugar.
To fry wontons, add 1 to 1 1/2 inches of vegetable oil to a skillet or pot over medium-high heat. Once hot (wontons will sizzle when it hits the oil) and working in batches, fry wontons approximately 1 to 2 minutes, turning over if needed, until they are golden brown. Remove to a paper towel lined baking sheet so excess oil can drain.
Top wontons with salted caramel whipped cream and drizzle with extra salted caramel sauce. Devour immediately. Share if desired, but no one will judge you if you eat them all yourself.
for the Salted Caramel Whipped Cream
Add sugar to a small saucepan over medium-high heat, stirring frequently. Once sugar is all dissolved, add butter and stir constantly (it will bubble rapidly). Once fully incorporated, remove from heat and add in cream and vanilla, stirring constantly until smooth. Season with Kosher salt and taste (you want it to taste like salted caramel).
In the bowl of stand mixer or in a medium mixing bowl fitted with an electric hand mixer, beat the heavy cream, andpowdered sugar on medium/medium-high speed until stiff peaks form. Gently fold in 1/4 cup of the salted caramel. Taste and add more Kosher salt if needed.
Reserve remaining salted caramel to drizzle as a garnish. Extra caramel can be refrigerated and reheated as a topping for ice cream, dip for fresh apple slices, etc.
Notes
If you're in a rush, you can use canned apple pie filling, store-bought caramel sauce and just add a sprinkle of Kosher salt, and store-bought whipped cream
Prep Time:

20 mins

Cook Time:

1 hour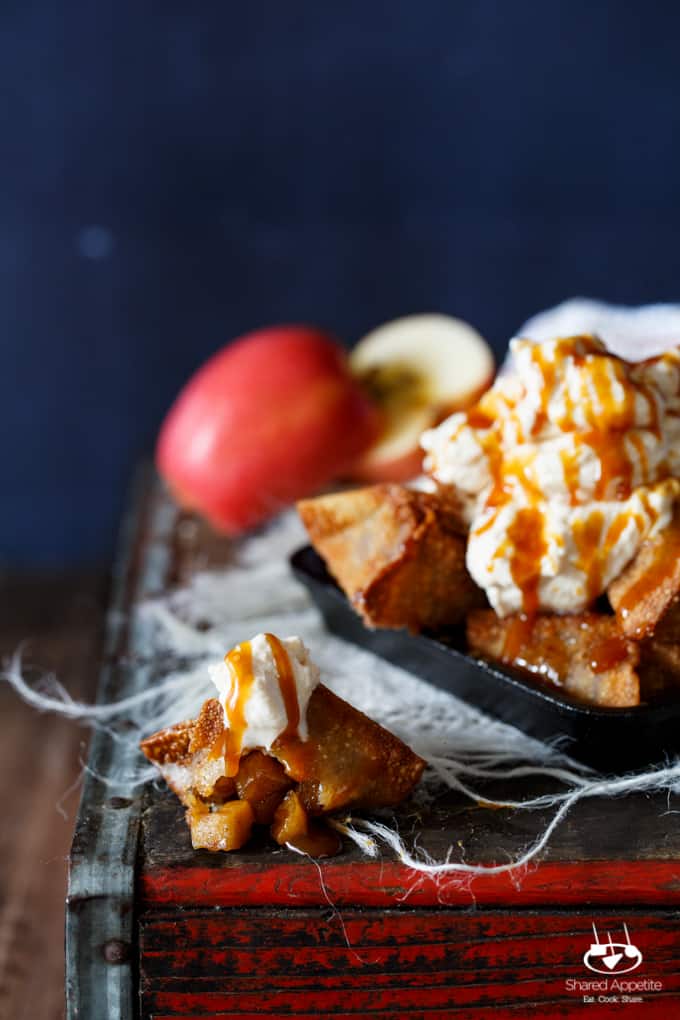 Need More Dessert and Wontons?
No Bake Caramel Apple Cheesecake Trifles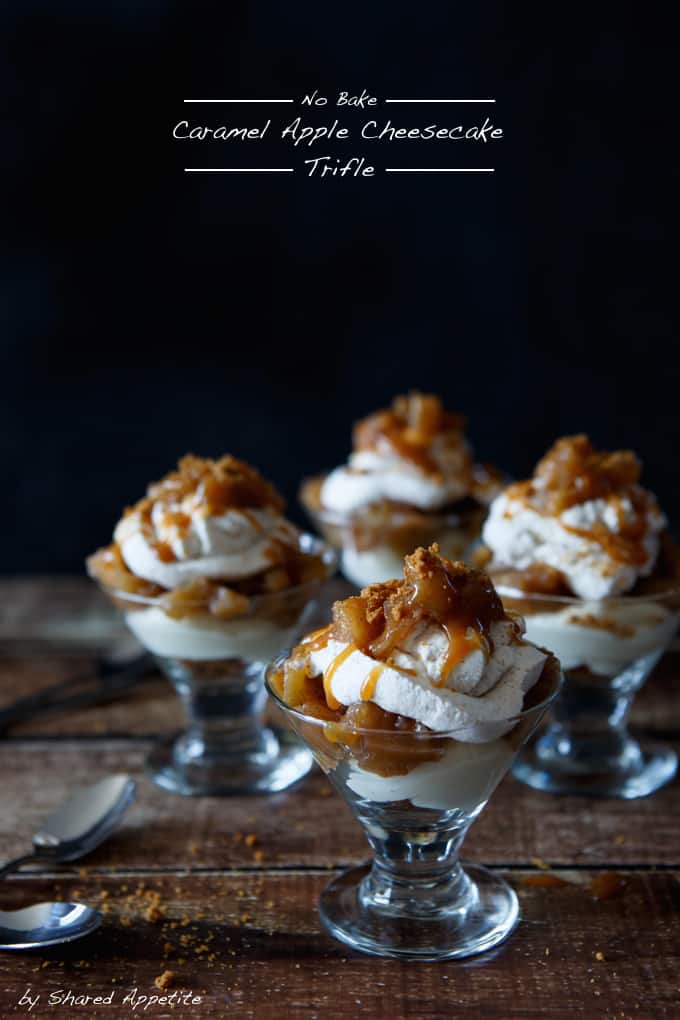 Sweet Potato Cheesecake with Bourbon Whipped Cream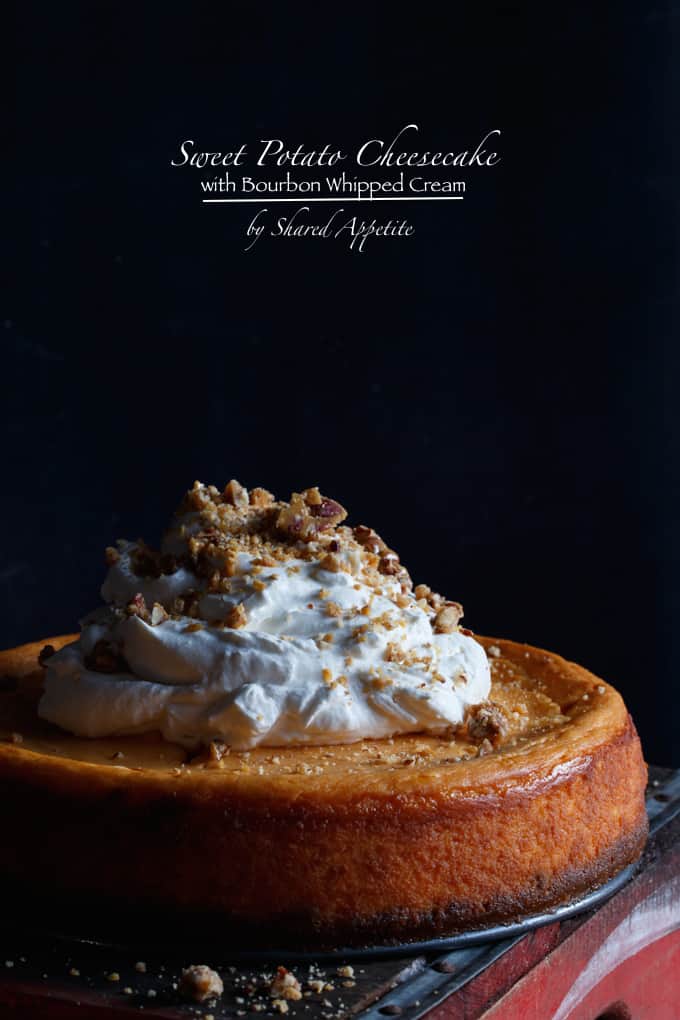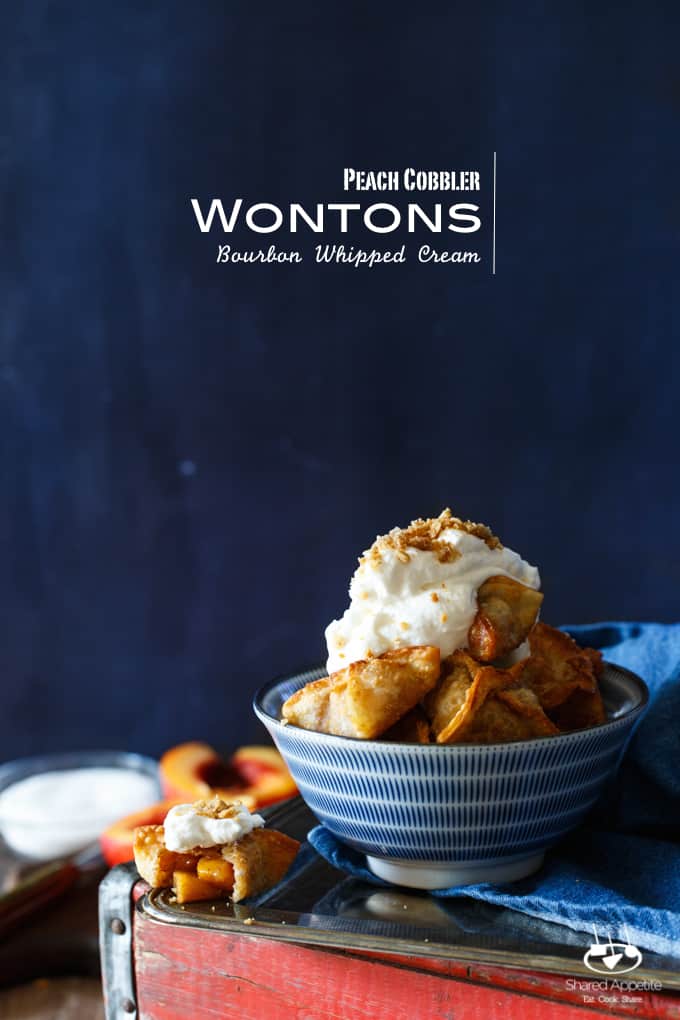 Bacon, Egg, and Cheese Breakfast Wontons