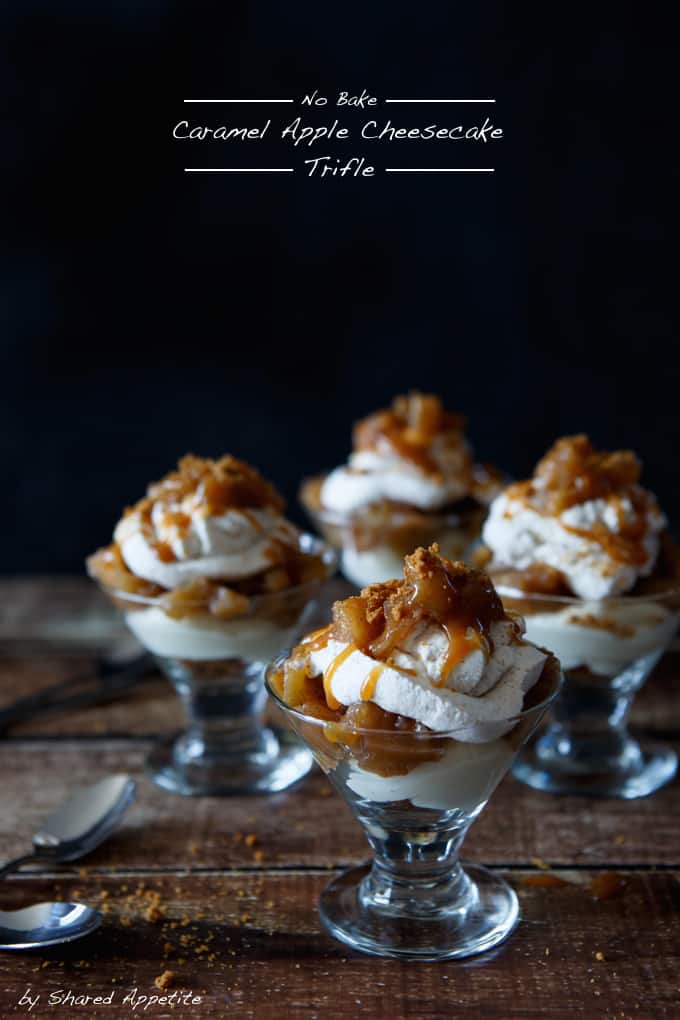 I've been giving pumpkin a lot of love these last few weeks. Baked Pumpkin Pie Donuts. Pumpkin Cheesecake French Toast Casserole. But to be honest, I've been kinda feeling like a poser... trying to be a part of the cool kids club.
Everyone seems to go gaga over pumpkin, like teenage girls at an N'Sync One Direction concert. I'm sorry to say, but even though I enjoy pumpkin and will happily eat it, I'm never like.... aaaahhhh I need pumpkin everything in my life right this second.
But apple? That's a different story. I'm all about fall apple desserts. I'll go all Bubba Gump on apple. Apple Pie. Apple Crisp. Apple Crisp Ice Cream. Apple Cheesecake. Caramel Apples.
And now... this No Bake Caramel Apple Cheesecake Trifle.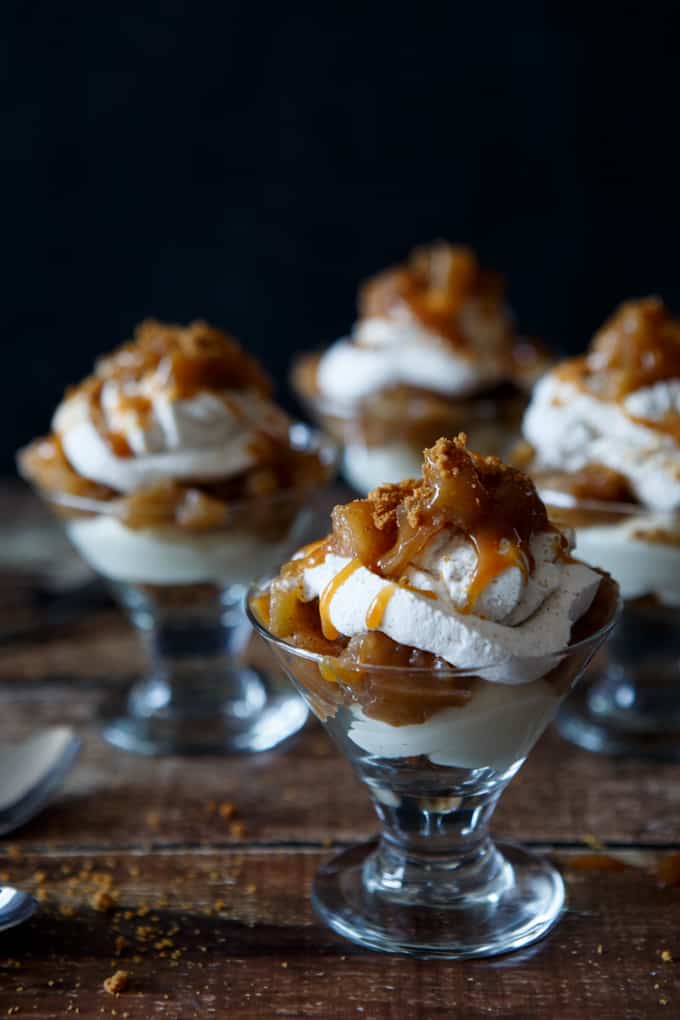 I'm not sure if I can really call this no bake. I mean, you do have to cook the apples on the stovetop. But you can do that way ahead of time (like, days and days ahead) and then just assemble when you're ready to let your guest devour this creative apple dessert goodness.
So I'm going with the no bake thing. Even if it is maybe sorta a stretch.
Guys... this trifle. So perfect for parties. Hello easy entertaining! I'm making it for my annual Halloween party. You can go ahead and make every layer before guests even think about arriving. The no bake cheesecake. The cinnamon whipped cream. The crushed up biscoff cookies. You get the idea.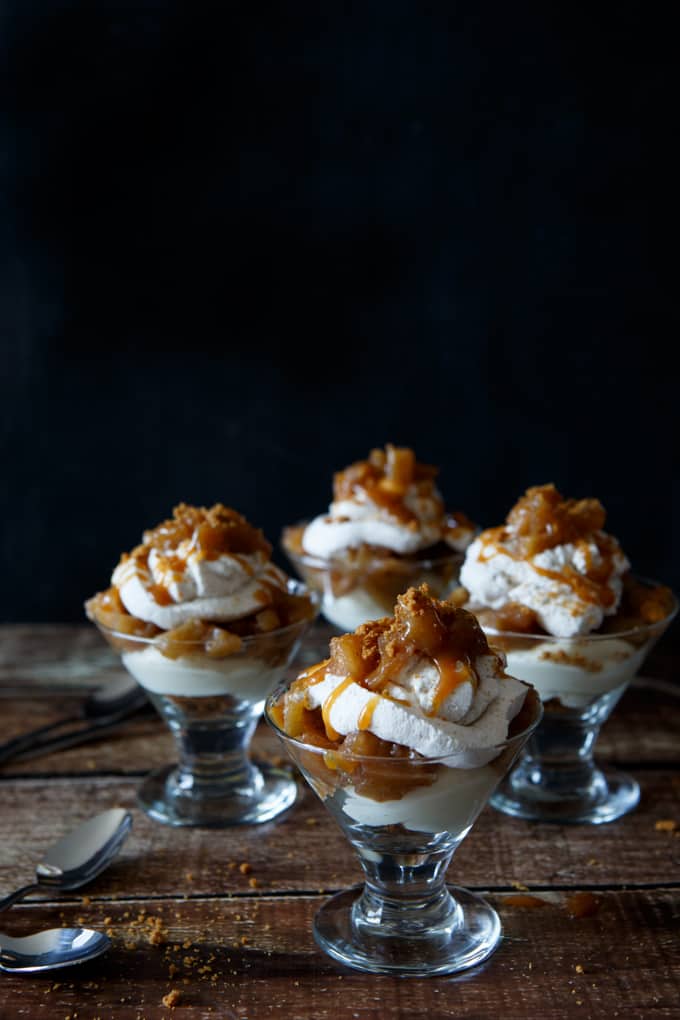 Tell me you don't want to dive head first into that trifle?! No really, please tell me. That way I get to eat yours too 🙂
After photographing these, I might have had one two three too many. I couldn't/wouldn't/didn't stop myself. Oops.
But can you blame a guy?
Print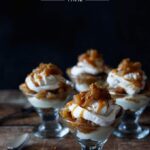 No Bake Caramel Apple Cheesecake Trifle
---
Total Time:

35 minutes

Yield:

8

to

1

2

1

x
for the Apple layer
4

apples (I used Granny Smith and McIntosh), finely chopped

4 tablespoons

unsalted butter, softened

½ cup

lightly packed brown sugar

½ teaspoon

cinnamon
for the Cinnamon Whipped Cream
2 cups

heavy cream

1 teaspoon

vanilla

⅔ cup

powdered sugar
Cinnamon
for the Cheesecake layer
4 ounces

cream cheese, softened

4 ounces

mascarpone cheese, softened

¼ cup

sugar

½ teaspoon

vanilla

¾ cup

whipped cream
for assembly of Trifle
Biscoff cookies (or Nilla Wafers/Graham Crackers), crushed
Good-quality caramel sauce topping (or make your own!)
Sea salt
---
Instructions
for the Apple layer
In a large skillet, melt butter over medium heat. Add the apples, brown sugar, and cinnamon, and stir until well combined. Cook, stirring occasionally, for about 10-15 minutes, until the apples are tender and the brown sugar creates a thick glaze.
for the Cinnamon Whipped Cream
In the bowl of your stand mixer or in a medium mixing bowl fitted with an electric hand mixer, beat the cream, sugar, and vanilla on medium/medium-high speed until stiff peaks form. Do not overbeat. Reserve ¾ cup of whipped cream for cheesecake layer. With rest of whipped cream, gently fold in ½ teaspoon cinnamon and taste. Add more cinnamon if desired.
for the Cheesecake layer
In the bowl of your stand mixer or in a medium mixing bowl fitted with an electric hand mixer, whip together the cream cheese, mascarpone, sugar, and vanilla extract until light and fluffy. Gently fold in the whipped cream by hand.
When Ready to Assemble the Trifle:
Remove apples from fridge and let come closer to room temperature (I gave them a quick zap in the microwave to speed up that process). Stir in some sea salt into caramel to give it desired salted caramel flavor.
Alternate layers of crushed biscoff cookies, cheesecake layer, apples, cinnamon whipped cream, and salted caramel. Devour immediately.
Notes
It's important to cut the apples into a very fine dice, as bigger chunks of apple will take a lot longer to cook. Instead of using the stovetop, you could cook in a 375°F oven, stirring once or twice, until apples are tender.
I choose to serve my trifles in little mini serving cups. Yield of recipe depends upon size of those serving cups. You could also make it in one big dish for a family style dessert.
Prep Time:

20 mins

Cook Time:

15 mins