This recipe for Honey Gochujang Popcorn Clusters is brought to you by Casillero del Diablo Wines. The content and opinions expressed below are that of Shared Appetite.
Looking for an easy enteratining creative party snack to serve up at your next get together? How about some Honey Gochujang Popcorn Clusters!
I love Halloween. Like, a little too much. Our attic is full of decorations that I've collected over the years, and come the end of October, you better believe I host one heck of a costume party. Last year? The theme was puns and some of my friends really got into it. Some favorites included Putin' On The Ritz (the dude wore a tux and had a huge medallion of ritz crackers with Putin's face on it), a Waist of Time (he made a belt of watches and small clocks), Cereal Killer (boxes of cereal with fake knives stabbing them), and Asheley was 50 Shades of Grey (i.e. we got a ton of free paint swatches and went to town).
This year's theme? Celebrities That Have Been Arrested. This is going to be amazing. I can't wait. My friends are pretty darn creative, so I'm expecting some legit costumes.
Legit costumes need some epic eats. And lately, I'm all about easy entertaining food that can be made ahead of time. Because, really, as much as I love being in the kitchen, I want to hang out with my peeps.
So you better believe I'll have a pretty sweet cheese and meat board out. Definitely some Sweet Potato Hummus (which I love to serve on crackers with shallot and honeycrisp apple). Oh, and lots of crostini. I am obsessed with crostini. Especially these Acorn Squash Crostini with Ricotta, Bacon, and Fried Sage and Filet Mignon Crostini with Romesco, Goat Cheese, and Crispy Shallots. And Apple, Bacon, and Leek Pizza Bites. Oh, and I'll totally have a couple slow cookers keeping some make-your-own sandwiches going… my friends love these Slow Cooker Buffalo Chicken Sliders with Avocado Ranch and Slow Cooker Korean Chicken Sandwiches with Avocado and Gochujang Aioli.
And now, new to the party… welcome this sweet and spicy Honey Gochujang Popcorn Clusters. Oh heck yes.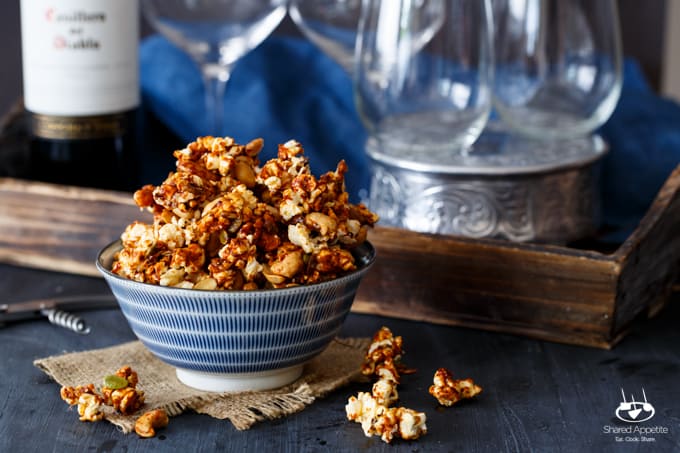 Don't know about gochujang? It's basically the Korean answer to Sriracha. It's way thicker though, and has a nice fermented flavor to it. I love making spicy aioli with it, and I use it wherever hot sauce is called for in cooking. Try it… you won't be disappointed.
Mix it up with some honey and smother it all over popcorn, peanuts, cashews, and pepitas? You pretty much have a version of homemade cracker jacks with a Korean twist! Yup, that's one heck of a party snack. Best part, it can be made way ahead of time. #winning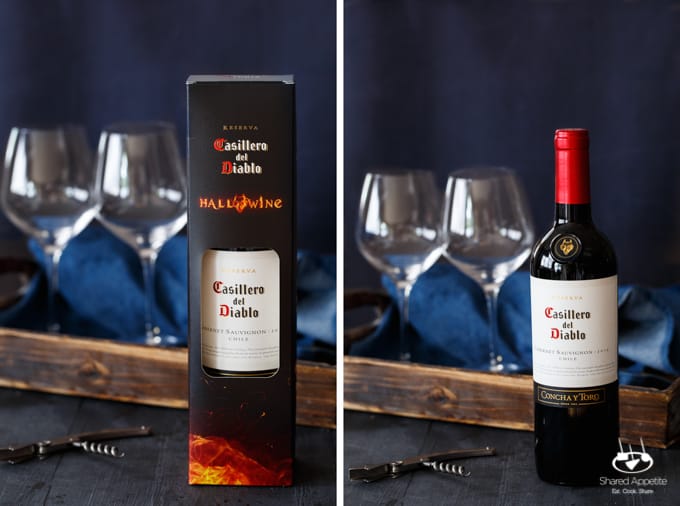 Of course, no adult costume party is complete without something to wash down all that food with. Pumpkin beer is an obvious choice. But I'm totally not a beer person. I'm all about wine, though. And what better wine to serve on Halloween than a deep red Diablo wine. Casillero del Diablo Wines, that is.
Being the Wine of the Devil, it's the obvious choice for Halloween parties everywhere. Apparently, the dude who created this wine all the way back in 1871 created a legend in order to protect his private reserve from strangers… he said that the devil lived in the wine cellar! Pretty genius move.
And you better believe the winners of our costume contest win some sweet prizes. I'm talking gift cards… and maybe even some of the Casillero del Diablo Wines special limited-edition "Hallowine" gift boxes I found at my local wine store!
For all my fellow parents out there… after trick-or-treating with the kiddies, feel free to enjoy a treat yourself by pouring yourself a glass of Diablo wine. And then eat some of your kids' candy… you know, to make sure it's safe. Go ahead, you deserve it.
Of course, popping open a bottle of Casillero del Diablo wine with these Honey Gochujang Popcorn Clusters are a great idea… I'm such a fan of sitting back with a nice glass of wine and snacking on this or that. What better snacking choice than sweet and spicy popcorn clusters?! You better believe I'll have one hand on my wine and one hand on the bowl of popcorn.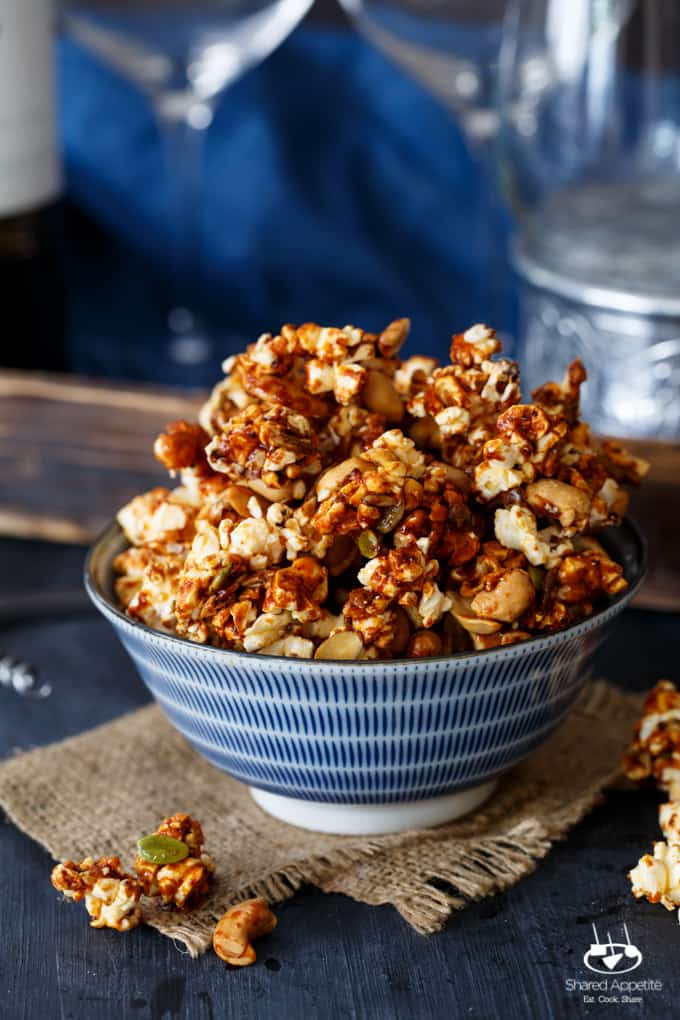 Print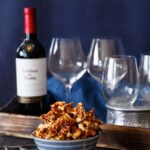 Honey Gochujang Popcorn Clusters
---
Total Time:

1 hour 10 minutes

Yield:

Approximately

12 cups

1

x
Description
Recipe adapted from here.
---
1

bag plain popcorn, popped

3/4 cup

coconut oil

3/4 cup

honey

2

–

3

tablespoons gochujang (depending upon desired spicy level)

1 1/2 teaspoons

Kosher salt

1/4 teaspoon

baking soda

1/2 cup

roasted peanuts

1/2 cup

roasted cashews, roughly chopped

1/4 cup

roasted pepitas
---
Instructions
Preheat oven to 250°F. Line 2 baking trays with nonstick baking mats or parchment paper sprayed with nonstick cookign spray.
Combine popcorn, peanuts, cashews, and pepitas in a medium mixing bowl.
Bring coconut oil and honey to a boil over medium-high heat in a small saucepan. Cook for 4 minutes. Remove from heat, and stir in gochujang, salt, and baking soda. It will foam up, so don't get freaked out!
Immediately drizzle honey gochujang syrup over popcorn, and invert another medium mixing bowl on top. Shake vigorously to coat popcorn and nuts with honey gochujang syrup. Divide between two baking trays in a single layer. Bake for 60 minutes, briefly stirrinb half way through.
Prep Time:

10 mins

Cook Time:

60 mins
And hey, join in on the Casillero del Diablo Legendary Costume Contest for your chance to win a dSLR camera! Check the photo below to find out how to enter! The contest end October 31st, so get your creative costume on!
You can learn more about Casillero del Diablo wines by checking out this video about The Legend of Don Melchor de Concha y Toro