This recipe for Chimichurri Skirt Steak Fries is sponsored by the New York Beef Council. As always, all opinions and recipes are my own. Thanks for supporting the brands that support Shared Appetite!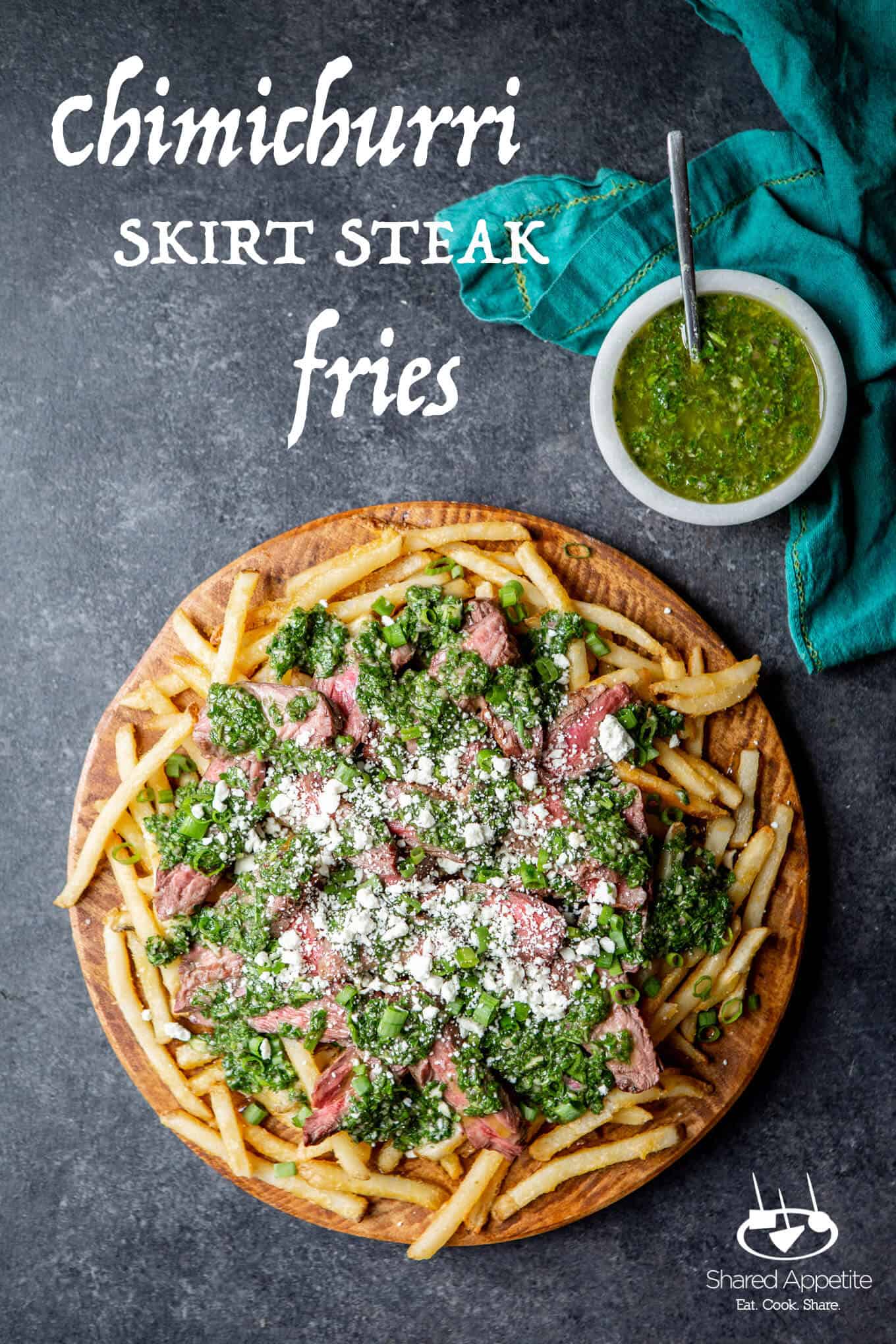 You all know that besides my deep, deep love of food (and more importantly, eating food), I also co-own a wedding photography studio and am a full-time music teacher. For the first 12 years of my career in education, I taught elementary school band, but this past year I just finished my first year as a band director in the high school. It was pretty freaking amazing and I'm beyond excited to have made the jump to teaching the big kids as my four-year-old daughter tells me. One of the best changes to my job? I now have a music teacher colleague that I co-teach the bands with… and we have become such great friends over this past year.
Dan has quite the affinity for skirt steak with chimichurri, and he's introduced me to two local restaurants that serve amazing versions. Now that it's summertime and grilling season is in full swing, I've been working on upping my skirt steak game. I'm pretty darn happy with my version of skirt steak with chimichurri, but then I got thinking about the last time I went to Dan to the local Portuguese restaurant. They serve up their chimichurri skirt steak with fries, and I found myself sopping up all those delectable steak juices and chimichurri remnants with my starchy fried spuds.
:: light bulb moment ::
Chimichurri Skirt Steak Fries! Can I get an amen?!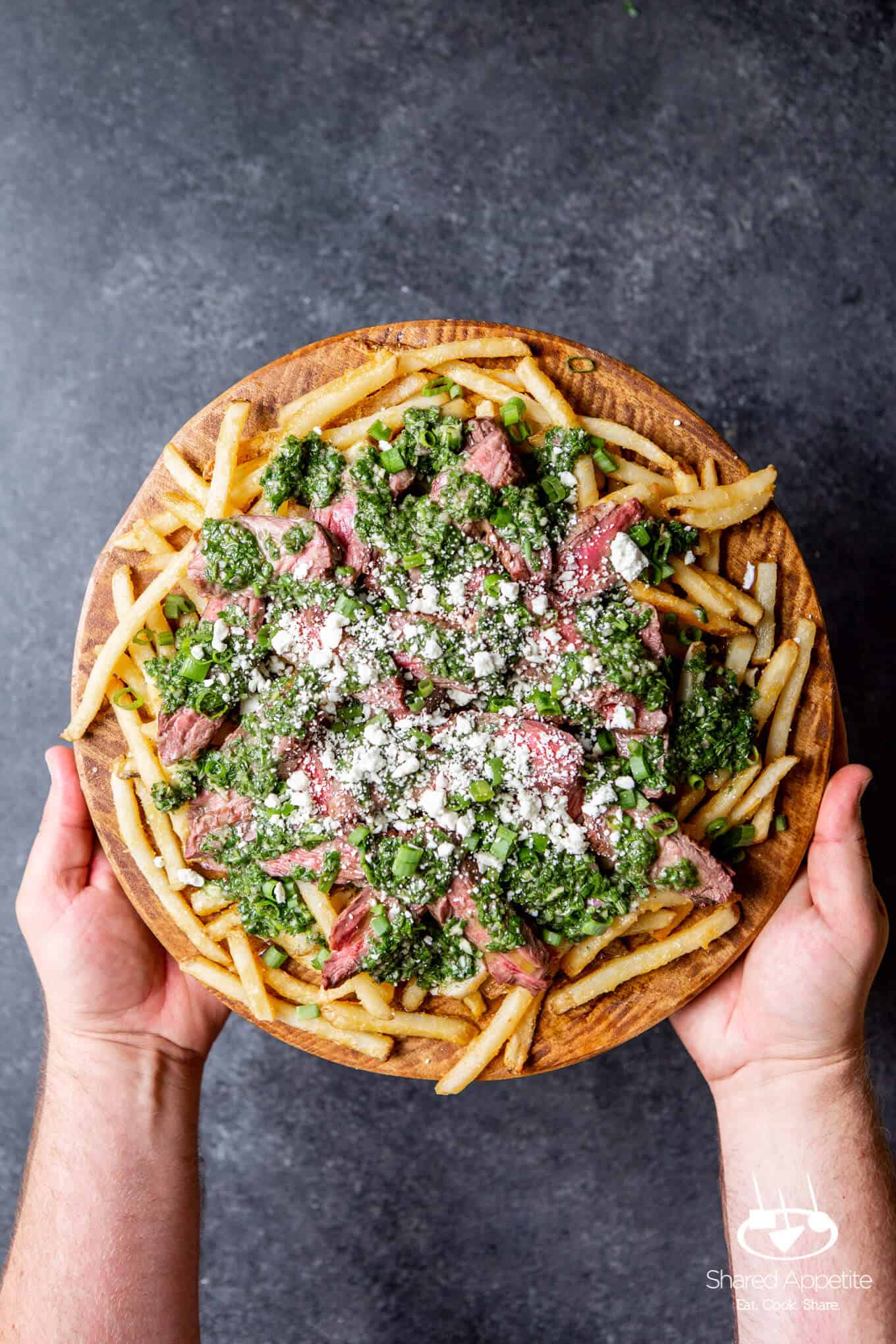 Chimichurri is quite possibly the greatest hybrid sauce/condiment for grilled meat. Originally from Argentina, this green magic concoction combines fresh herbs with shallot, garlic, olive oil, and red wine vinegar. The fresh and acidic bite cuts right through the richness of grilled meat and is simply one of life's greatest pleasures. I've used it with this Sous Vide Steak with Chimichurri and also made a great mint version for Grilled Lamb Chops with Mint Chimichurri. And now… chimichurri is ready for it's debut in these Chimichurri Skirt Steak Fries.
A note about this chimichurri: traditionally you would chop up everything by hand very finely. This is without a doubt an amazing technique for superb chimichurri. However, I have two small kids running around the house so I've succumbed to the necessity of having to simplify and expedite certain recipes. For this chimichurri, I simply pulse all ingredients in a food processor. Not totally "authentic", but still ridiculously tasty.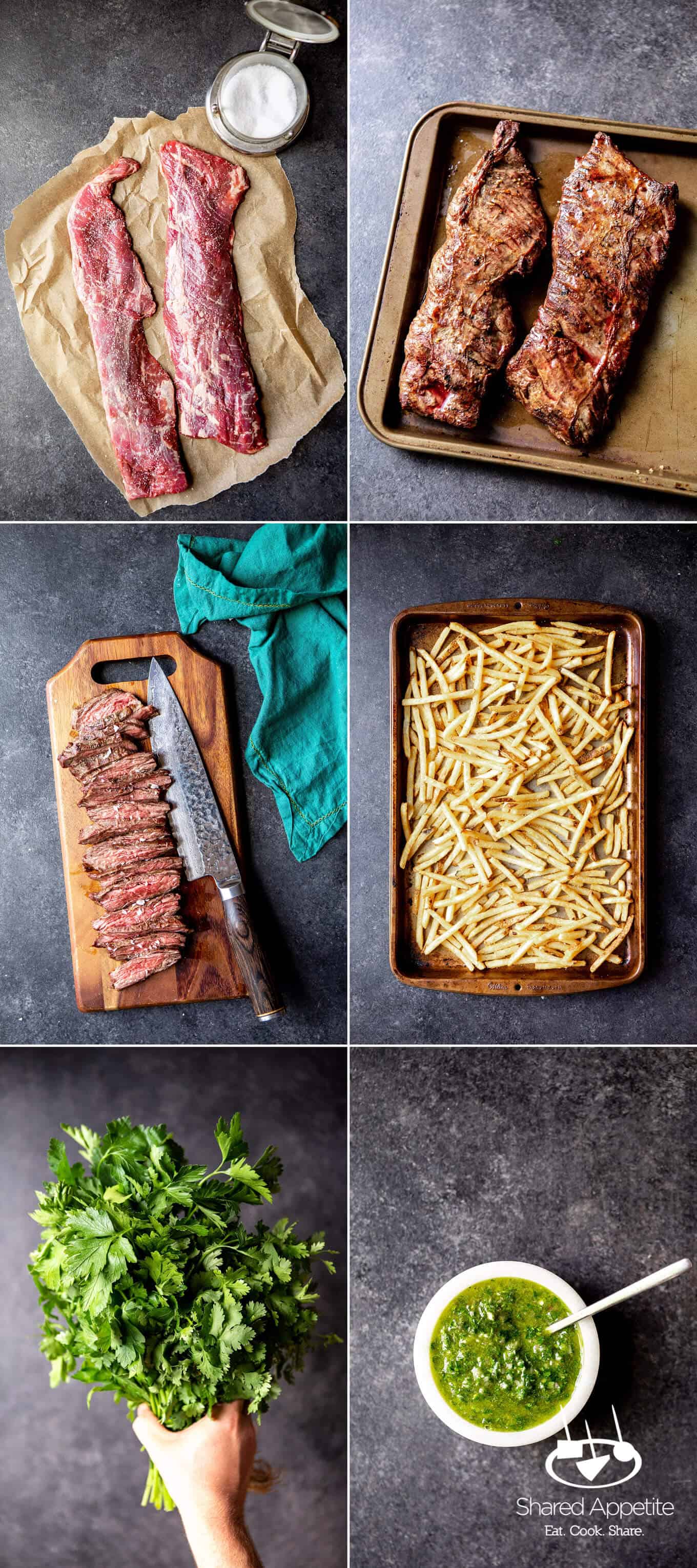 And let's talk about skirt steak for a second. It's cut from the plate, which is directly under the ribs in the belly of the cow and between the brisket and flank. It's a long and relatively flat piece of meat and is packed with tremendous flavor.
Skirt steak loves direct high heat. You need to sear + cook the cut quickly and definitely not past a medium doneness (medium rare is perfection). All you need is about 3 minutes per side over hot grill grates and it's ready to go. Because it cooks so quickly, it's a great cut of steak for weeknight cooking!
One of the biggest mistakes I see when people cut their skirt steak is they slice it with the grain. It seems counterintuitive how to slice because the steak has a short side and a long side that will make you want to naturally cut it with the grain. Instead, you'll need to cut the steak into like 3″ to 4″ pieces with the grain, and then turn it perpendicular and slice to eat. This is how you get the most tender bite out of the beloved skirt steak.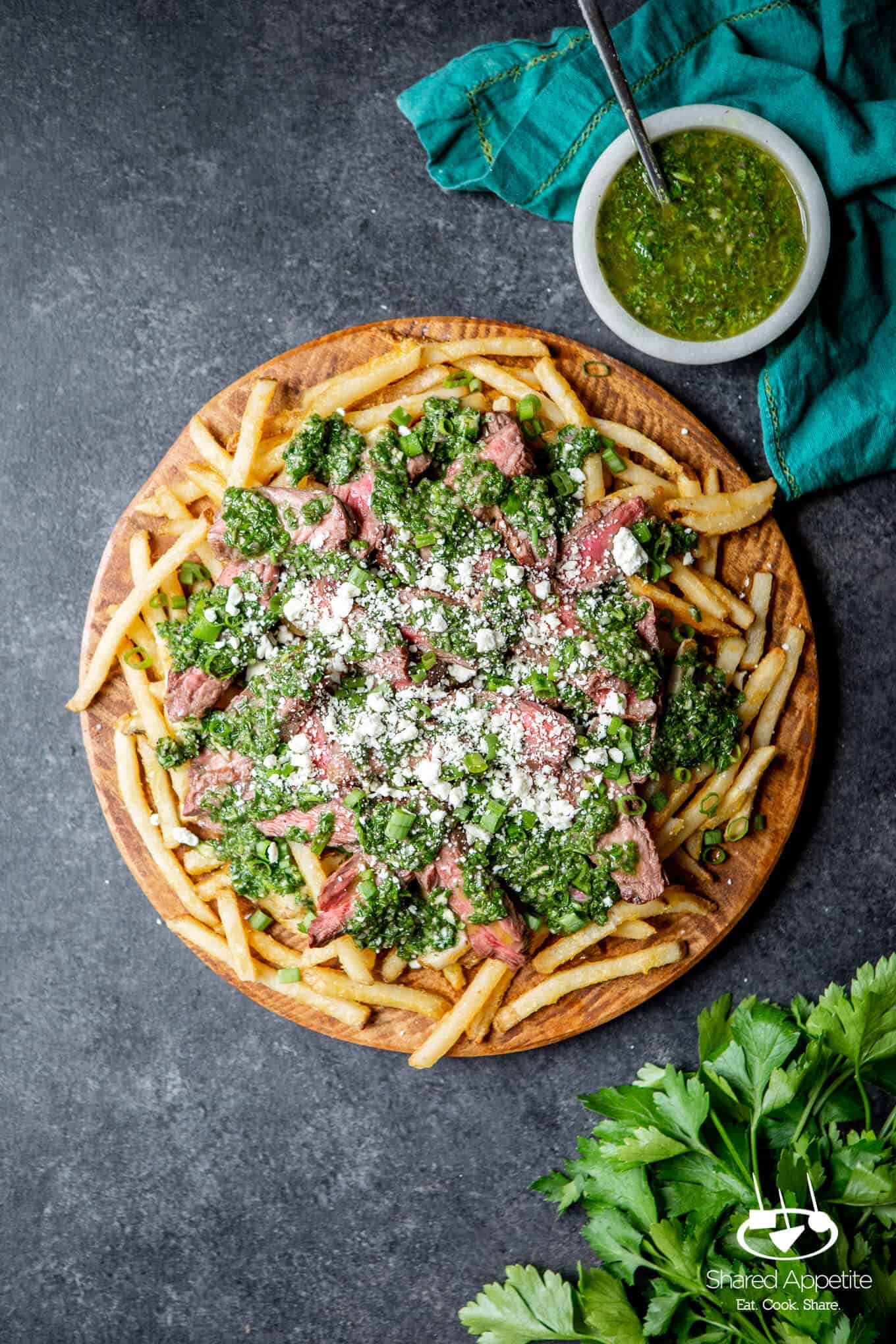 I had the opportunity thanks to the New York Beef Council to visit with the butcher at a local grocery store to talk all about the meat case. I learned so much from my time there:
all beef is carefully inspected for safety by the USDA and ensures only healthy animals enters the food chain (and there are very strict penalties for ranchers that bring cattle that are sick to be processed)
not all beef has to be graded but when you do see it here's the breakdown: prime means the beef has the most marbling and produced in small quantities, choice is still high quality and produced in high quantity but had less marbling than prime, and select is leaner, has less marbling, and often has less tenderness, flavor, and juiciness as compared to choice and prime (and would benefit from slow-cooking or marination)
all cattle, whether grass or grain-finished, spend the majority of their lives eating grass on pastures and are natural sources of more than 10 essential nutrients including protein, iron, and zinc.
cuts often times have multiple names depending on the butcher and region (i.e. NY Strip is the same as Kansas City Strip)
don't be afraid to talk to your butcher any questions! They LOVE to help!
Make sure to visit Beef. It's What's For Dinner for a whole lot of beef recipe inspiration as well as cooking lessons, learn more about different cuts of beef, and nutrition information!
Print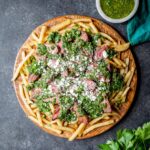 Chimichurri Skirt Steak Fries
---
french fries, cooked according to package directions
skirt steak
Kosher salt
Chimichurri (recipe below)
chopped scallions
crumbled feta cheese
for the Chimichurri
1 cup

 packed fresh parsley leaves

1 cup

 packed fresh cilantro leaves

3

 cloves garlic

1

 small shallot

1/2 cup

 extra virgin olive oil

2 1/2 tablespoon

s red wine vinegar

1 tablespoon

 lime juice
Kosher salt
Freshly ground black pepper
---
Instructions
Preheat grill over high heat.  Generously salt skirt steak on both sides with Kosher salt.  Grill steak over high heat until well seared on both sides, about 3-4 minutes per side or until you reach desired doneness (personally I aim for medium-rare).  Remove to a cutting board and let rest for 5-10 minutes.  Slice steak into 3-4″ portions with the grain, then slice against the grain into strips.
Top cooked fries with skirt steak, chimichurri, chopped scallions, and crumbled feta cheese.  Devour immediately.
for the Chimichurri
Combine all ingredients in a food processor and puree until combined but still a bit chunky.  Season generously with Kosher salt and freshly ground black pepper.  Allow flavors to meld for at least 15 minutes before serving.
Prep Time:

10 minutes

Cook Time:

10 minutes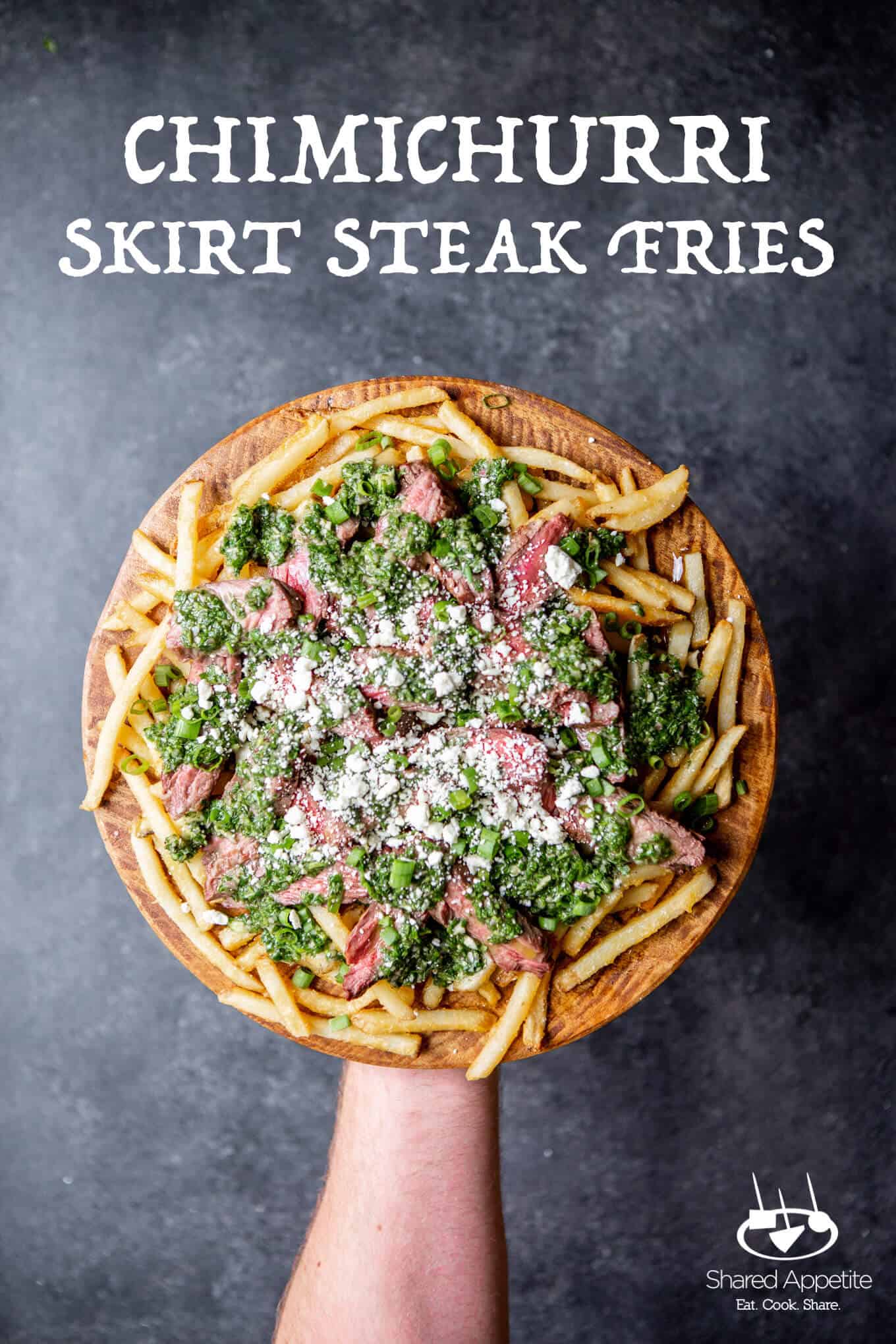 Chimichurri Skirt Steak Fries