This Sparkling Berry Rosé Sangria was created in partnership with Finlandia Vodka. As always, all opinions and recipe are my own. Thanks for supporting the brands that support Shared Appetite! Must be 21 or older to consume alcohol. Please drink responsibly.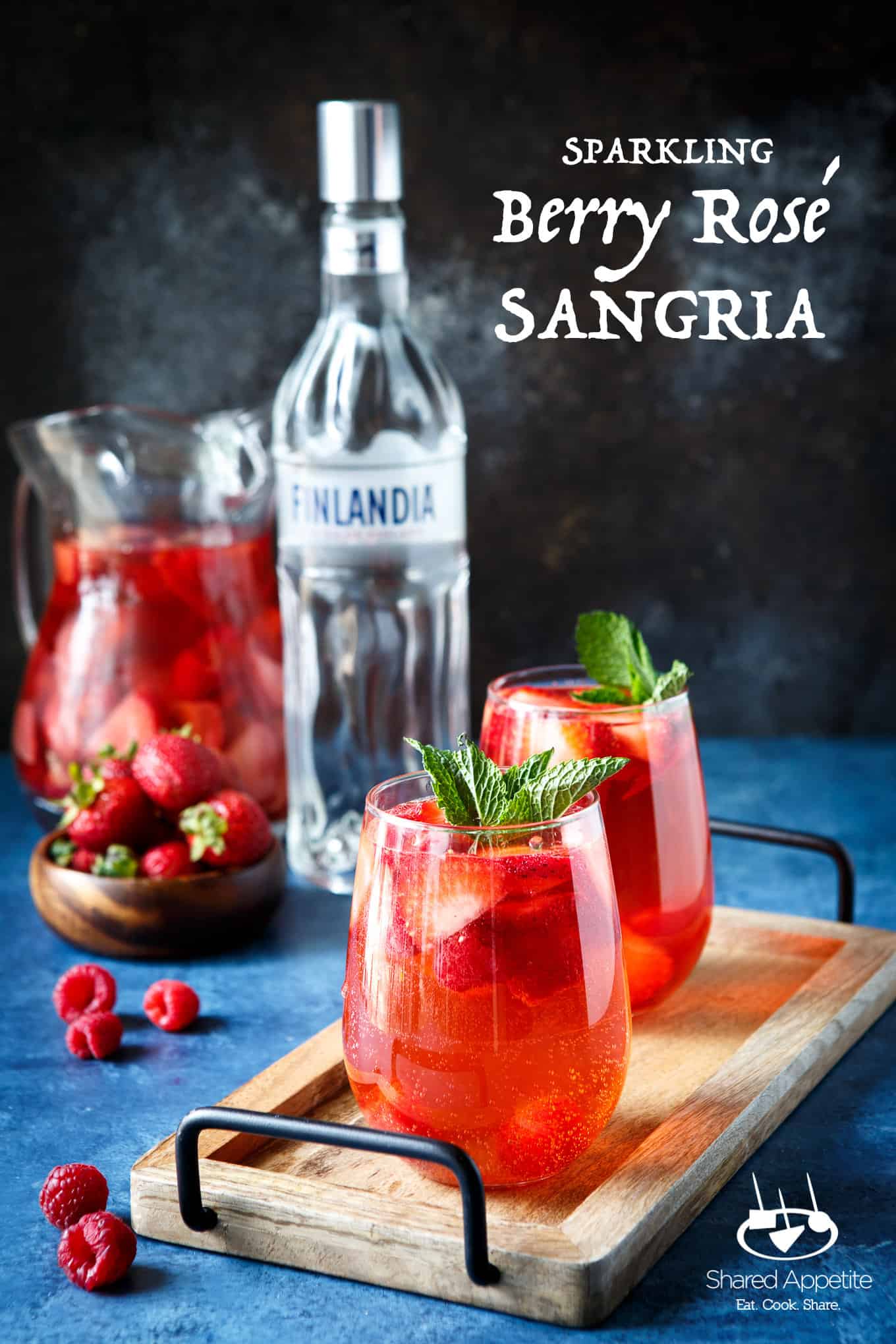 Okay, Chris. Let's try not to freak out. You just saw a back to school commercial on TV. It's no big deal. You still have plenty of summer left. Half, to be exact. No need to panic.
Ohhhh my gosh why is it going so fast?!?!
That's a question every teacher asks themselves as soon as the end of July/beginning of August rolls around. From the end of June through July, every day feels like Friday. Now we're at the point where it's starting to feel a bit like Sunday. You know what I mean. Friday nights are great. It brings the hope of a nice long weekend. You feel like a million bucks on Friday night. On Sunday, it's like holy crap it's Monday tomorrow.
But it's true, though. There is plenty of summer still on the table.
The other day Asheley told me that it feels like we are hosting parties and get togethers at the house every single week lately. That's crazy, I said. It's more like twice a week. I love entertaining, and the summer gives me the perfect opportunity to bring family and friends together.
When I was a bit younger, I felt the need to impress my party guests by preparing these elaborate and time consuming recipes. I would spend days prepping and the entire party cooking. Since becoming a dad, I realized how dumb this truly is. Delicious food and drink is still a huge priority for me, but so is actually spending time with the people I invited over in the first place.
That's where make ahead recipes and super simple easy entertaining recipes come in handy. And today, I have a great one for you. This Sparkling Berry Rosé Sangria. It's bright, it's fruity, it's colorful. It's a great summer beverage. And best of all? It'll only take you about five minutes to put together way before your party even starts!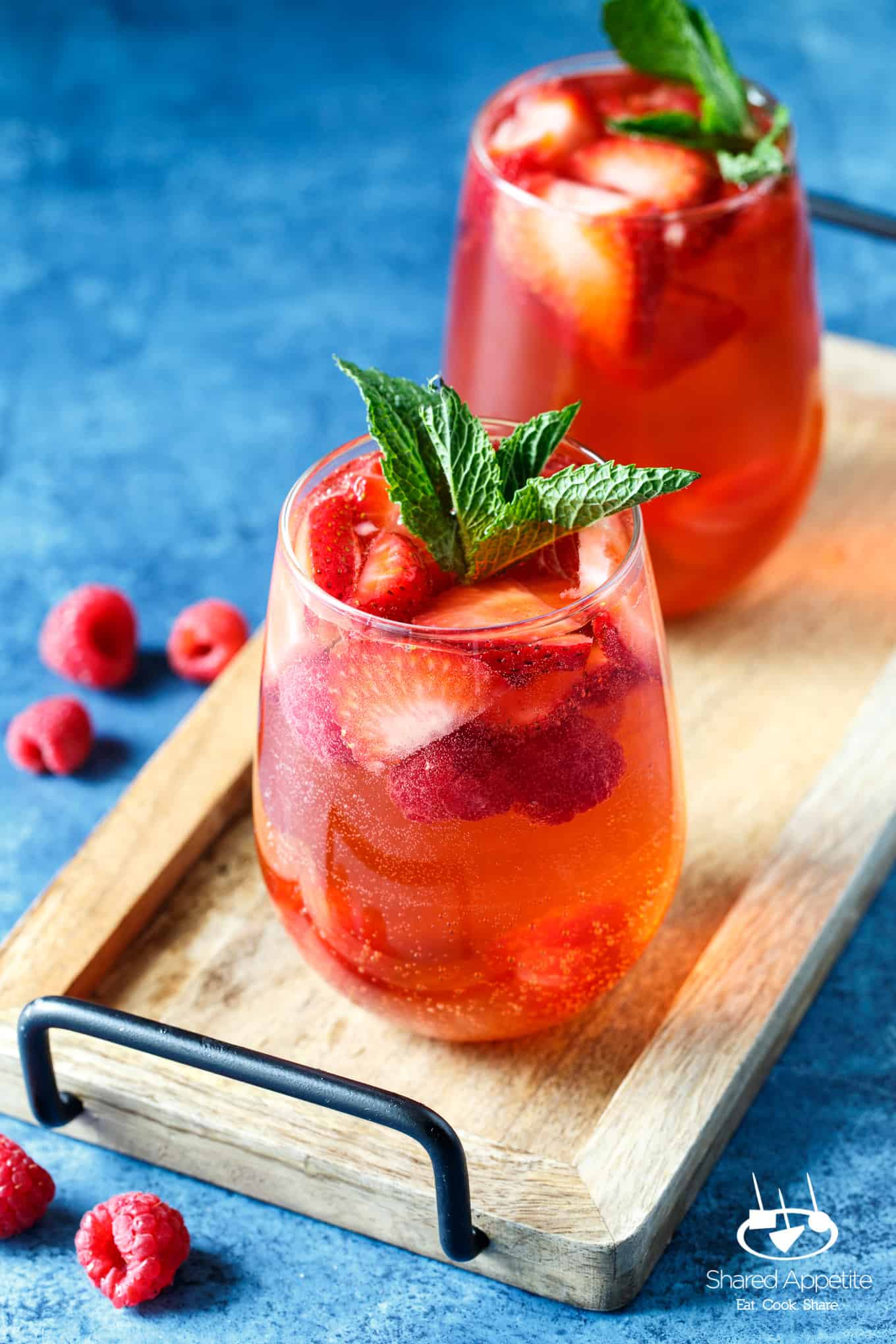 Getting back to my old way of entertaining. I loved to have a signature drink for the party. It would be something that I had to make... one or two at a time... over and over again throughout the whole party (while still trying to cook). Yea, dumb. I know this now.
Fast forward to my current easy summer entertaining style. I still like that signature drink idea, but now it's made ahead of time in a huge batch. Guests help themselves. They're happy. I'm happy. Victory achieved.
This Sparkling Berry Rosé Sangria is one of those awesome make ahead group party cocktails. Just mix together a few ingredients, let it sit in the refrigerator for at least two hours (or overnight to let those flavors really meld together nicely), and then serve it up with some bubbly seltzer for a refreshing summertime drink.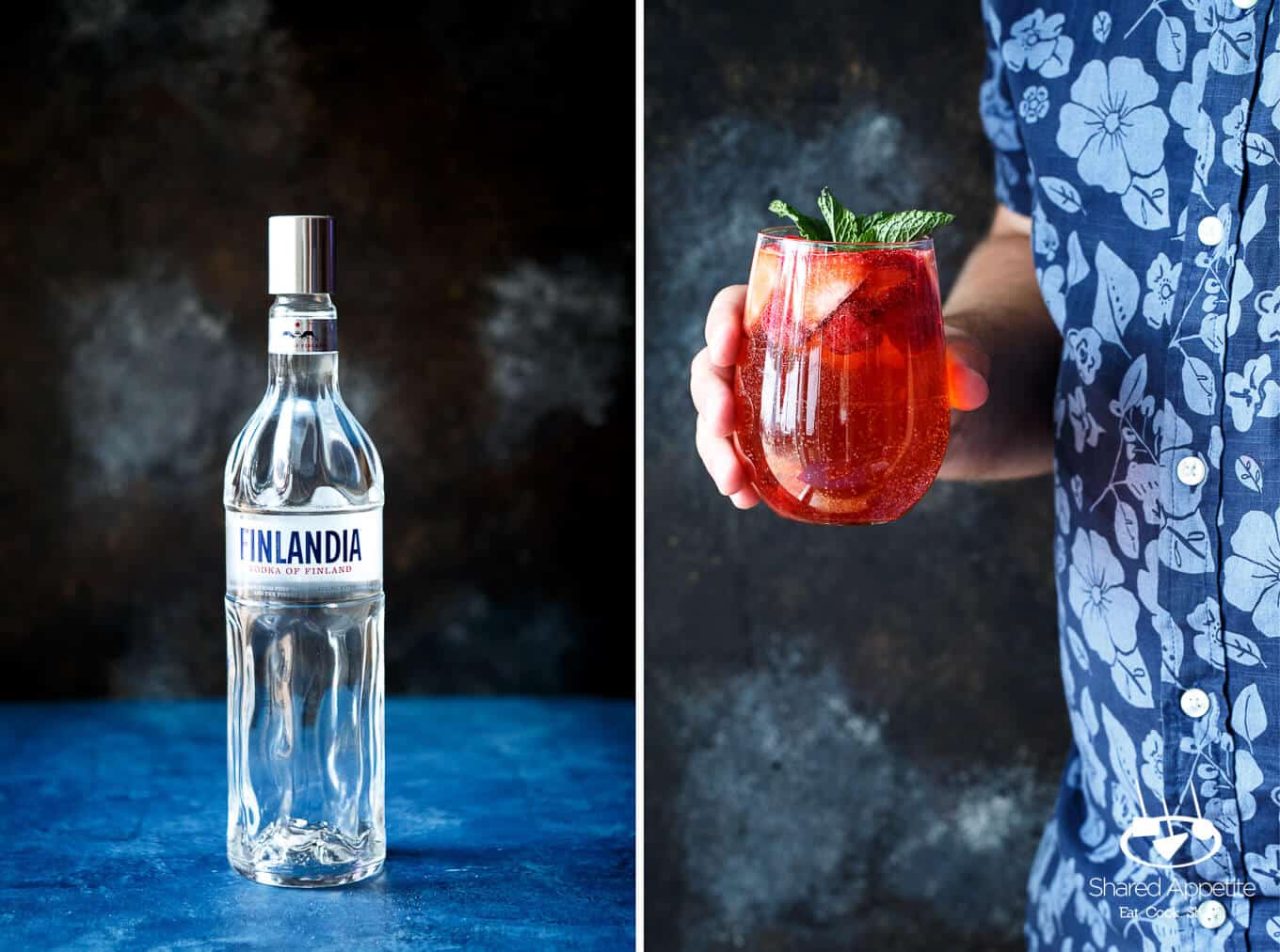 Let's talk options. You could definitely make this Sparkling Berry Rosé Sangria with a few different wines. If you don't have rosé on hand, feel free to use a dry white wine instead. You could definitely add in some different fruit if you have it on hand. Citrus, peaches, or other stone fruit would all work well here I think. If going the citrus route, I would change out the Chambord with some triple sec. With stone fruit, I'd use a peach schnapps or the like.
For seltzer options, I was able to find a strawberry seltzer that of course worked well with this Sparkling Berry Rosé Sangria. You could 100% use a different berry seltzer if you find it or even straight up plain unflavored seltzer. Don't fret too much... sangria is pretty darn forgiving and an easy recipe to play with!
With this Sparkling Berry Rosé Sangria I used Finlandia Classic Vodka. It has a clean, pure taste that lends perfectly for this sangria. I also love the design of their bottle. It's sleek and modern looking... so perfect to put out on display during the party! They also have berry flavored vodkas in their product lineup that would work well here!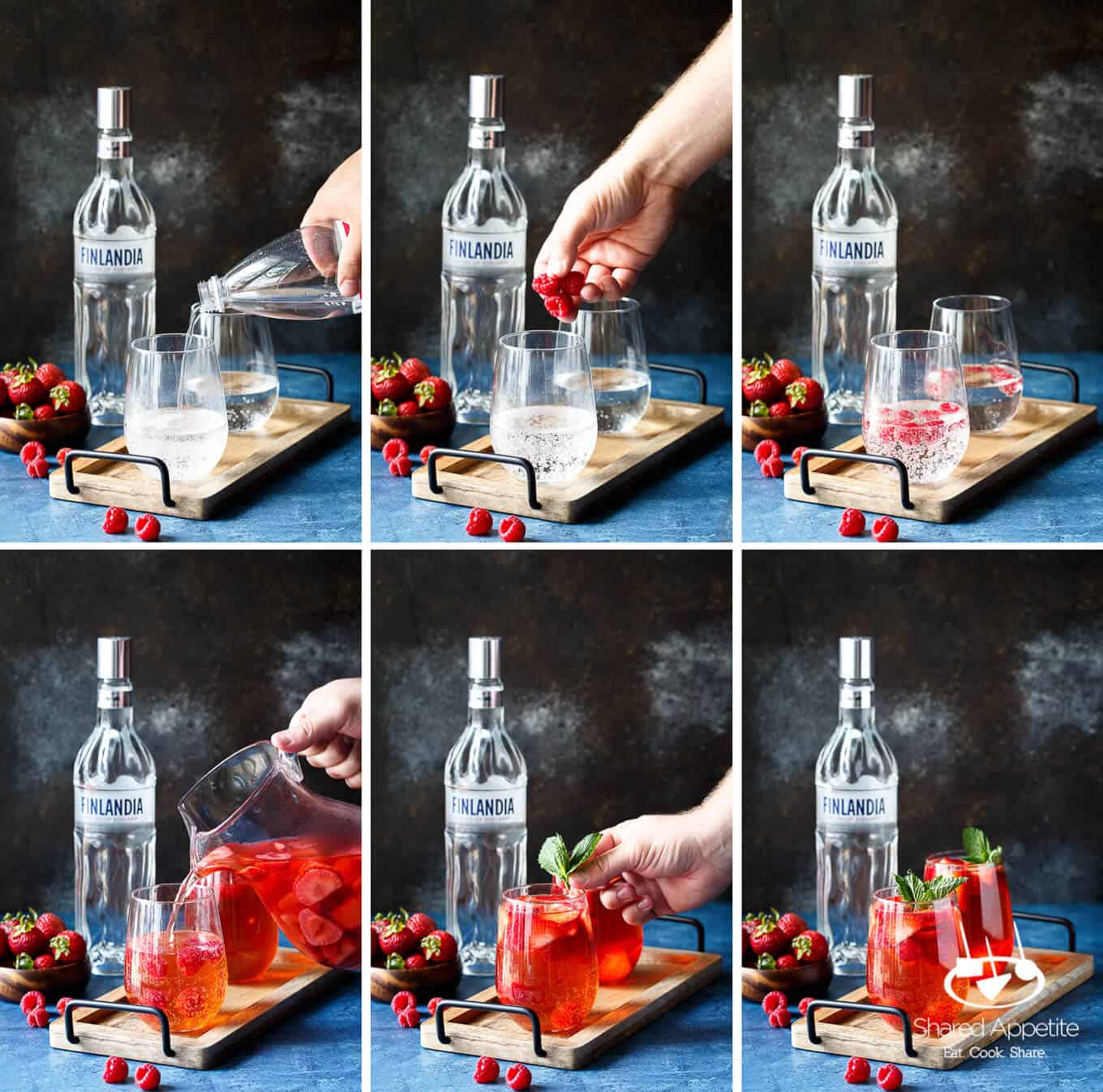 So remember, spend less time cooking and prepping for that next get together and instead put together this easy make ahead Sparkling Berry Rosé Sangria!
Print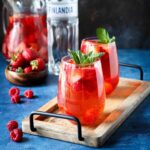 Sparkling Berry Rose Sangria
---
1

(750 ml) bottle rosé wine

½ cup

vodka

¼ cup

chambord

2 tablespoons

superfine sugar

2 cups

sliced strawberries

1

(6 ounce) container raspberries

1

bottle strawberry or berry seltzer, chilled*
---
Instructions
Combine rosé wine, vodka, chambord, and sugar in a large pitcher until sugar dissolves.  Add sliced strawberries and place in refrigerator for at least 2 hours (or overnight to allow flavors to really meld together).
When ready to serve, fill up each glass with a bit of ice.  Then pour enough seltzer to fill ⅓ of glass and add a handful of fresh raspberries.  Top with sangria and some of the strawberries from the pitcher.  Garnish with a spring of mint if desired and serve!
Notes
*if you cannot find straight up strawberry or berry seltzer, feel free to use any seltzer you think would add a nice flavor or just use plain.  No worries!
Prep Time:

5 minutes (plus time in the refrigerator)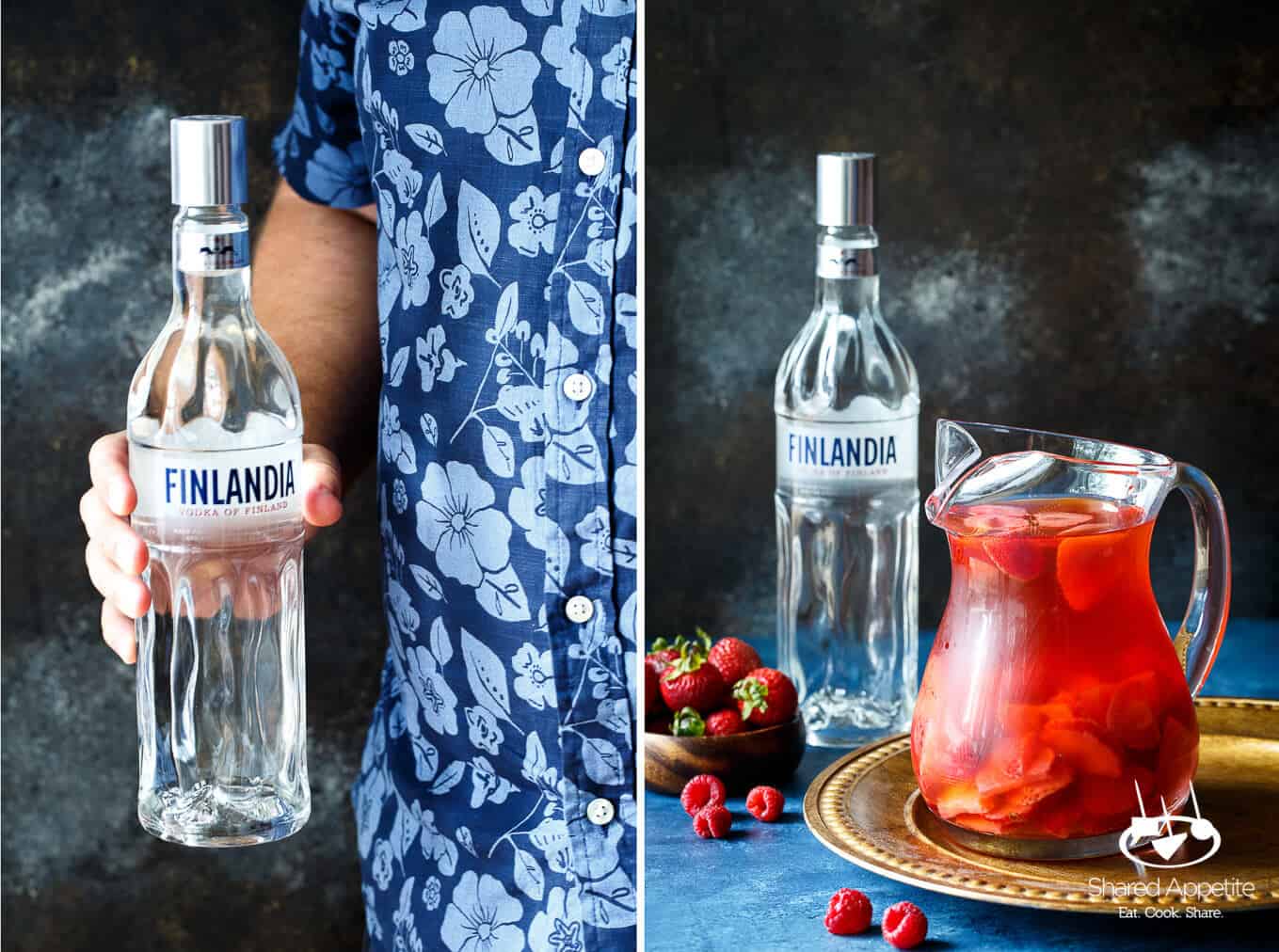 Sparkling Berry Rosé Sangria