These Red Velvet Cake Truffles were created in partnership with American Greetings. As always, all opinions and the recipe are my own. Thanks for supporting the brands that support Shared Appetite!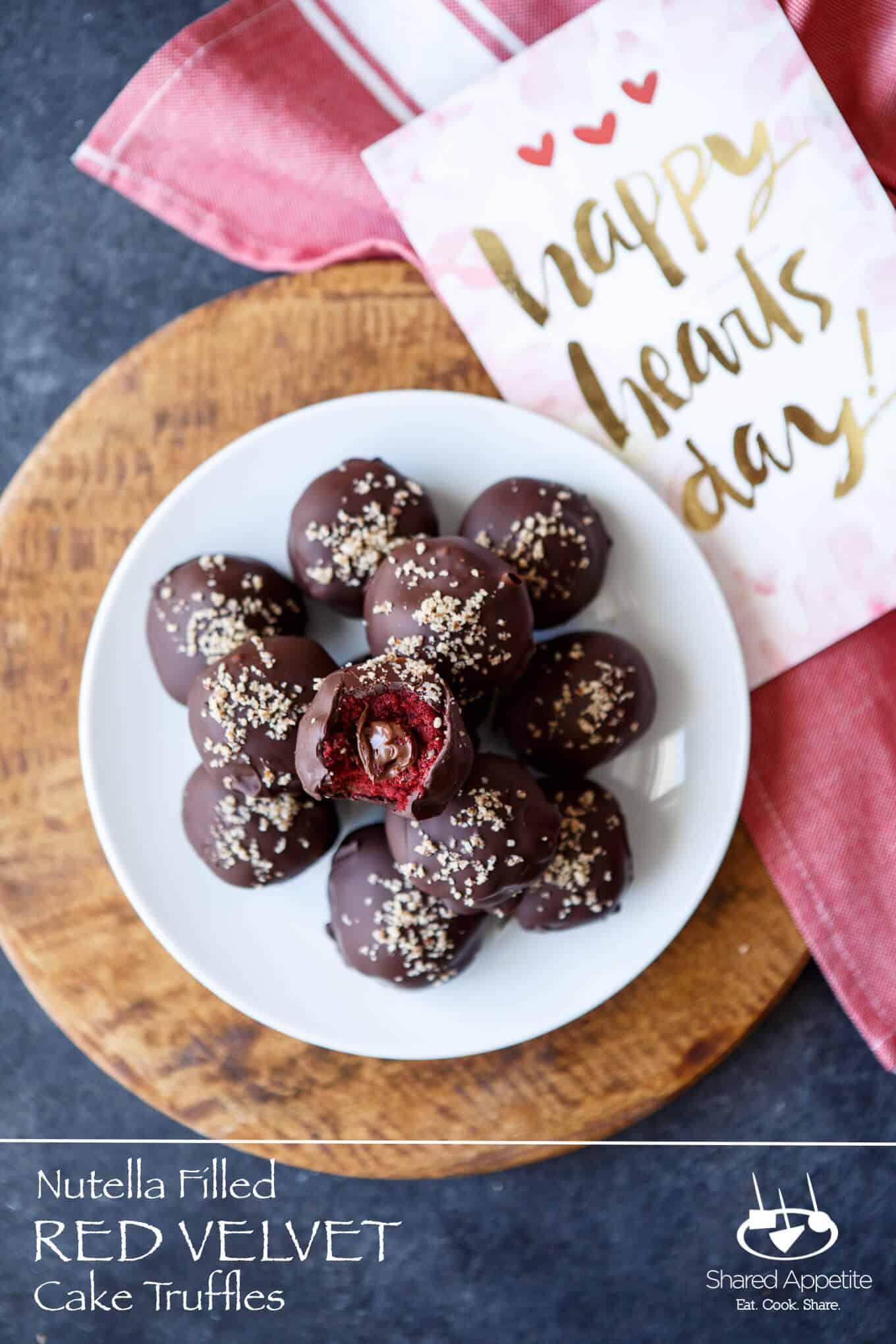 Valentine's Day. Yeah guys, it's coming up pretty darn soon. Did you make plans yet to celebrate? For Asheley and I, it's always a pretty laid back day. We don't do the whole going out to dinner thing and Asheley is adamant that I don't spend a large portion of my paycheck on overpriced flowers and jewelry.
Don't get us wrong. We love going out to dinner and I am all about shopping for gifts. Just not for Valentine's Day. Going out for dinner on Valentine's Day is painful. The lame pre-fixe menus are ridiculously lackluster and you are usually rushed in and out of the restaurant faster than you can finish your glass of wine. Oh, and don't get Asheley started on the rate of inflation on Valentine's Day flowers.
For us, Valentine's Day is an opportunity to take a night to spend together… at home. I cook something epic. We actually set the table and use cloth napkins. Maybe we even light the candles. Yeah, an actual fancy adult dinner (after our toddler goes to bed, of course). The only gift we trade? A heartfelt and thoughtful card. It only takes a credit card and less than 30 seconds nowadays to order flowers to be delivered right to your doorstep, but to write something beautiful to my wife on Valentine's Day in a card that I went to the store and hand picked? That shows a different level of love and care.
Oh, and I can't forget about dessert. This year, I'll be making Asheley these Nutella Filled Red Velvet Cake Truffles!
Yeah, I said it. Nutella Filled Red Velvet Cake Truffles. EPIC.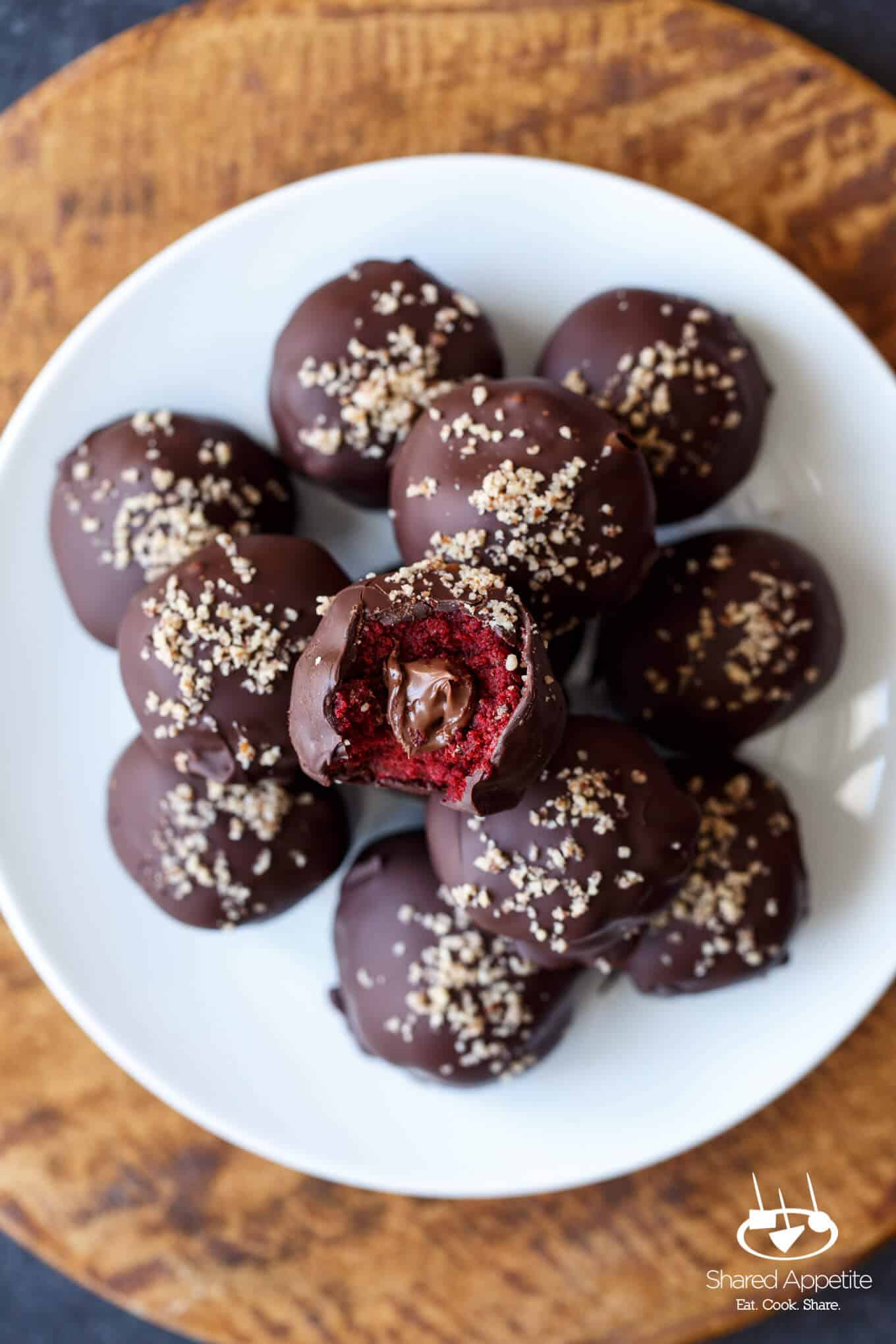 Can we talk about Target for a second? Who else is obsessed? I know I'm not alone on this one.
You go in with a few things on your list, and then you get sucked into the beautiful vortex of retail perfection that is Target.
I love Target. Our daughter Olivia loves Target. Even Asheley, my wife who hates shopping, LOVES TARGET.
When it comes to making Valentine's Day happen, there's nothing better than one-stop shopping. I got all the ingredients I needed for these Nutella Filled Red Velvet Cake Truffles AND Target has a legit selection of American Greetings cards right when you walk into the store!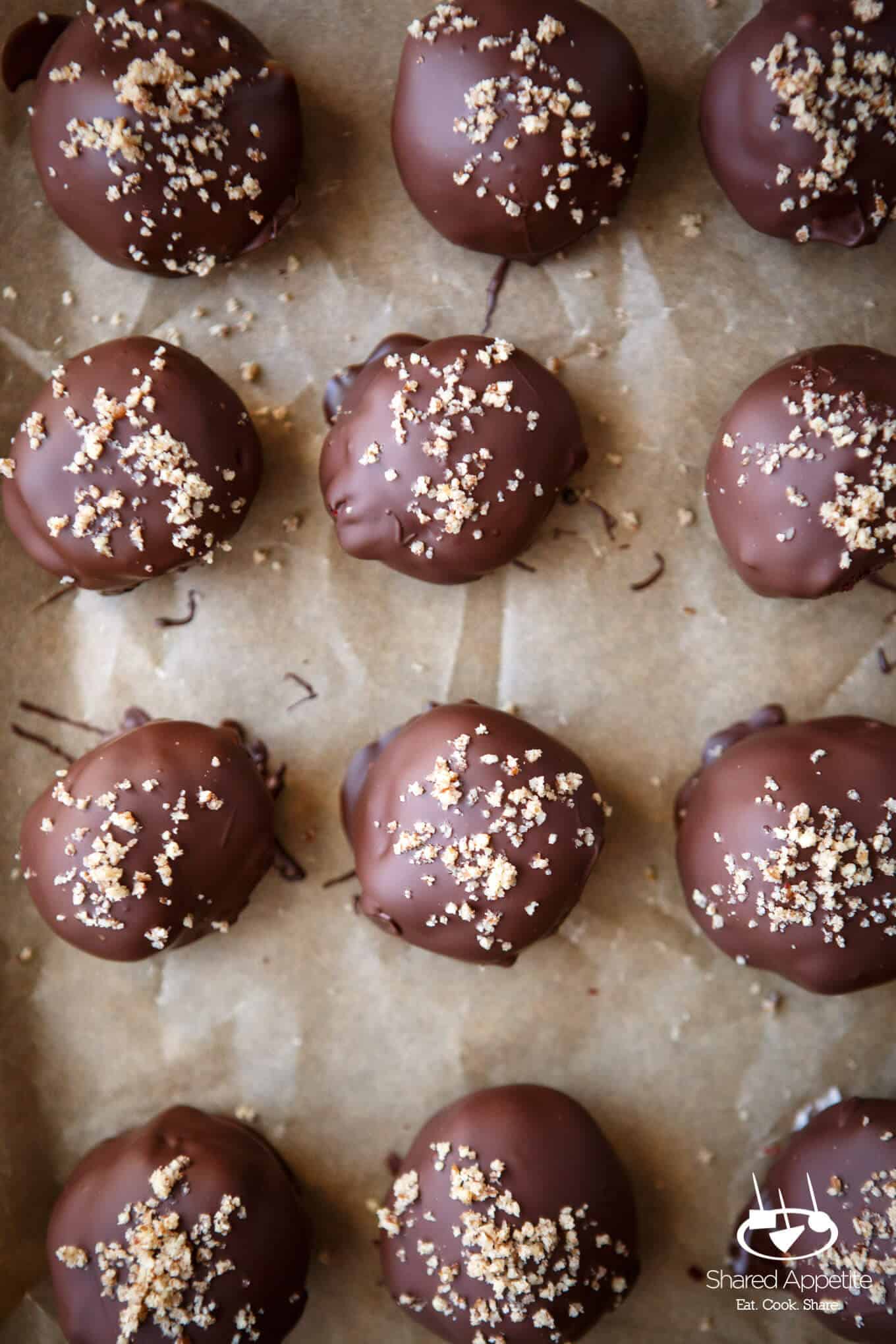 I'm not a huge baker. This was actually my very first attempt at making a version of cake balls. Now, I'm obsessed.
These Nutella Filled Red Velvet Cake Truffles are everything. Red velvet cake. Cream cheese frosting. Nutella. What's not to love?!
Wondering how to get the Nutella on the inside of these truffles? It's as easy as freezing it first! I drop little teaspoon sized balls of Nutella onto a parchment paper lined plate, then freeze until I'm ready to assemble the Red Velvet Cake Truffles. Since the Nutella will get hard in the freezer, you can then just mold the cake truffles around the frozen Nutella.
A couple other tips with this recipe. If the cake truffles don't stay together as you try to roll them into balls, add a little more frosting to the mixture. That'll help it keep it shape, if needed. When picking chocolate to melt for the coating for these Nutella Filled Red Velvet Cake Truffles, go for the good stuff. Low quality chocolate doesn't melt well… no matter how much you heat it, the chocolate will stay thick and gloppy. When you try to dip your cake truffles, there will be way too much chocolate on each ball. Trust me, I found out the hard way. Higher quality chocolate will be super thin when melted and dries really well when dipped.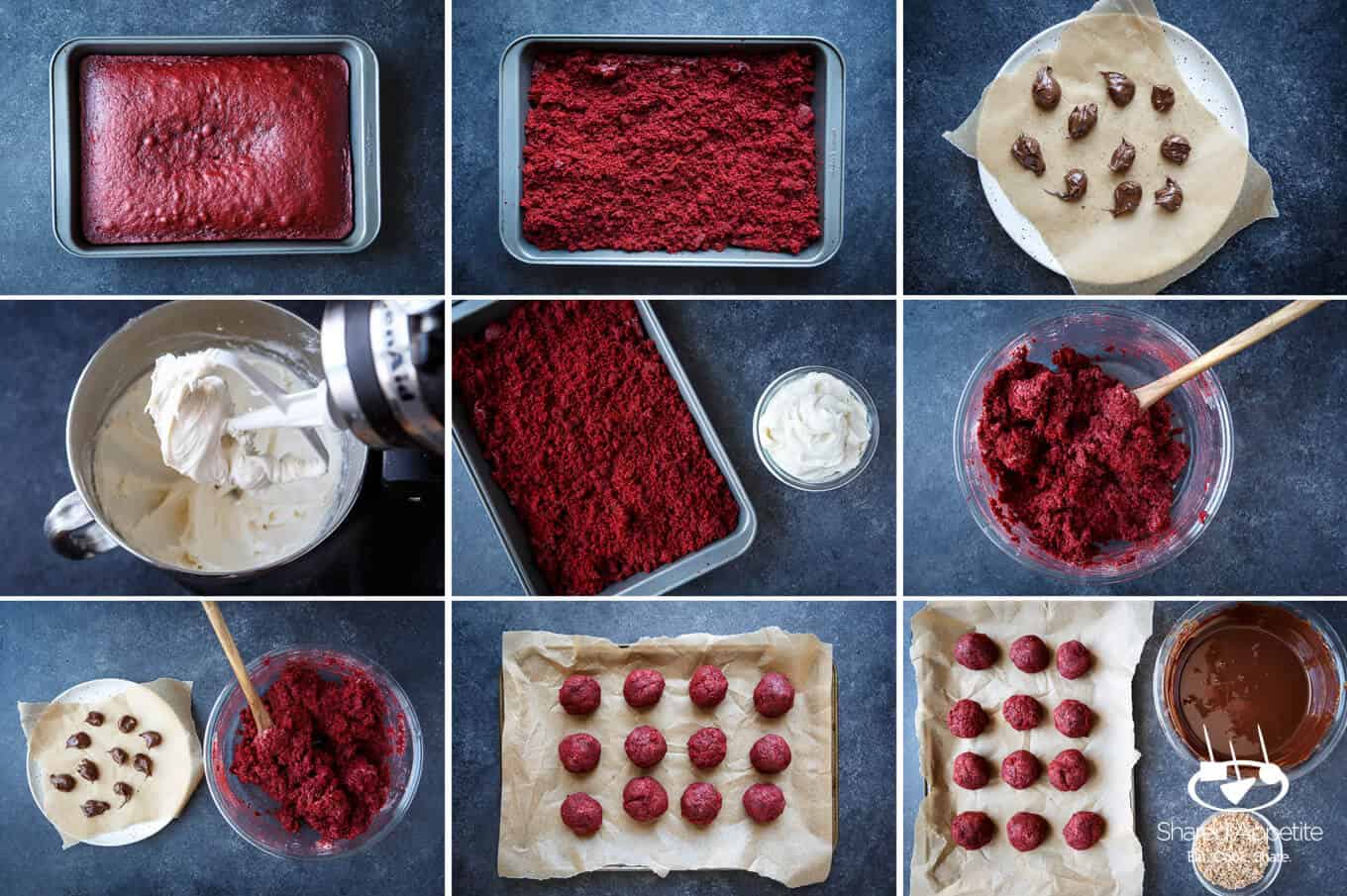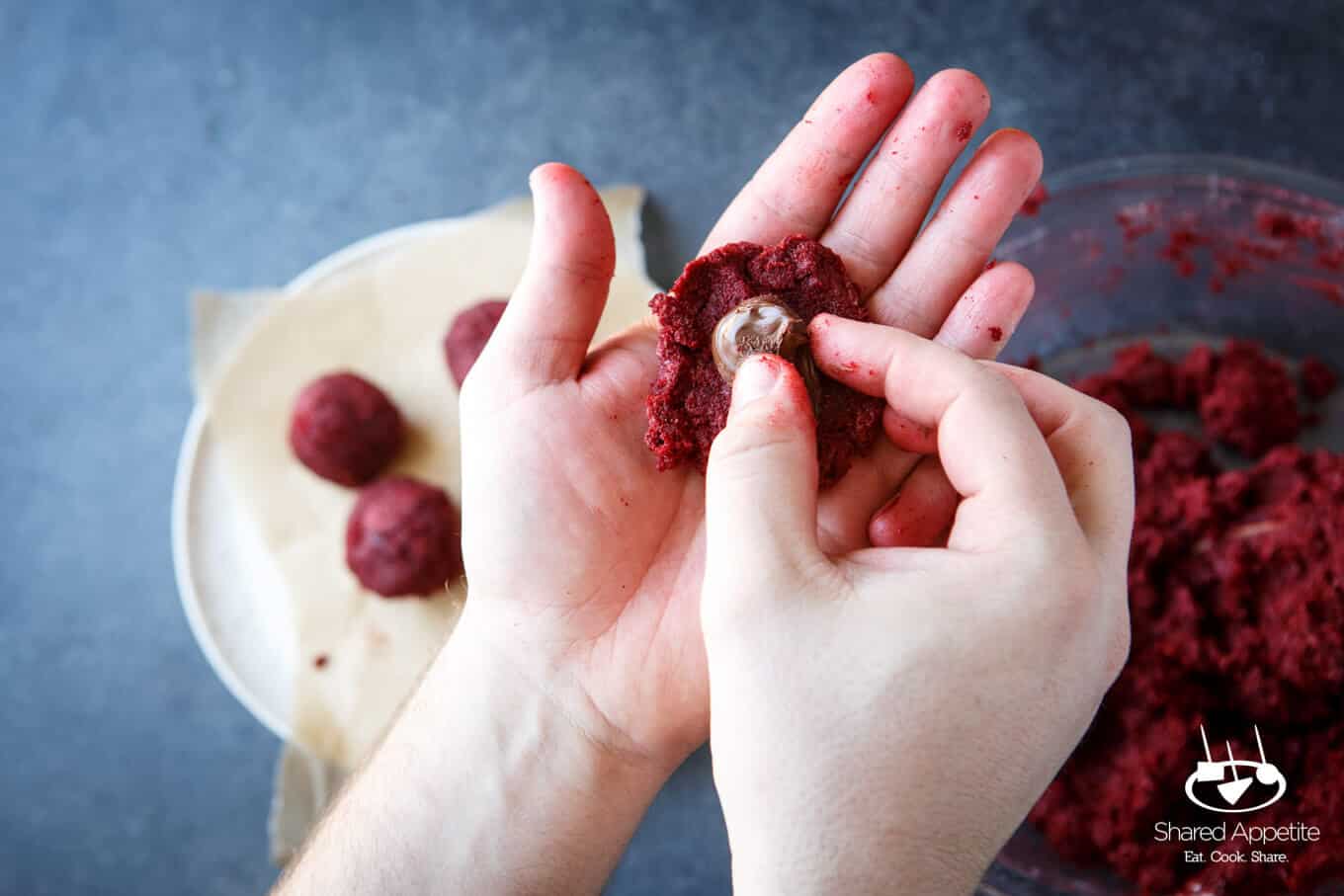 Olivia loved helping me pick out Asheley's Valentine's Day card this year. She always gets excited when looking at all the cards at Target. She loved the gold writing and hearts on the card we finally settled on. Mommy will like this one! And my heart melted.
So let's review, shall we?
forget going out this Valentine's Day
make your someone special a legit meal at home
finish the meal with these Nutella Filled Red Velvet Cake Truffles
when shopping for your Valentine's Day cards this year, be sure to check out the fun and unique options offered by American Greetings at Target
Oh, and if you happen to have any leftover of these Nutella Filled Red Velvet Cake Truffles, bring them to work the next day and leave in the break room. You'll quickly make lots of friends!
For all my friends without a special someone to celebrate Valentine's Day with this year… make these for YOU. You're worth it. Treat yourself.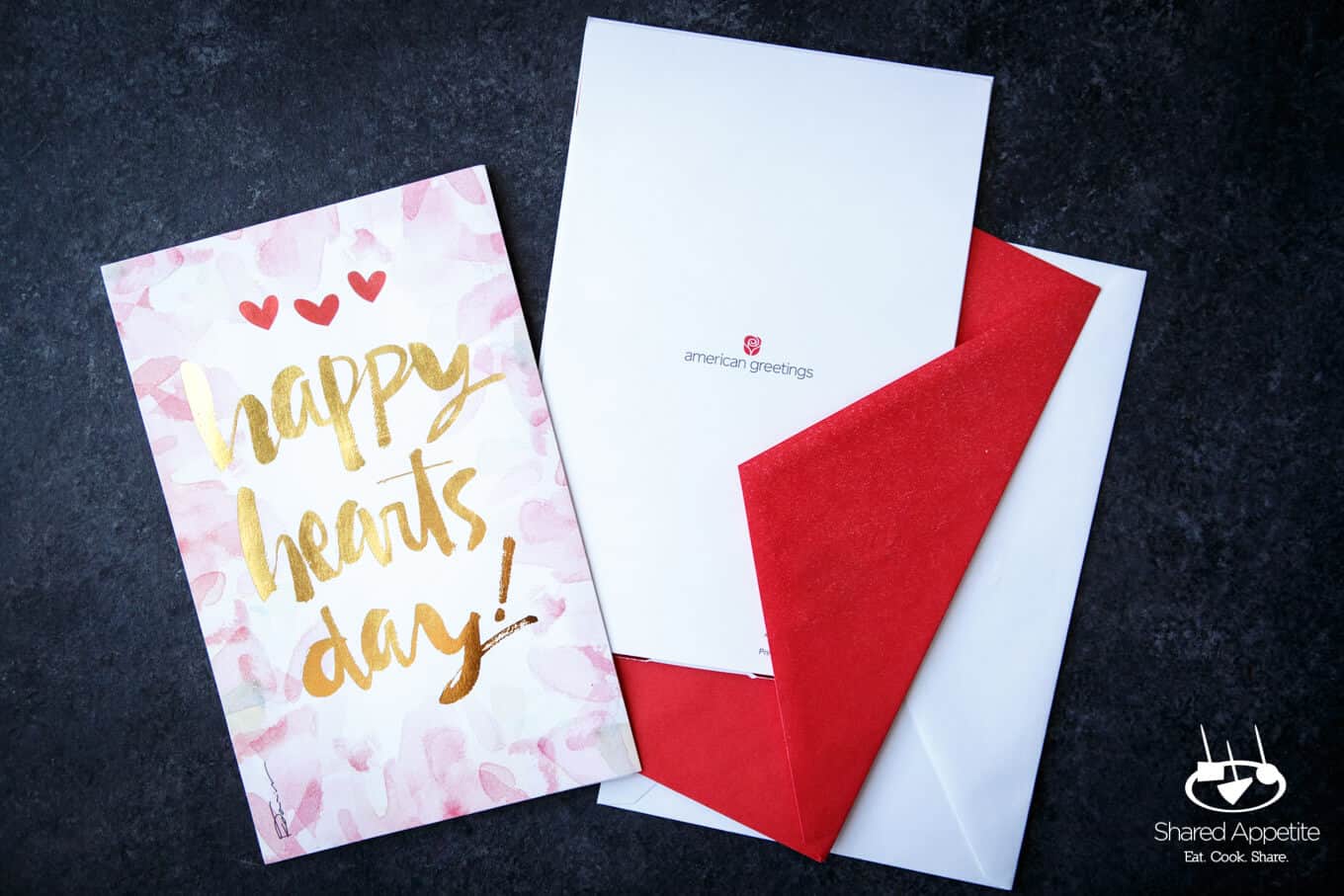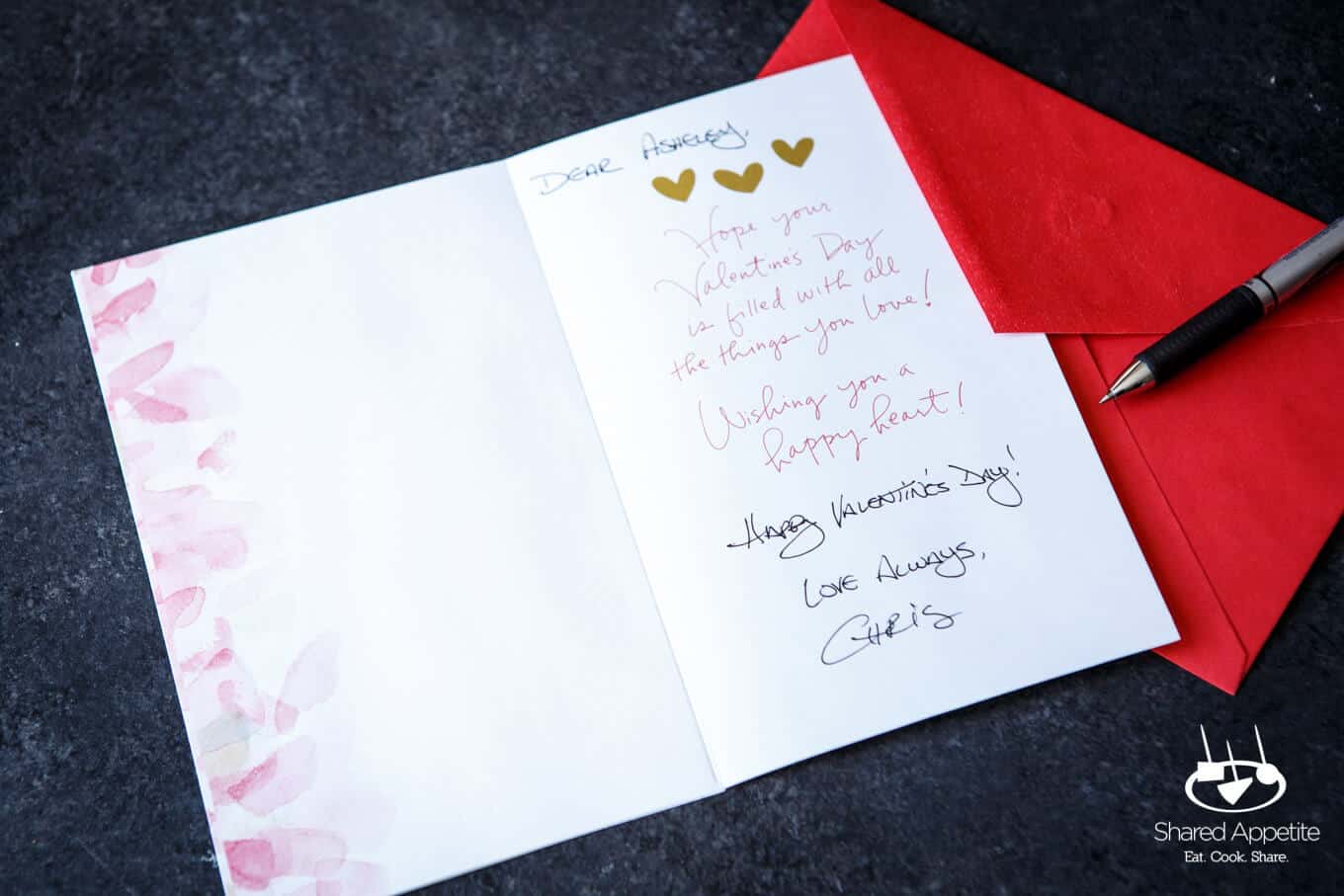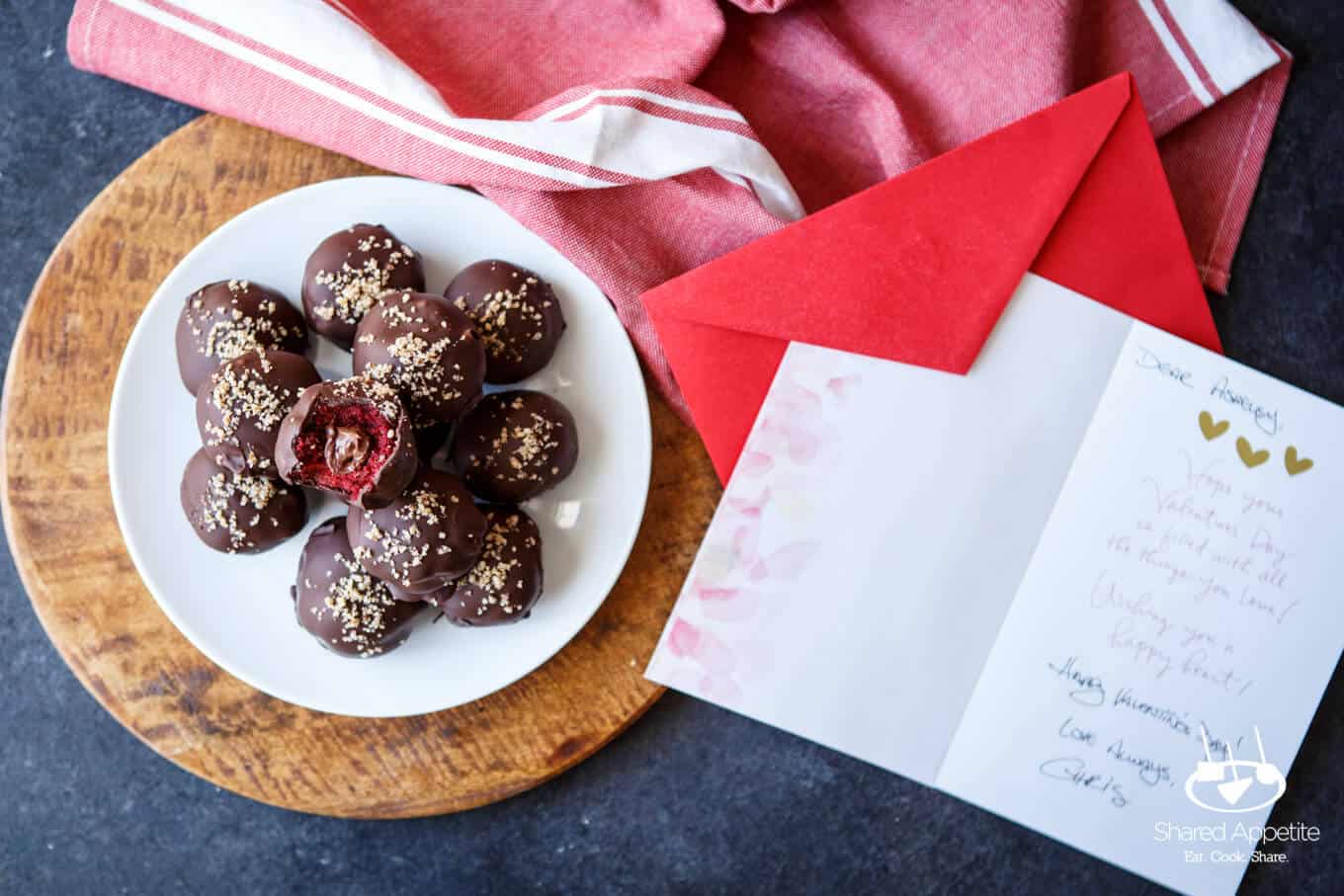 Asheley is going to be beyond excited when she sees these Nutella Filled Red Velvet Cake Truffles and her Valentine's Day card! Now the only question is… what should I make for dinner?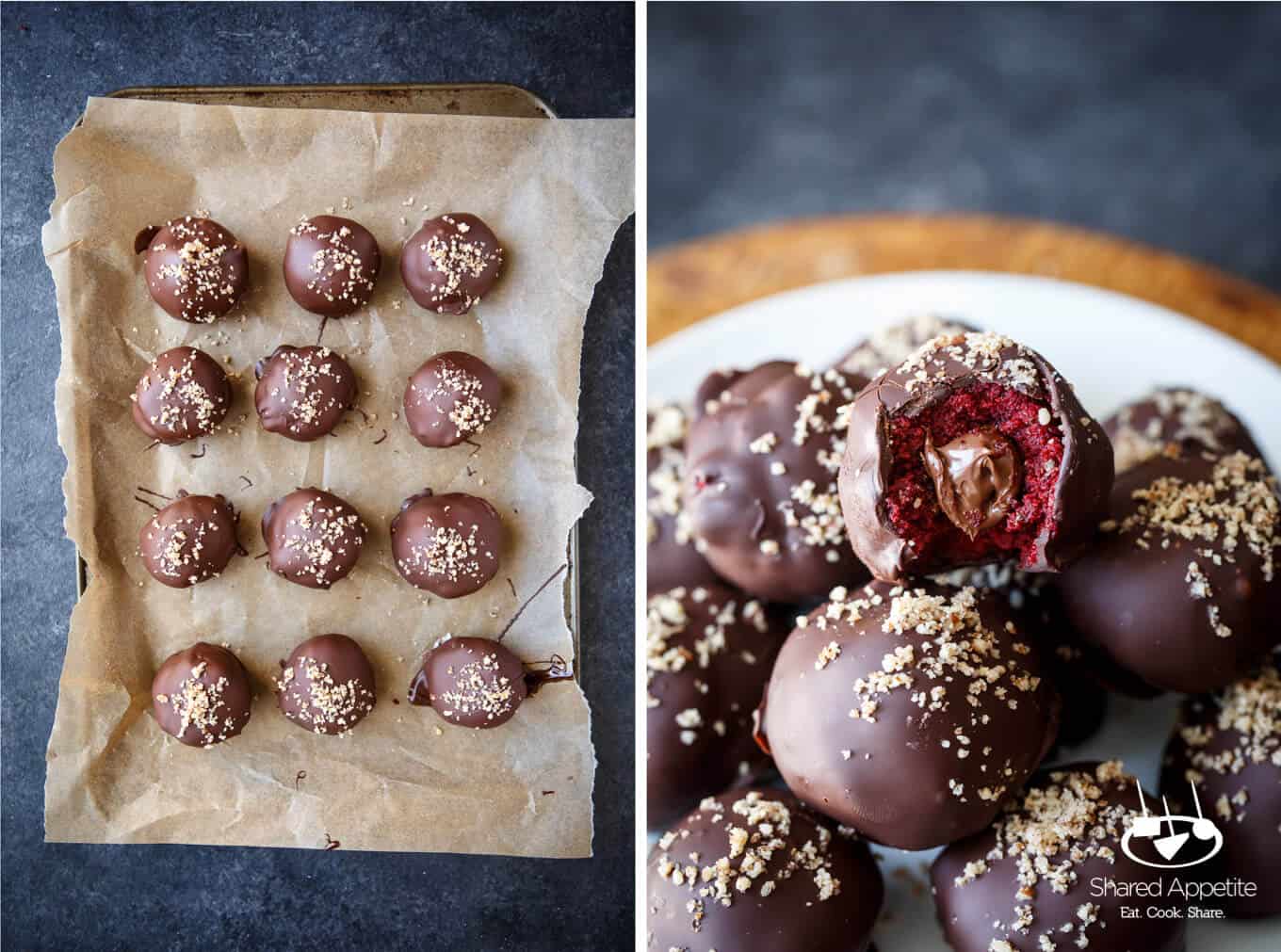 Print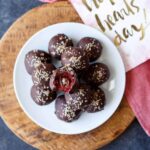 Nutella Filled Red Velvet Cake Truffles
---
Author:

Chris Cockren

Total Time:

60 minutes

Yield:

20

-

24

Cake Truffles

1

x
1

box red velvet cake mix, prepared as directed in 9×13″ pan

1/2 cup

Nutella

4 ounces

cream cheese, softened

1/4 cup

(

1/2

stick) butter, softened

1 cup

powdered sugar

1/4 teaspoon

vanilla extract

16 ounces

good quality chocolate, finely chopped*

1/4 cup

ground pecans
---
Instructions
Allow baked red velvet cake to cool completely, then finely crumble.
Drop small teaspoons of Nutella on wax paper or parchment paper (you'll want between 20-24 in total).  Place in freezer.
In the bowl of your stand mixer with paddle attachment or with a hand-held electric mixer in a large bowl , combine cream cheese, butter, powdered sugar, and vanilla extract on low speed until sugar is incorporated.  Increase speed to high and whip until the frosting is light and fluffy.
Combine crumbled cake with 2/3 cup of cream cheese frosting in a large bowl.  Remove frozen Nutella drops from freezer.  Grab a large spoonful of the cake mixture and flatten in your hands slightly, placing a frozen Nutella drop in the center.  Roll the cake mixture into 1 1/2″ balls around the Nutella (if they don't hold their shape, add a little more frosting) and place on a baking sheet lined with parchment paper.  Freeze for 20 minutes.
Meanwhile, place chocolate in a medium microwave-safe bowl and melt in microwave on half power, stirring every 30 seconds, until just melted.  Be careful not to over heat and burn chocolate.
 Remove cake truffles from freezer and working one at a time, dip into the melted chocolate.  Using two forks, remove from chocolate, gently shaking off excess chocolate, and place back on baking tray lined with parchment paper.  Sprinkle immediately with ground pecans, as the chocolate will harden quickly.
Store in an airtight container in the refrigerator for up to 3 days.  Let cake truffles come to room temperature before eating.
Notes
*better quality chocolate will melt much better.  Cheap quality chocolate tends to melt to thick and doesn't coat very well.  Just be careful because higher quality chocolate will also scorch more easily.  I personally like using Ghiradelli dark chocolate chips.
Prep Time:

60 minutes

Cook Time:

0 minutes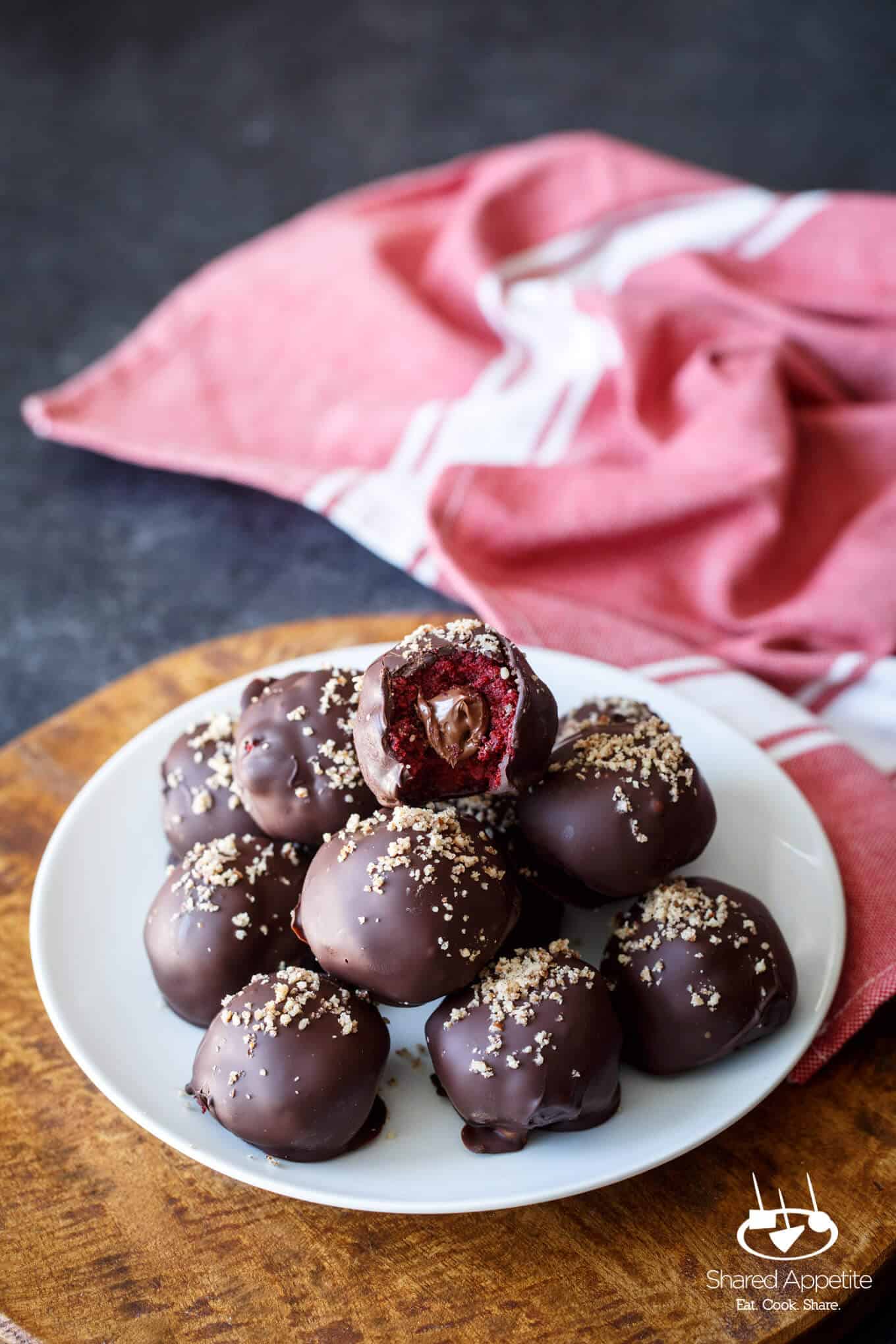 Nutella Filled Red Velvet Cake Truffles