This recipe for Caramel Apple Pie Tacos was created in partnership with Flatout Bread. As always, all opinions and recipes are my own. Thanks for supporting the brands that support Shared Appetite!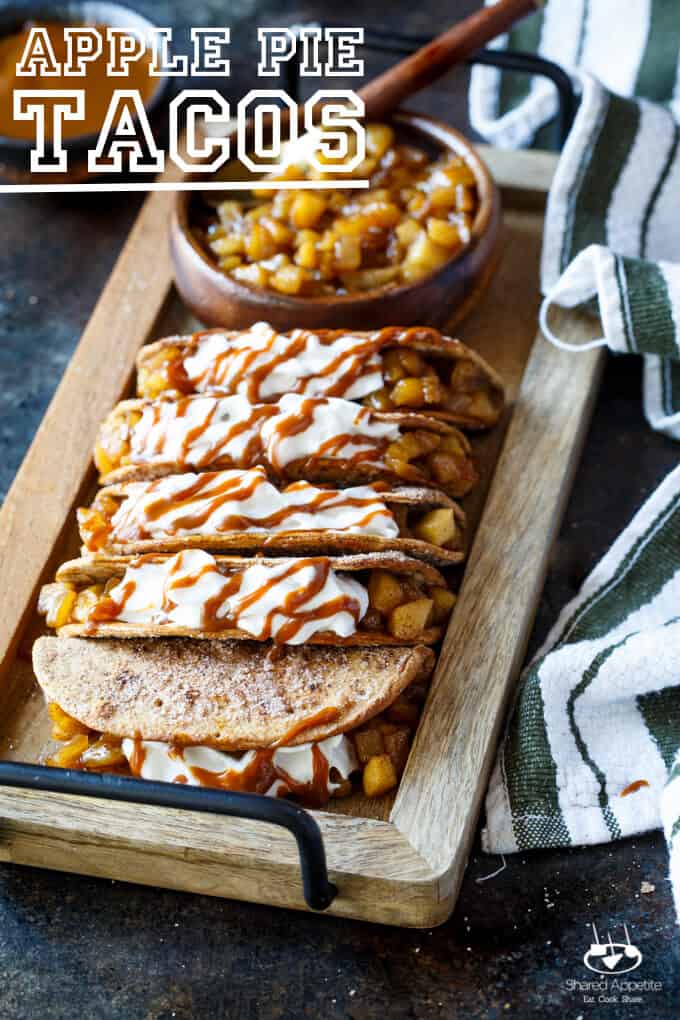 It's funny. We are at the point in our lives where almost all of our friends have recently bought houses… and we all love to throw get togethers. So lately, people have been vying for different spots on the annual entertaining calendar. One friend just deemed that New Years Eve will always be celebrated at their house. Another 4th of July. Another wants the first weekend of fall reserved at their home. Asheley and I… well, we didn't get to pick which holiday we could host. We were told… Halloween.
Makes sense, actually. Our house has been home to an annual costume party for as long as I can remember. I love Halloween. And apparently so do all our friends. The candy. The costumes. The decorations. It's such a great opportunity to celebrate while riding high on sugar.
While everyone else this time of year is fawning all over pumpkin everything, I'm hoarding all the apples I can. Sorry, I just can't get into pumpkin desserts. But apple?! Hello my dear friend. I'll turn you into something delicious. Just give me some butter, sugar, and cinnamon. I've got this.
Psst… scroll down to the bottom of this post for some of my favorite apple and other fall desserts from years past.
This year, I'm adding a new apple dessert to my lineup. Caramel Apple Pie Tacos. They're fun. They're handheld. They're packed with bold apple flavor. Did I mention THEY ARE TACOS!!!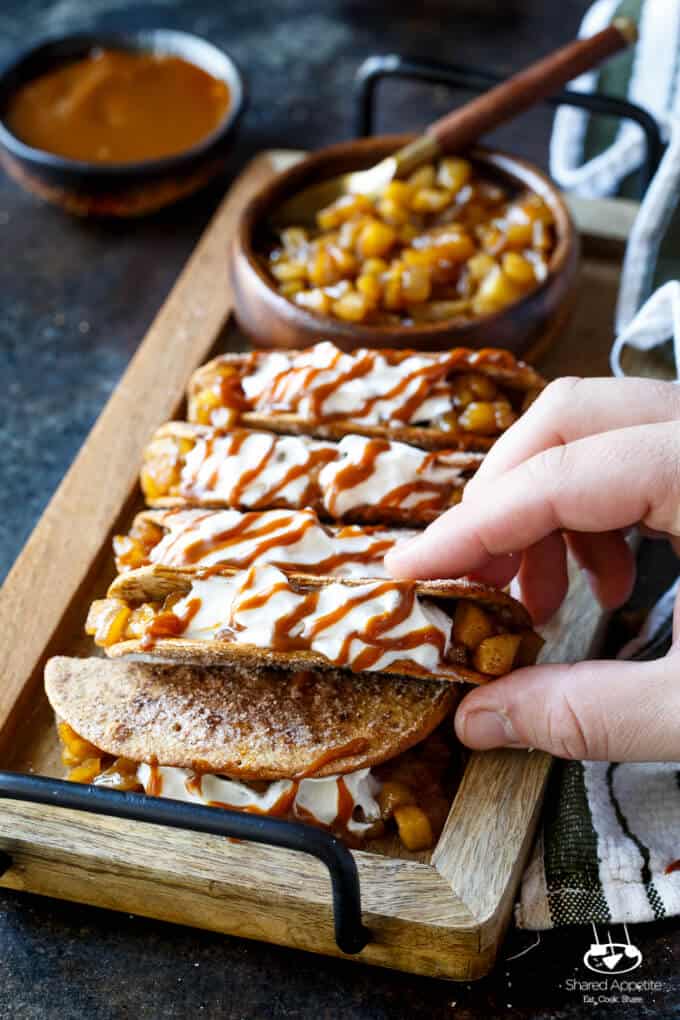 I love apple pie. But who has time to make a pie when you are busy chasing around your 15-month old baby girl that is obsessed with her toddler bounce house. No, seriously, she borderline needs a support group for her bouncing addiction. I received a text yesterday while at work AT 8:30AM that Asheley had to give in to Olivia's incessant yelling of hop hop hop hop hop… she went outside, set up the bounce house, and Olivia literally played on it for 2 hours straight. In toddler time, that's like 37 hours.
Besides taking a bunch of time, apple pie is also so formal. You need actual forks and plates and stuff. Probably linen napkins too. It's not really Halloween costume party dessert material.
But Caramel Apple Pie Tacos?! Uhm, heck yes. These bad boys can be eaten on the move, with no utensils required. AND THEY ARE TACOS. Who doesn't love a taco? They are a gift straight from heaven above.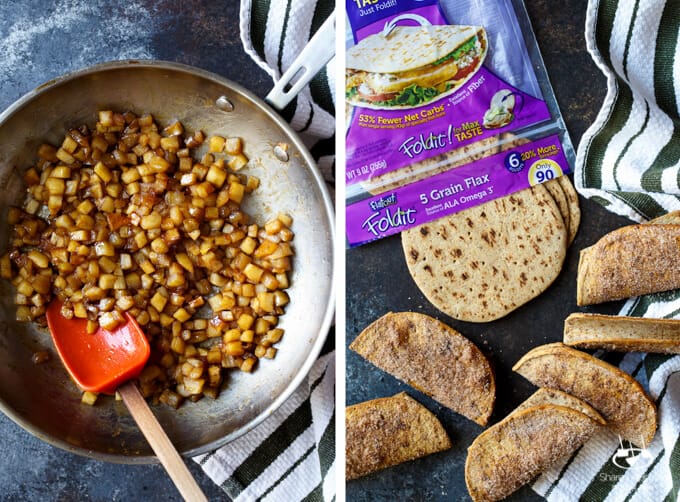 It all starts with Flatout Foldits. Have you seen them before? You can find Flatout Flatbread products are right in the deli section of your local grocery store. They bad boys get a lot of use at my house… sandwiches, burgers, mini pizza crusts, and even as pitas for gyros.
But they can also make for epic puffy taco shells. All you have to do is cut them in half, brush with melted butter, and sprinkle with some cinnamon sugar. Here's the cool part. You fold them into taco shell shapes, and then use tongs to hang/drape each one over your oven rack grates. Bake for about 7 to 10 minutes, and you have a crispy on the outside, chewy on the inside sweet taco shell ready to be filled with apple goodness.
And that apple goodness? It's butter, brown sugar, and cinnamon. Mmm hmmm. Apples' best friends right there.
Top with some whipped cream and caramel… BOOM. Instant hit at your next party. Or heck, who says you need to wait for a party? Make 'em tonight for your family. Or yourself. Bottom line, just make them. You deserve some Caramel Apple Pie Tacos in your life 🙂
And make sure to search out Flatout Foldits at your local grocery store!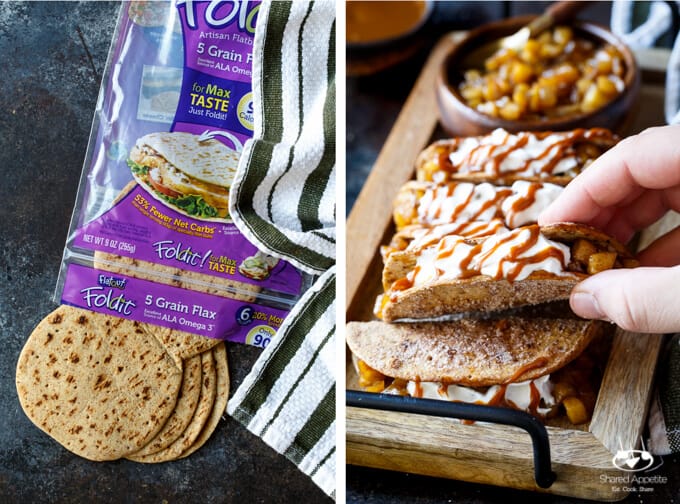 Print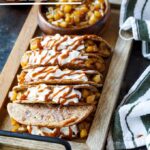 Caramel Apple Pie Tacos
---
Total Time:

25 minutes

Yield:

4

1

x
for the Apple Pie Filling
2

Granny Smith apples, finely diced

2 tablespoons

butter

1/4 cup

brown sugar

1/2 teaspoon

cinnamon
for the Tacos
4

Flatout Foldits

1/4 cup

sugar

1 teaspoon

cinnamon

2 tablespoons

butter, melted
Whipped Cream
Caramel sauce
---
Instructions
for the Apple Pie Filling
In a large skillet, melt butter over medium heat. Add the apples, brown sugar, and cinnamon, and stir until well combined. Cook, stirring occasionally, for about 10-15 minutes, until the apples are tender and the brown sugar creates a thick glaze (towards the end of cooking, you'll need to stir more frequently as the glaze gets thicker).
for the Tacos
Preheat oven to 375°F and cut Flatout Foldits in half. Combine cinnamon and sugar in a small bowl. Brush one side of each Foldit with butter and sprinkle generously with cinnamon sugar. Using tongs, fold each into a taco shell shape and hang/drape over your oven rack grates. Bake for 7-10 minutes, until the Foldits turn golden brown. Remove from oven and let cool slightly. They will continue to crisp up as they cool.
Fill each taco shell with cooked apple mixture, and top with whipped cream and caramel sauce. Devour immediately.
Prep Time:

10 mins

Cook Time:

15 mins
Caramel Apple Pie Tacos
Craving More Fall Desserts?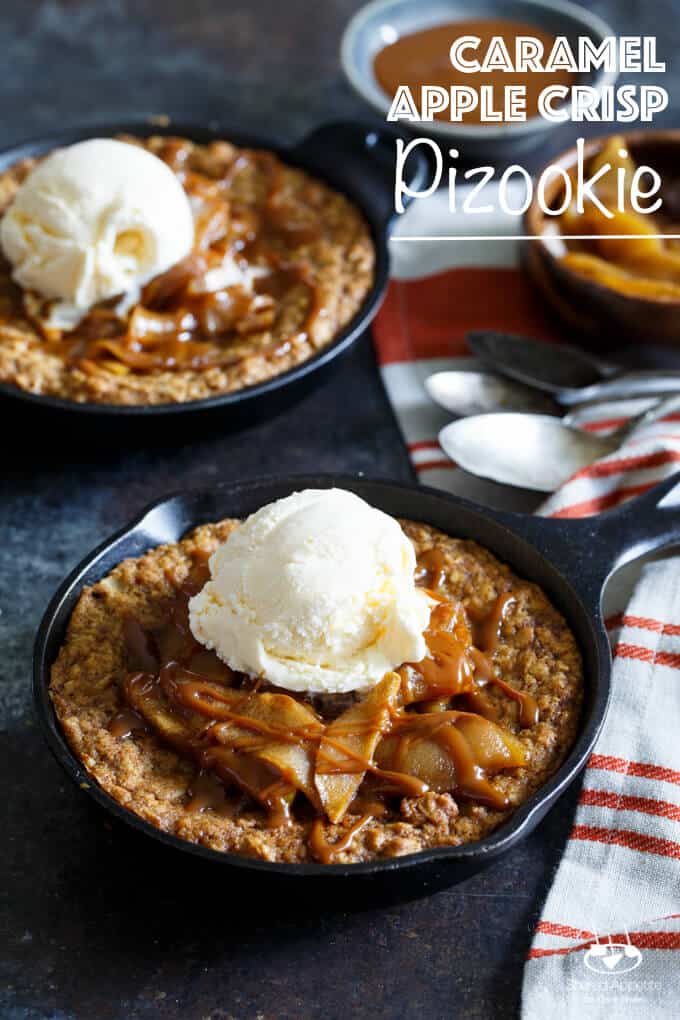 Apple Pie Wontons with Salted Caramel Whipped Cream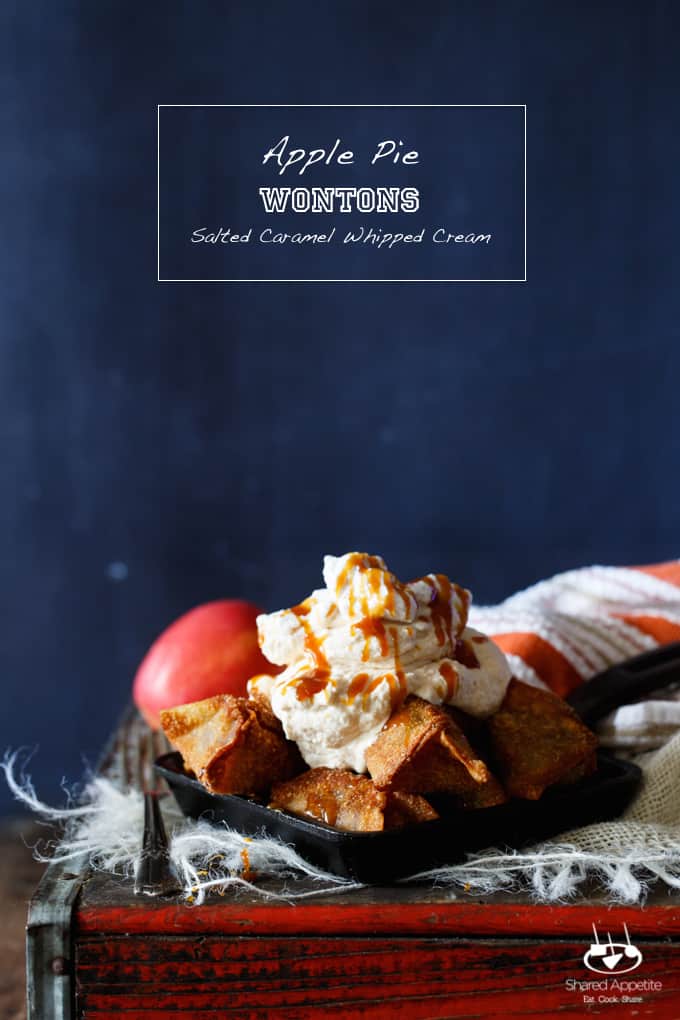 No Bake Caramel Apple Cheesecake Trifles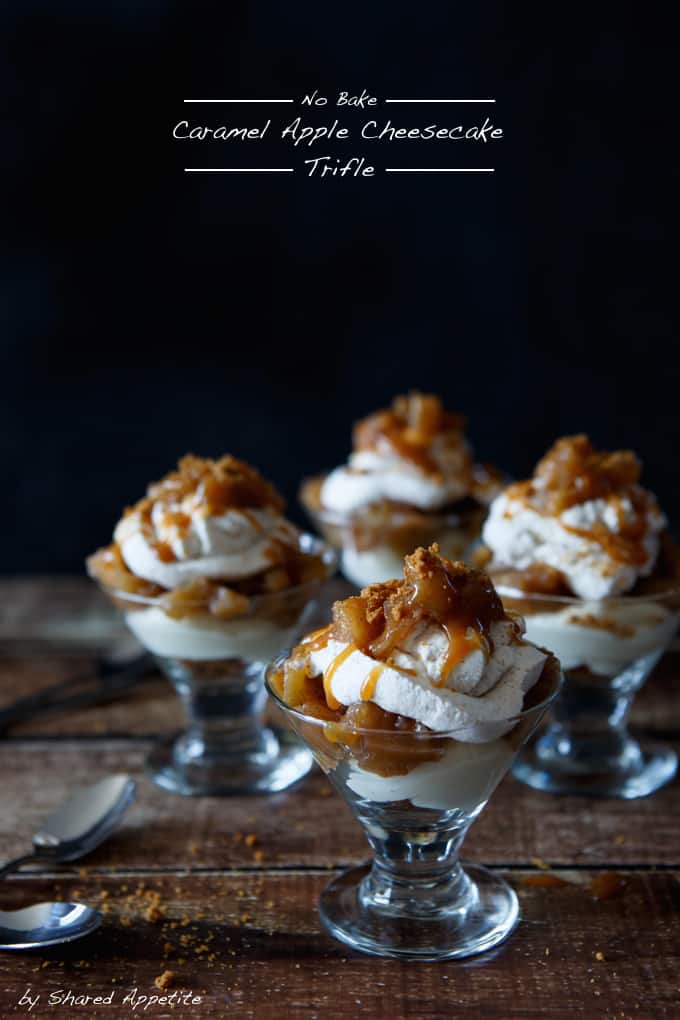 Sweet Potato Cheesecake with Bourbon Whipped Cream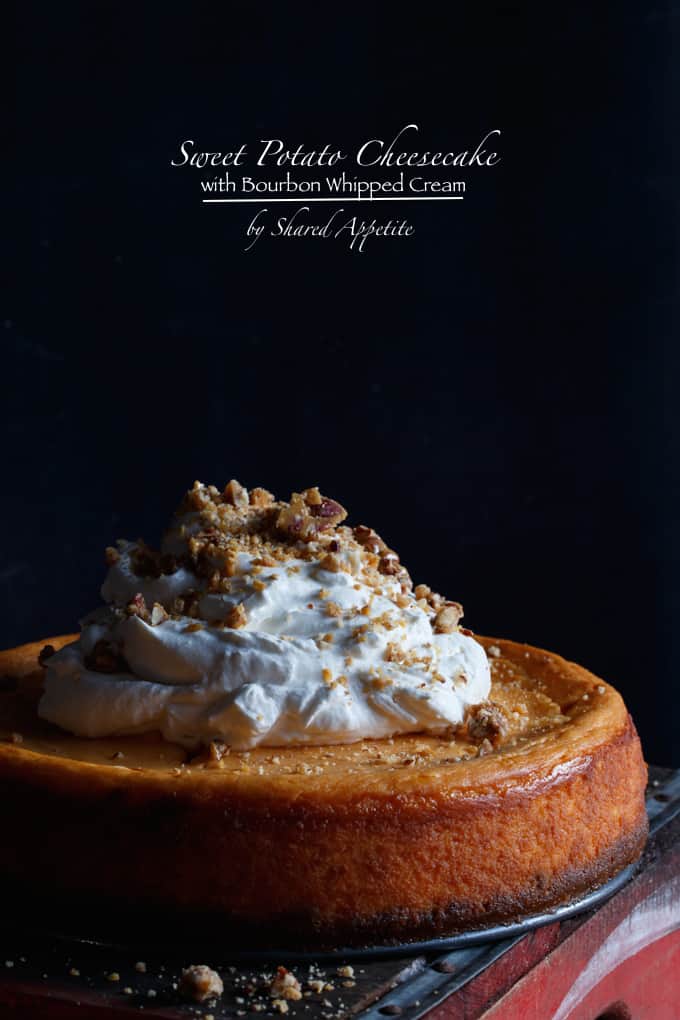 Pumpkin Cheesecake Quesadillas with Pecan Praline Topping