These Vegan Sweet Potato Hummus and Apple Bites are brought to you by Flatout Bread. As always, all opinions and recipe are my own. Thanks for supporting the brands that support Shared Appetite!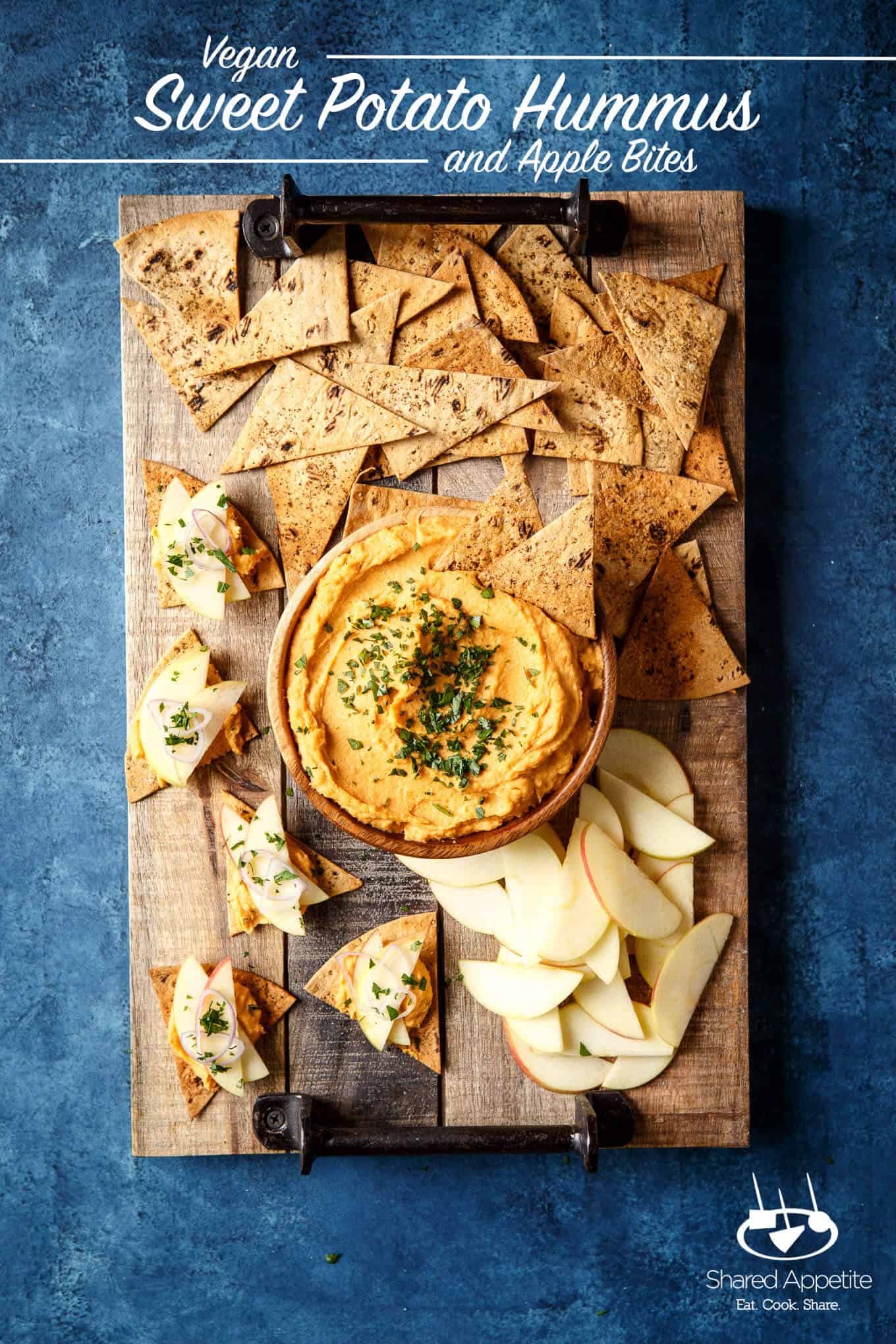 Well, it's now officially Fall. I know technically it started a few weeks back, but up until the start of this week it's been so unseasonally HOT here in New York. Although I'm sad to see summer go, I'm always pretty excited about the Fall weather. It's hard to beat a 60-70° day... I just wish I could have that temperature AND it stay light outside past 7pm. Lofty goals, I know.
I'm also in full Fall mode because we just went apple picking this past weekend! It was Olivia's very first time and she was SO excited. She couldn't believe that apples grew on trees and loved helping me pluck off the ripe ones. For those of you unfamiliar with Long Island, we have a North Fork and South Fork. The North Fork is where we have the majority of farms and wineries, but the South Fork is home to the more famous Hamptons and Montauk. Now most people from Long Island make the trip to the North Fork for apple picking, but we headed south to the Hamptons area because I knew it would be less crowded (it totally was the right move) AND this orchard was growing my all time favorite apple variety... HONEYCRISP!
Now we're at home with like 25 pounds of apples. We already gave some away, made an apple crisp, and I just tried making some homemade applesauce (except I over pureed it and now it's like the most weird silky applesauce ever). I'm planning on whipping up an apple galette tonight for dessert and making some apple bread for Asheley, but I also needed to share with you one of my favorite savory Fall easy entertaining apple recipes!
It's SO simple and barely even a recipe (hello just 6 ingredients and 10 minutes of prep with no cooking), but it's so delicious and satisfying. Meet these (accidentally) Vegan Sweet Potato and Apple Bites!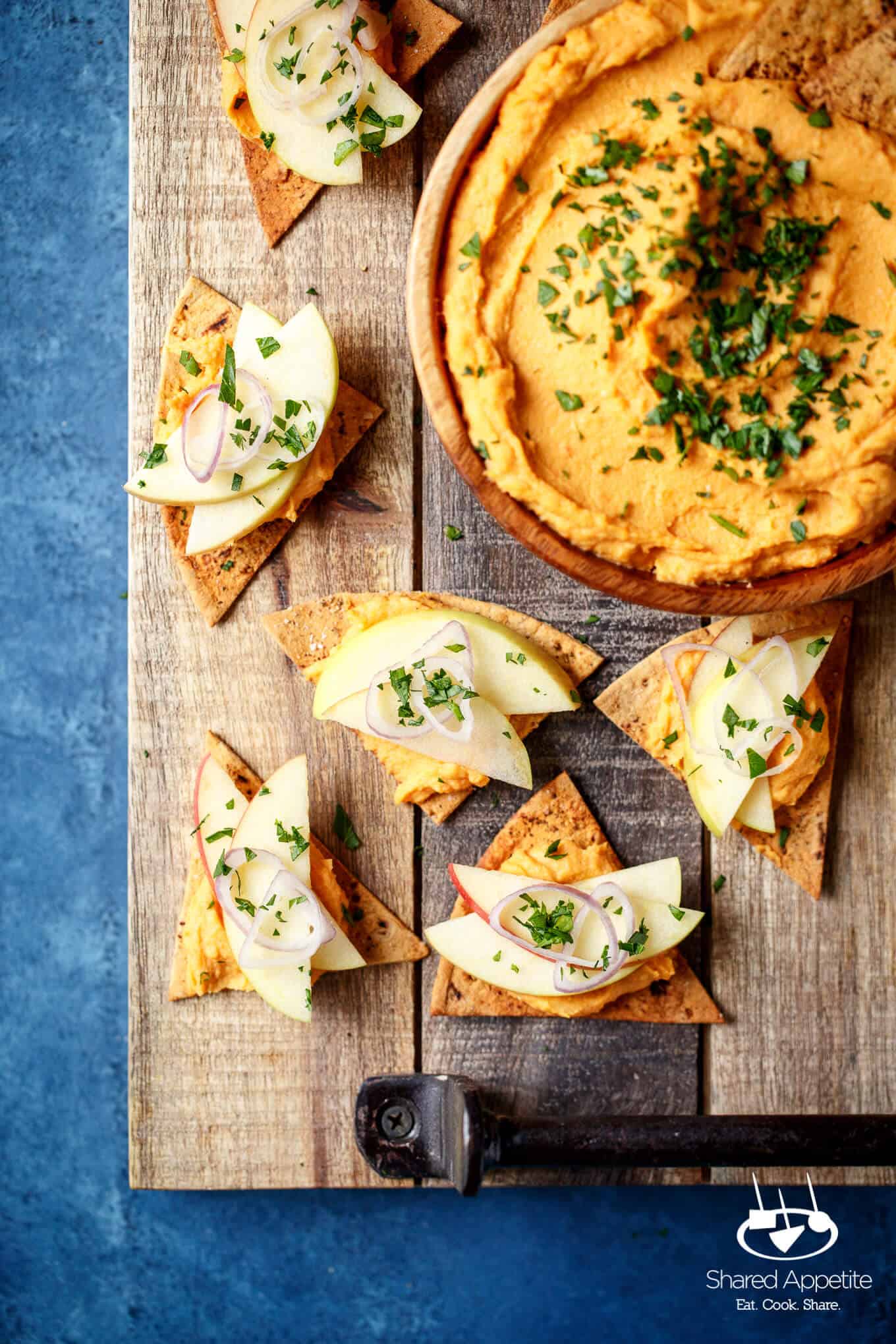 I actually have a recipe somewhere in the annals of Shared Appetite for a homemade Sweet Potato Hummus, but if we can just be real... since having a child I'm all about cutting corners when entertaining. Gone are the days when I could make everything from scratch and cook at my leisure. Now it's... okay let's get her to the babysitter (hi mom), drive back home, and we have 1 hour before guests come over... ready GO.
So when I decided to just try blending a good quality store bought hummus with some roasted sweet potatoes, I was really hoping it's would work out the way I wanted. Good news, it totally did. It takes totally awesome and WAY better than just regular old hummus. I love the slight little sweetness the sweet potato adds.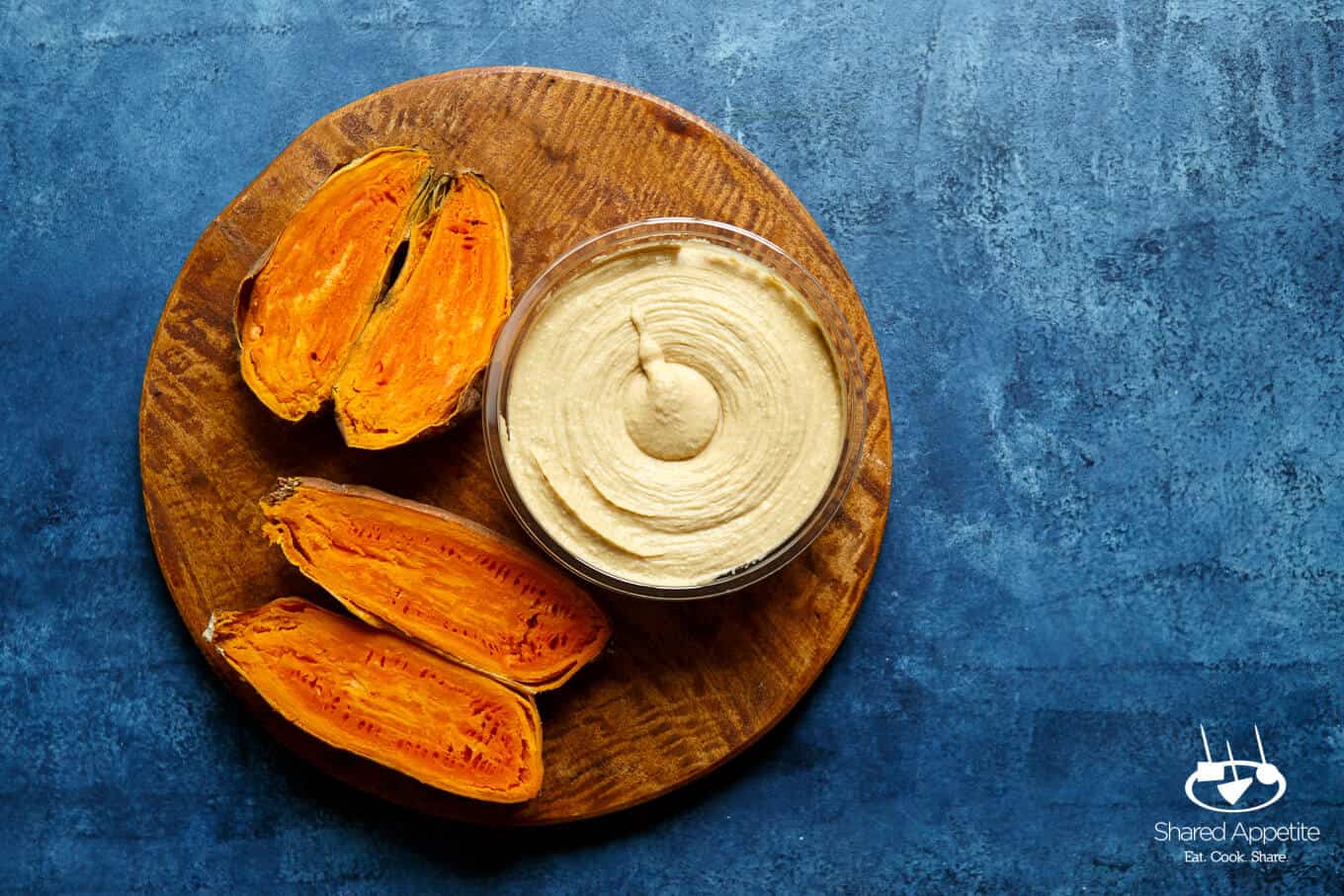 If you taste your sweet potato hummus and it tastes a little flat, you can always feel free to alter it with a little lemon juice and/or salt. Depending on what brand store bought hummus you buy, you may need a little help from those two kitchen all stars.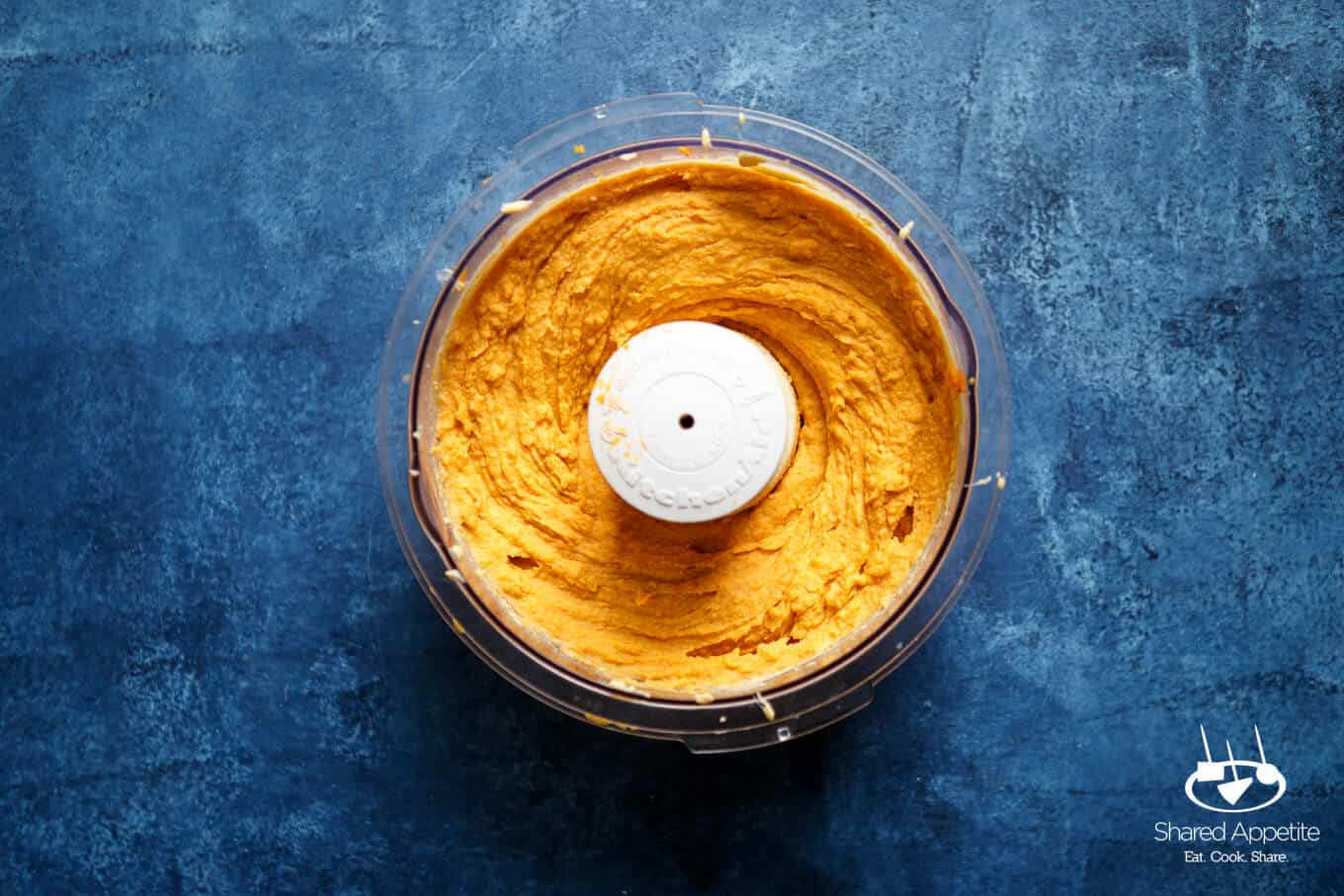 When I first started serving these Vegan Sweet Potato Hummus and Apple Bites, I used crackers. But the other day I realized the crackers in the pantry went stale on me and I had no interest in heading to the grocery store. Enter... yet again for another HUGE save, Flatout flatbread!
I always have a stockpile of Flatout products lying around for this very reason. They have saved breakfast, lunch, dinner, and snacking SO many times at my house.
I love cutting up Flatout flatbreads into little chip shapes and baking them off. Not only are they way better for me than those fried tortilla chips, I can also customize the flavors. For these Vegan Sweet Potato Hummus and Apple Bites, I brushed the flatbreads with lemon juice and sprinkled with salt and pepper. I love the little acidic kick the lemon adds to the baked chips!
Make sure to look for Flatout products at your local grocery store in the deli section. To see what stores in your area carry Flatout, check out their product locator! And if you need some recipe inspiration, they have a HUGE recipe center!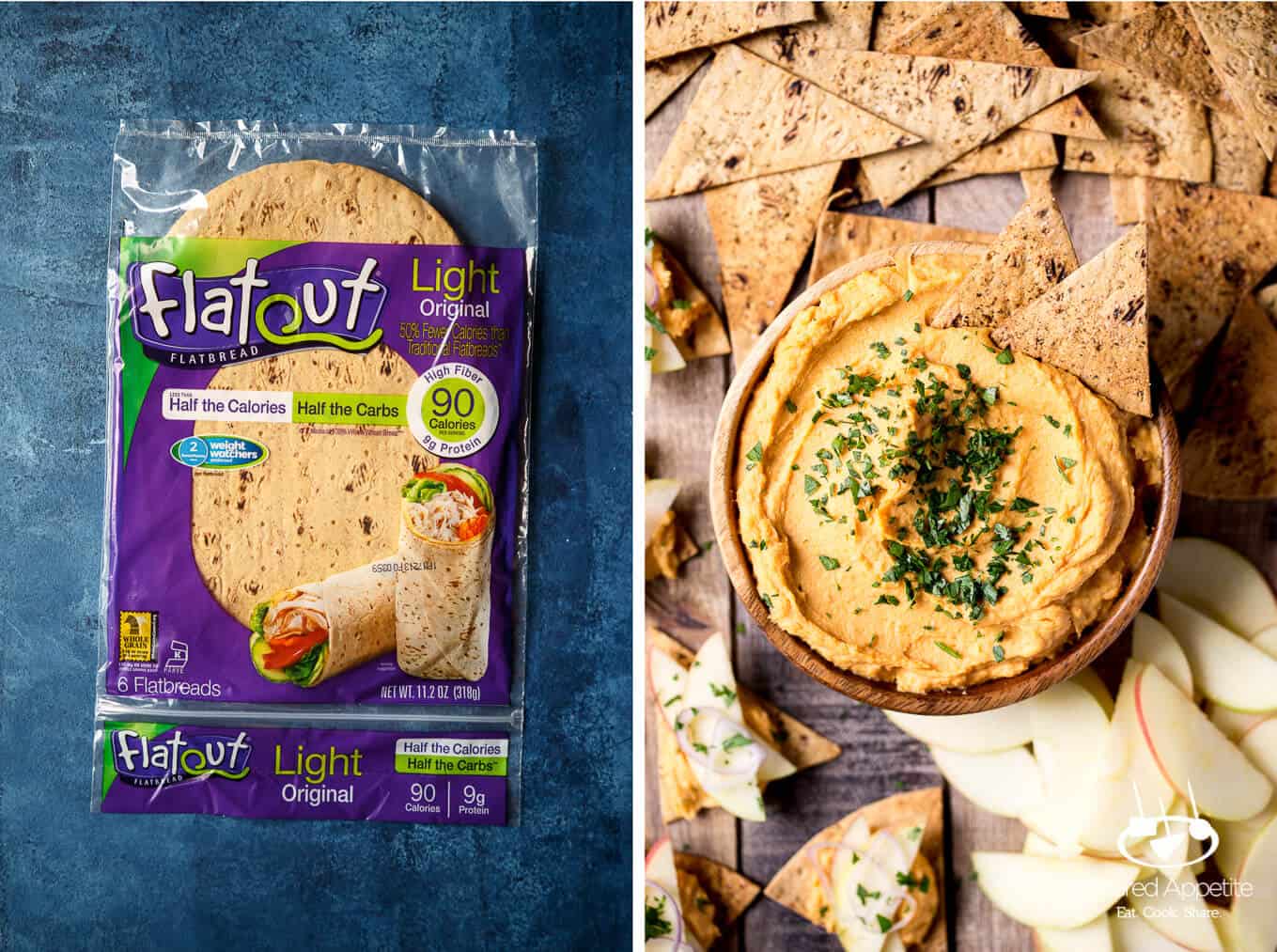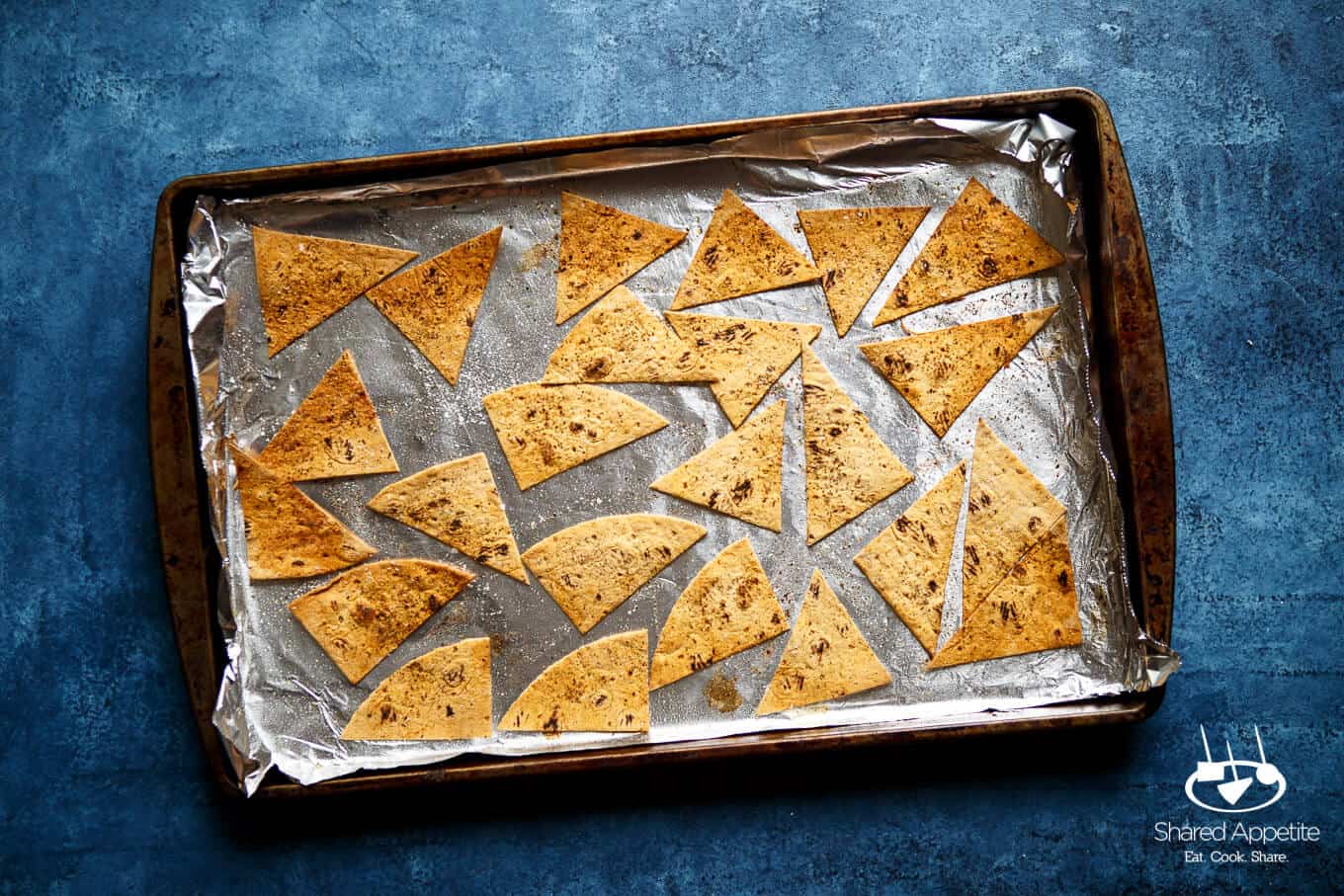 I love the balance of flavors in these Vegan Sweet Potato and Apple Bites. The savory hummus with just a hint of sweetness, the sweet and tart honeycrisp apples (PLEASE make sure to use honeycrisp or something similar... don't go using red delicious or anything like that... bleh), and the bite of shallot. HEAVEN on a chip.
For easy entertaining at parties, I just put out a big tray of the chips, hummus, apple slices, and shallot and let guests build their own. It's way easier and encourages people to interact!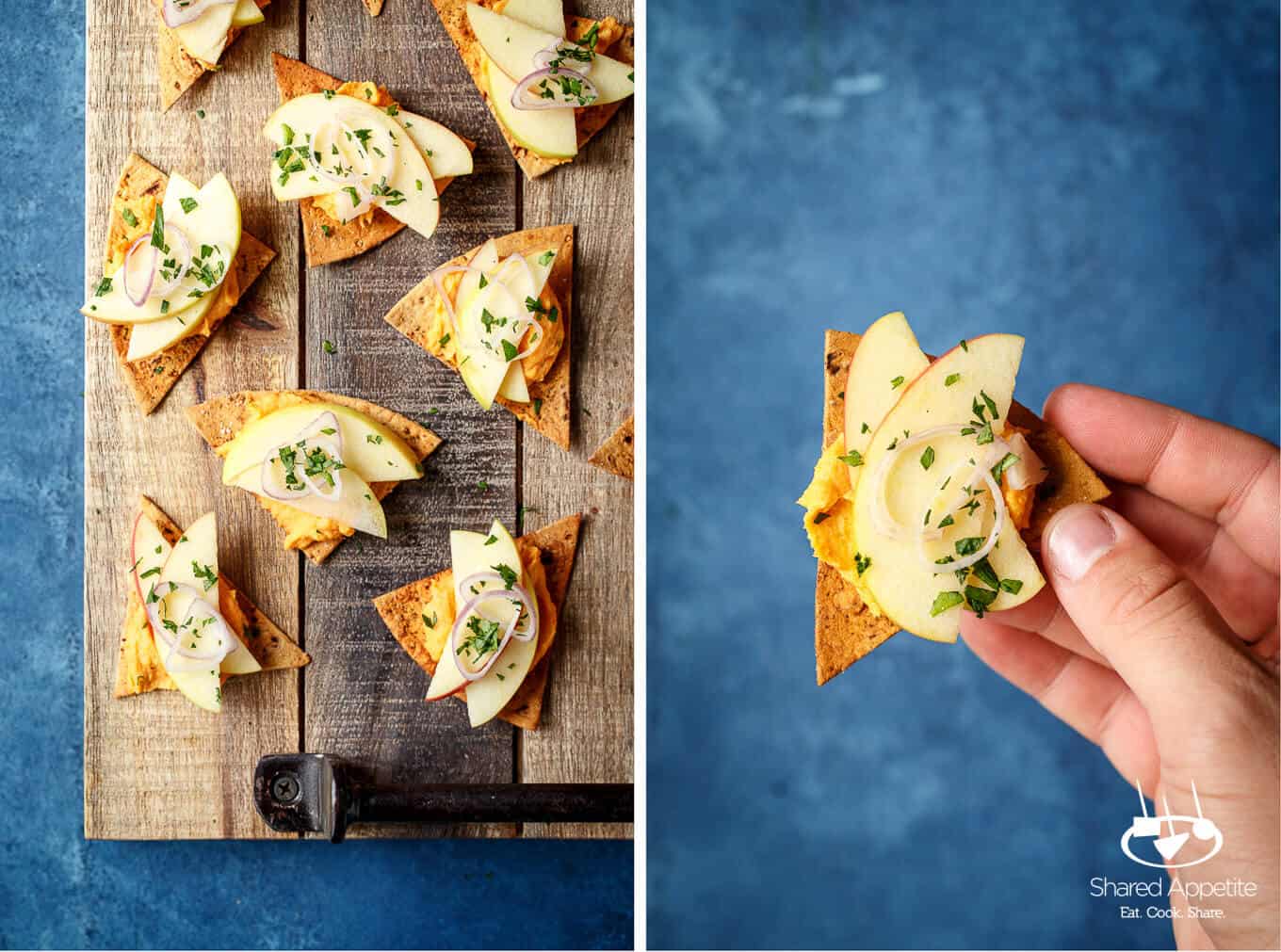 I'm so excited to share this video with you all. I teamed up with a bunch of other food bloggers that LOVE Flatout to create this awesome Flatout tribute to share the #FlatoutLove!
Print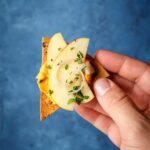 Vegan Sweet Potato Hummus and Apple Bites
---
Author:

Chris Cockren

Total Time:

16 minutes

Yield:

About

36

-

40

Bites

1

x
4

Flatout flatbreads

½

lemon, juiced
Kosher salt and freshly ground black pepper

1

(16 ounce) container hummus

2 cups

cooked sweet potatoes (about

3

-

4

sweet potatoes

1

large honeycrisp apple, thinly sliced

2

large shallot, thinly sliced
Chopped parsley, for garnish
---
Instructions
Preheat oven to 375°F.  Brush eat flatbread with lemon juice and sprinkle with Kosher salt and freshly ground black pepper.  Cut into chip shapes and place in a single layer on baking trays lined with aluminum foil sprayed with nonstick cooking spray.  Bake for 5-7 minutes until chips are golden brown and crisp.  Remove from oven and allow to cool.
In a food processor, puree hummus with cooked sweet potato flesh (skins discarded) until smooth and well combined.
Top chips with sweet potato hummus, two slices apple, a little shallot, and sprinkle of parsley.  Devour.
Prep Time:

10

Cook Time:

6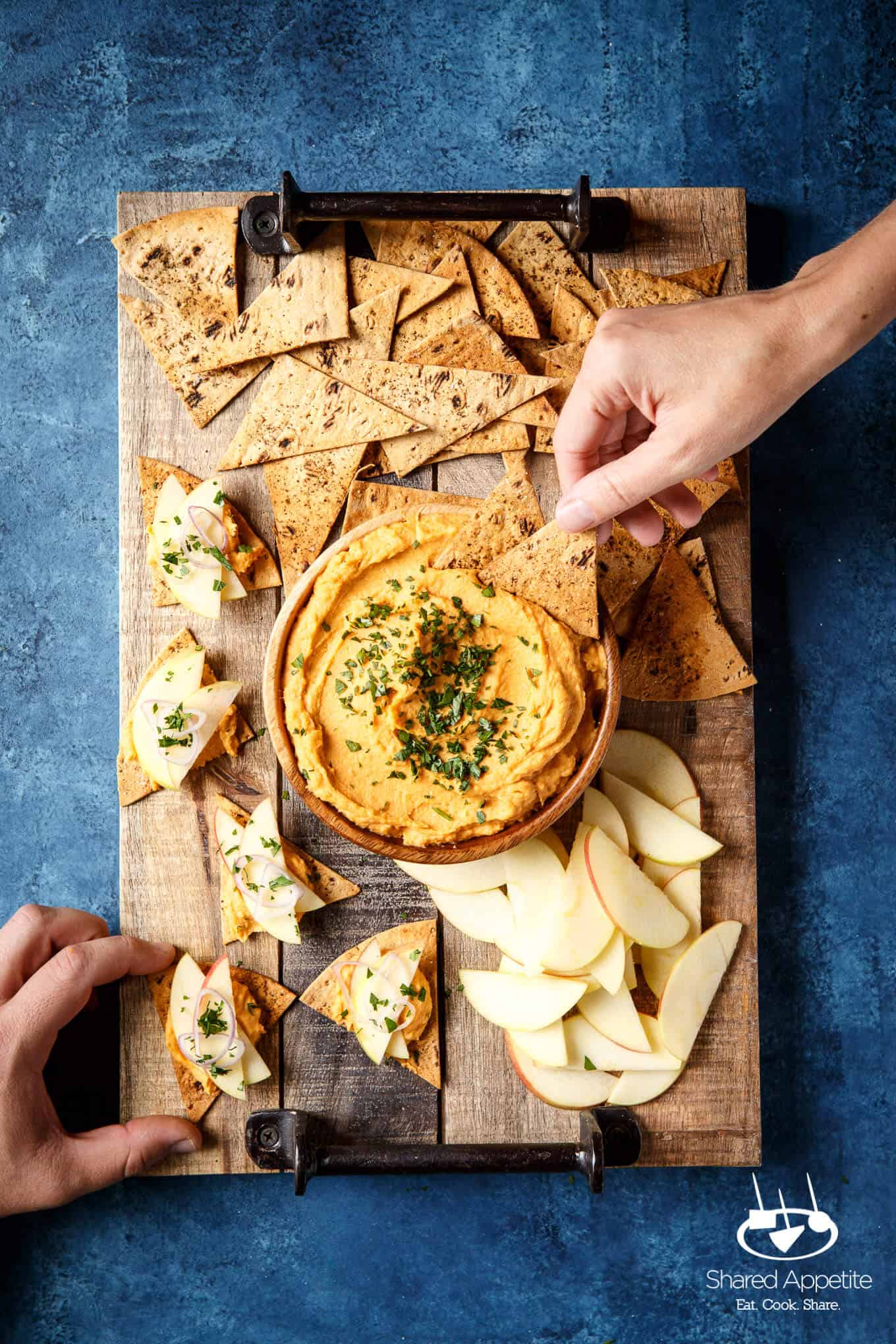 Vegan Sweet Potato Hummus and Apple Bites