This super simple appetizer for Quick and Easy Taco Dip requires only 5 ingredients and 10 minutes of prep time!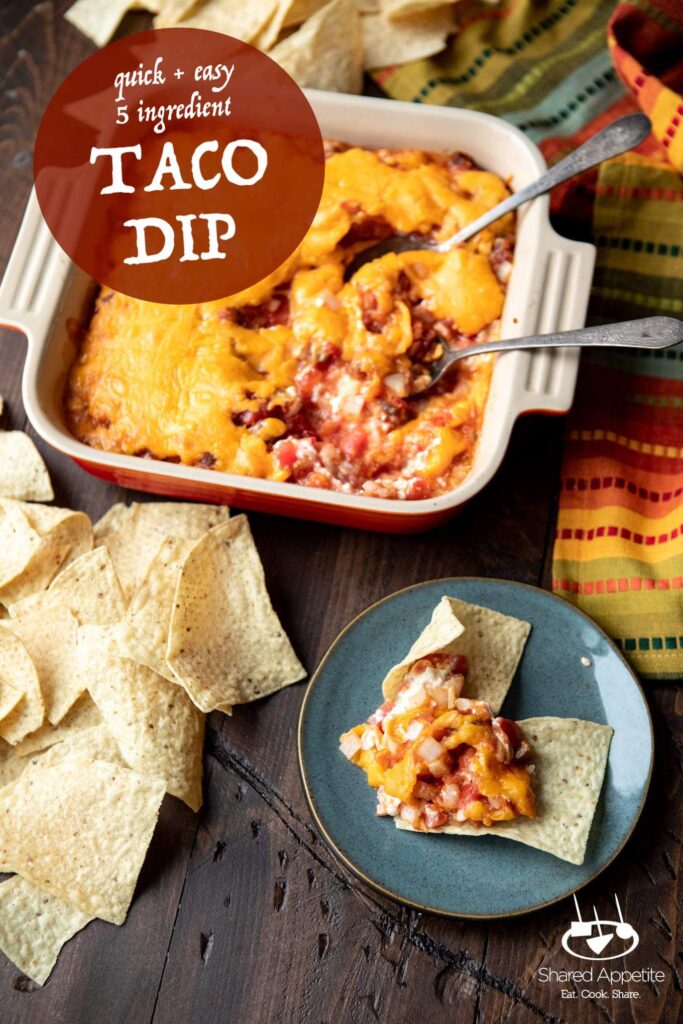 This taco dip is quite possibly the easiest and quickest appetizers in my arsenal of simple entertaining recipes. It's the dish I have on repeat for any time of year, get togethers big or small, when I have minimal time to prep but want to deliver maximum yummmm factor.
Quick and Easy Taco Dip. 5 ingredients. And that includes the tortilla chips! Is it fancy? Nope. Is it gourmet? Heck no. Is it ridiculously addicting and comforting? To. The. Max.
Here's my top tips for the layers:
Cream Cheese.
Use an offset spatula to spread out your room temperature cream cheese in the dish in lightning speed. If you're like me, you probably didn't plan the room temperature part out. Just microwave your cream cheese (not in the metal foil though!) for about 10-15 seconds and it should be perfectly spreadable. I've also used that ⅓ less fat cream cheese and it works perfectly fine as well!
Tomatoes.
Use roma or plum tomatoes. The other varietals have a lot more of that watery inside, which makes the taco dip runny. When cutting up the tomatoes, I try to discard as much of the watery seeds as possible.
Onions.
Any type of onion will work for this taco dip. White, vidalia, yellow, red... it's all good. The goal is to have roughly the same amount of chopped onions as you do chopped tomatoes.
Taco Sauce.
My go to brand is Ortega Taco Sauce. I typically reach for mild, but once in a while if you want a little heat I've been known to let loose and go for medium. If you can't find taco sauce (I had the same problem actually when photographing this recipe), just go for any standard salsa. The smoother the salsa, the better.
Cheese.
I typically stay with either straight up cheddar or a Mexican cheese blend. Freshly shredded cheese definitely tends to melt better, but who am I kidding. I use pre-shredded bagged cheese 9 times out of 10 since it's so darn easy.
Other Tips.
You can assemble this dip several hours ahead of time and just bake it when ready to serve.
The taco dip calls for cooking at 350°F, but often when making this for a party, the oven needs to be at 375°F for other dishes. This quick and easy taco dip is pretty versatile when it comes to heating temperatures. 375°F is totally fine, just adjust the overall cooking time by about 5-10 minutes less.
When this first comes out of the oven, it's the temperature of volcanic magma. Do not. I repeat, do NOT try to eat it right away. You're going to want to. But I promise you... you'll burn your face off. Let it sit for at least 5 minutes before digging in.
Print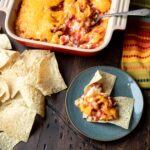 Quick and Easy Taco Dip
---
Author:

Chris Cockren

Total Time:

40 minutes

Yield:

Serves

4

-6

1

x
1

(8 ounce) block of cream cheese

1

medium yellow onion, chopped

3

plum tomatoes, seeded** and chopped

1

(8 ounce) jar taco sauce, mild or medium*

1

(8 ounce) package shredded cheese
Tortilla Chips
---
Instructions
Preheat oven to 350°F.
Spread cream cheese in a thin, even layer in a 8x8" baking dish.  Layer in tomatoes and onions, and then drizzle a thin even layer of taco sauce.  Top with shredded cheese and bake in oven until bubbling and cheese on top is melted, about 30 minutes.  Allow to cool at least 5 minutes before serving.
Serve with tortilla chips and devour! 
Notes
*depending on the level of heat you want
**imagine you're cutting the tomatoes like an apple, discarding the "core" where most of the seeds and watery inside are.  You preferably want the firm flesh only since the watery seeded area just makes the dip a bit more soggy.  If you end up using the whole tomato, that is totally okay as well, just know the dip may be a bit more runny.
You can assemble this taco dip several hours ahead and just pop it in the oven when ready.
I've also heated this taco dip at 375°F when I have other things going in the oven and it works totally fine at that temperature as well.  Just note it may be ready to serve sooner since you're heating it at a higher temperature.
If you don't have taco sauce available, I've used salsa in it's place successfully (smooth is better than chunky, in my opinion)
Prep Time:

10 minutes

Cook Time:

30 minutes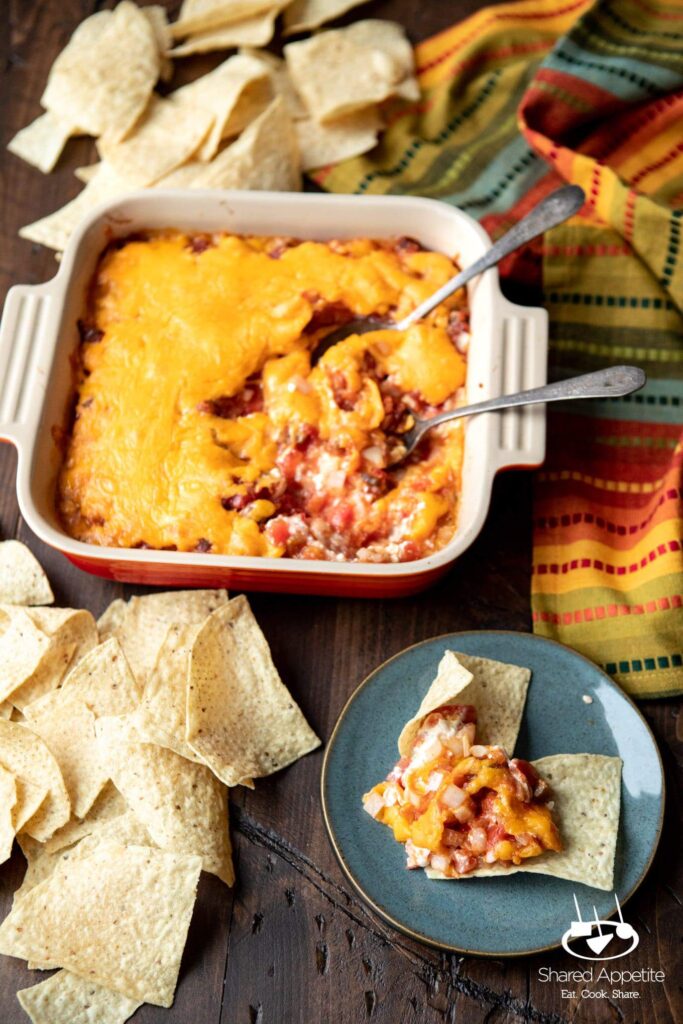 Quick and Easy Taco Dip
Need More Easy App Ideas?
Chicken Enchilada Crescent Ring
Mediterranean Hummus Dip (Vegan)
Spicy Roasted Pineapple and Bacon Guacamole
Strawberry, Fava Bean, and Pecorino Crostini