This post is sponsored by Halos™. As always, all opinions and recipe are my own. Thanks for supporting the brands who support Shared Appetite!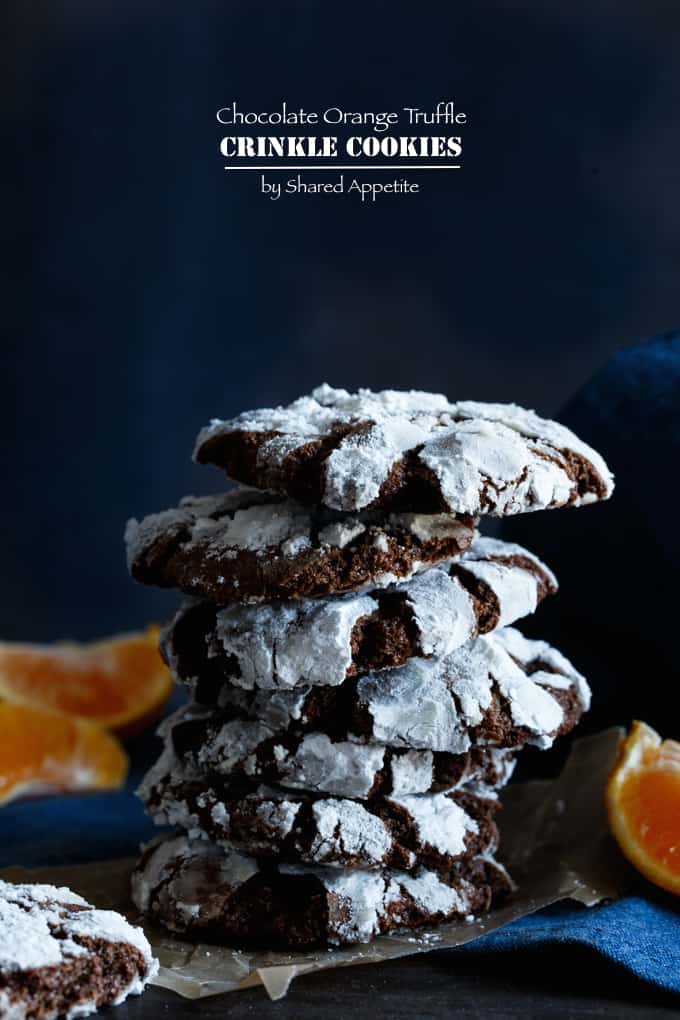 Cookies are good. Truffles are too. But truffles inside of cookies? Heck to the yes. These Chocolate Orange Truffle Crinkle Cookies are beyond legit!
I'm late to the baking game this Christmas. But there is still a week and a half before Santa is due to squeeze his fat tuckus down our chimney, so I'm gonna be pumping out cookies like it's my job. The baking sheets are literally staying on the counter all week long. It's not even worth putting them away for the few short hours they'll have off each day.
Guys. Crinkle cookies. Where have they been hiding all my life? I literally just found out about them last week and have already made three different kinds. Just a word to the wise. Although they look beautiful and inviting, approach and devour slowly. My over-zealous wife had a coughing fit after trying to hastily inhale one on the cooling rack. Hello powdered sugar 🙂
Side note. I'm impressed that I used the words zealous and hastily in the same sentence as I'm typing this post out late on Sunday night.
And these Chocolate Orange Truffle Crinkle Cookies? Equally impressive.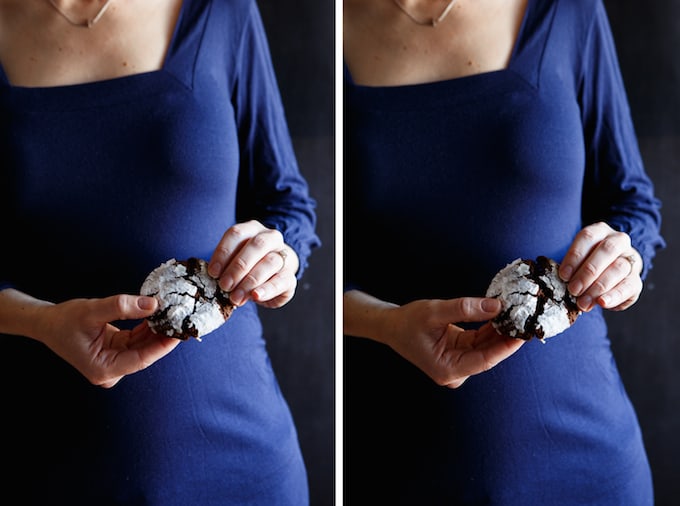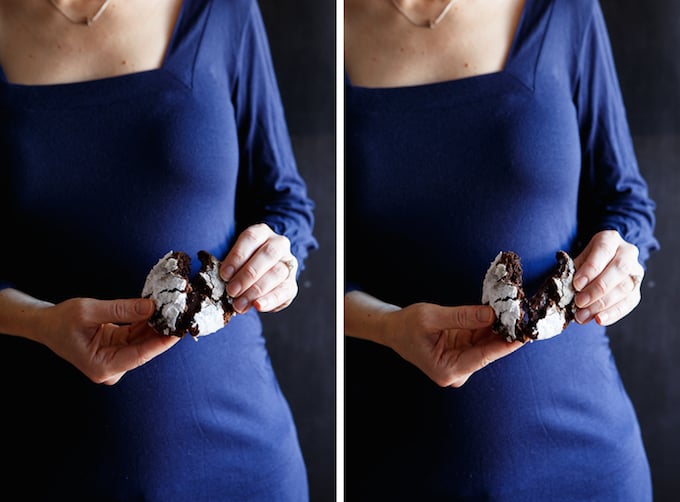 So yea. Chocolate and orange is a serious flavor combo. #legit
And sure, we could have just stopped at making a quick and easy chocolate orange cookie dough and rolling it around in some powdered sugar before baking them off. But no. I'm all about going that extra step to impress the heck out of family and friends.
We're going to stuff these creative crinkle cookies with easy homemade chocolate orange truffles. Boom.
Bring these bad boys to a cookie swap and you'll get some instant cookie cred.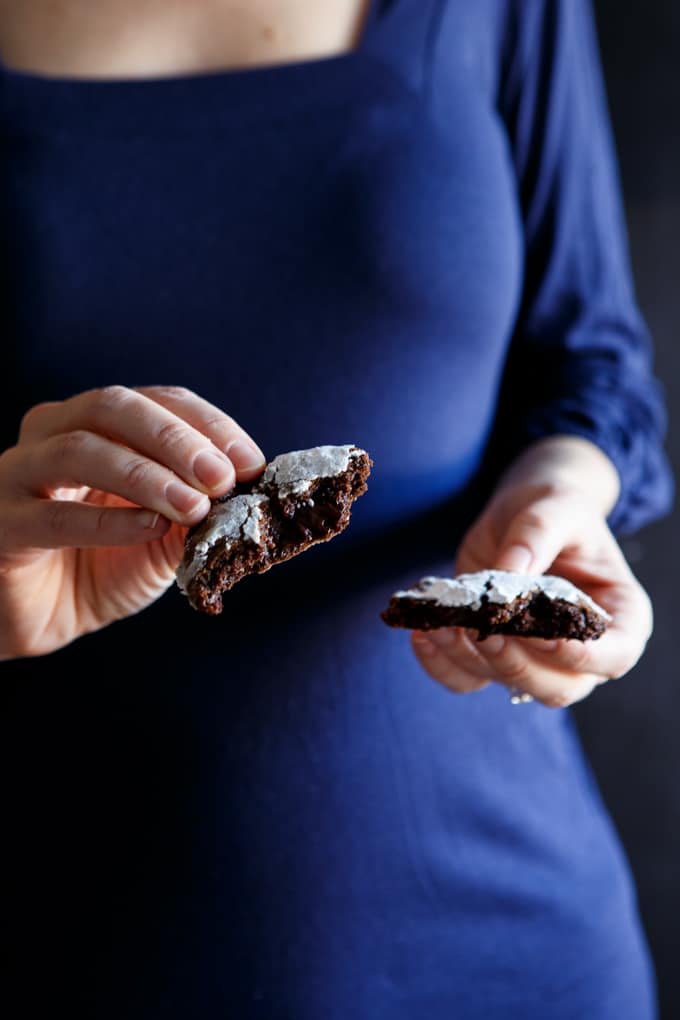 See that molten center? That's the truffle hard at work.
And can we get a round of applause for Asheley, my beautiful wife, who graciously (without one sigh or eye roll) agreed to go all the way upstairs and change out of her pajamas an into an actual shirt so I could take those photos above… seriously, she'd appreciate some recognition.
And for all you hand model agents out there, she's available for hire.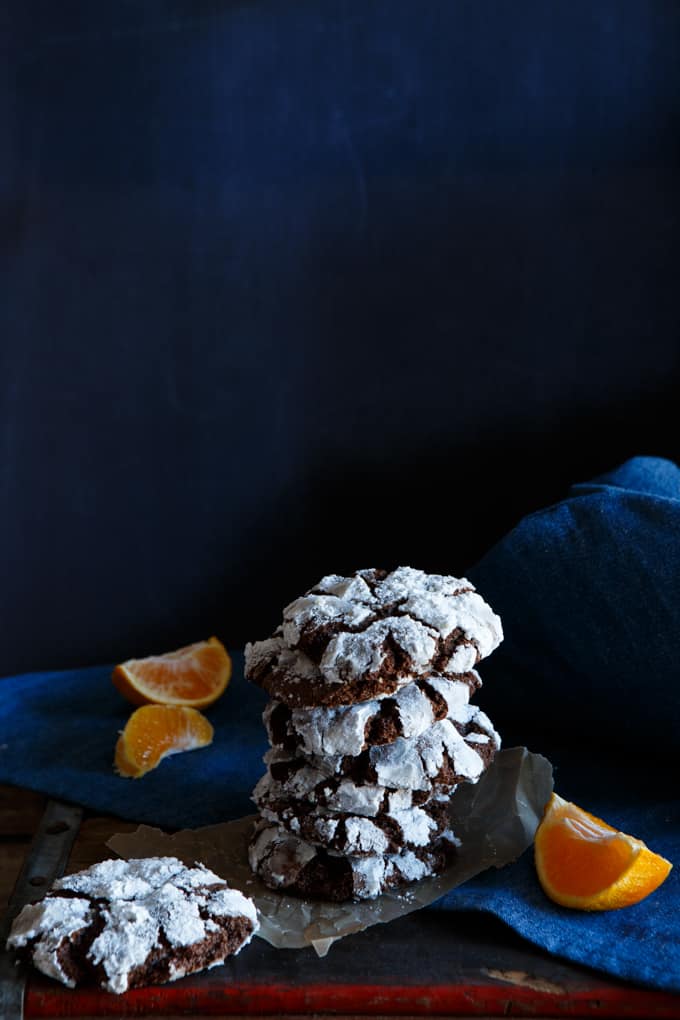 Print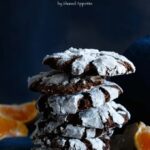 Chocolate Orange Truffle Cookies
---
Total Time:

30 minutes

Yield:

16

-

20

cookies

1

x
for the Cookie base
1 cup

all-purpose flour

1/3 cup

unsweetened cocoa powder

1/2 teaspoon

baking soda

1/2 teaspoon

Kosher salt

1/2 cup

(

1

stick) unsalted butter, at room temperature

1/2 cup

dark brown sugar

1/2 cup

granulated sugar

1

egg

1 teaspoon

vanilla extract

1/2

to

1

teaspoon orange zest (depending how orange-y you want it)

1/2 cup

granulated sugar, for coating

1/2 cup

powdered sugar, for coating
for the Chocolate Orange Truffle filling
1/4 cup

heavy cream

4 ounces

dark chocolate, finely chopped

1/4

to

1/2

teaspoon orange zest (depending upon how orange-y you want it)
---
Instructions
In a small bowl, combine flour, cocoa powder, baking soda, and salt. In the bowl of your stand mixer or a medium mixing bowl fitted with an electric mixer, beat butter, brown sugar, and granualted sugar until light and fluffy. Beat in egg and vanilla. Add in dry ingredients and mix until just combined. Stir in orange zest. Cover bowl with plastic wrap and refrigerate for at least one hour, or up to a few days.
When ready to bake, preheat oven to 375°F. Remove chocolate orange truffle filling from fridge and allow to soften a bit. Break into bite-sized pieces (about 16-20).
Take a spoonful of dough and flatten with the palms of your hands. Place a piece of truffle filling in center of dough, and wrap around dough to fully enclose truffle, smoothing and rolling out into a ball with your hands. Repeat with remaining dough.
Roll dough balls in granulated sugar, and then in powdered sugar. Make sure to very generously coat dough balls in powdered sugar in order to get that crinkle effect. Place on baking trays and bake approximately 10 minutes. Remove from oven, let cool on tray for 5 minutes, and then transfer to a wire rack to finish cooling. Serve warm for that ooey-gooey truffle center!
for the Chocolate Orange Truffle filling
Place finely chopped dark chocolate in a small bowl and set aside. Microwave heavy cream in a microwave-safe bowl until very hot, about 30 to 45 seconds. Keep an eye on it to avoid bubbling over. Slowly stir cream into chocolate, and continue to stir until chocolate is completely melted and smooth. Stir in orange zest and place in refrigerator to chill.
Notes
For a larger yield of cookies, break truffles into tinier pieces (which will require less dough to fully enclose).
Prep Time:

20 mins

Cook Time:

10 mins
These cookies were made with Halos™ mandarin oranges. I actually picked up a bag of them at the grocery store last week in anticipation of cookie baking. One problem. I didn't think about the Asheley factor.
Ashely factor = Asheley eating said Halos mandarin oranges. Thankfully she left me a few to work with 🙂
I really can't blame her though…
Halos™ are sweet, juicy, seedless, and best of all… super easy to peel. And, guess what? They are non-GMO! That's a huge win right there.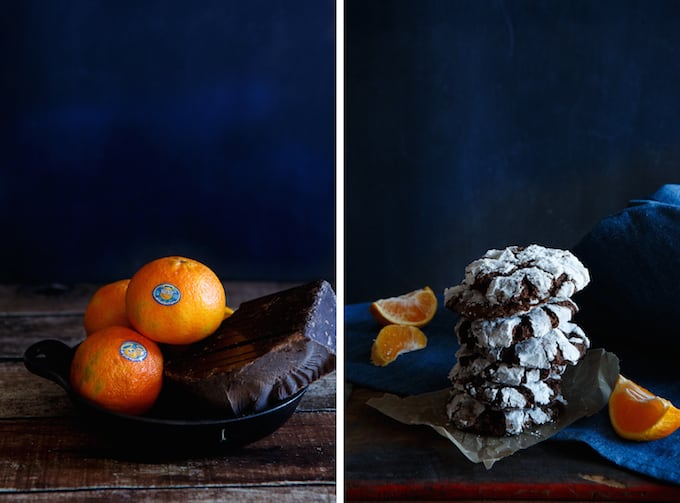 Get your family excited about fresh food and activities they'll love. Learn more about Wonderful Halos on
Facebook
or
the HalosFun blog
.