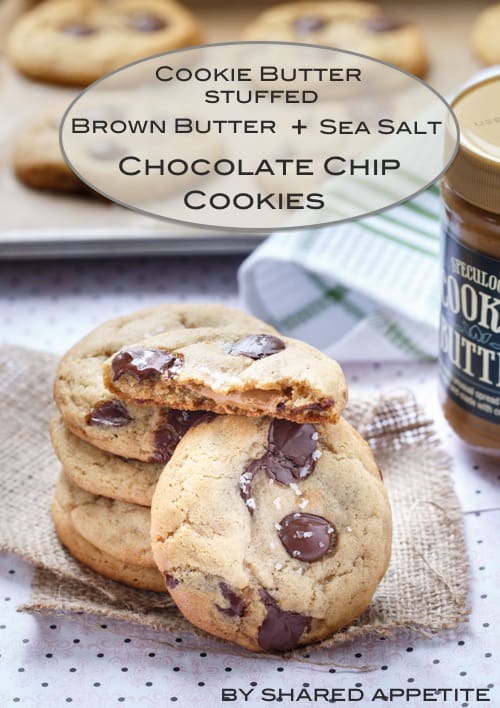 Cookie butter is stuffed into a brown butter + cream cheese enhanced chocolate chip cookie and then sprinkled with sea salt for that addictive salty-sweet combo. Indulgent. Creative. And slightly habit-forming.
Yes, it's another cookie butter recipe. I may need some serious help. But when you have an opportunity to stuff a brown butter chocolate chip cookie with cookie butter, it would be crazy to not do it. Right?
I've been seeing a whole lot of cool cookie ideas floating around the interwebs lately. Browning the butter to give cookies a rich, nutty aroma. Swapping out some of the butter for a little bit of cream cheese, which helps to keep them soft and chewy. Sprinkling the freshly baked cookies with sea salt to give them that salty-sweet edge.
So I figured… eh, I haven't even begun my Christmas baking yet and Christmas is like, tomorrow! Might as well combine all those ideas into one. And then stuff the things with cookie butter because, well, I can.
And by the way, a very Merry Christmas to all of you and your families.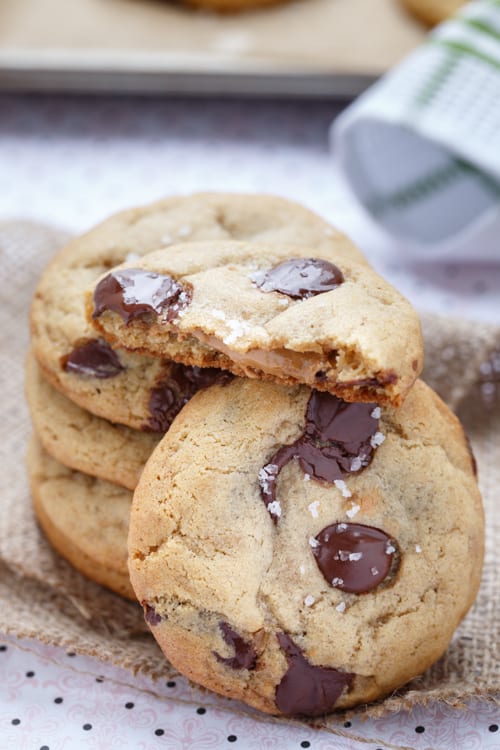 Asheley and I hosted a bunch of our family over this past weekend for a little Christmas get together. They are heading off to Albany for Christmas, so we wanted a chance to spend some time with them. Apparently I made a little too much food. And apparently I'm known for always making too much food. Oops.
They almost didn't have room for dessert. Oh the horror! But then these bad boys came out of the oven and suddenly they found a little more room 🙂
Let's talk about these new "cookie gimmicks" and if they are worth it…
Brown Butter: yes. It really does change the flavor of the cookies. And yes, I did do a side by side taste comparison. The brown butter imparts a rich, nutta aroma to the cookie dough. I love it.
Cream Cheese: yes. The edges just get a little brown and crispy and the whole center stays nice and soft, even the next day. Apparently you should always use the full-fat cream cheese (that's never a problem for me), because the reduced-fat stuff just doesn't work.
Sea Salt: yes yes yes. You don't need a whole lot, but sprinkling on a little sea salt after the cookies come out of the oven gives these cookies some high-class sophistication.
Cookie Butter: uhm, is biting into a cookie and having cookie butter ooze out all over the place ever a bad idea? And for those of you unfamiliar with cookie butter, it's a gingerbread-ish spread available at Trader Joes. It's the same thing as Speculoos or Biscoff Spread. Want other recipes with cookie butter? How about Crack Pie, Pretzel Coated Truffles, Puppy Chow, or Blondies?
And if all else fails, feel free to stuff these cookies with nutella instead 🙂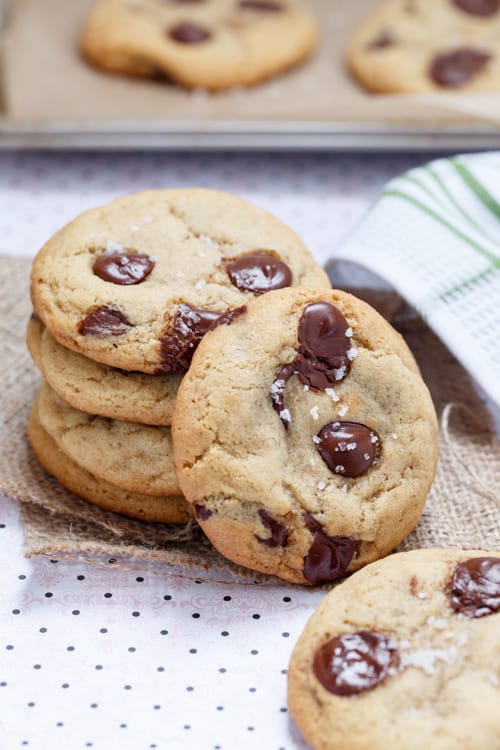 And can I give you a big tip/secret to stuffing the cookies? It's totally not my idea… I read it somewhere along my internet cookie travels. Drop little dollops (around the size of a teaspoon I guess) of cookie butter onto a wax paper lined plate and place in the freezer for a bit until they are firm.
It's a lot easier to form the cookie dough around something solid then trying to get all heroic and keep the cookie butter in it's soft mushy state.
Print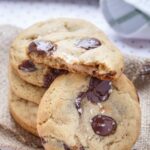 Cookie Butter-Stuffed Brown Butter + Sea Salt Chocolate Chip Cookies
---
Total Time:

43 minutes

Yield:

Approximately

30

cookies

1

x
3/4 cup

(

1 1/2

sticks) unsalted butter

2 1/4 cups

all-purpose flour

1 teaspoon

baking soda

1/2 teaspoon

Kosher salt

1/4 cup

cream cheese, softened

1 cup

brown sugar, lightly packed

1/2 cup

granulated sugar

2

eggs

1 teaspoon

vanilla

1 1/2

–

2

cups good quality dark chocolate chips

1

Jar cookie butter (you won't use the whole jar)
Sea Salt
---
Instructions
Place butter in a small saucepan and melt over medium heat, stirring occasionally. Butter will begin to foam as it melts. The color will then progress from yellow to tan-ish to a light brown. You know the butter is done when you smell a nutty aroma. Remove pan from heat and transfer butter to a bowl to cool (there will be milk solids on the bottom of the pan. Try to leave as much of this sediment in the pan when pouring butter into bowl.)
Once brown butter has cooled:
Combine flour, baking soda, and Kosher salt in a medium bowl.
In your stand mixer fitted with the paddle attachment, or in a large mixing bowl with an electric mixer, beat butter with cream cheese, brown sugar, and granualted sugar until creamy and well-combined. Add vanilla and the eggs, one at a time, and beat until fully incorporated. On low, gradually add in the flour mixture until well combined, then stir in chocolate chips.
Refrigerate cookie dough at least 2 hours and up to a couple days. This will allow the flavors to meld and will yield a better cookie.
About 30 minutes before ready to bake cookies, drop approximately 30 little dollops of cookie butter (about 1 teaspoon-sized) onto a wax paper lined plate. Place in freezer and allow to firm up.
Preheat oven to 350°F. Remove cookie butter from freezer and cookie dough from refrigerator. Take a spoonful of cookie dough, flatten it pretty thin between the palms of your hands, place a dollop of cookie butter in the center, and form the dough around and completely encapsulate the cookie butter. Roll dough into a ball and place on baking tray. Repeat.
Bake cookies for approximately 11-13 minutes, until the edges are just golden brown and the center is still a bit pale. It's better to underbake then to overbake! Remove cookies to a cooling rack and sprinkle lightly with sea salt. Devour immediately.
Prep Time:

30 minutes

Cook Time:

13 minutes