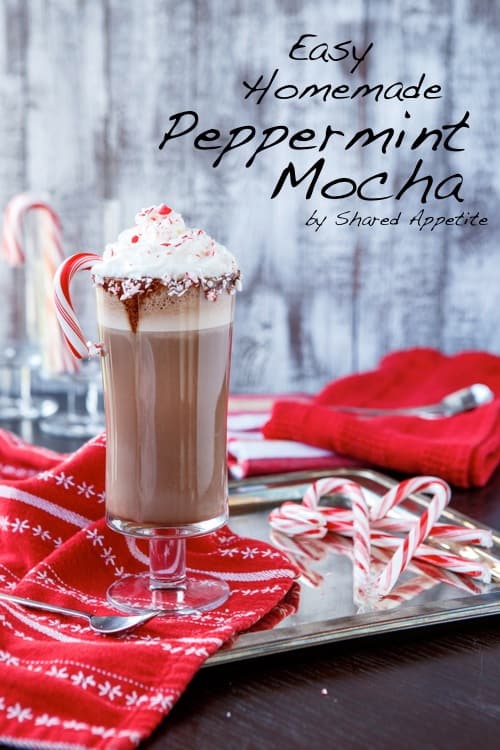 I am a member of the Collective Bias® Social Fabric® Community. This shop has been compensated as part of a social shopper insights study for Collective Bias and their client.
Peppermint season is almost upon us. In four short days (the day after Thanksgiving, for those counting), let all things pumpkin terminate and may peppermint reign down upon me. I love it. It just screams Christmas to me. Candy canes. Peppermint-flavored desserts, hot chocolate, and coffee. Uhm actually, wait…
I feel like we're pretty close at this point. Not share our toothbrush close (Asheley and I aren't even at that point yet… and really, gross). But we're close enough that I can tell you a secret and it'll stay between us, right? Okay, here it goes. I have never tried coffee. Nope, never. Well, okay, I've eaten coffee-flavored things, but that doesn't count. I'm talking any sort of beverage varietal.
That normally shocks people when I tell them. How have you never tried coffee?! I don't need the caffeine (I'm one of those annoying people that actually likes the morning), I'm not really a fan of the smell of coffee, and I think deep down I'm afraid of liking it and beginning a daily dependency on it.
That being said, my wife is an addict.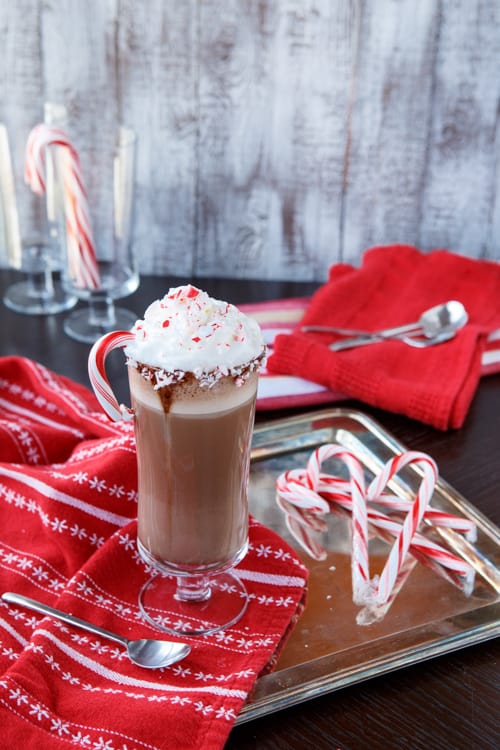 I shouldn't say addict. That gives off a negative connotation, doesn't it? She just likes it. A lot. And most of my friends love coffee as well. Now that we're entering the holiday season and we'll be entertaining a whole lot at our house, I want to be able to offer my family and friends a more festive, indulgent, and elegant after-dinner drink.
And what screams festive, indulgent, and elegant more than Homemade Peppermint Mocha? It's pepperminty. It's chocolatey. And sshhh, between you and me, it's so easy to make.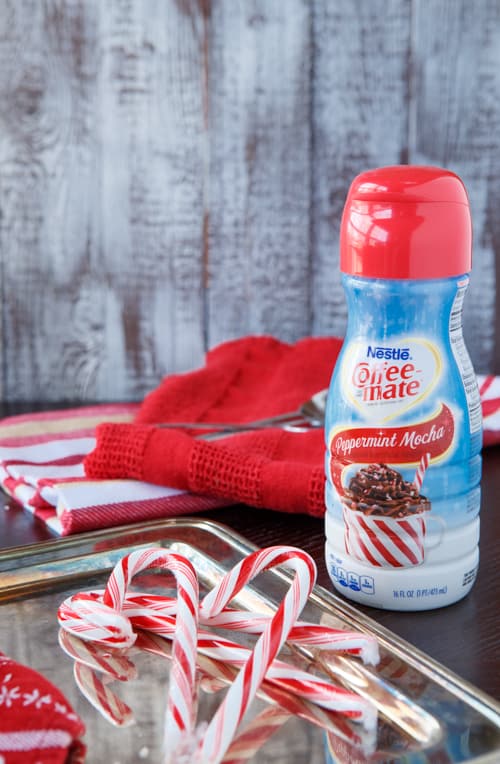 I may not love coffee, but I do love peppermint. I tried some of this special, seasonal peppermint coffee creamer right from the container and was pleasantly surprised how good it was! Sweet peppermint nectar!
And guess what?
People, this is big. You may want to sit down. I'll wait.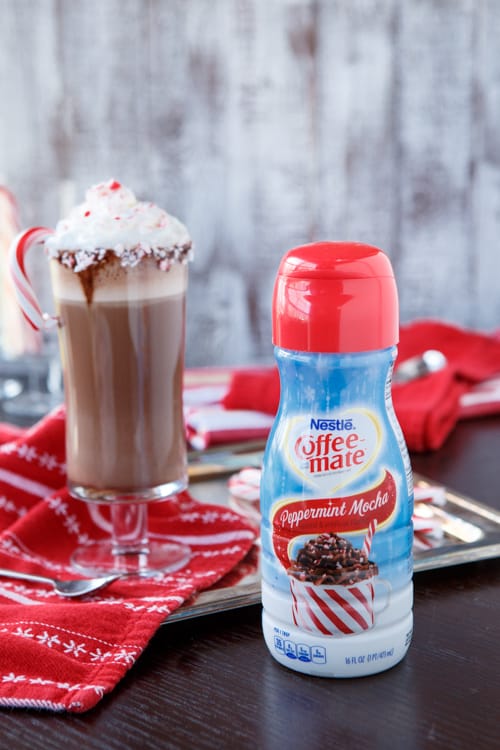 For the first time ever, I tried coffee. Coffee actually touched my lips. I couldn't resist taking a sip of this Peppermint Mocha. I was totally enticed by the minty chocolately goodness.
I can no longer say that I've never tried coffee. Sure it was surrounded by milk, chocolate, and peppermint, but I still had coffee within a beverage. It counts! And it was actually quite enjoyable.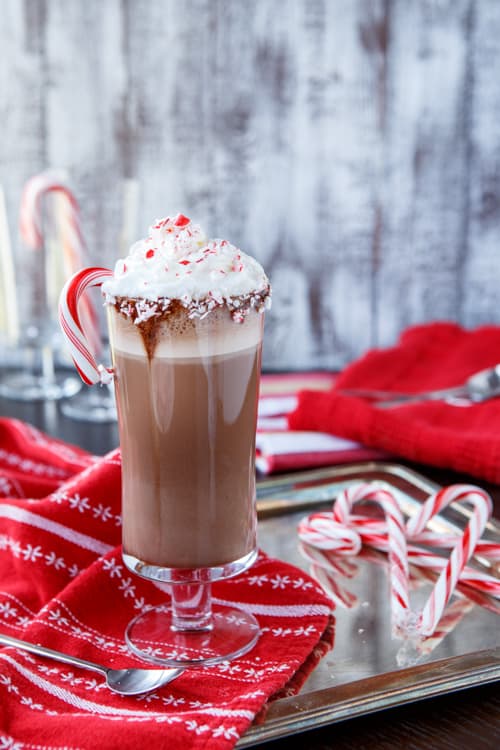 I can't wait to host a little dinner party this winter so I can whip these up after dinner. Now I just need to stir up a couple friends for the occasion. Any volunteers?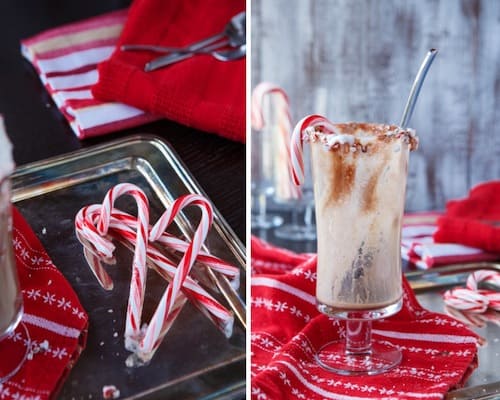 Print
Easy Homemade Peppermint Mocha
---
Total Time:

10 minutes

Yield:

Two (12-ounce) Peppermint Mochas
3 tablespoons

cocoa powder

3 tablespoons

warm water

1/2 cup

hot espresso or strongly-brewed coffee

1 cup

milk

1/2 cup

Coffee-Mate peppermint mocha creamer
Whipped cream
Chocolate syrup, for garnish
Candy canes, for garnish
---
Instructions
Crush one candy cane and place on a plate. Carefully drizzle chocolate syrup around rim of a mug, then roll rim of glass in crushed candy cane pieces. Repeat with other mug.
Combine cocoa powder and water in a small bowl to make a syrup. Pour in espresso/strongly-brewed coffee and stir. Divide between the two mugs.
Meanwhile, combine milk and peppermint creamer in a small saucepan over medium-low heat and heat mixture until hot and steamy. Using a whisk or preferably, an immersion blender, froth the milk until foamy. Pour milk mixture into mugs.
Top with whipped cream, some more crushed candy cane pieces, and place one candy cane in each mug to serve as a stirrer. Serve immediately.
Prep Time:

5 minutes

Cook Time:

5 minutes
Check out this digital magazine to get some more great ideas for the holiday season from Coffee-mate and more!