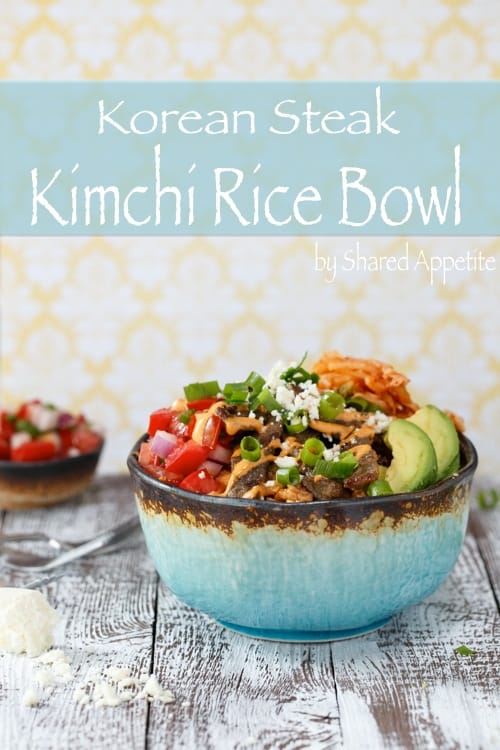 A hearty and flavorful Korean burrito rice bowl filled with bulgogi-style steak, kimchi, pico de gallo, avocado, and a homemade gochujang aioli.
Growing up, if you asked me what my favorite foods were, I'd most likely tell you all things Mexican and mint chocolate chip ice cream. Specficially, mint chocolate chip ice cream from Friendly's. Now that I'm older and am blessed with a more refined and dignified palate, I'm more drawn to... oh heck, I still love Mexican food and Friendly's mint chocolate chip (with caramel... seriously, try it). But more and more, if you ask me what I want for dinner, it'll be some variation of Asian food. Korean. Sushi. Thai. Indian.
So do you know what's super awesome? When I can get all wacky and crazy at home and combine my nostalgic and familiar love of Mexican food with the flavors of Korea. And rice bowls are just pretty darn awesome in general, aren't they? I mean come on, it's a complete meal in a bowl!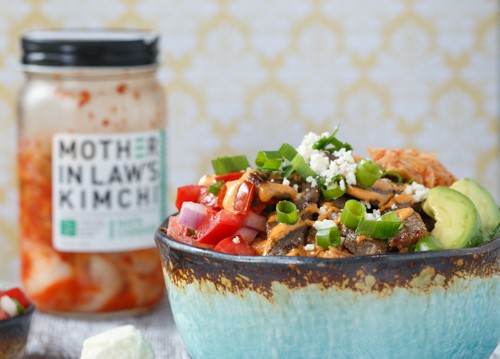 Now listen, I know rice bowls typically have a lot of components, but it's actually pretty quick and easy to make. And on those busy weekdays, you can easily marinate the steak before you leave for work and it cooks up in under 5 minutes. And good news, I'm going to reuse a lot of the leftovers from this meal in creating two more dinner options for you coming up in the next week's posts. Stay tuned 🙂
I know, what a cliffhanger.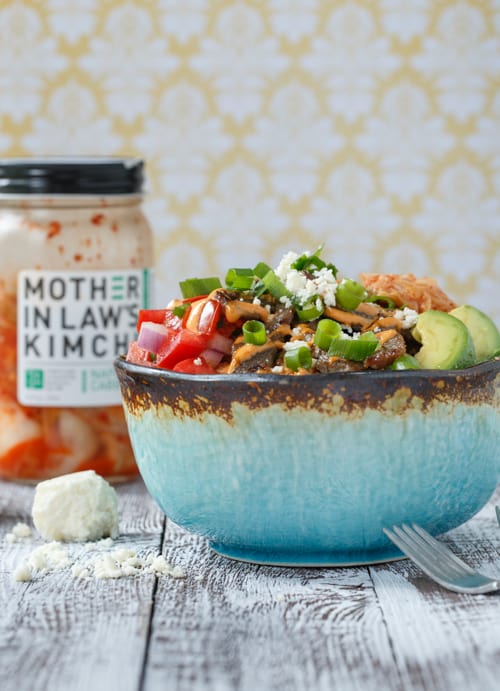 So are you wondering what's up with the whole kimchi thing? Don't feel bad. I know I was pretty skeptical of the stuff when I first encountered the fiery, fermented Korean side dish staple a couple years back. Here's the deal. It's super important in their culture, and can be found at the dinner table pretty much every single day in Korean homes. Kimchi has been made for a thousand years as a way to preserve vegetables for the winter. And although you can pretty much use any vegetable for kimchi, the most common by far is made with cabbage. It has a potent flavor like probably nothing you've ever tasted.
And personally, I'm not at the point where I can eat the stuff all on it's own, but totally LOVE it (that's right, capital letters love) within dishes. If you want to try some kimchi for free, check out this super cool giveaway. That's right, Mother In Law's Kimchi, a local and small-batch artisan kimchi maker, is generously giving away two jars of their kimchi for free. You can easily enter the giveaway by scrolling down towards the bottom of the Kimchi & Bacon Fried Rice post and following the super-duper simple directions. It'll take two seconds to enter, promise 🙂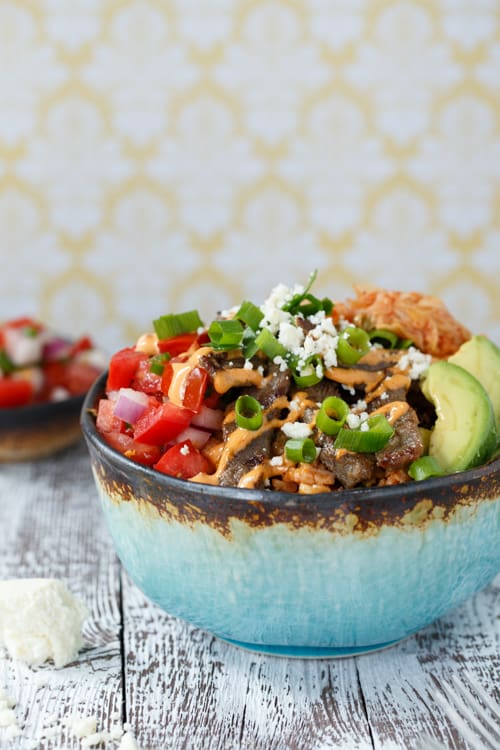 Print
Korean Steak Kimchi Rice Bowl
---
Total Time:

30 minutes

Yield:

4

servings

1

x
[Kimch & Bacon Fried Rice|
kimchi-bacon-fried-rice/], or cooked white/brown rice
Korean Steak (see recipe below)
Gojuchang Aioli (see recipe below)
[Pico de Gallo|
simple-pico-de-gallo-recipe/]

¾

-

1

cup kimchi, roughly chopped

1

Avocado, thinly sliced

1

bunch scallions, chopped
Queso Fresco, crumbled
for the Korean Steak
1 ½

pounds ribeye (preferred) or sirloin steak

1

ripe bosc pear

½

medium red onion

2

cloves garlic, finely minced*
Fresh ginger (the same size as about 1-2 garlic cloves), finely minced*

2 tablespoons

soy sauce

1 ½ tablespoons

brown sugar

1 tablespoon

mirin

1 teaspoon

sesame oil (optional)

1 tablespoon

canola oil

2

bunches scallions, chopped
*if you have a microzester, grate the garlic and ginger instead
for the Gojuchang Aioli
⅓ cup

sour cream

¼ cup

mayonnaise

1 ½ tablespoons

gochujang

1

clove garlic, grated with microzester (or very finely minced)

¼ teaspoon

salt

⅛ teaspoon

chile powder

⅛ teaspoon

paprika

⅛ teaspoon

onion powder

⅛ teaspoon

garlic powder

⅛ teaspoon

cumin

⅛ teaspoon

black pepper
---
Instructions
Divide rice among bowls. Top with Korean steak, a spoonful of pico de gallo and kimchi, some sliced avocado, drizzle of gojuchang aioli, and a sprinle of queso fresco and scallions. Serve immediately.
for the Korean Steak
Place steak in freezer for about 15 minutes, which will firm it up a bit, allowing you to cut thin slices. Trim excess fat from steak and very thinly slice.
Using the finest side of a grater, grate the pear and onion. Combine with garlic, ginger, soy sauce, brown sugar, mirin, and sesame oil (optional) in a medium mixing bowl. Add thinly sliced steak, cover with plastic wrap and place in refrigerator, allowing to marinate for at least 2 hours.
Remove steak from refrigerator approximately 20-30 minutes before ready to cook. Remove steak from marinade and combine with scallions in a bowl. Heat canola oil in wok or large skillet over high heat. Add steak and scallions to pan in a single layer and cook, stirring, until cooked through, about 2-3 minutes. It's important to cook in a single layer to avoid steaming the meat. Cook in batches if necessary.
for the Gojuchang Aioli
Mix all ingredients together until well combined. Refrigerate until ready to use. Can be made up to 3 days ahead of time. Use extra gojuchang aioli as you would any condiment, for topping sandwiches, tacos, and such.
Prep Time:

20 minutes

Cook Time:

10 minutes