It's time to transform meatloaf night with the seriously bold flavors in this Lamb Kefta Meatloaf with Spiced Yogurt and Israeli Salad!   This Lamb Kefta Meatloaf is brought to you by the American Lamb Board.  As always, all opinions and recipe are my own. Thanks for supporting the brands that support Shared Appetite!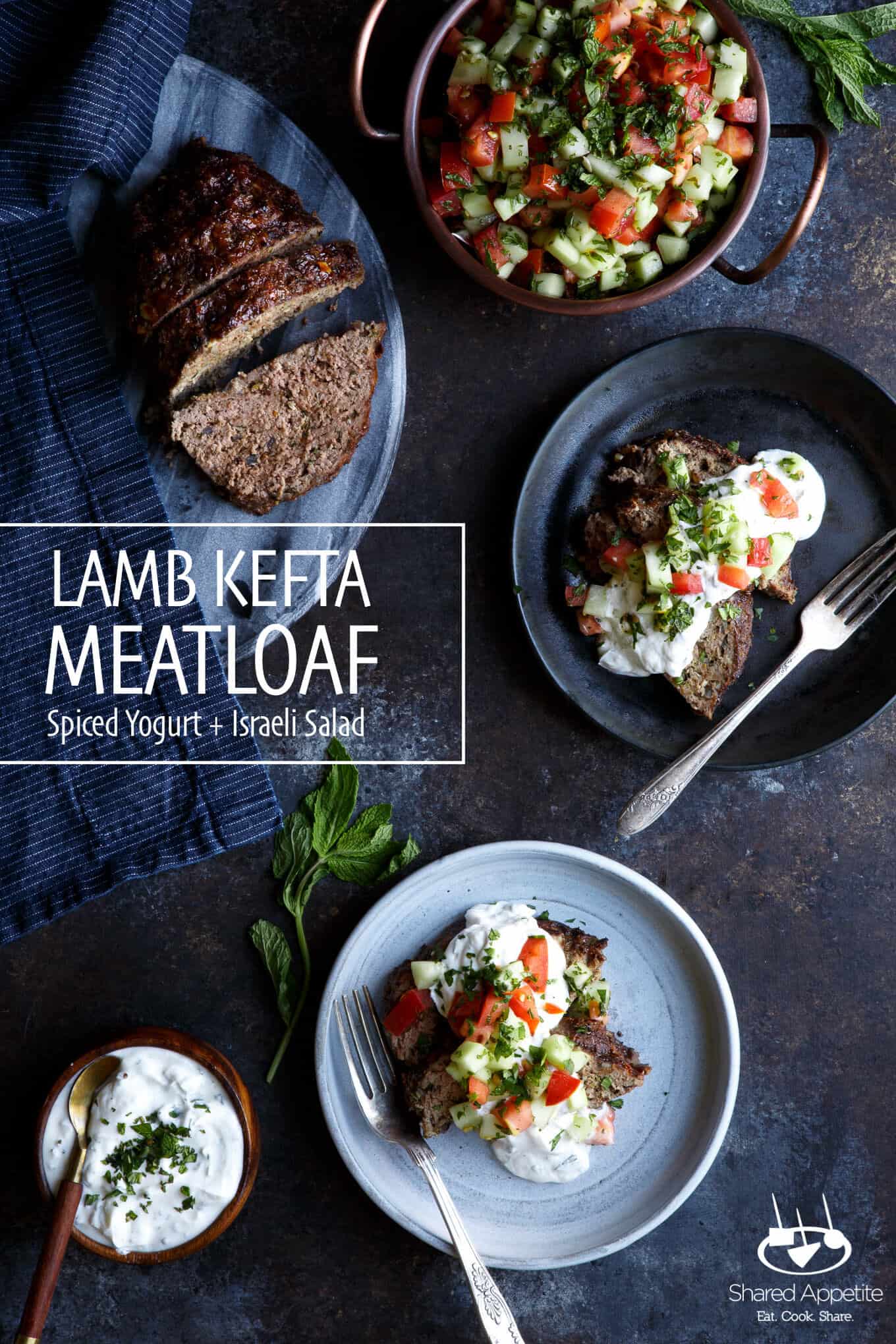 My mom tried making meatloaf a few times when I was a kid.  Tried.  Our family must have revolted pretty hard, because it was quickly dropped from the dinner rotation permanently.
Let's be honest… meatloaf has a pretty terrible reputation.  Even the name is kinda terrible.  Meatloaf.  Yeah, it's not really triggering the salivary glands if you know what I mean.  Someone should totally come up with a new and exciting term for it.  That's your homework… ready, go.
I've followed in my family's footsteps by pretty much steering completely clear of this American dinner staple, except when I whip up these Southwest Turkey and Roasted Vegetable Meatloaf Sandwiches (totally legit… make them asap).  But then I thought to myself that transforming these epic Lamb Kefta Burgers with Spicy Whipped Feta into a meatloaf could actually… dare I say, save meatloaf night.
Guys.  I was SO right.  This Lamb Kefta Meatloaf with Spiced Yogurt and Israeli Salad is epic.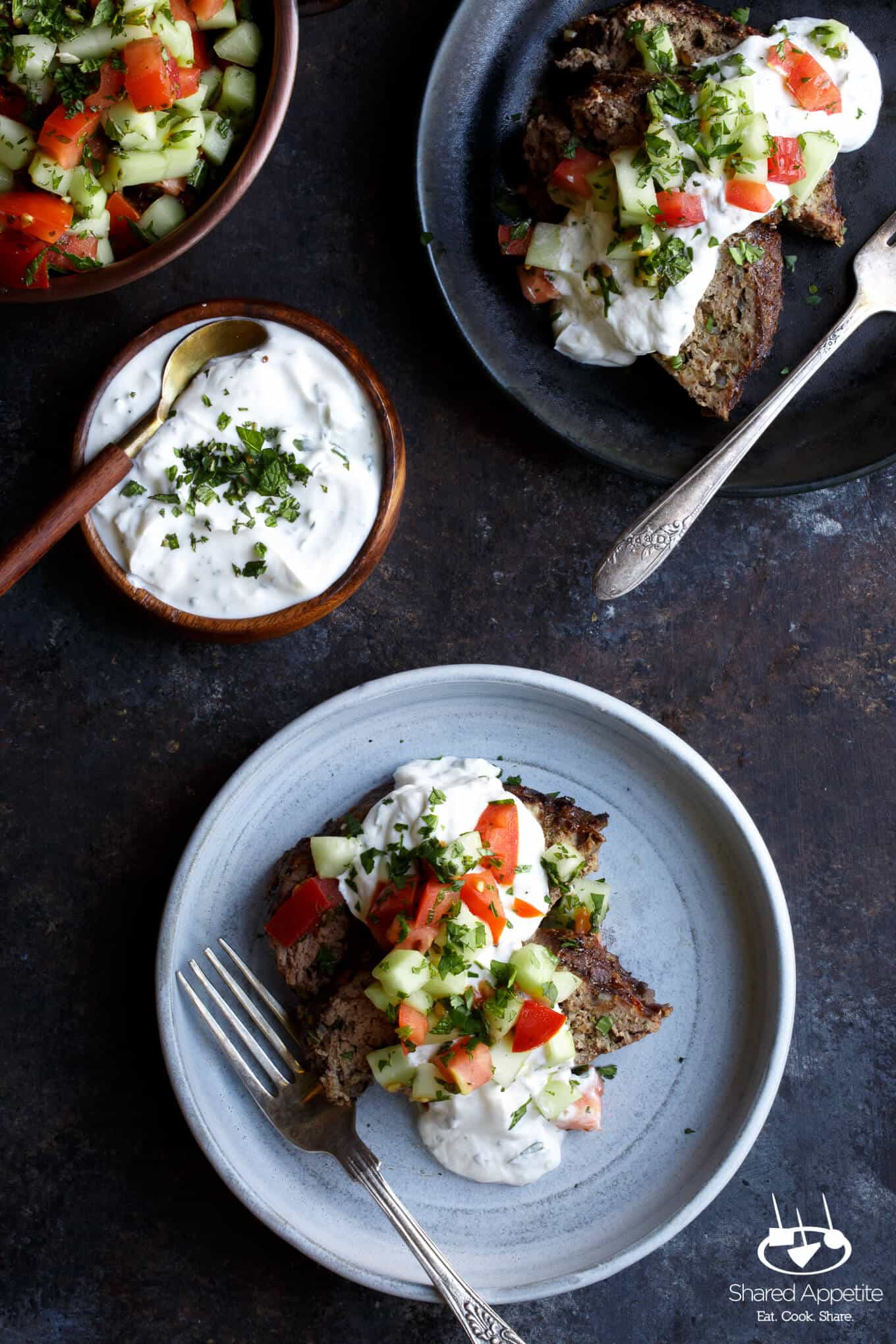 I love the bold Middle Eastern and Greek flavors in this Lamb Kefta Meatloaf.  Mint.  Cumin.  Coriander.  It's literally a flavor party for your mouth.  So freaking good.  I let my wife at it after I was done photographing, and her eyes lit up like she was eating pickles… that's a very very good thing.
By the way, kefta… kofta… keftés… all the same thing.  It just depends where you're making it.  Different regions of the Middle East and Greece call it different things.
No matter what you decide to name it, you need to serve your Lamb Kefta Meatloaf with this spiced yogurt and Israeli salad.  The Greek yogurt gets an acidic punch of lemon and fragrant mint, and then gets amped up with the same spices that are in the meatloaf.  It's a reinforcement of those coriander and cumin flavors.
I've been using Israeli Salad on pretty much anything and everything I can lately.  It's so addictive.  Little Olivia is even getting in on the action.  She was obsessed with the cucumbers while I was whipping up the batch for this Lamb Kefta Meatloaf.  Israeli Salad couldn't be easier to prep and is so healthy and fresh.  I use it to top hummus in my Vegan Mediterranean Hummus Dip and to top bowls and sandwiches like these Mediterranean Chicken Quinoa Bowls and Grilled Flank Steak Shawarma Bowls.  #addictive
But really, the star of this show is the lamb.  Specifically, American lamb.  It's so sad to me that a lot of the lamb sold here in the United States is actually from Australia and New Zealand.  America… it's time to wake up!  Why oh why are we buying meat from literally the opposite side of the world when we have a plethora of local lamb ranches right in our own backyards.  And psst… our American lamb tastes even BETTER!
American lamb is produced in almost every state.  It can't get more local than that.  And listen… I had the opportunity recently to visit a lamb ranch in California.  When I say it's a family operation and a labor of love, I mean it in every sense of the words.  This guy had more passion about lamb than I have about anything really.  He lives, eats, and breathes his work.  That passion translates in a better product… and I don't know, but I just love supporting our local farmers that are working so hard right here at home.
Lamb from 10,000 miles and 30 days away from our supermarkets or lamb raised right here on American soil on family-owned ranches?  It's a no brainer, really.  Especially because American lamb is also raised 100% without any artificial growth hormones and provides nearly 5 times the amount of essential omega-3 fatty acids than beef (get more nutritional info on lamb here if you're into that sort of thing).
So come on America.  Next time you are at the butcher counter… make sure you let them know that you want AMERICAN lamb.
Then go home and make this Lamb Kefta Meatloaf with Spiced Yogurt and Israeli Salad.  BOOM.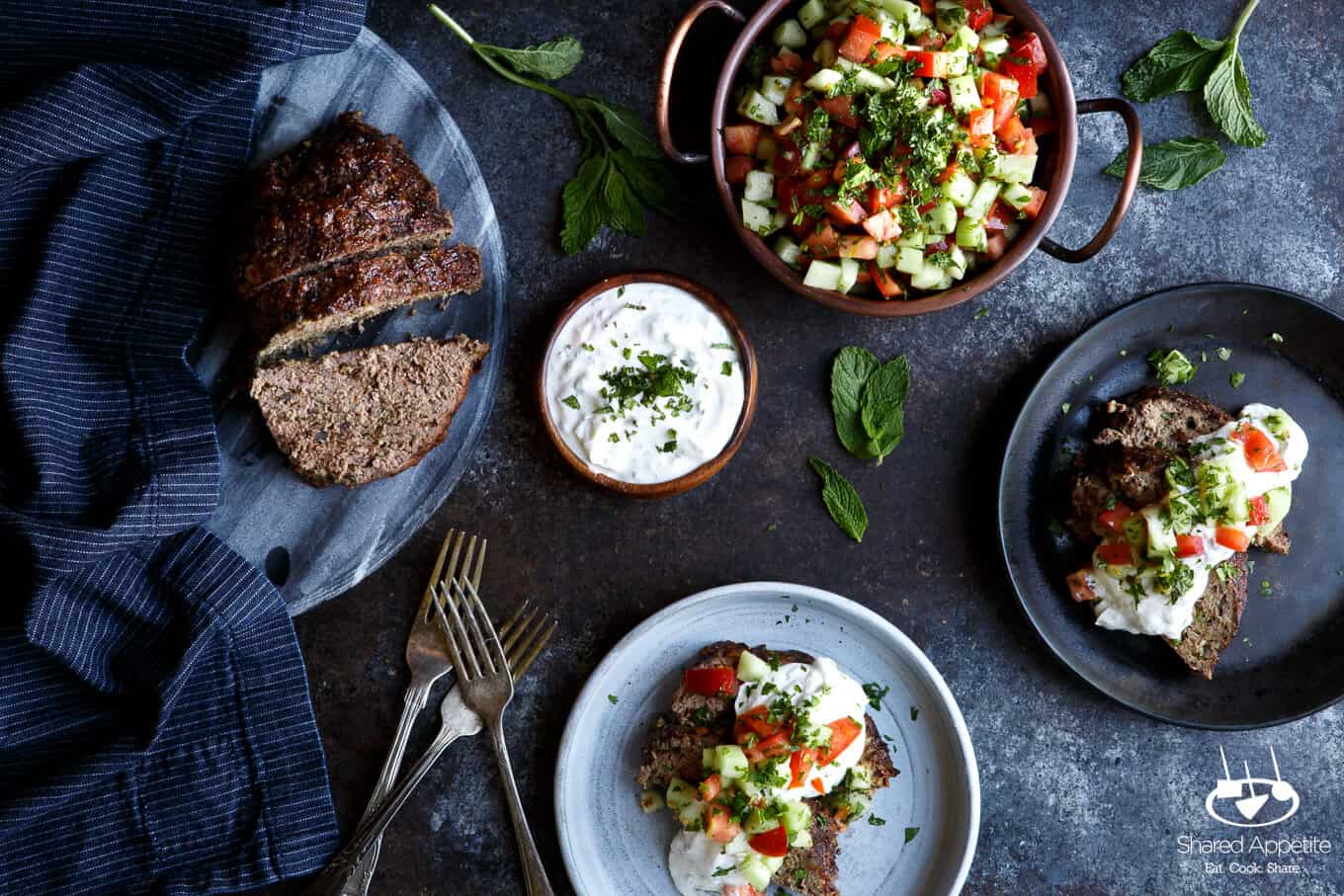 Print
Lamb Kefta Meatloaf with Spiced Yogurt and Israeli Salad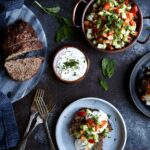 Ingredients
1 ½ pounds ground lamb

3 tablespoons olive oil, divided

1 small onion, finely chopped

4 cloves garlic, minced

1 egg

¼ cup breadcrumbs

2 tablespoons whole milk

¼ cup finely chopped mint

½ lemon, zested

1 teaspoon ground coriander

1 teaspoon ground cumin

1 teaspoon ground oregano

1 teaspoon Kosher salt

½ teaspoon cayenne pepper, optional
for the Spiced Yogurt
1 ½ cups Greek yogurt

2 tablespoons fresh lemon juice

2 tablespoons finely chopped mint

¼ teaspoon ground cumin

¼ teaspoon ground coriander

¼ teaspoon garlic powder

Kosher salt
for the Israeli Salad
1 cucumber, peeled and seeds removed, finely diced

2 plum tomatoes, peeled and seeds removed, finely diced

1 tablespoon extra virgin olive oil

1 tablespoon fresh lemon juice

2 tablespoon chopped parsley

Kosher salt

Freshly ground black pepper
Instructions
Preheat oven to 350

°F and line a baking sheet with parchment paper lightly coated with cooking spray or oil.  

Heat one tablespoon oil In a medium skillet over medium heat.  Cook onions and garlic until softened and translucent, approximately 4-5 minutes, stirring occasionally.  Remove from heat and let cool.  Meanwhile, combine egg, breadcrumbs, and milk in a small bowl.

In a large mixing bowl, gently combine ground lamb with the onion mixture, breadcrumb mixture, mint, lemon zest, and spices until just fully combined.  Spread mixture on the baking sheet and form into a log approximately 8" x 4".  Brush remaining two tablespoons on meatloaf and cook for 35 minutes.  Remove from oven, raise temperature to 500°F, and once temperature is reached, continue to cook meatloaf for an additional 5-10 minutes or until the internal temperature reaches 160°F.  

Slice meatloaf and serve with spiced yogurt and Israeli salad.
for the Spiced Yogurt
Combine all ingredients in a small mixing bowl and season with Kosher salt.  Let sit for 30 minutes to allow flavors to meld (or make ahead and refrigerate).  Re-season with salt and lemon juice if needed before serving.
for the Israeli Salad
Combine all ingredients in a small mixing bowl and season with Kosher salt and freshly ground black pepper.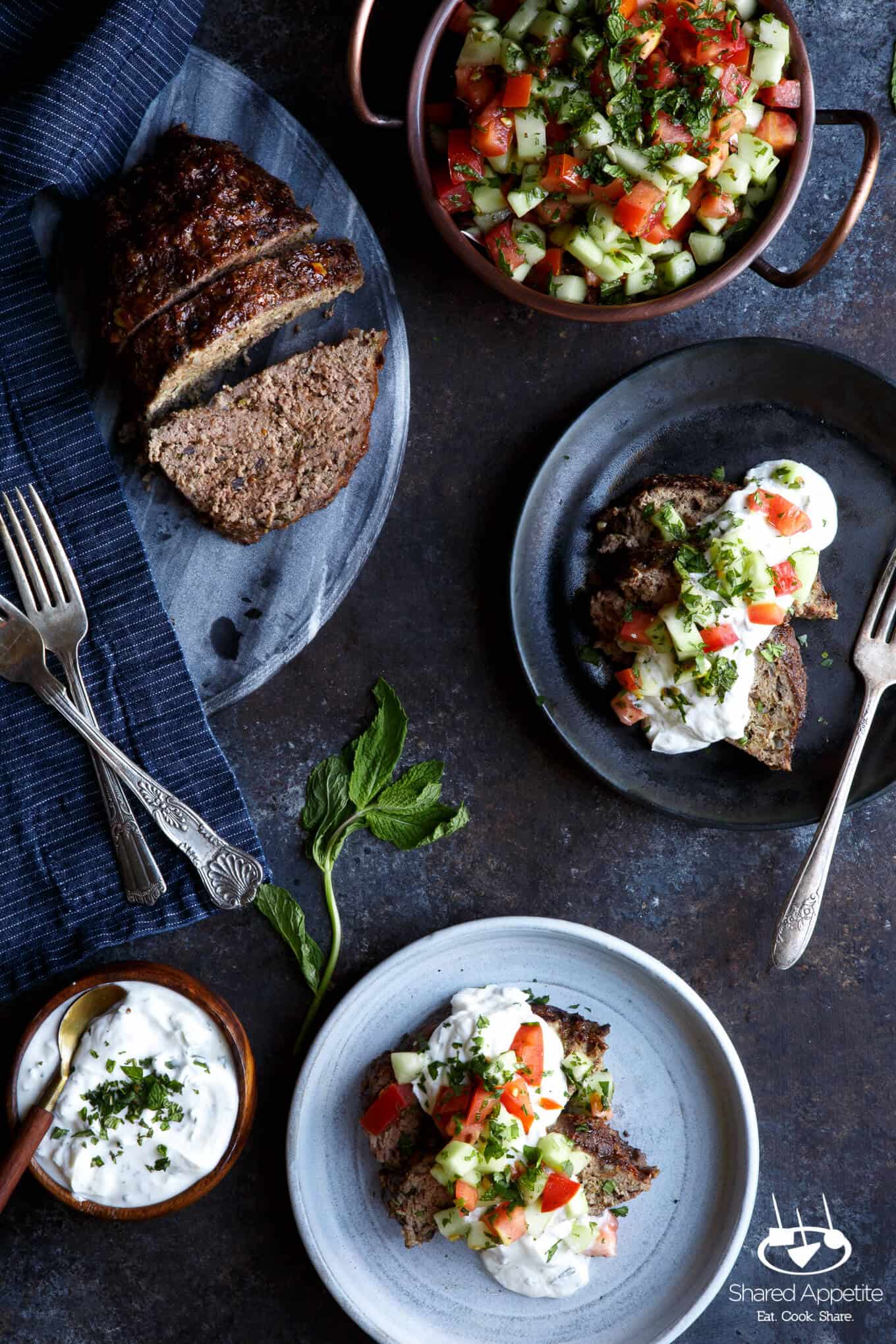 Lamb Kefta Meatloaf with Spiced Yogurt and Israeli Salad
Need More Lamb In Your Life?
Lamb Kefta Burgers with Spicy Whipped Feta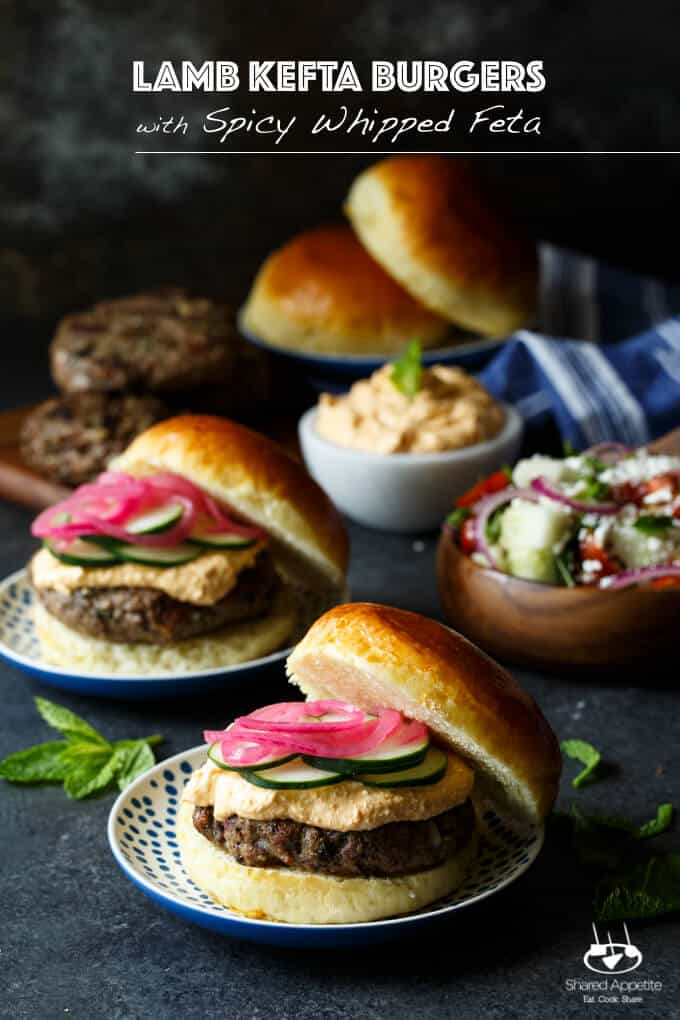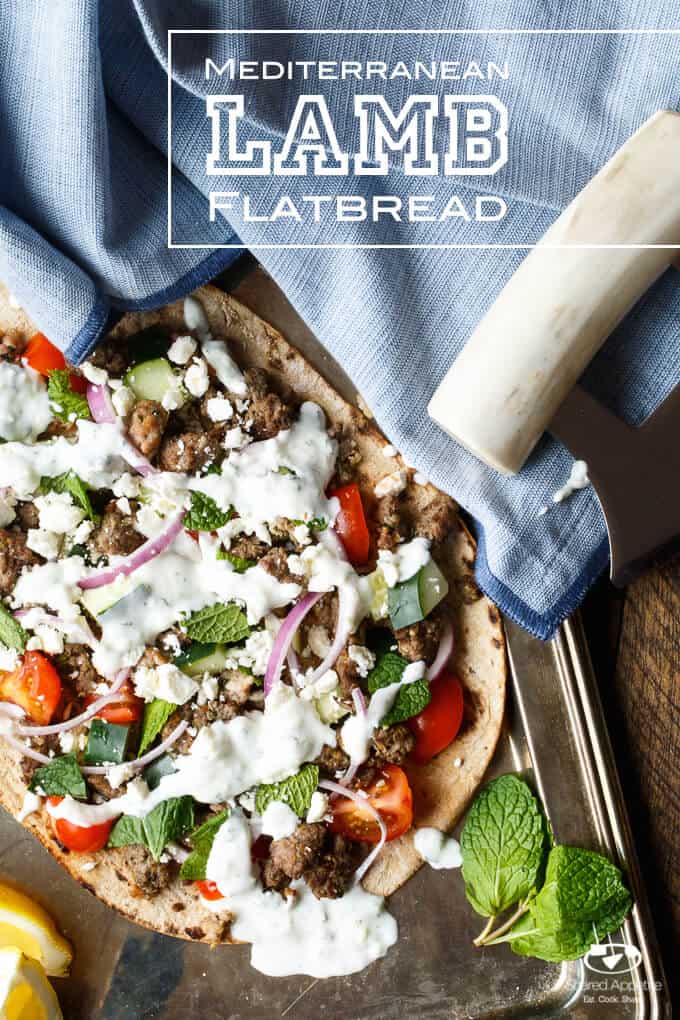 Mexican Lamb Tacos with Tequila Soaked Raisins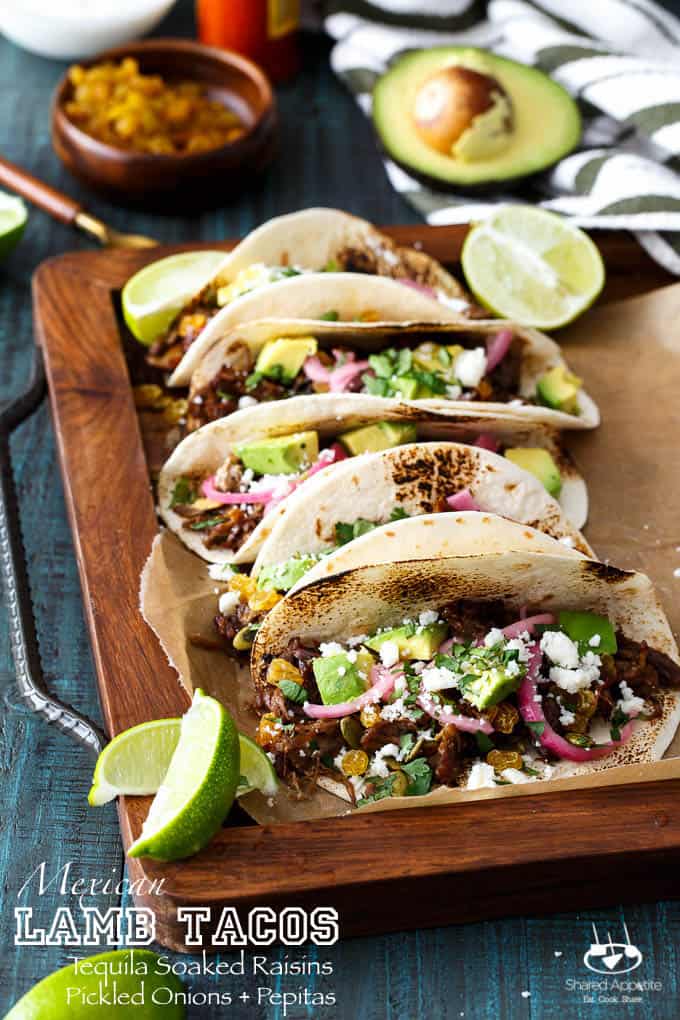 Southwest Braised Lamb Shanks in Adobo Sauce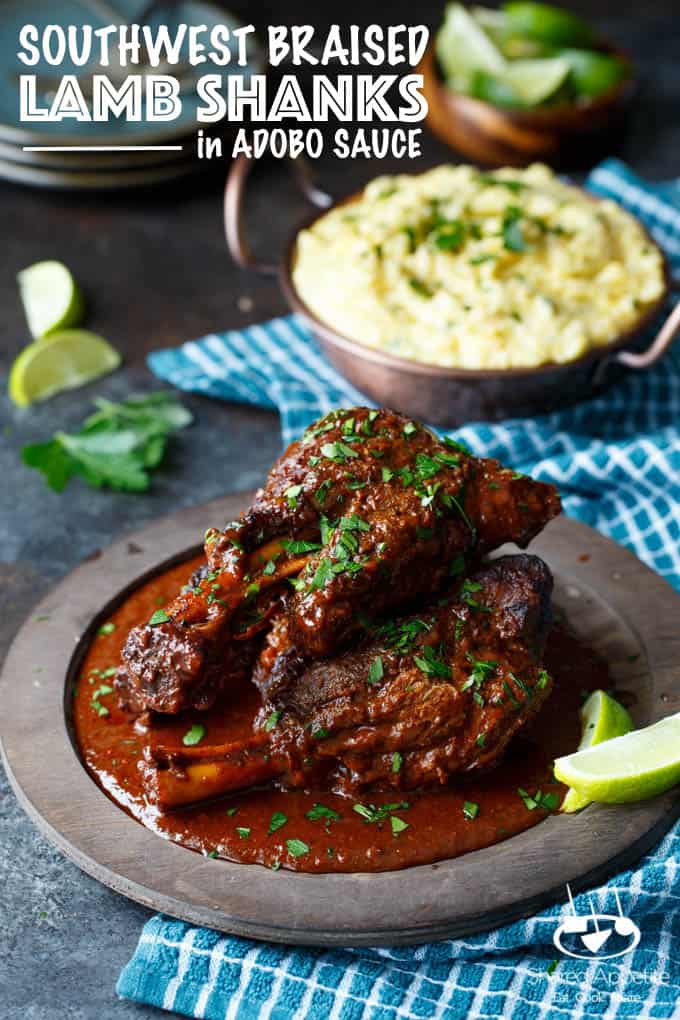 Southwest Ancho Chile Crusted Lamb Chops