This post for Southwest Ancho Chile Crusted Lamb Chops with Jalapeno Bourbon Sauce and Ancho Sweet Potato Puree is sponsored by the American Lamb Board. As always, all opinions and recipe are my own. Thanks for supporting the brands that support Shared Appetite!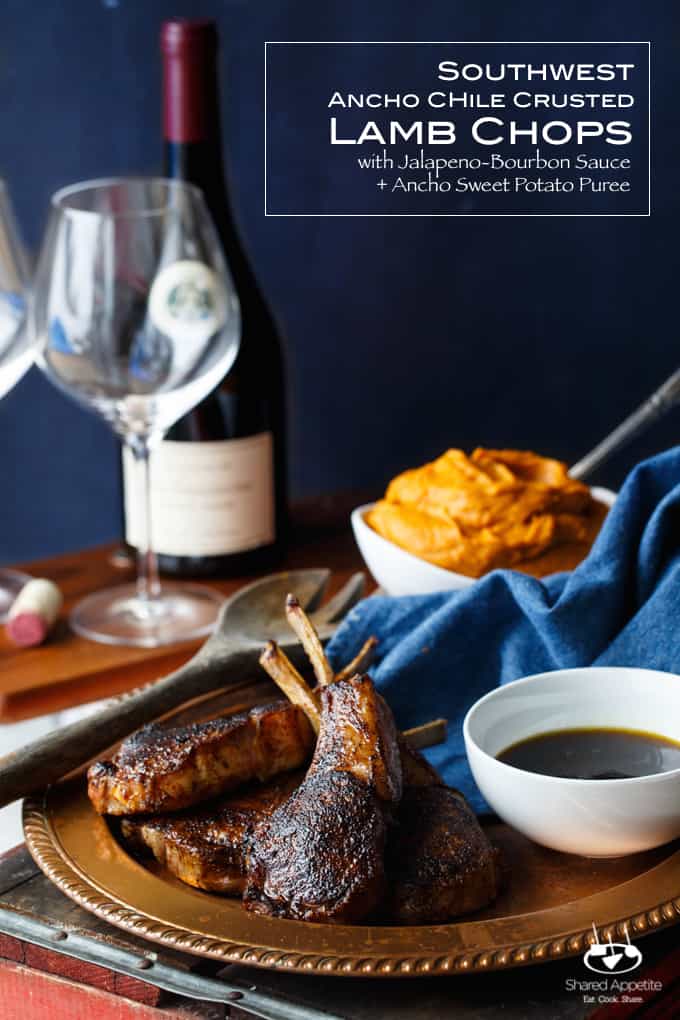 Ah, Valentine's Day is just around the corner. It's time for all those waxy "chocolates" wrapped up in heart-shaped boxes, paying at least 542x the going rate for roses, and lining up like cattle for a chance to dine on a restaurant's finest pre-fixe lame-butt menu.
Thankfully, Asheley isn't one that expects much on February 14th. The expectations are low, which is pretty easy to meet. Phewwww.
In all reality, I try to make it special for her. Although it's not a holiday we choose to put a whole lot of emphasis on, it's a day we try and focus on our relationship, and how thankful we are for each other. And this year, we have a mutual little valentine we are incredibly blessed with… little Miss Olivia. You better believe she has her "1st Valentine's Day" outfit already picked out and ready to go.
For us, Valentine's Day is about spending some time together at home. Once in a while, we'll venture out to NYC for a really fancy dinner at a Michelin restaurant, but we typically reserve that for our birthdays at this point.
But while we are on the topic of celebrating…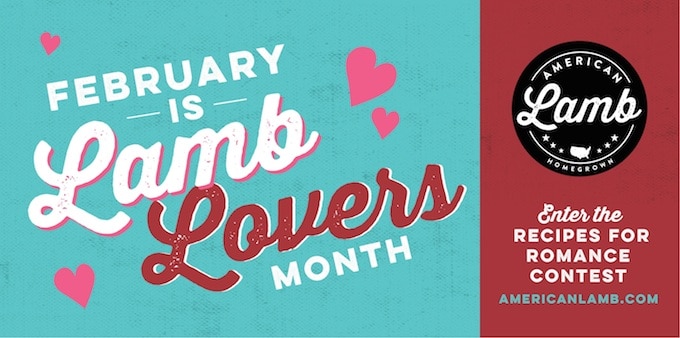 February is officially LAMB LOVERS MONTH! And you better believe there is a totally legit contest going on!
All you gotta do is fill out this super quick and easy Lamb Lovers Lib. It will determine your lamb language of love. Do you think it will tell you that you're a:
Classic Romantic ??
Homebody Lover ??
Looking for Love ??

And once you fill out the Lamb Lovers Lib, you'll be entered in the contest, with weekly winners getting some serious swag. And bonus… you'll get a recipe that embodies your lamb language of love just for playing.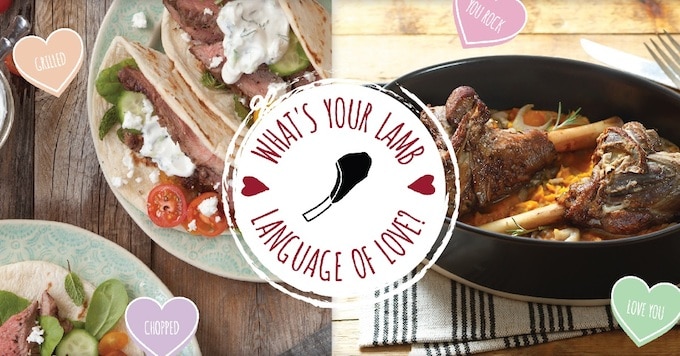 I know what you're all dying to ask me… What lamb language of love are you, Chris?! I'm in-between a Classic Romantic and Homebody Lover.
Usually it's a hands down Classic Romantic. I pull out all the stops. A homemade (and very thoughtful, might I add) gift. An elaborate dinner that I spent weeks picking the menu for and all day prepping. Heck, I even put candles (and light them!) on the table.
But times have changed a bit. By the time we've spent an entire day working the hardest and most tiring (but rewarding) job possible… i.e. being a parent, I'm thinking it's going to be more of an exhausted attempt of a sweatpants dinner that looks and tastes fancy, but in reality doesn't take a whole lot of prep time.
Homebody Lover #forthewin
And if we have enough energy after… maybe catch up on some Netflix. Oh yea.
I gotta dream big.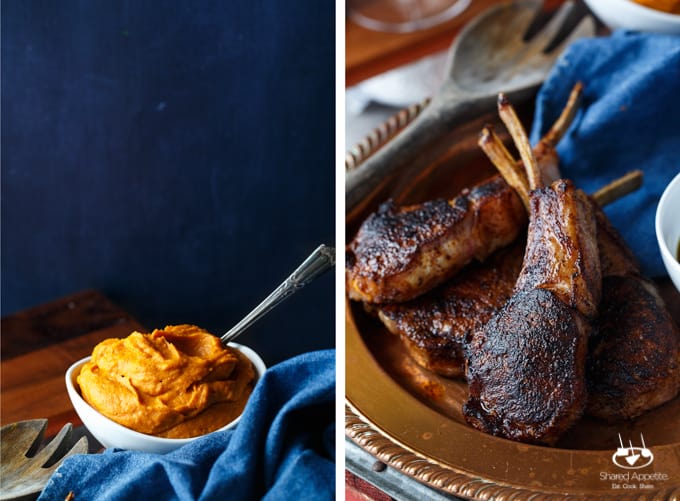 So this recipe. Yea, these Southwest Ancho Chile Crusted Lamb Chops are totally legit. I absolutely love that it's super elegant but doesn't require hours of prep like my usual Valentine's Day feasts.
Asheley and I are huge fans of big, bold flavors. The ancho chile rub. The spicy-sweet jalapeno-bourbon sauce. The slightly spicy sweet potato puree. It's a flavor party up in here. And don't worry about being blown out of the water by the heat of ancho chiles. They are actually pretty mild compared to other chiles, and bring more of a deep smoky flavor than anything else.
Hello Jalapeno-Bourbon sauce… the stuff is good enough to drink. That's all I'm saying.
And anyone else obsessed with sweet potatoes? I use them every chance I get.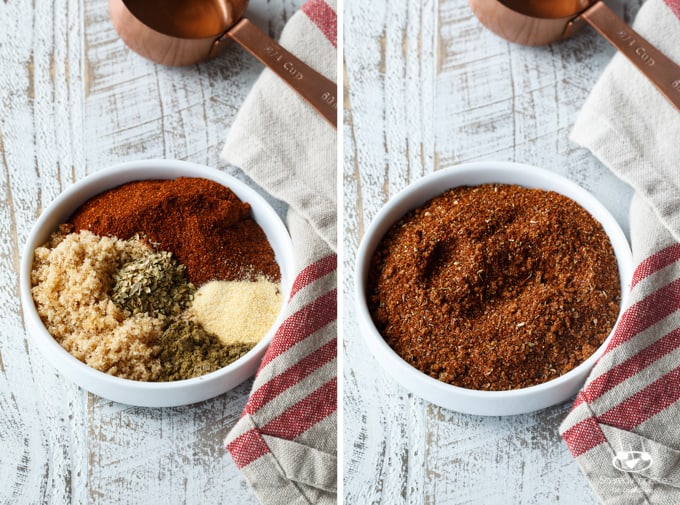 Let's talk American Lamb. Specifically, the American part. I'm all about supporting products made here, for here. And American Lamb is produced in almost every state. You can't get more local than that.
Here's a cool fact that surprised the heck out of me. Approximately 50% of the lamb we eat here in American actually comes from Australia and New Zealand. That means it's already traveled 10,000 miles and around 30 days just to get to your supermarket. Yea… I'd rather support our local shepherds and their families (the majority of US sheep operations are family-owned), and eat lamb that's 10,000 miles fresher. But that's just me.
Having wine with dinner? Uhm, is that even a question? You might want to thank some sheep, because many wineries are now using sheep to graze weeds in their vineyards. They also help to improve the quality of the soil by recycling nutrients.
And let me throw some nutrition at ya, because you know I'm on a health kick lately (down 24 pounds in one month, thank you very much)! A 3-ounce serving of American lamb lean meat (like these rib chops) only has 175 calories on average, is raised 100% without any artificial growth hormones, and provides nearly 5 times the amount of essential omega-3 fatty acids than beef. Boom. Mind blown.
Psst, for more healthy benefits of lamb, check out this American lamb nutrition infographic.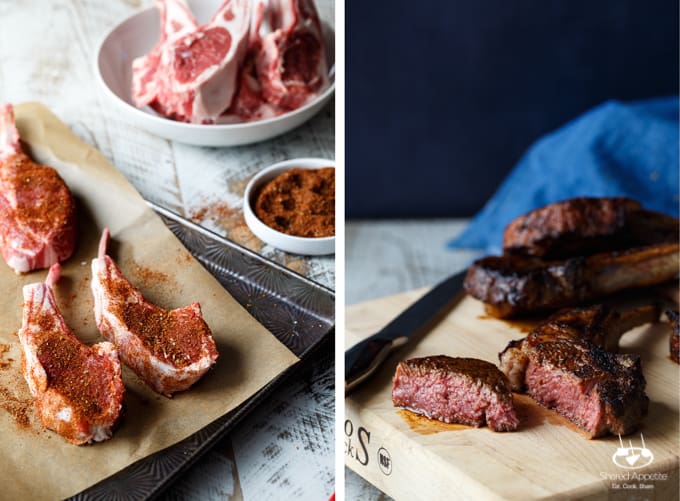 Print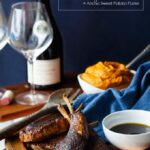 Southwest Ancho Chile Crusted Lamb Chops with Jalapeno Bourbon Sauce
---
Total Time:

1 hour

Yield:

Serves

2

(Very Hungry People)

1

x
8

lamb rib chops, about

3/4

" thick each

2 tablespoons

canola or vegetable oil
Southwest Ancho Chile Rub (recipe below)
Jalapeno-Bourbon Sauce (recipe below)
Ancho Sweet Potato Puree (recipe below)
for the Southwest Ancho Chile Rub
2 tablespoons

ancho chile powder

1 tablespoon

brown sugar

1/2 teaspoon

garlic powder

1/2 teaspoon

dried oregano

1/2 teaspoon

cumin
Kosher salt, to taste
for the Jalapeno-Bourbon Sauce
2 tablespoons

olive oil

1/2

medium red onion, finely chopped
Kosher salt

3

jalapenos with seeds, finely chopped*

1 cup

bourbon

2 cups

chicken stock

1/2 cup

brown sugar

1/4 cup

apple cider vinegar
for the Ancho Sweet Potato Puree
2

large sweet potatoes, roasted

2 tablespoons

heavy cream

1 tablespoon

unsalted butter

1/2 tablespoon

ancho chile powder
Kosher salt
---
Instructions
Preheat oven to 400°F. Sprinkle and pat Southwest Ancho Chile rub on all sides of lamb chops.
Heat oil in a large cast iron or other heavy-bottom skillet over medium-high heat. Sear lamb chops, in batches if necessary, for 2 minutes per side. Remove to an aluminum foil lined baking sheet and roast in oven for approximately 5 minutes, or until lamb reaches 130°F for medium-rare. Let roast a bit longer depending upon your preference. Let rest 5 minutes before serving.
Serve lamb chops with Jalapeno-Bourbon Sauce and Ancho Sweet Potato Puree.
for the Jalapeno-Bourbon Sauce
Heat olive oil in a medium skillet over medium heat. Add onion, season generously with Kosher salt, and cook 2 minutes. Add jalapeno and cook for 5 minutes, stirring occasionally.
Add bourbon, stir to remove any stuck on bits to the bottom of the pan, and simmer for about 5 minutes, until most of the bourbon has evaporated and a glaze-like consistency remains.
Stir in stock, brown sugar, and vinegar. Bring to a boil, then reduce to a rapid simmer and let reduce to a thick sauce consistency, about 15-20 minutes. Season with Kosher salt. Strain through a fine mesh sieve, discarding solids. Can be made in advance, refrigerated, and reheated.
for the Ancho Sweet Potato Puree
Combine roasted sweet potato flesh, heavy cream, butter, and ancho chile powder in a medium bowl. Puree with an immersion blender until very smooth. Alternatively, combine all ingredients in a food processor until smooth. Season with Kosher salt.
Notes
*for a milder sauce, remove seeds
Prep Time:

15 mins

Cook Time:

45 mins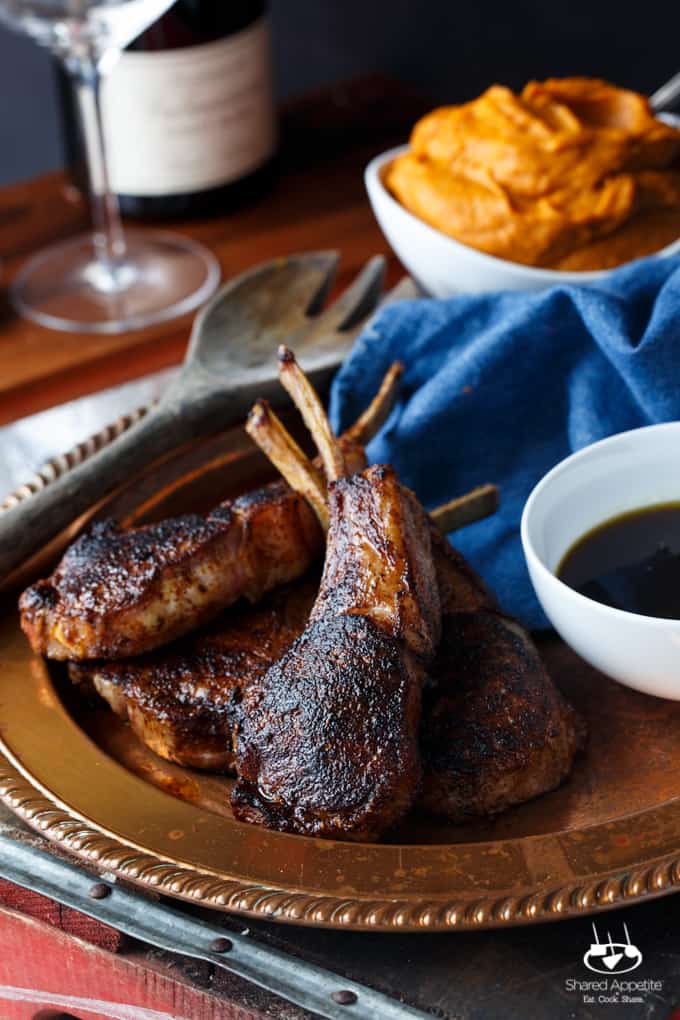 If you're reading this, give yourself a pat on the back! You made it to the end. I appreciate your dedication. Now go reward yourself by heading over to the Lamb Lovers Lib and enter to win!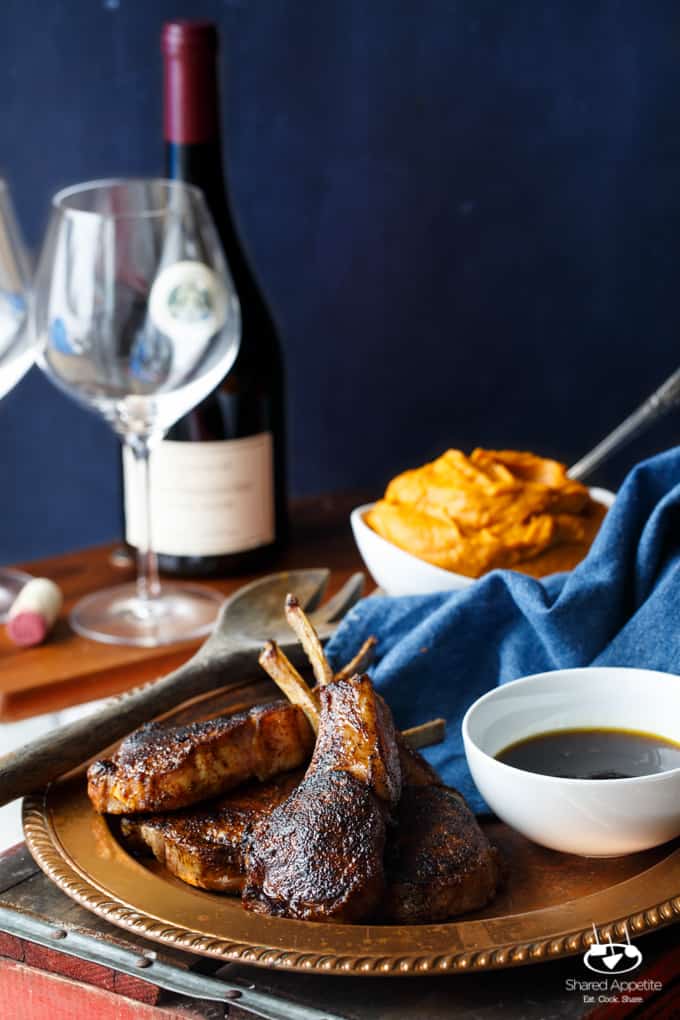 Southwest Ancho Chile Crusted Lamb Chops with Jalapeno Bourbon Sauce
Looking for More Valentine's Day Recipes?
Chocolate Chambord Donut Bread Pudding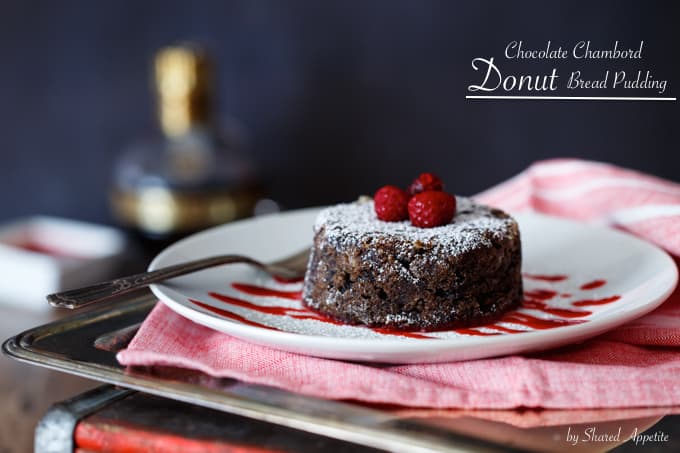 Red Velvet Cake Trifle with Cream Cheese Mascarpone Frosting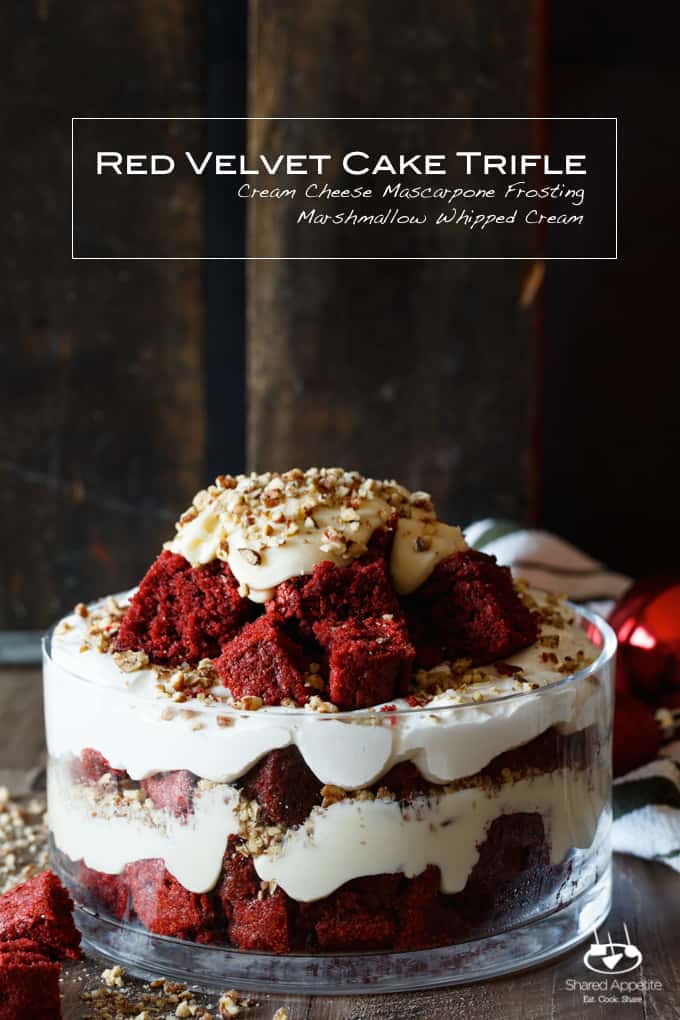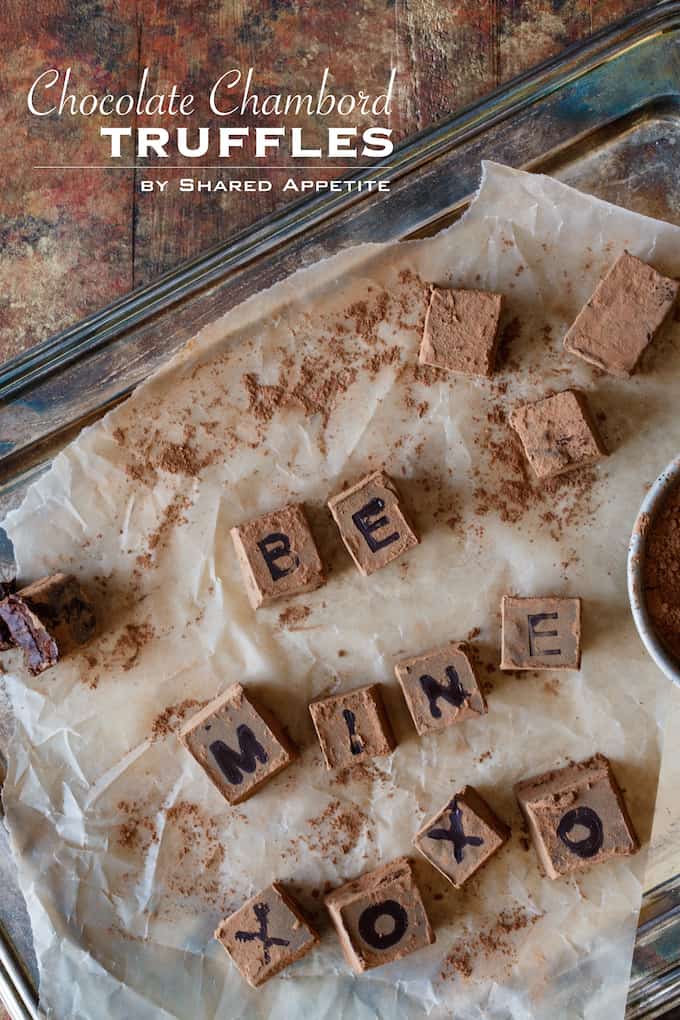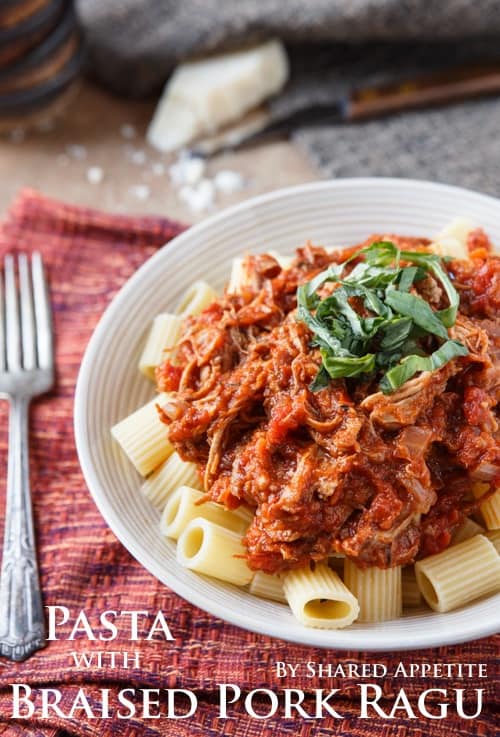 Braised Short Ribs with Chard and Polenta