This recipe for Lamb Kefta Burgers with Spicy Whipped Feta was created in partnership with the American Lamb Board. As always, all opinions and recipe are my own. Thanks for supporting the brands that support Shared Appetite!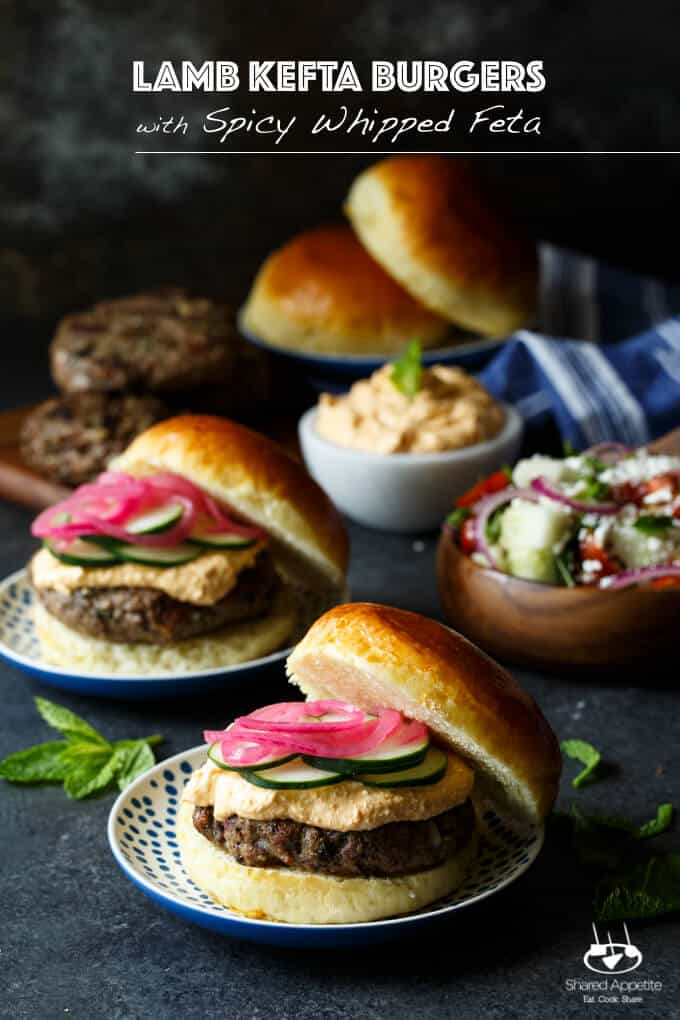 Ah, Summer. For some, it's about being active and fit (not me, obviously). Or perhaps going on some crazy adventures (I like me an adventure here and there). But for me, summer is really all about making memories with friends and family.
There's nothing better than having our backyard patio filled with people, the grill fired up, and the coolers full of ice cold beverages. Heck freaking yes.
And you better believe there won't be some lame spread of food at my parties. I go all out, cooking all day long with big, bold flavors. A regular burger? Nope. I'm making epic ones like these Stuffed Jalapeno Popper Bacon Cheeseburgers, Korean Kimchi Burgers, Spicy Roasted Pineapple and Avocado Burgers, and Whiskey Glazed Burgers with Spicy Brown Sugar Bacon.
And now, there is a new burger in town. Move over beef. These Lamb Kefta Burgers with Spicy Whipped Feta and Pickled Onions will rock your freaking socks off. They are legit.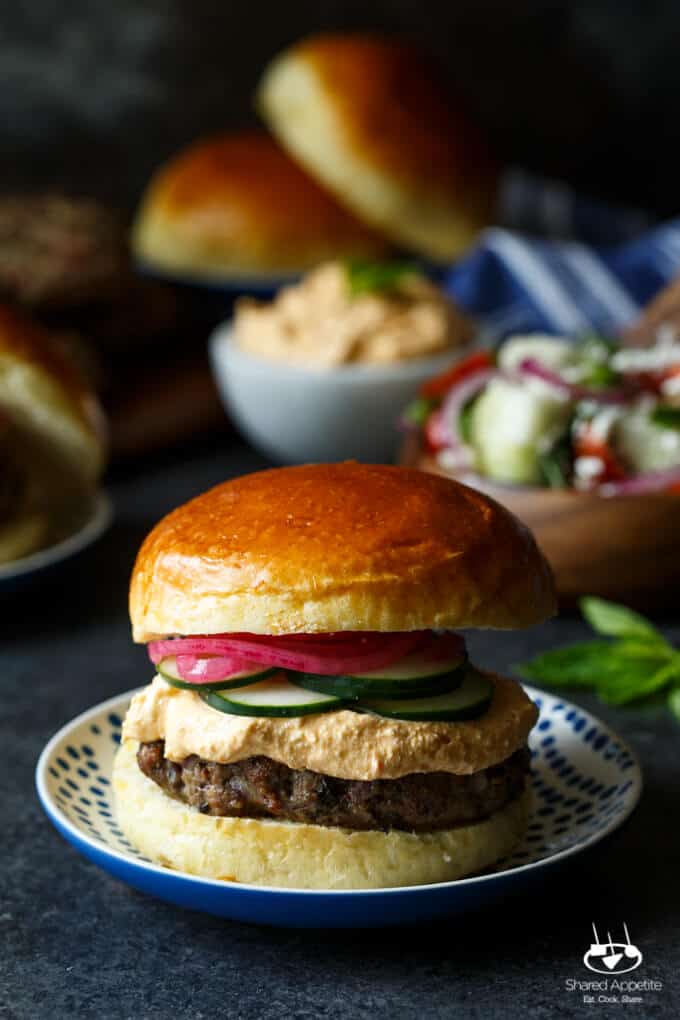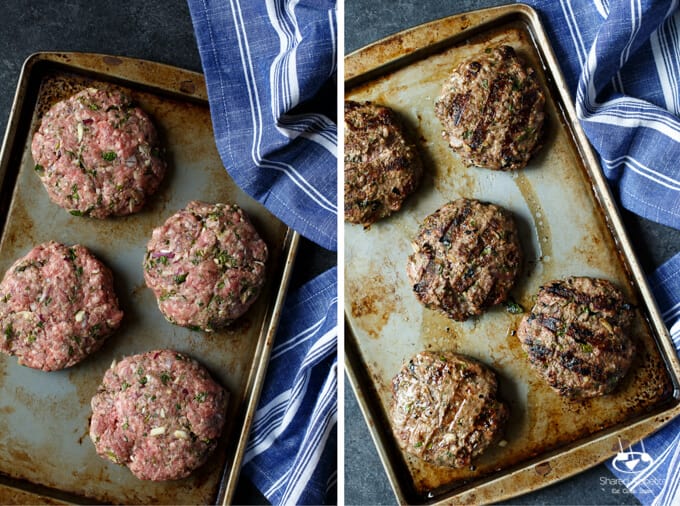 Want to have an extraordinary summer? How about you win something epic…
To celebrate all things summer, the American Lamb Board is hosting Summer Lambventures: Make Some Memories… an absolutely epic contest! And like any great contest, there are some pretty legit prizes, including $400 gift cards, a bunch of free lamb, and a grand prize of $2,000!
The American Lamb Board wants to know your summer personality… are you a Global Griller, Fit Foodie, Outdoor Adventurer, or Patio Party Planner? You can let them know here, which will automatically enter you into this amaze-balls contest!
Once you enter, they'll give you a summertime bucket list that matches your summer personality. To win the grand prize ($2,000 people!!), all you gotta do is complete that bucket list and share your adventures! Details are all on the official contest page!
And come on, how awesome would it be if you're reading this right now, go enter to win, and actually win?! That would make me so incredibly happy. So go… make me happy.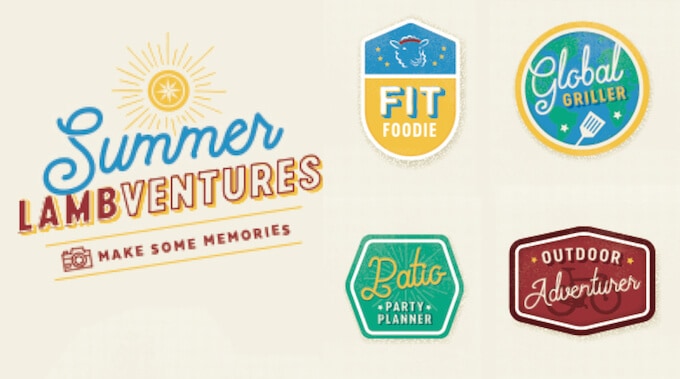 Me? I'm definitely a Patio Party Planner.
I'm a consummate host. I love to entertain.
Cooking all day for family and friends makes me incredibly happy, and I'm all about getting every detail perfect so my guests can have an amazing time. And the more people in my house… the better! I always make way too much food (I'm all about the extravagance of an epic party spread of food), so we usually need a small army to devour the menu.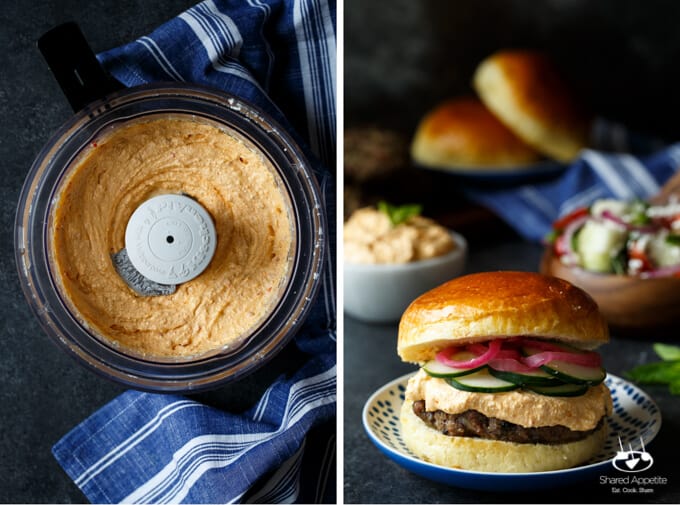 So these Lamb Kefta Burgers with Spicy Whipped Feta. They deserve an equally awesome side dish.
We got a ton of cucumbers in this week's CSA (community supported agriculture). Side note about CSAs: basically, we pay a local organic farm at the beginning of the year, and they supply us a weekly box of vegetable goodness. It's amazing and I highly recommend you searching one out in your area!
Anyway, I wanted a fresh and easy side featuring those cucumbers to go with my Lamb Kefta Burgers with Spicy Whipped Feta. Something that doesn't take a lot of time to prep and amps up these burgers even more. And that, my friends, would be a nice and easy Israeli Salad. No recipe needed. Check it out:
Dice up equal parts tomato and cucumber. Finely slice some red onion. Throw in some crumbled feta and roughly chopped mint. Drizzle with olive oil and squeeze in some lemon juice. Some salt n' peppa. Stir. That's it. Simple… delicious… perfect.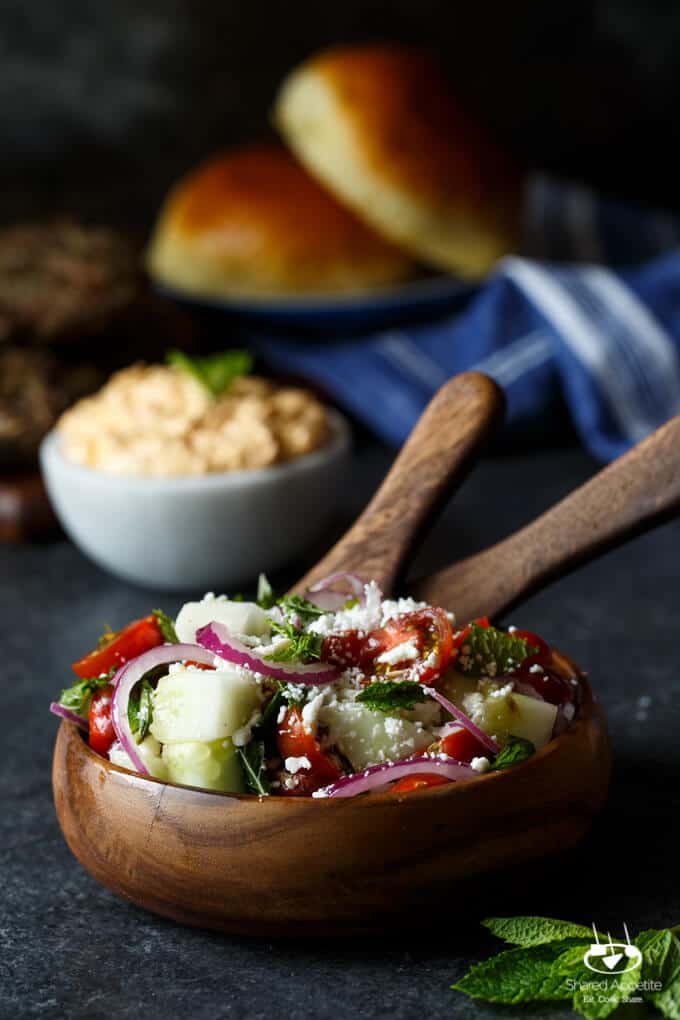 So let's recap. Enter the epic contest. Make these Lamb Kefta Burgers with Spicy Whipped Feta and Pickled Onions. Throw together a quick Israeli Salad. Invite friends and family over and FEAST.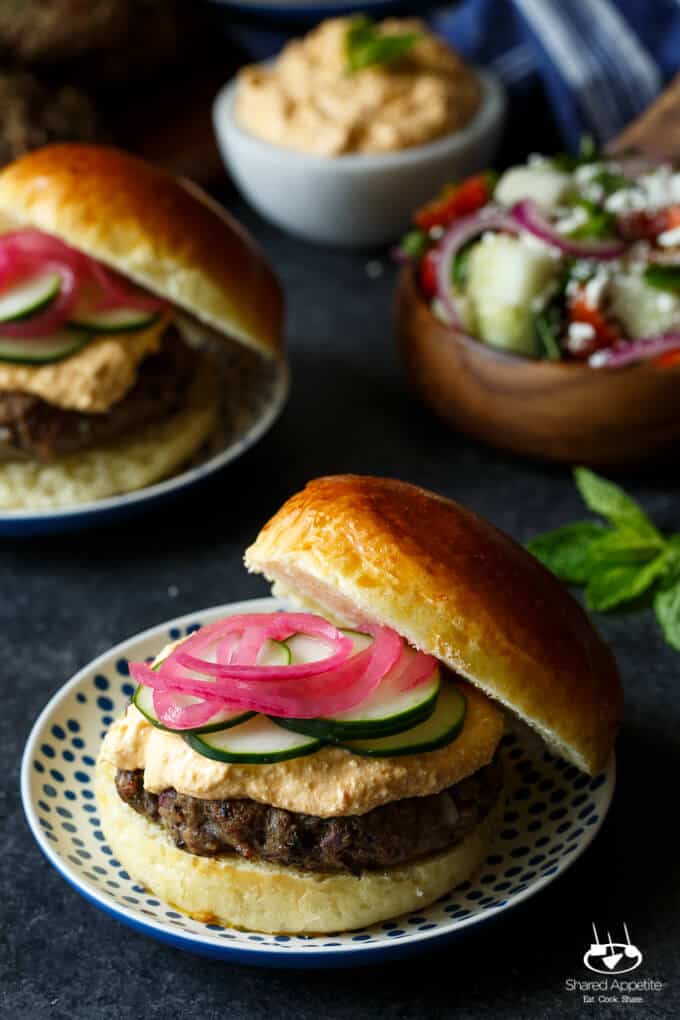 Print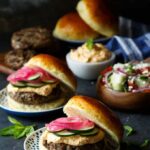 Lamb Kefta Burgers with Spicy Whipped Feta
---
Total Time:

25 minutes

Yield:

6

to 8

1

x
3

pounds ground lamb

1

medium red onion, grated or minced

8

cloves garlic, minced

1

lemon, zested with microplane zester

1/2 cup

finely chopped fresh mint

2 teaspoons

coriander

2 teaspoons

cumin

2 teaspoons

dried oregano

1 teaspoon

cayenne pepper, optional
Kosher salt
Spicy Whipped Feta, recipe below

1

cucumber, sliced thin

6

to

8

burger buns
for the Spicy Whipped Feta
1 cup

crumbled feta cheese

1/4

to

1/3

cup jarred sliced hot cherry peppers

1/3 cup

plain Greek yogurt

1/4 cup

extra virgin olive oil
Freshly ground black pepper
---
Instructions
Combine ground lamb, onion, garlic, lemon zest, mint, coriander, cumin, dried oregano, and cayenne pepper in a medium mixing bowl. Season generously with Kosher salt. Form mixture into 6 to 8 burgers.
Heat grill over medium-high heat. Grill burgers until cooked to desired doneness, flipping once halfway through cooking. Let rest for 5 minutes after cooking before serving.
Place a lamb kefta burger on each bun and top generously with spicy whipped feta, sliced cucumber, and pickled onions. Devour immediately.
for the Spicy Whipped Feta
Place all ingredients in food processor and blend until very smooth. Season with freshly ground black pepper. Transfer to a bowl and refrigerate until ready to serve.
Prep Time:

15 mins

Cook Time:

10 mins

Lamb Kefta Burgers with Spicy Whipped Feta
Need More Lamb and Sides?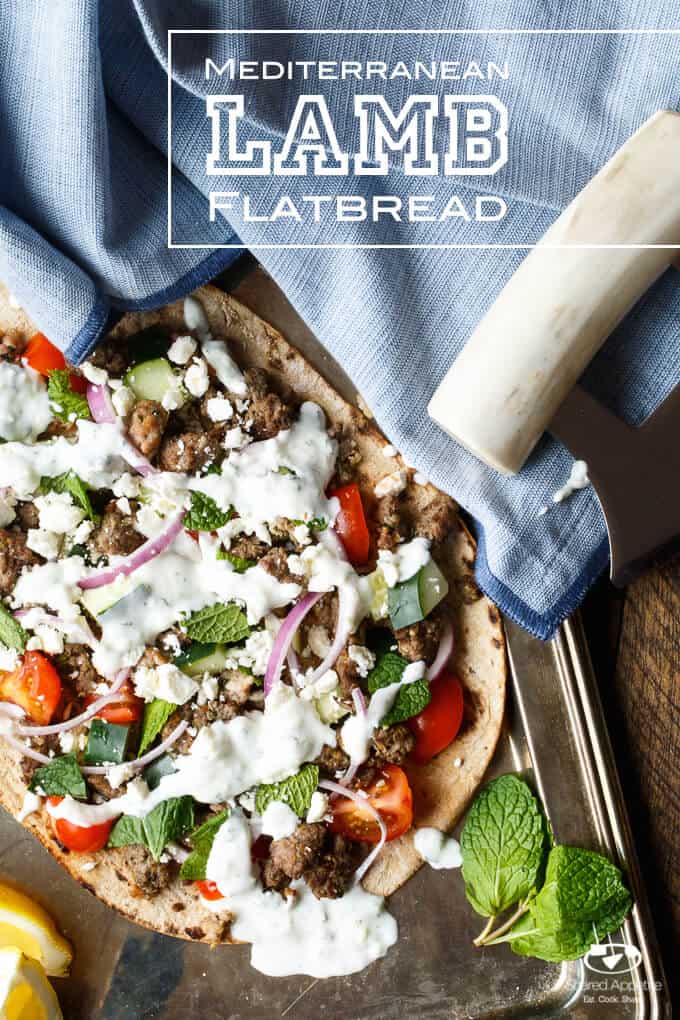 Mexican Lamb Tacos with Tequila Soaked Raisins + Pepitas

Watermelon, Feta, and Arugula Salad

Corn, Blueberry, and Halloumi Salad