This post is sponsored by Safest Choice Eggs. As always, all opinions and recipe are my own. Thanks for supporting the brands who support Shared Appetite!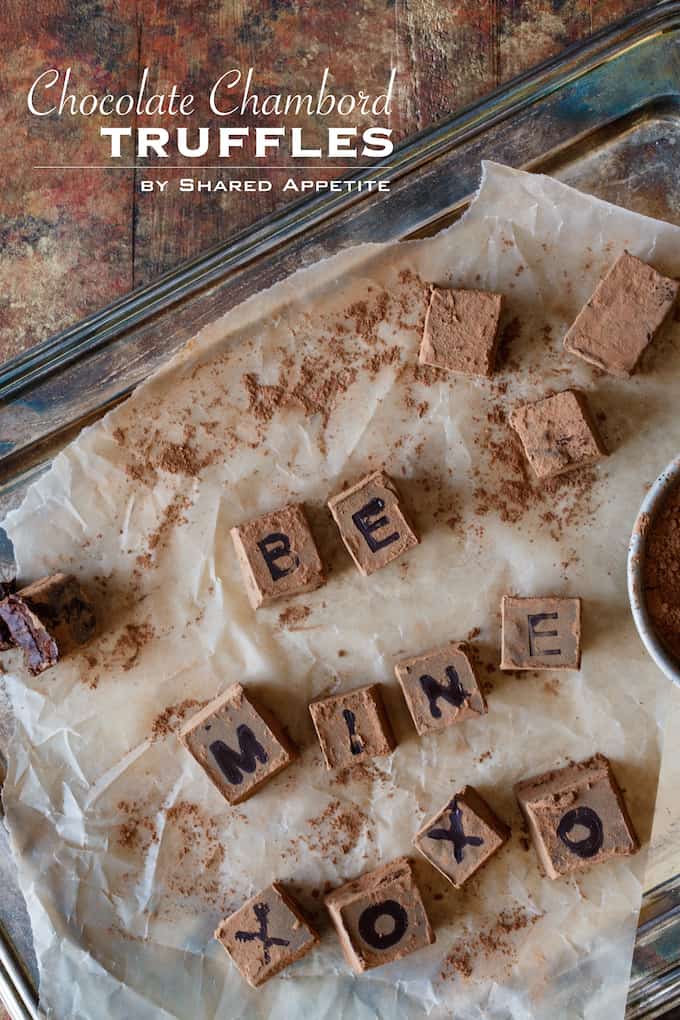 Make a big statement this Valentine's Day by making these super decadent and luxurious DIY Personalized Chocolate Chambord Truffles.
Oh, hello February. You're here. And I didn't even need to check a calendar to realize it. Nope, the frigid temperatures and piles of snow and ice on the ground here in NY were clue #1. And clues #2 through #10?Just step into any store. Your eyes will be bombarded with heart shaped boxes filled with mediocre chocolates, overpriced limp roses, and a general overload of all things red and pink.
Yup. Valentine's Day is this week. Are you ready? Do you have that special something for your special someone?
Guys in the room... I'm gong to hook you up and save the day. Sure, we of course could take the easy road and just snag one of those $9.99 boxes of chocolate and run to grab one of the few Valentine's Day cards left on the shelves (because, duh, we again waited until the very last minute to get a card), but that special woman in your life deserves something... special.
A gift that screams, yup, I am super thoughtful, romantic, and actually created this very special DIY Valentine's Day gift just for you. Gentlemen. This is how you win on Valentine's Day this year.
And ladies. Don't you go anywhere. You know your man would totally enjoy these Chocolate Chambord Truffles. We might not oooo and awww at the cute-sy DIY lettering stuff, but we'll be all over the flavor party going on in these Personalized Chocolate Chambord Truffles.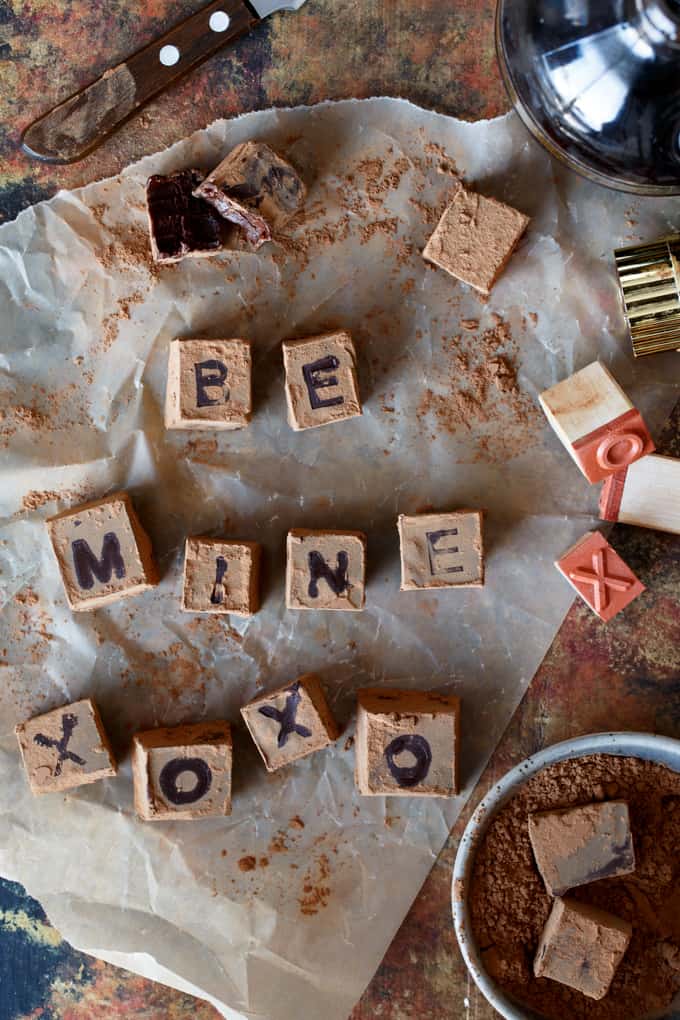 That's right. I totally went to the local arts and crafts store (in a crazy snowstorm, might I add) to buy a letter stamp kit. And yea, it's a super cheesy touch to these truffles. But hey, Valentine's Day is that kinda holiday.
Please tell me you've seen one of those #pinterestfail round-ups floating around the interwebs. So hysterical. Good news is that these Personalized Chocolate Chambord Truffles are totally do-able... and this is coming from the king of arts + crafts fails.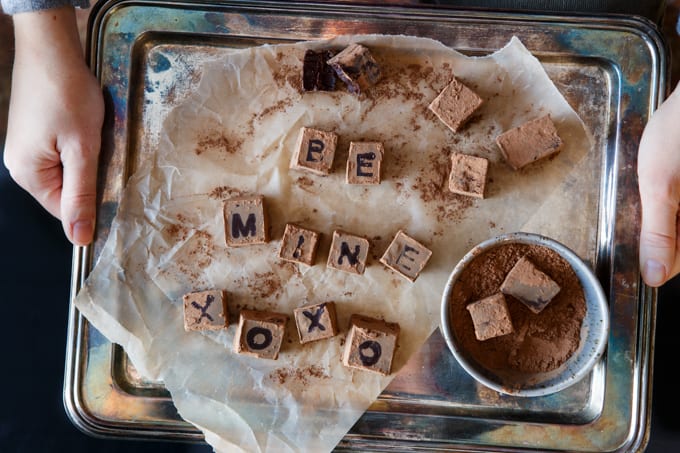 As your date for the evening is slowly savoring ever little morsel of these rich and decadent truffles, you can explain to them how they were made without any heavy cream. Blasphemy! Truffles can't be made without heavy cream!
No, really, there's no heavy cream up in here. Instead, these truffles just use some butter and an egg yolk! It makes for one super luxurious and creamy truffle experience.
And now that Asheley and I are expecting our little miracle to arrive this June (I'm excited and terrified all at the same time), it's extra important to me that every single piece of food that enters Asheley's body is 100% safe. And thanks to Safest Choice Eggs and their awesome pasteurization process, I can have 100% peace of mind as I watch her devour these Personalized Chocolate Chambord Truffles.
Print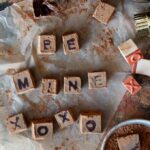 Personalized Chocolate Chambord Truffles
---
Author:

Chris Cockren

Total Time:

30 minutes (plus 2+ hours cooling time)

Yield:

20

truffles

1

x
8 ounces

dark chocolate, finely chopped

5 tablespoons

 

unsalted butter, cubed

¼ teaspoon

vanilla extract

2 tablespoons

 

Chambord liqueur

1

 

Davidson's Safest Choice® pasteurized egg yolk

¼ cup

 

boiling water

K

osher salt

Cocoa powder, for coating
---
Instructions
Combine finely chopped chocolate, butter, and a pinch of Kosher salt in a medium glass mixing bowl. Microwave in 30 second intervals on half-power, stirring between each interval, until chocolate is just melted. Alternatively, heat over medium-low heat in a small saucepan until just melted. Stir in vanilla extract and Chambord liqueur. Set aside.
Place egg yolk in a small bowl and whisk slightly. Pour boiling water in a slow, steady stream down the side of the bowl while constantly whisking egg yolk. This will prevent egg yolk from scrambling while you incorporate the boiling water. Continue whisking until water is fully combined with egg yolk. Pour through a fine mesh sieve into the melted chocolate mixture. Whisk until fully incorporated and smooth.
Line a small square pan with parchment or wax paper. Let parchment paper hang over sides of pan for easy removal. Pour in truffle mixture and refrigerate until firm, at least two hours but preferably overnight.
Lift parchment paper out of pan to remove truffles. Cut truffles into bite-sized squares. To aid in clean slices, dip knife in hot water and wipe clean in between each cut.
Pour a bit of cocoa powder in a small bowl and dip truffles, one at a time, to coat.
If desired, imprints can be made with a special message by using letter stamps (available at most arts and crafts stores). Lightly coat stamps with a little oil before pressing into each truffle (clean and repeat as necessary). It might take a couple of tries to find the "sweet spot" of how much oil and pressure to use when stamping each truffle. Truffles can always be re-dipped in cocoa powder to try again if needed.
Prep Time:

15 minutes

Cook Time:

15 minutes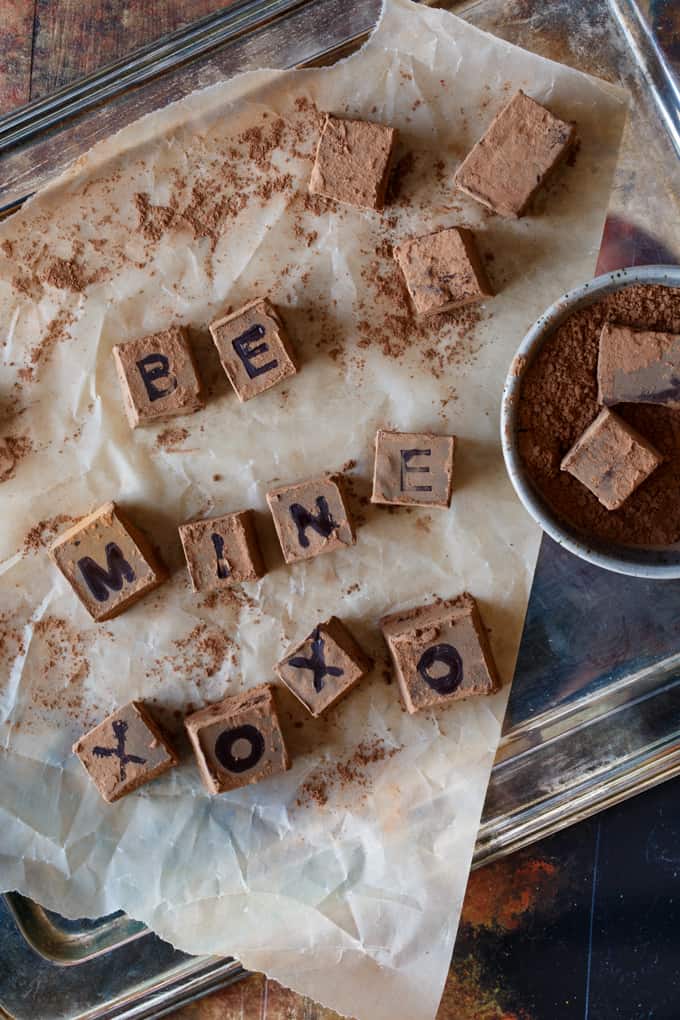 Chocolate Chambord Truffles
Need More Dessert Options?
Chocolate Chambord Donut Bread Pudding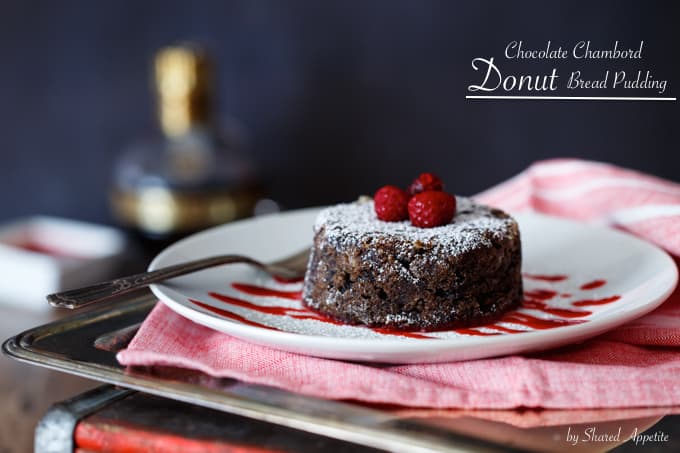 Vegan + Dairy-Free Dark Chocolate Peanut Butter Mousse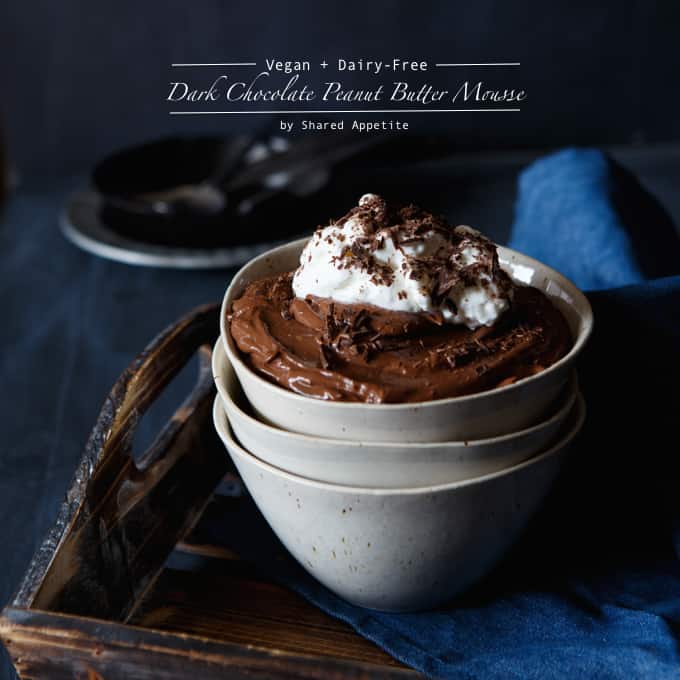 Nutella Stuffed Red Velvet Chocolate Chip Cookies