This post and giveaway is sponsored by Kitchen Play and Miracle-Gro® AeroGarden®. Thanks for supporting the brands who support Shared Appetite!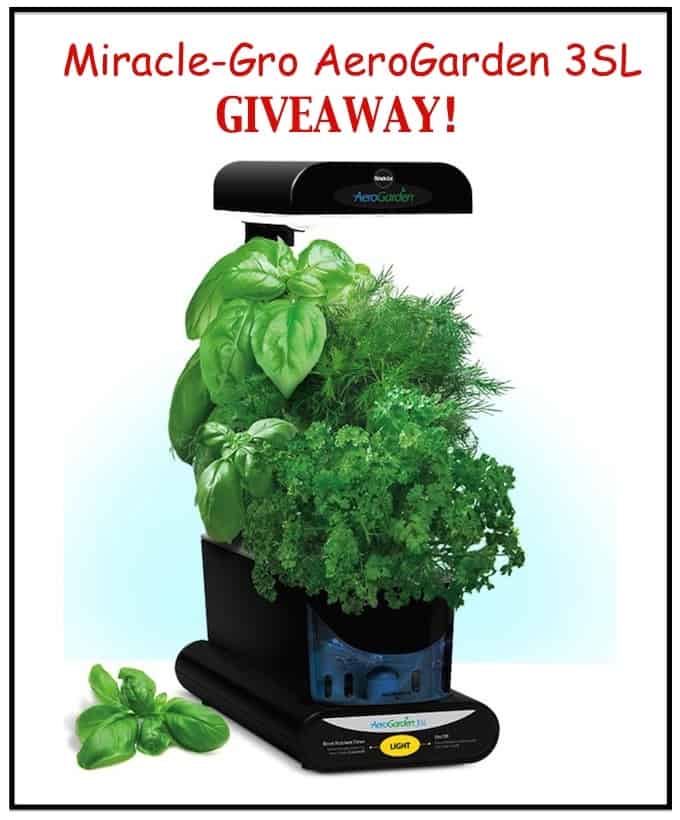 You may have noticed on Instagram that I've been having fun playing with my new Miracle-Gro® AeroGarden® 3SL unit that was sent to me a couple weeks ago.
Oh, wait, you don't follow me on Instagram? Well let's turn that 🙁 into 🙂 ------> Follow me on Instagram silly!
And while you are at it, win an AeroGarden for yourself!
What?!
I know! ...they are hooking up one of you with an indoor herb garden! #woot
A little more info about the AeroGarden 3SL for your reading pleasure...
The AeroGarden® growing systems are dirt-free indoor gardens that fit on your countertop. With no dirt and no weeds, AeroGarden® offers an easy, hassle-free gardening experience right in your own kitchen! If you're looking for a unique gift for the avid cook in your life, AeroGarden makes a perfect gift!
The Miracle-Gro® AeroGarden® 3SL is the extraordinary soil-free indoor garden that grows plants 5 times faster than soil. The AeroGarden 3SL brings the magic of the indoor garden virtually anywhere- it sets up in minutes and the slim, elegant design fits beautifully in your kitchen, home, or office. Grow fresh herbs, vegetables, salad greens, flowers and more… let your imagination grow wild! Just insert the seed pods in your garden, add water and nutrients, and then watch it grow! Easy as 1-2-3!
The easy-to-use Control Panel automatically creates optimal conditions for your plants by turning the light on and off and reminding you when to add our patented, specially formulated Liquid Nutrients. The AeroGarden 3SL's energy efficient, full spectrum Grow Light significantly increases plant yields. Now you can garden indoors, year 'round and its Guaranteed to Grow!
OVERVIEW AND BENEFITS:
Grows 5 times faster than soil
Soil-free, no-mess indoor growing
Easy-to-use Control Panel automates key garden functions so you don't have to
Grow anything including fresh herbs, salad greens, vegetables, flowers, and more
Advanced hydroponics - made simple
NASA tested growing technology
Pre-seeded pods with Guaranteed to Grow warranty
Energy efficient, high-performance, full spectrum Grow Light- plants grow faster and healthier
Patented, specially formulated Liquid Nutrients
Transparent garden view window allows you to monitor water levels and actually see your garden in action!
Includes 3-Pod Gourmet Herb Seed Pod Kit with Genovese Basil, Curly Parsley, and Dill