This post is sponsored by Bumble Bee SuperFresh® and FitFluential. As always, all opinions are my own. Thanks for supporting the brands that support Shared Appetite! #BBSuperFresh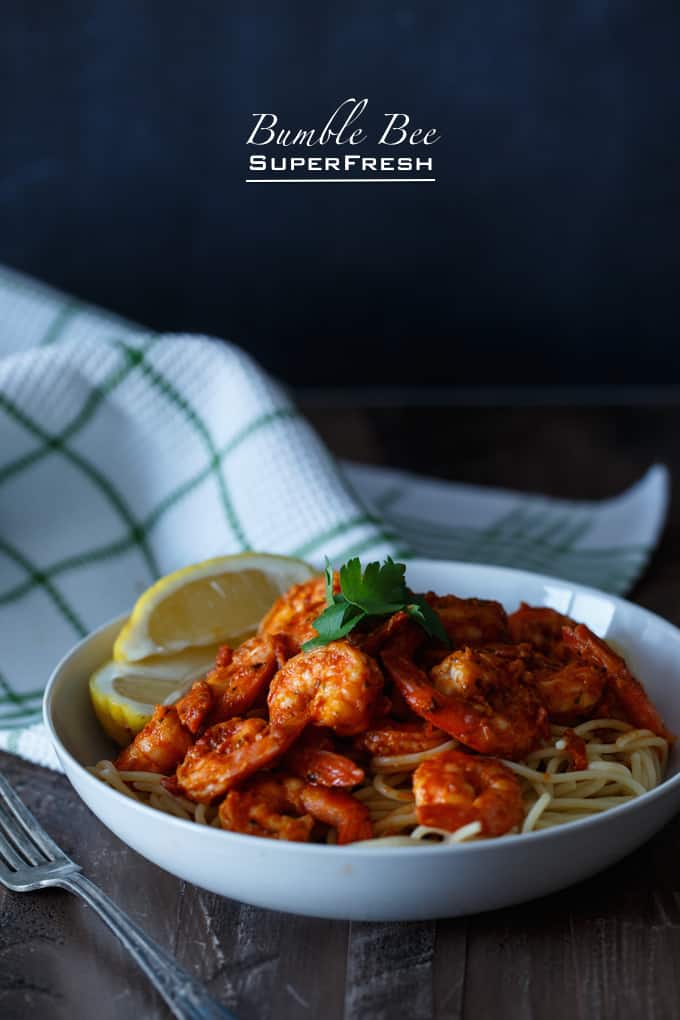 Typically in a relationship, one of you is in charge in the kitchen and probably cooks about 90% of the time. But once in a while, your significant other wants to make you feel special. They want to make you something remarkable, but may not know how. Today, I want to talk to all them.
Whether you are planning a special Valentine's Day dinner for your someone special or a little date night meal, I have a lightning quick, ridiculously easy, and super flavorful option for you.
Bumble Bee SuperFresh®. With seven flavor varieties of seafood options to choose from and an almost fool-proof ease in preparation, you can pretty much guarantee a fantastic dinner… and you can even take all the credit 😉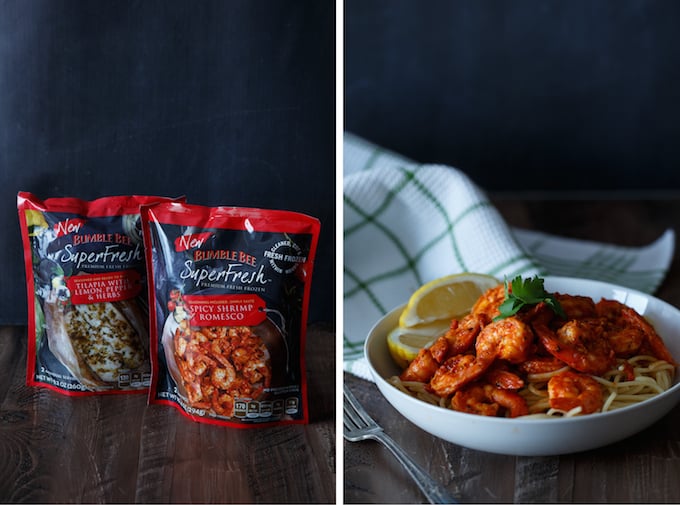 Can I be honest? When I first went to the frozen seafood section of my local grocery store to pick up Bumble Bee SuperFresh, I didn't have high expectations. I mean really… frozen food has a pretty negative connotation, especially when seafood is involved.
But guys, I was very pleasantly surprised.
It didn't taste frozen. It didn't taste artificial like we've come to expect from frozen meals.
I tasted freshness and real, quality flavors!
And really, it makes sense… Bumble Bee SuperFresh is fanatical about freshness… they flash freeze their seafood and vacuum-package it to keep the intregity of flavor and texture on point, and eliminate the need to use any sort of preservatives. No preservatives!
And good news gluten-free friends. The entire lineup of seafood choices from Bumble Bee SuperFresh® are gluten-free!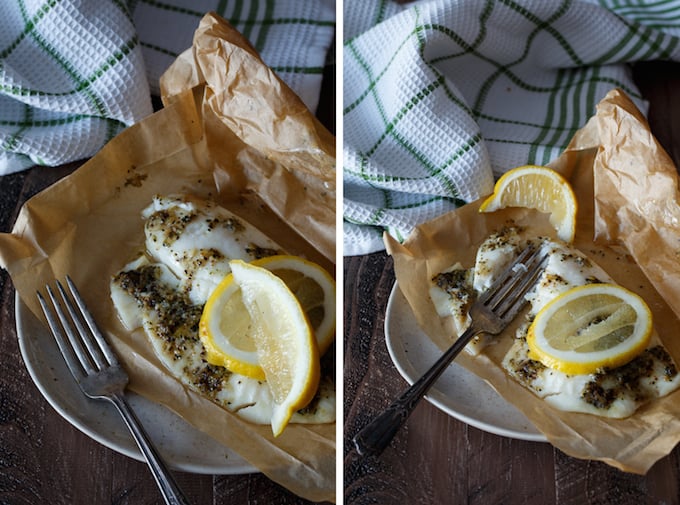 I sampled two of their SuperFresh seafood options…
Tilapia with Lemon, Pepper & Herbs – you can't get easier preparation than this. I simply placed the frozen,seasoned filet in the enclosed paper pouch, put it in the oven, and had a beautiful meal waiting for me in just under 20 minutes. The parchment pouch allowed the fish to remain very moist, tender, and flaky. And the flavor was totally on point… the lemon and herbs kept the fish tasting light, fresh, and bright.
Spicy Shrimp Romesco – Made in a skillet on the stovetop, this was done in under 10 minutes! And holy flavor party Batman… that romesco sauce was incredible. It was rich, a little spicy, and absolutely intoxicating. I served it on top of some pasta to make for one heck of a meal.
And get this. They've made your date night prep extra easy by giving you full menu ideas! Check out these Bumble Bee SuperFresh® Menu Ideas for recipes (from appetizers through dessert!) and cool wine pairing ideas!
Look for all seven varieties of Bumble Bee SuperFresh® in your local grocery store:
Tilapia with Garlic and Extra Virgin Olive Oil
Tilapia with Lemon, Pepper & Herbs
Lemon Shrimp with Garlic & Herbs
Spicy Shrimp Romesco
Salmon with Garden Pesto
Salmon with Garlicky Black Pepper & Extra Virgin Olive Oil
Petite Scallops with White Wine & Garlic-Herb Butter
All varieties come with two servings, and everything you need (including baking parchment pouches and seasonings) come in the packaging. And dinner is ready in under 20 minutes… just enough time to open up that bottle of wine and set the table for a romantic evening together.
And remember, we are talking ridiculously easy prep here, even for = the most inexperienced cooks. Here's to a successful Valentine's Day/date night dinner!
This post is sponsored by FitFluential on behalf of Bumble Bee SuperFresh.