These Southwest Turkey Wraps are brought to you by Flatout Bread. As always, all opinions and recipe are my own. Thanks for supporting the brands that support Shared Appetite!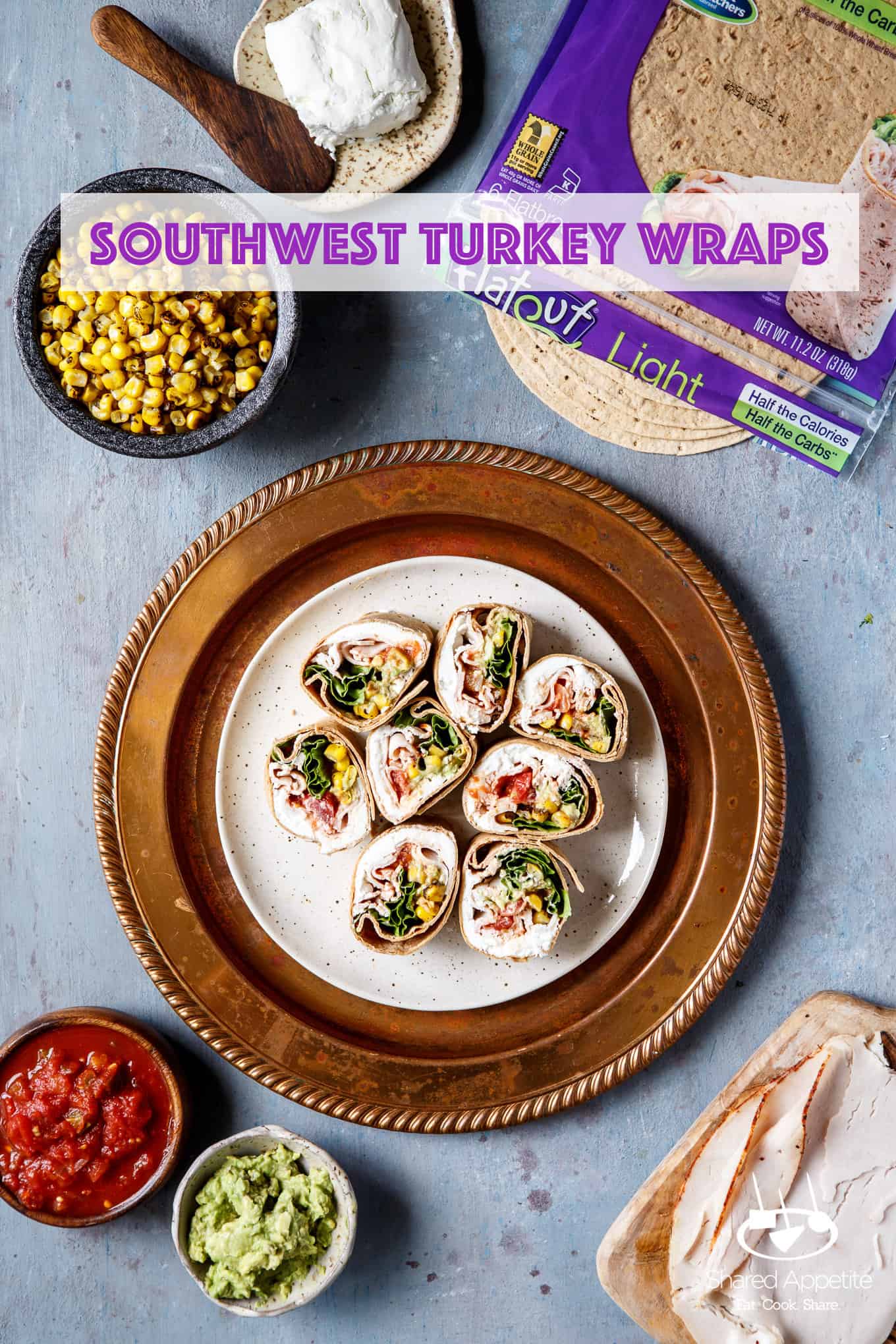 Can we be real for a second? Like no fluff, no BS, straight up real life? Great, I'd knew you'd be on board. Most days over the summer, lunch doesn't get much thought. My morning starts bright and early with our 2-year-old child alarm clock. Asheley goes to work, and daddy day care begins. We play, we have fun, and we make way more of a mess than Asheley is ever happy about. When it comes time for Olivia to eat, I'm all over it. I'm making sure she's eating a semi-balanced meal (no, you can't just have pretzels Olivia).
Meal time with a toddler is quite interesting. She's pretty independent now while eating, except she makes a tremendous mess. This includes "dipping" her corn in her water glass, spreading her mac n' cheese across the table, and touching every surface imaginable with her sticky watermelon hands. Needless to say, I have to stay on top of her in order to make sure our kitchen stays semi-presentable.
After she eats, she naps. That's my opportunity to eat something, but I'm usually wiped out and need something really quick and easy so I can get on my computer and bang out some work (editing photos, typing these words in this Southwest Turkey Wraps post, answering emails... you know, that kinda stuff). I refuse, however, even when tired and lacking energy, to eat food that's not delicious. Life's to short for that crap. I usually try to put something together that's full of flavor with using whatever ingredients I can find in the fridge and pantry. Enter these Southwest Turkey Wraps. They are the perfect quick and easy lunch wraps!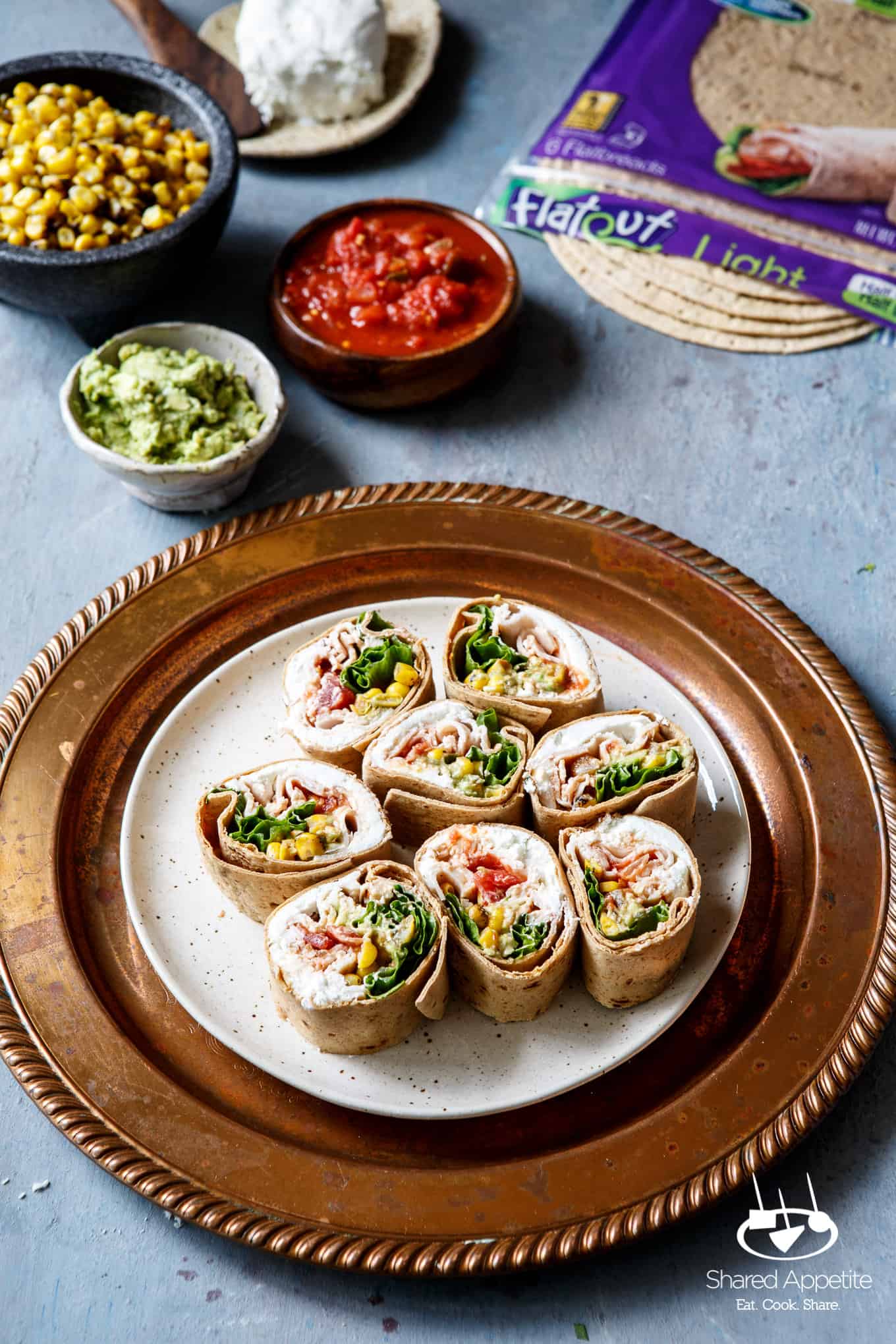 I almost always have the makings of this wrap in the fridge and pantry:
Salsa. Yup, all the time.
Guacamole... uhm yes, doesn't everyone have a supply in their fridge at all times? Oh, maybe just me. Pro tip: just mash up some avocado if you don't have guacamole on hand (or don't have the energy to make it).
Cream cheese, usually. If you don't have cream cheese, feel free to use cheddar cheese or something like that... but I really like cream cheese in this wrap.
Lettuce, always. It's a staple feel like you're eating healthy green to have on hand.
Turkey, when I remember to grab it. Usually it's for Asheley, so she can make sandwiches for herself. You can always feel free to use leftover roasted/grilled chicken if you have that hanging out in the fridge.
Frozen corn... have you seen my freezer? It's pretty much all corn. Olivia LOVES the stuff. And I refuse to find out what would happen if the moment comes where she wants it and I don't have it. Thus, corn is always in our house.
And that's it, a wrap of epic proportions, without the whole need to plan and stress out. The wrap takes me all of 5 minutes to put together, and it's an instant flavor party for my taste buds. Then again, I'm obsessed with southwest flavors.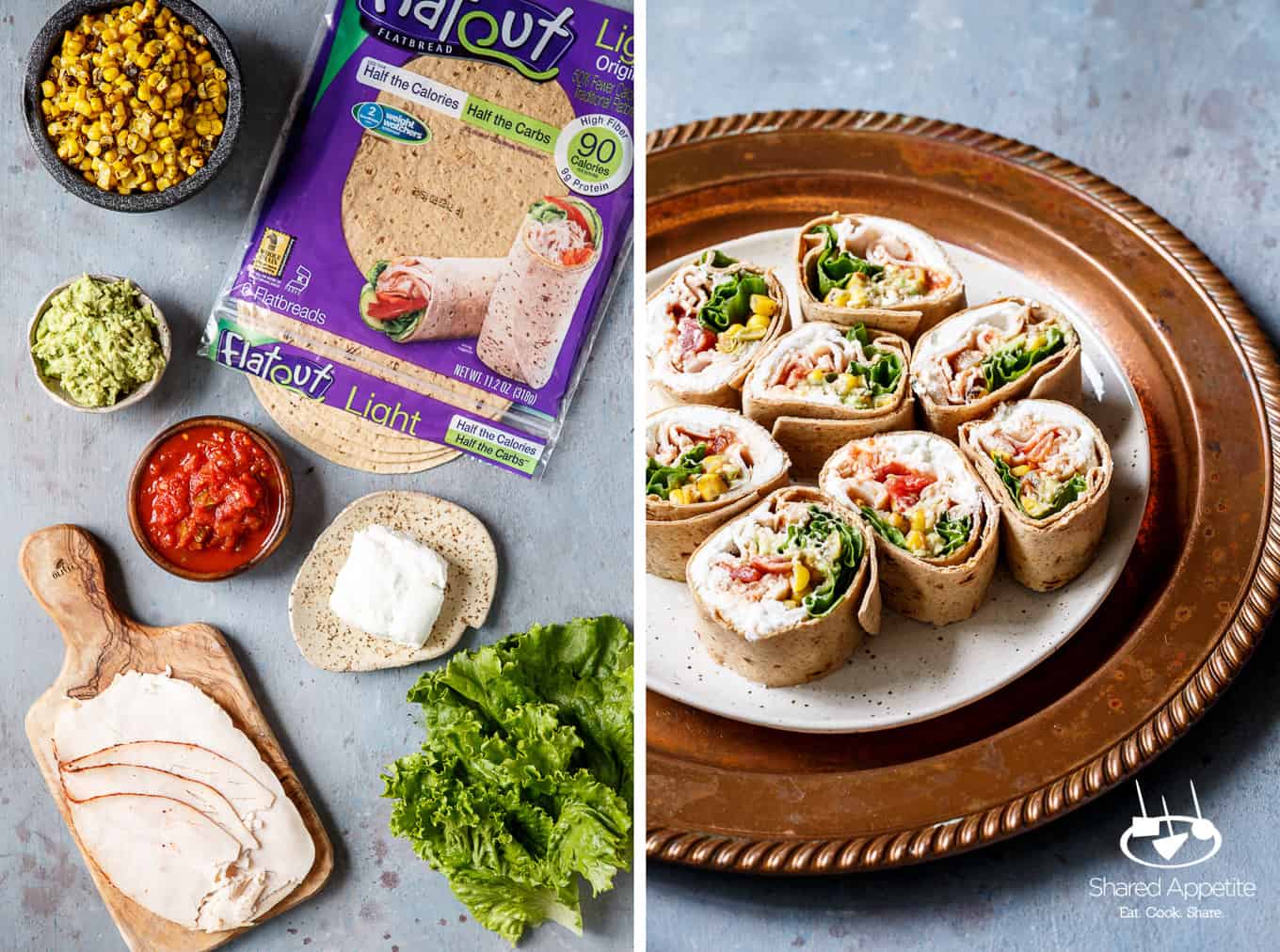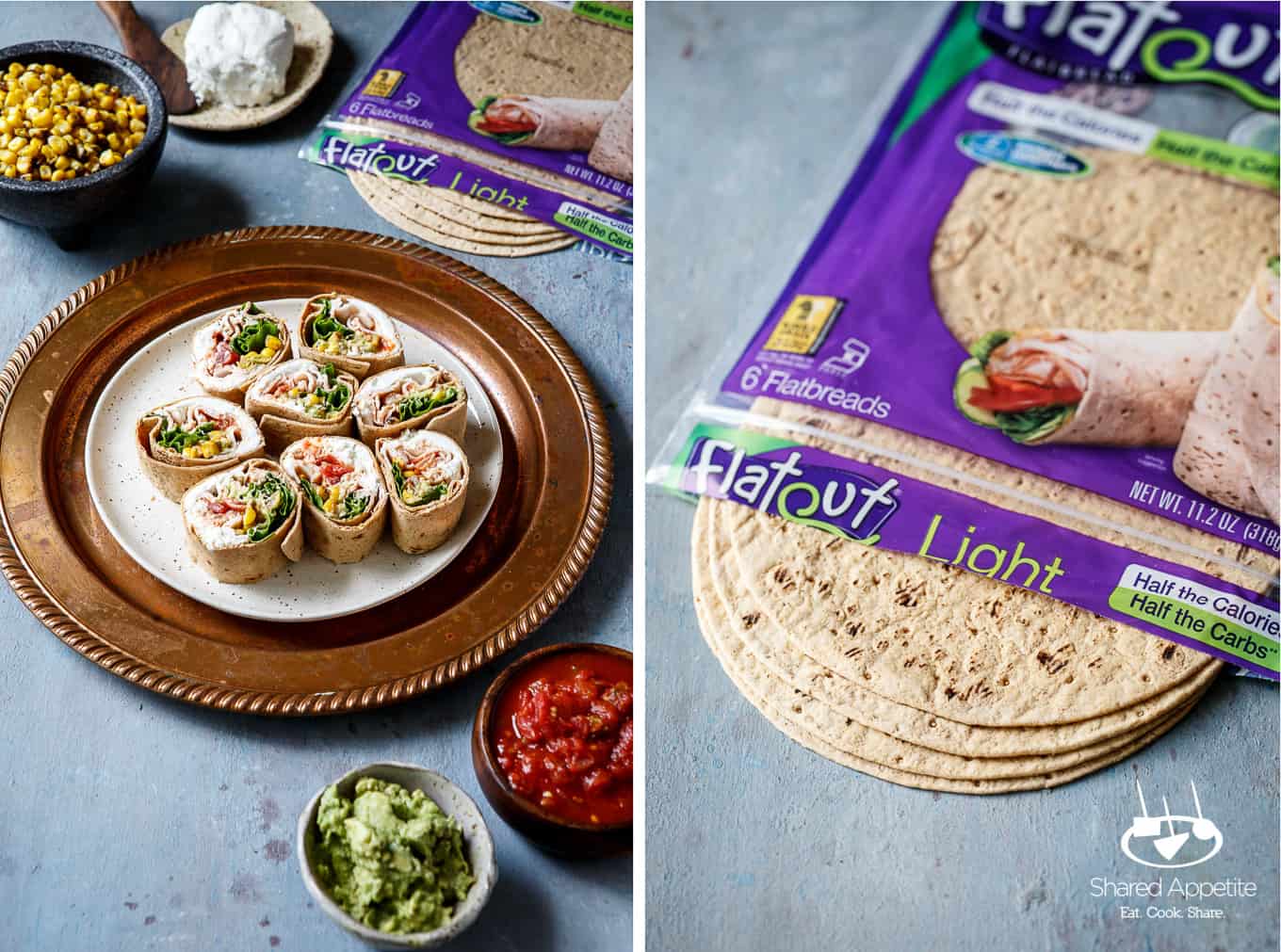 I can't even tell you how many times at this point Flatout Flatbread has literally saved a meal for me. Whenever I'm in a rut or can't figure out what to eat, my eyes always land on Flatout.
Best of all, with Flatout's full line of flatbreads, fold-its, and pizza crusts, I always have plenty of inspiration for a last minute meal! Proof? Just look at all these Flatout recipes I've created over the last couple years!
Some ideas to ponder... Flatout flatbreads make great wraps, burritos, quick crepes and duh, quesadillas! Their Fold-it's are the perfect substitute sandwich bread, pita, and burger buns. And of course the Thin Crust Pizza is the perfect canvas for whatever flavors I can whip up together for a legit flatbread experience!
Anyone else trying to eat a little better? It's a constant struggle for me (gosh why does food have to taste so good and exercising stink so much). Flatout makes it easy, because they are the official wrap for Weight Watchers! These Flatout Light Original Flatbreadwraps are just 90 calories (say what?!), high in fiber, and have 9 grams of protein!
Make sure to check out all of Flatout's products and flavors… you can grab them at the deli section of your local grocery store. To make sure your store stocks them before making the trip, check out the Flatout Store Locator here.
And if you need some Flatout recipe inspiration, check out their jam-packed recipe center!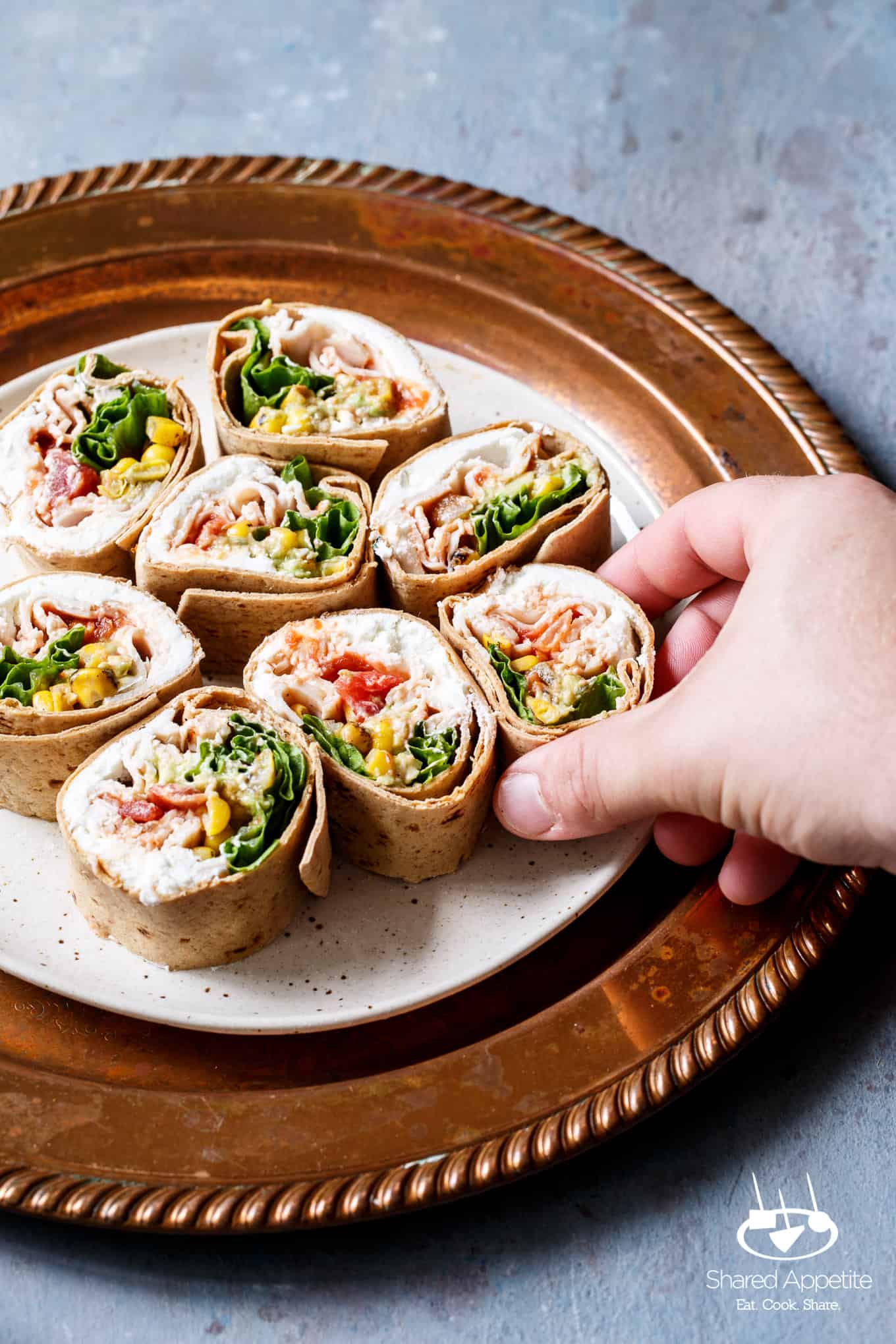 Print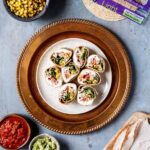 Southwest Turkey Wraps
---
1

Flatout flatbread wrap

2 tablespoons

cream cheese, softened

2

slices deli turkey

1 ½ tablespoons

salsa

1 ½ tablespoons

guacamole

2 tablespoons

frozen corn, thawed

2

leaves green leaf lettuce
---
Instructions
Spread cream cheese in the middle of the wrap.  Top with deli turkey, salsa, guacamole, corn, and lettuce.  Fold into a wrap and either slice in half or into pinwheels!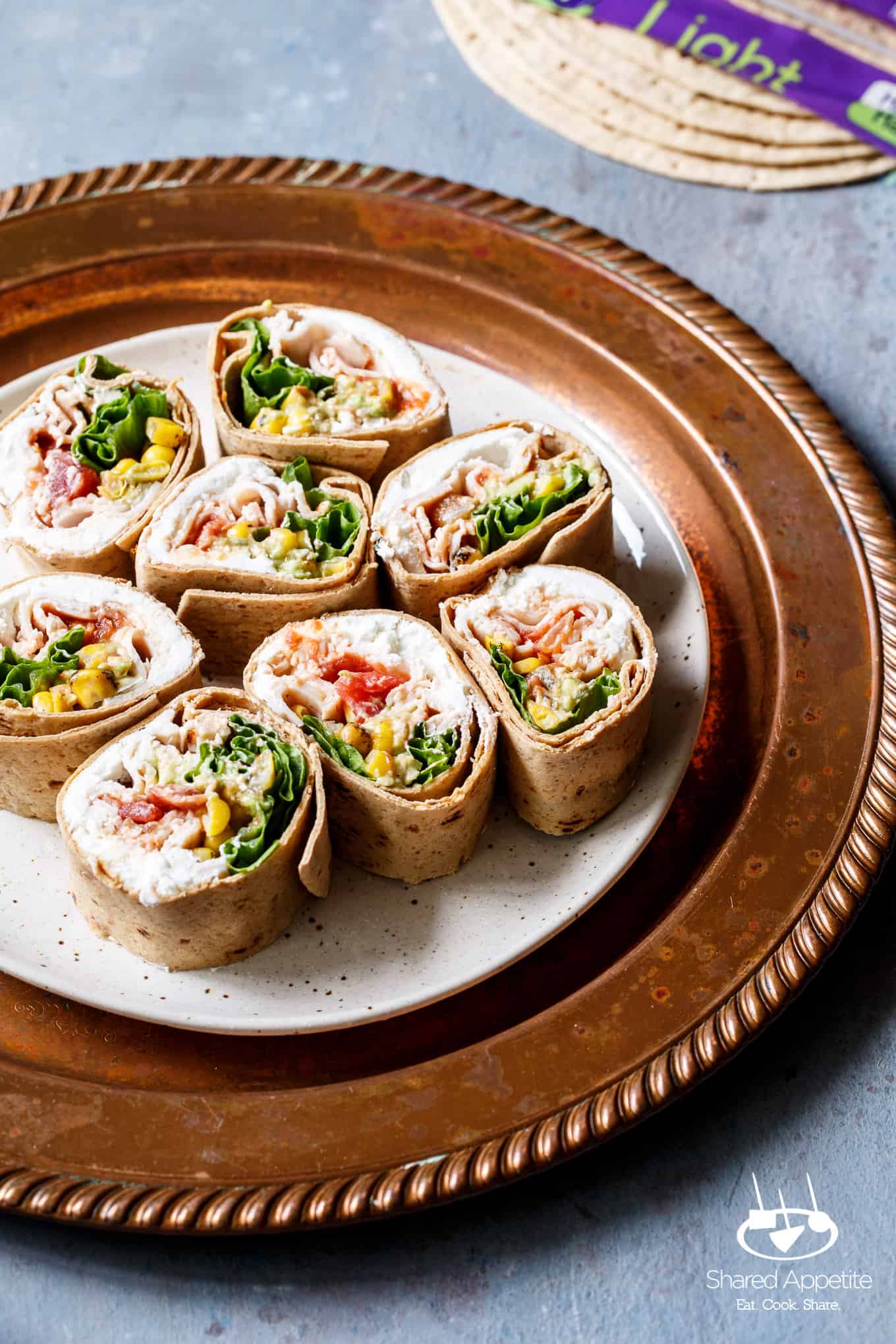 Southwest Turkey Wraps